By the end of the grand-opening Spring Nationals at the brand-new Dragway at The Bend, more than 35,000 race fans delighted in an incredible weekend of racing thanks to the new National Drag Racing Championship (NDRC).
Across this ground-breaking event, the championship ledgers were opened in NDRC Top Fuel, Top Doorslammer, Top Fuel Motorcycle and Pro Stock Motorcycle, while more than 300 sportsman racers claimed valuable points in the Aeroflow National Sportsman Championship.
Claiming the NDRC Gold Christmas Trees in the group one brackets were Damien Harris (Top Fuel), Benny Stevens (Top Fuel Motorcycle) and Scott White (Pro Stock Motorcycle), over runners-up Wayne Newby (Top Fuel), Damien Muscat (Top Fuel Motorcycle) and Glenn Wooster (Pro Stock Motorcycle).
The A-Final for Dananni Hot Shots Top Doorslammer will be re-run as part of Q2 for the bracket at the upcoming Goldenstates event at the Perth Motorplex in November (see below for more detail).
Peter Xiberras (Top Fuel), Matt Abel (Dananni Hot Shots Top Doorslammer), Danny Rickard (Top Fuel Motorcycle) and Luke Crowley (Pro Stock Motorcycle) claimed third place for their respective brackets by winning their B-Finals.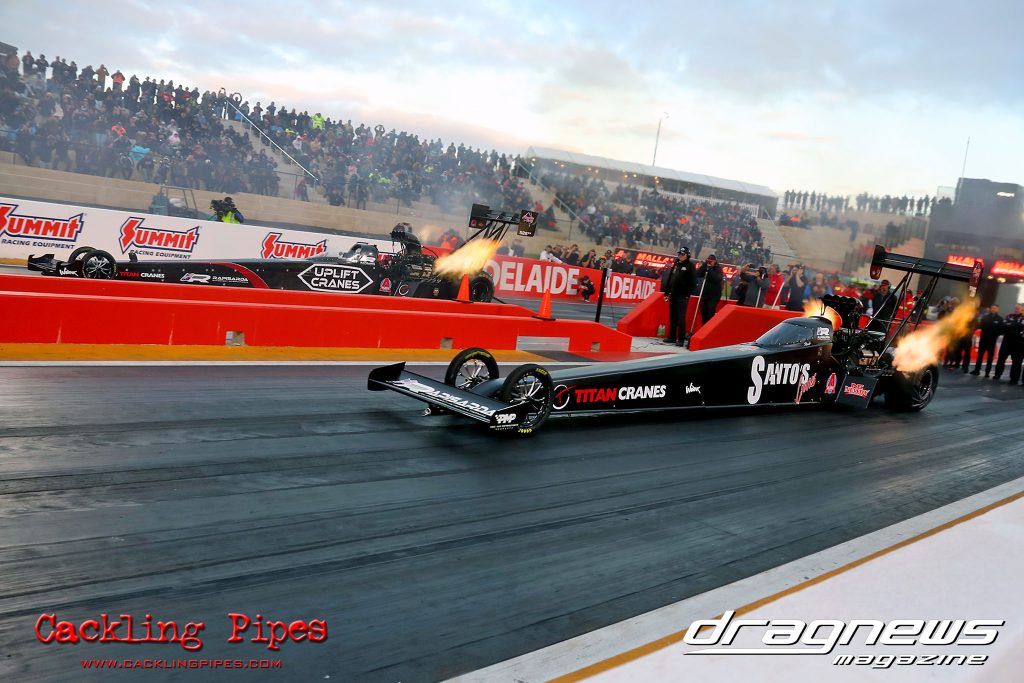 In Top Fuel, it was a Rapisarda Autosport International 1-2 with Damien Harris taking the A-Final win over Wayne Newby, who had been the quickest runner to that point but suffered intense tyre shake soon after the launch and was forced to abandon the run early. The victory sees Harris leave the Top Fuel opener with the championship lead over Newby.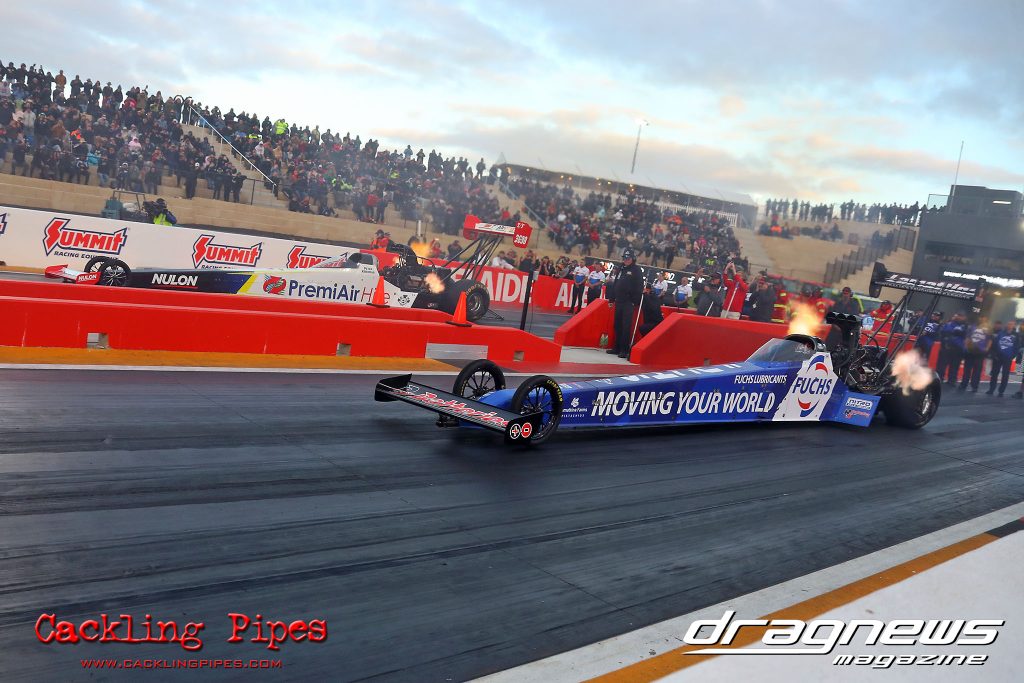 In the B-Final, Peter Xiberras and Phil Lamattina faced off, with Xiberras taking the victory from another very close side by side run between the pair (they also faced off in round two with Xiberras also taking that win) with a 3.837 second pass at 499.93kph over Lamattina's 3.923 second run at 449.84kph.
In the C-Final, Kyle Putland and Phil Read faced off, with Putland running into issues firing up before a flurry of activity from his crew saw them able to commence their burnout. Read meanwhile had staged as he thought it was to be a solo run, and he waited as much as he could for Putland who then heartbreakingly was shut off with fluid coming under his dragster as it backed up to the line. After having spent longer than was ideal at the line, Read took a delayed start to his run and then shut off at the 60 foot mark to take the C-Final win.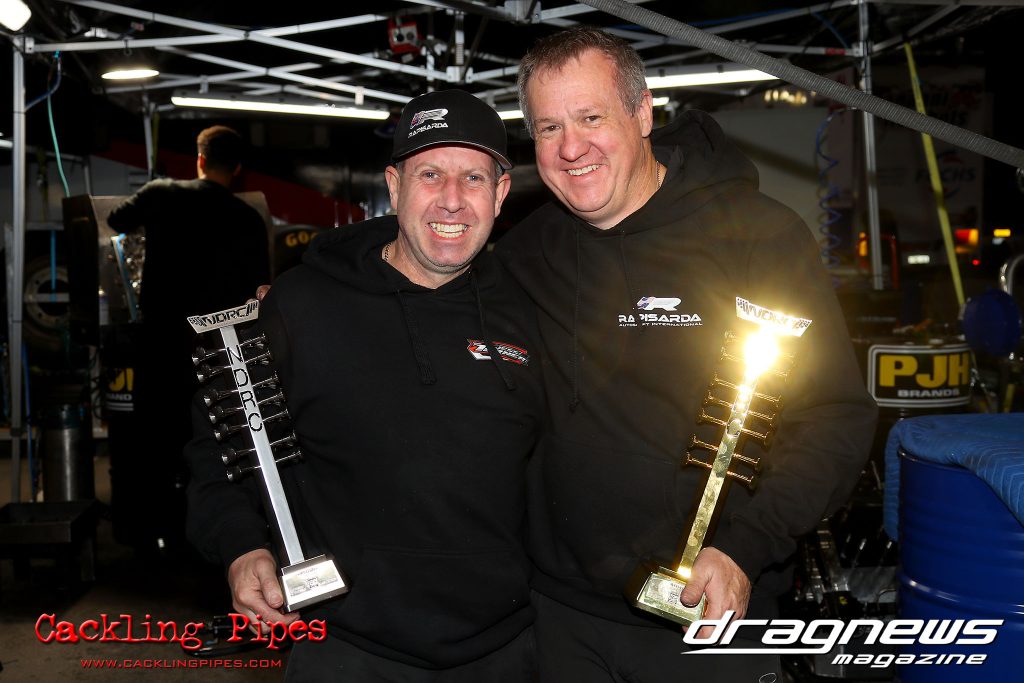 "Thank you so much to the Rapisarda family, to Atlantic Oil, and to everyone else behind this. And of course, my crew – they have done a great job this weekend, it was looking a bit rough in testing, but we have come back great," Harris said.
"I have been really lucky with my racing with the Rapisarda family to pick up a few firsts, and this is another great one!
"I really want to thank Santo Jnr and Santo Snr, and Santino and Jana for their support – it really means the world to me."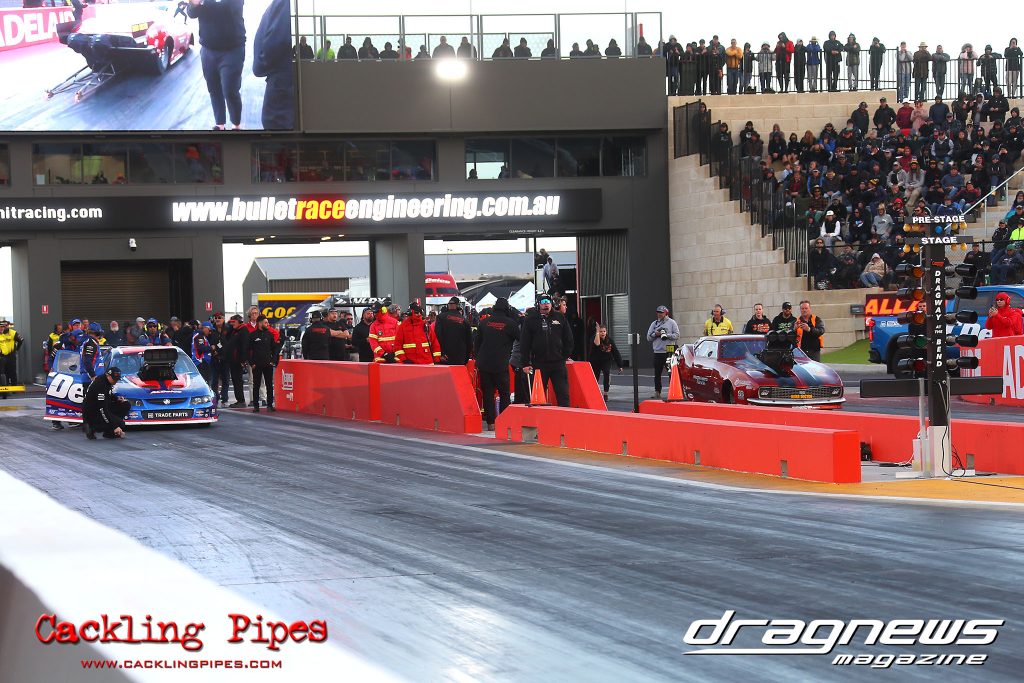 In Dananni Hot Shots Top Doorslammer, there was plenty of discussion around the A-Final when both Ronnie Palumbo and Lisa Gregorini were unable to greet the starter.
Palumbo's Doorslammer shut down during the burnout and had to be pushed back, while Gregorini was shut down by her team as she approached the start line with sparks shooting out of the side of the car. Initially, the decision was made to award both competitors the runners-up points and trophy, however after a meeting between Maurice Fabietti, Palumbo and the Gregorinis, the racers presented a proposal to NDRC management to re-run the final in Perth – a proposal which was enthusiastically accepted.
In the Doorslammer B-Final, Matt Abel took the win over Peter Kapiris with a 5.877 second pass at 396.75kph over Kapiris' 6.115s/364.15kph effort, leaving Abel with the 3rd place trophy. In the C-Final, Daniel Gregorini took the win over Adam Tassone. Tassone bettered Gregorini on the line with a 0.001 reaction time, but was unable to hold off the green machine's 5.684 second pass at 418.49kph with his 6.336s/333.78kph run.
In the C-Final, Daniel Gregorini and Adam Tassone put on a huge show, with a 0.001 reaction time from Tassone with Gregorini then driving around it with a 4.864 second pass at 418.49kph to Tassone's 6.236s/333.78kph performance. Earlier, Peter Lovering had run a solo in the D-Final after Zappia was forced to withdraw with engine damage following his first full pass of the weekend in round two (5.613s/404.98kph), putting down a 5.969 second pass at 390.64kph before coming to a stop in the beach at the end of the track.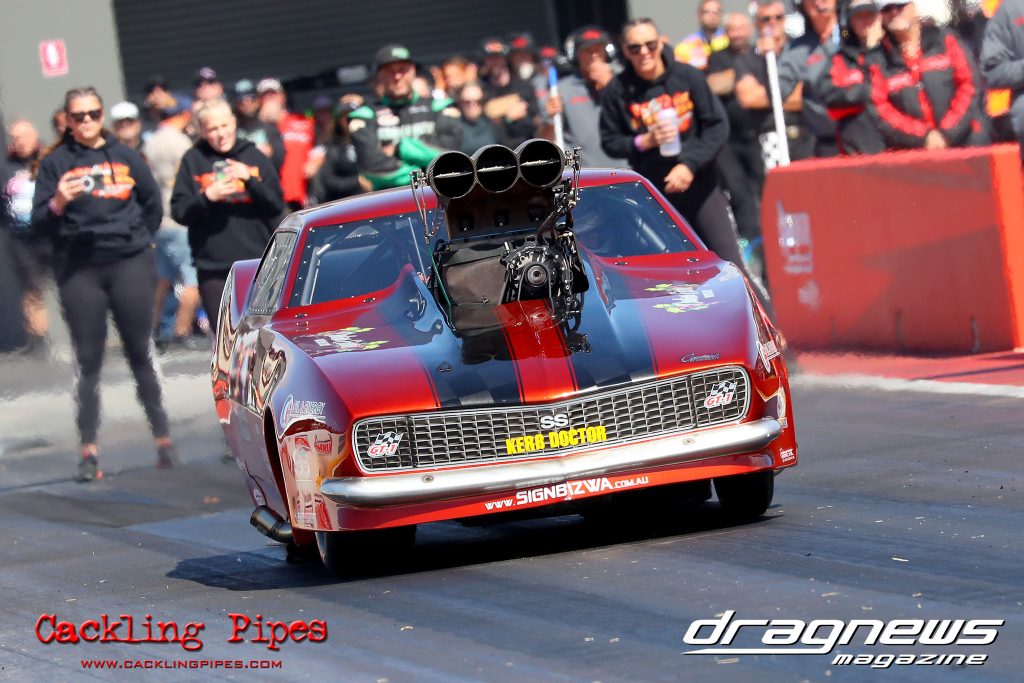 For Lisa, the A-Final berth marked an incredible comeback from a crash in Darwin that rounded out her debut season.
"We went out and did our burnout and everything was fine, and nothing was showing on the dash. I reversed back and was going into stage, I had the first light on, and then one of the girls signalled for me to shut down, and then the others came over and also signalled to shut down. I guess it was a bit of inexperience showing, as in hindsight we should have rolled through to accept the tree and the win. When we got back, we had a look and it turns out we had dropped a valve," Lisa Gregorini explains.
"We all met over at Maurice's pit and came to a mutual decision that the best outcome would be to re-run the final in Q2 at the Goldenstates – that way there is a winner and a runner-up, and it works out fairer for everyone.
"Up to that point, the weekend was good for us. I definitely didn't expect to come back from the crash in Darwin and end up in the A-Final. We were consistent all weekend and we were actually lifting early, so if we stay in it for the whole track we will run even quicker as well.
"We are feeling confident heading into Perth, and we have a home track round in a couple of weeks' time there so we will be able to do some testing as well," she concluded, while thanking all of the team's supporters, including Scratch and Match Autocolour, Kerb Doctor, Westcoast Siteworks, Kendall Oils, Oil and Energy Pty Ltd, S & S Industries, Consolidated Group and Dalisa Estate Winery.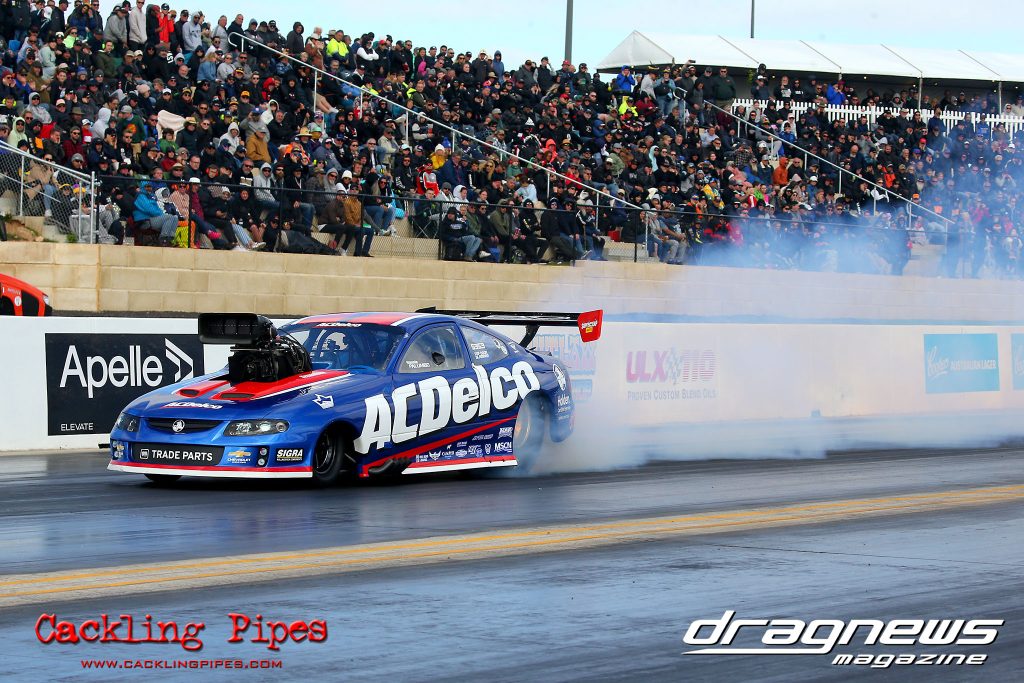 For Palumbo, it was also a great weekend up to that point, with the Doorslammer national-level debutant never expecting to make it to the A-Final, racing for Fabietti's ACDelco Racing Team.
"When I started in Doorslammer it was a joke about one day I will run fives and here I am, and then before this weekend it was a joke about imagine if I came up with a win or make the final, and here I am. Really, it is ridiculous and really unbelievable – I am super happy with the team, super happy with my supporters, my family and fans, everything was just amazing," Palumbo said.
"When my car shut down, I was still happy – I told the guys over the mic our day is done, we did all right, thanks everyone. I was happy with the runner-up, but then seeing Lisa shut down, I thought let's go again!
"We are not sure yet what happened to us in that final, I was doing the burnout, and it lost all ignition, although it still had power. Later I went to the officials and asked about it – I was quite happy for the win to go to Lisa as she got further in the run than me, I just wanted someone to win it at the end of the day. Then we all had a chat and agreed on the re-run, and here we are.
"After today, I wouldn't say I am cocky, but I am feeling confident heading to Perth – let's go there and kick some butt!" he laughed, while thanking Maurice and Mary Fabietti, sponsors ACDelco, GM Trade Parts, Morizzi Civil and SIGRA Rollingstock Components, as well as his family and friends – 16 of which flew and drove from Sydney to cheer him on this weekend.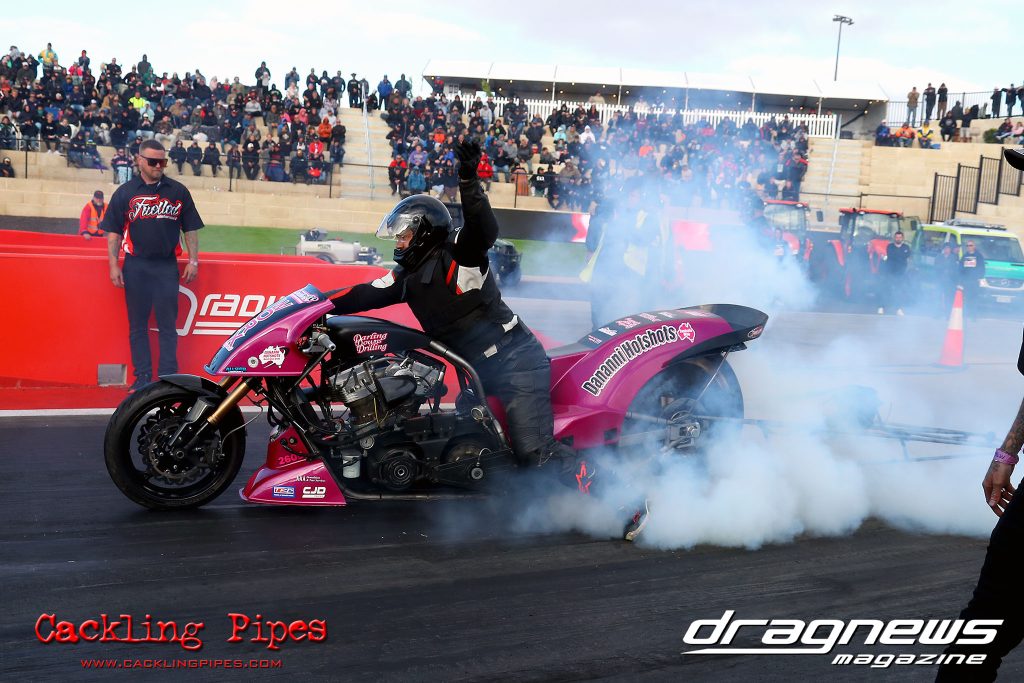 In Top Fuel Motorcycle, Benny Stevens enjoyed a wheelstanding solo run in the A-Final when Damien Muscat was unable to front the starter. Stevens' A-Final berth followed two wheel-carrying impressive races earlier in the day, with his event winning 6.409 second pass at 353.43kph coming after 6.483/355.05kph and 6.447/348.41kph passes in rounds one and two – both completed with the front wheel in the air for the majority of the runs.
Mark Drew and Danny Rickard were matched for the B-Final, however problems after the burnout saw Drew pushed back and Rickard racing through for a solo win with a 7.510 second pass at 272.2kph to claim third for the bracket.
In the C-Final, Rob Cassar and Les Holden did battle, and when Cassar suffered a misfire part-way down the track, it was Holden who claimed the win with a 8.302 second pass at 217.31kph. The D-Final saw Kevin Gummow matched with Corey Buttigieg, with Buttigieg a no-show to leave Gummow to run down the track solo.
The impact of the win on Benny Stevens was written clearly across his face as he accepted the Gold NDRC Christmas Tree trophy at the end of the track.
"I am a bit lost for words," Stevens said.
"Thank you very much to all of my sponsors and everyone that supports us with the Dananni Hot Shots Top Fuel Harleys – they all went really well this weekend, and I am really happy with everyone's efforts.
"Thanks to my crew and to Dragway at The Bend, I can't wait to get back here. I am absolutely stoked, I am lost for words, to be the first winner here. Thank you to all the crew, the crowd, to everyone involved.
"Maybe I will fill the fake leg up with the champagne and enjoy a 'leggie!'" he laughed.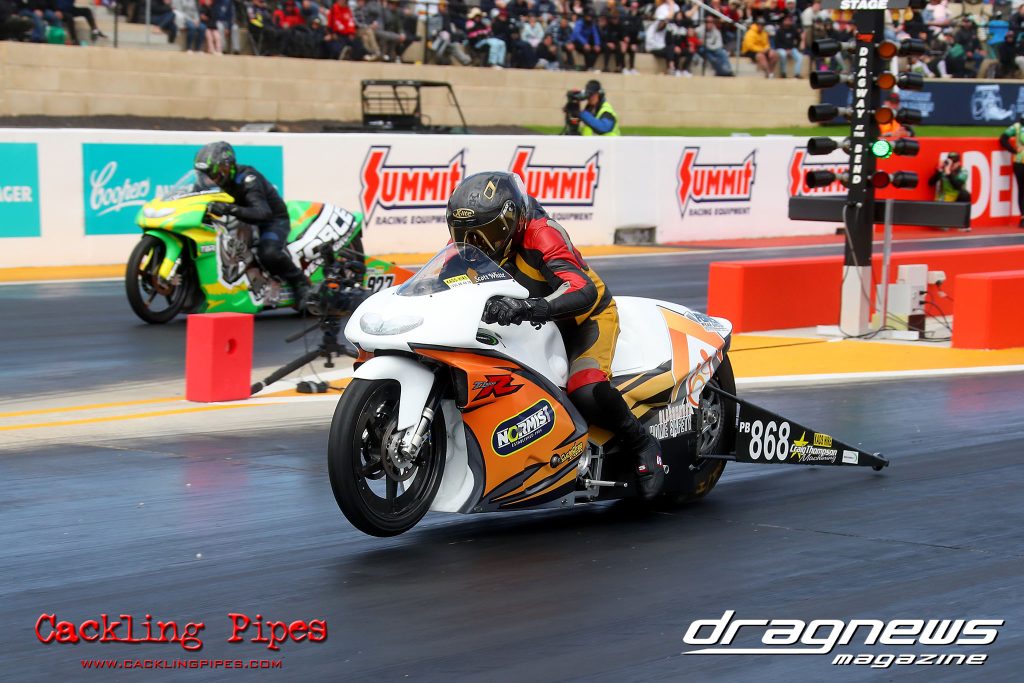 In Pro Stock Motorcycle, Scott White took the win over Glenn Wooster in a very close side by side race, with White's 7.170s pass with a 0.032 reaction time giving him the holeshot win over Wooster's 7.080 ET with a 0.233 reaction time.
In the B-Final, Luke Crowley claimed third for the event with victory over Ryan Learmonth, laying down a 7.128 second pass to take the win over Learmonth who had a better reaction time, but couldn't get it done with a 7.487 second ET.
In the C-Final, Tony Frost took the win over Locky Ireland, who suffered a flame out after the launch. Jason Lee meanwhile had a solo in the D-Final, with a early shut off.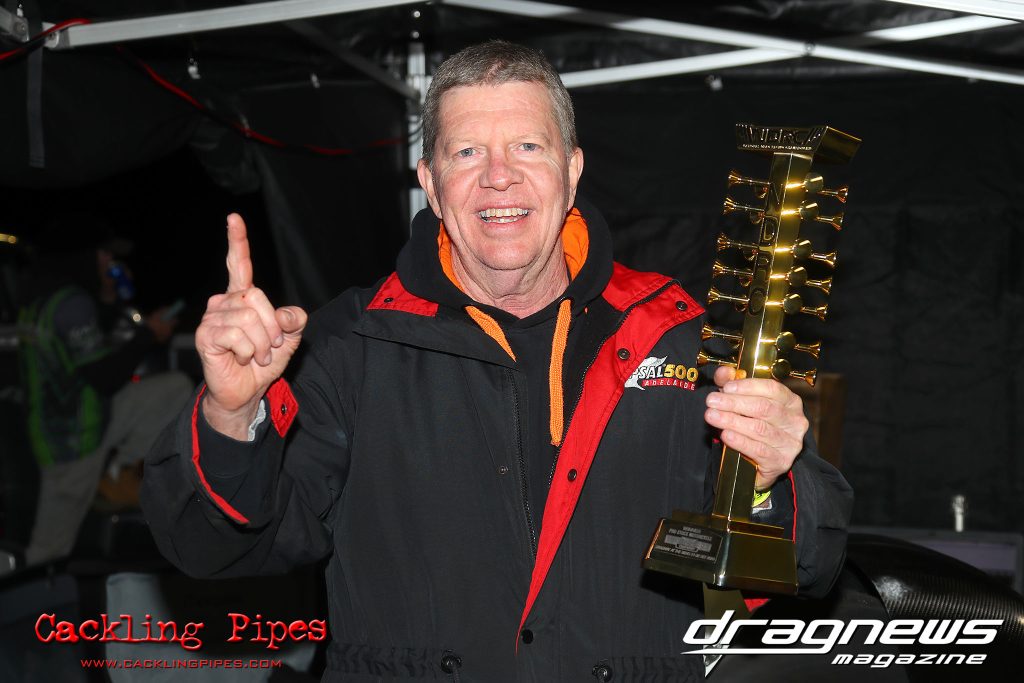 For White, it was an emotional victory.
"I won this event 10 years ago at Adelaide at the old track and it seems I am doing a 10 year cycle," he smiled.
"I didn't even think I was in the final and to go on to beat Glenn, that is just so amazing.
"I want to thank Forcewear Group for looking after the bracket and Kads for being a part of it as well. Also, Vehicle Solutions NT and the enormous group of companies that have been on board with us for years and years – we have been doing this for 35 years and to get this win is so good, thank you very much."
The National Drag Racing Championship now continues to Sydney Dragway, where the Sydney Nationals will fire up over Friday October 27 and Saturday October 28, led by Nitro Funny Car, Pro Alcohol, Pro Stock and FuelTech Pro Mod as well as continued racing for the Aeroflow National Sportsman Championship. For event information, visit www.sydneydragway.com.au
To learn more about the NDRC, visit www.ndrc.tv