The action packed calendar will include 400 Thunder staples and fan favourite events at Willowbank Raceway, Sydney Dragway and two new tracks to the 400 Thunder family; Heathcote Park Raceway in Victoria and the Bend Dragway in South Australia.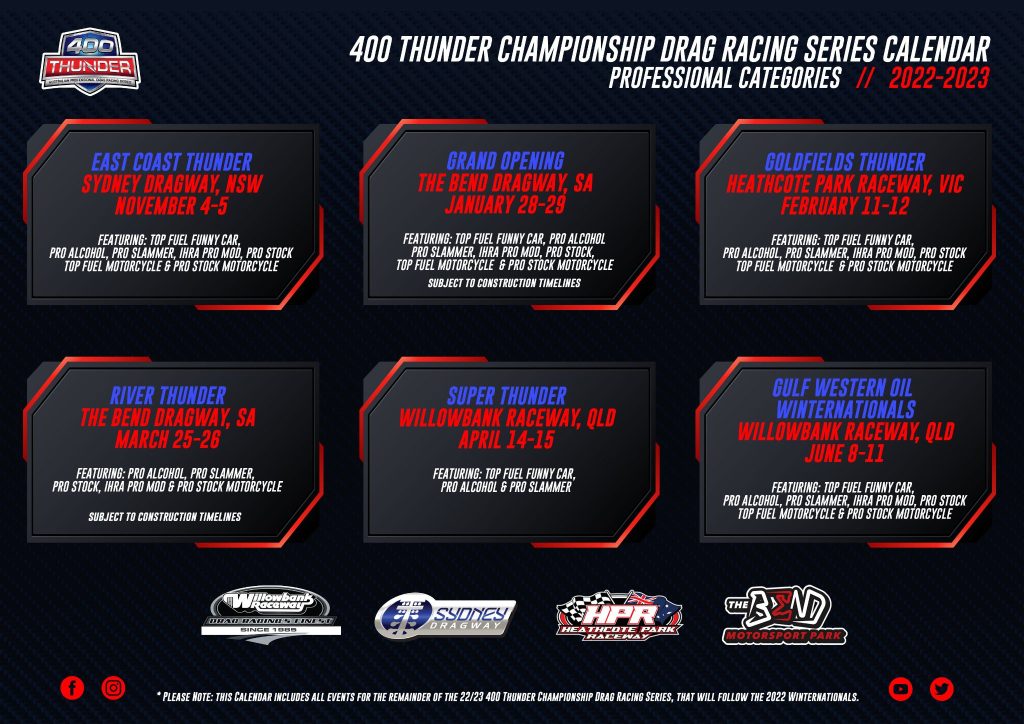 The calendar features championship rounds of Top Fuel Funny Car, Pro Alcohol, Pro Slammer, IHRA Pro Mod, Pro Stock, Top Fuel Bike and Pro Stock Motorcycle, and will be supported by a full schedule of Sportsman racing.
The six round series will be in addition to last season, creating a Super Season, and feature two events at both Willowbank Raceway and The Bend Dragway and one each at Sydney Dragway and Heathcote Park Raceway.
The first event of the new calendar will kick off at Sydney Dragway with East Coast Thunder, and will be followed at the start of the following year by the Grand Opening of The Bend Dragway in South Australia.
Heathcote Park Raceway will hold their first 400 Thunder event in mid-February following extensive upgrades to their track surface, and the Super Season will conclude with the biggest drag racing event outside of North America, the world renowned Winternationals at Willowbank Raceway.
New 400 Thunder General Manager Jason Hedges is delighted with the new calendar, "It is fantastic to see all the championship categories represented at events up and down the East Coast for our all our racers and race fans to enjoy."
"We are expecting massive fields in each bracket to be in attendance following confirmation of the extensive 400 Thunder Championship Drag Racing television package on Kayo Sports, Foxsports and internationally on 400thunder.tv."
"I am incredibly excited to be involved from the start of the upcoming calendar and can't wait to see who will be crowned the champions at the end of our Super Season," concluded Hedges.
The next 400 Thunder event is the jewel in the crown of drag racing, the Winternationals at Willowbank Raceway running from June 9-12. An opportunity to see over 360 entrants across all professional and sportsman categories.
The Professional calendar will be supplemented by an expanded Sportsman calendar, which will be released in the coming weeks and will include additional rounds at Palmyra Dragway and Springmount Raceway for Sportsman competitors.
For up to date event information follow 400 Thunder on Facebook.