Australian Pro Stock has always been just a little bit different from its cousins in the USA and Europe.
While international Pro Stock has been based on a 500ci big block formula, Australian Pro Stock began as a 350ci small block class, before shifting the engines to 400ci around the turn of the millenium. Iwas in 2002 that the 400ci engines came in (thanks Geoff McInnes for the info on the year), with weight breaks offered to the smaller engines as they were phased out.
At the time there was also a lot of discussion about increasing the amount of Australian-bodied cars in the class, to try and emulate the success the V8 Supercars were having at the time. The idea didn't catch on, and a few years later the class would enter its spec-body era, but we'll get to that in a bit.
As per our earlier photo histories, many of the notes here are made from vague memories and inklings, so if you have any information that can help fill in the gaps, please let us know! Let's start with the earliest photos in my collection, from the 2002 Winternationals.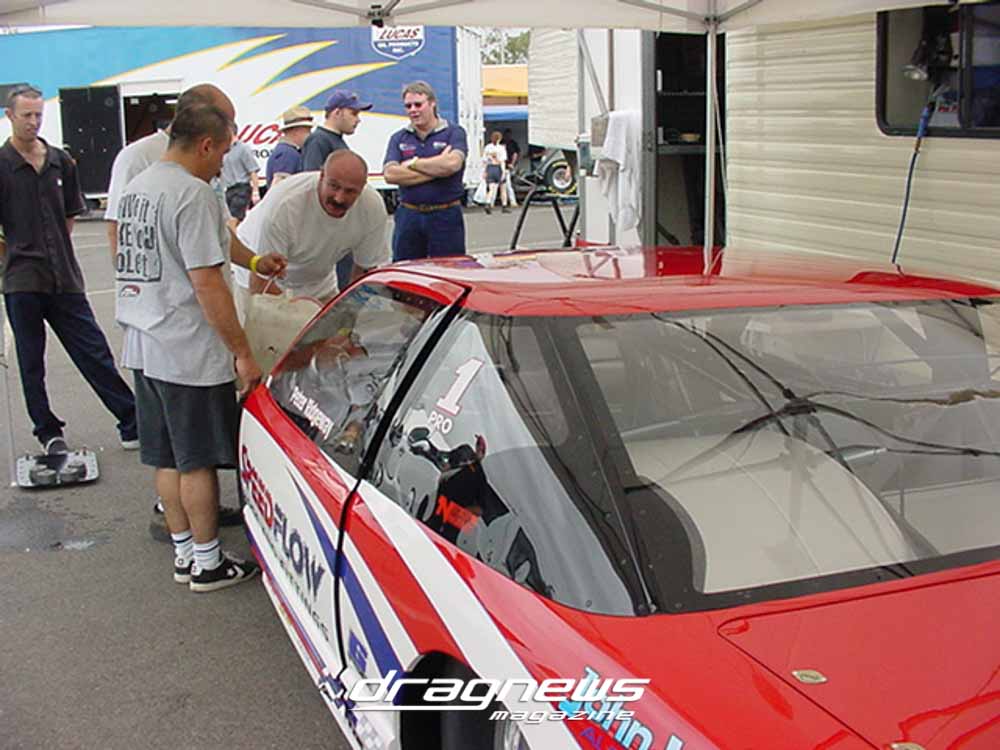 Peter Ridgeway's Oldsmobile was the most dominant car of the late nineties and early 2000s. The Victorian driver set national records at every turn, including a 7.60 clocking at the 2000 Winternationals and then a 7.534 at the 2001 Winternationals which would stand as the quickest for the 350ci era.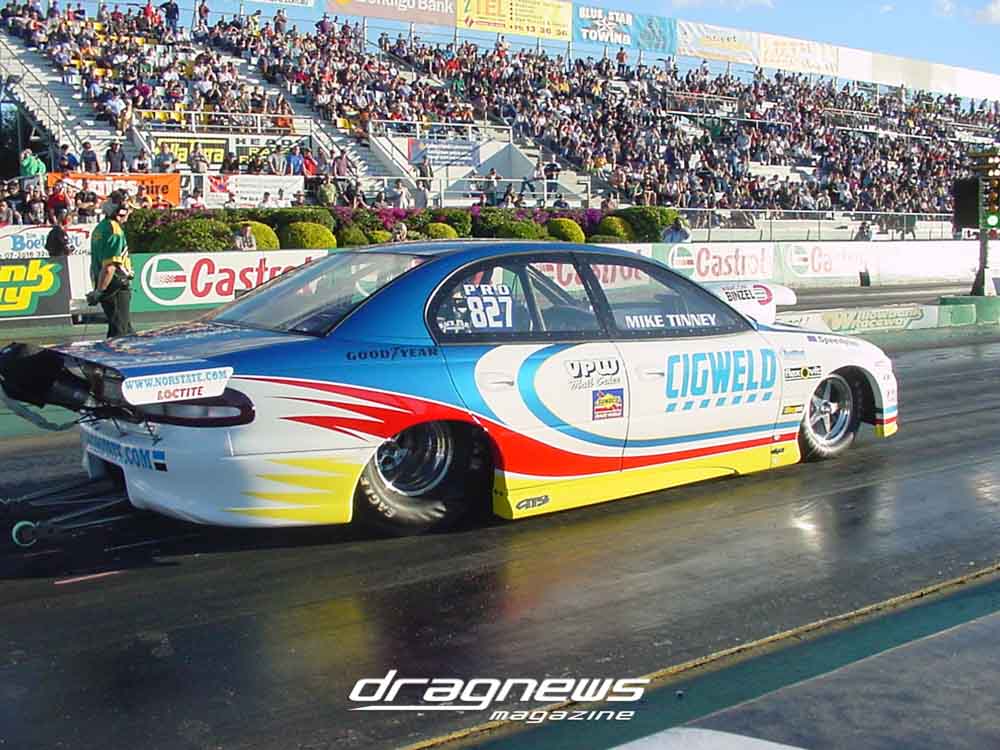 The late Mike Tinney in his gorgeous Holden Commodore. This was one of the last great four-doors to race in Pro Stock.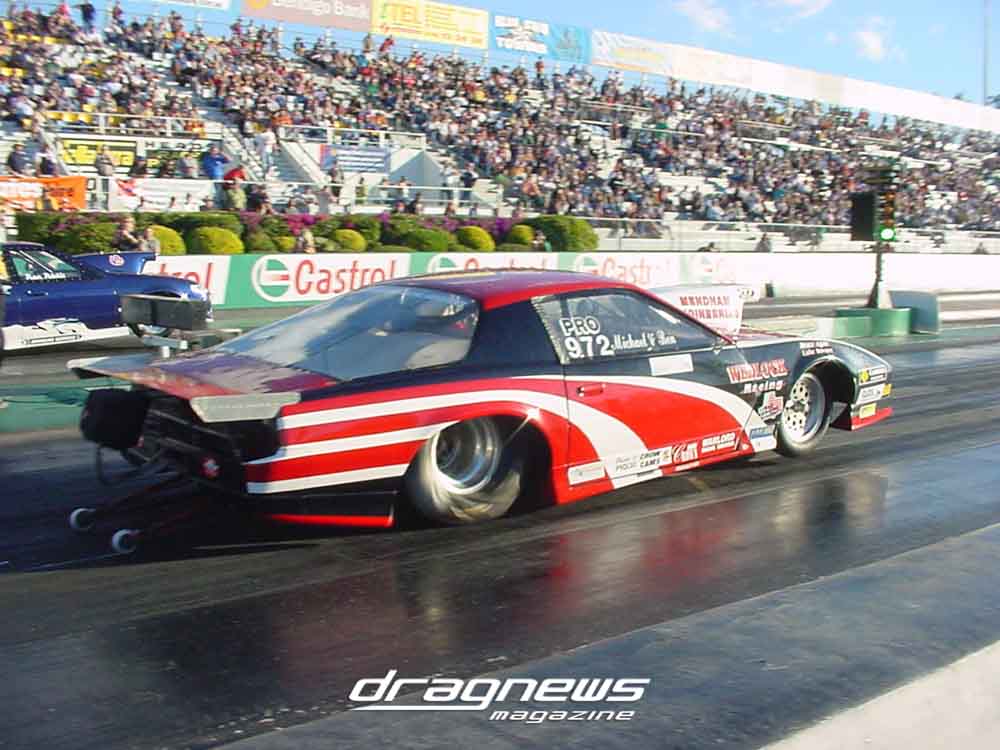 Queensland's Tony Wedlock was one of the mainstays of the class through the nineties and persisted into the early 2000s, culminating in an Australian championship in 2004.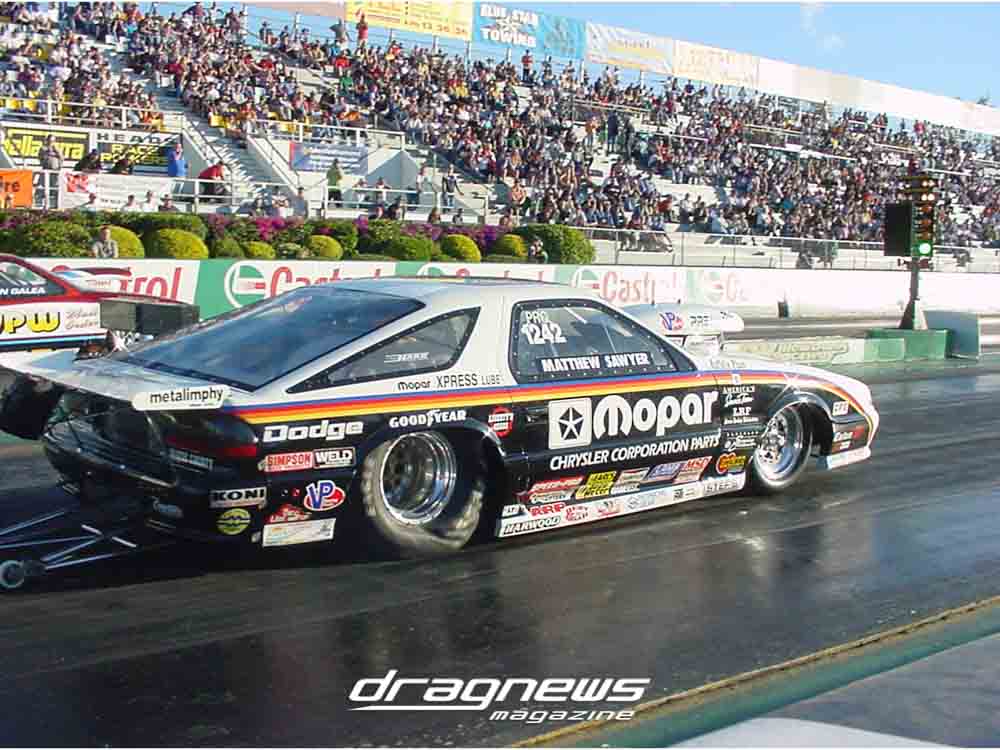 Jon Andriopoulos drove this Matthew Sawyer-owned Dodge Daytona to the 2003 ANDRA title. The car looked almost identical to how it ran in the NHRA where it was driven by Scott Geoffrion.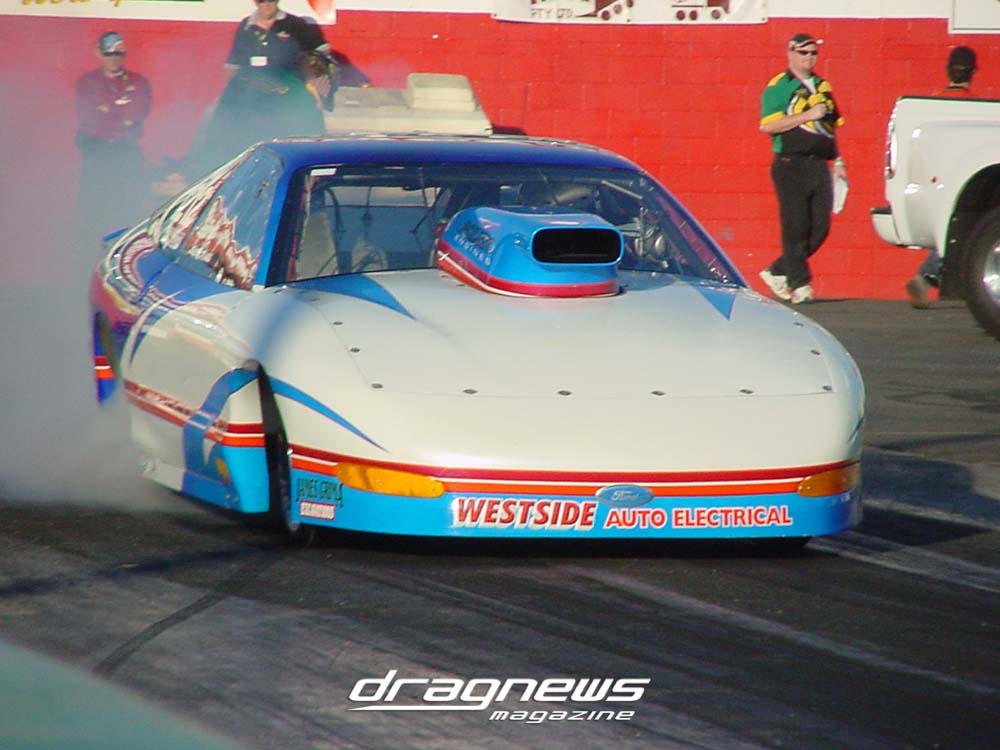 Jason Grima was a Super Sedan racer who moved into Pro Stock in 2003 with this Ford Probe.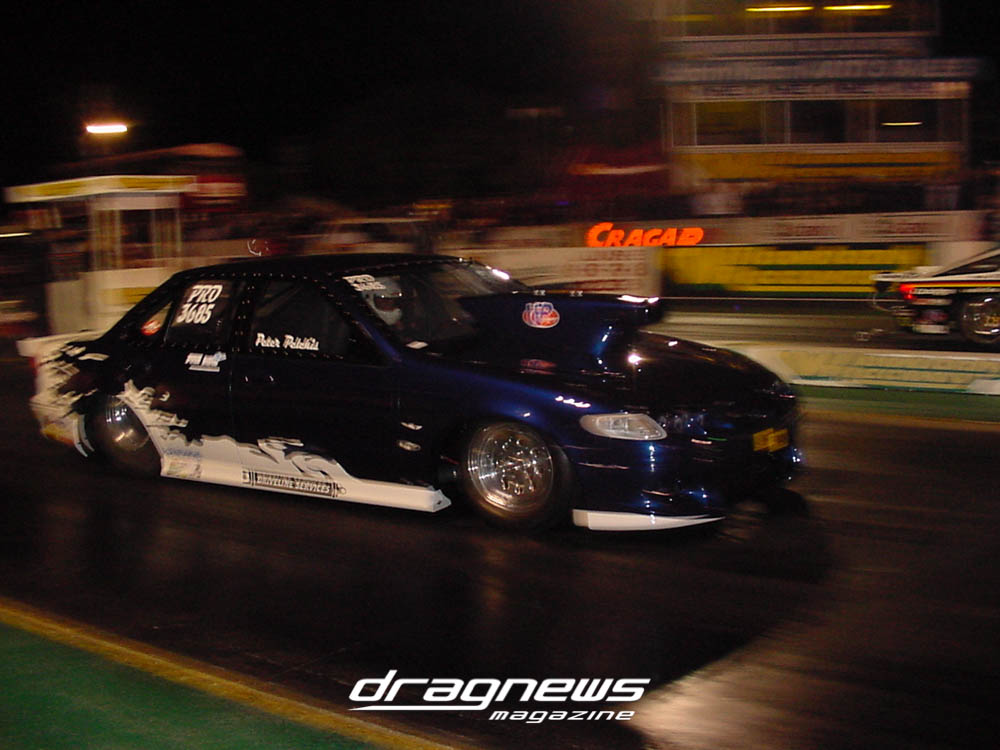 Peter Pelekis had what I believe would be the last four-door Ford in the class. As I recall Andrew Stavroulakis drove a Falcon as well, but unfortunately I don't have an image of the car.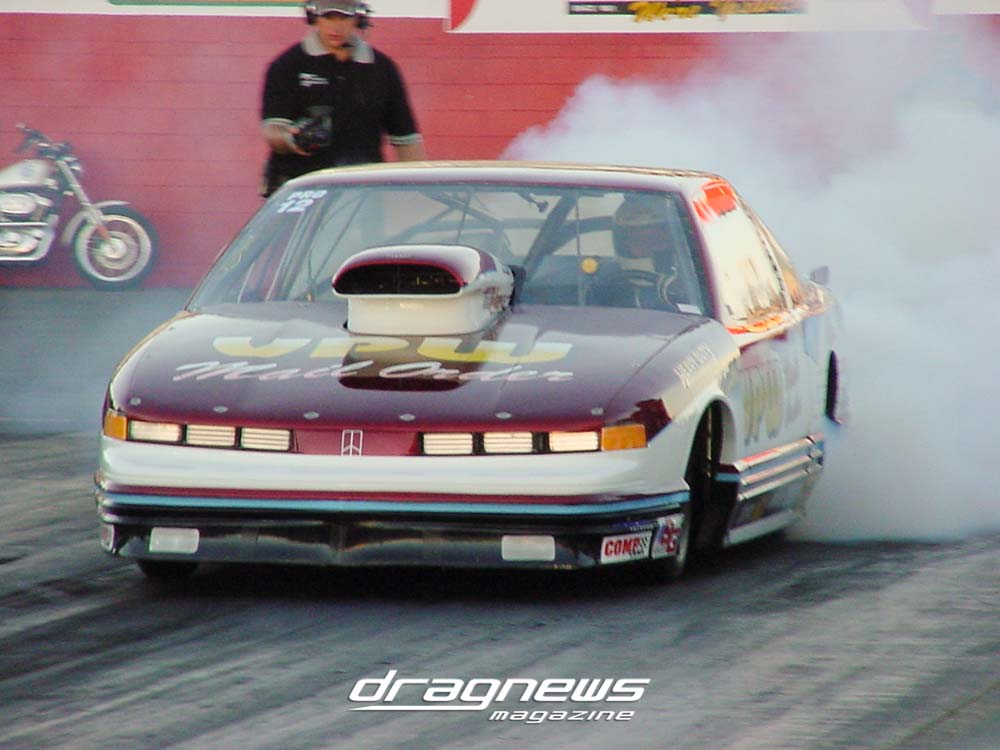 John Galea in another of the Oldsmobiles that were prevalent in the class at the time before the spec-body era.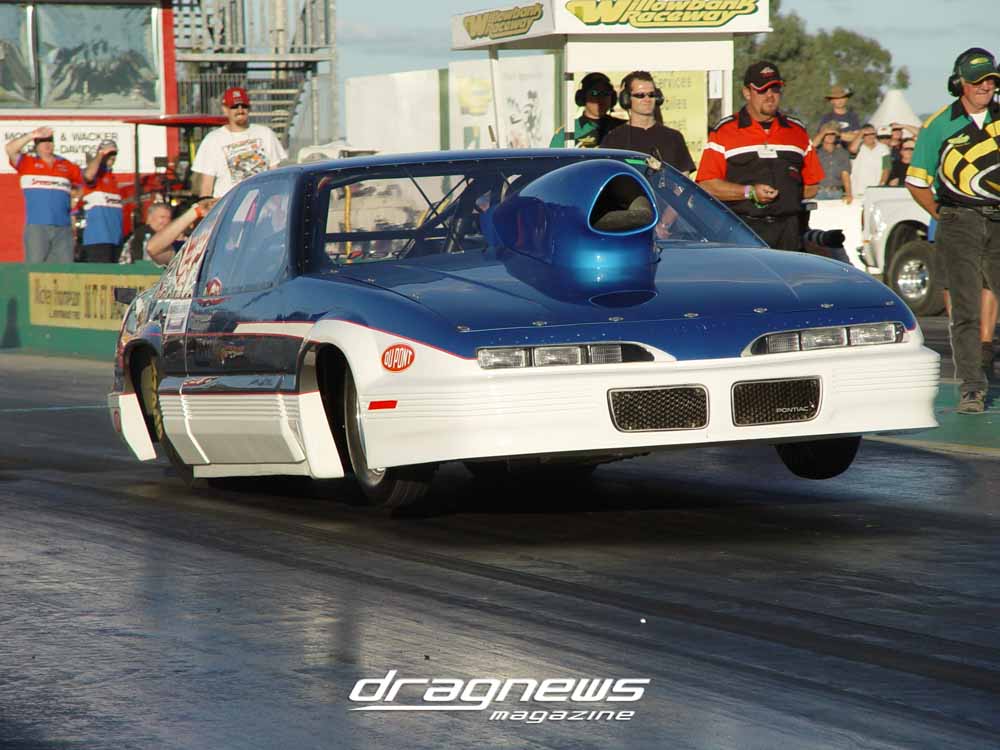 Queensland's Denis Whiting was a hard working privateer who gave a lot of support to the class in the early 2000s.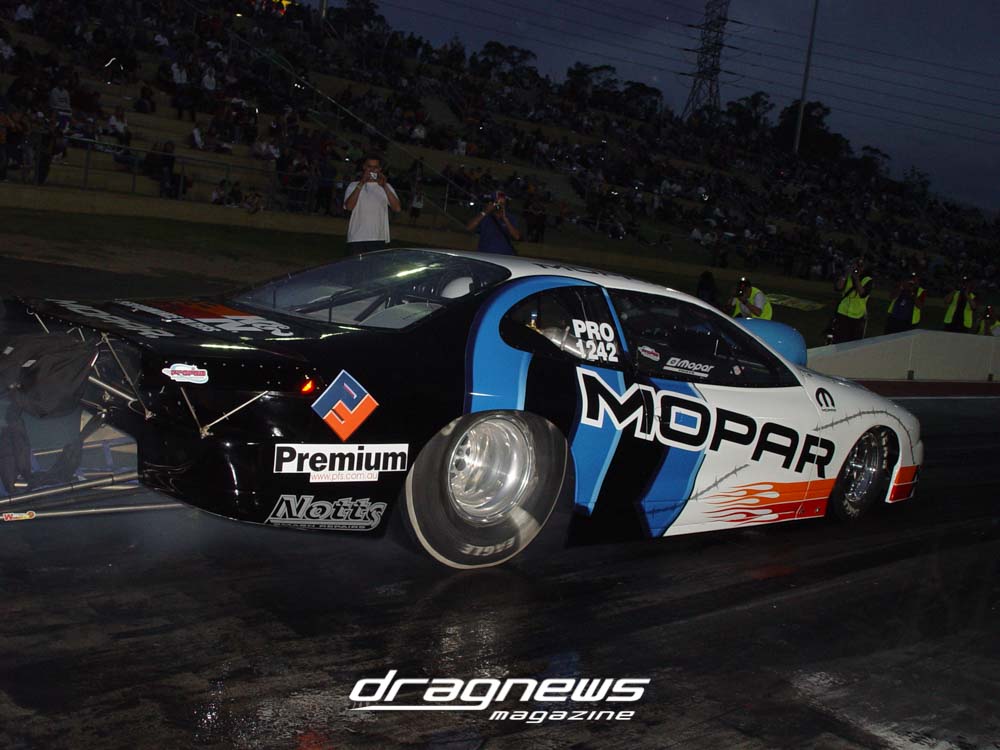 Andriopoulos updated to this Dodge Stratus in 2004. The body style would be a sign of what was to come in Pro Stock.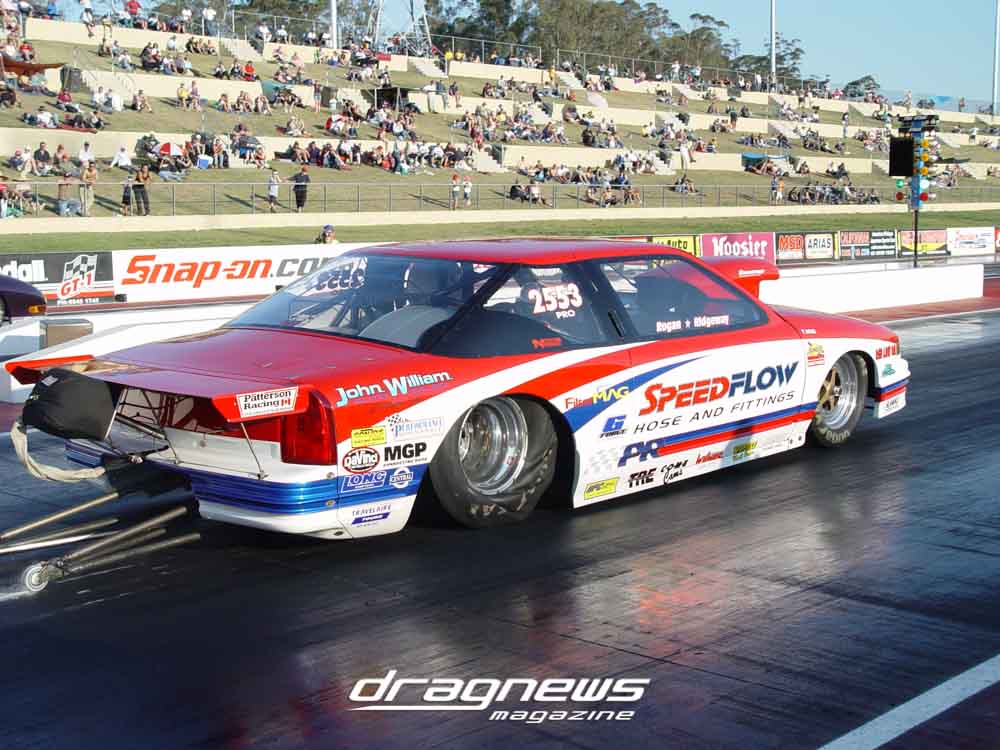 Dave Rogan bought Peter Ridgeway's multi-championship winning Cutlass in 2004 and combined some impressive rookie driving skills with Ridgeway's significant engine and tuning nous to win the 2005 and 2006 ANDRA championships, giving the car a total of five championships.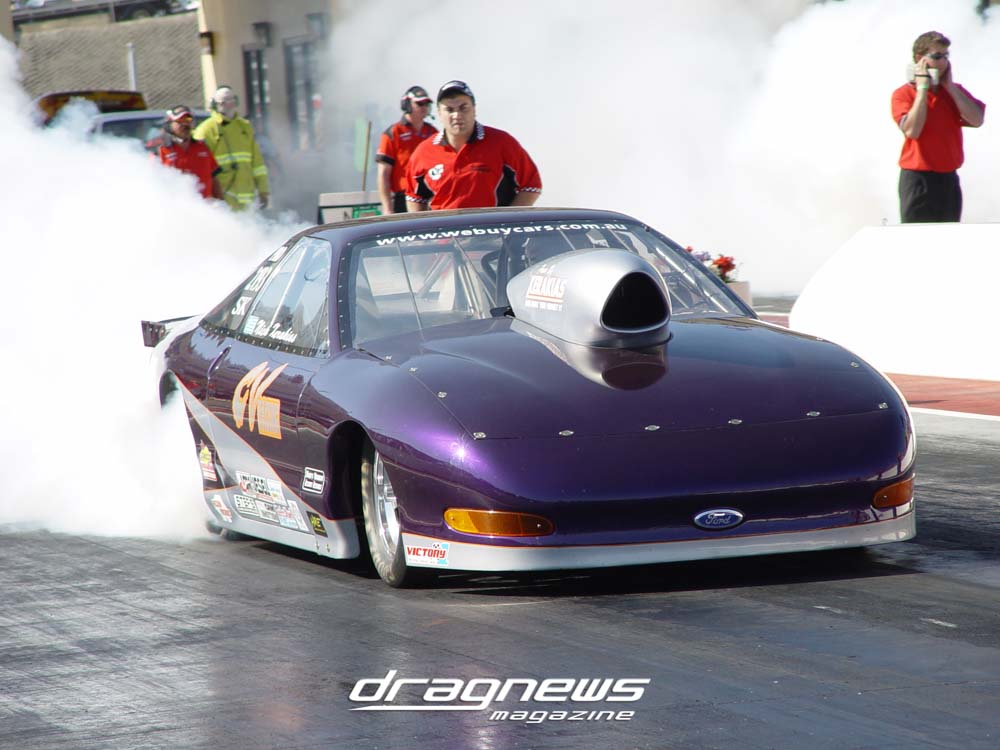 Victoria's Nick Xerakias entered the fray in 2004 also in his Ford Probe.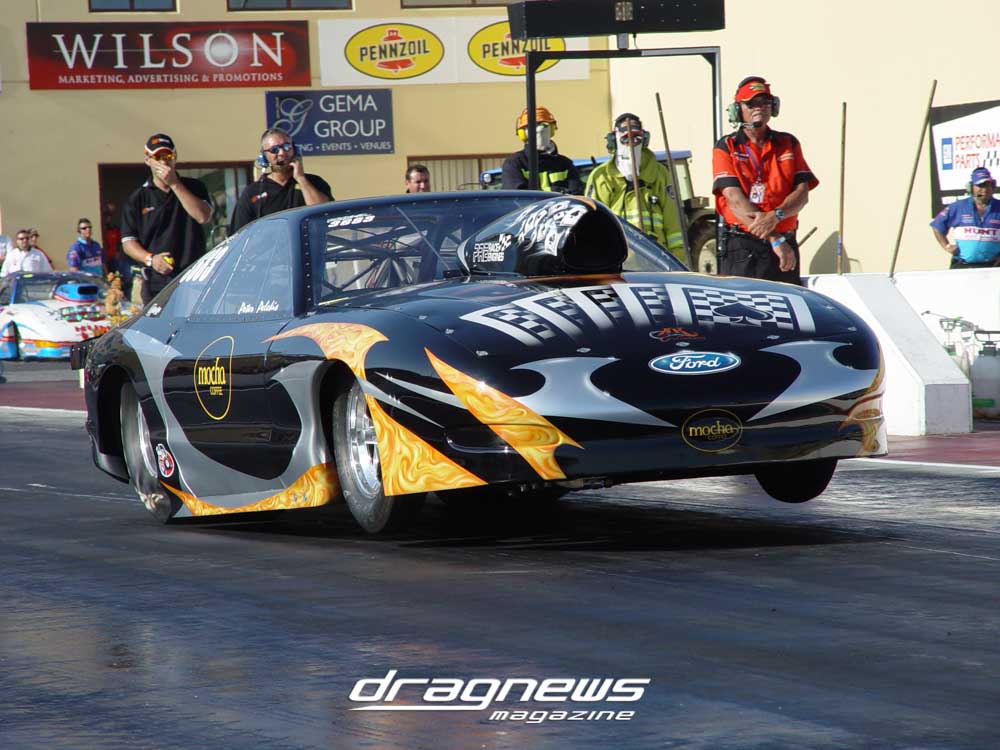 Peter Pelekis stuck with Ford but made the move from his Falcon to this beautiful Probe.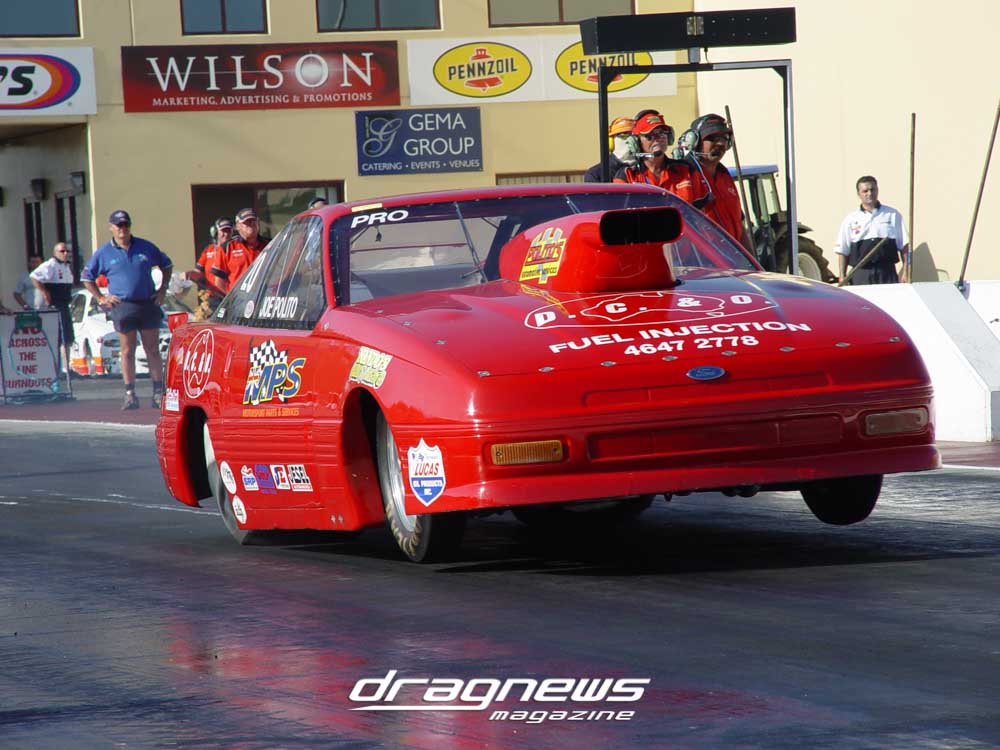 Joe Polito's 1996 and 1997-championship winning Ford Probe came back for a few events when Sydney Dragway opened.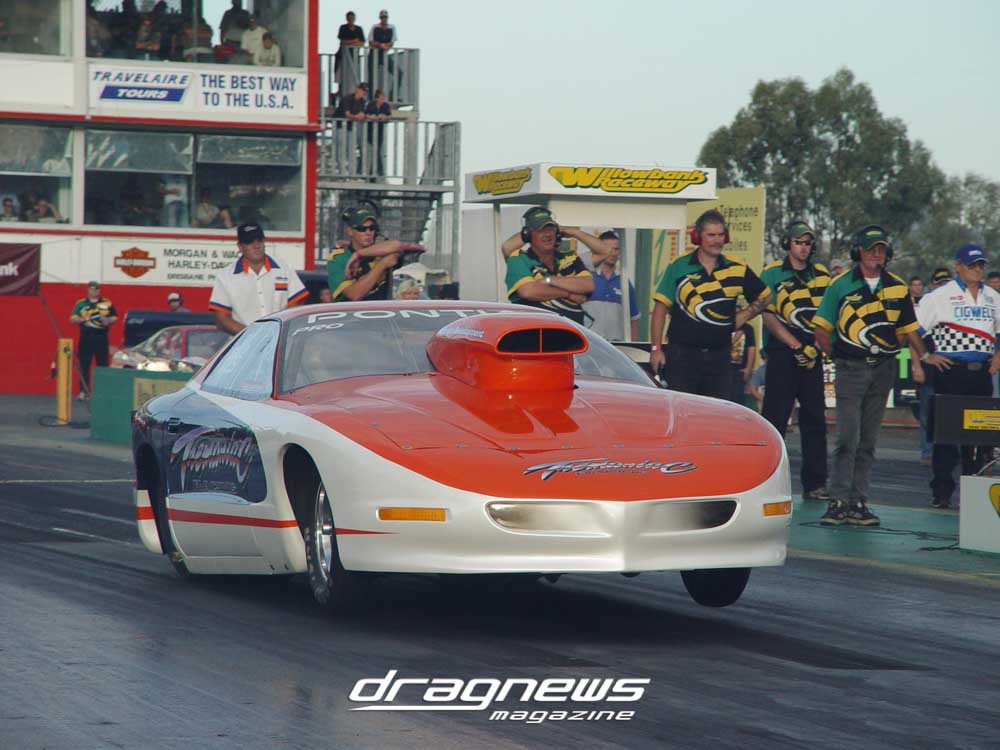 Aaron Tremayne's first event was the 2005 Winternationals, where the team put one of the motors from their Competition altereds into a Pontiac Firebird.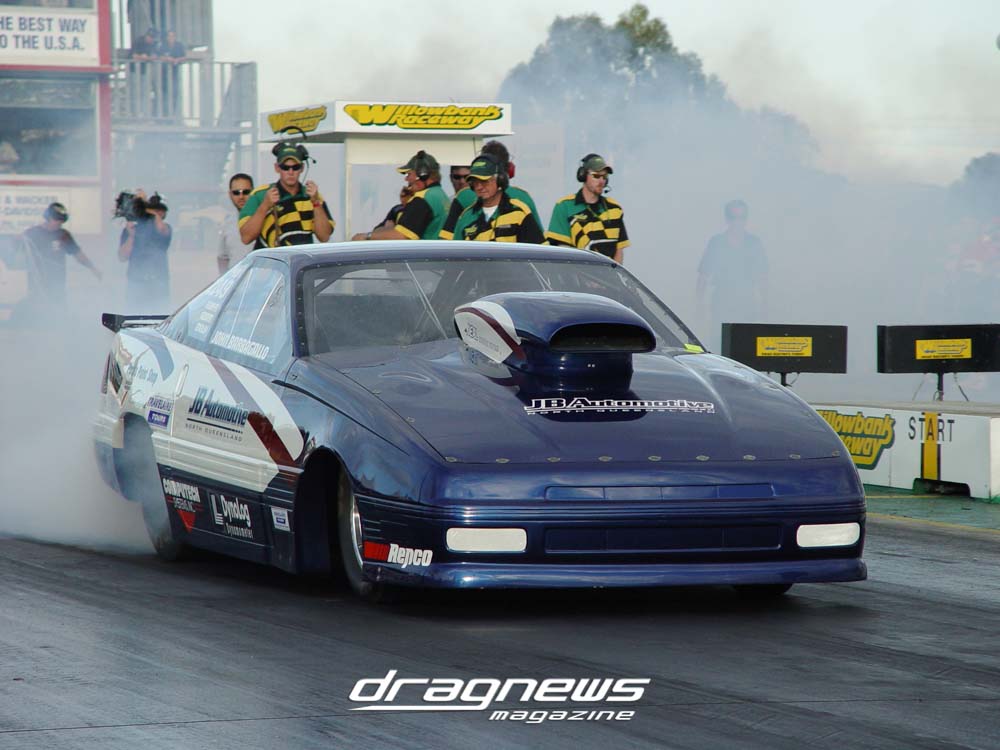 Ford diehard John Barbagallo's Ford Probe in one of its last events. The Probe was an extremely popular base as I believe they were the last cars from the USA to have a legal body style for Australian Pro Stock.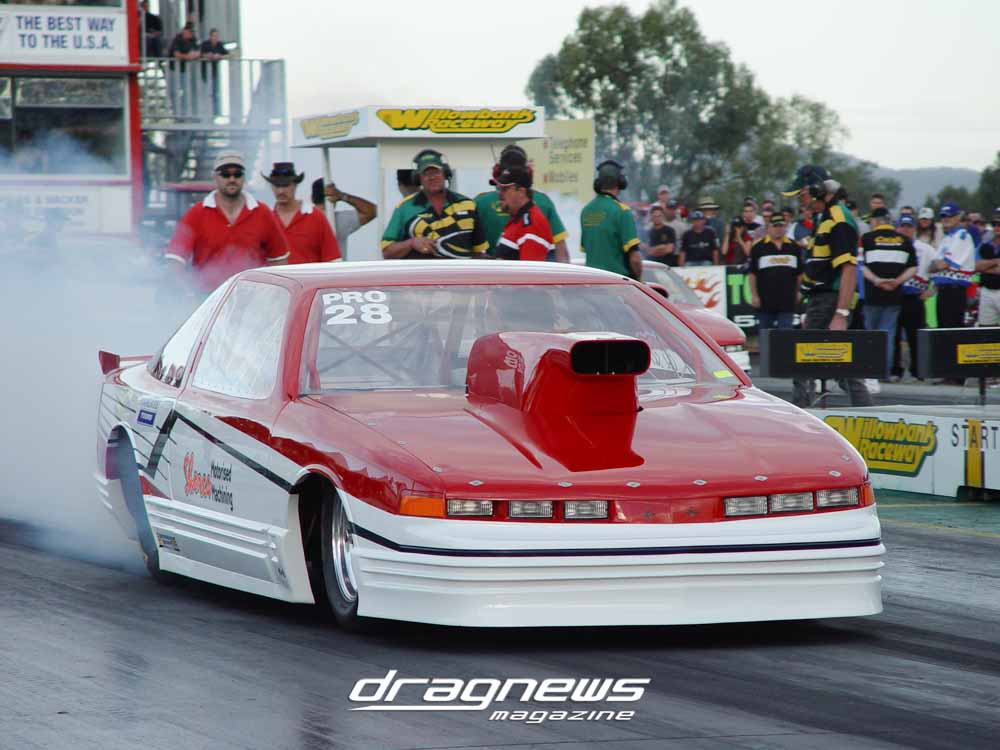 Col Shore's Cutlass at the 2005 Winternationals.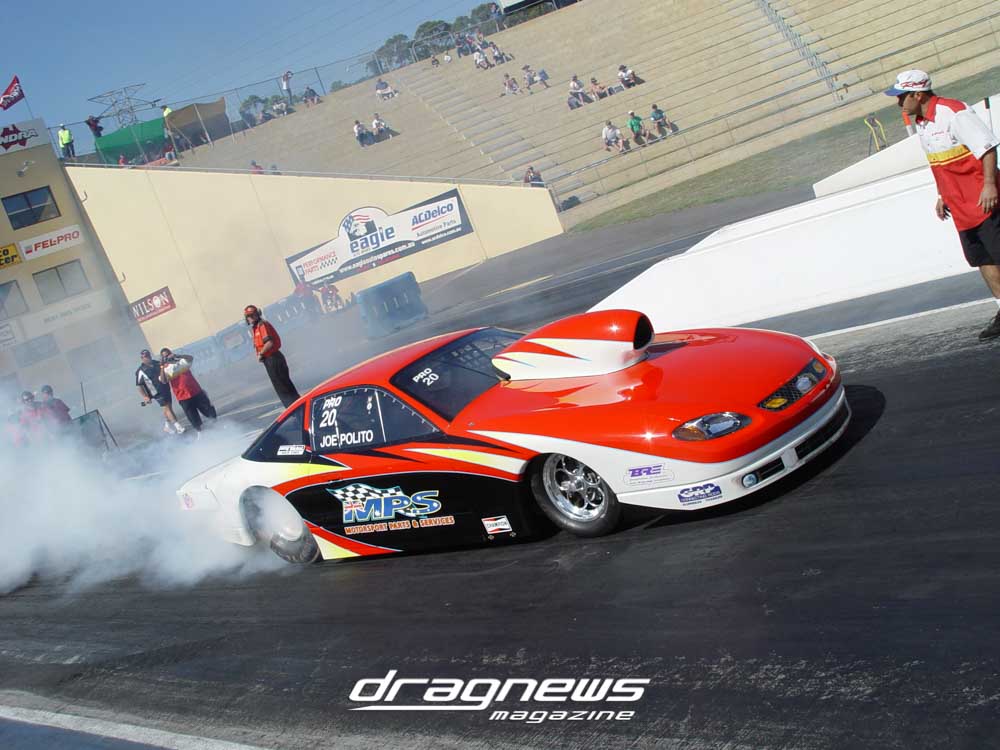 OK, things are going to get a little crazy now. Spec bodies were permitted into the class in the 2005/2006 season and all of a sudden almost every racer had a new car. No longer restricted to older NHRA cars, teams were able to import the latest and greatest chassis technology into Australia, and records were broken. Here's Joe Polito's new Escort as it began.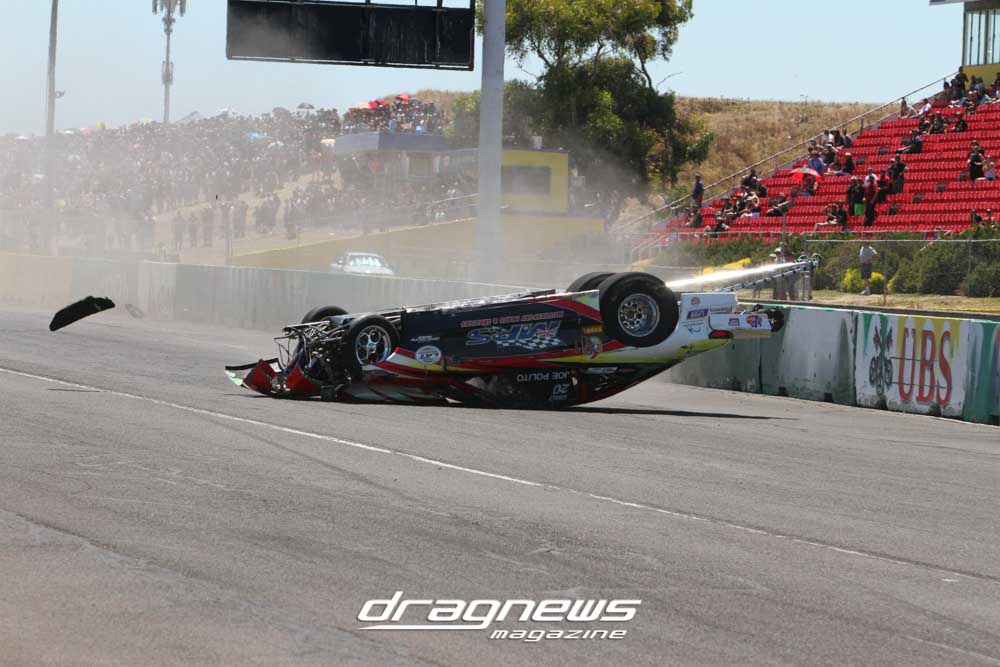 Fast forward to 2017 and the car was not so new-looking, when Bill Perdikaris had a big one in the braking area of Calder Park while driving.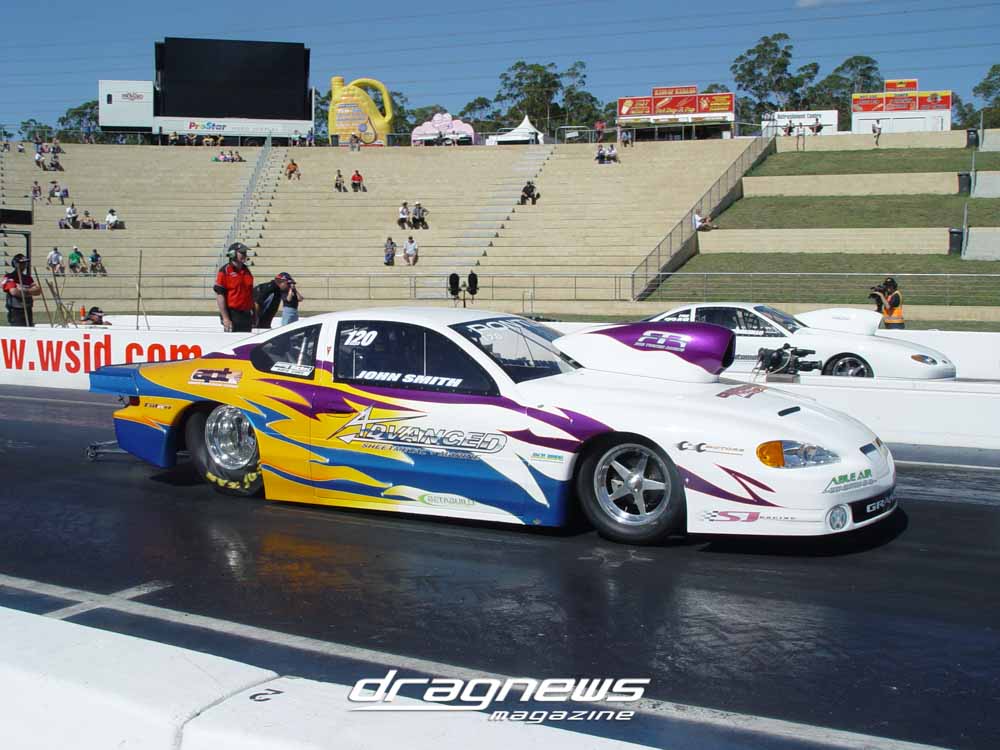 Returning to 2006, and the class welcomed Shane Tucker. The son of Rob Tucker, Shane spent several years in the USA trying to catch a break in the NHRA before returning home to race in ANDRA competition and work on his business.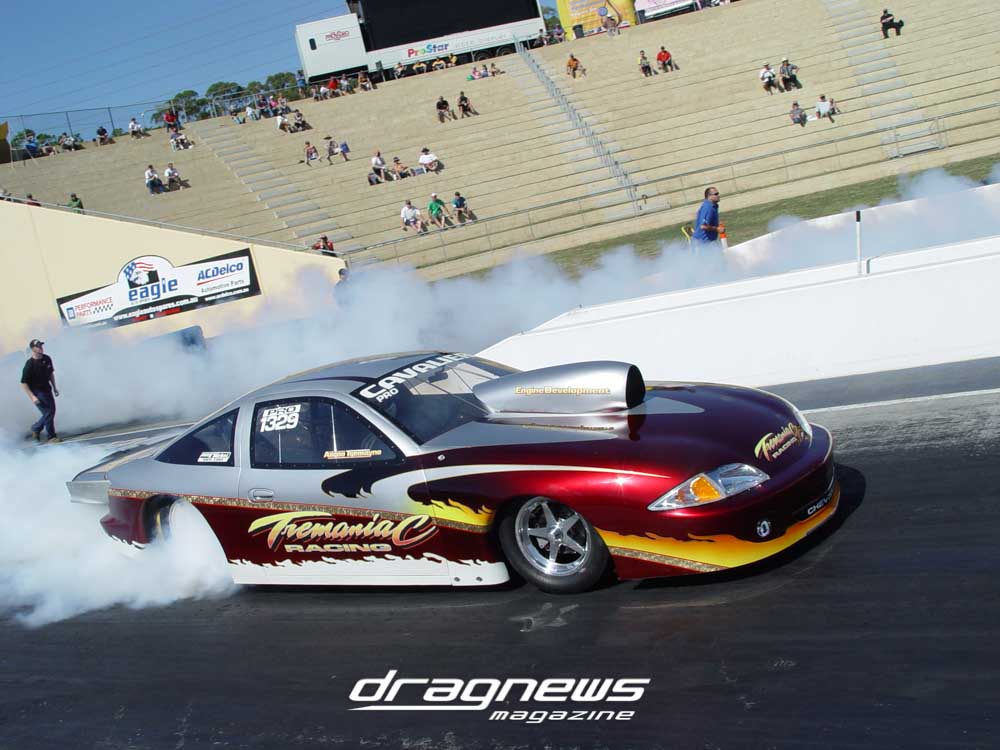 The Tremayne family did not take long to update their car, moving to this Chevy Cavalier.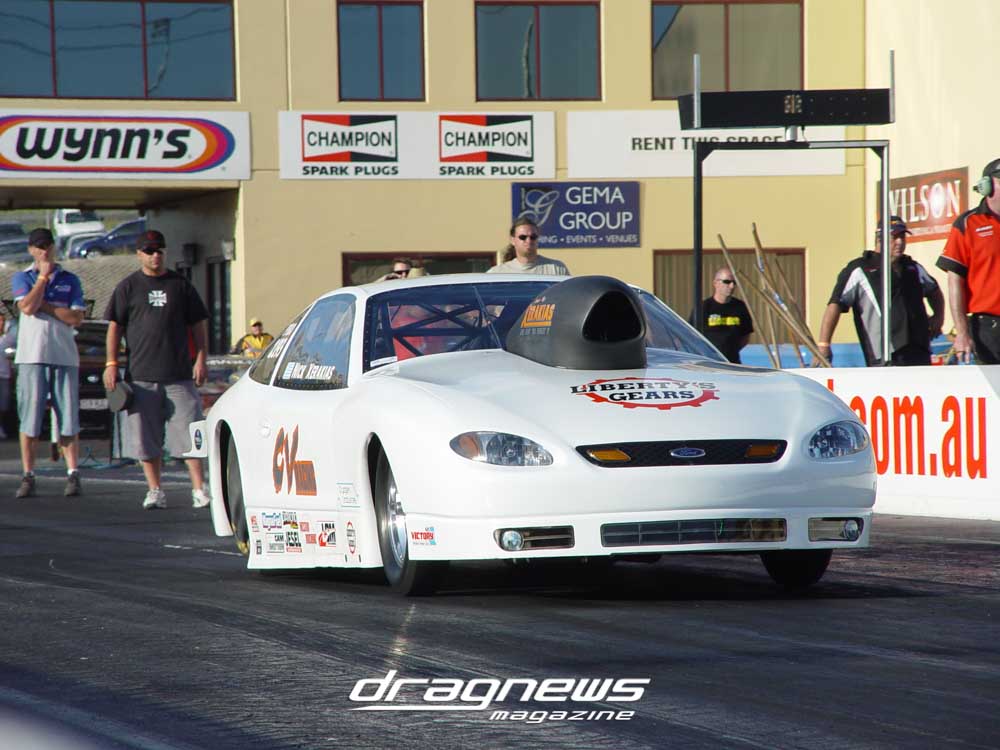 Nick Xerakias in one of his first races in a new Ford Escort…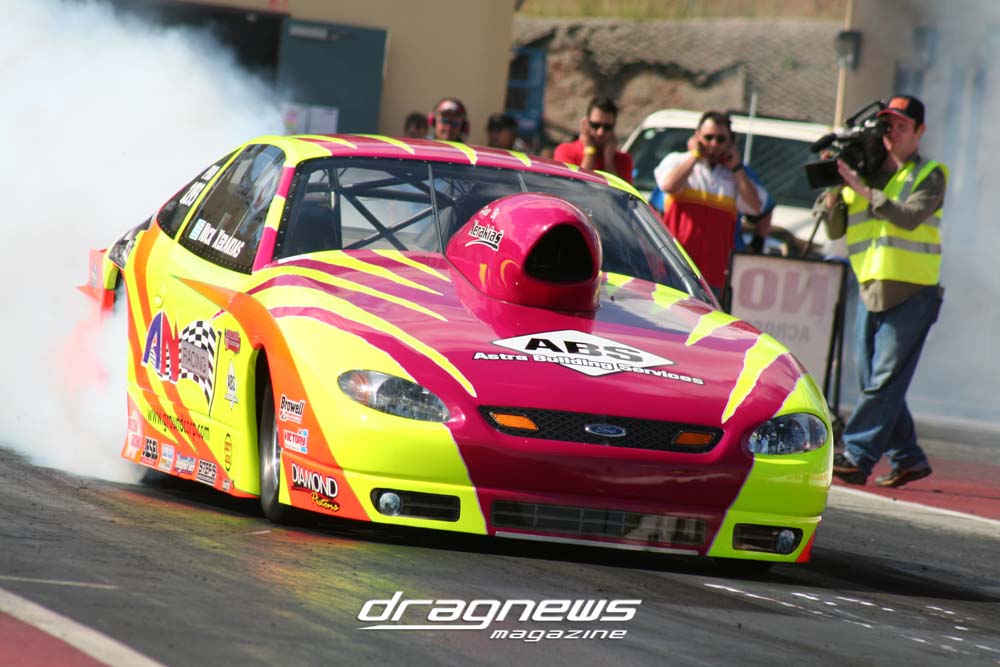 …which would later become much more brightly coloured!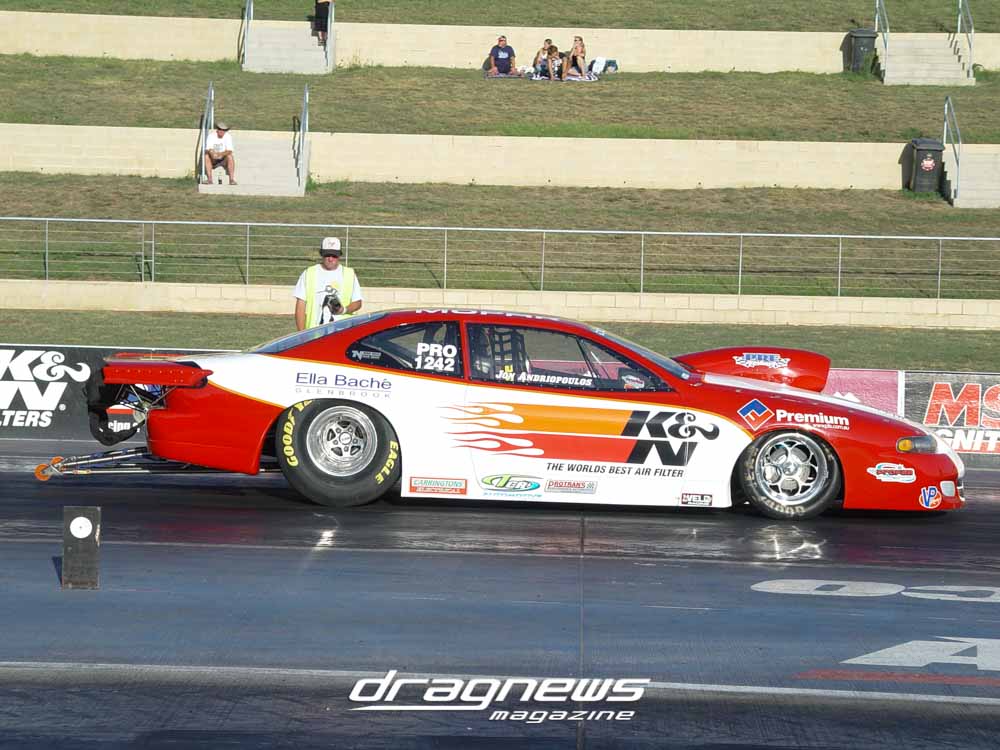 Jon Andriopoulos added K&N sponsorship in 2005 and would go on to earn another championship in the 2006/07 season.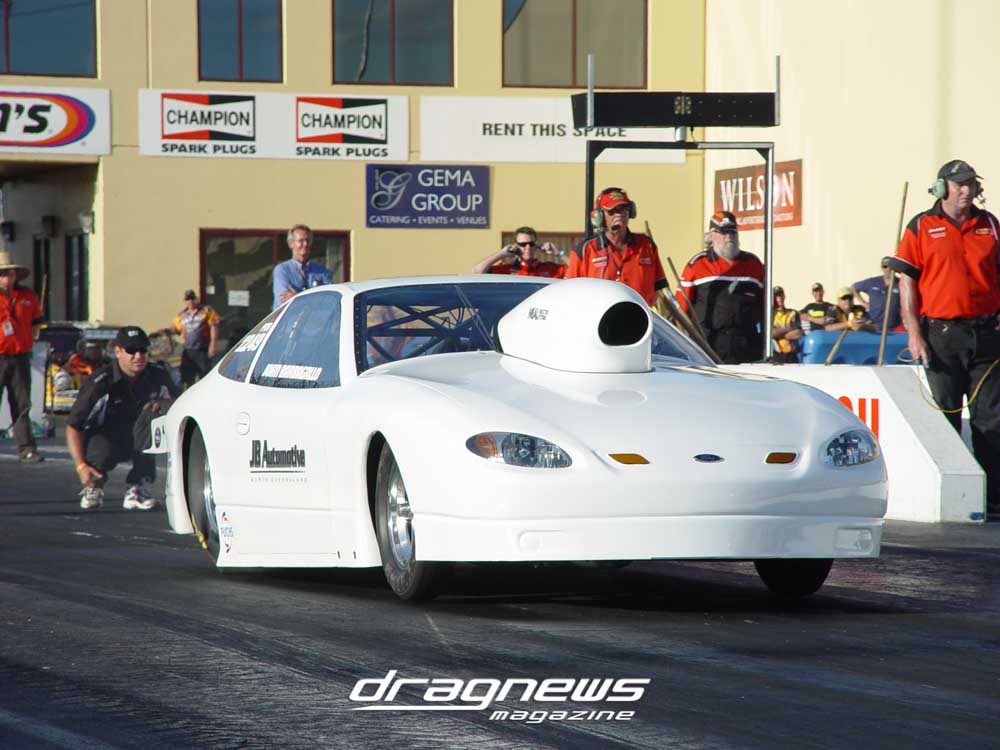 Yet another Ford Escort! John Barbagallo campaigned this car for many years. We had a news story on the site about the car being crashed in 2010, and I'm not sure if the car was repaired or he brought in another Escort to replace it. Anyone out there know? Thanks Geoff McInnes for letting us know that the car was repaired and Barbagallo still races it today, which would make it one of the oldest cars in the class right now.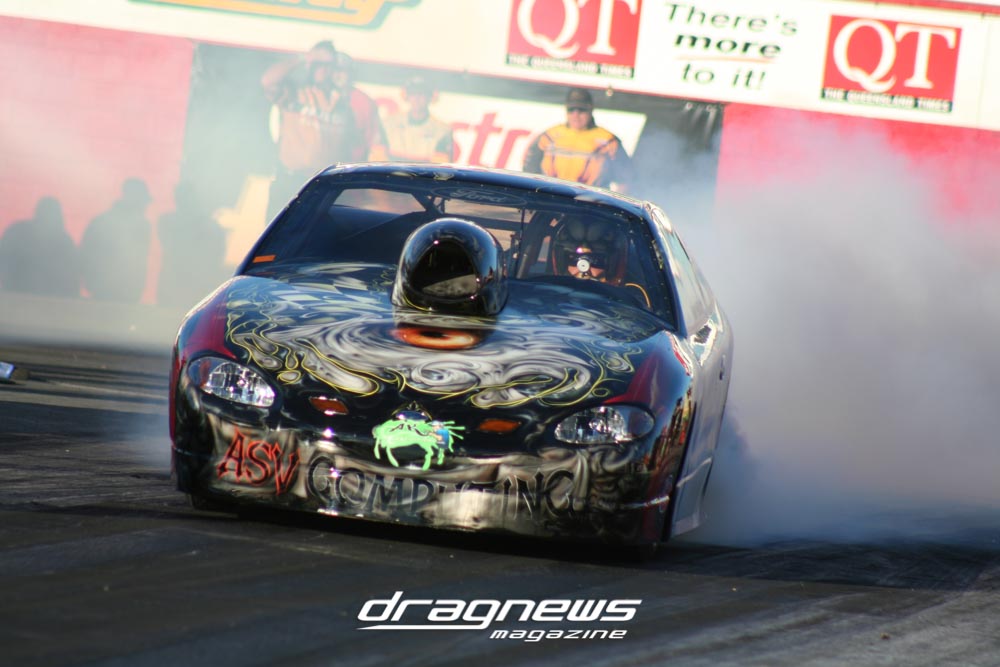 Andrew Stavroulakis had one of the more wild looking Ford Escorts when he rejoined the class!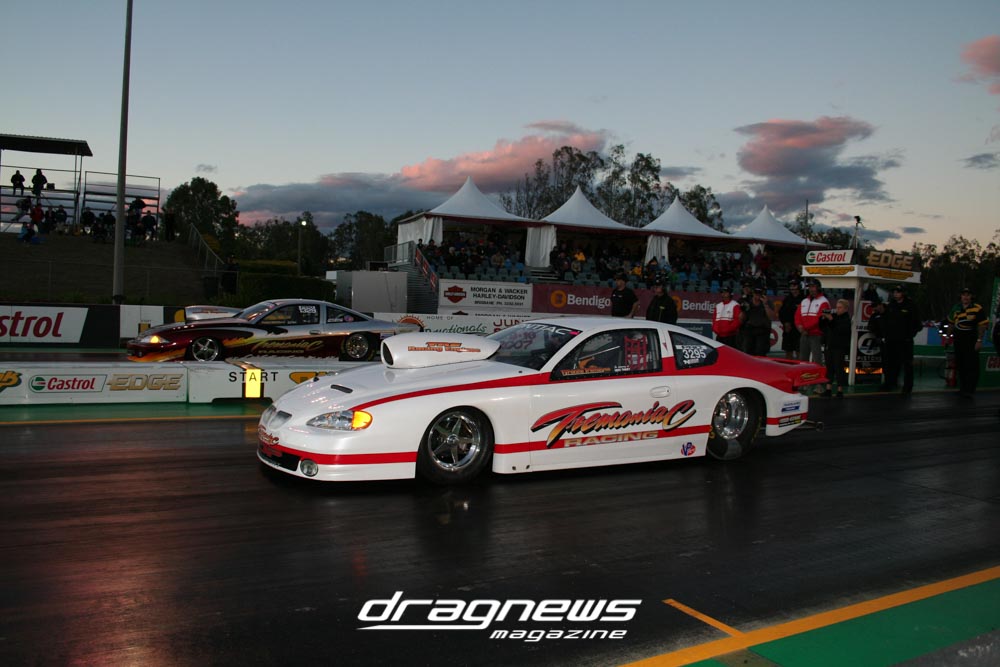 Tyronne Tremayne joined brother Aaron with this Pontiac Grand-Am.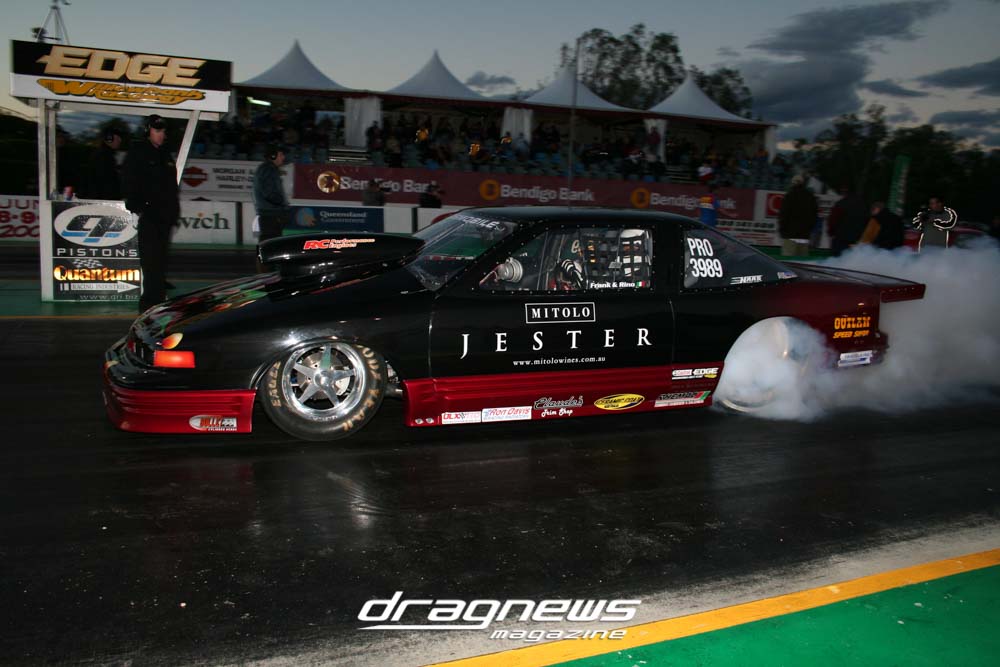 South Australia's Frank Nirta has been a sporadic competitor over the years, tending to drop in for one or two meetings at a time. Here is one of the last Cutlasses in the class.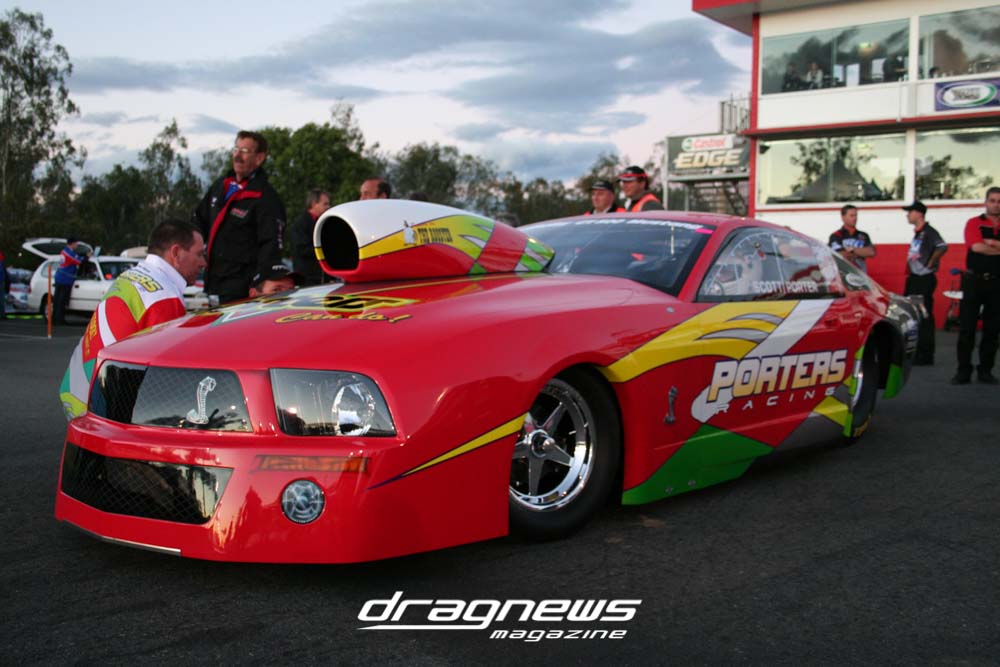 The Ford Mustang arrived in Australian Pro Stock, thanks to north Queenslander Scott Porter…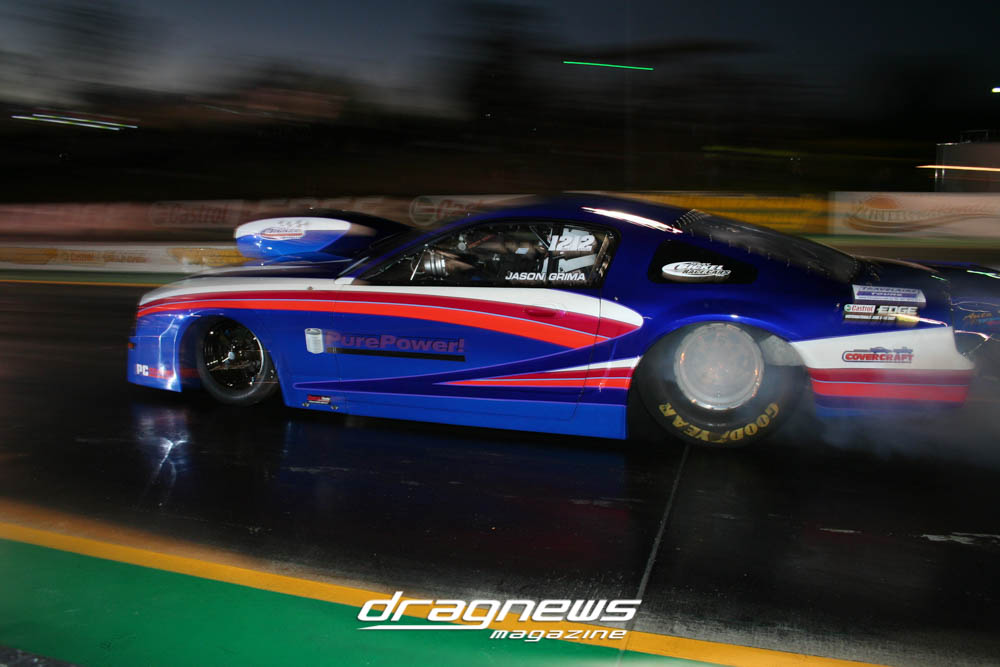 …and Jason Grima. This car is now raced by Jason in NHRA Competition Eliminator.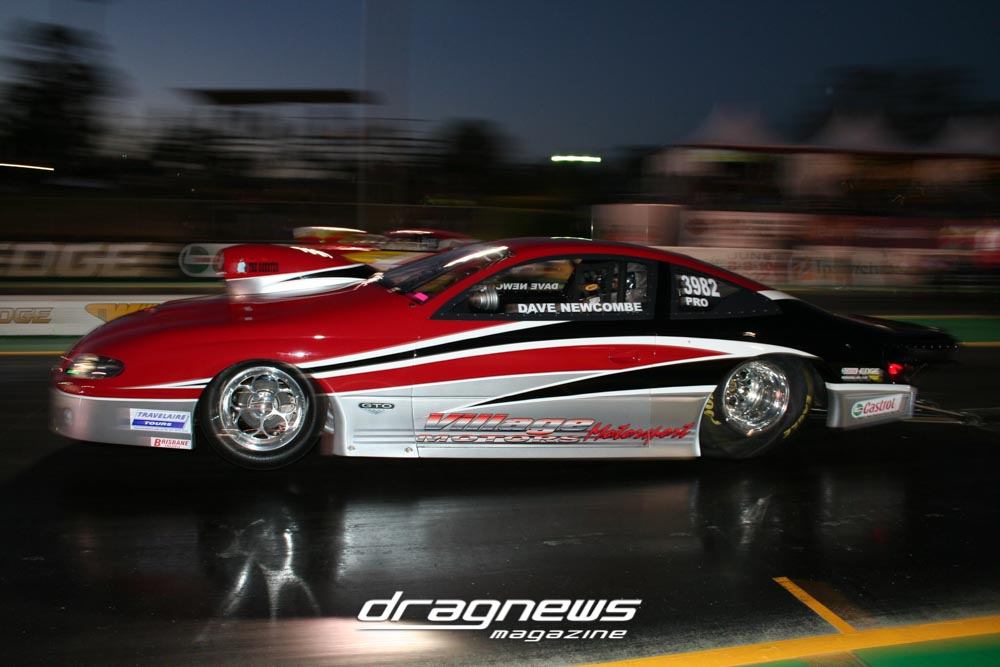 Dave Newcombe joined in the fun with a beautiful Pontiac GTO. The class seemed to have new teams coming from everywhere at this time.
Wayne Daley rejoined Pro Stock after a few years on the sidelines, with this Chevy Cavalier. He last raced in the class in the nineties with a Ford Thunderbird. He now races a Dodge, so we guess that makes him one of the few drivers to racer under all three brands!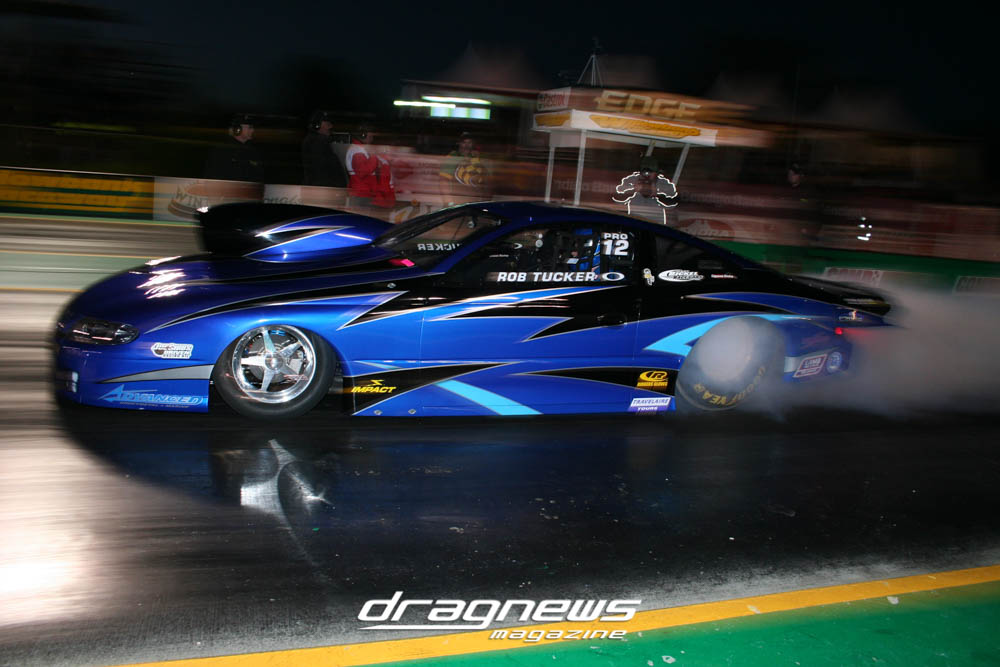 Rob Tucker is back! I believe Rob last competed in the nineties before this beautiful Holden Monaro hit the track.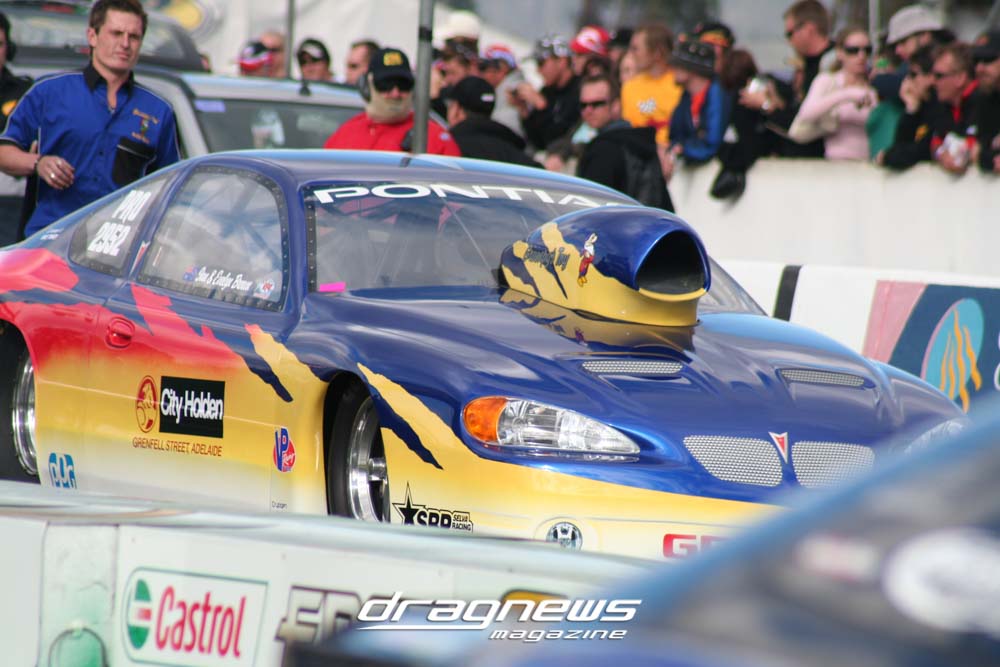 Victoria's Ian Brown joined the party with this Pontiac GTO. Apologies that I don't have a better image of the car.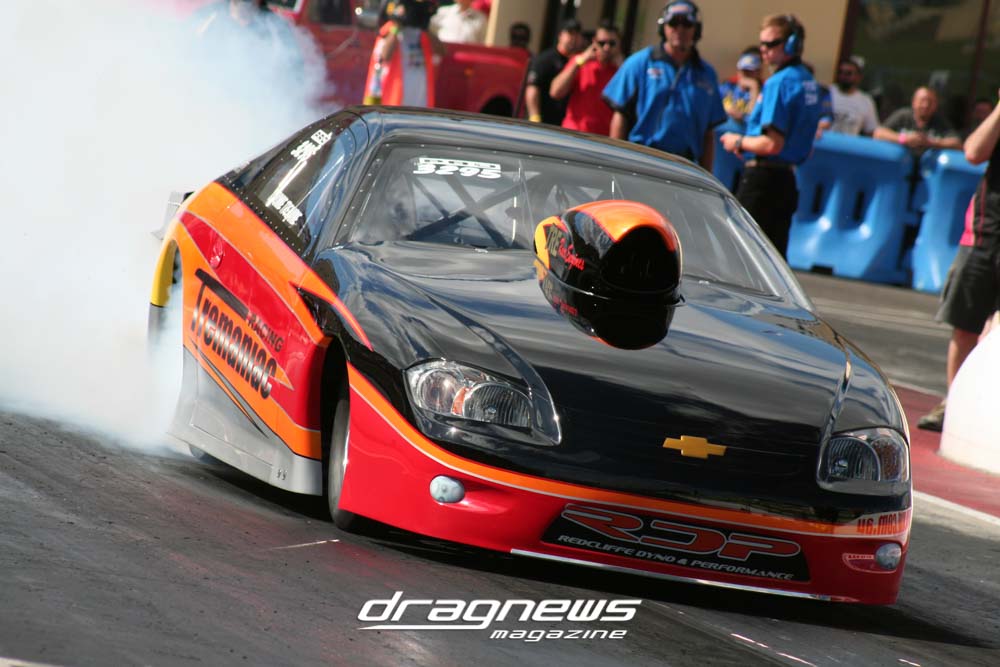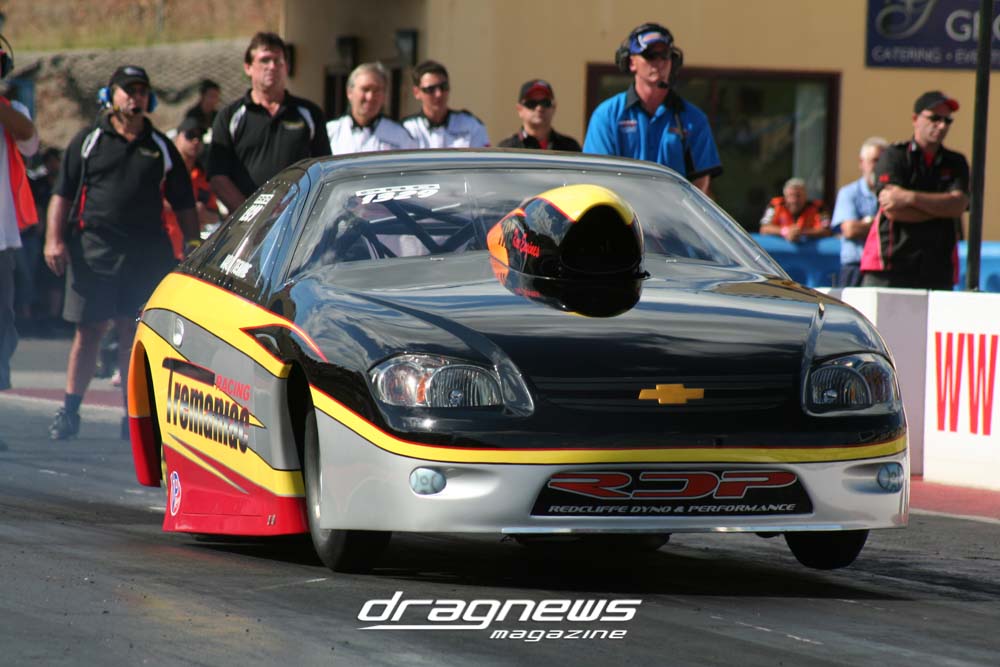 The Tremayne brothers moved to identical Chevy Cobalts in the 2007/2008 season. This would begin an era of dominance for Aaron Tremayne where he would win four straight championships in 2008, 2009, 2010 and 2011.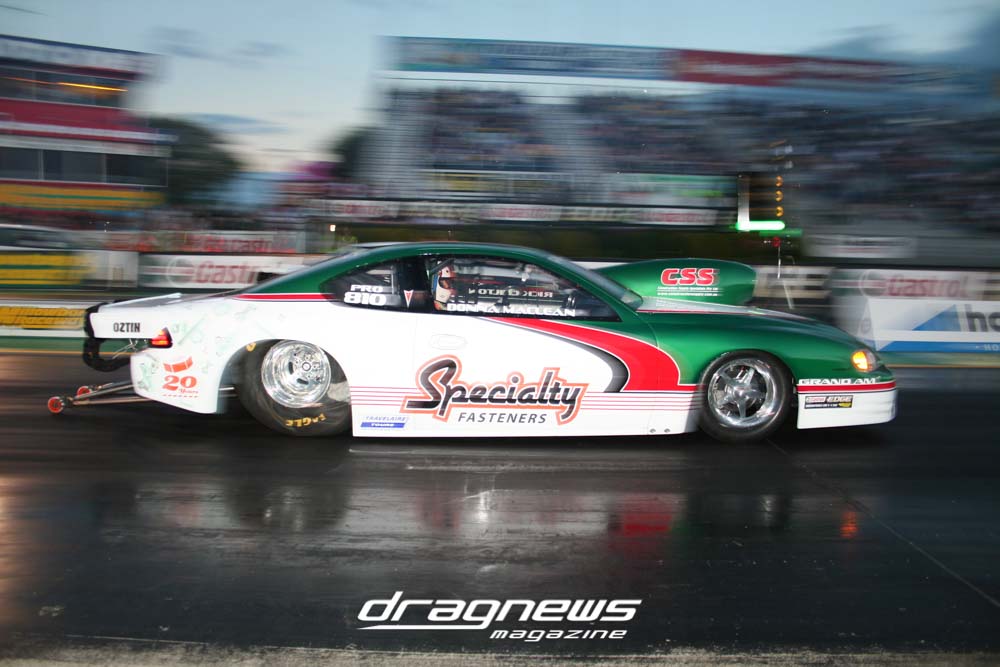 NSW's Rick Chilton brought in this ex-Mike Edwards Pontiac Grand-Am in 2008.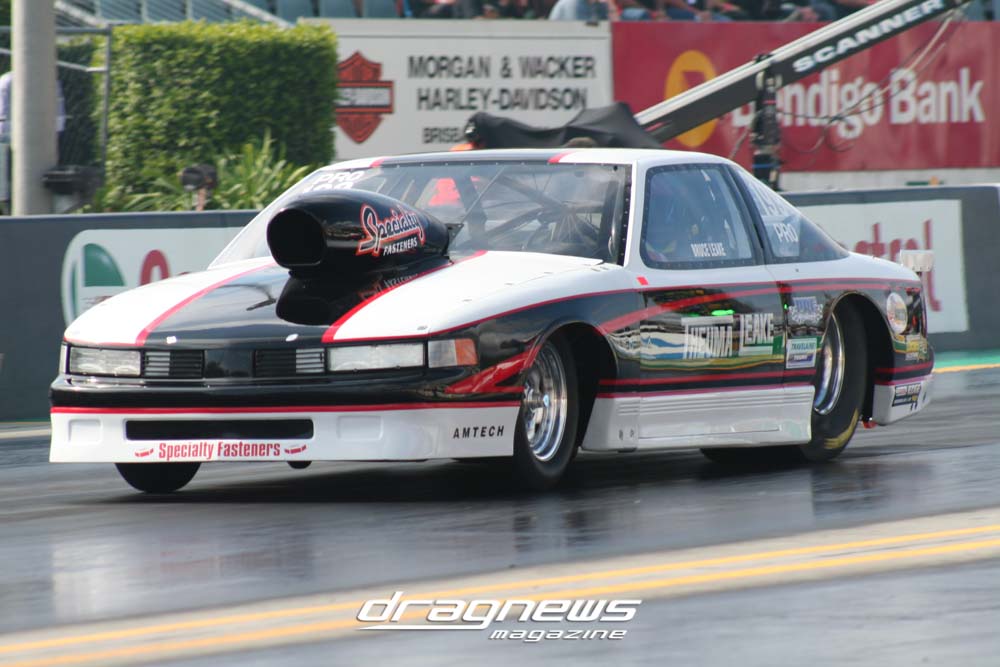 Bruce Leake in one of his last events in this Cutlass, before it was sold to WA Super Stock racer Colin Mortimore.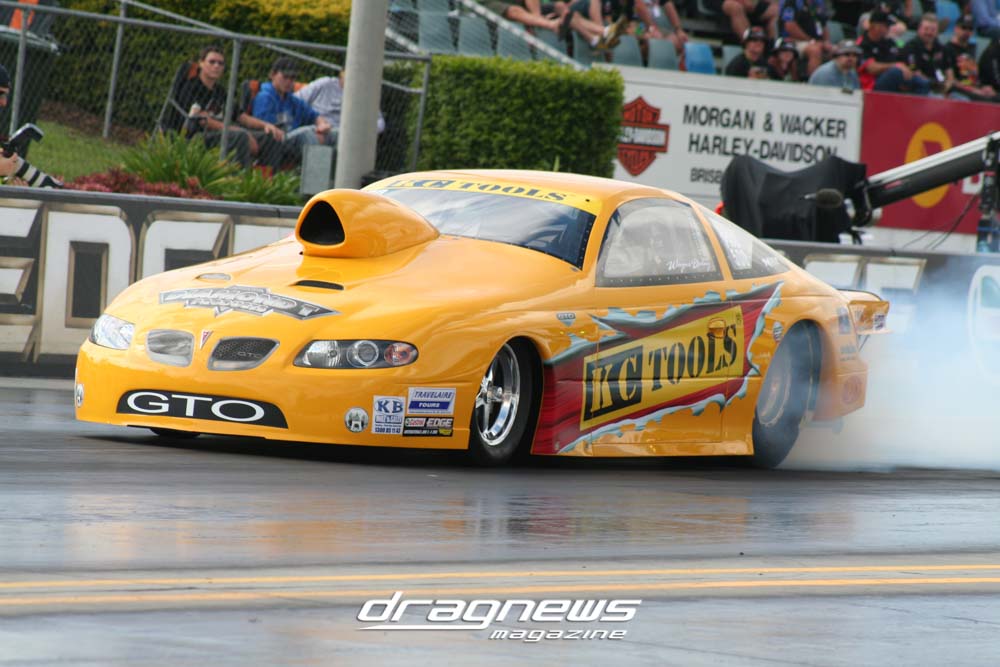 Wayne Daley switched up to a Pontiac GTO, which would later be sold to Jodi Racco and continues to race in Pro Stock to this day.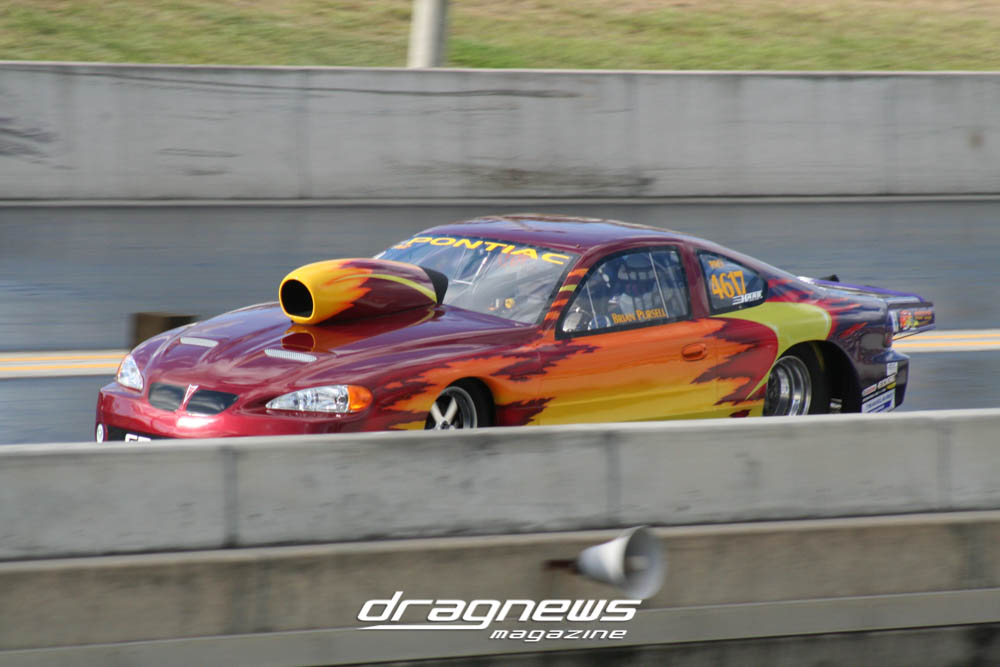 Brian Pursell at one of his first Winternationals with this Pontiac Grand Am.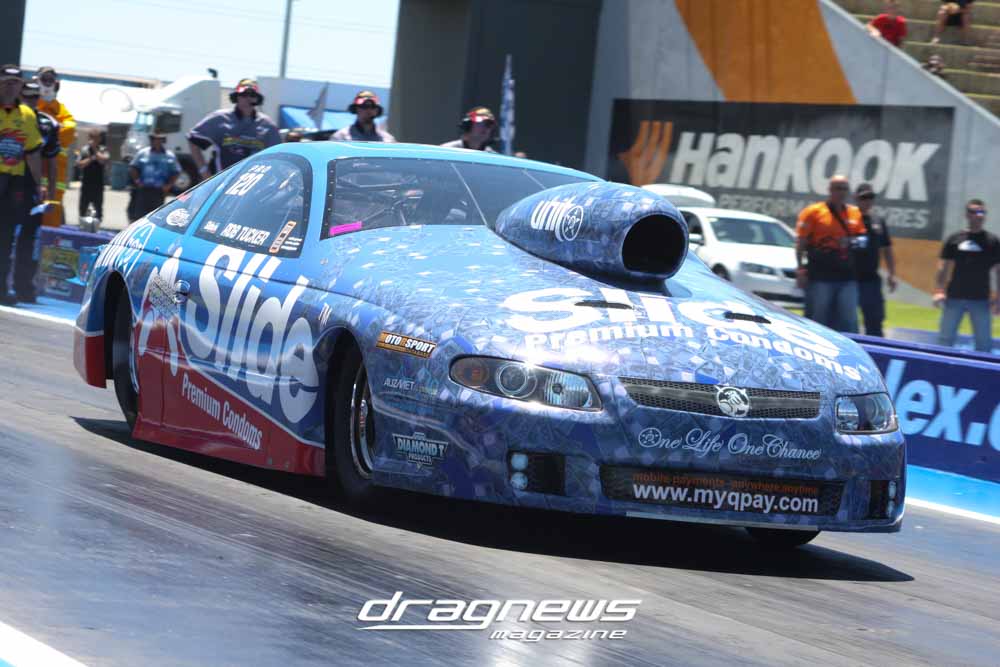 Perhaps the most controversial sponsorship in Pro Stock was Slide Premium Condoms, who backed Shane Tucker in 2009.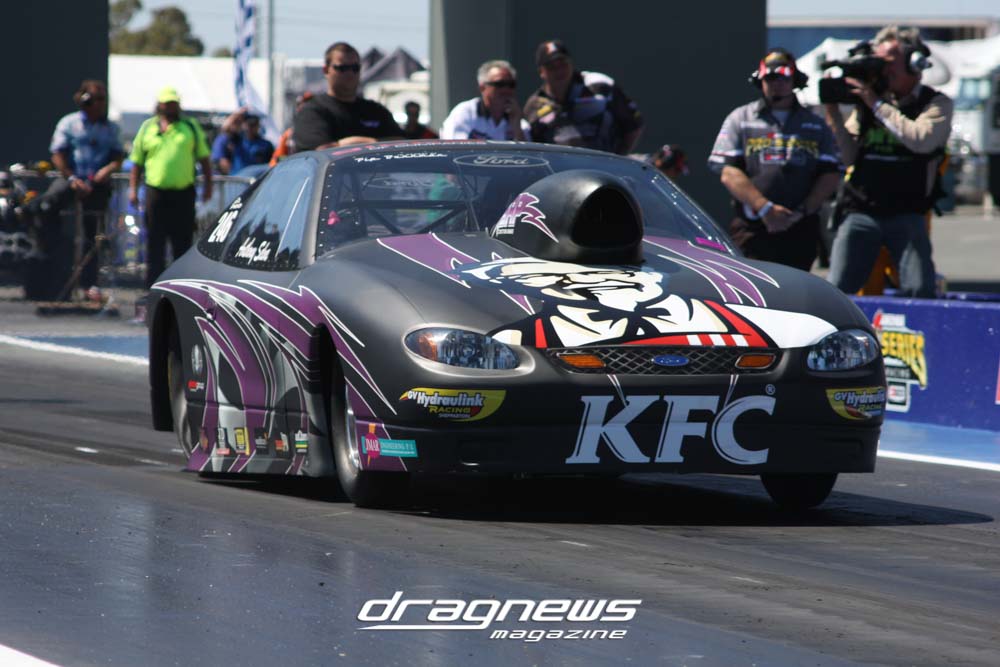 Former Victorian Comp racer Anthony Selva stepped into Pro Stock for a time, with this Ford Escort.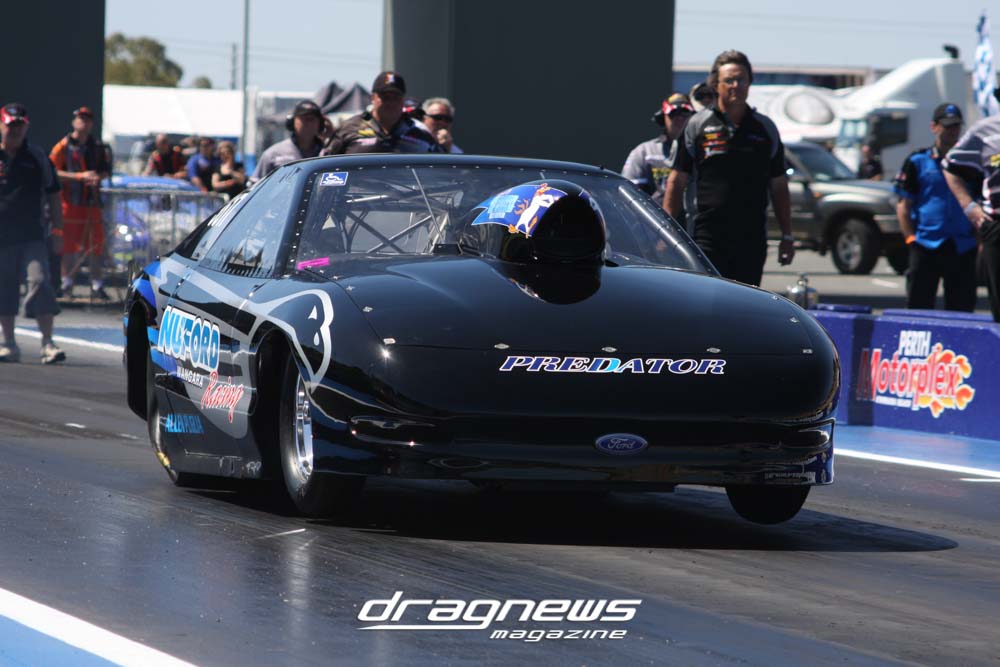 WA's Allen Puglia was typically an A/Gas racer but he dabbled in Pro Stock for the first time with this Ford Probe.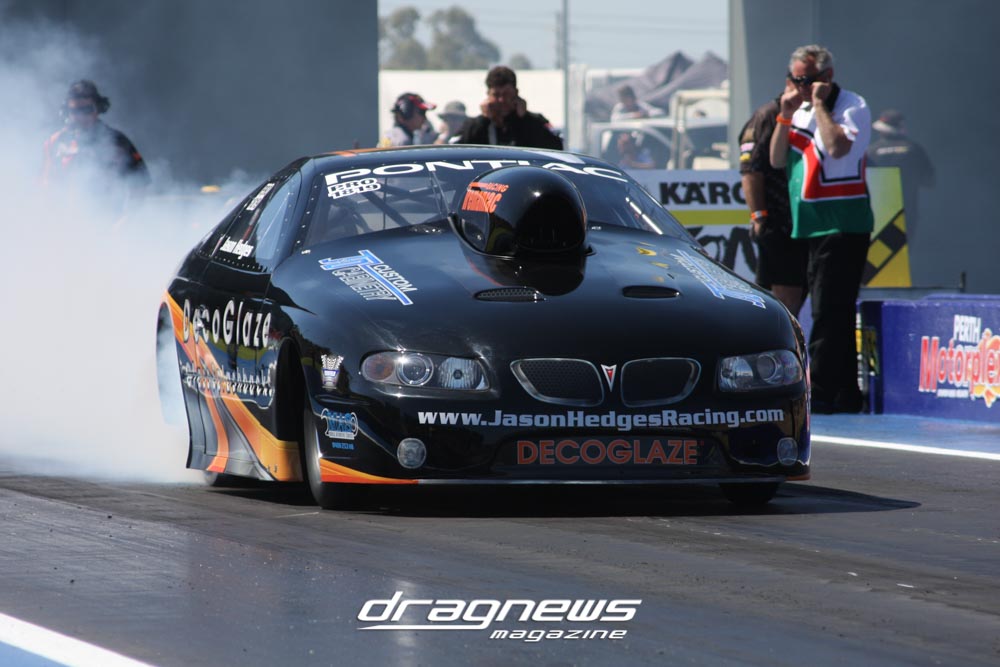 Jason Hedges started racing in Pro Stock in 2009 and has since become one of the most dedicated runners in the class. This Pontiac GTO was later sold to Comp racer Sam Gullotto, who put a turbocharged LS motor in it.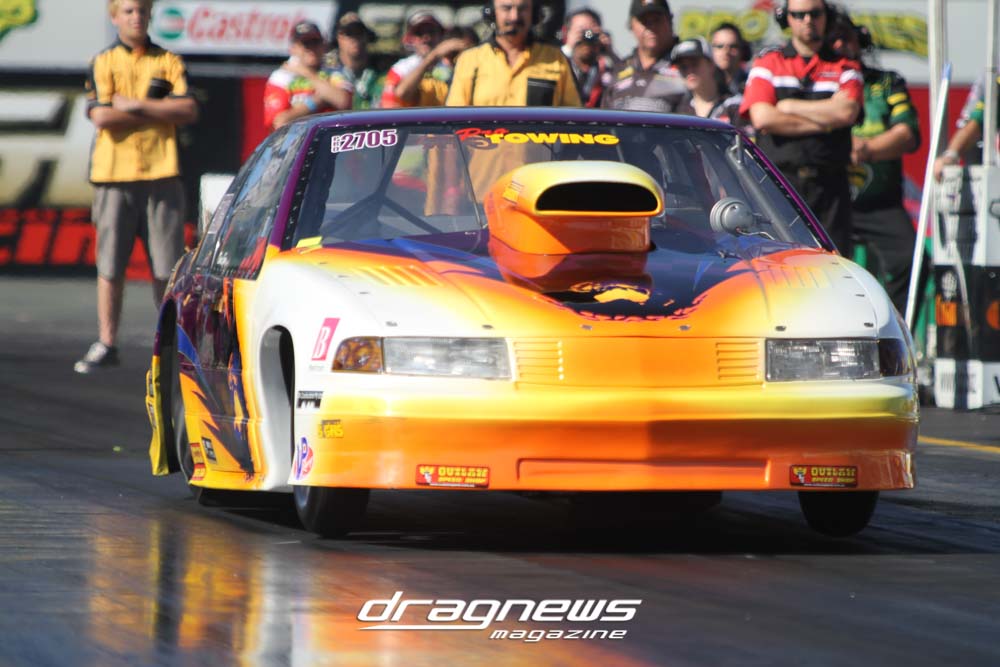 SA's Enzo Demizio in what I think might be the last of the non-spec body cars you will see in this article. Note how much wider the old bodies are, which severely hurt their aerodynamics.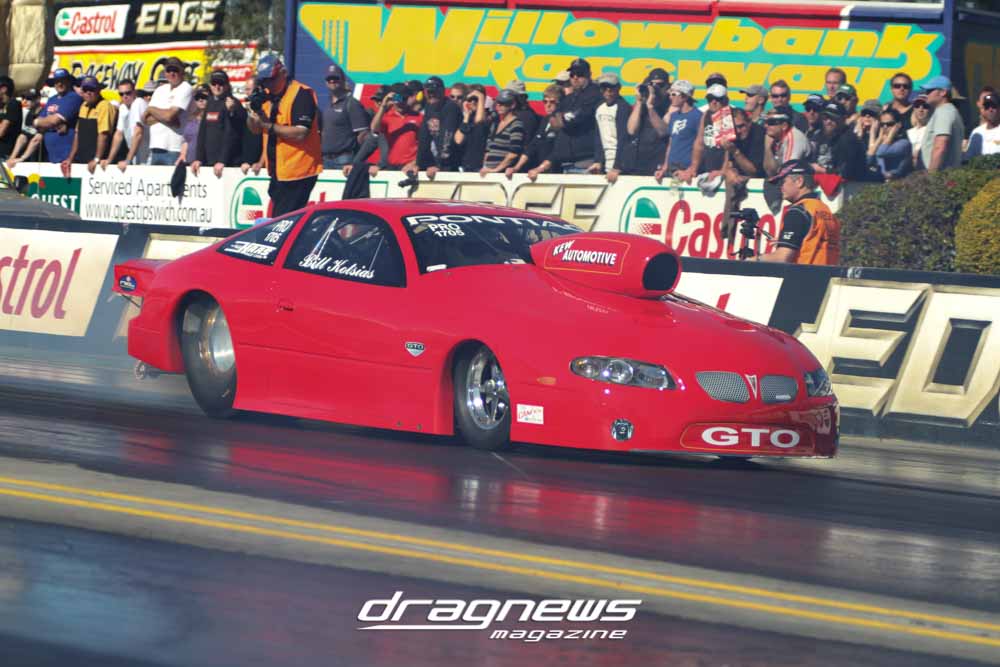 Another day, another GTO! Bill Kotsias joins in the fun.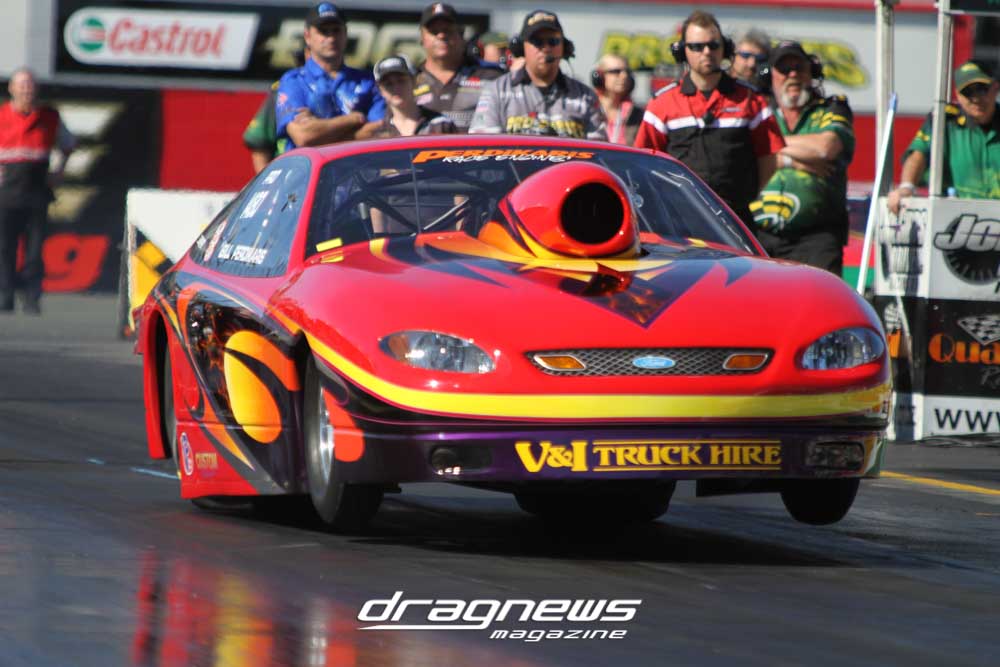 Ford Escorts were also multiplying. Bill Perdikaris put this beautiful car on track in 2010…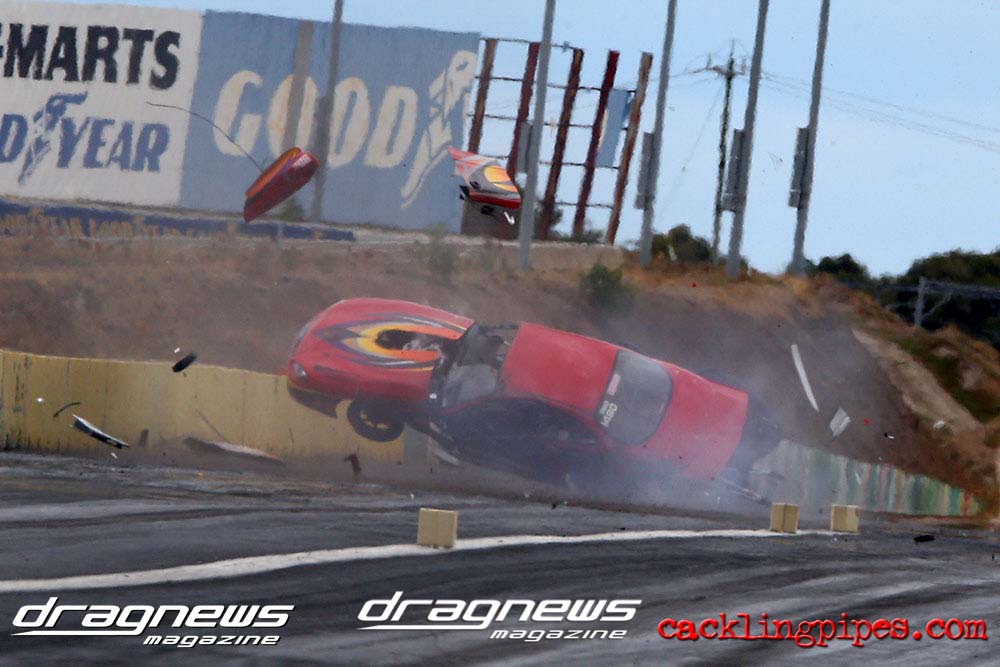 …but it would later have a big time crash at Calder in 2016.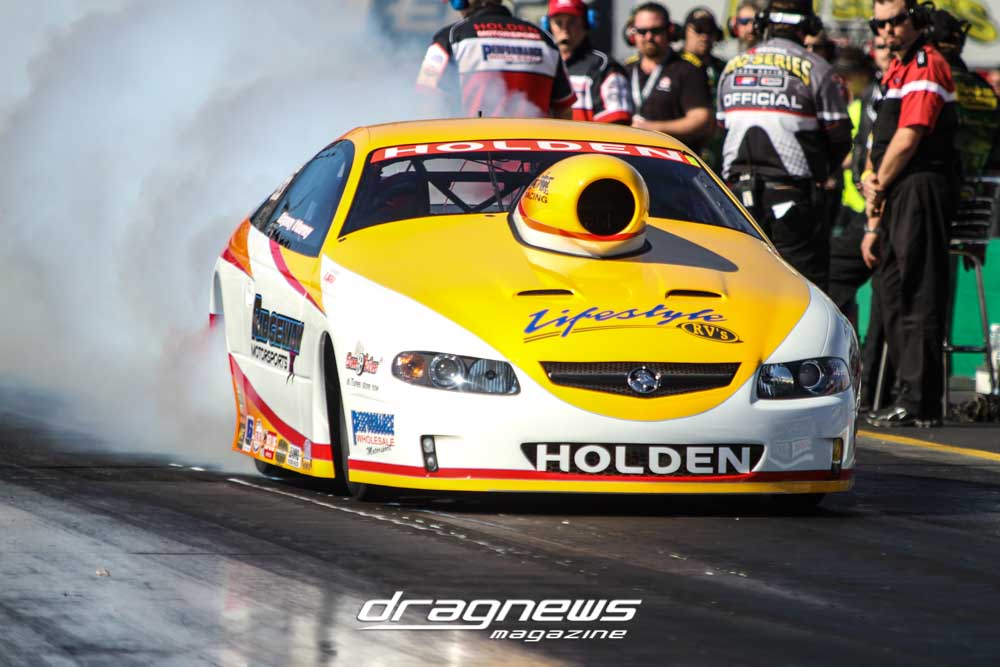 Peter Ridgeway returned to the class in 2010 with this beautiful Holden Monaro. Ridgeway had eyes only for the six second zone, a feat he achieved in 2012 with a 6.997 at Sydney Dragway.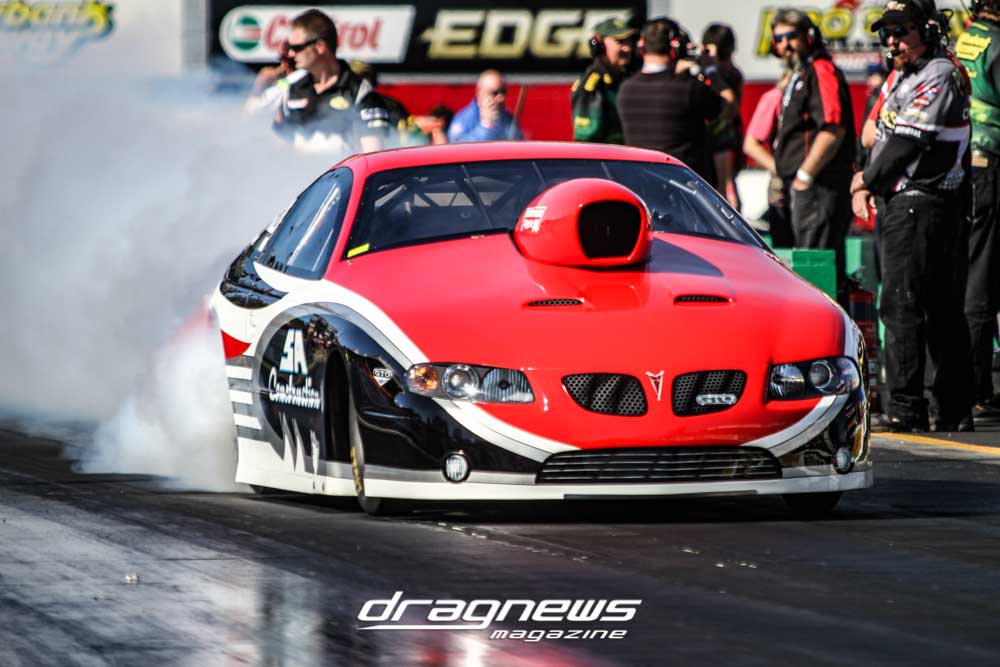 SA privateer Michael Ali pulled off one of the most unlikely championship wins in pro history with a 2012 ANDRA title.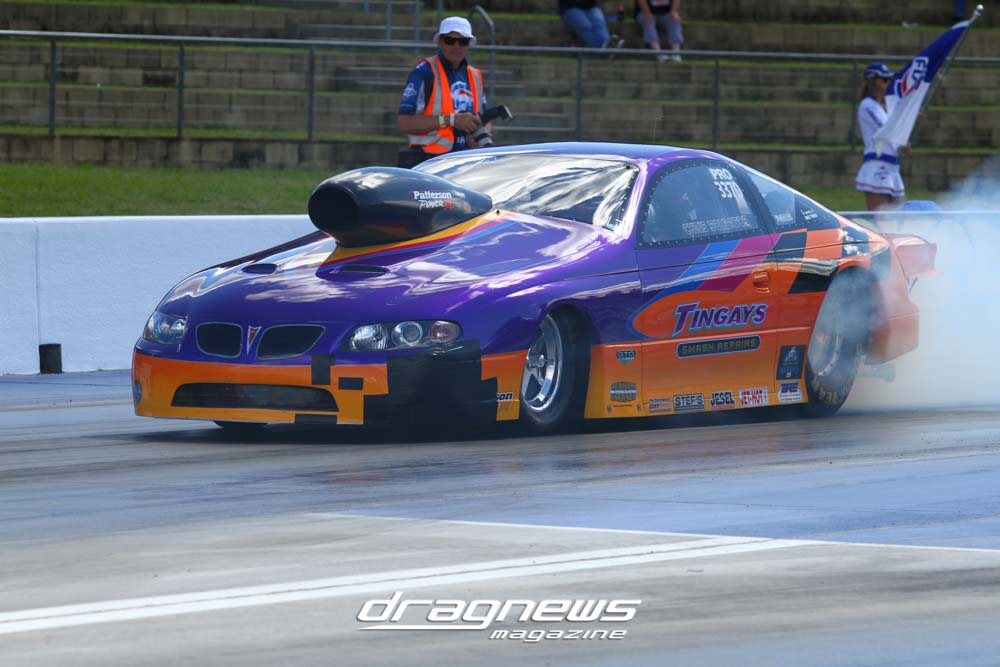 Chris Soldatos went from Comp to Pro Stock, unleashing this beautiful GTO.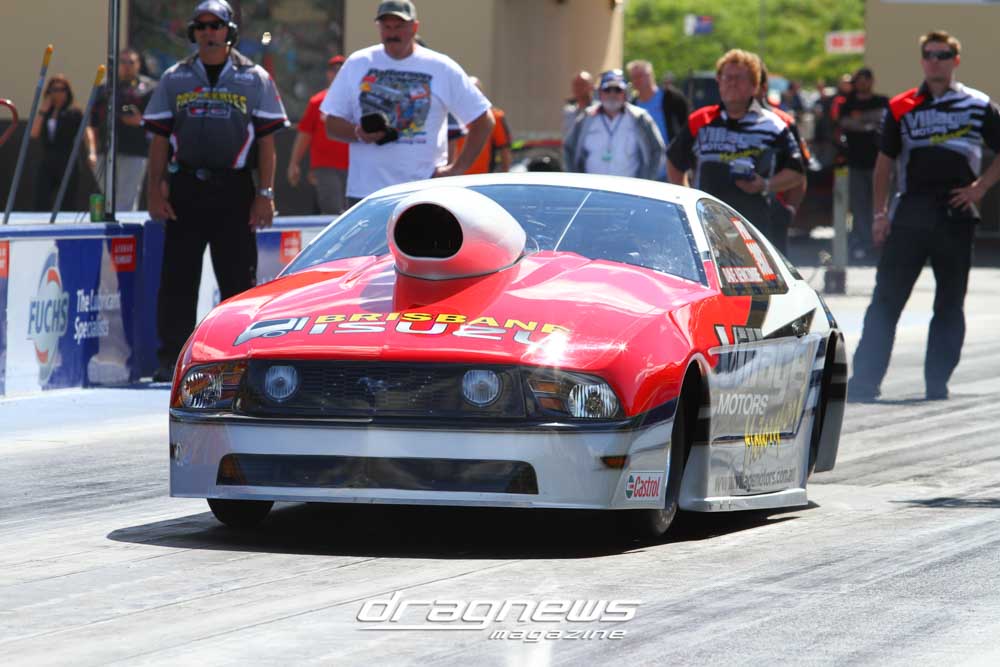 Dave Newcombe updated his ride to a Ford Mustang. This car would record the first unofficial six second pass in the class, at a Willowbank test and tune, running John Barbagallo-built Ford horsepower.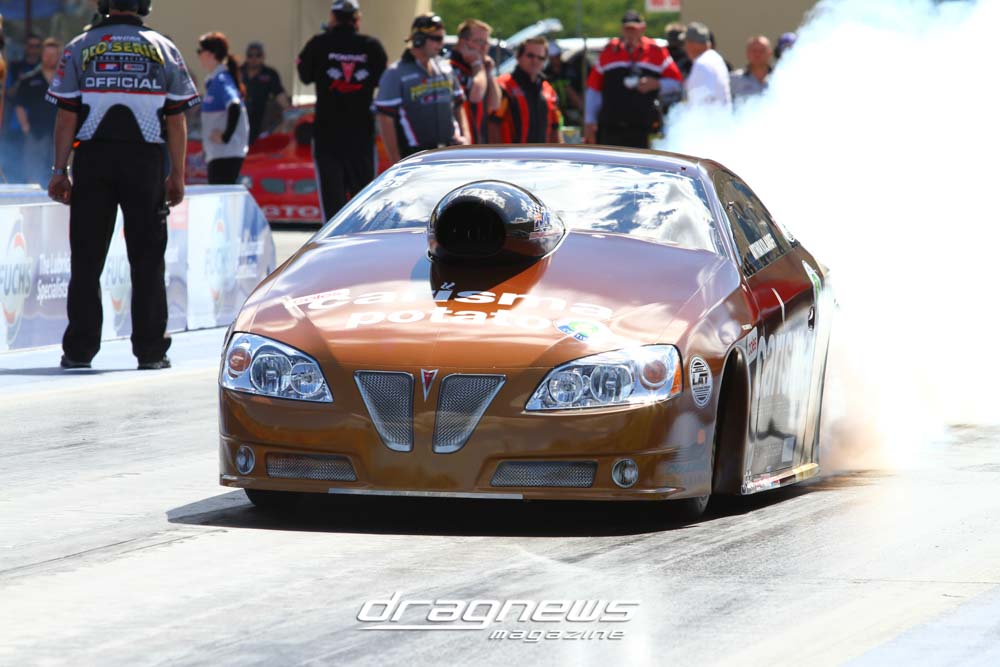 Arthur Kolaroff in one of the first Pontiac GXPs seen in the class, and perhaps the only drag car in the world sponsored by potatoes. The GXP would become one of the preferred platforms over coming seasons, which was a little bittersweet as it represented the end of the GTOs, which could be easily rebranded as Holden Monaros for added fan appeal.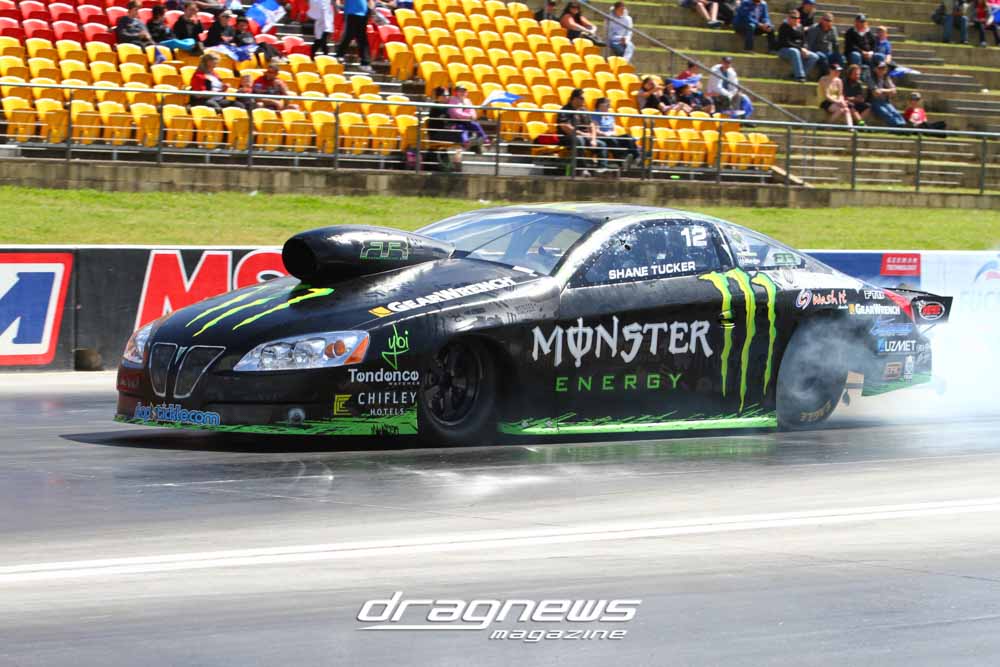 Shane Tucker also got on the GXP bandwagon, but more importantly he brought a huge sponsor to the sport in the form of Monster Energy. The team had a very professional look, and set a standard for Pro Stock that should be aspired to.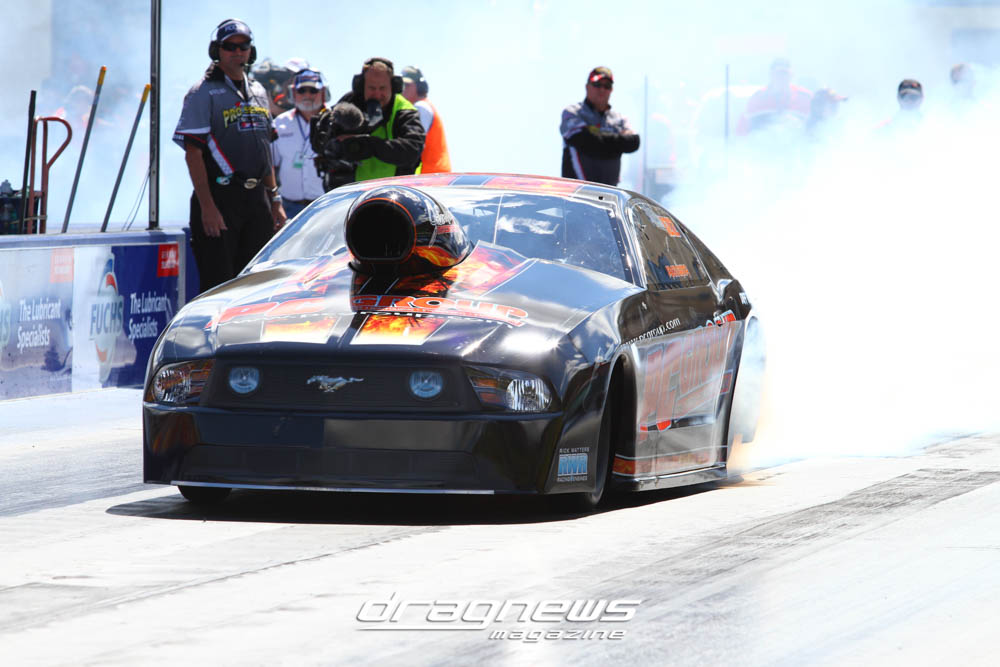 Jason Grima shifted gears to a new Mustang in 2011. This car would earn him a 2013 ANDRA title.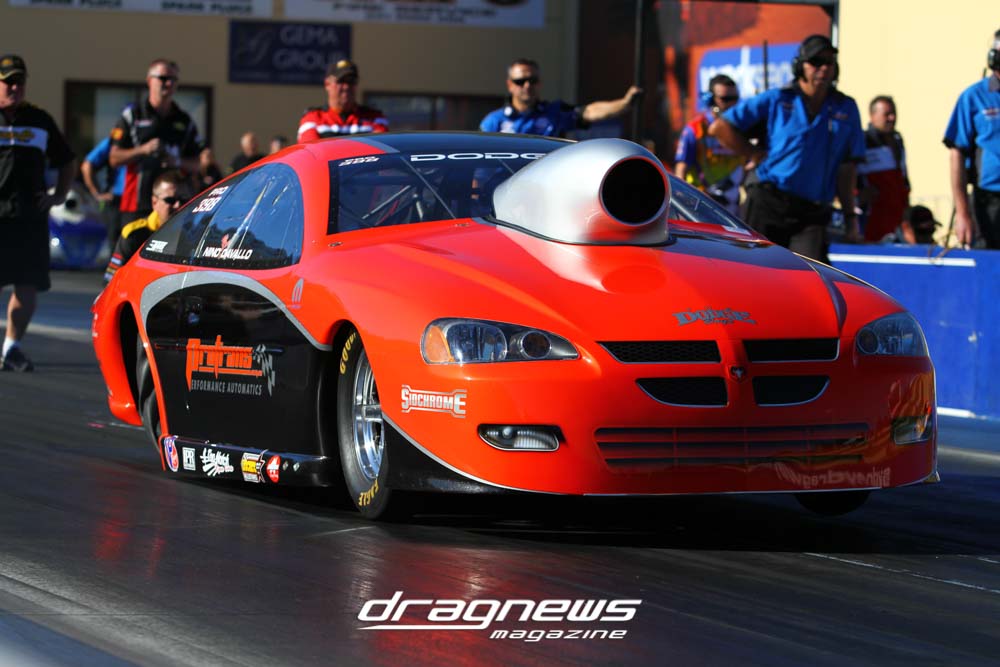 Nino Cavallo joined Pro Stock after a number of years in Pro Stock, beginning with this Dodge Stratus.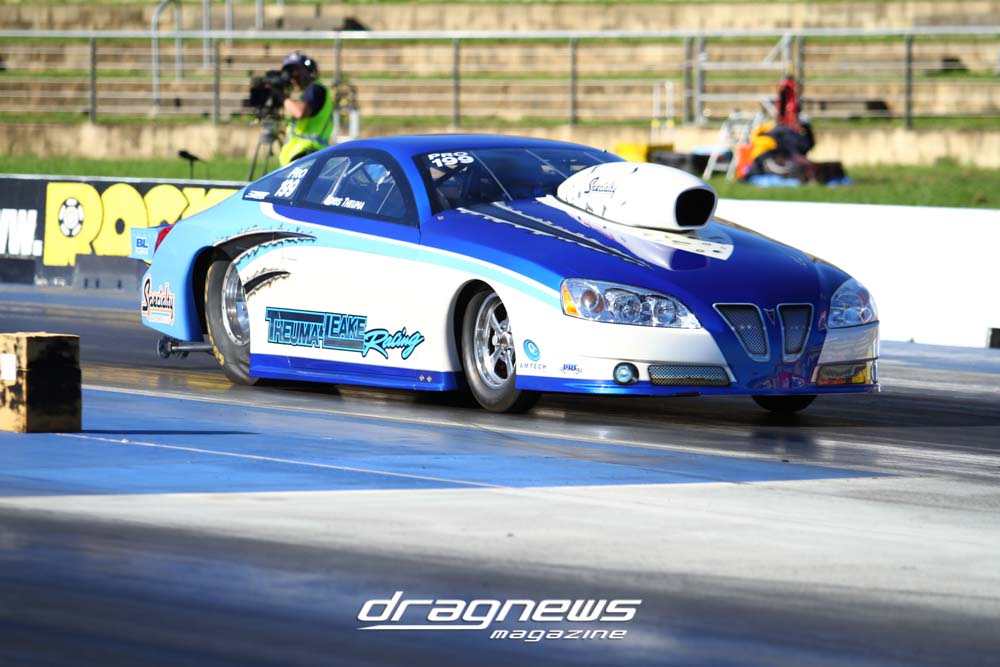 Bruce Leake joined the spec body era with this Pontiac GXP.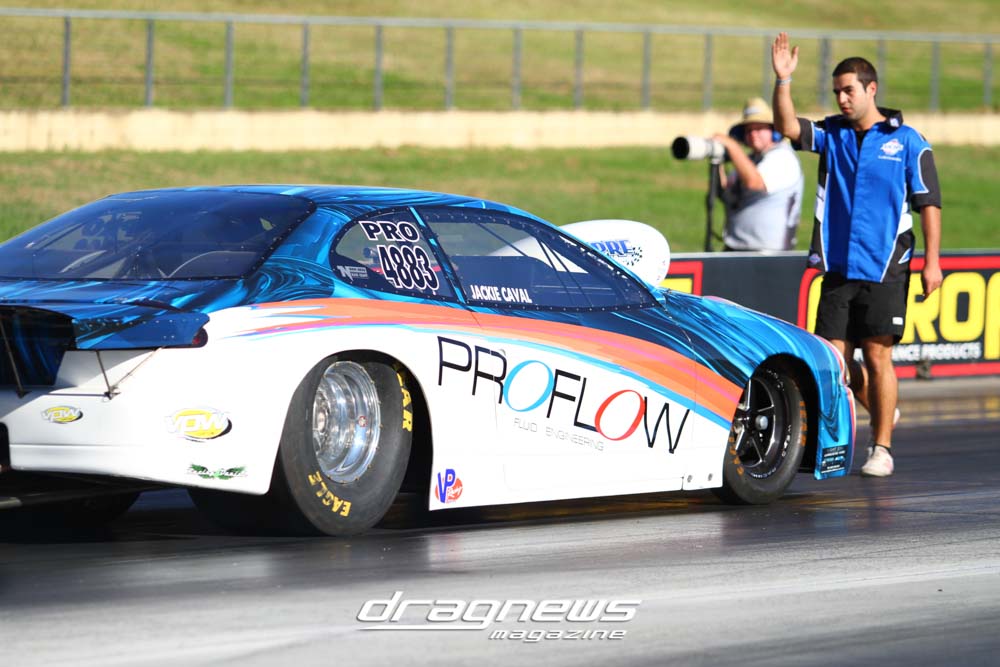 Richard Caval joined the Pro Stock tour for a brief time…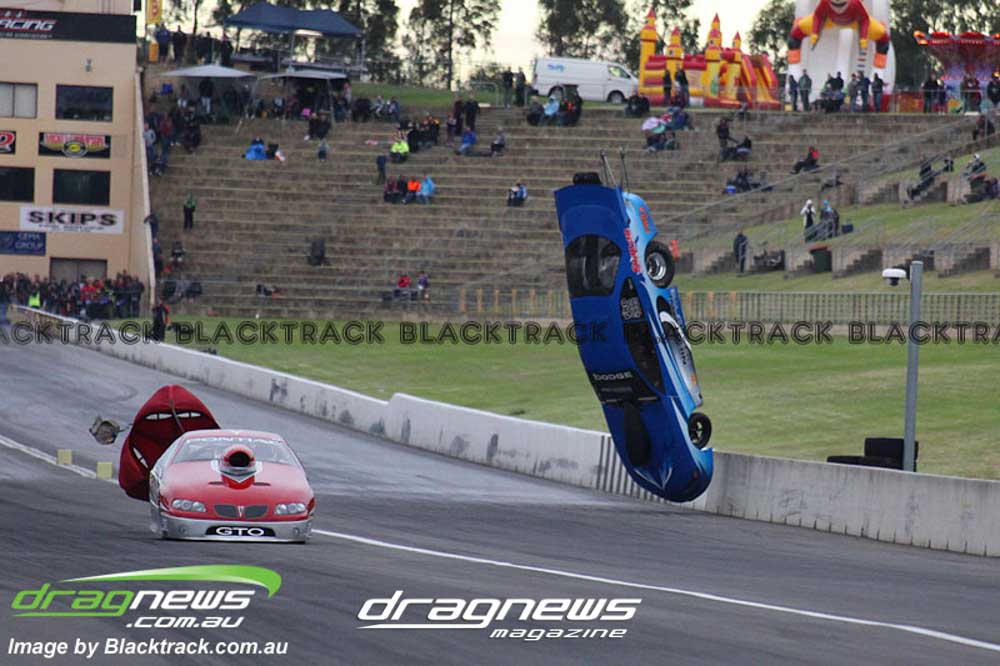 …but this big accident at Sydney Dragway was a major set back for the team.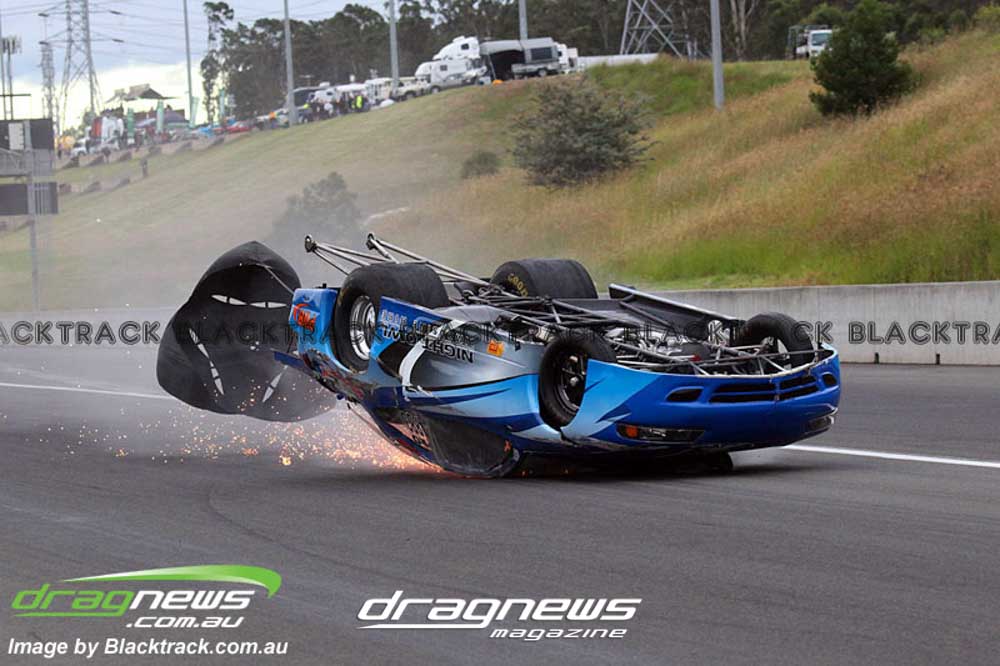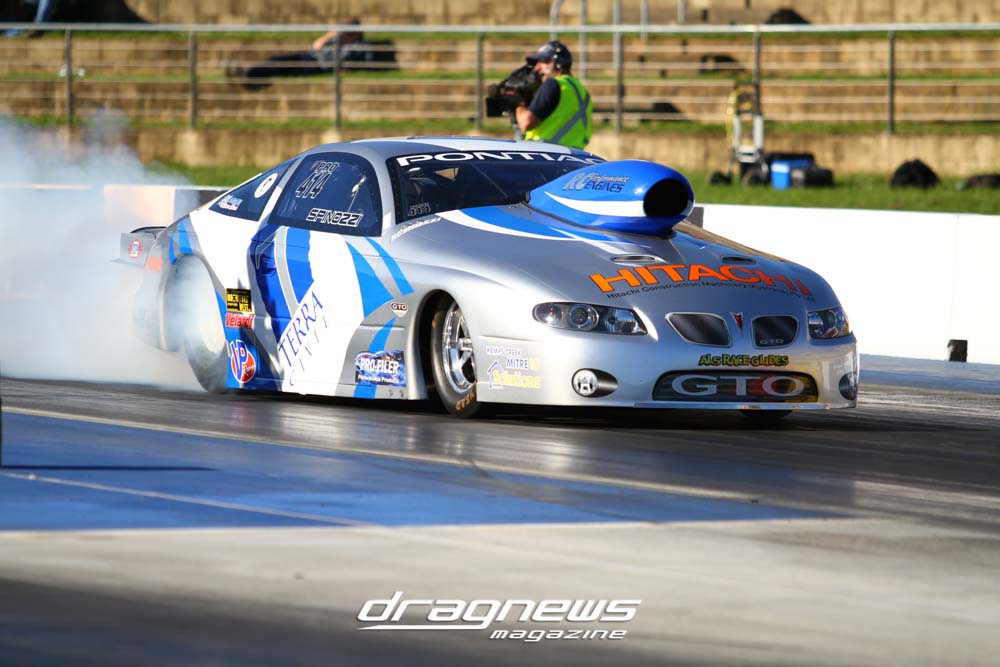 More ex-Super Stock racers, this time the Spinozzi family. Emilio and Adamo Spinozzi were supporters of the class for a number of years until switching to Pro Slammer.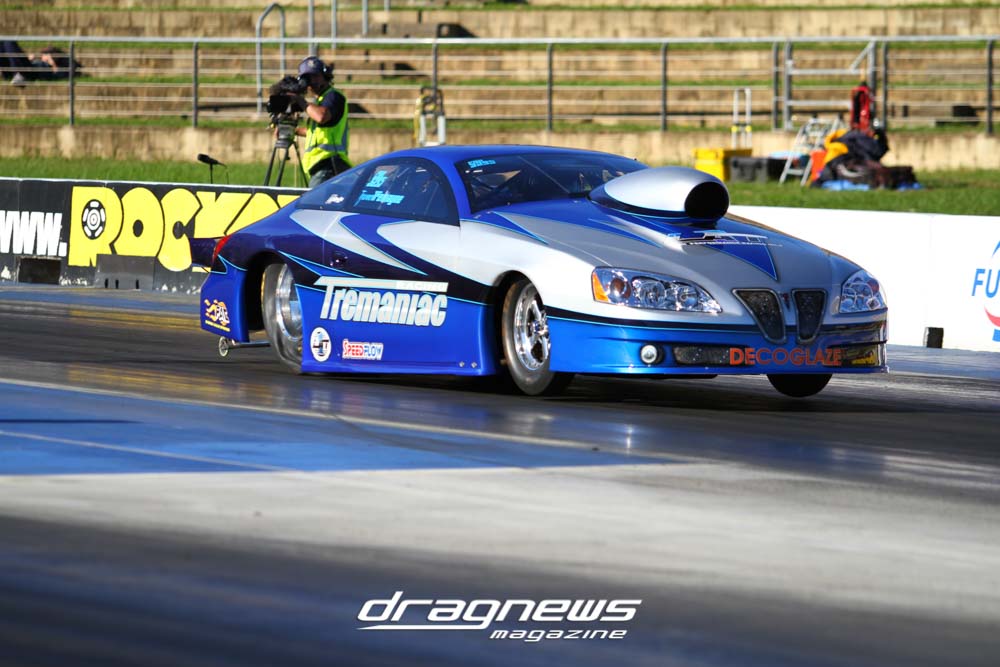 The Tremayne family realised they needed to update their cars to keep up with the competition, and so they joined the GXP club.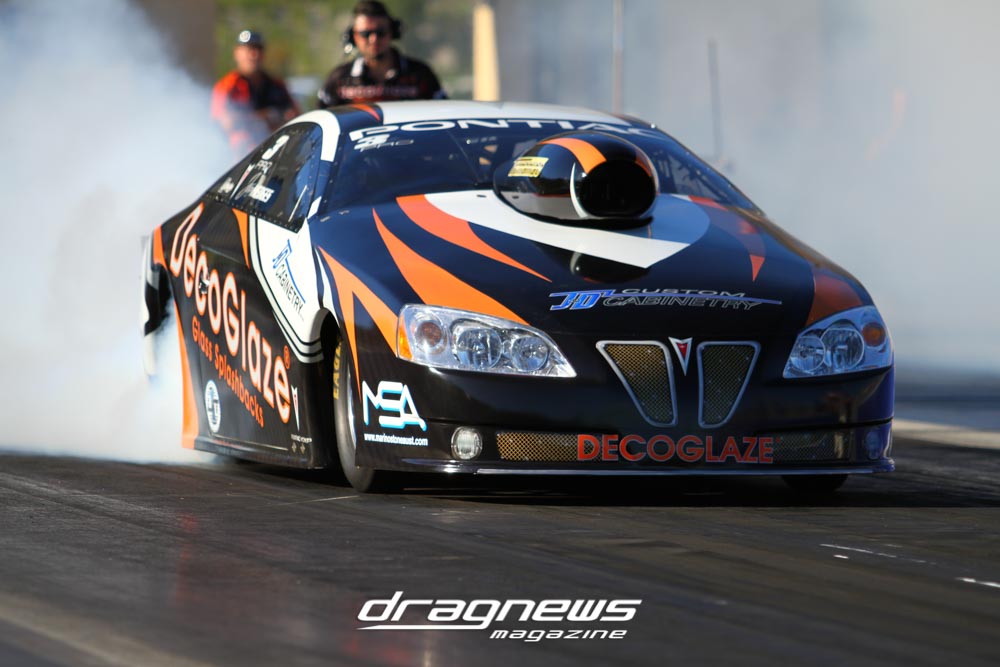 As did Jason Hedges, who has had some really good looking Decoglaze wraps over the years.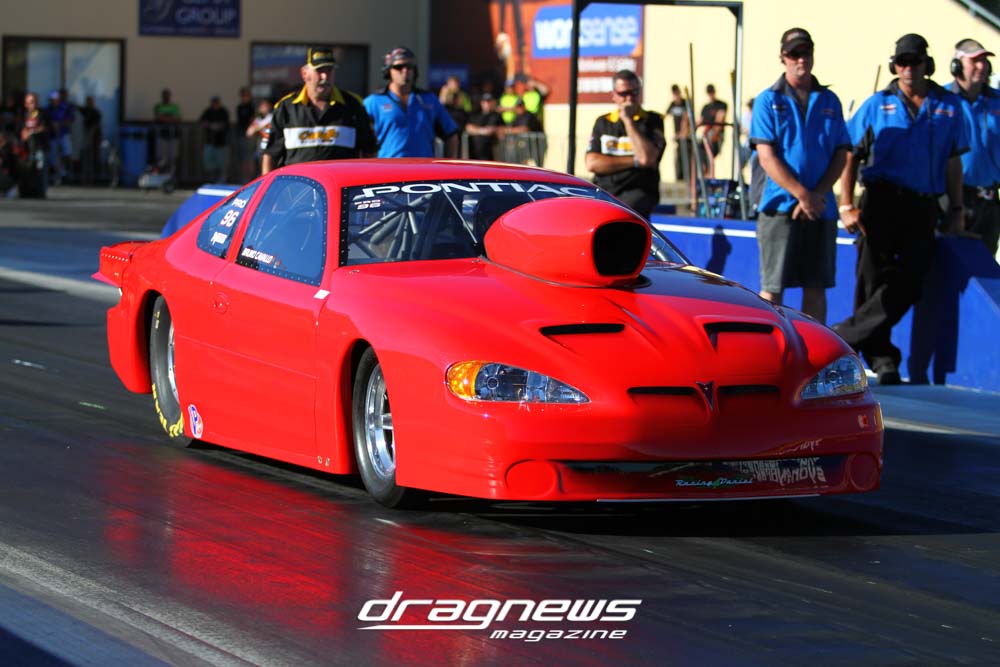 Bruce Cavallo joined brother Nino in the class in 2012.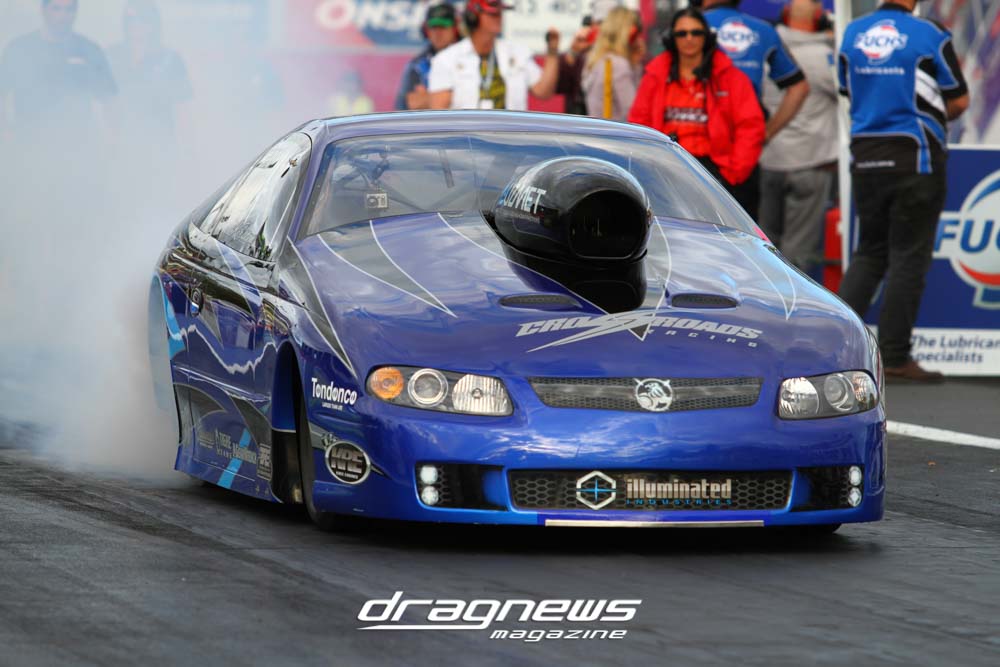 Kirsten Tucker became the first Australian woman to race in Pro Stock, following in the footsteps of her father Rob and brother Shane. At the 2012 Winternationals all three members of the family raced. The class was really reaching a peak in numbers at this time, with almost 30 cars turning up to try and qualify for the 16 car field.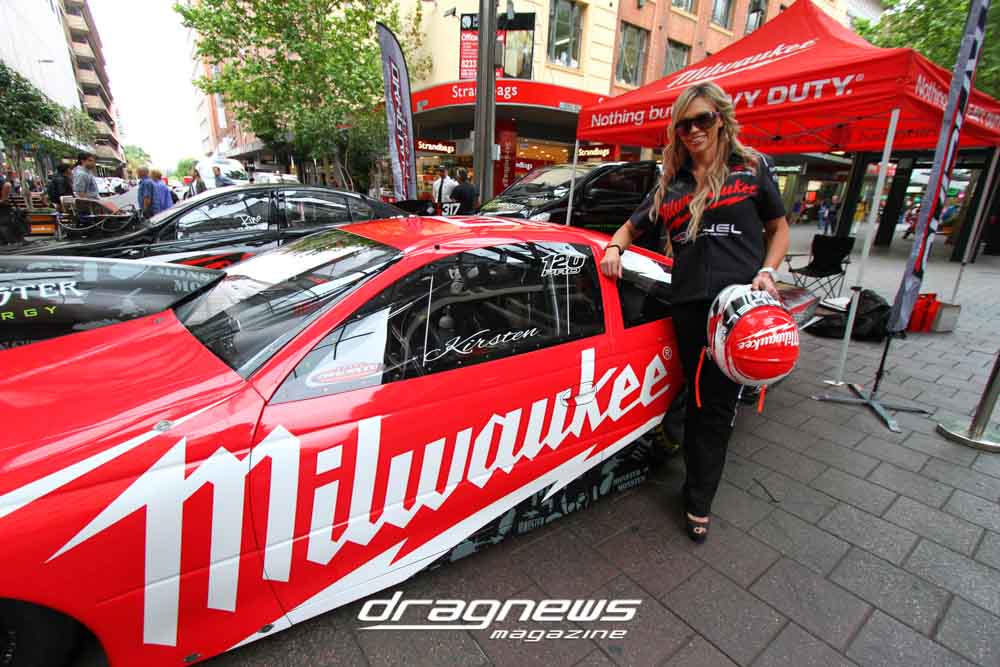 Tucker also carried Milwaukee Tools sponsorship for a time. Here is the car on display in Adelaide before an event at AIR.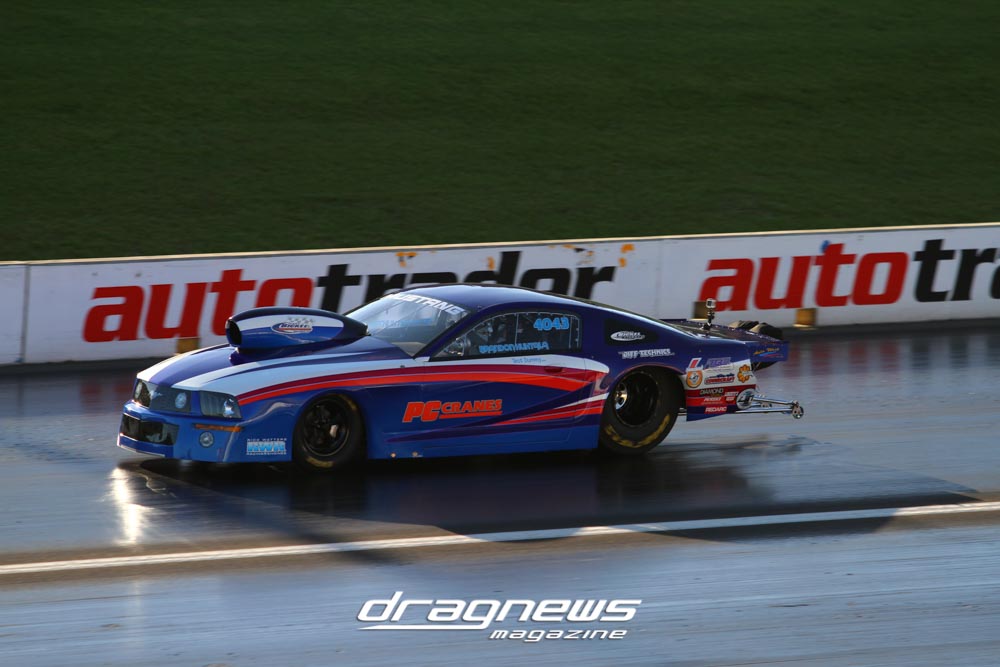 Jason Grima brought in American racer Brandon Huhtala to drive his second car for a season.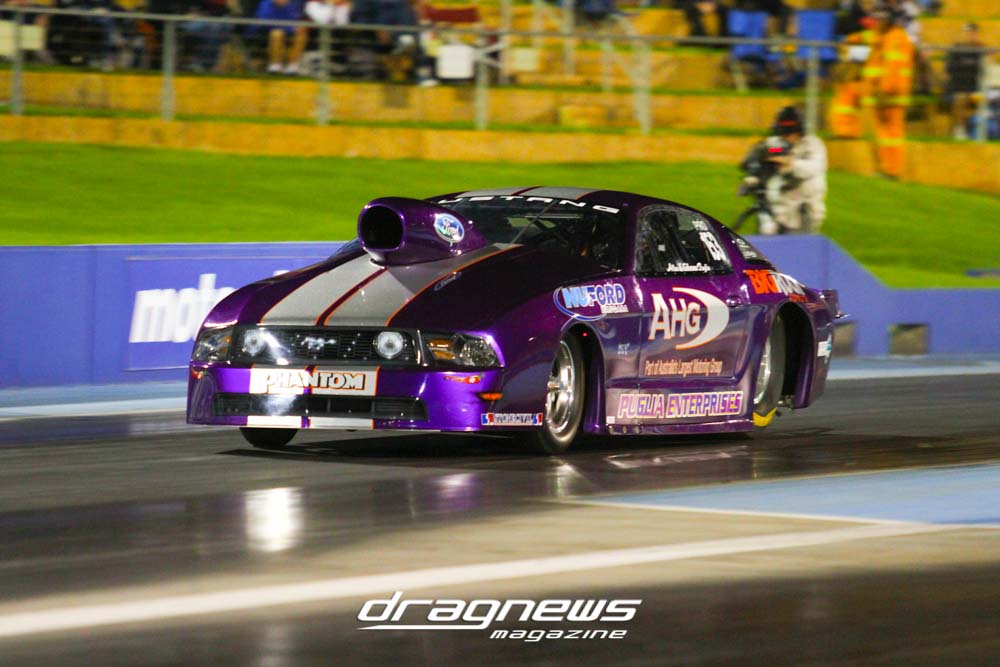 Allan Puglia briefly raced this Ford Mustang. From memory it got into the wall at Willowbank Raceway and I am not sure if it has been raced since.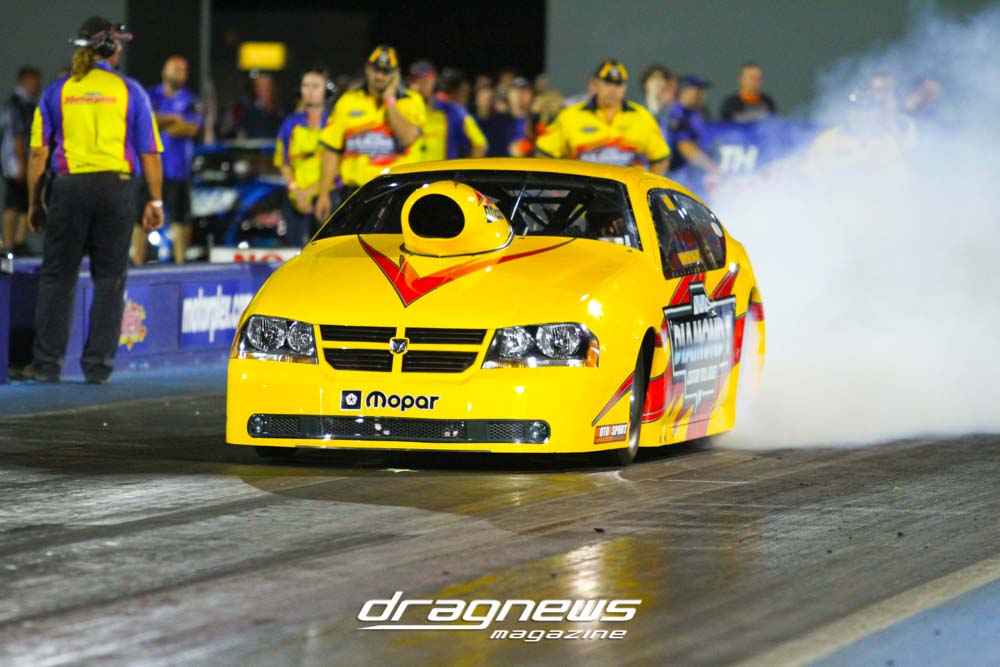 Wayne Daley moved into the Mopar ranks with this Dodge Avenger…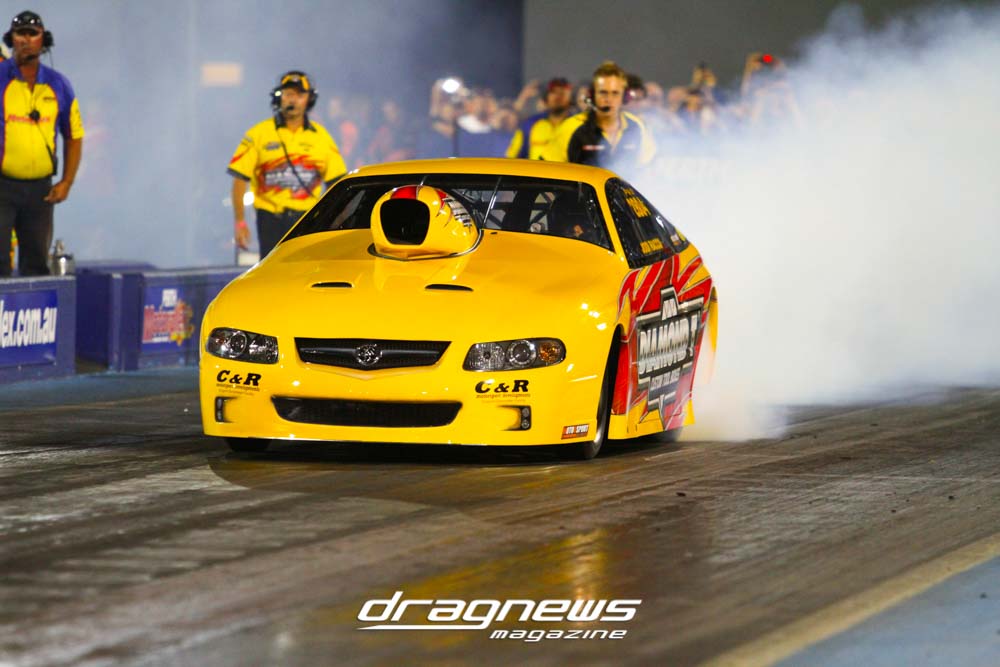 …while Jodi Racco took over the seat of the GTO, which had been rebranded as a Monaro.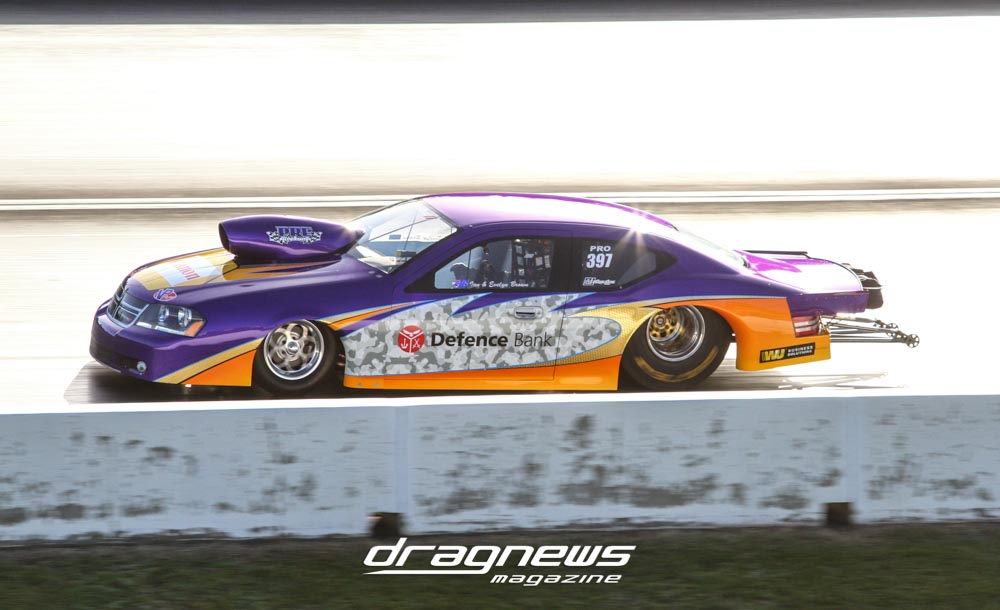 Ian Brown returned with his own Avenger. It was a neat looking car that only saw limited action.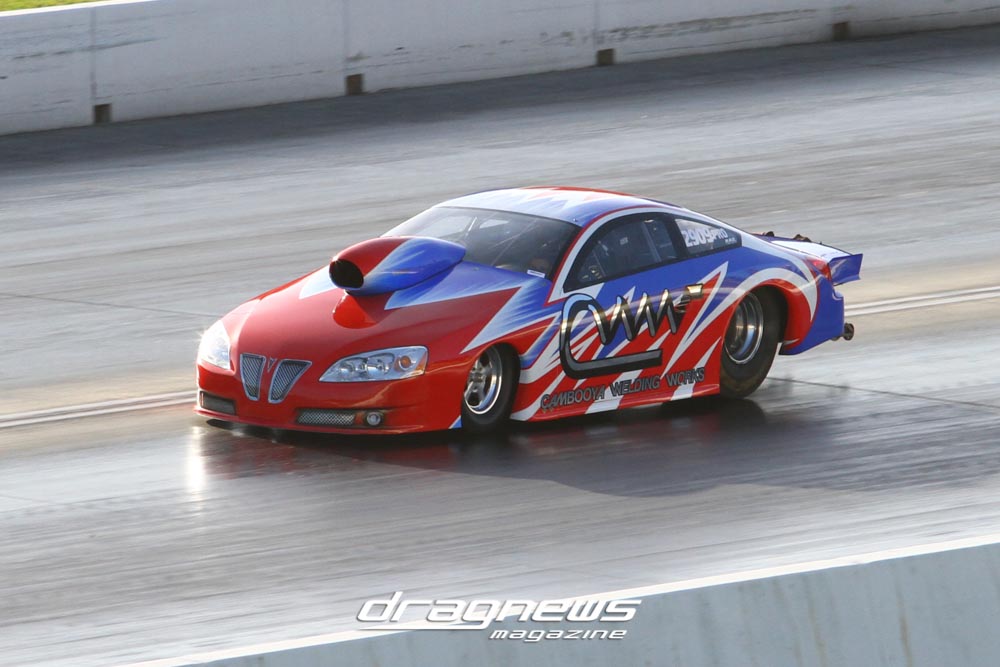 Denis Whiting returned to the class with a new GXP. This is another car we have only seen sparingly.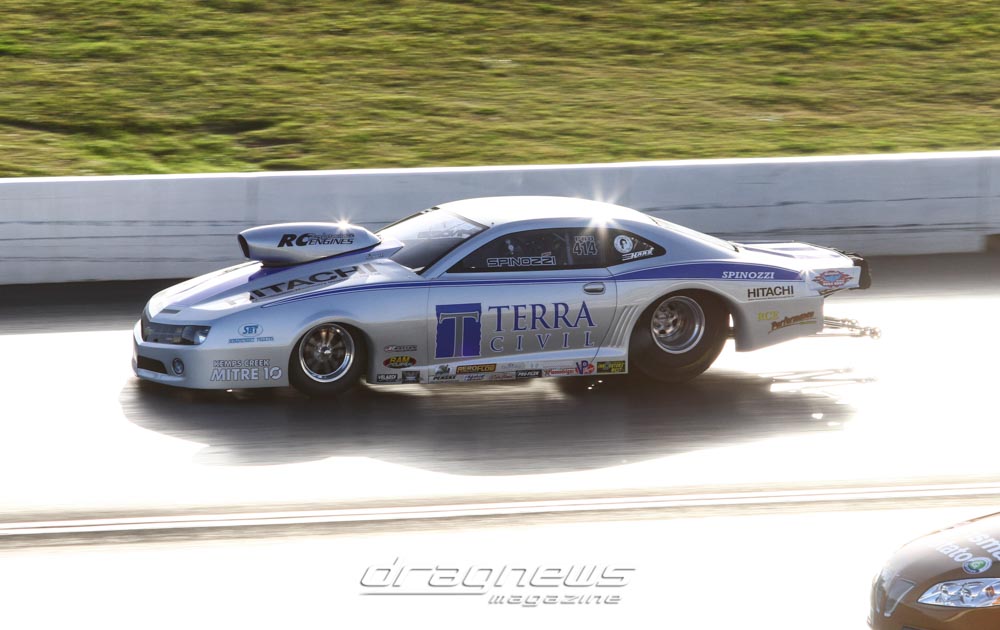 The Spinozzis were one of the first, if not the first, teams to have a new generation Camaro in Pro Stock in Australia.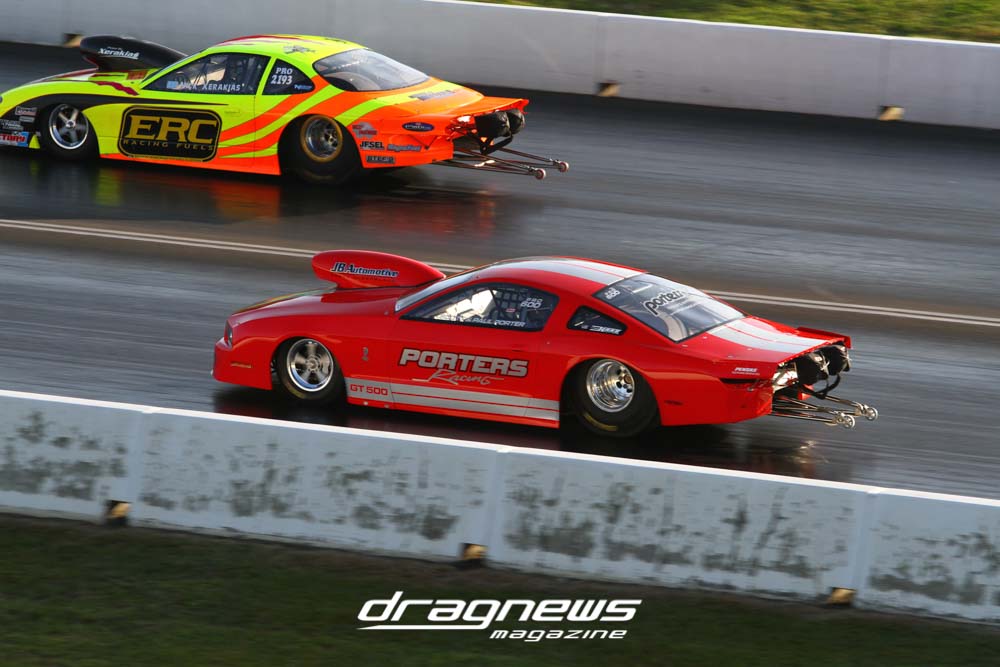 Meanwhile the Porters returned with a new Ford Mustang.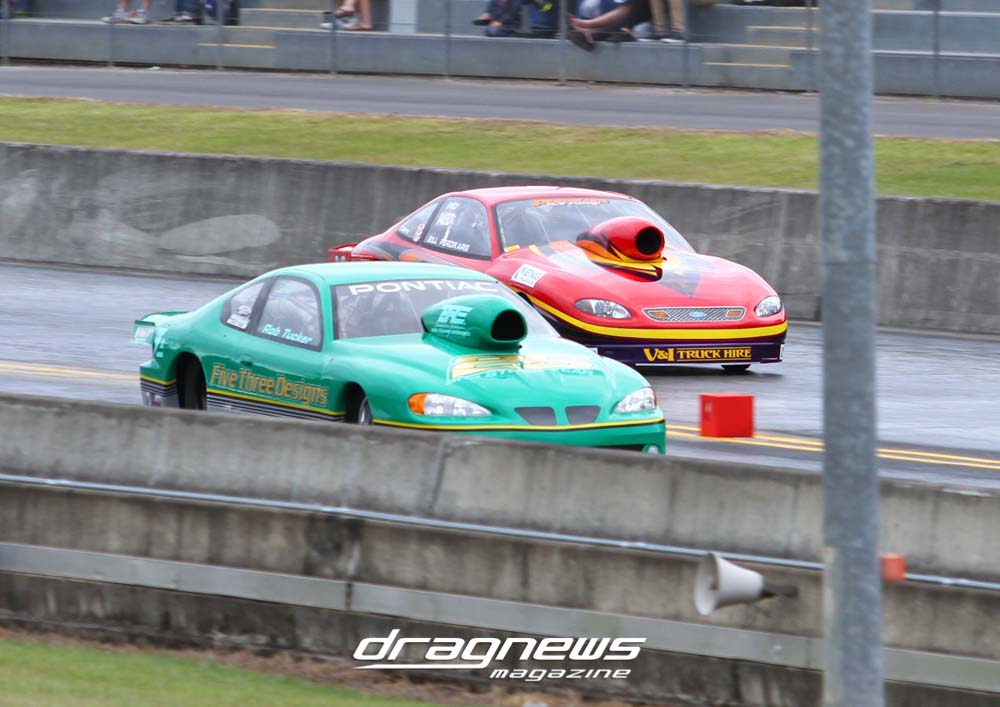 Rob Tucker in a retro livery at the 2013 Winternationals. Apologies that this is the best photo I have of the car!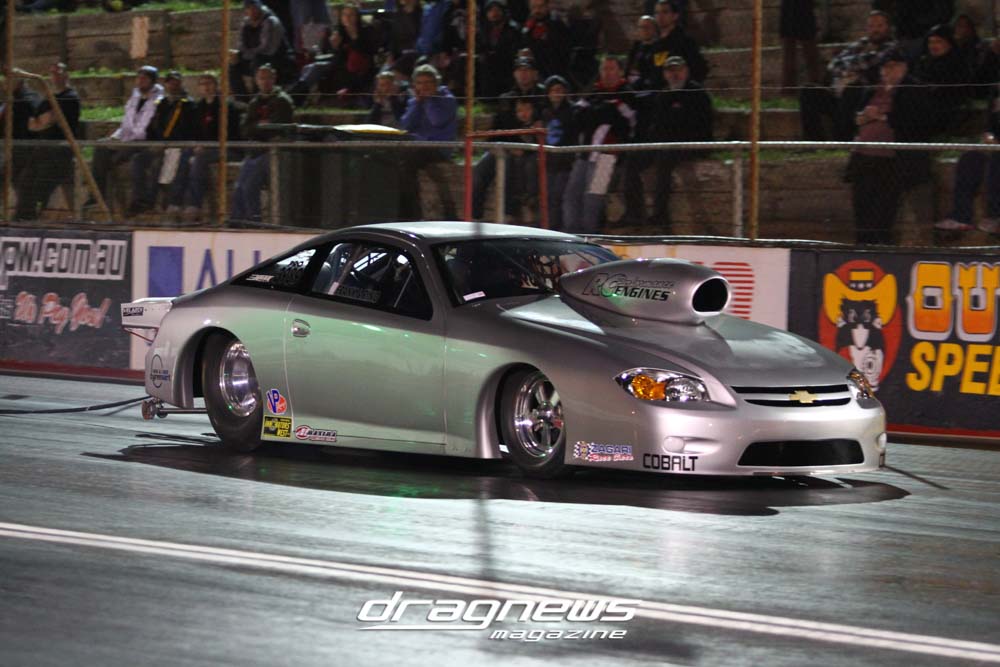 Frank Nirta back on the scene with a fresh Chevy Cobalt.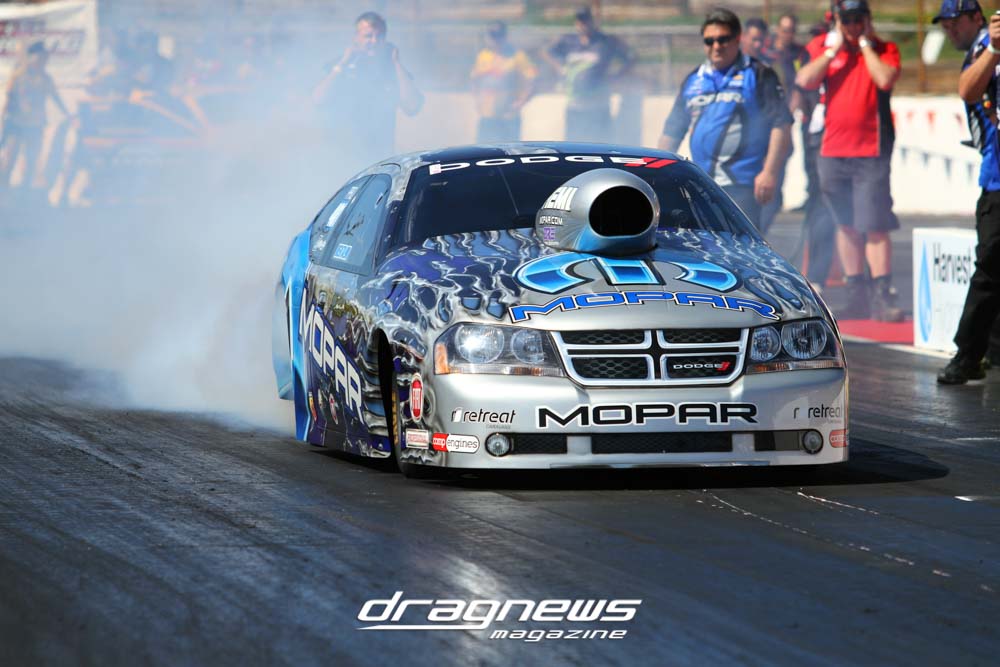 Lee Bektash, and the car that would do unspeakable things to the Pro Stock record books. Bektash won the 2015 title, and ran as quick as 6.87, while also breaking the 200mph. Those performances have not been touched since.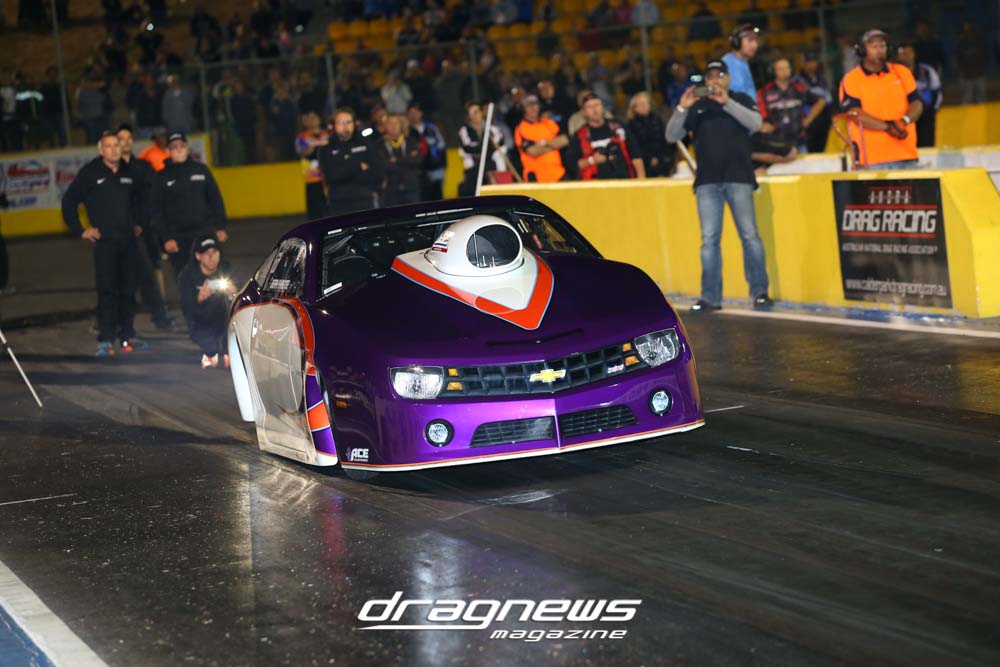 Gerry Parente's Camaro is another one of those cars we wish we had seen more of.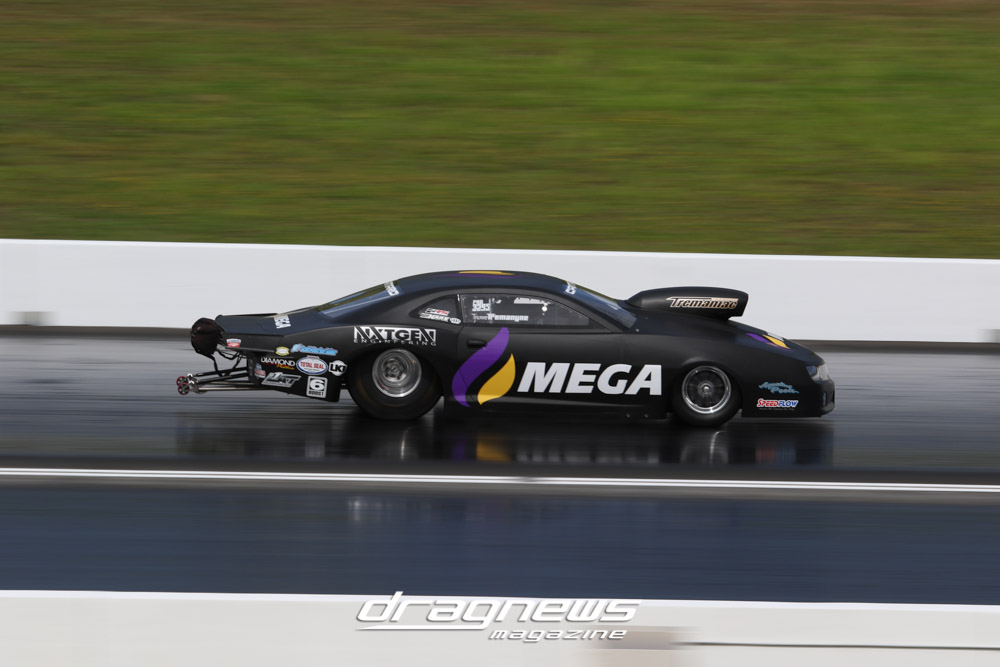 Tyronne Tremayne joins the Camaro club.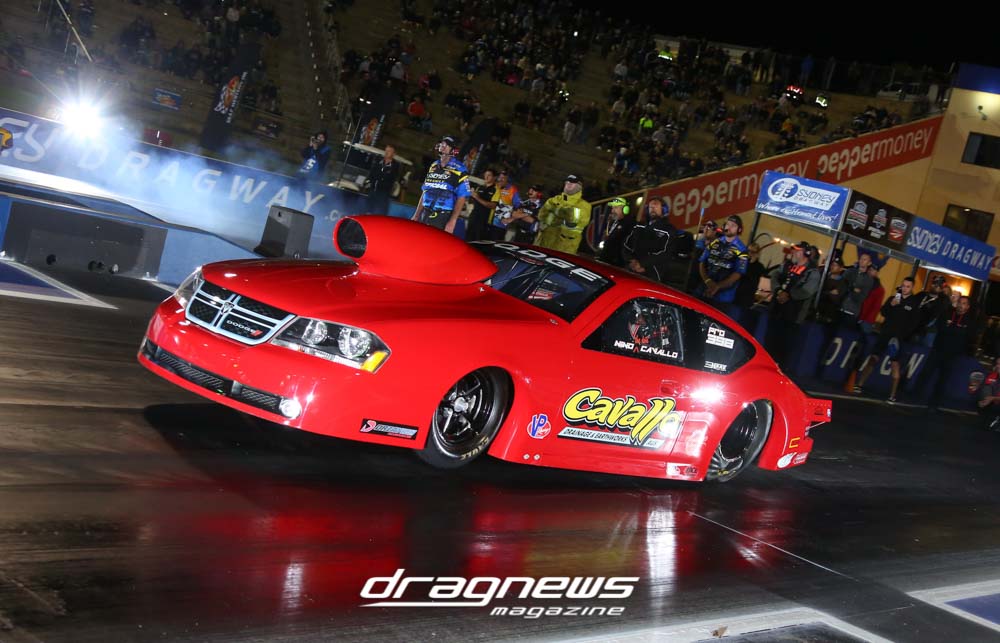 Nino Cavallo spent some time racing in the USA, but he is now back with this Dodge Avenger.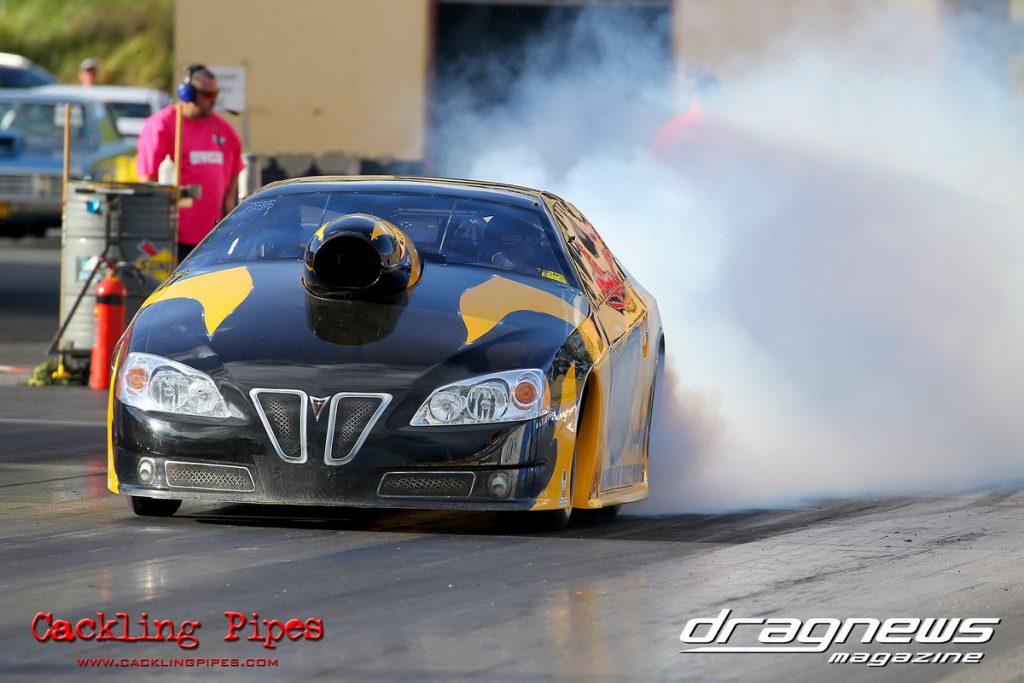 Rob Dekert is one of Pro Stock's newest drivers, with this Pontiac GXP.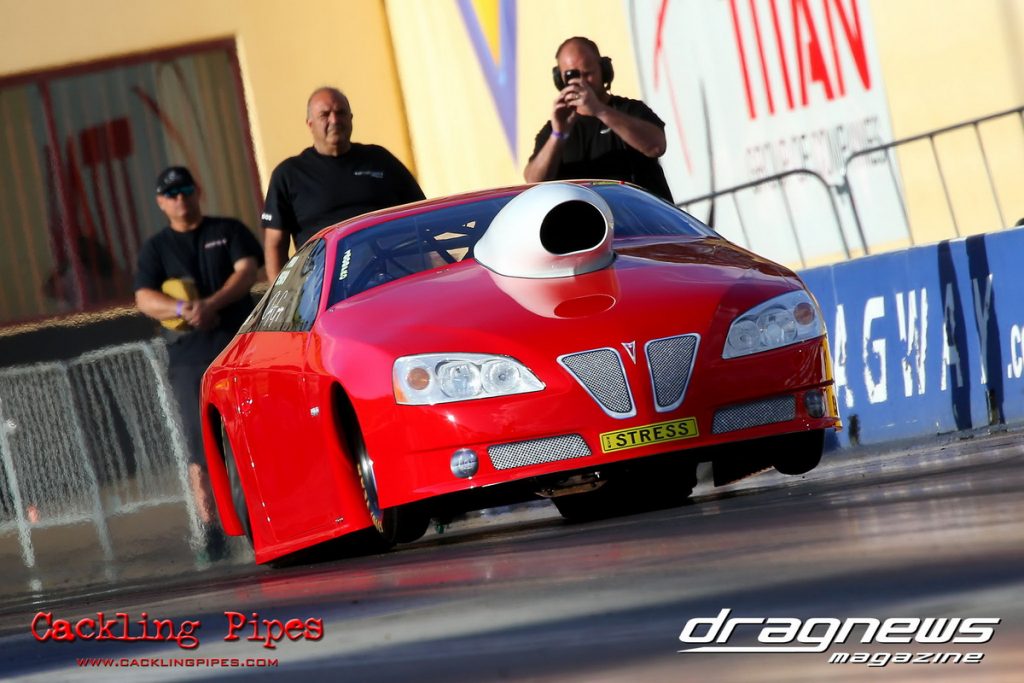 Joining Dekert on the rookie list was Clint George, a former B/APA racer in Super Stock who took the step into Pro Stock.
Well, we hope you enjoyed that! Check out the gallery below for a few more pics from across the last couple of decades.