Perhaps no other form of all-out motorsport permits the variety of combinations seen in Australian Top Alcohol, where dragsters, funny cars, altereds and even weird combinations in between compete heads-up with 3500 horsepower supercharged motors.
The class was introduced to Australia in the eighties as Pro Comp, before being renamed Top Alcohol in the early nineties. In the 400 Thunder split the class was again renamed to Pro Alcohol, though most fans still call the category by its classic name, one which it also goes by in NHRA guise.
These photos go back to the start of the digital photography era, around the turn of the millenium. While I have made an effort to include as many of the cars as I captured, I have no doubt there are a few missing from over the years. There's a few more shots in the gallery at the bottom of the article too.
I have to confess, my knowledge on the background of these cars is not as good as the Top Doorslammers, so please forgive me if there are some errors here. Often the memories just come in the form of 'that rings a bell' rather than anything concrete, so if you'd like to get in touch with us to add any info, please send an email to press@dragnews.com.au.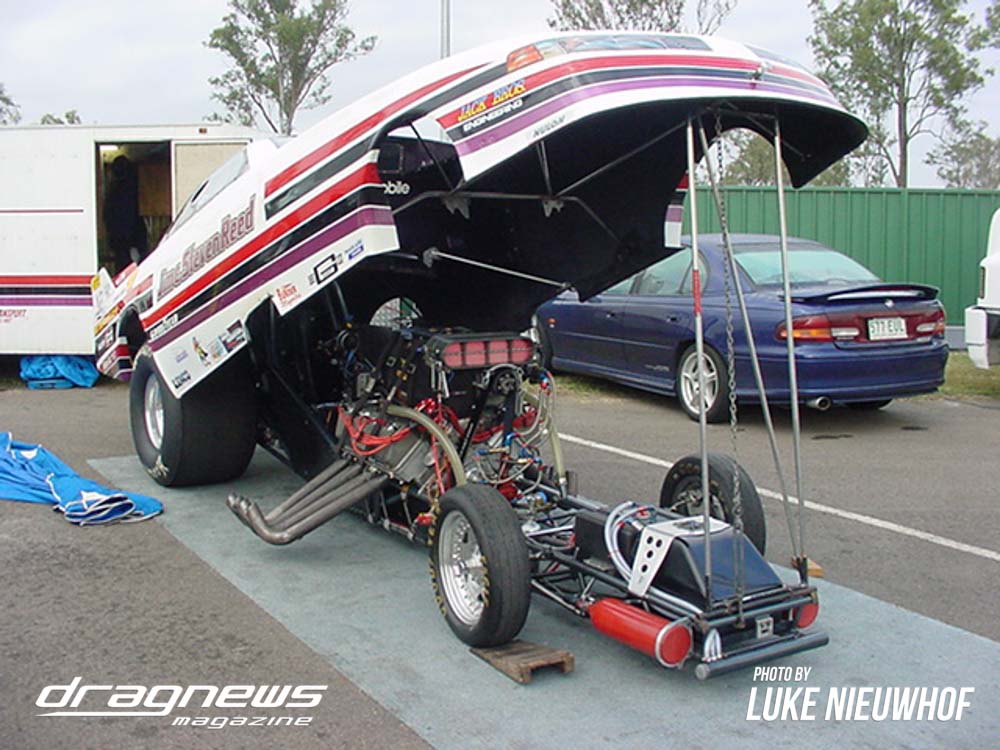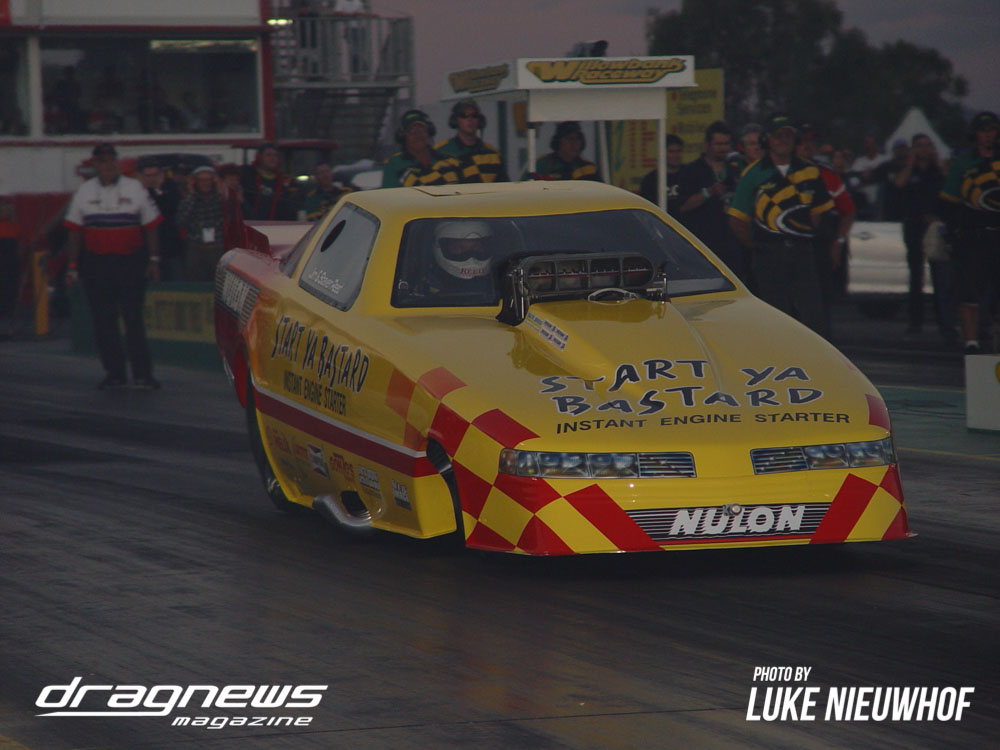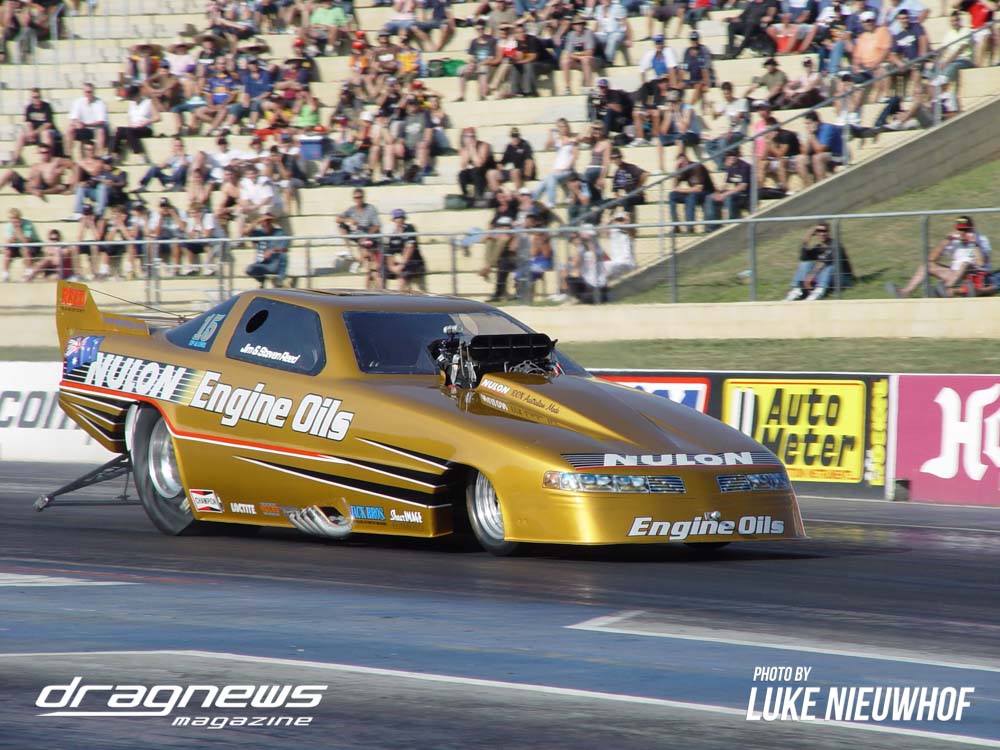 This is the first photo I ever took of a Top Alcohol car. Steve Reed's Oldsmobile Cutlass in the pits at Willowbank Raceway for the 2002 Winternationals, and a few of its later liveries.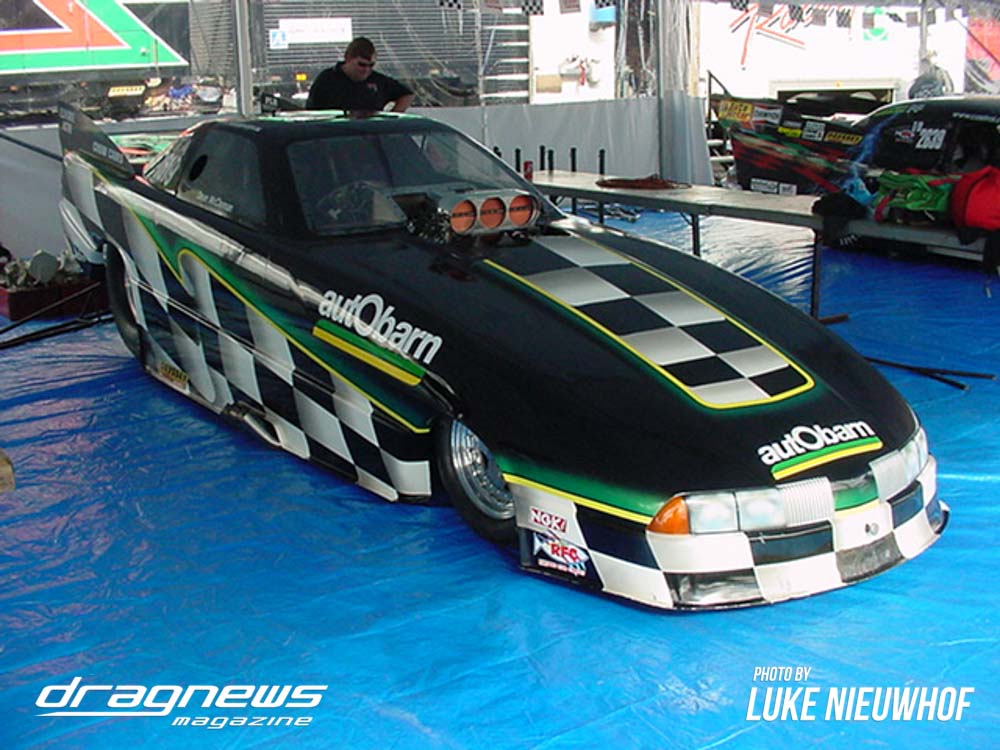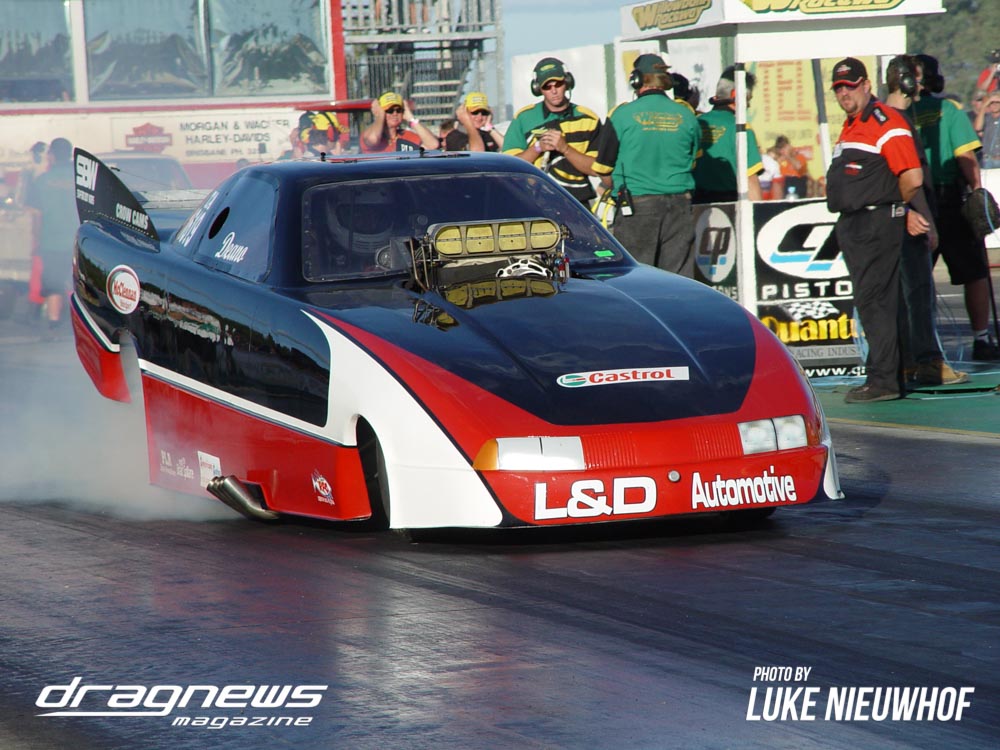 Dean McClennan's began racing in Supercharged Outlaws and then AA/FC before shifting to TA/FC in 2002. While I am not certain I have a funny feeling this was the ex-Allan Dobson Castrol car. Dean had a couple of different looks over the years. He was also the very first driver to win in Top Alcohol at Sydney Dragway (2004 Summernationals).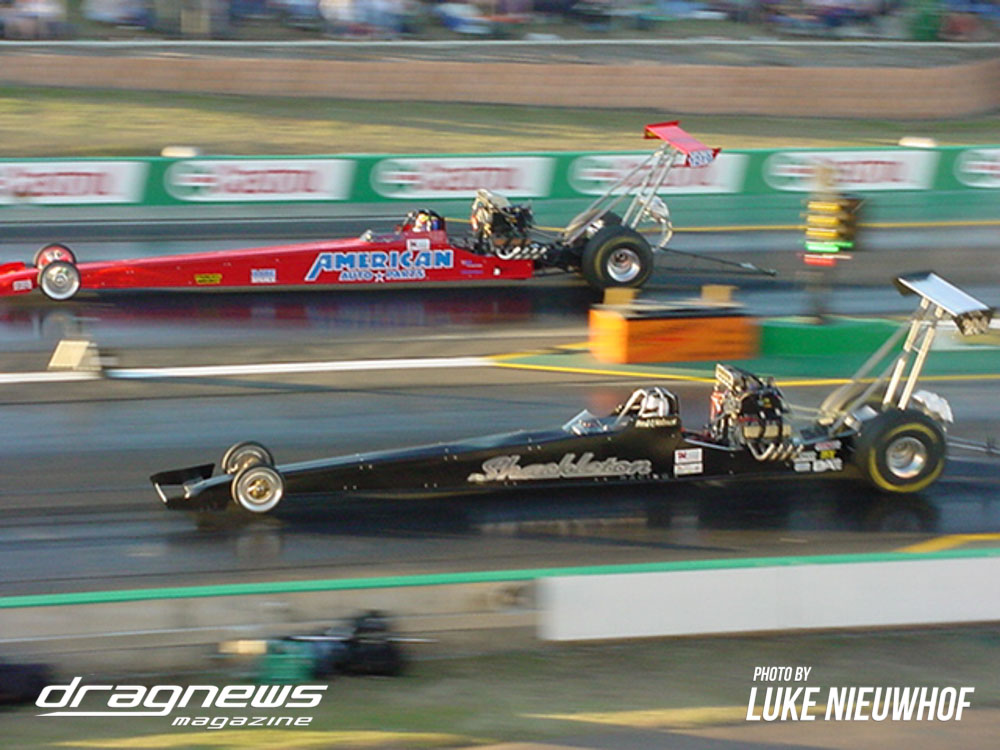 Paul Shackleton was one of the quickest drivers in the class. At the 2002 Winternationals he clocked a 5.64 to be the quickest of all time – until Wayne Newby ran 5.61 later in the event. Shortly after this photo was taken Paul had a big crash.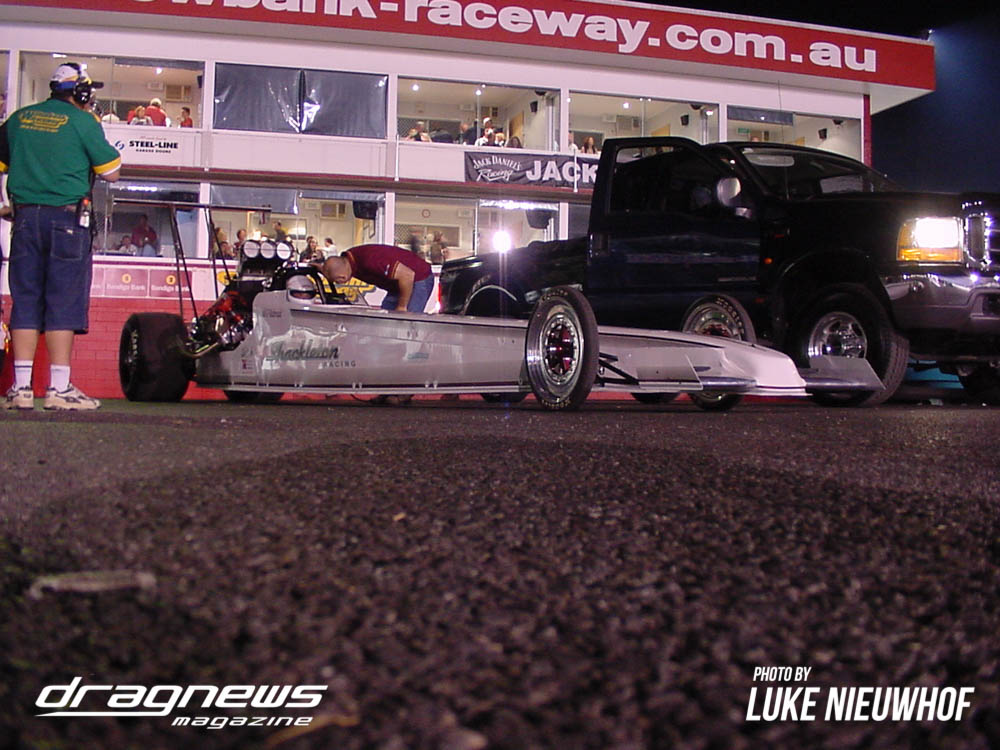 A year later Shackleton returned with a new dragster, which I believe may have been a Stan Tindal car previously? I know Shacks reads this site from time to time so perhaps he can fill in the blanks here.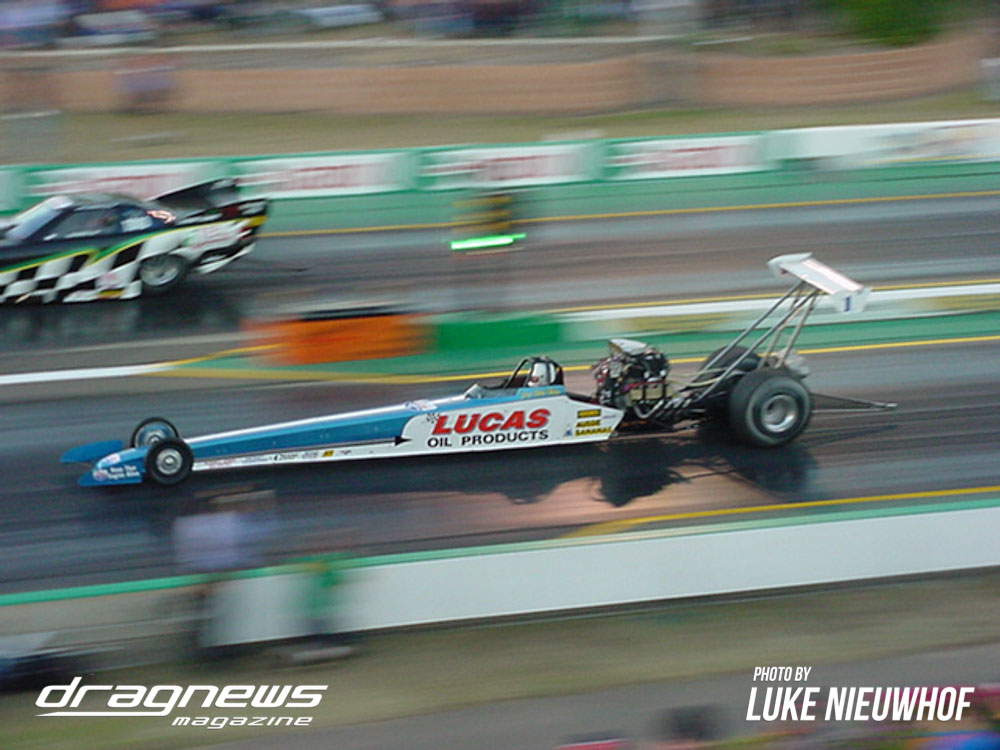 There is no name more well known in Top Alcohol than Gary Phillips. He was originally a Funny Car racer, but switched to a rail in the early nineties. This car recently returned to action at the hands of Gary's son Cheyne. Instead of listing the years Gary won the championship, it is literally easier to list the years he didn't.
Dean Oakey in the American Auto Parts dragster. I think this may have been an ex-Jim Read Top Fuel chassis?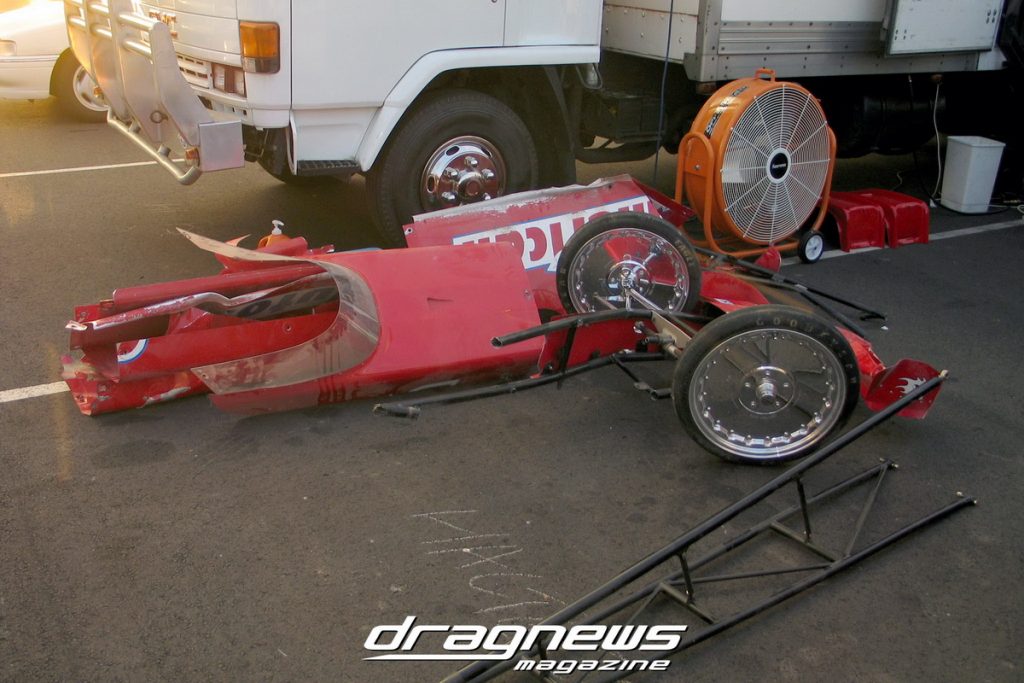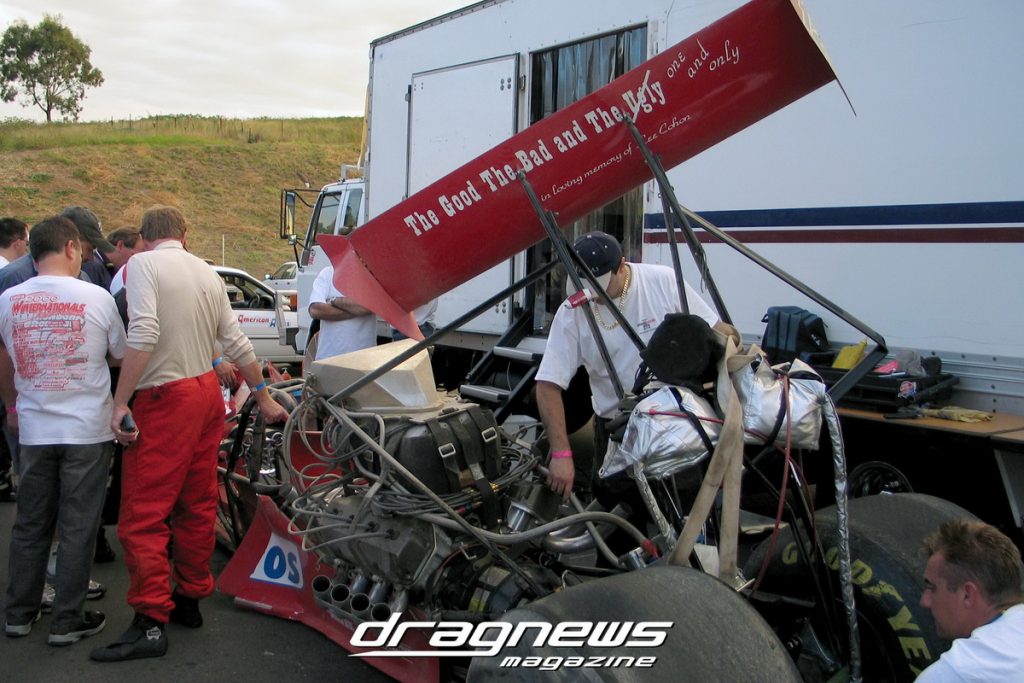 The car met its end after going end for end in the Sydney Dragway sandtrap.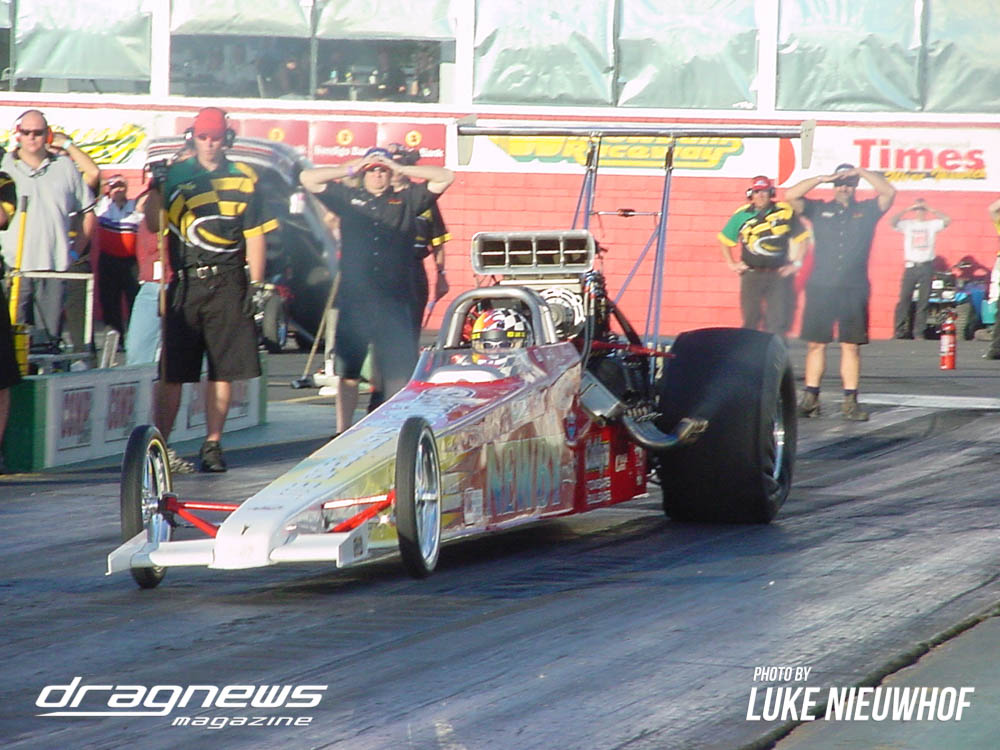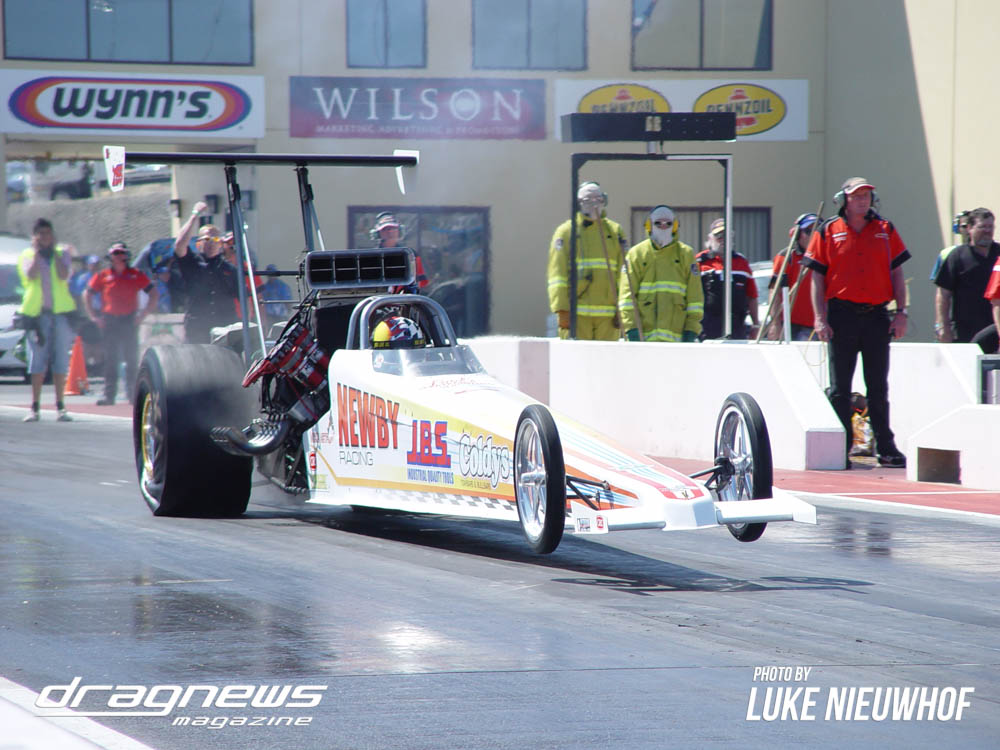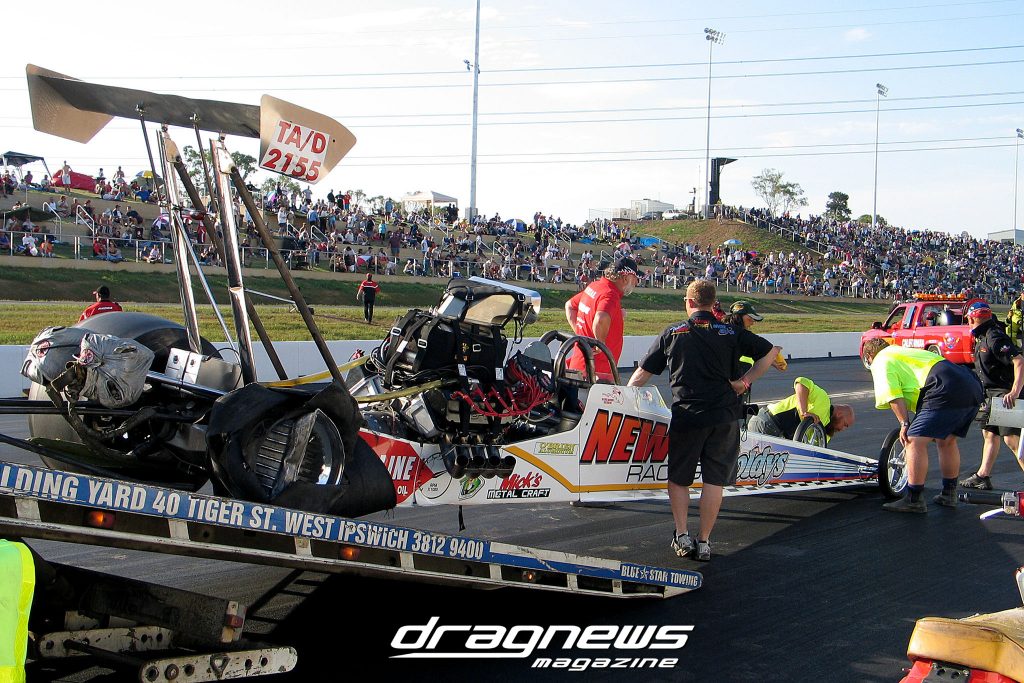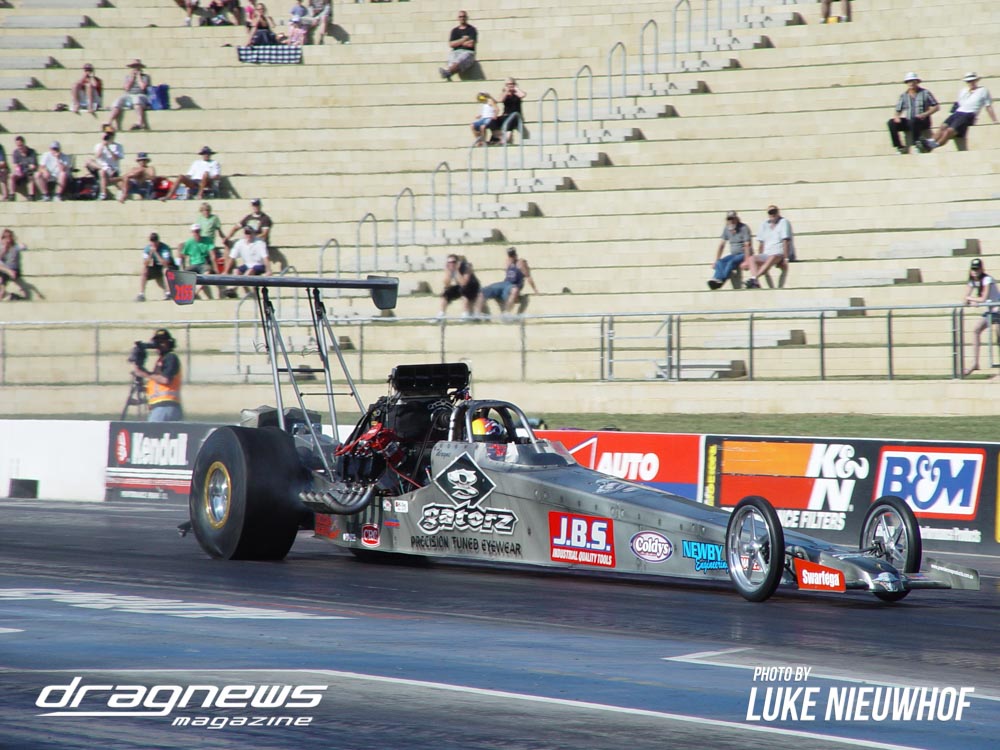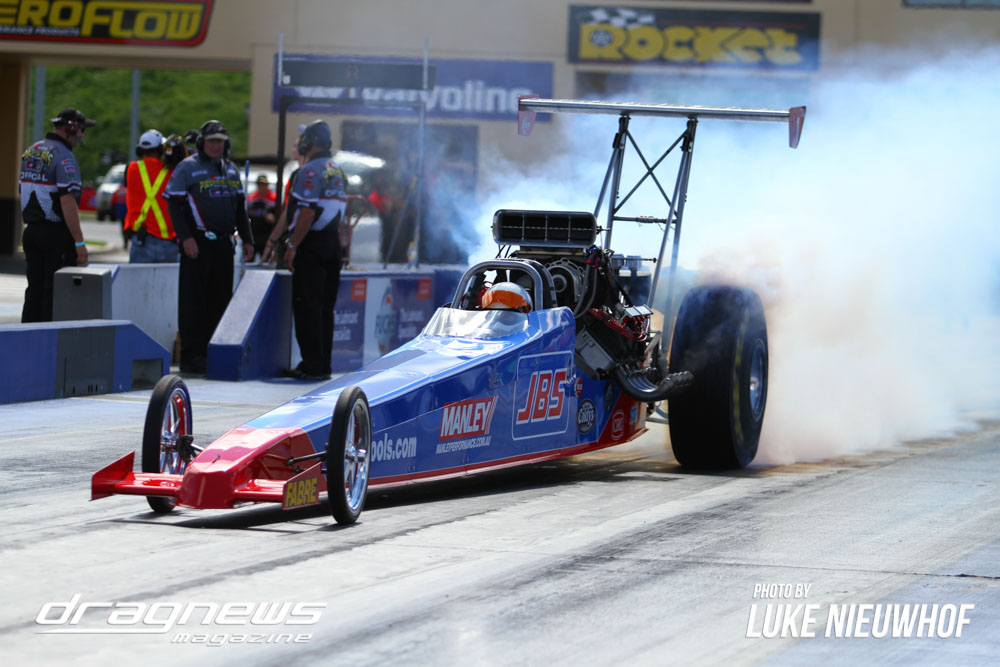 Sydney's Wayne Newby was a mainstay of the class through the late nineties and early 2000s. He won his first championship in 2002 and returned to the title again in 2007 and 2011. Above are a few different looks the car had, that had some adventure, with a blown tyre spinning the dragster into the wall at the opening event at Sydney Dragway before it crashed in Adelaide in 2012.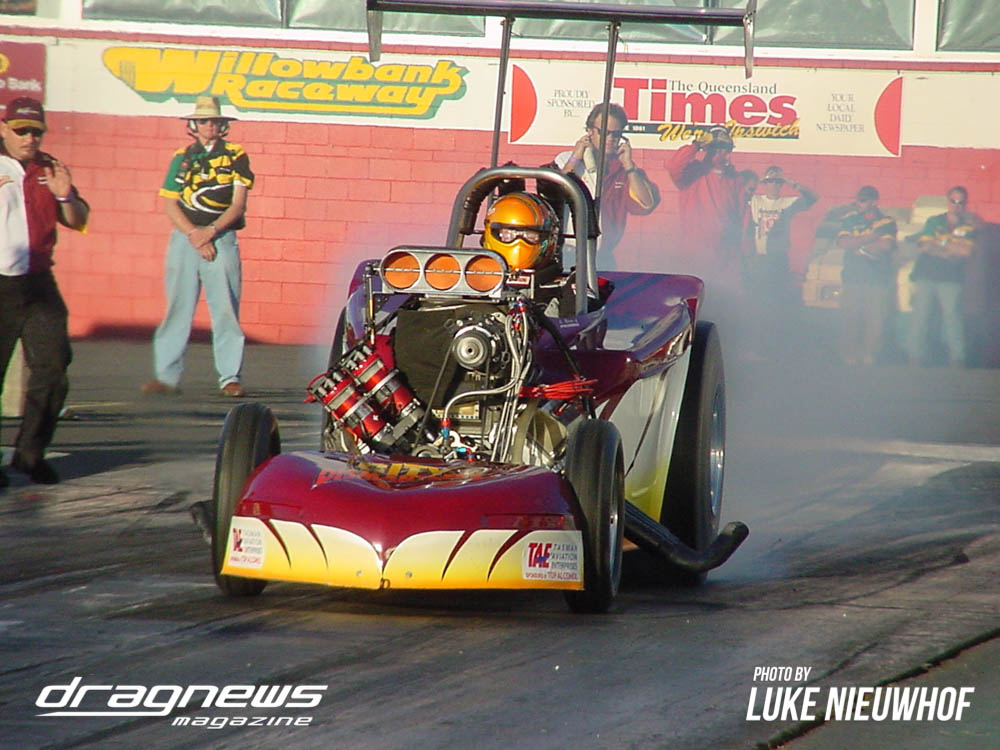 Adelaide's Michael Harvey spent a few years in Comp with this Ken Lowe-built altered, before stepping into Top Alcohol in 2003. At this stage it was the only altered in the class.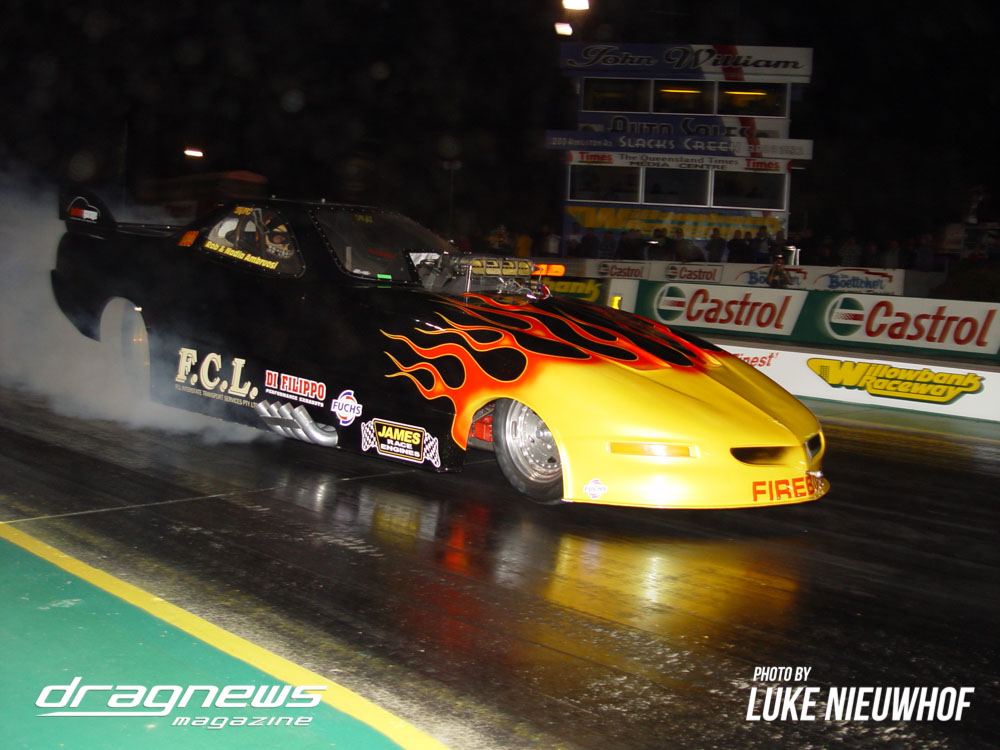 Rob Ambruosi entered the category in 2004, driving the Pontiac Firebird previously owned by John Zappia.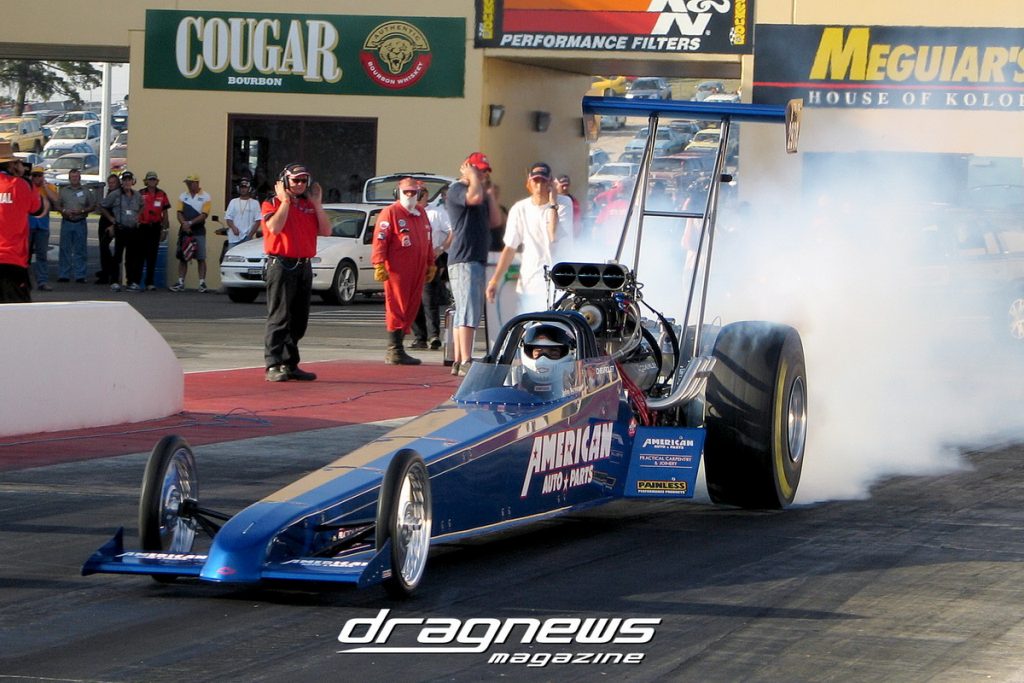 NSW Drag Racing family stalwart John Armour dabbled back in Top Alcohol in 2004 before stepping back to Supercharged Outlaws later in the decade.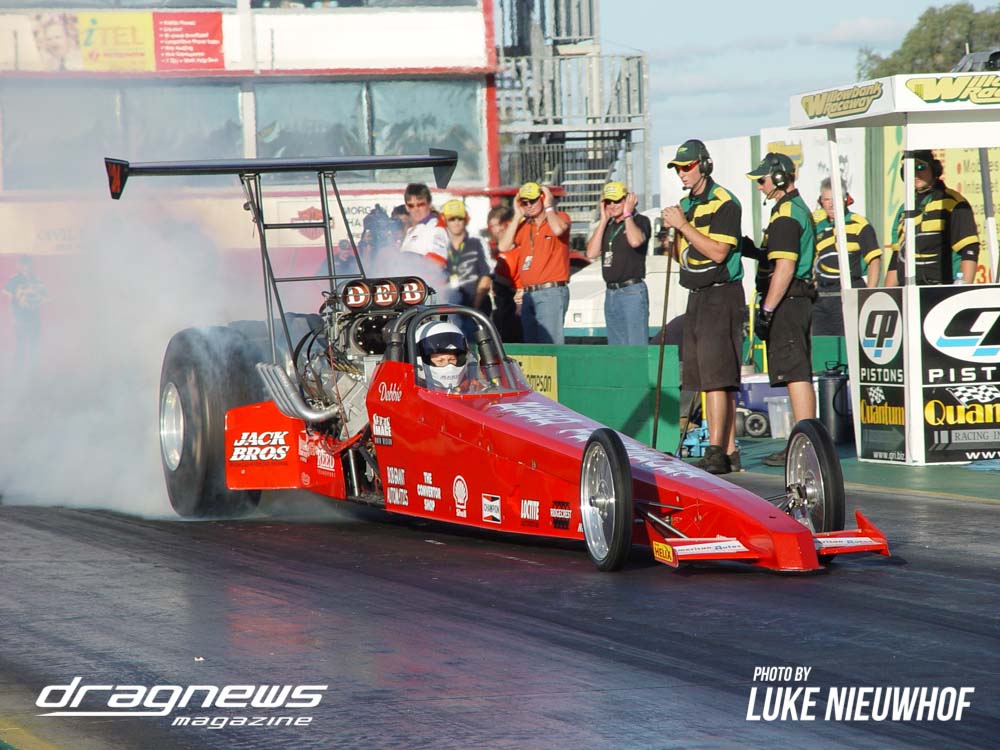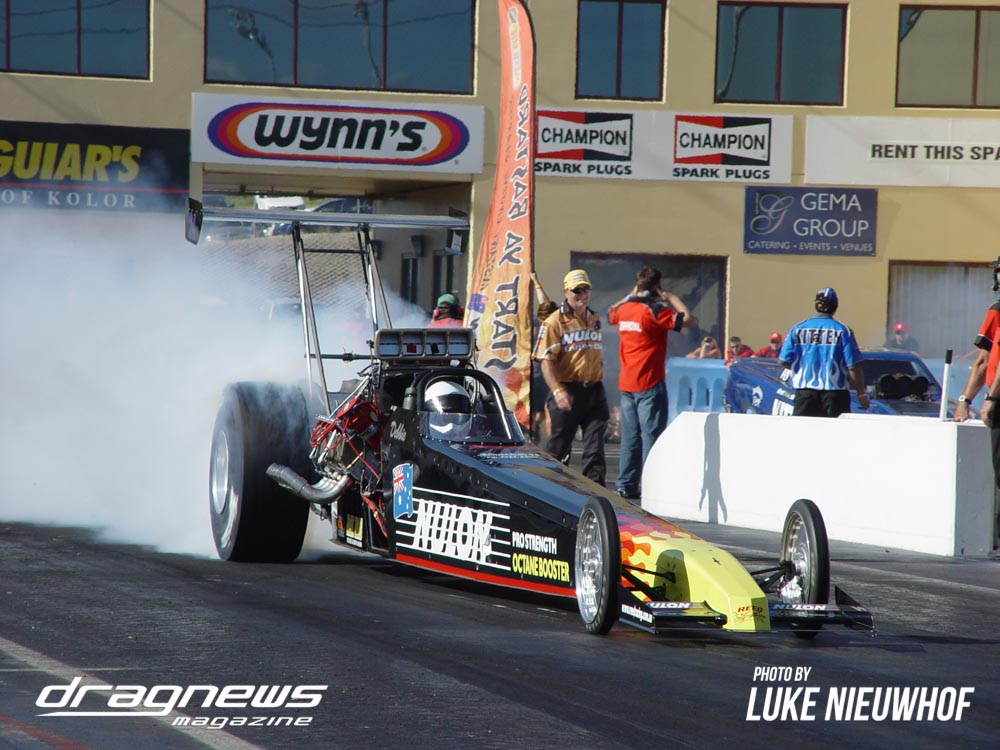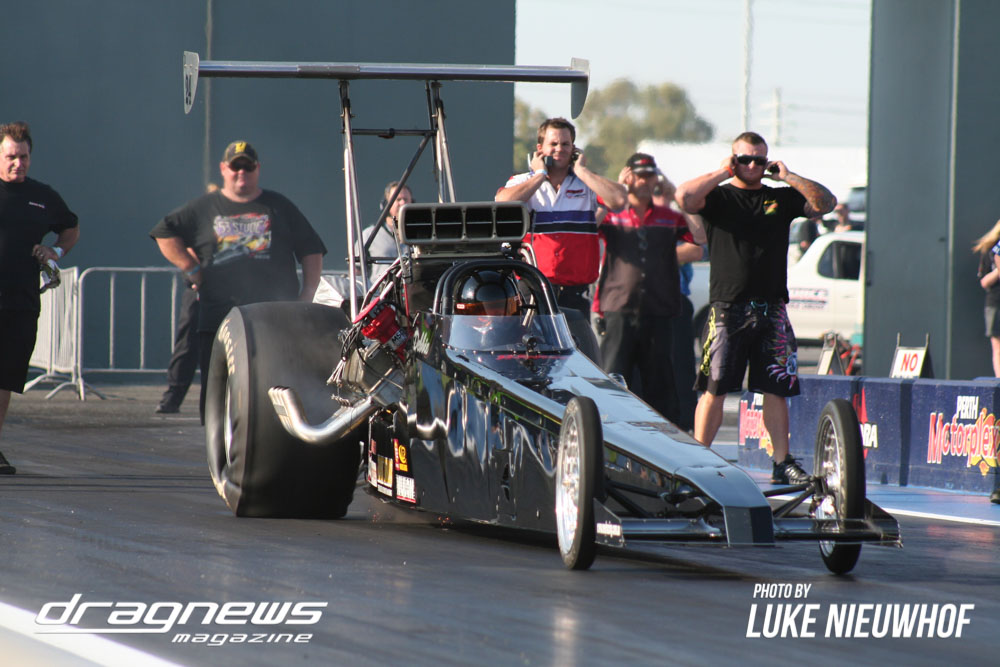 Debbie Reed stepped up from Comp to Top Alcohol to join husband Steve. She had her best season in 2008/09, when she went within one round of winning the title. In the final of the 2009 Winternationals, Reed had to defeat Aaron Hambridge to win the championship. Hambridge red lit, and Reed looked like the titleholder, but her dragster got loose and hit the wall, disqualifying her from the race in an emotional scene. In 2011, the car was destroyed in a very bad accident in the braking area of Willowbank Raceway.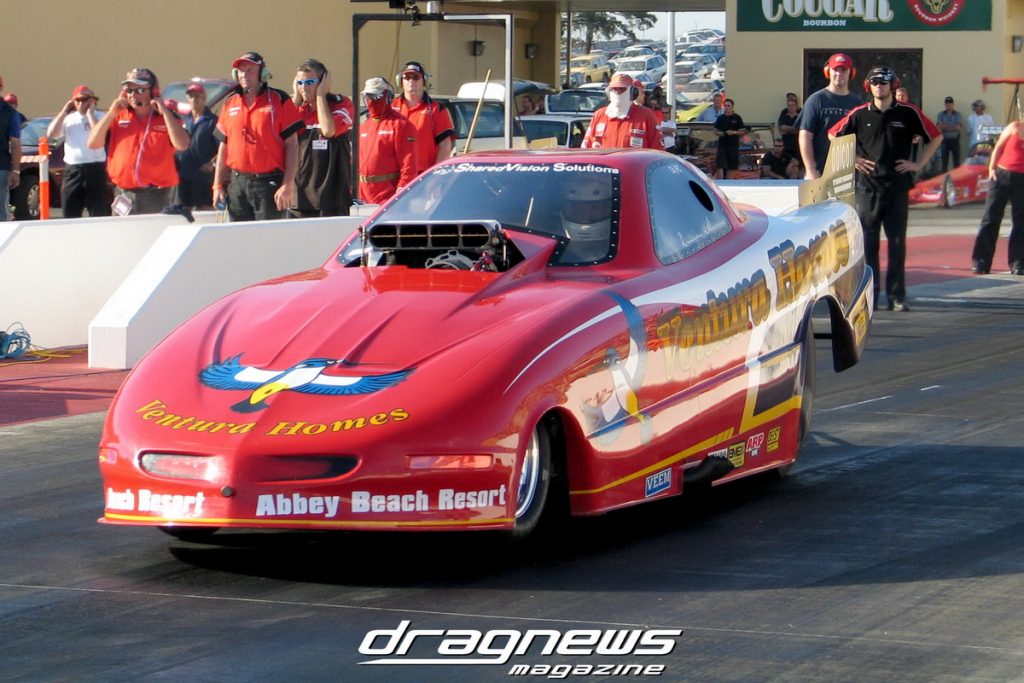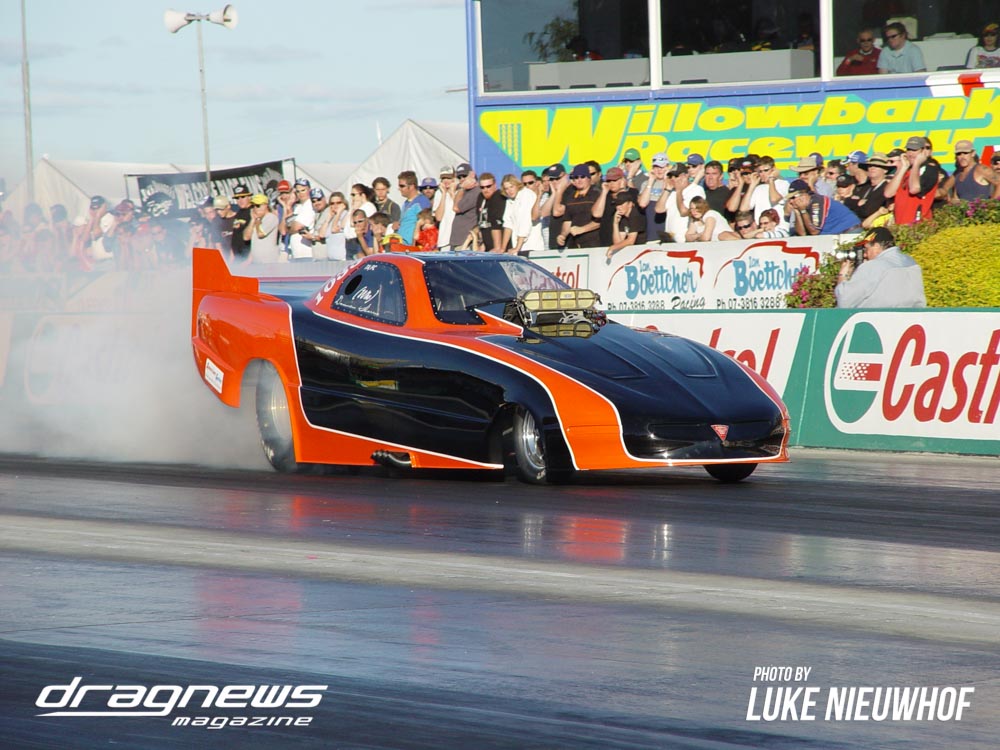 Damien Harris got his start in Competition's AA/FC class before moving into Top Alcohol in 2004.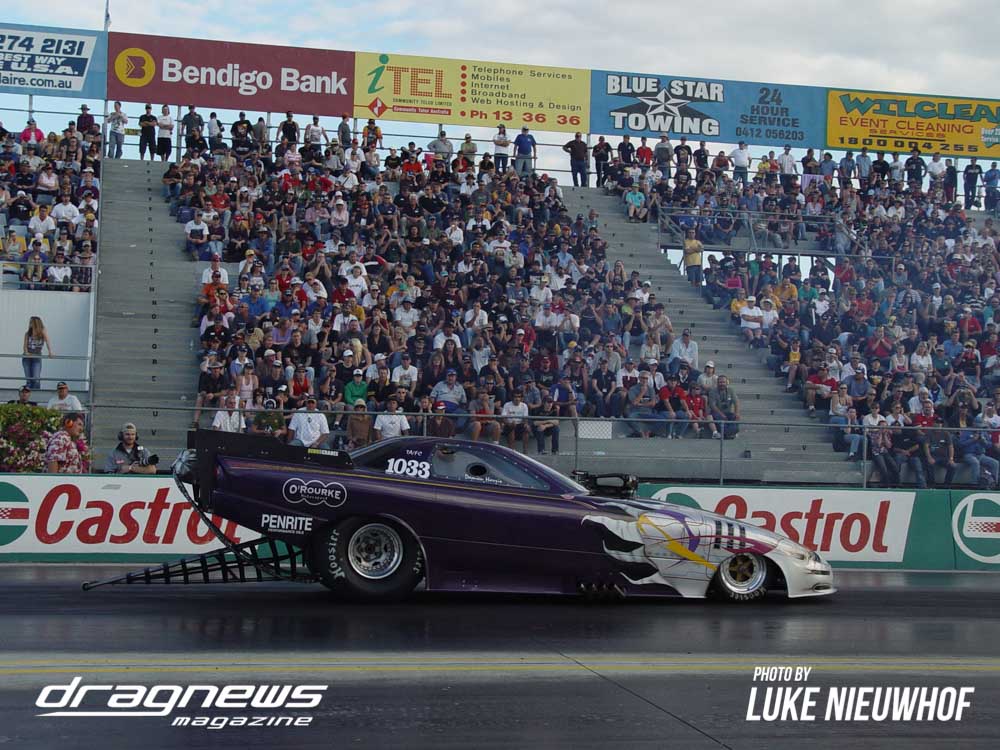 Harris again, I'm not sure if this was a whole new car or a rebody.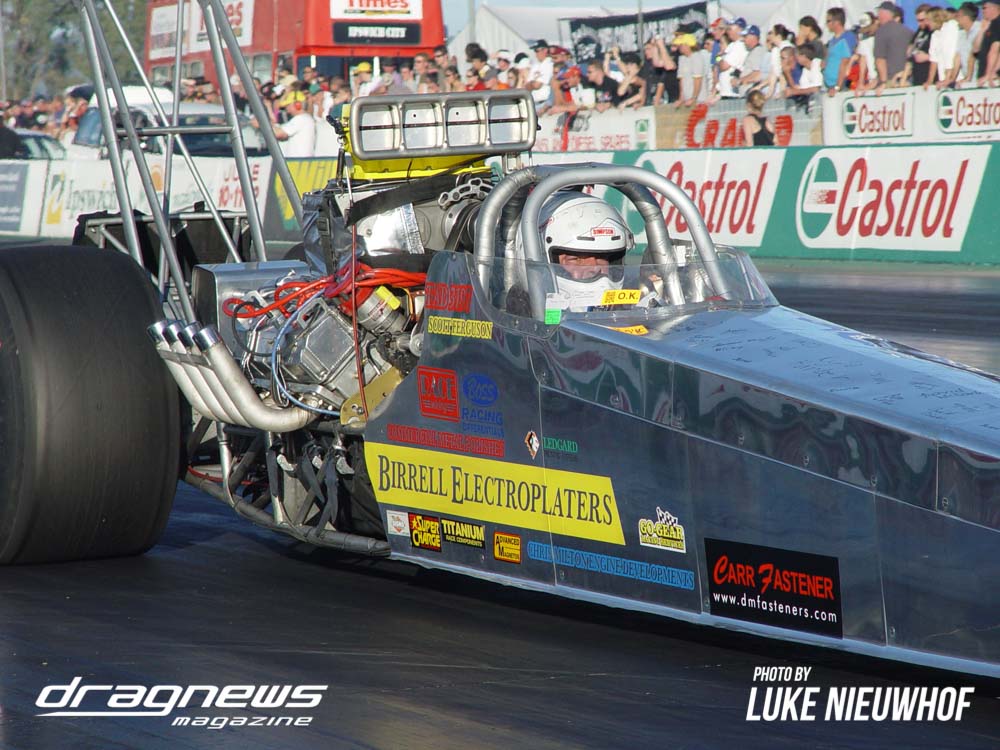 South Australia's Scott Ferguson returned briefly to compete at the 2004 Winternationals. He was a racer well known for big burnouts in the late nineties at Calder Park and AIR.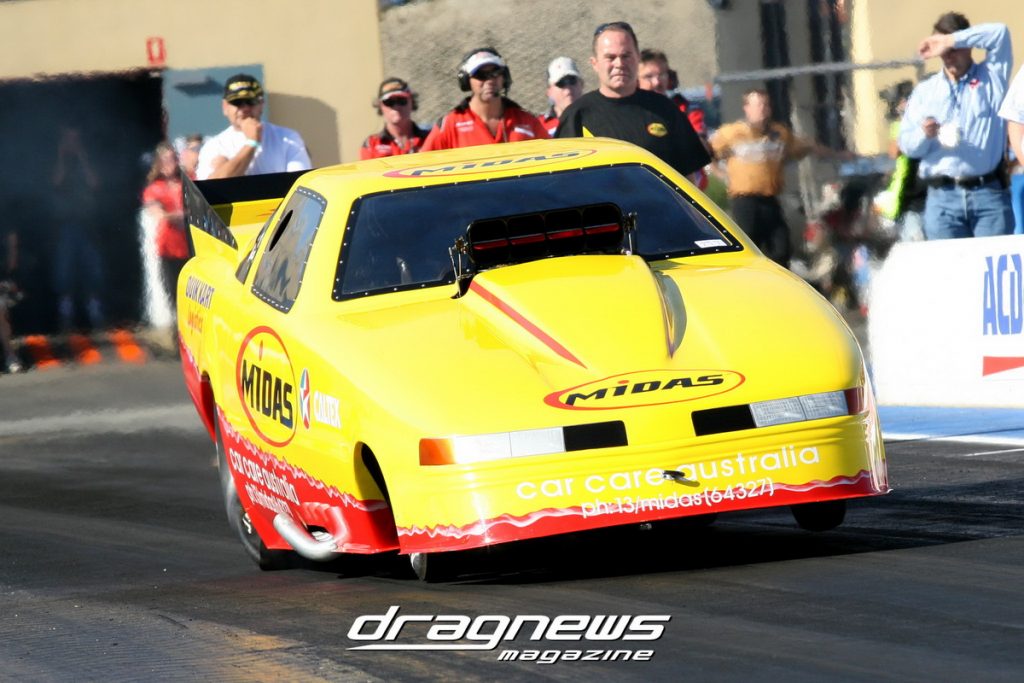 Tasmanian Mark Grima made a few appearances between 2004 and 2006 with ex-Boston Strangler Olds funny car.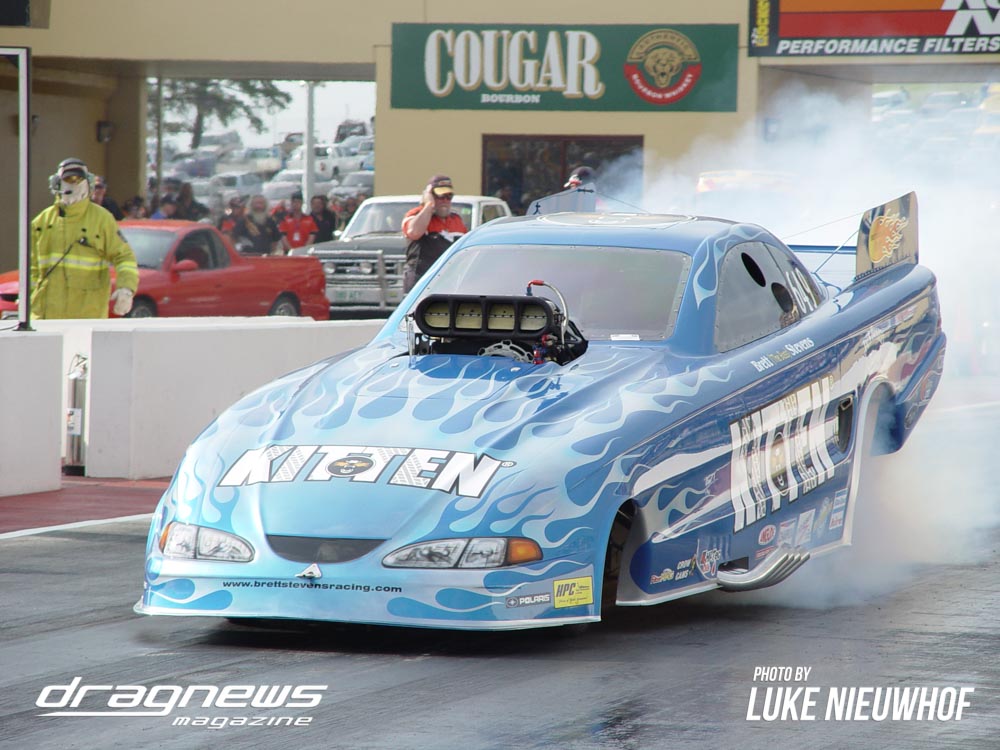 Top Alcohol was added to Brett Stevens' ever expanding team with a Ford Mustang Funny Car backed by Kitten car care products.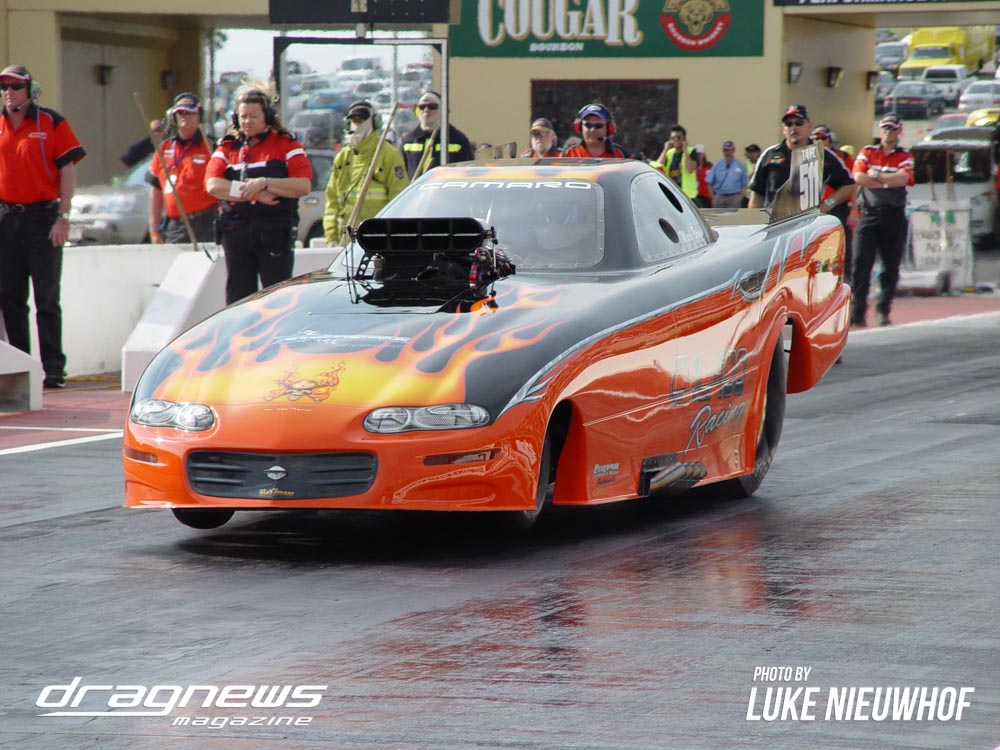 Former record holder Mark Brew returned to the class, but this time in a Funny Car.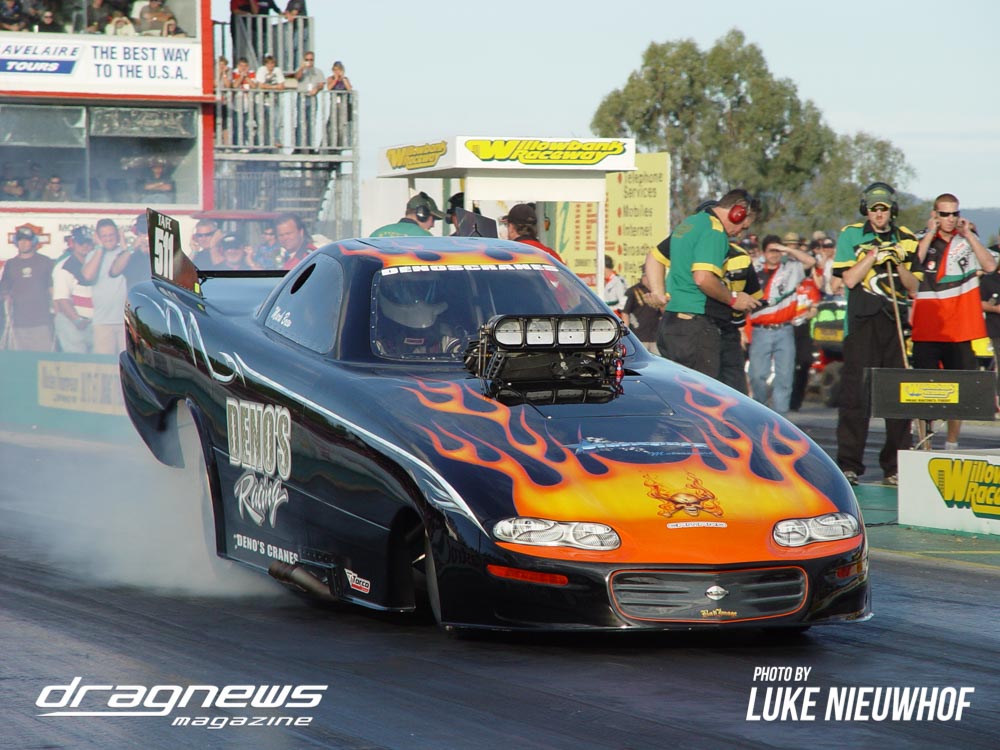 The Camaro ran with a couple of different looks in its time.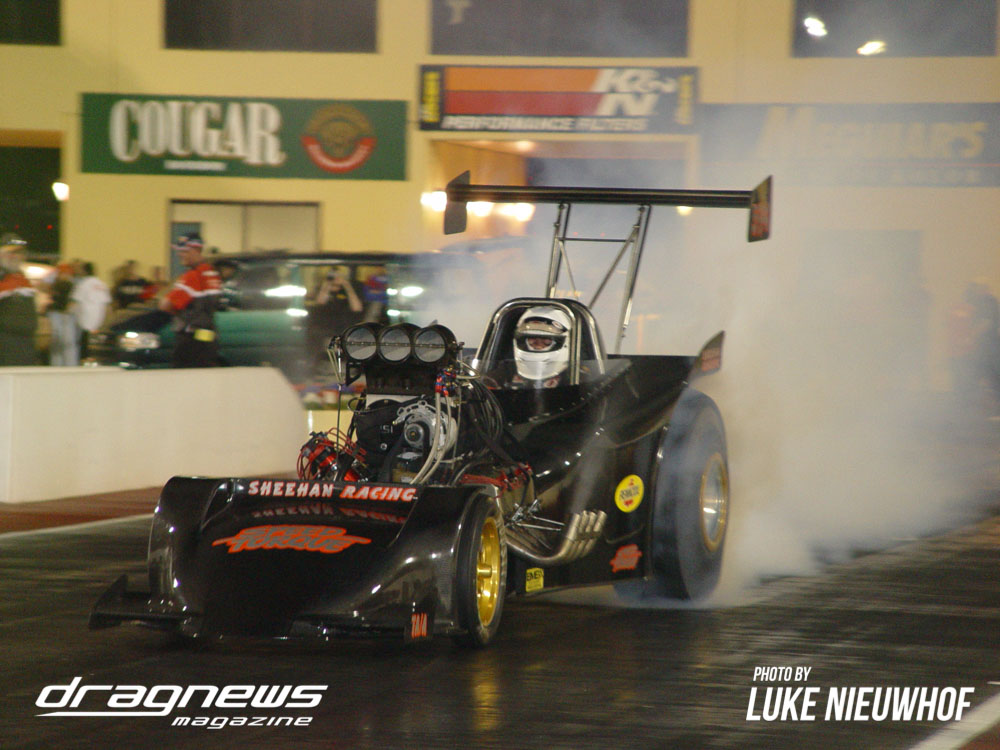 Mark Sheehan's Top Alcohol altered was a ballistic thing. He is still the quickest altered driver in the country thanks to a 5.649 pass.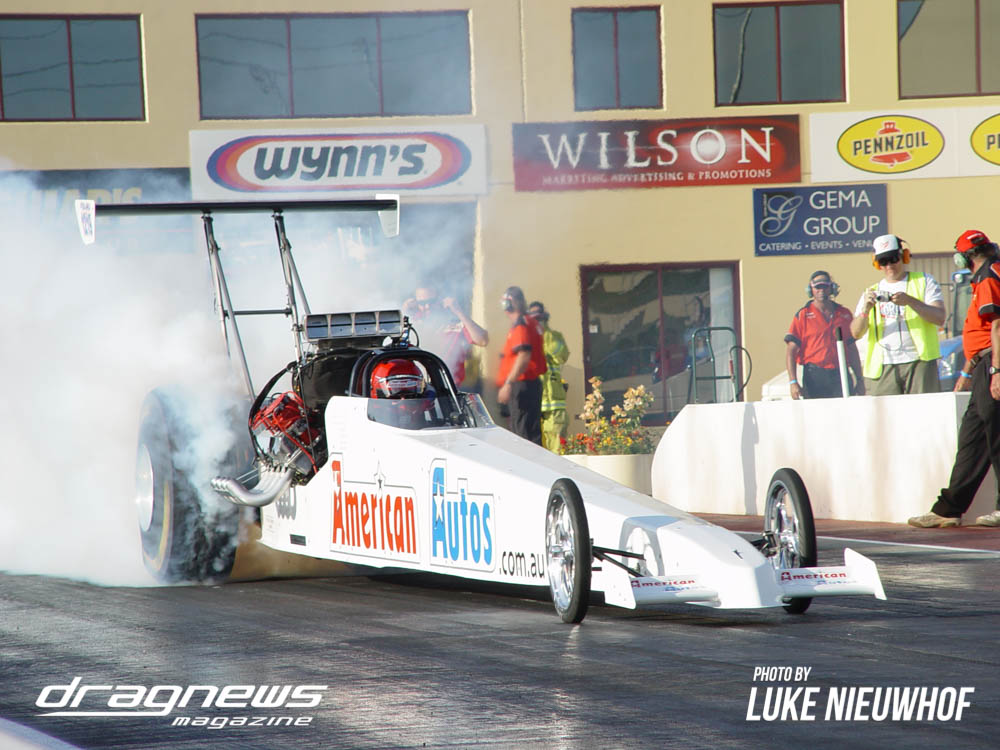 Dean Oakey's updated dragster – unsure of the origins of this car.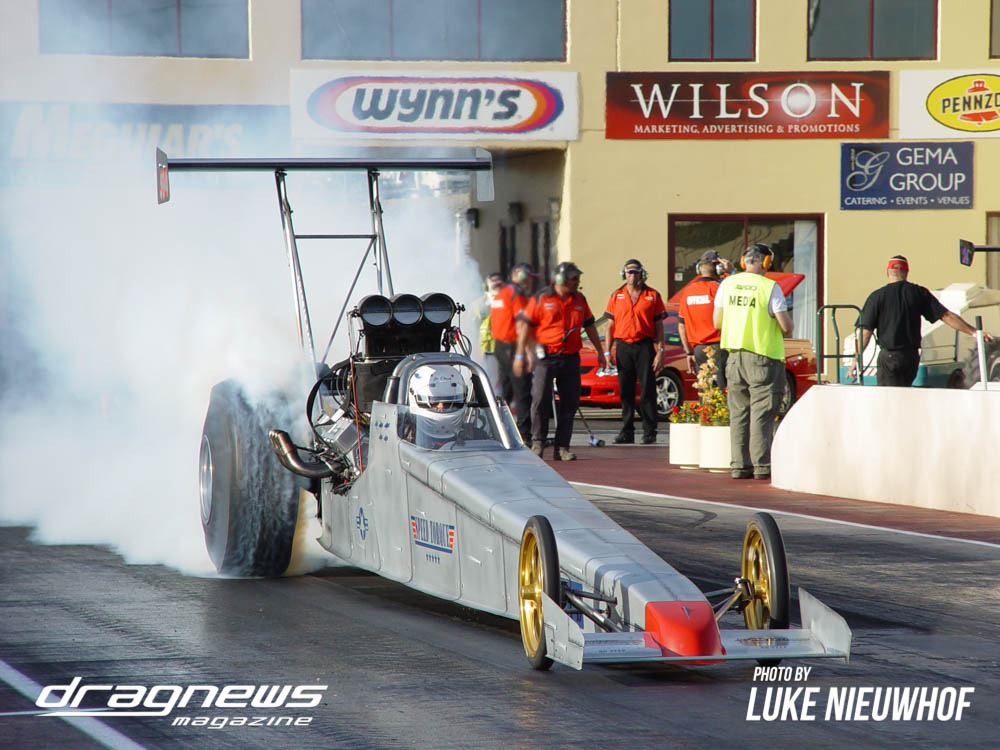 Mark Sheehan also had a dragster that he occasionally played with in Top Alcohol. It was driven by his father Gary in Comp, and later his wife Sharon, also in Comp.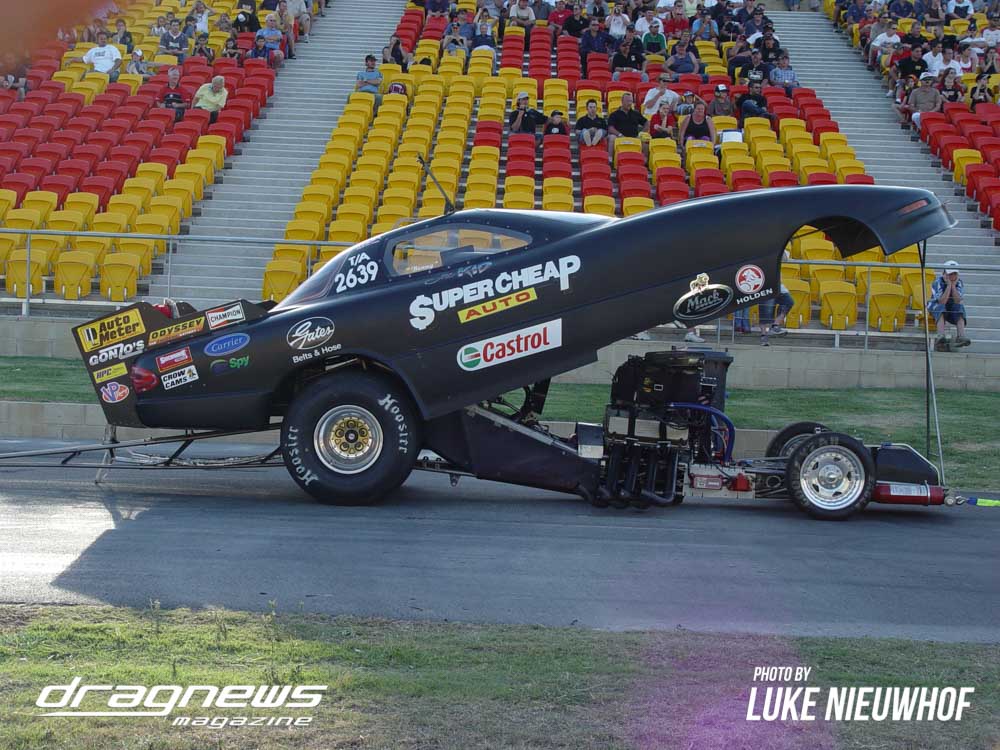 Another doorslammer driver joined the class when Ben Bray entered the fray.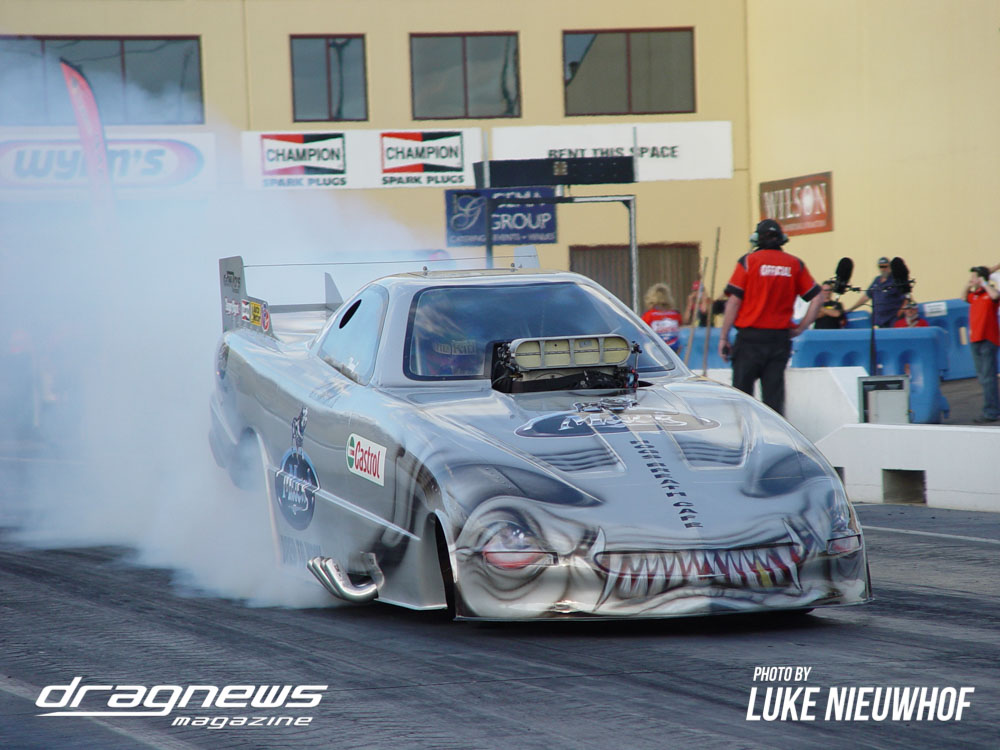 This shark livery is probably the one most fans remember, with Ben winning the 2005/06 championship.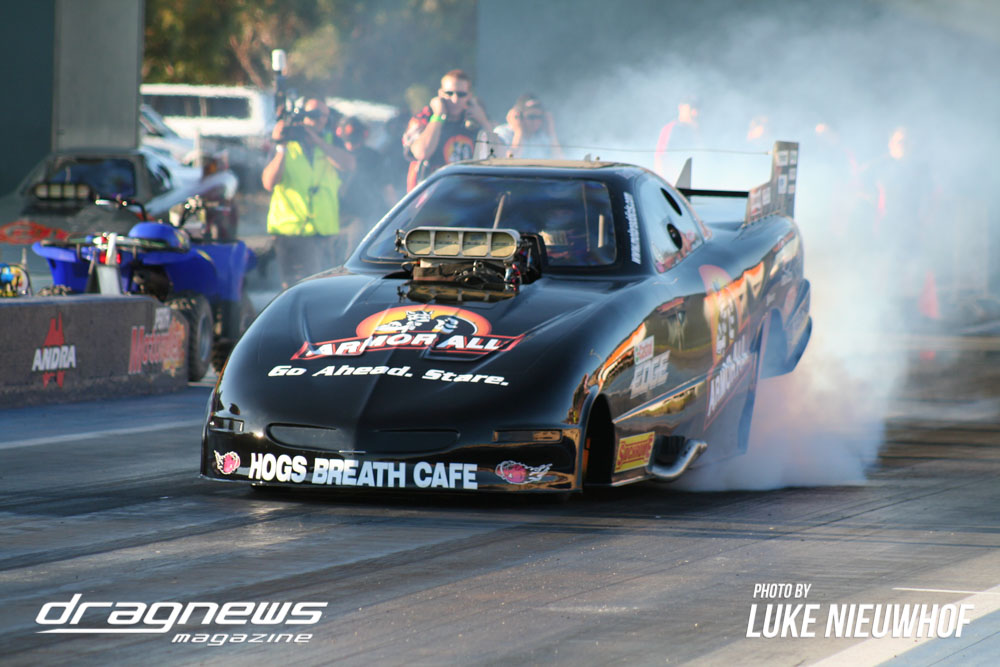 Corporate support later arrived from Armor All.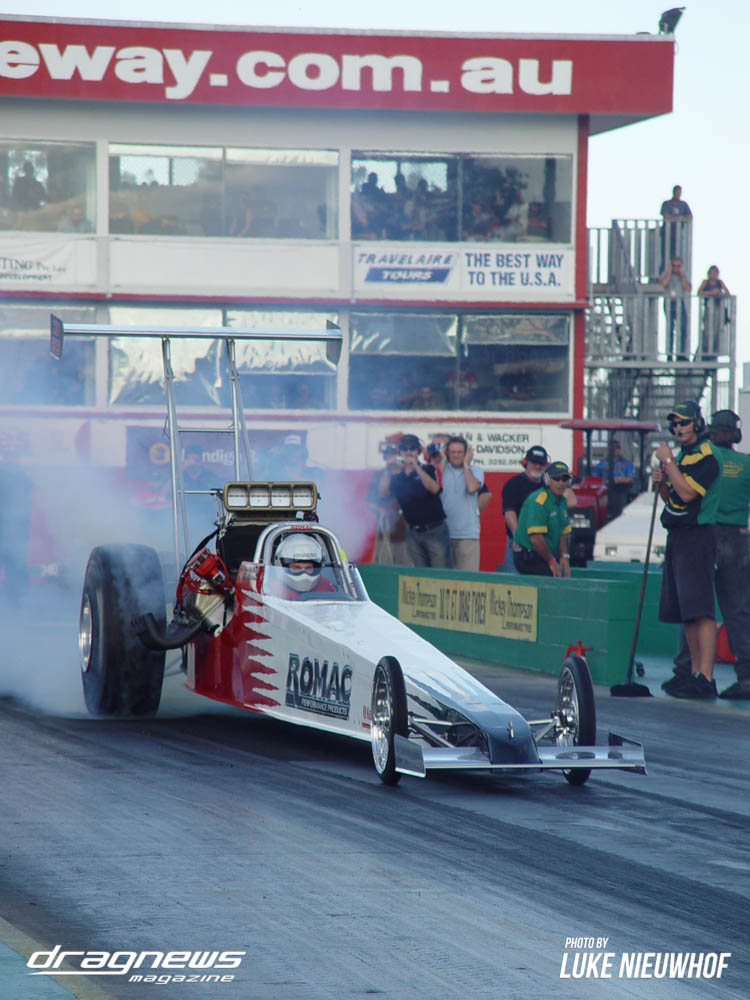 David Glenwright's Romac car was a more common sight in the late nineties, I think I only saw it once or twice in the 2000s. It then became Brett White's rider before he moved to funny car.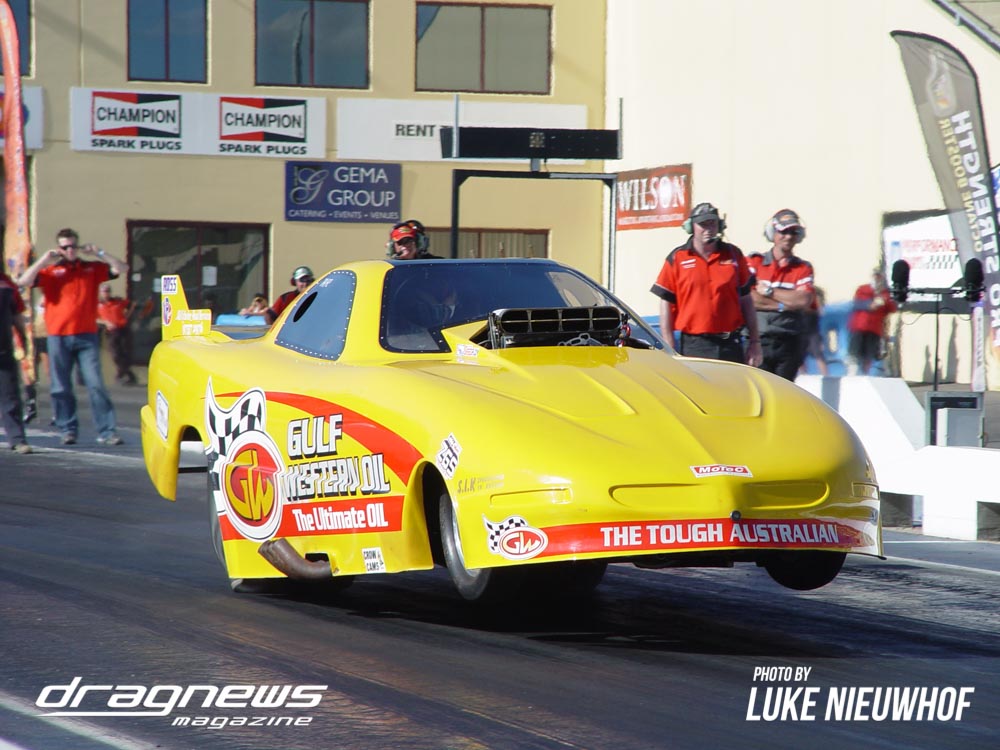 Rob Ambruosi's Funny Car went to the Sainty family, who put in one of their home-built motors to go methanol racing with driver Mark Hinchelwood.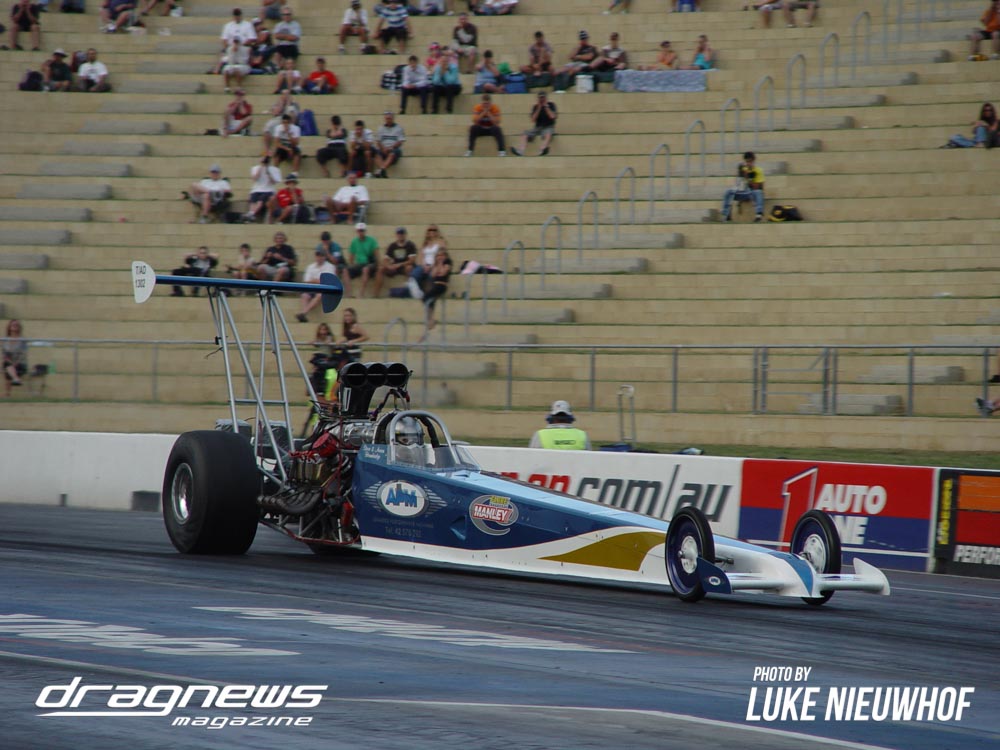 Aaron Hambridge got his start in this older chassis. It was the pieced together from the Rapisarda Racing Top Fuel dragster that snapped in two at Eastern Creek with Glenn Mikres driving.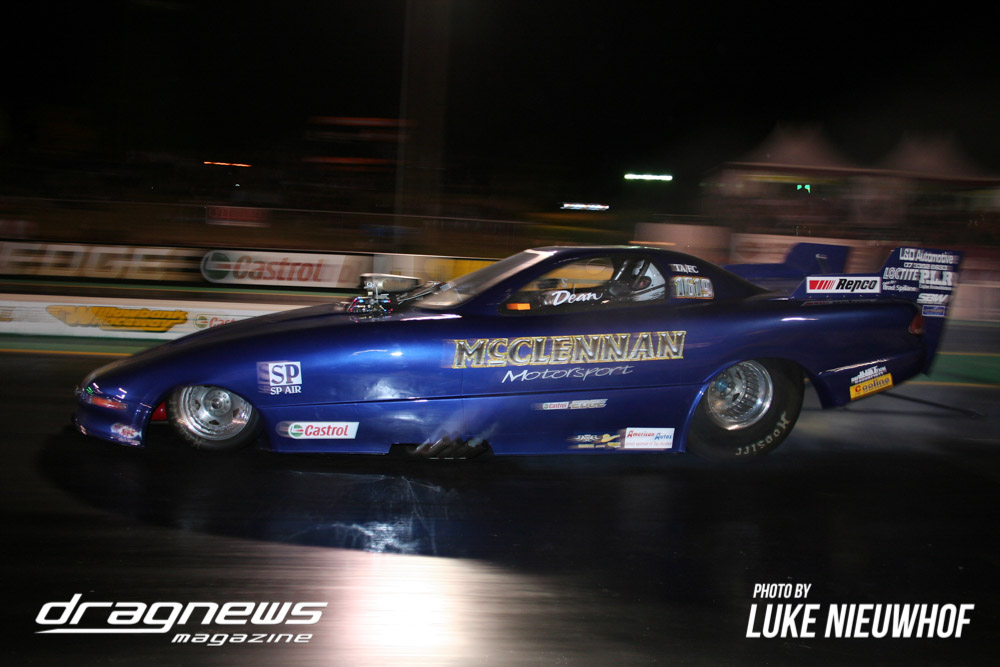 Unsure if this was a whole new car or just a new body for Dean McClennan, but it was a neat step up.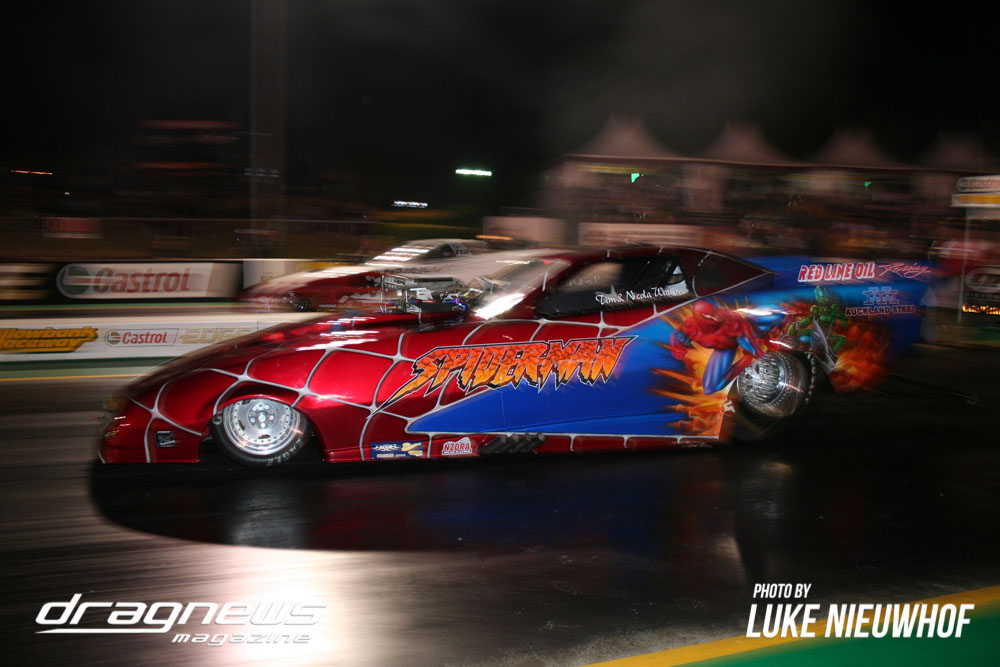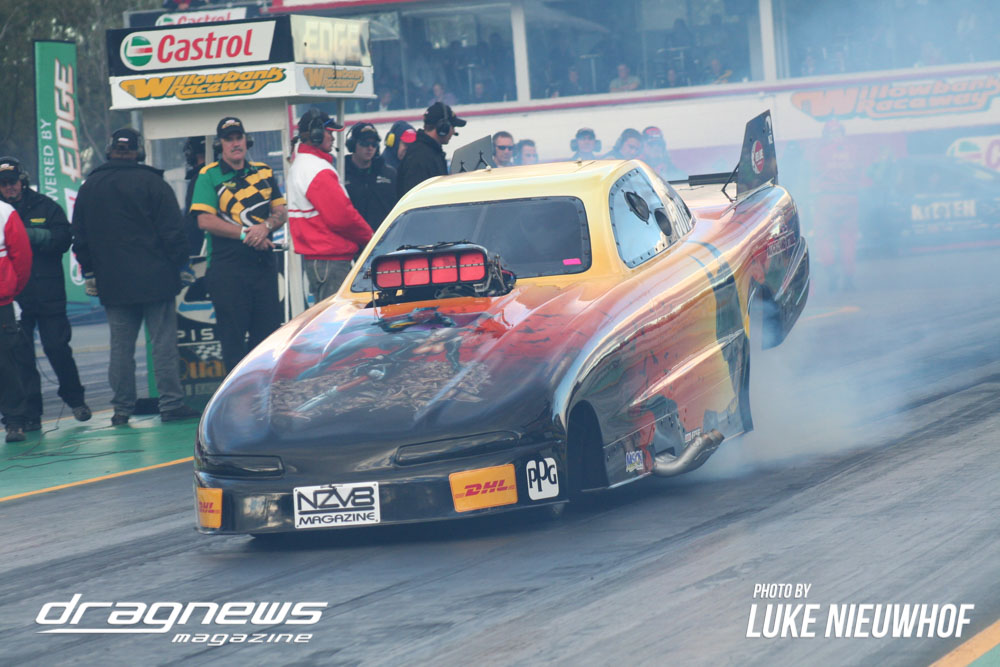 The late Tim Watkins brought his Spiderman-themed Funny Car over from New Zealand to compete at the Winternationals in 2006, and later with a Batman inspired livery.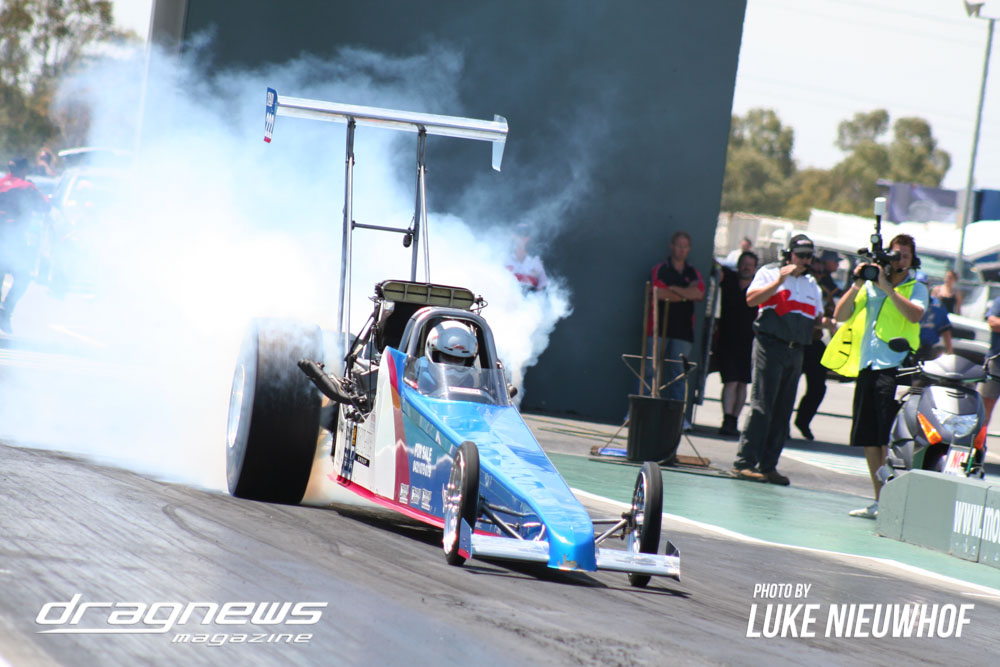 Perth Motorplex held its first national championship round of Top Alcohol in 2006. Adelaide's Frank Intini made the trip over in his small-block rail.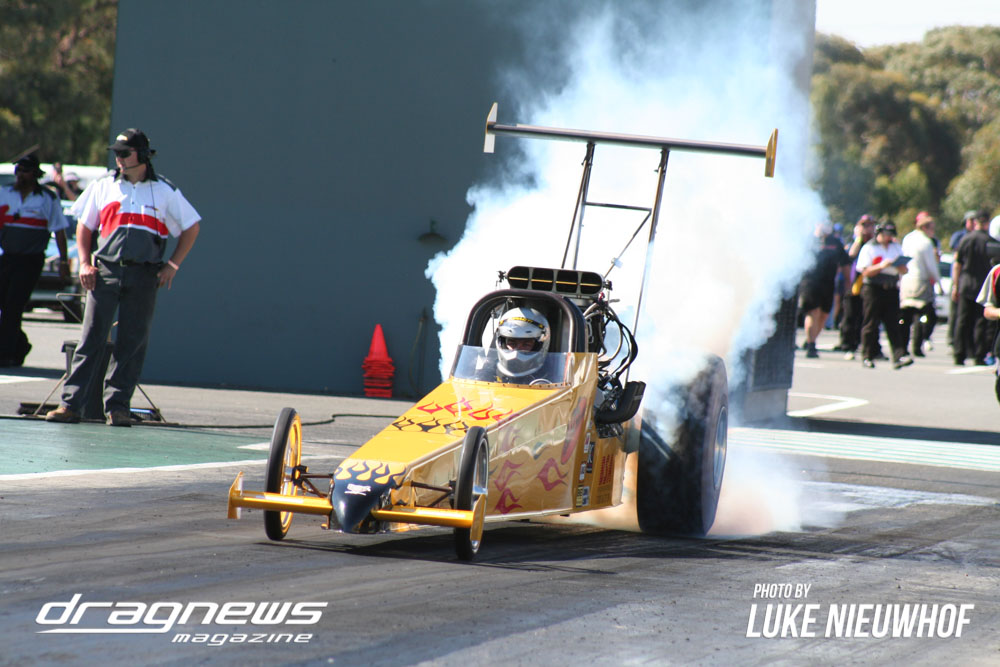 WA's Aaron Deery in what I think was a local Ian Jenkins-built chassis.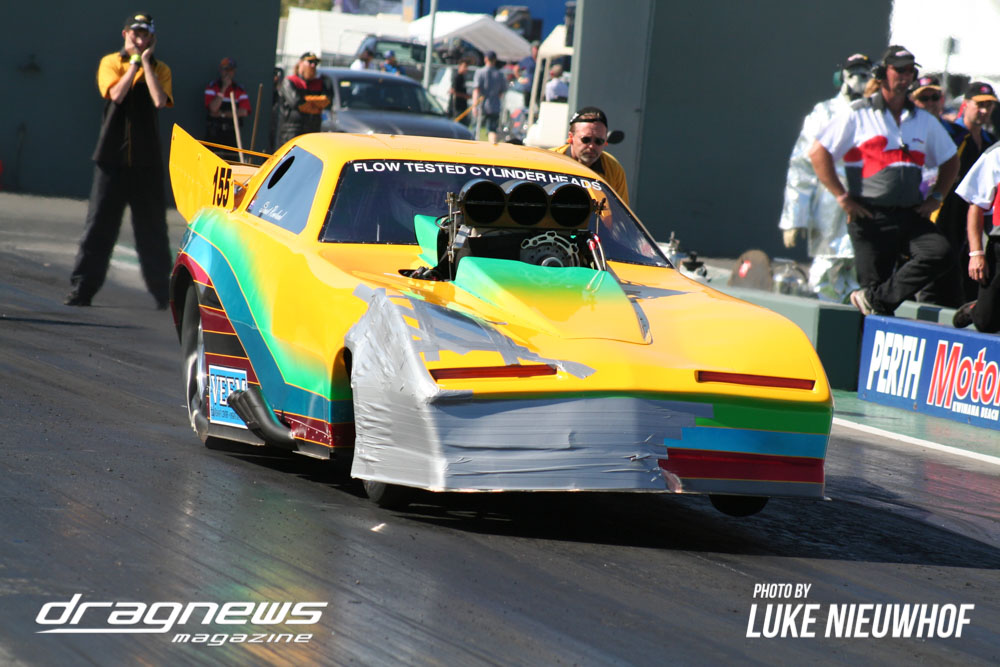 Stuart Rowland mostly competed in AA/FC, but stepped into TA/FC for this event. The duct tape on the front end came from a strange incident in qualifying where he hit the exit gate near the finish line when turning off the track. This car was originally Graeme Cowin's Aussie Raider nitro car.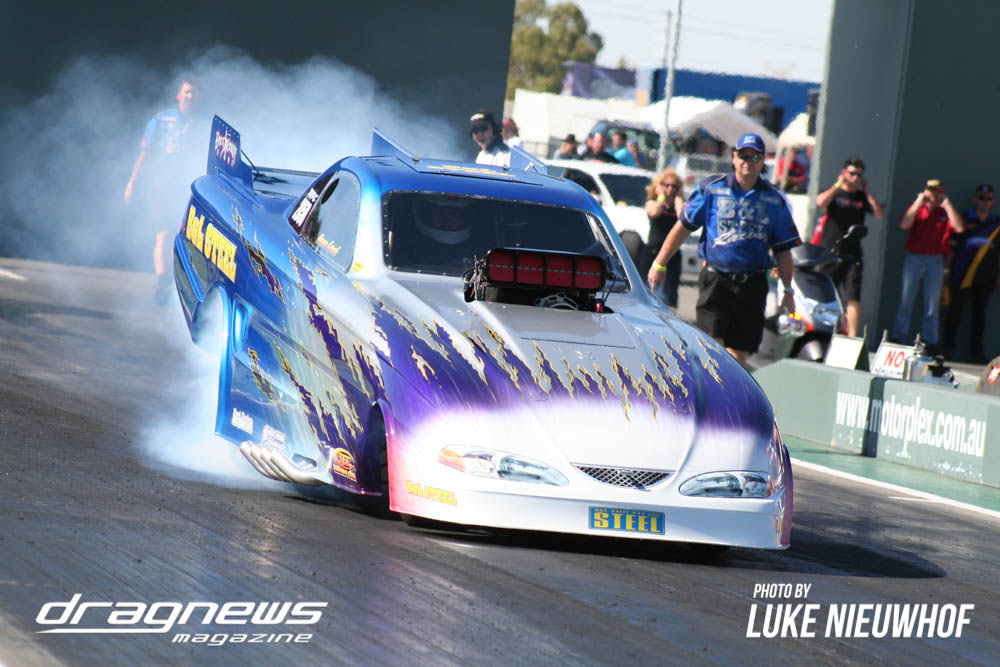 Top Doorslammer racer Aaron Lynch expanded into Top Alcohol with this beautiful Ford Mustang.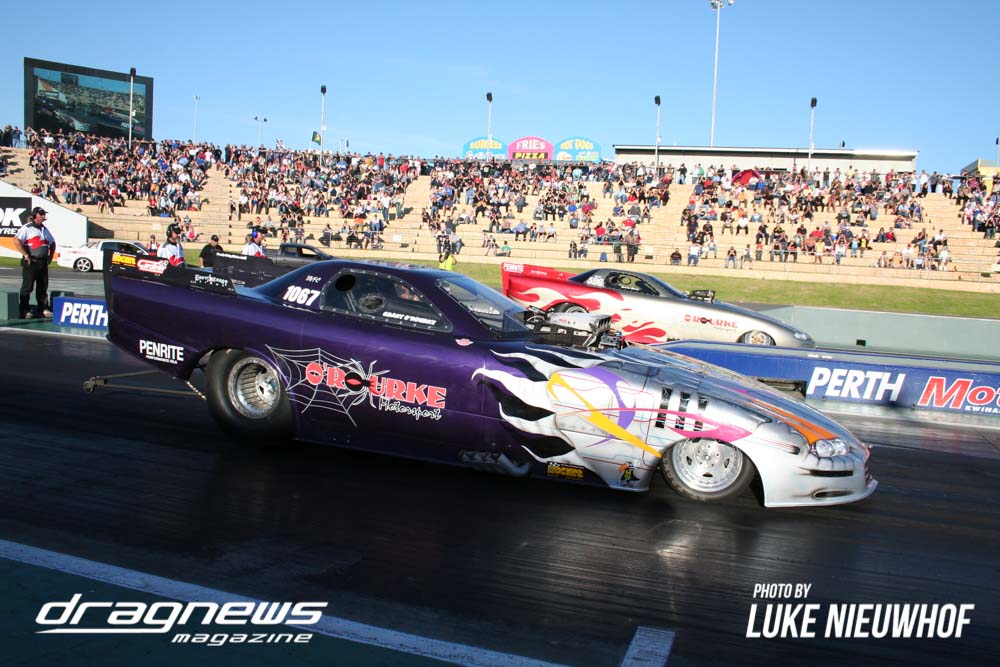 Grant O'Rourke raced this Funny Car for I think only one event, before wife Debbie took it over. In the opposite lane, Damien Harris has a new car.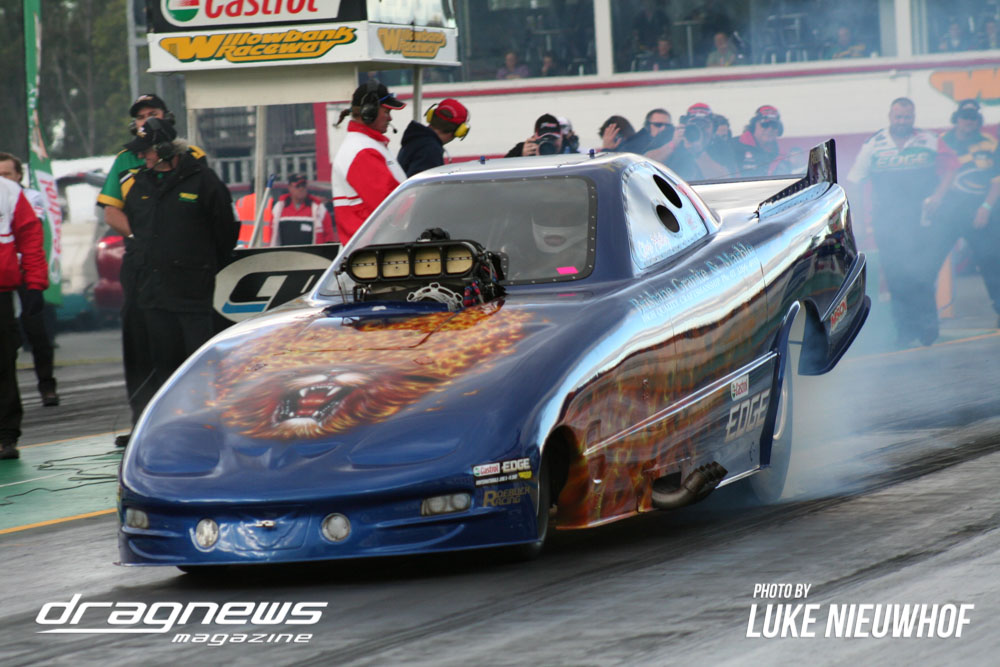 Chris Hollingsworth wasn't a regular in Top Alcohol, I think this was the only event where I saw him compete.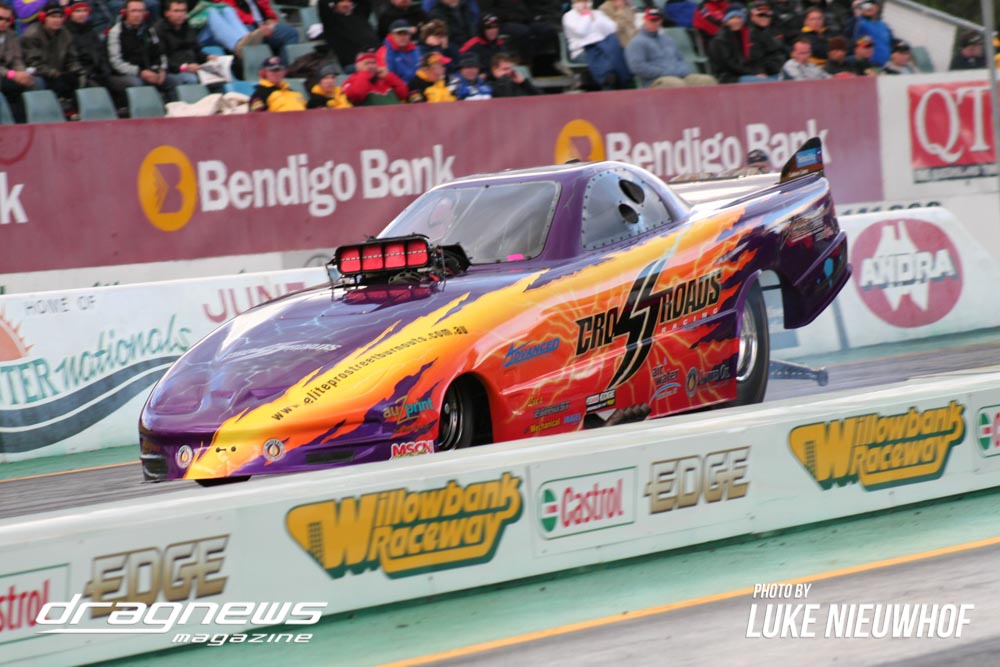 John Cannuli joined the class in a colourful way when he stepped up from Supercharged Outlaws. He has become one of the veterans since.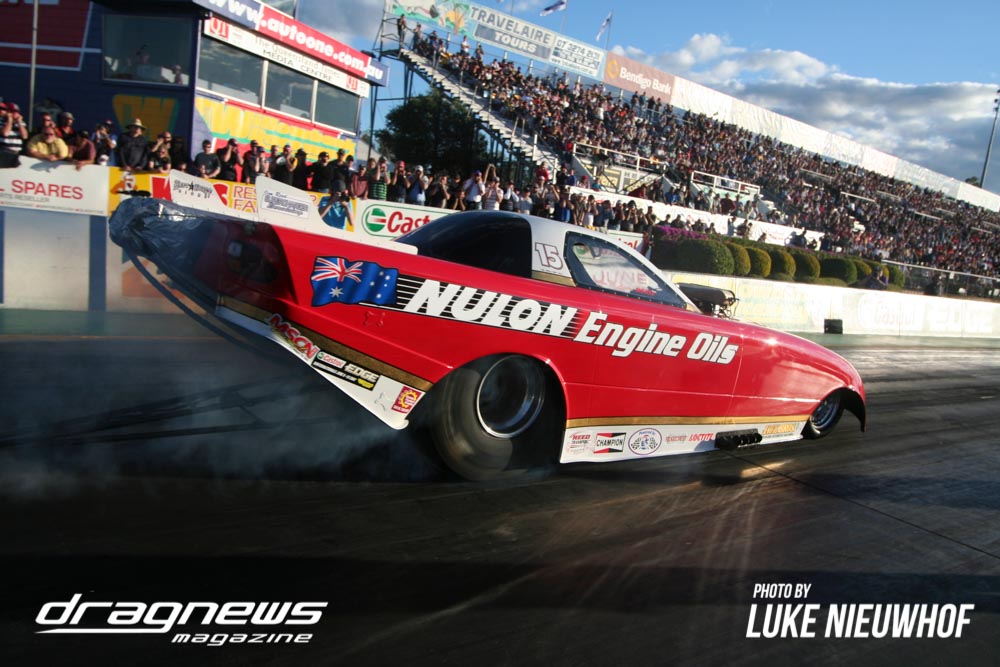 An update for Steve Reed, I think this was a whole new chassis and body to replace the Cutlass, only tor suffer a huge engine explosion and crash at the 2009 New Year Series.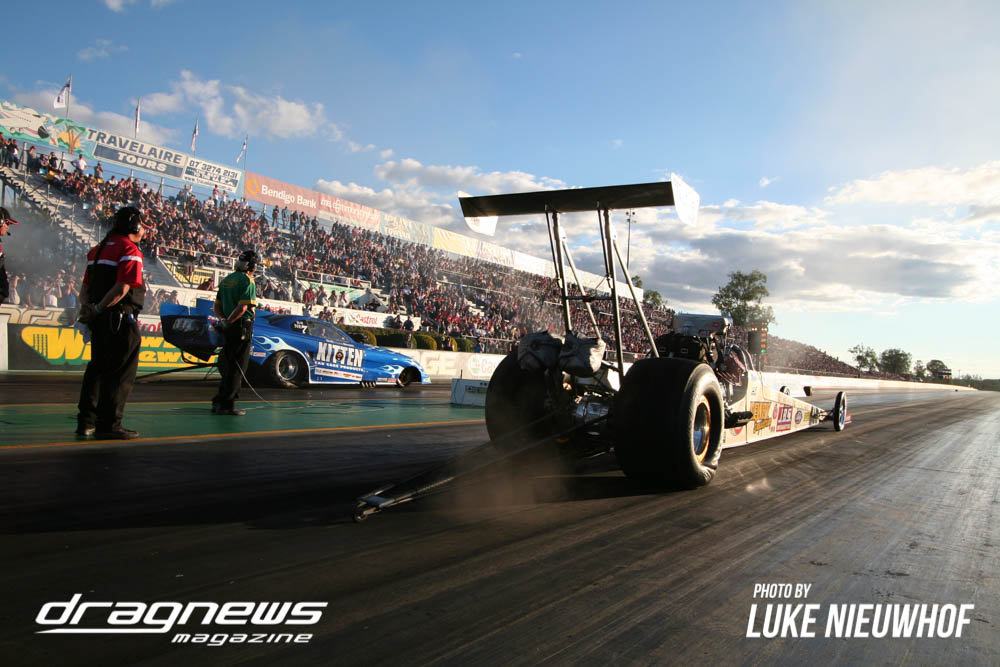 This race between Brett Stevens and Wayne Newby decided the 2006/07 championship.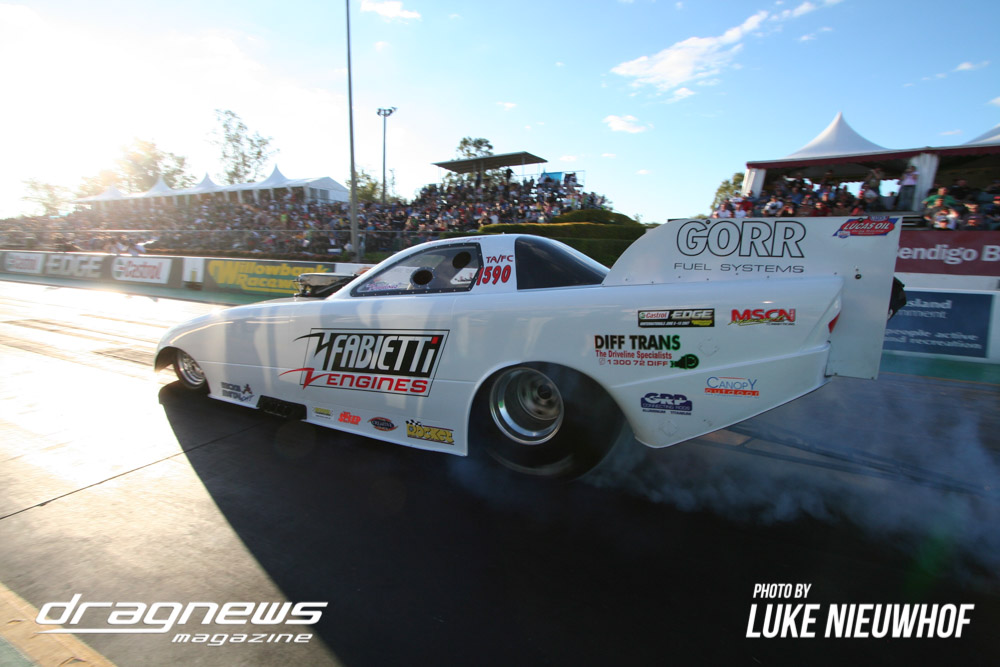 The USA's Ron August Jr drove this car for Maurice Fabietti, and as I recall went to the finals of the 2007 Winternationals.
Rob Pilkington imported this ex-Bucky Austin Chev Monte Carlo. It switched between TA/FC and AA/FC.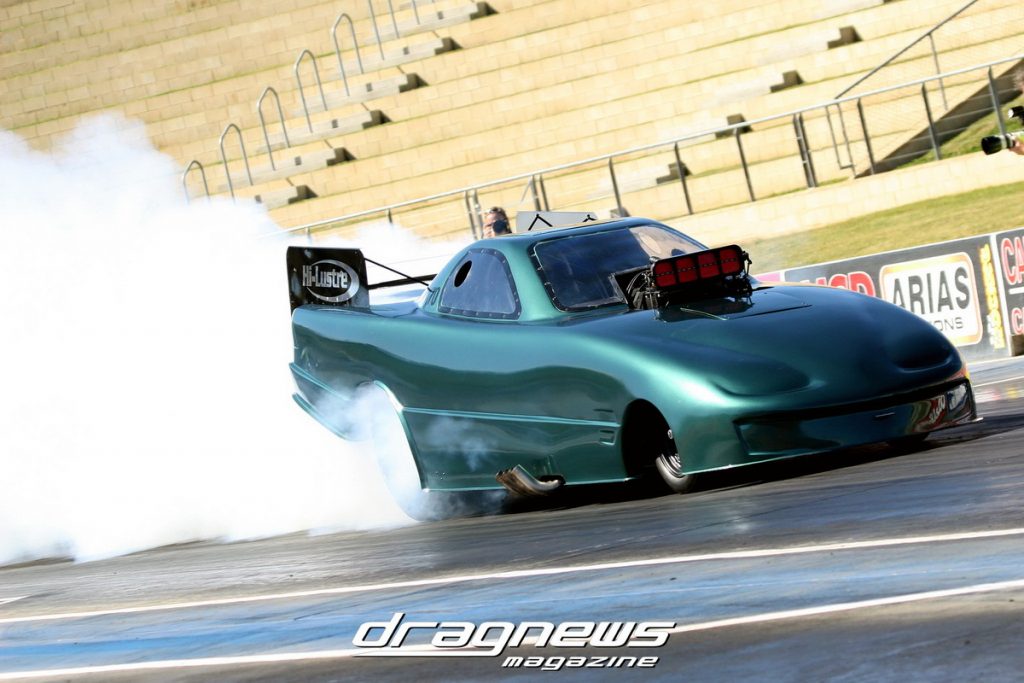 Sydneysider Ross Siemsen made a short stab at Top Alcohol in 2007, I think it only every competed at one or two events. The car had history, winning the NHRA title with Cy Chesterman.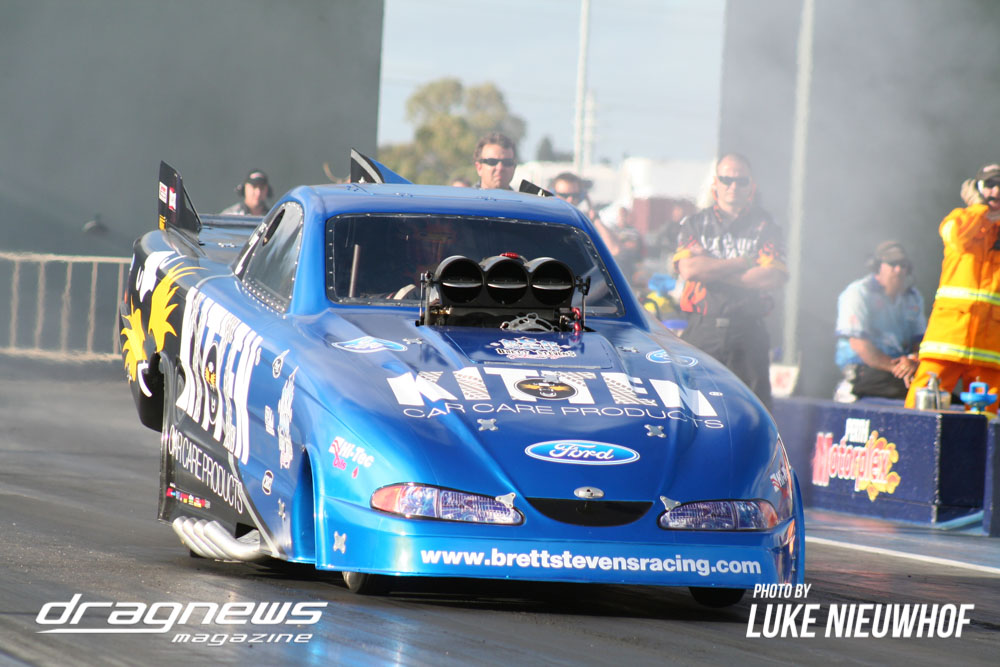 An updated look for Brett Stevens shortly before he left the sport.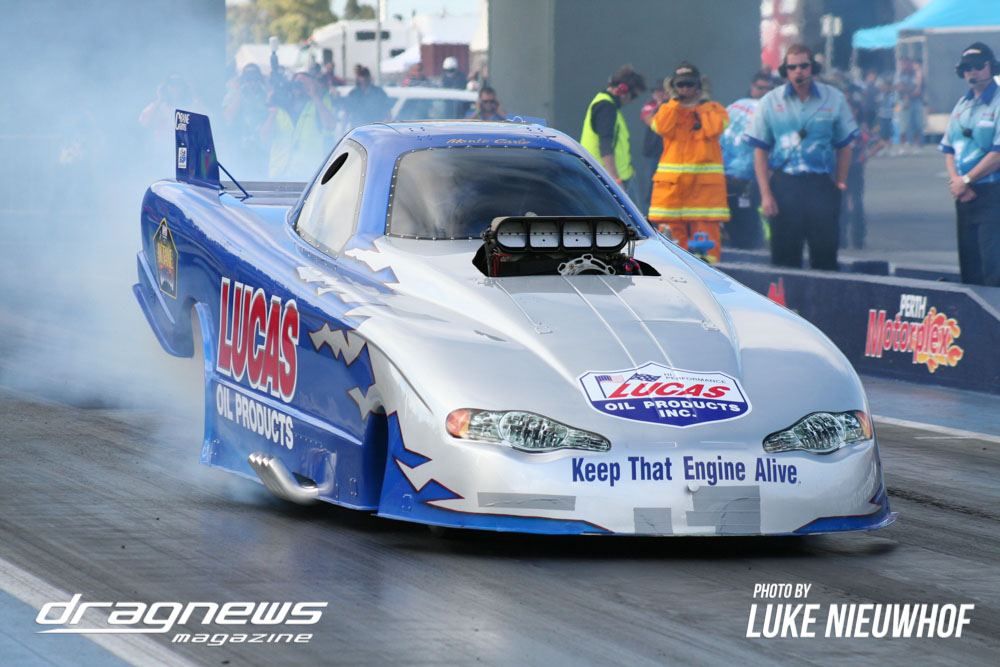 The biggest news in 2007 was Gary Phillips switching back to a Funny Car.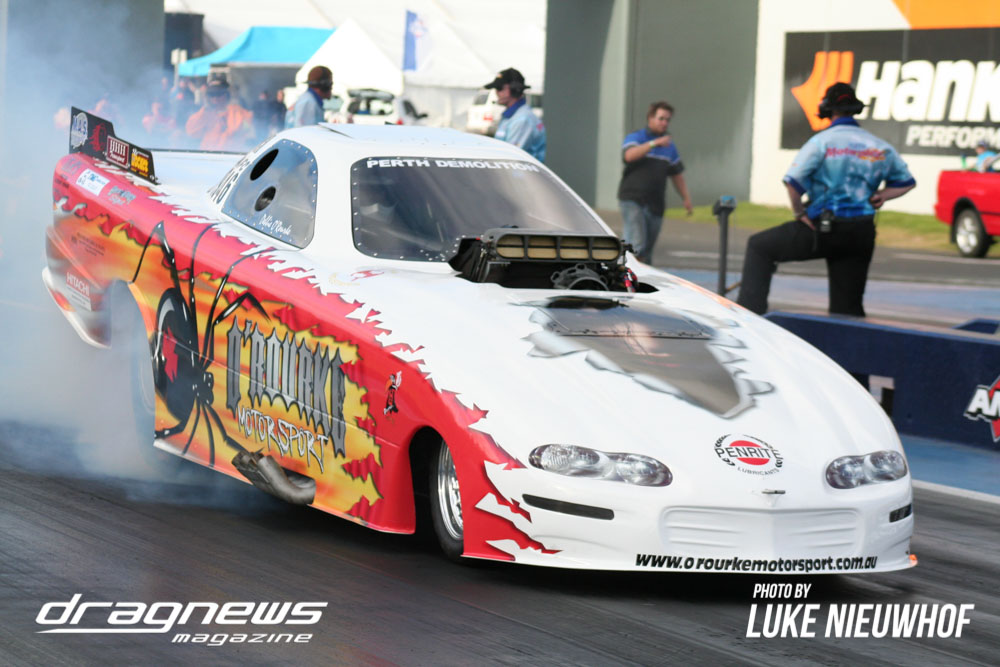 Debbie O'Rourke started racing in Top Alcohol in 2007, and then became one of the touring regulars in the category.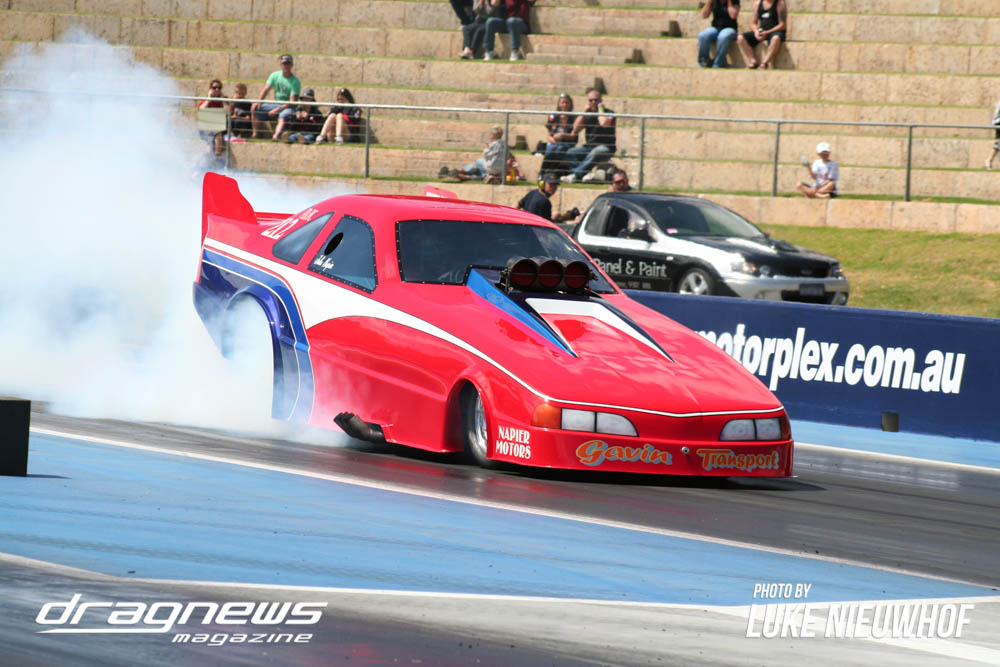 John Napier dived into Top Alcohol on a couple of occasions at his home track Perth Motorplex.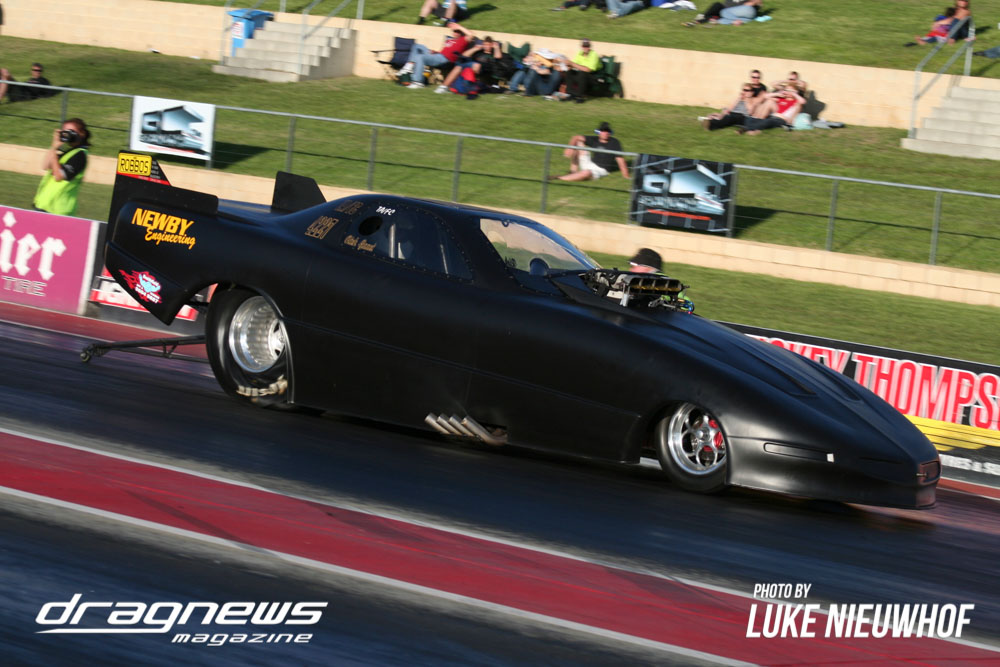 Tough car to pick this one, but it's actually Rick Gauci's car before any paint/wrap went on.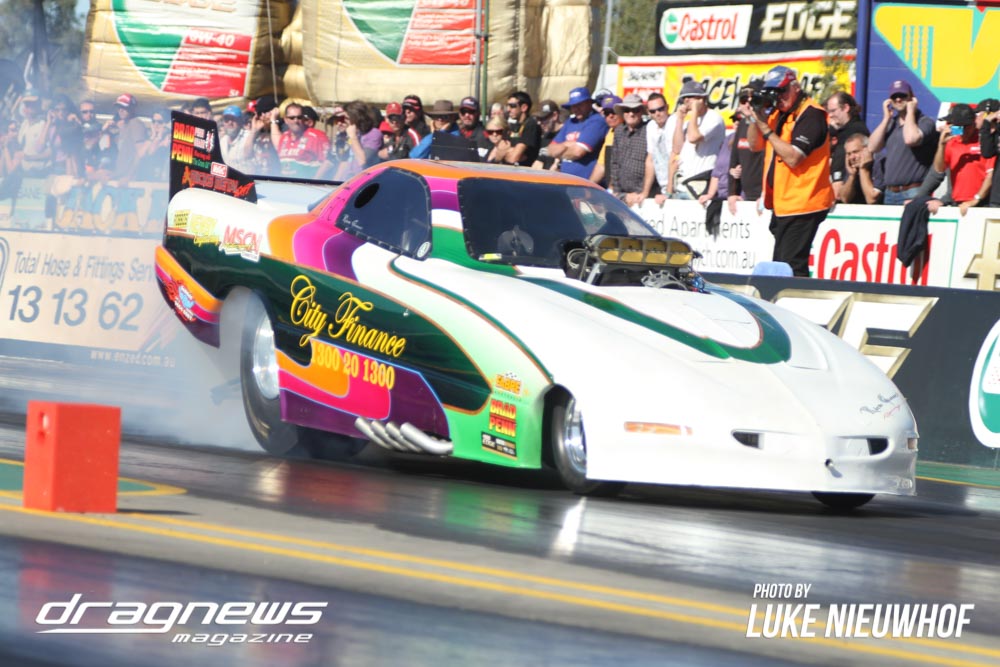 Here it is looking far more colourful!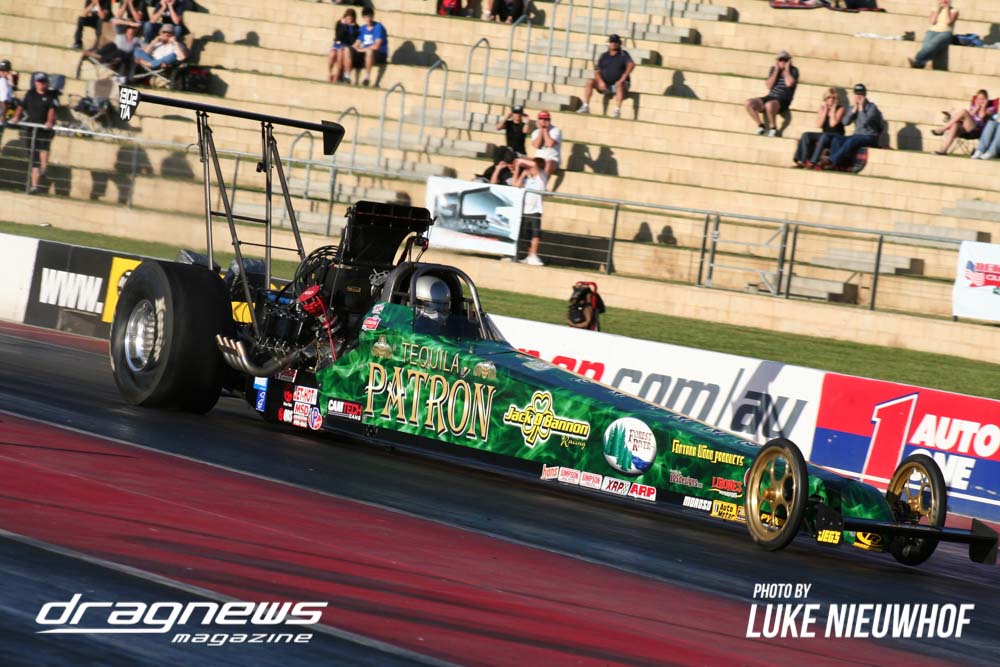 Aaron Hambridge brought in this beautiful new car from America. I think it was Jack and Sean O'Bannon who owned the car in the USA, and it carried sponsorship from future nitro racer Alexis DeJoria's Tequila Patron brand.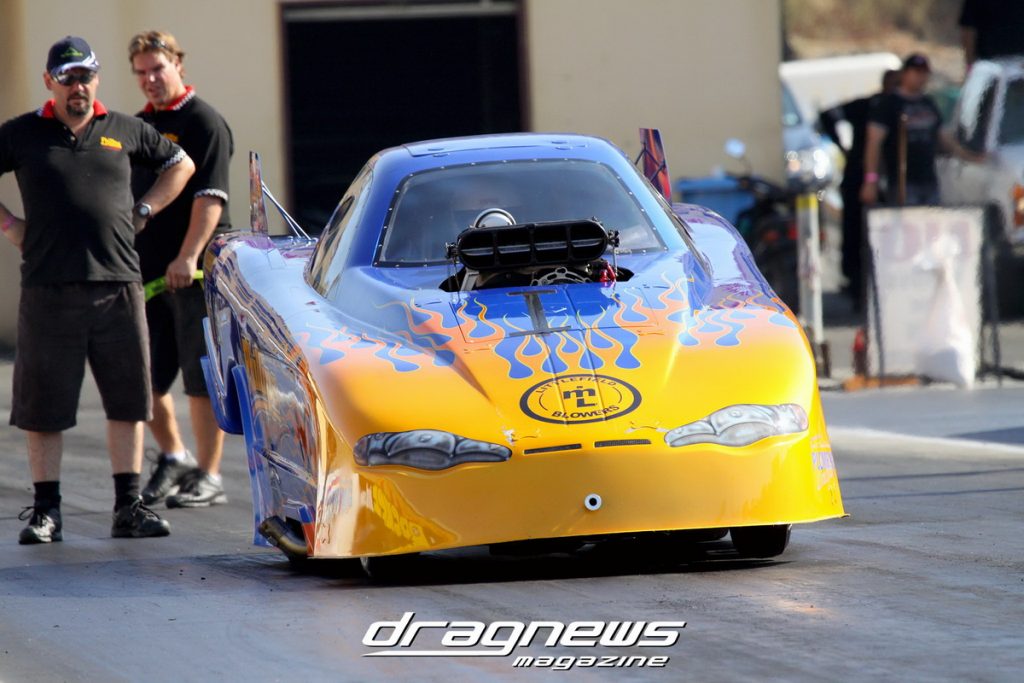 Another Phillips Racing entered Top Alcohol in 2008 with the husband and wife team of Dan and Michelle Phillips fielding a Top Alcohol Funny Car and Top Doorslammer. The funny car had several drivers, with John Cannuli, Sam Fenech and Michelle herself having a steer before the team was forced to sell up due to business commitments.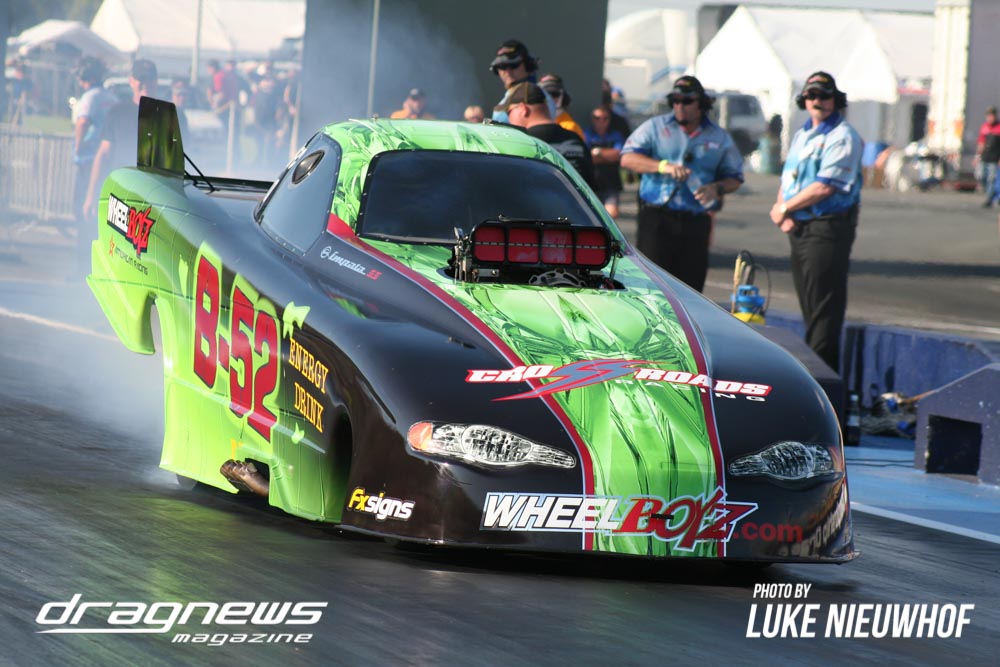 John Cannuli changed to this Camaro in late 2008 or early 2009. It had a bunch of different looks, as seen below.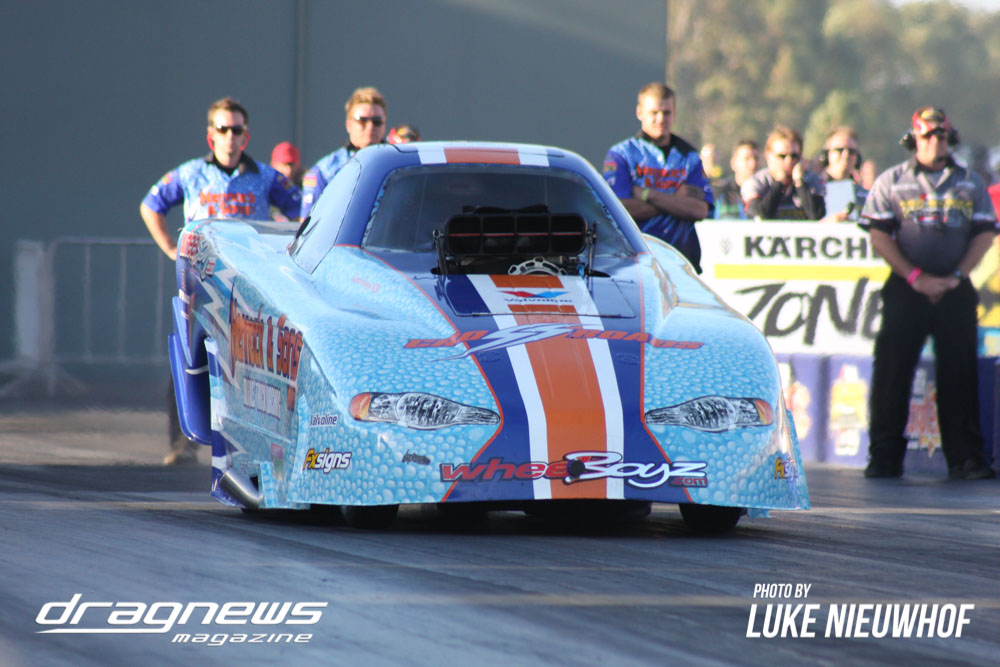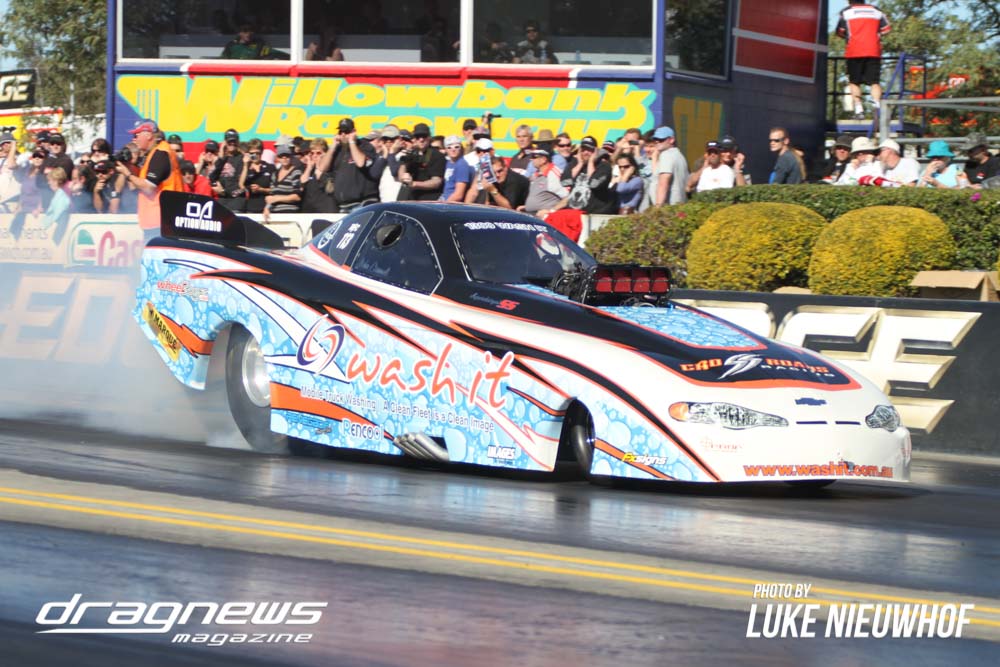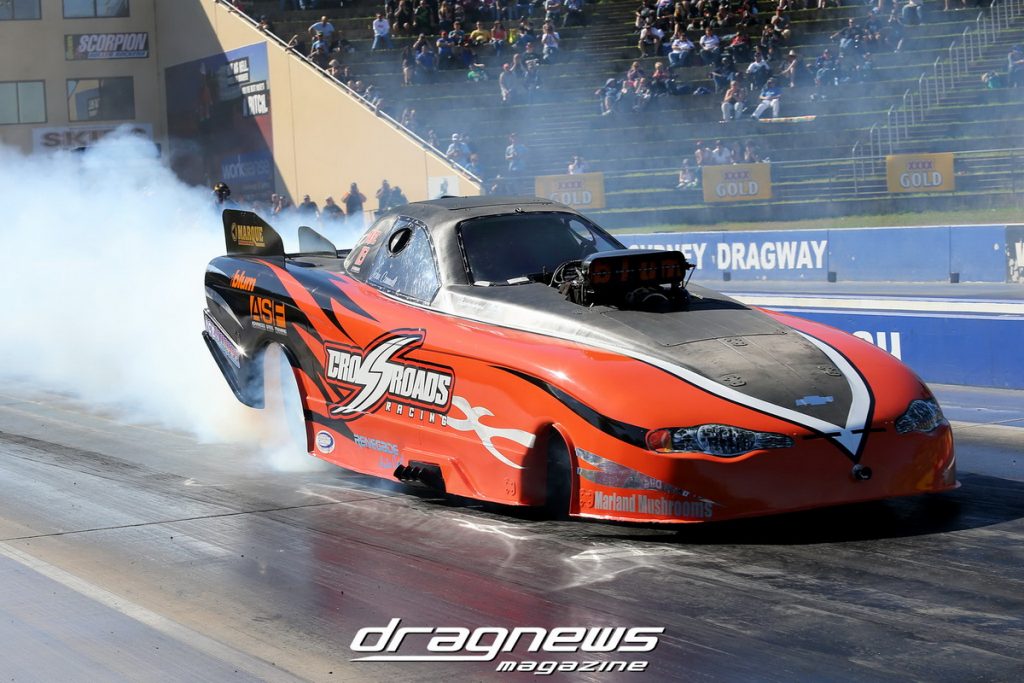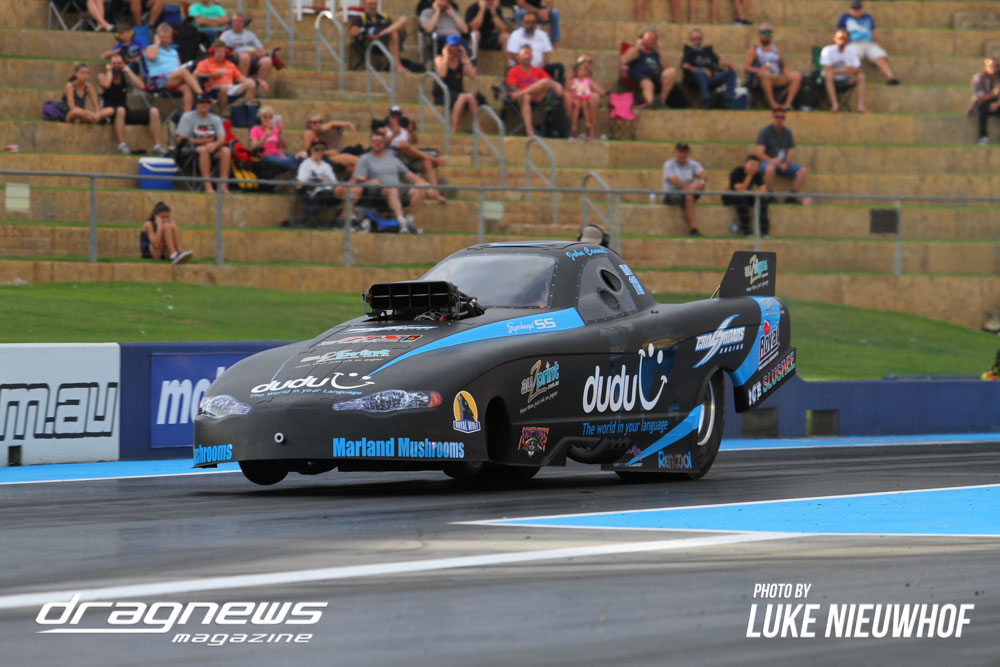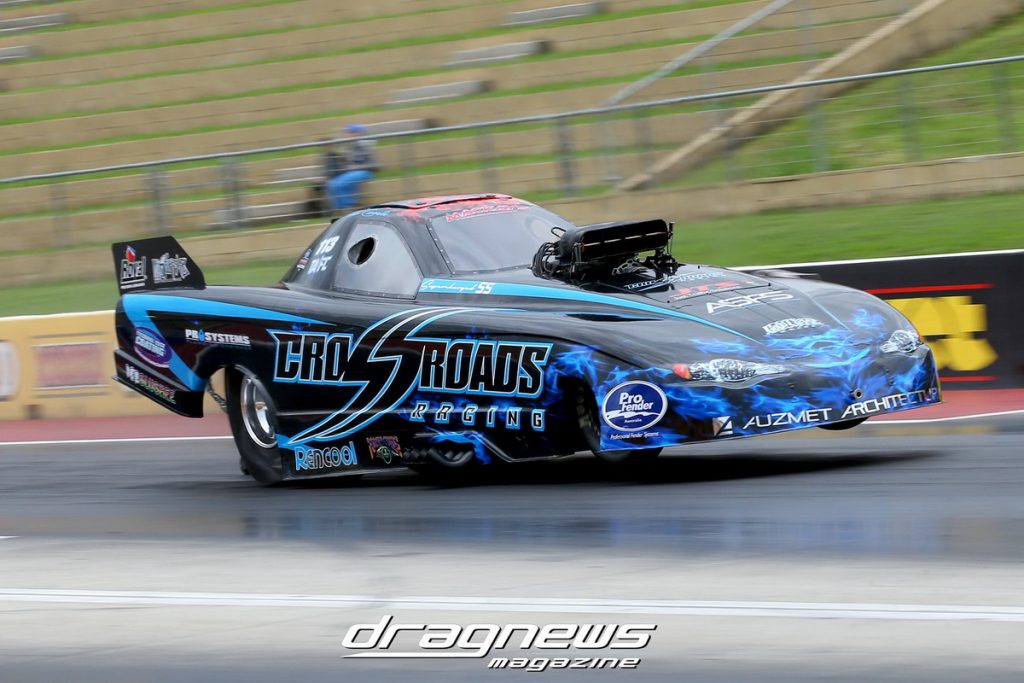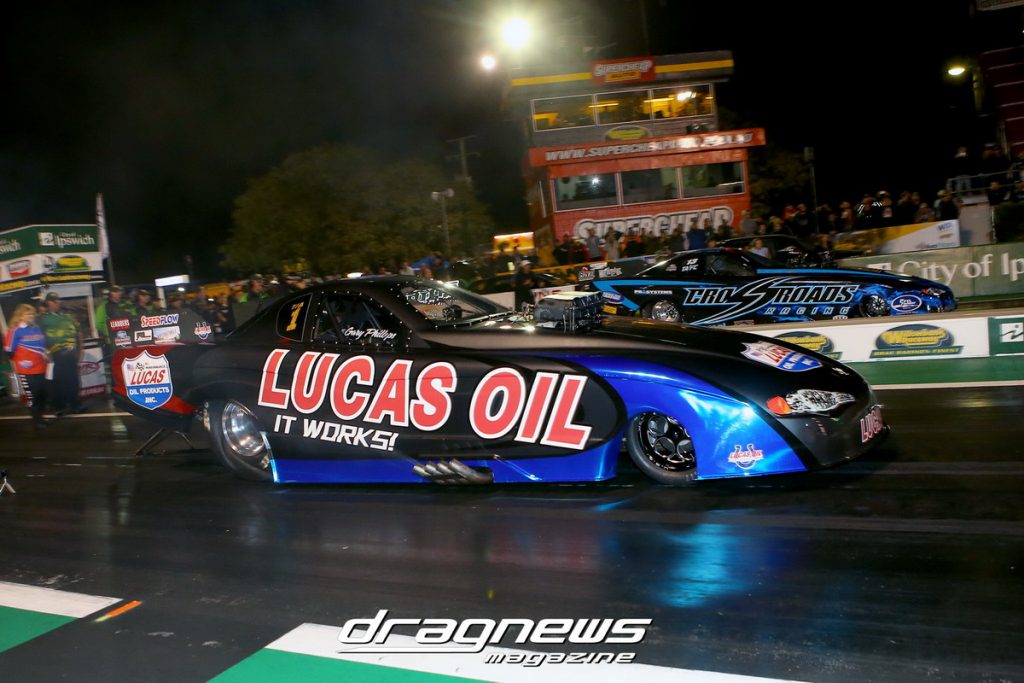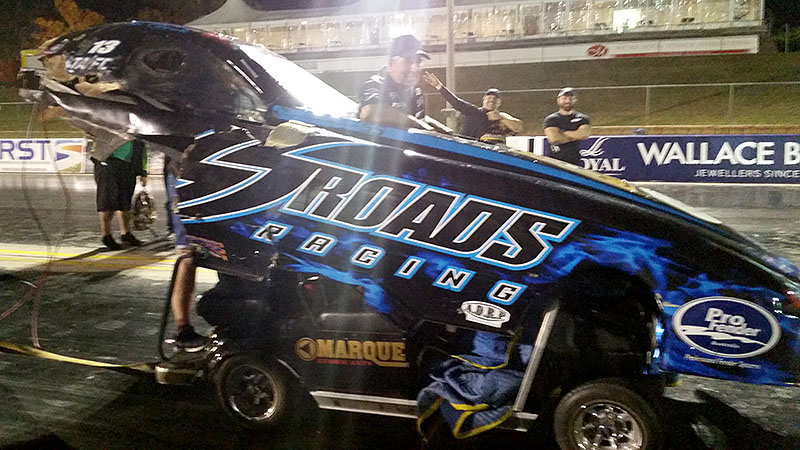 It all ended for body with a collision with Gary Phillips in the final of the 2016 Winternationals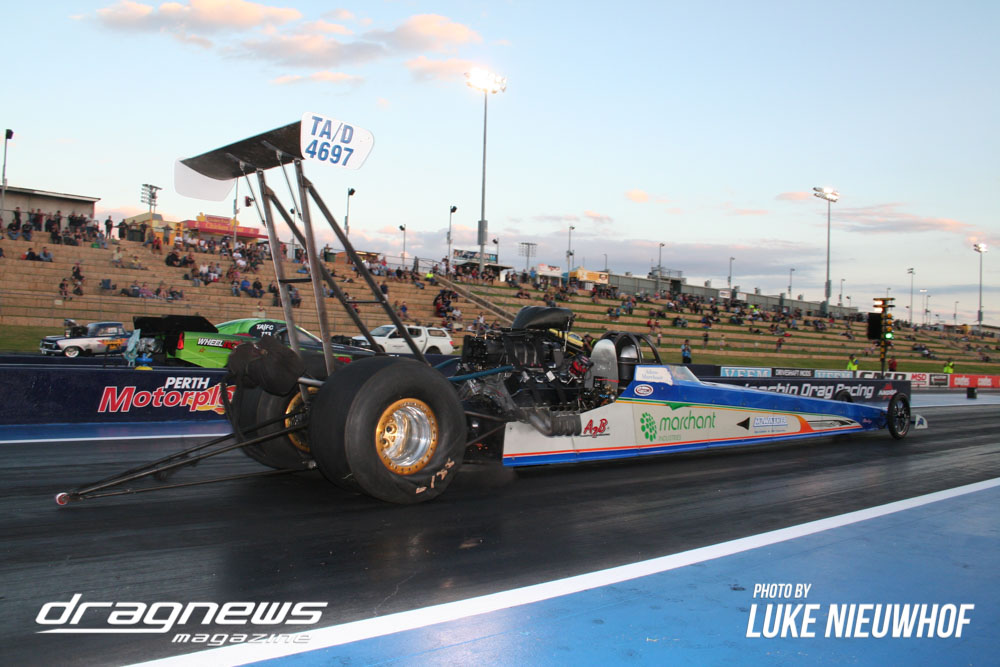 Adam Marchant began in AA/D trim before shifting into TA/D. Here is one of his earlier events at Perth Motorplex. Marchant would later go very close to taking out Gary Phillips for the championship in 2011/12.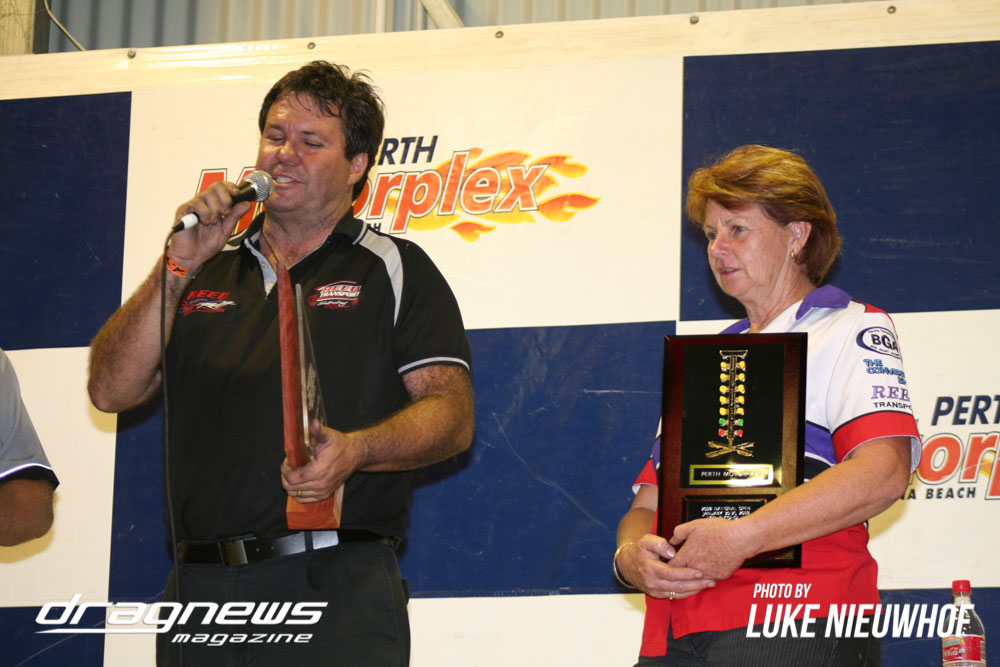 Husband and wife team Steve and Debbie Reed celebrate both reaching the final in Perth.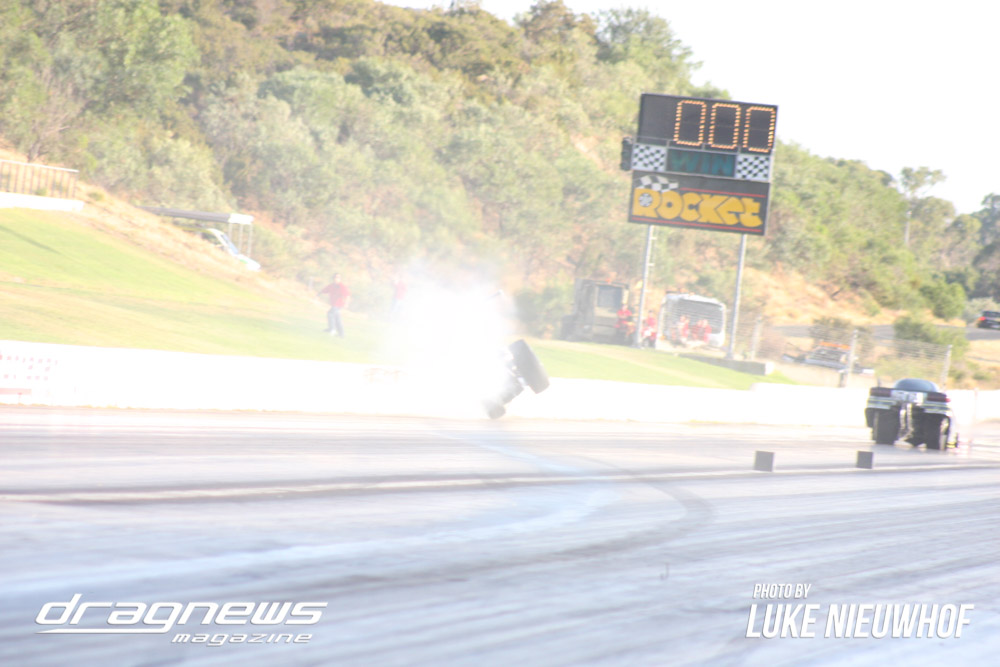 Disaster strikes for Aaron Hambridge in Perth when liquid gets under the rear tyres and sends him careening into the wall.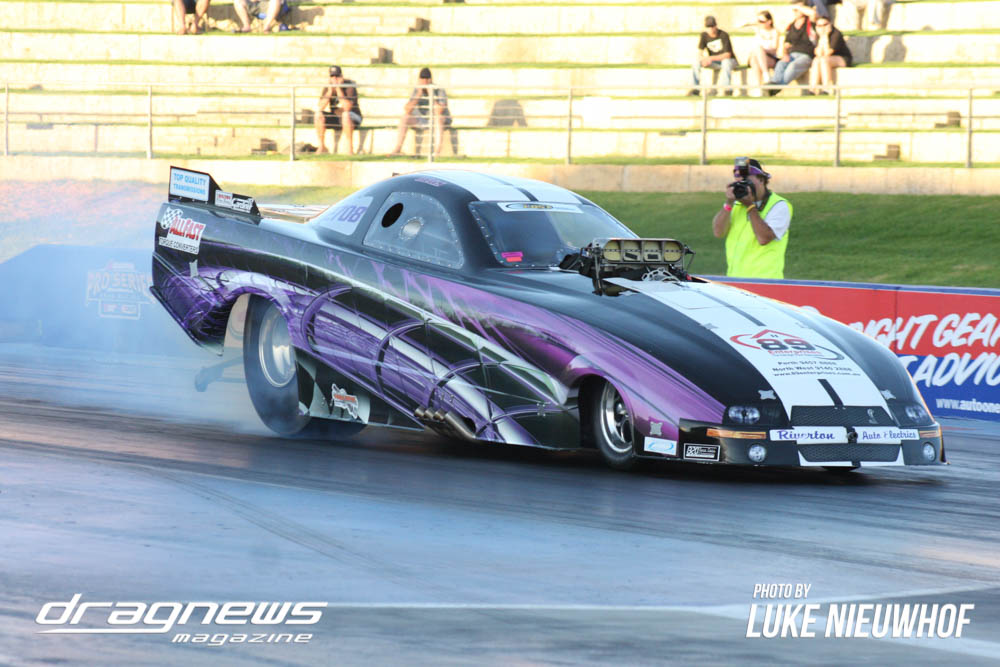 Anthony Begley joined the class in 2010 with this Ford Mustang.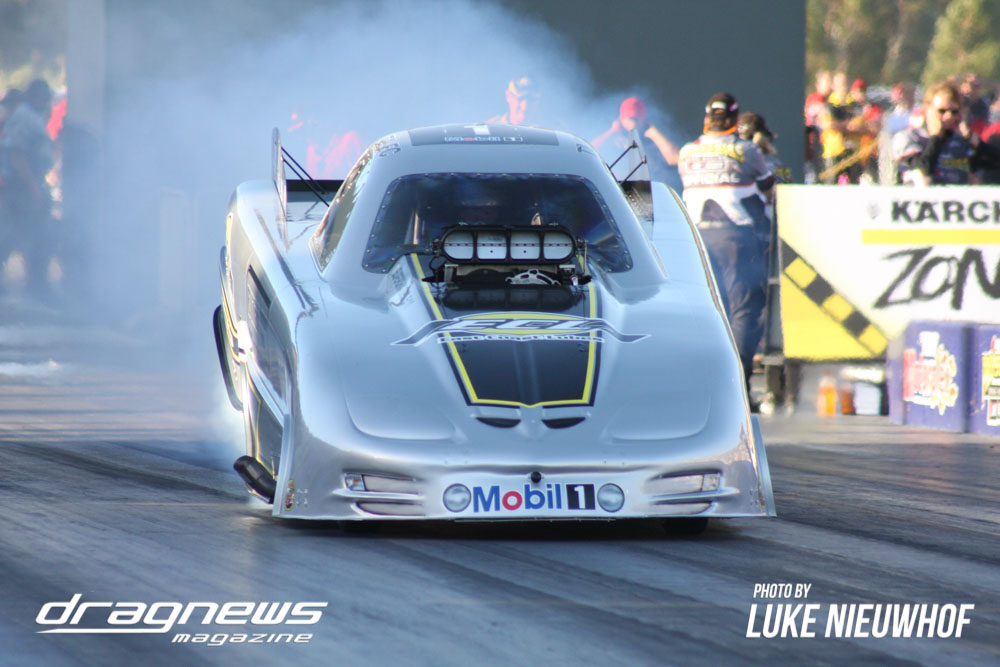 Around the same time, Steve Ham became a regular on the tour, with backing from Mobil 1 on the quick Pontiac. Ham claimed the 2014 ANDRA title.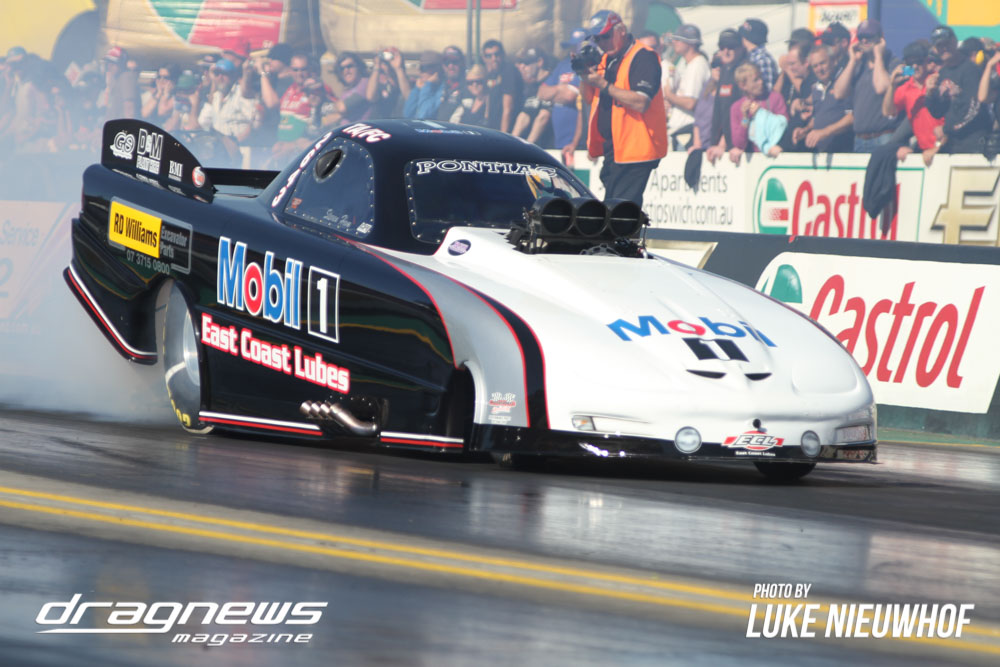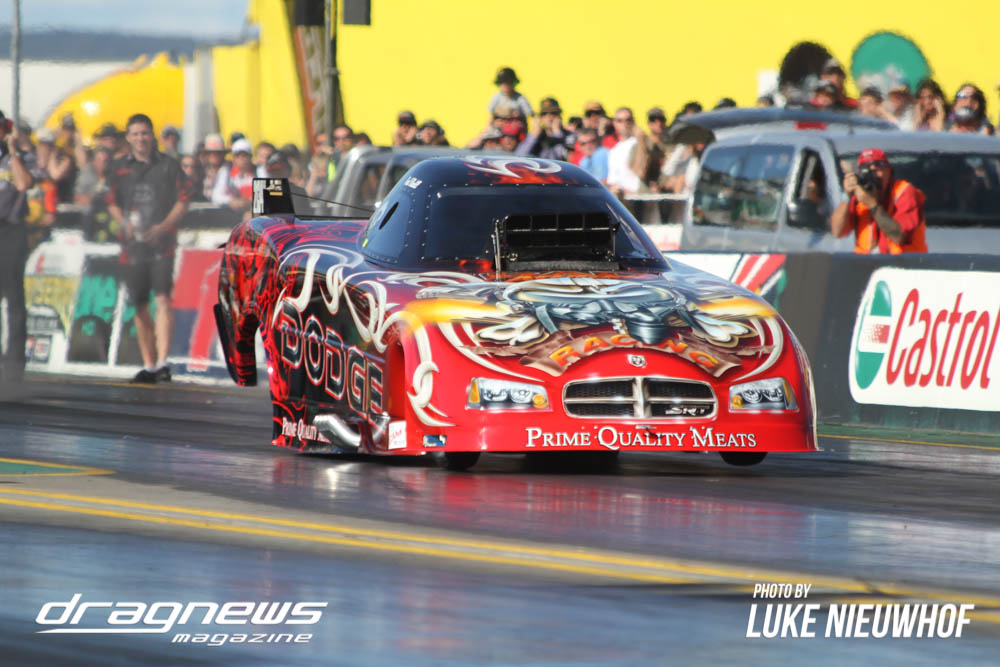 Paul Madill's Dodge Charger brought some wild colour to the category and ran in the 5.7s. The car is now Sainty powered with Alf Sciacca Jr steering.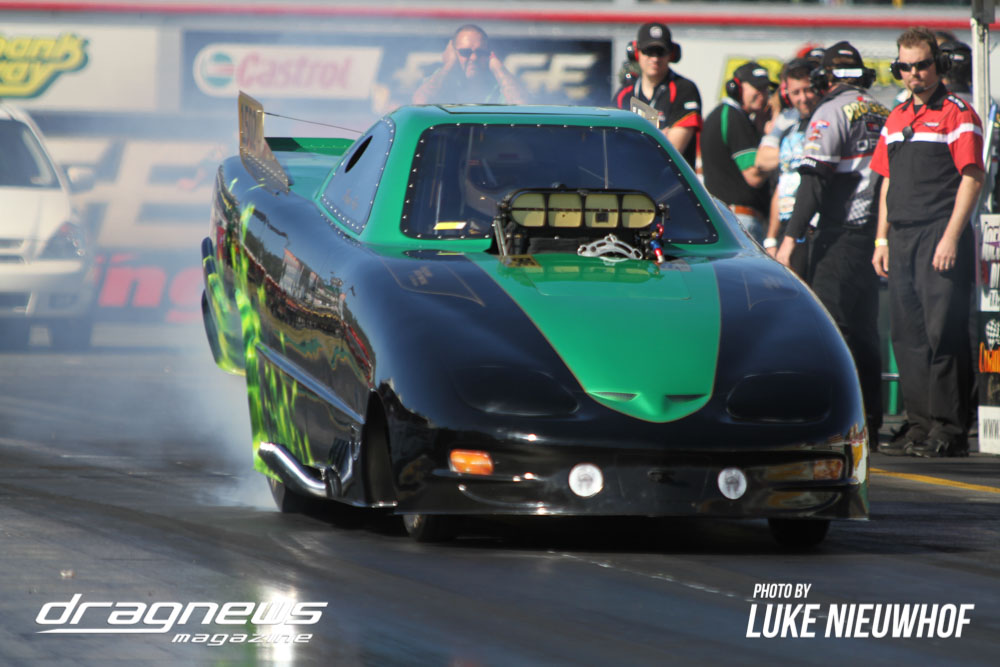 Wayne Price made the change over from Top Doorslammer to this Funny Car.
Katherine Shaw raced this very well presented dragster for several events. Apologies for the photo quality as I was having some camera issues at this event!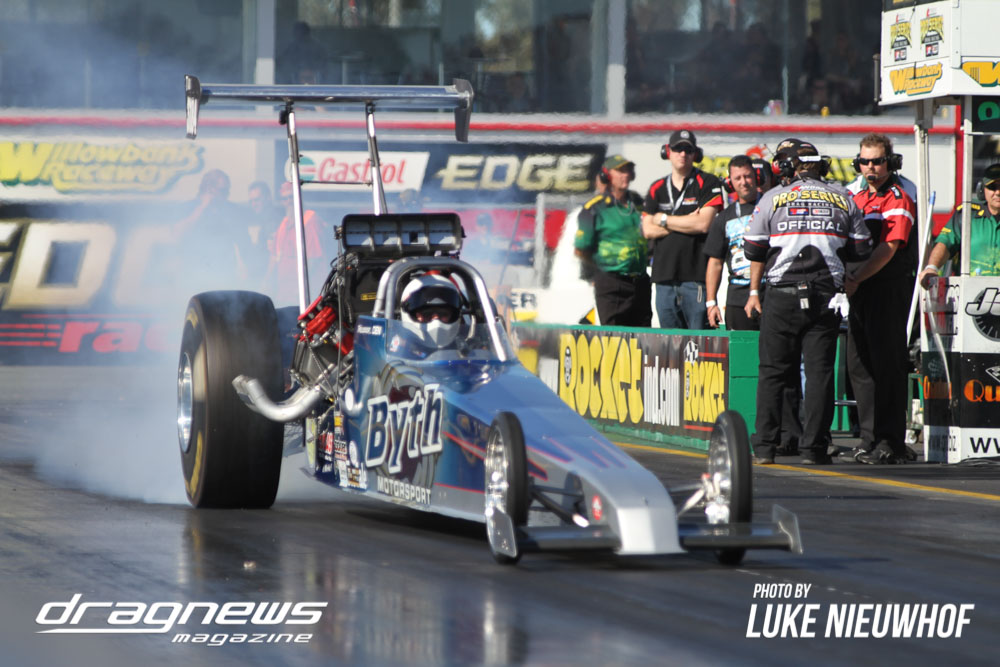 Dennis Byth was an occasional runner at Top Alcohol events in Queensland.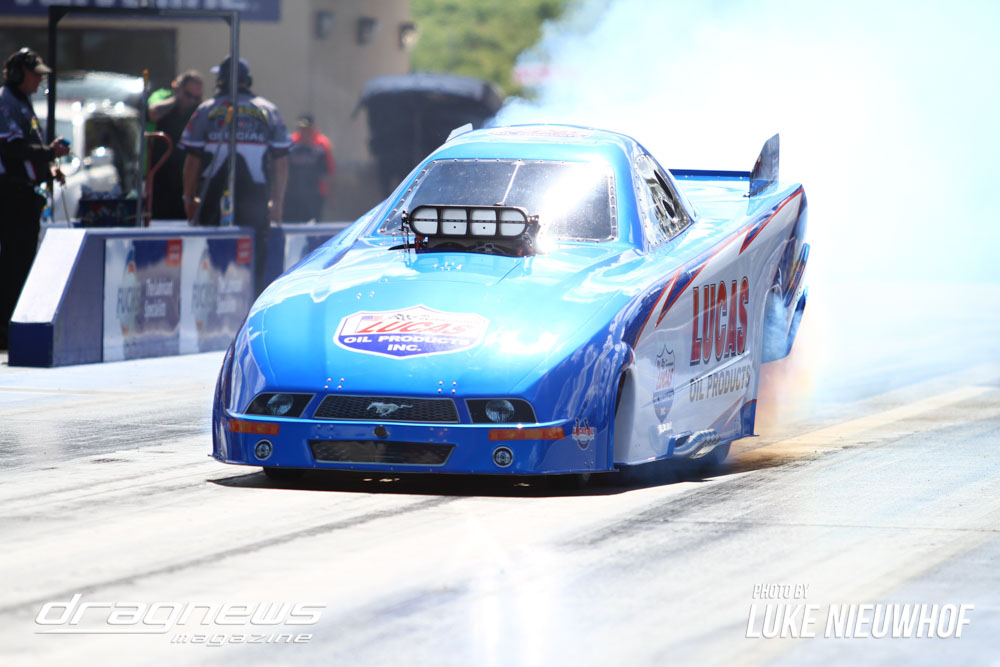 A new Ford Mustang body for Gary Phillips. I'm not sure why the team changed away from this.
EDIT: Now I know why! The parachutes did not come out at Perth Motorplex. Thanks Grant for the info.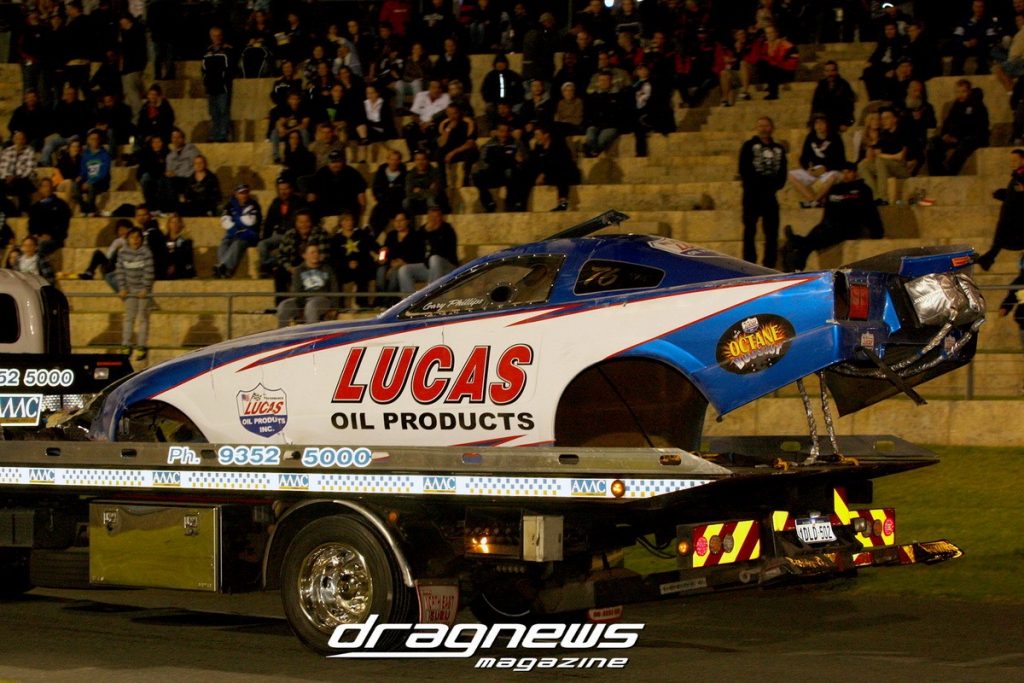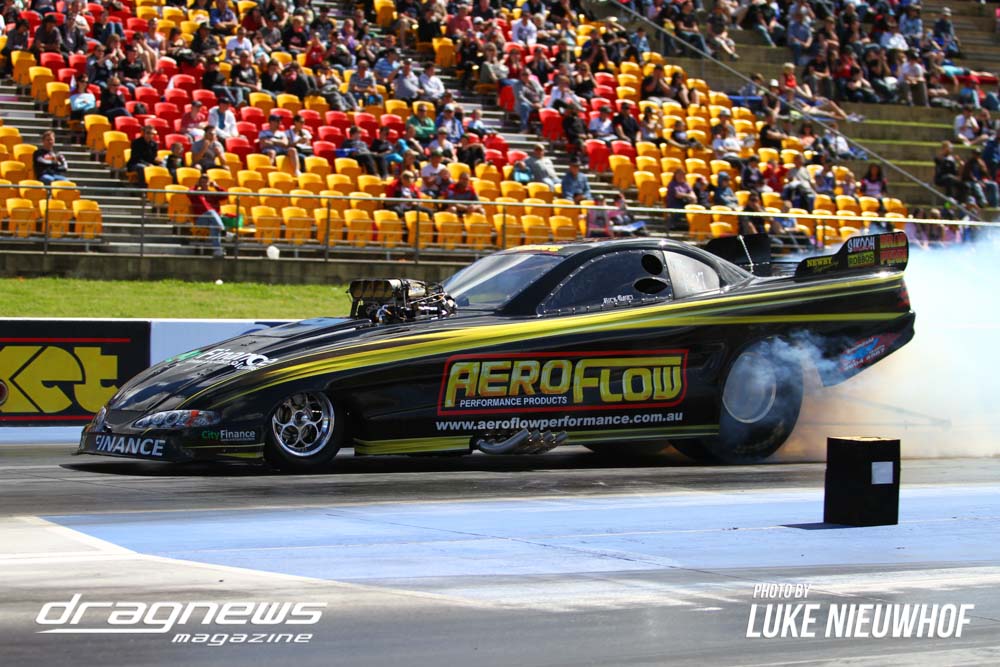 Also getting the Ford Mustang look was Rick Gauci as he took on Aeroflow corporate colours.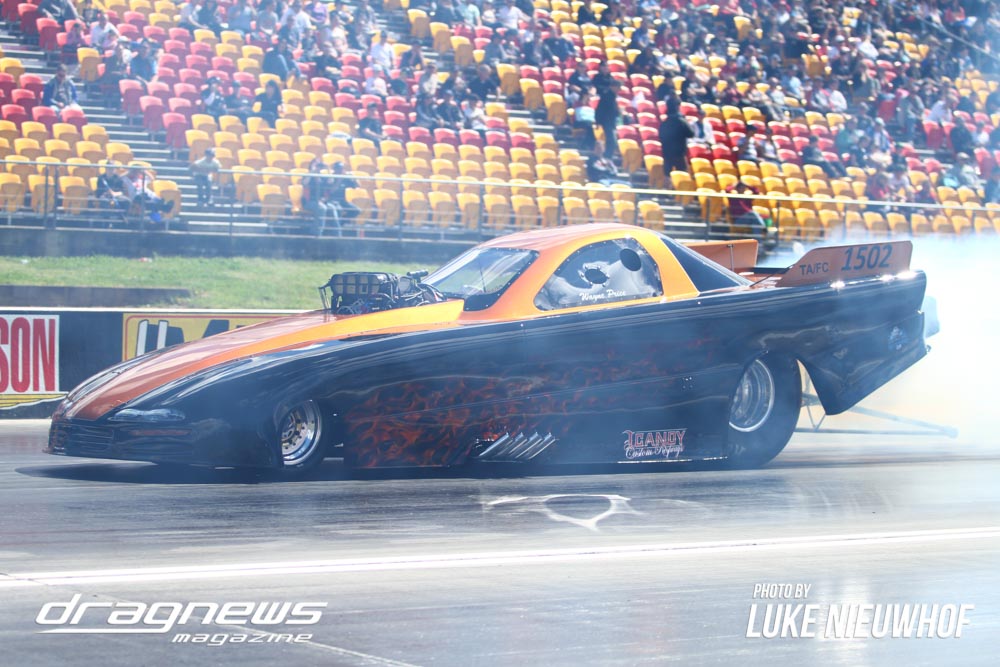 Not sure if this was just a new body or a whole new car for Wayne Price.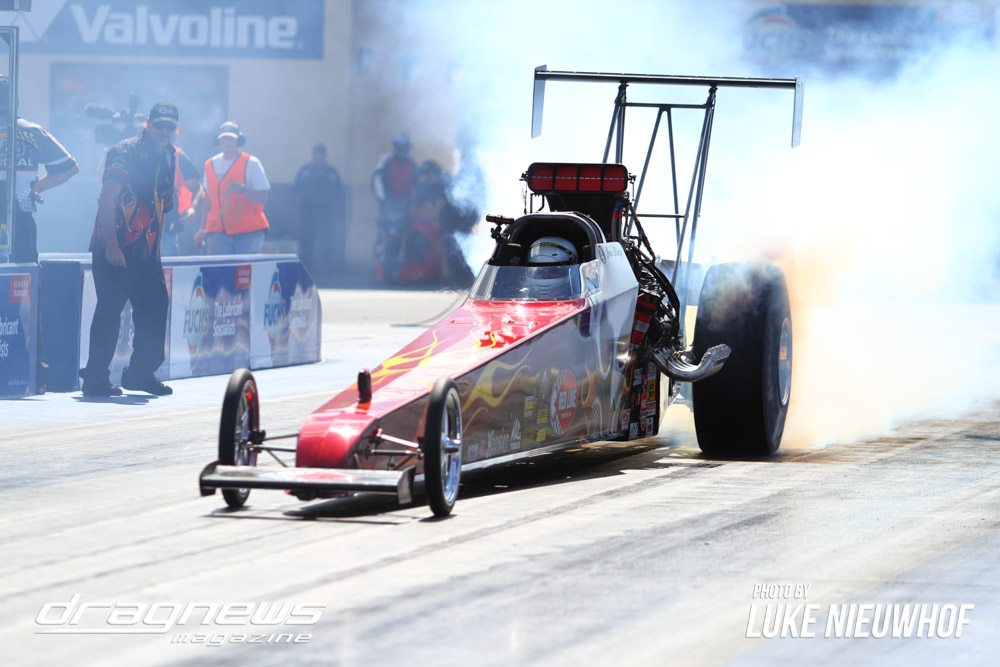 Jon Sting has pulled off more than a few upsets over the years in his quick dragster.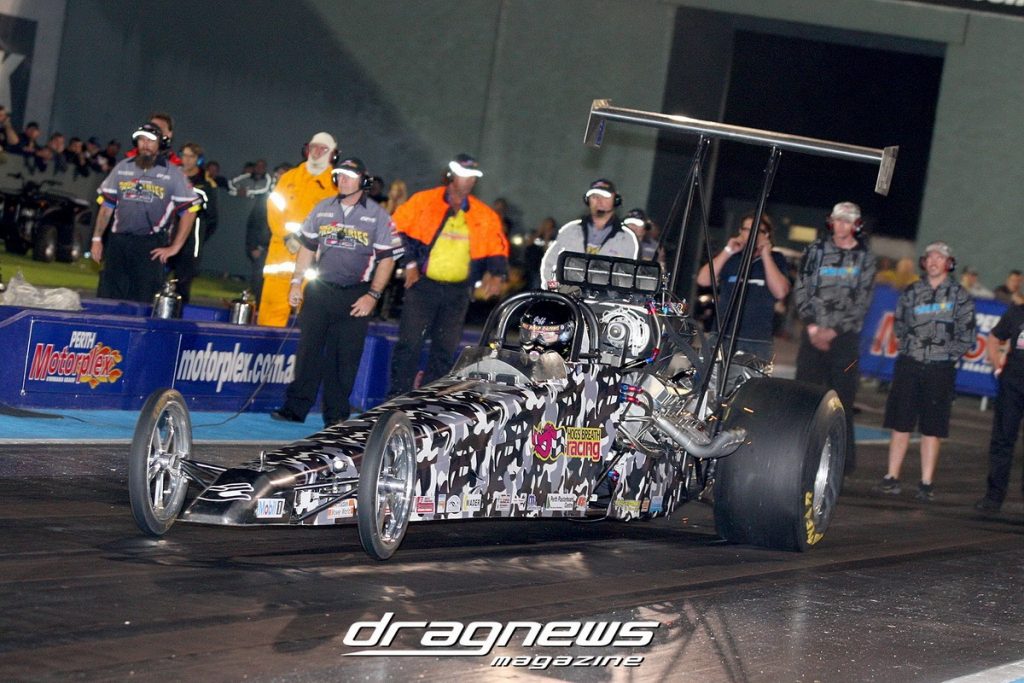 The late Jeff Clarke was more well known for his exploits in BB/D in Comp but he also raced in Top Alcohol in 2011/12, running into the 5.6s at over 250mph.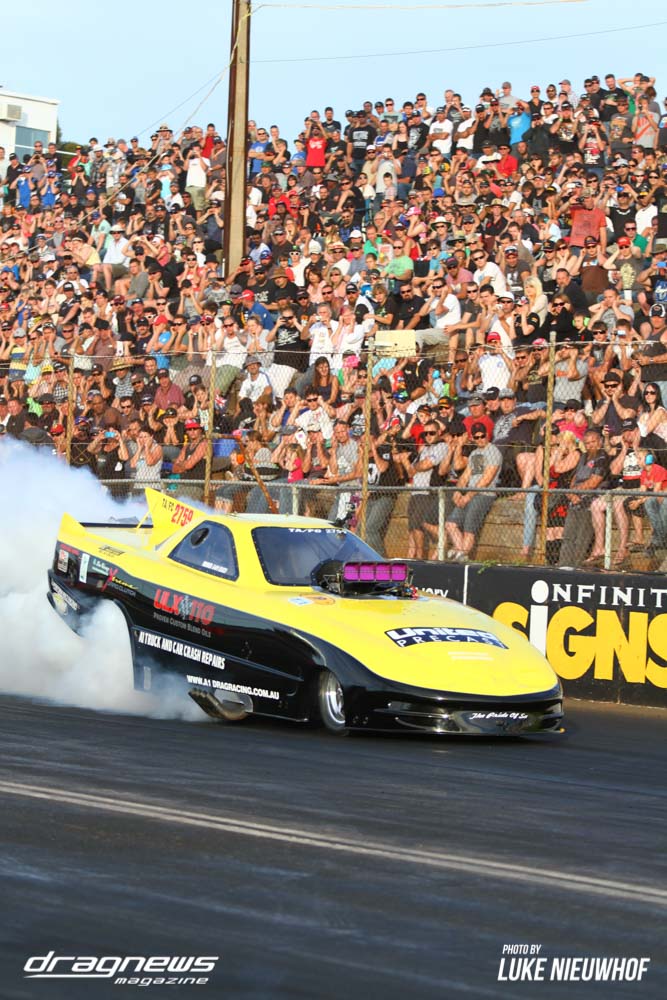 Adelaide's Gary Busch, driving for Greg Brown, does a killer burnout in front of his home crowd.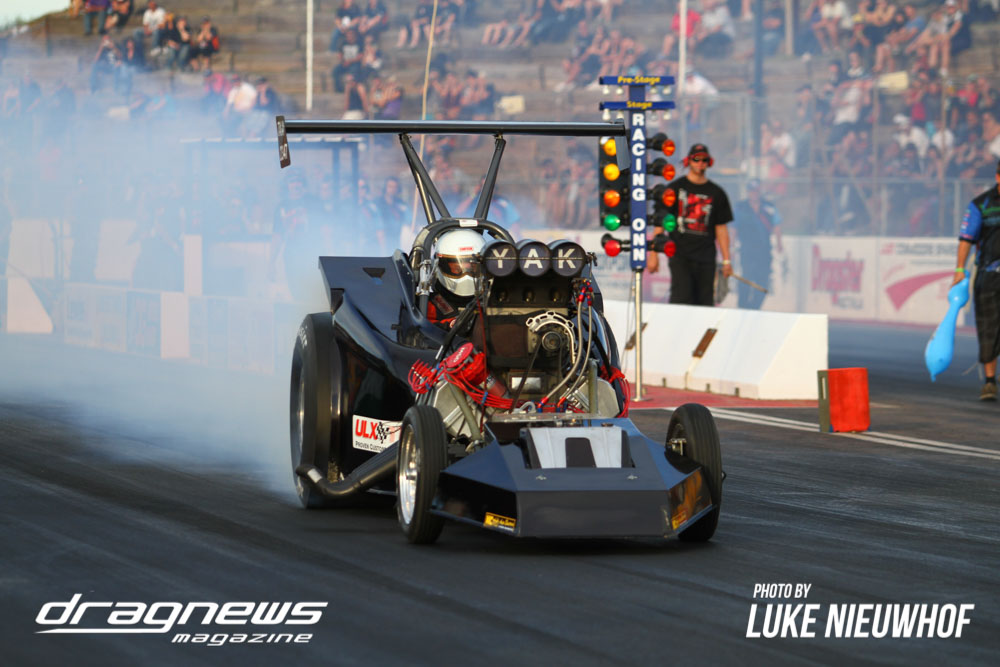 Alice Springs racer Mark 'Yal' Probst snuck into a few race day fields back in 2012 with his altered.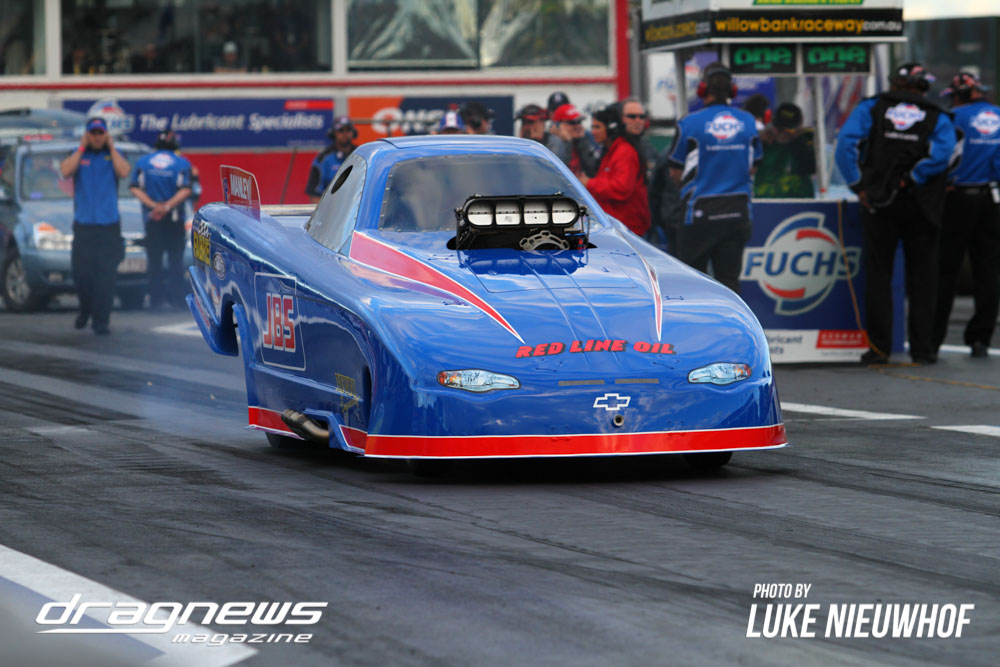 After a crash in Adelaide in 2012, Wayne Newby switched to this Funny Car, which is now owned by Brett White.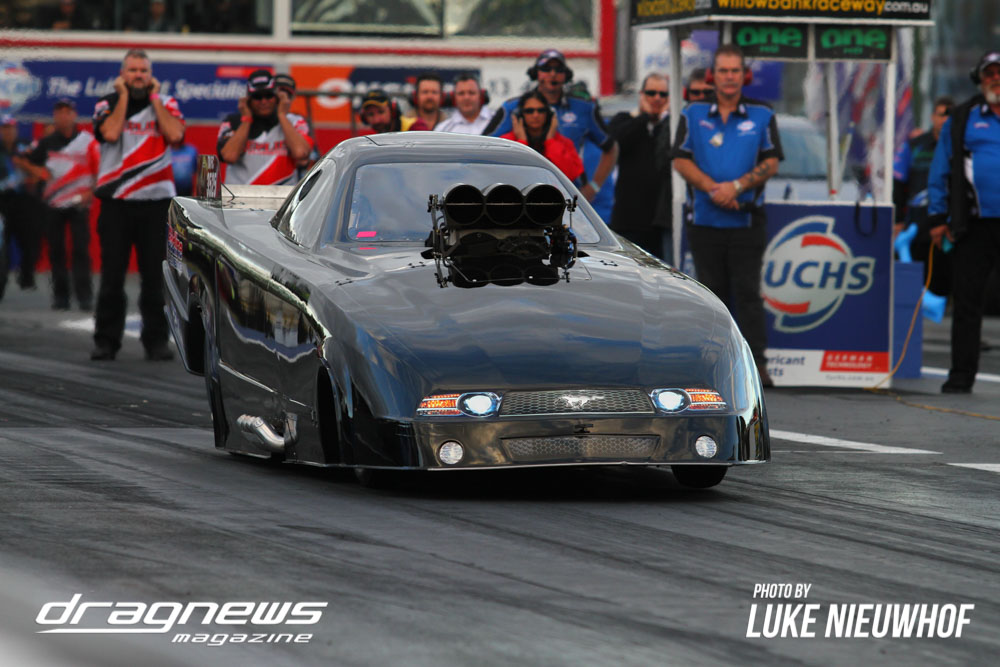 Scott Maclean added a Funny Car to his Doorslammer operation. The car was eventually sold to Wayne Talbot.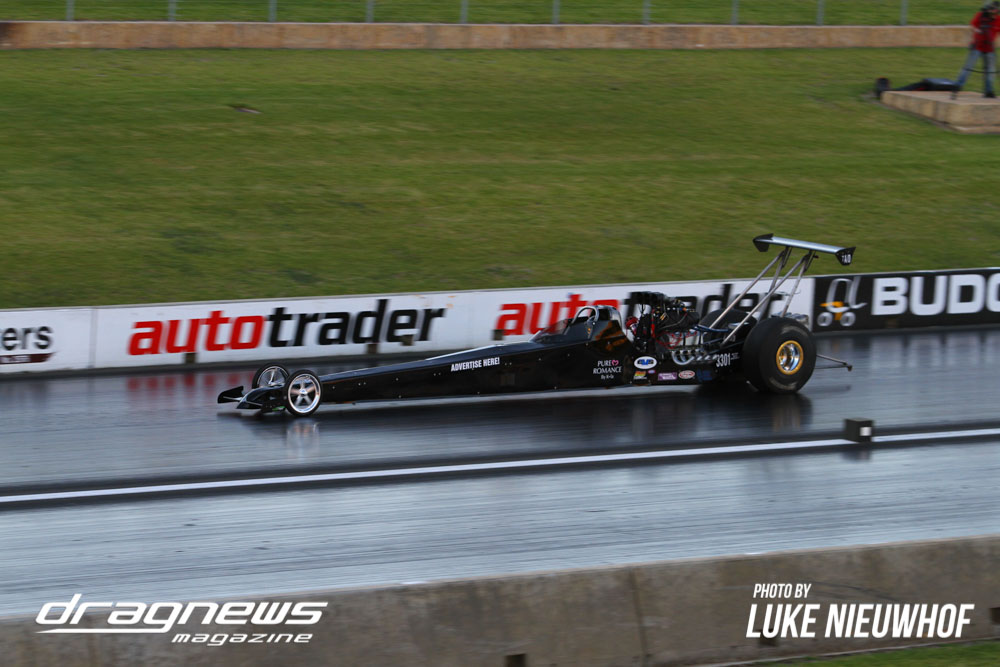 Young gun Shane Weston and his family bought this car from Adam Croker and after a few seasons in AA/D they stepped into Top Alcohol. This car met its end in a braking area incident in 2015, but was replaced with a new dragster that took Shane to a 5.47 pass, one of the quickest in a dragster in Australia.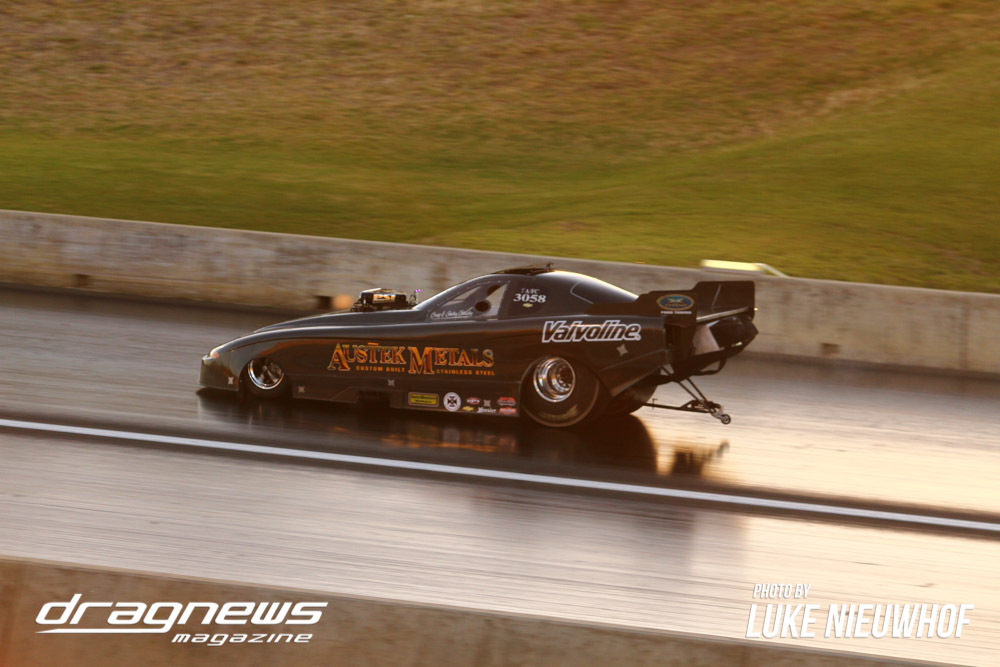 Craig Glassby was no stranger to Top Alcohol when he stepped into the class in 2013, having been involved with the Allan Dobson-driven Castrol Funny Car team through the nineties. Glassby would go on to be part of a battle for the world's quickest methanol Funny Car time between himself, John Cannuli and Gary Phillips.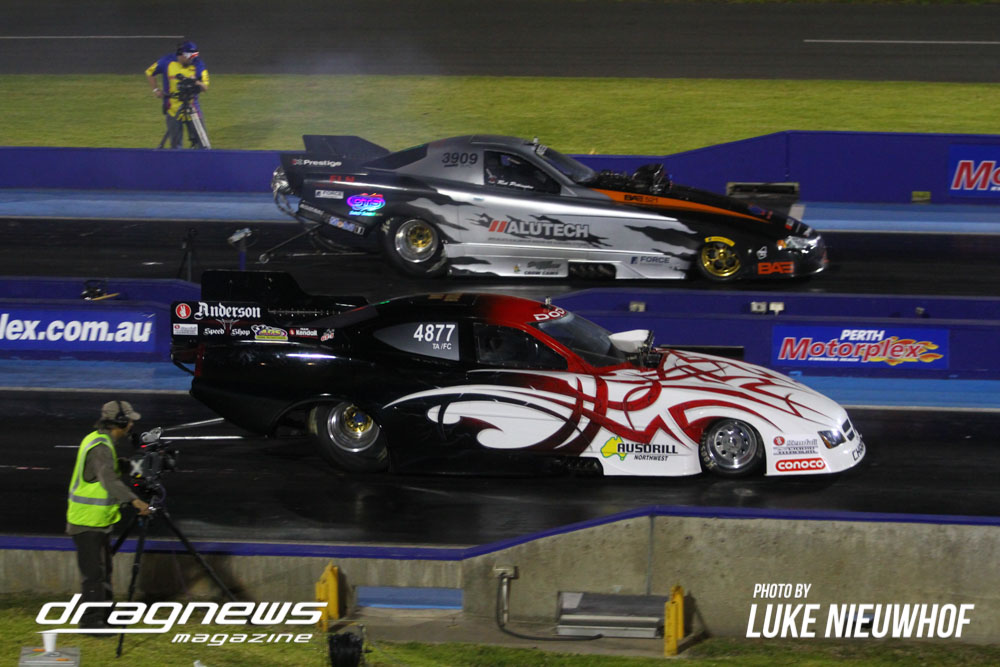 Brian Robinson made a couple of appearances in this neat Dodge out west, with the car later sold to Russell Ladbrook.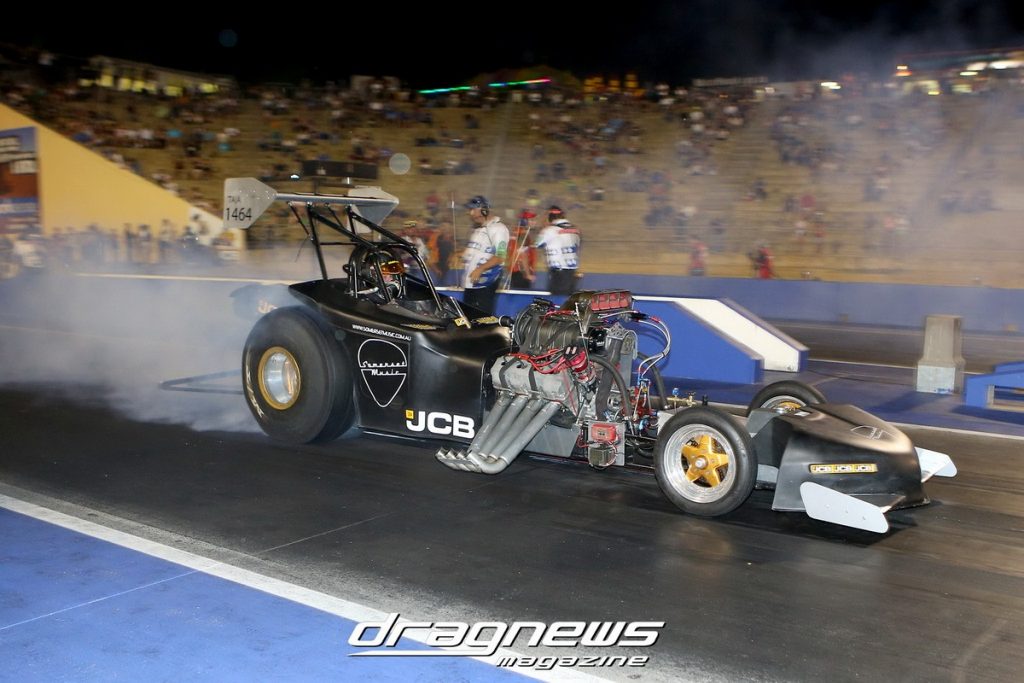 Luke Shepherd ran an ex-Tommy Easton altered when he wasn't driving in Top Fuel. It ran under AA/A and TA/A designations.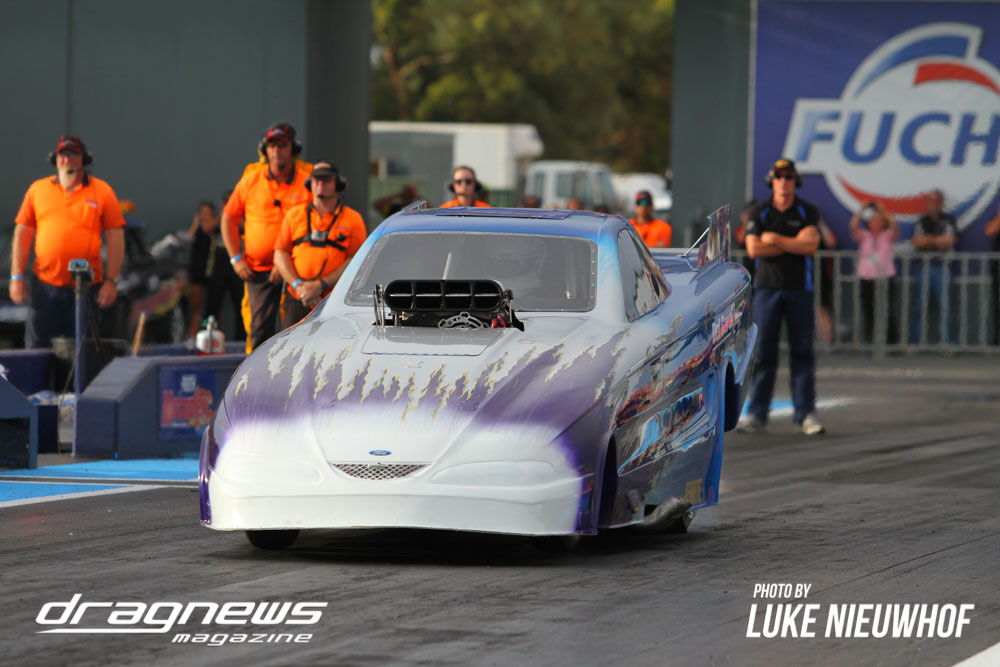 Aaron Lynch's Funny Car ended up in the hands of Stephen Del Caro from WA.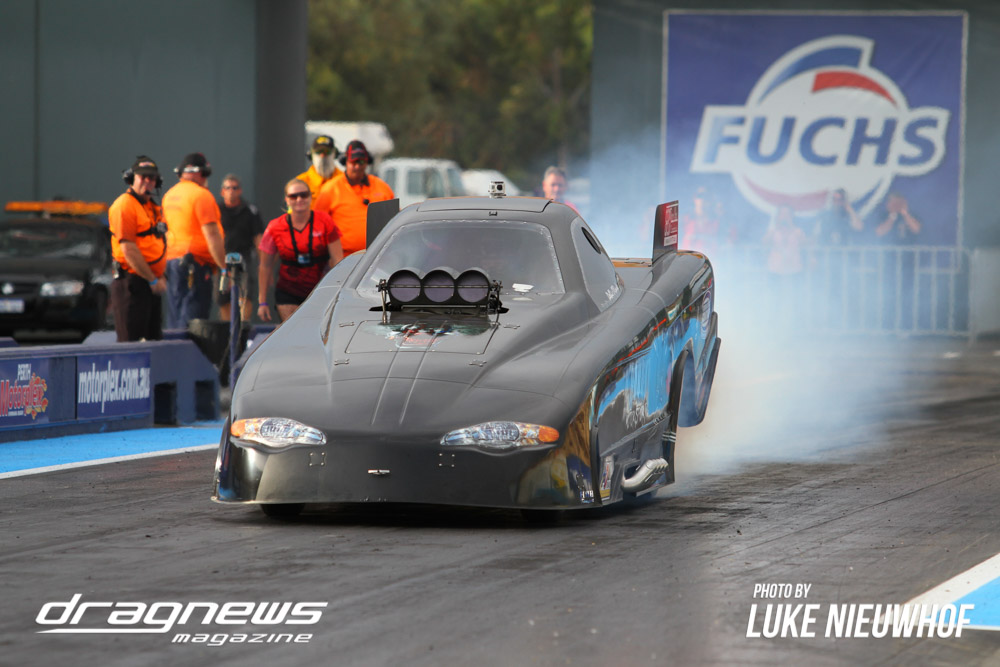 A new look for Debbie O'Rourke, again unsure if this was a whole new chassis or just a new body.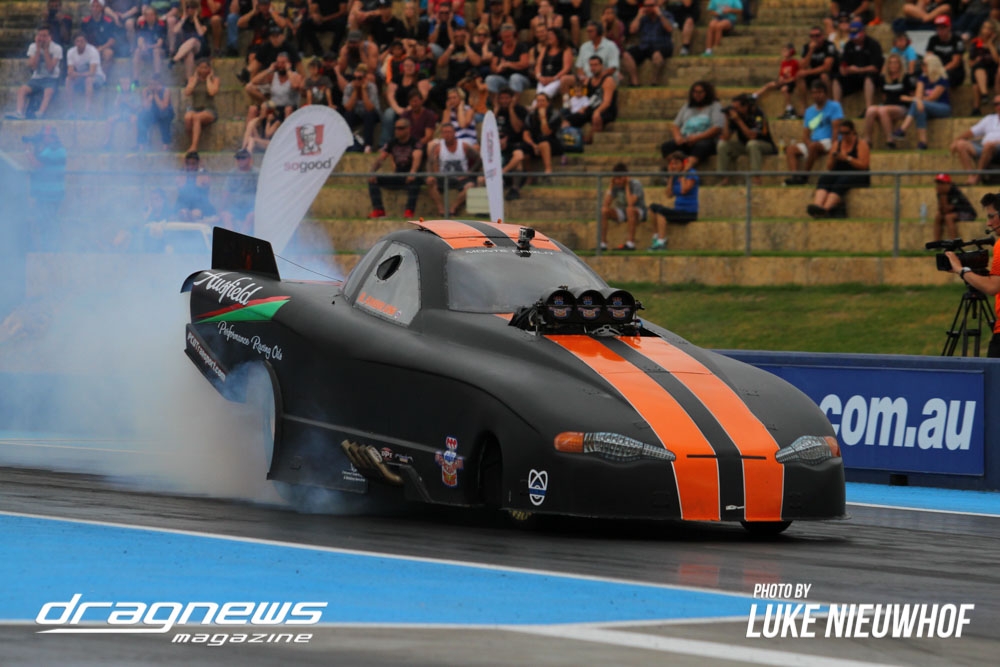 Welcome back Rob Ambruosi!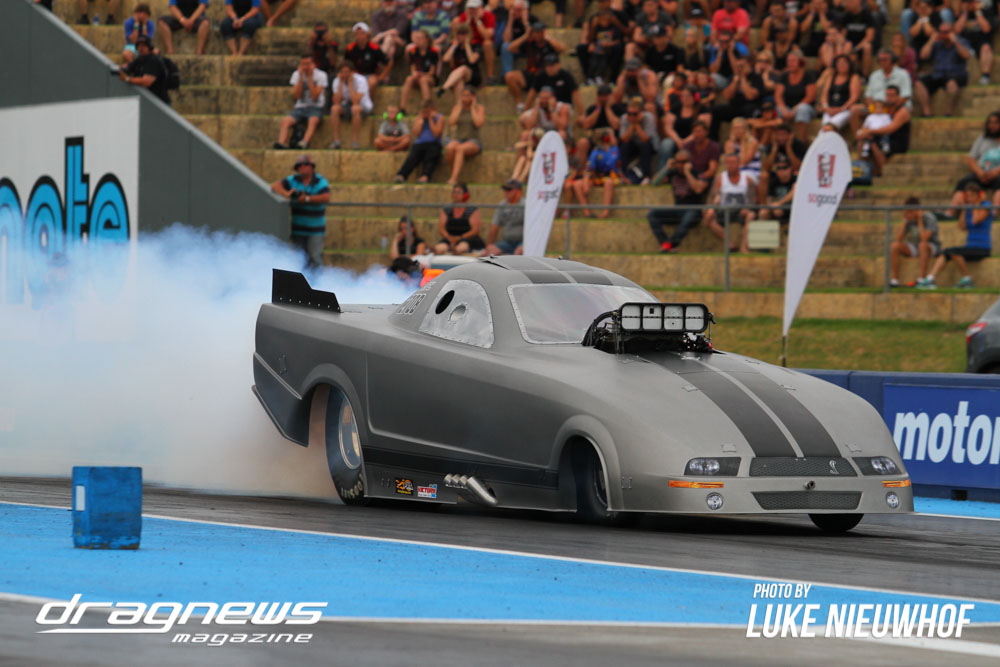 Anthony Begley didn't run this car a whole lot from memory, which is a shame as it had some tough lines!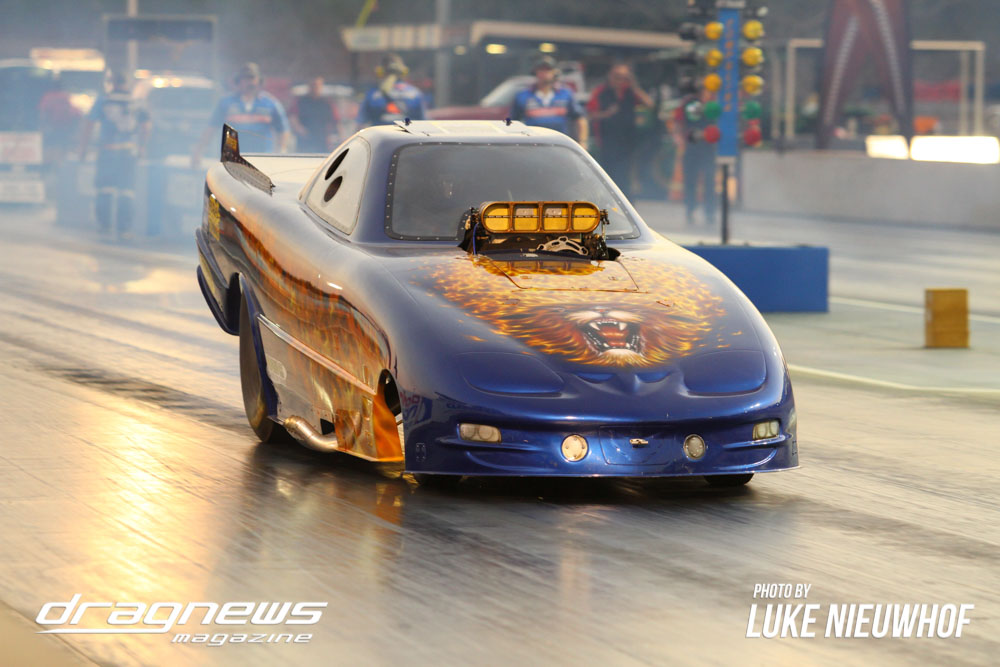 Darwin's Nathan Coles joined the class in 2015, running what I think is the ex-Chris Hollingsworth car.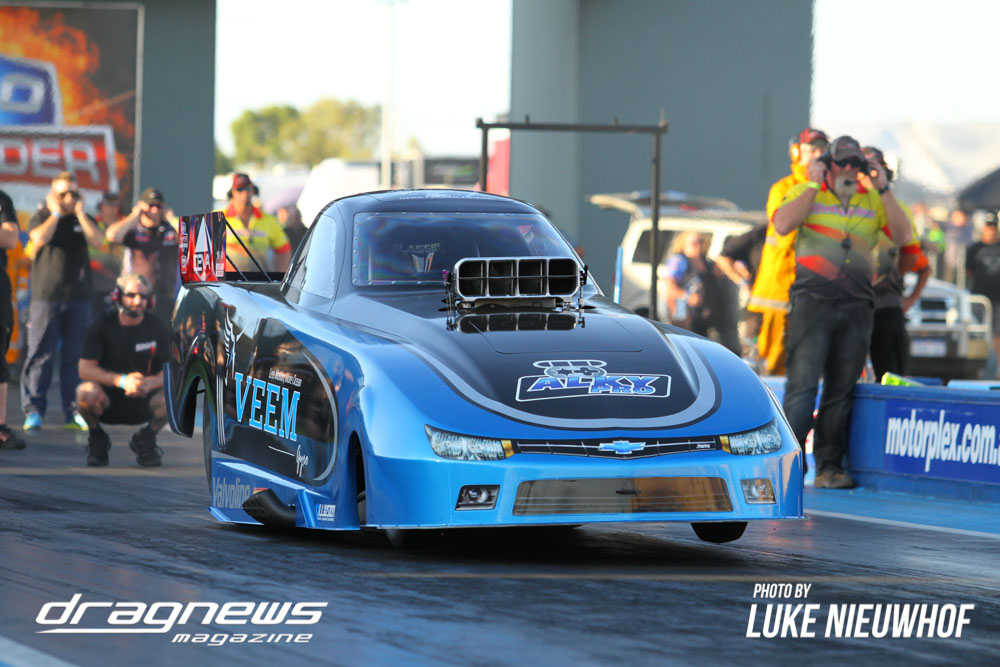 After setting a world record of 5.411 seconds, Craig Glassby's car got this beautiful new Camaro body to further push the boundaries with a 5.386 run. However on that pass the gearbox blew, smashing the windscreen out of the car and giving Craig a broken leg.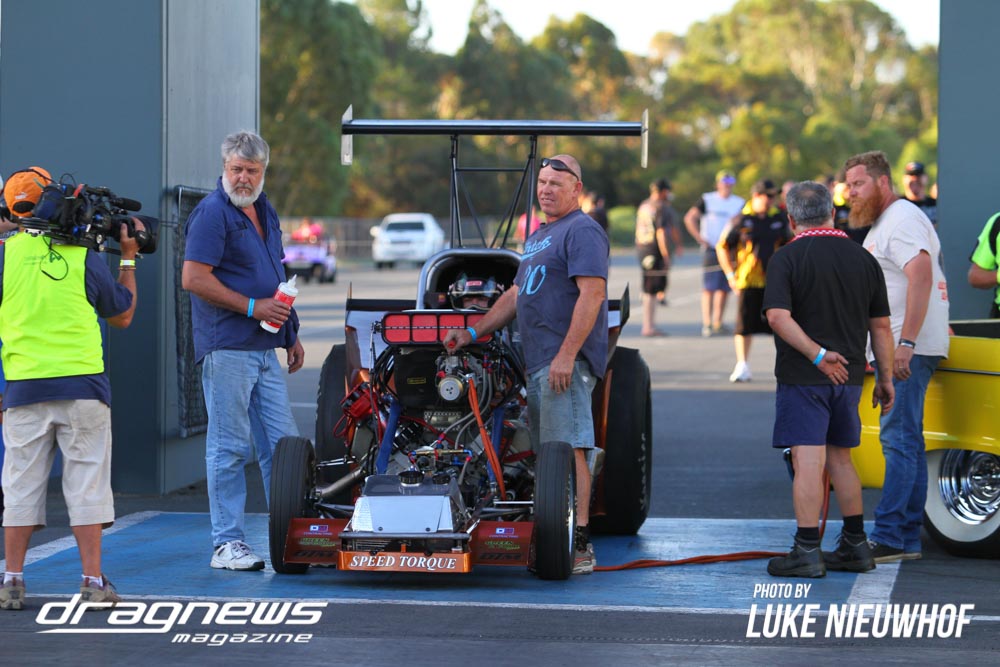 Shannon Taylor awaits a pass in his altered. I think he only ran one or two events in Top Alcohol trim.
Russell Taylor is well known for his supercharged Torana, but he also spent some time in this Top Alcohol Funny Car.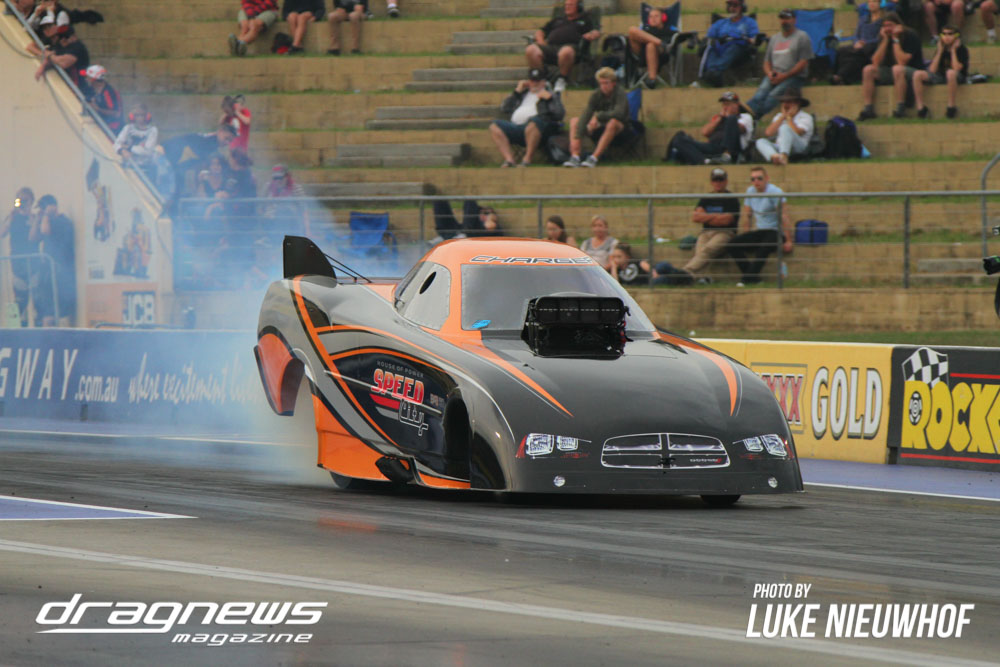 A new ride for Wayne Price.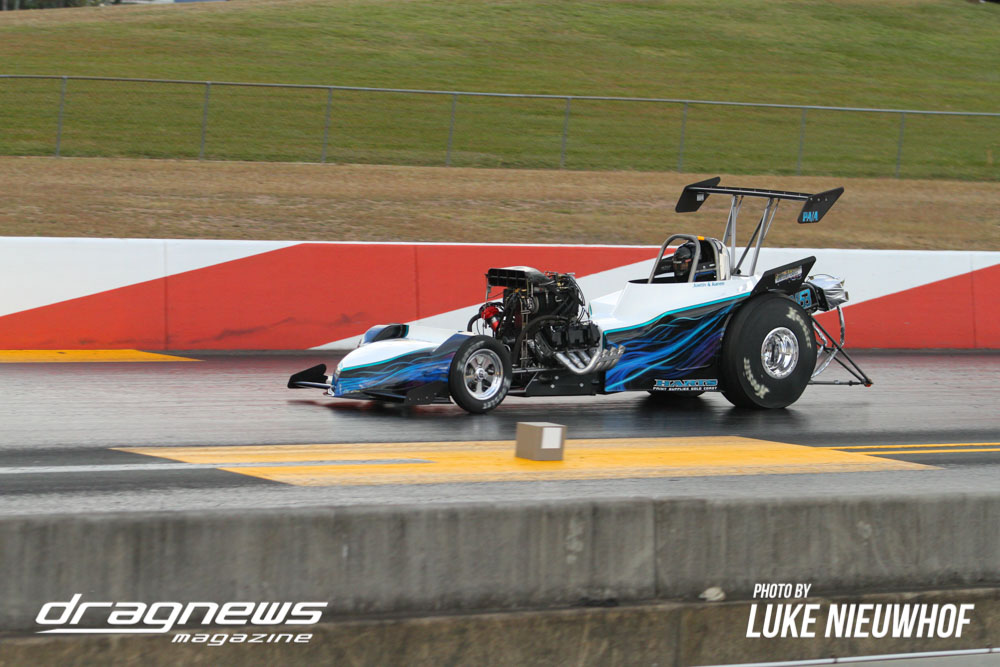 Justin Walshe has become the prime candidate to take Mark Sheehan's altered record – it's only a matter of time we think.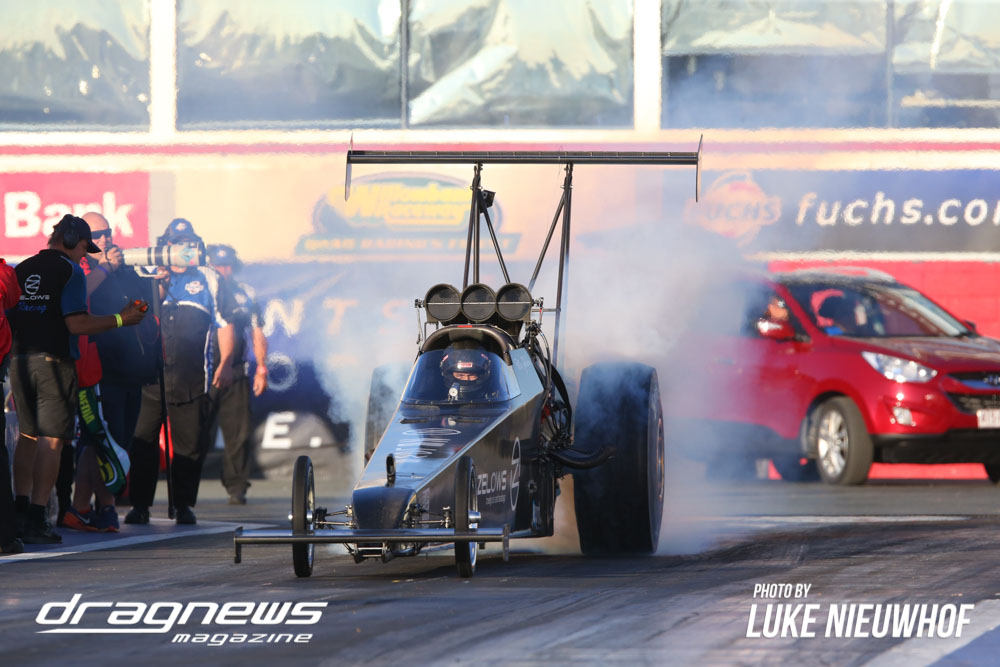 Peter Zelow's bad, black dragster makes its Winternationals debut.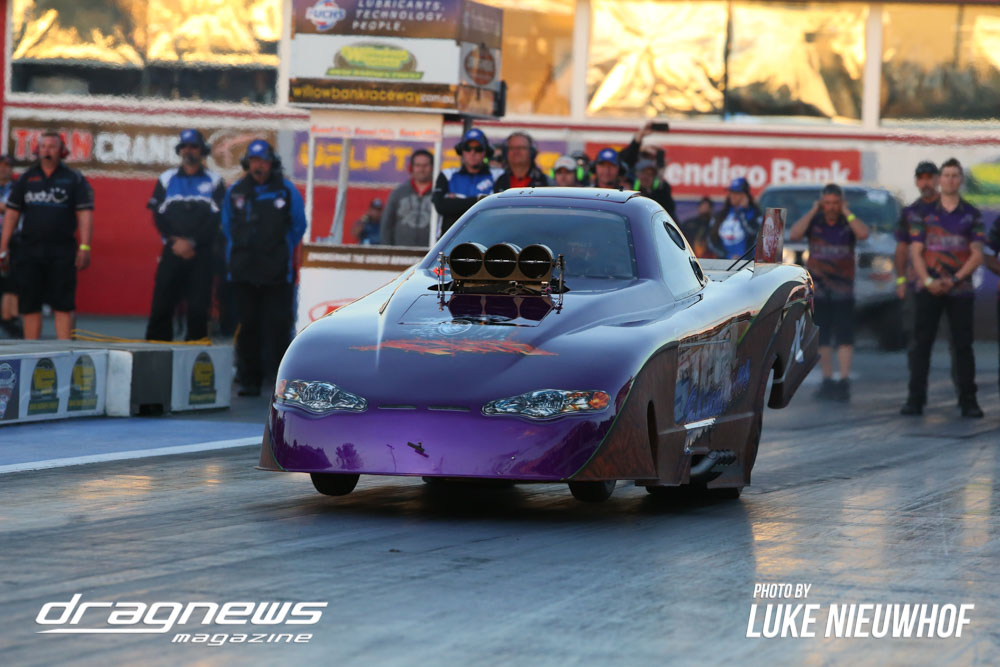 Darren Fry stepped up from Supercharged Outlaws to this stunning Funny Car.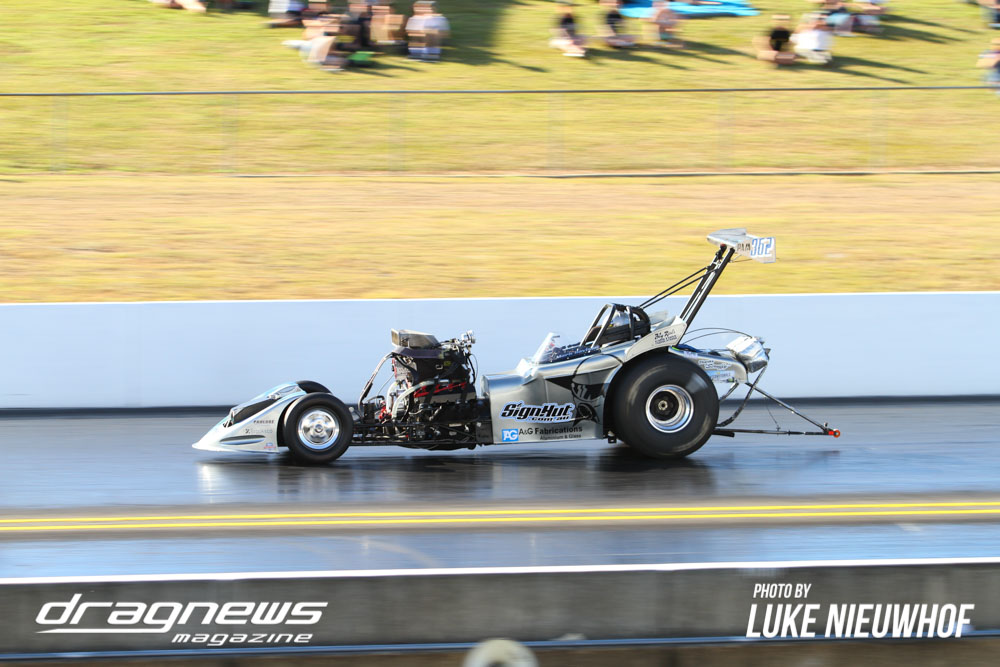 Mark Davison was another of the passionate altered racers supporting the class, but has had a bad run of crashes.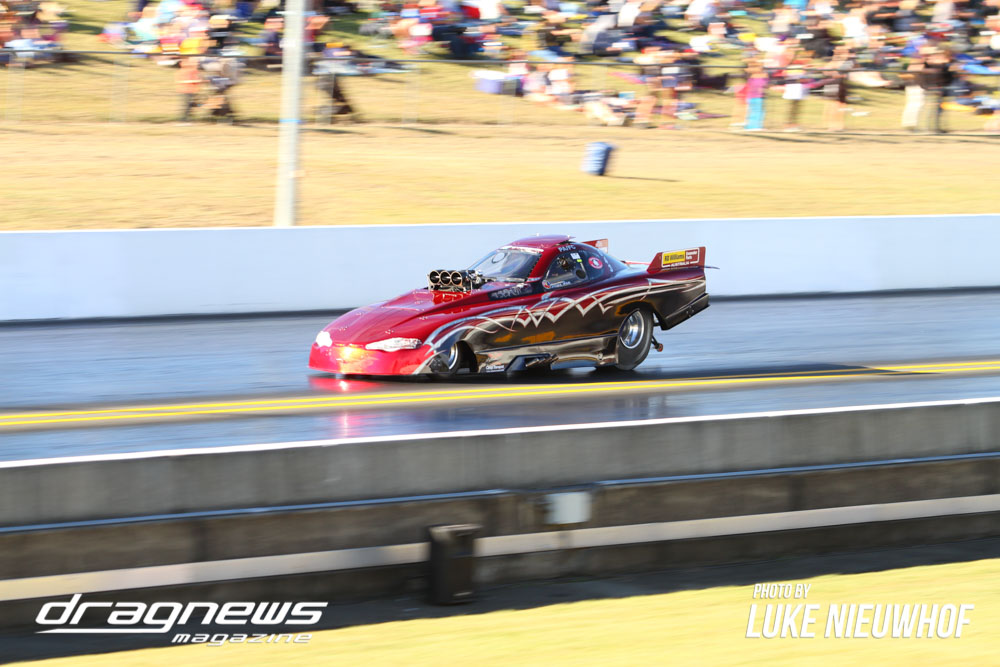 Steven Ham spent some time in the USA and came back with this new car.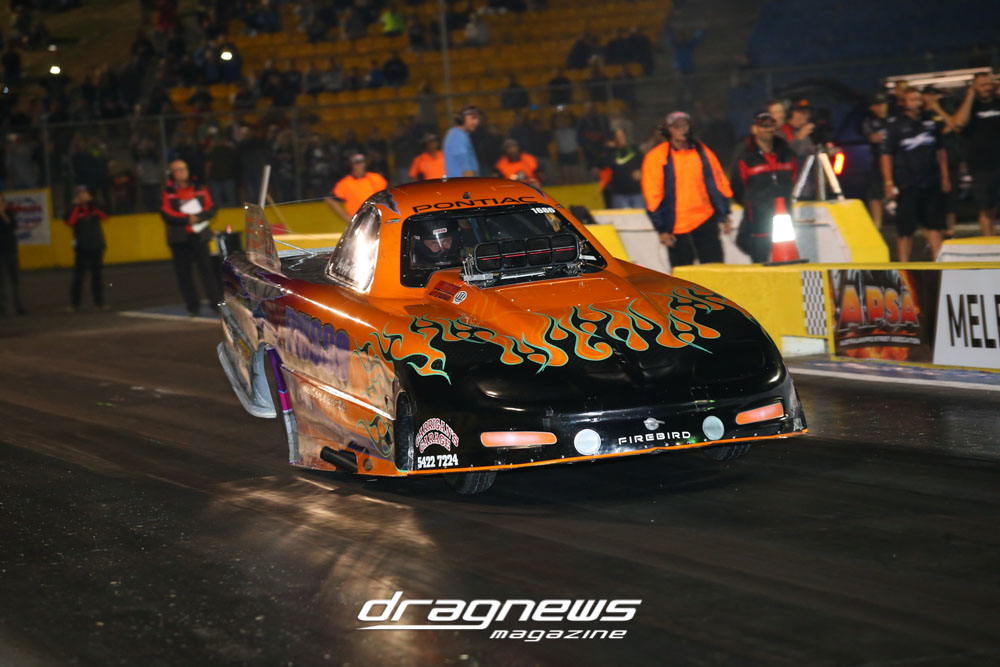 Craig Russo joined the Top Alcohol fun at the Australian Nationals at Calder Park in 2016.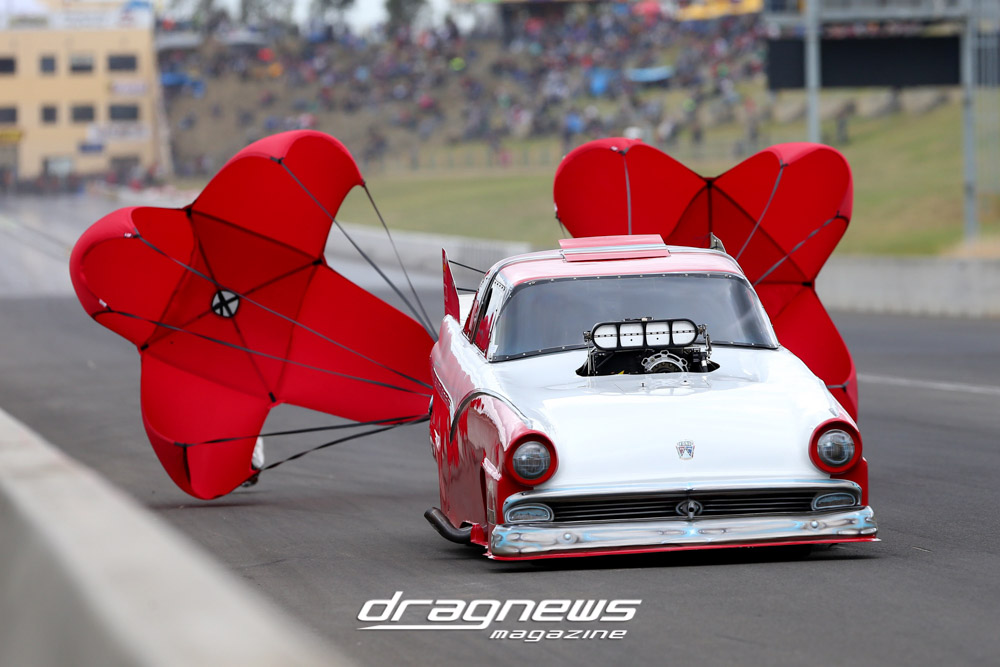 One of the most unique Funny Cars in the class, Russell Mills' Crown Victoria actually took an event win in 2013 at Sydney.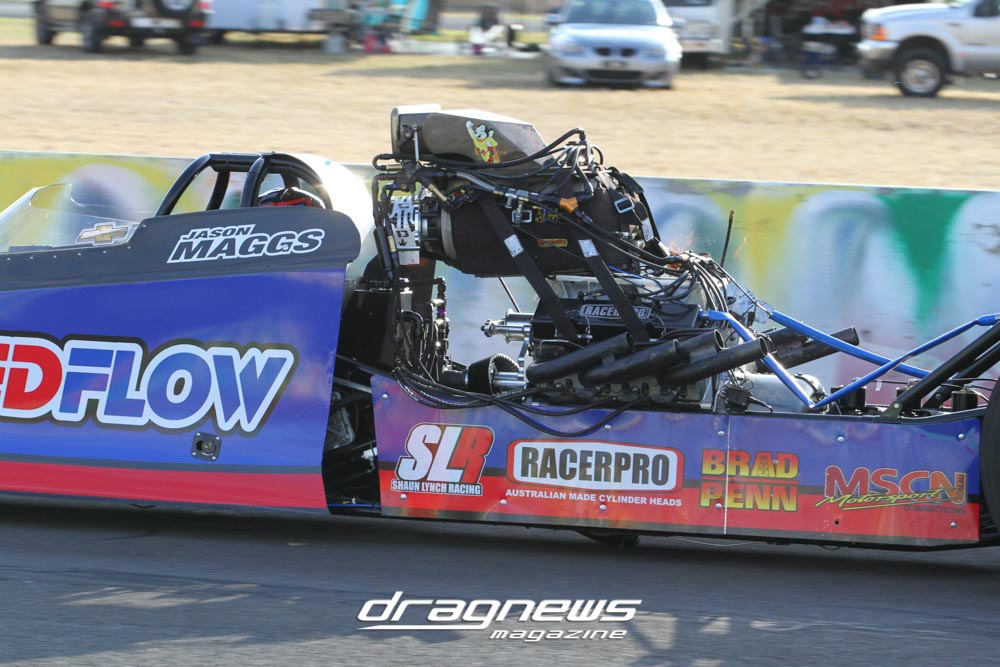 Jason Maggs put his small block in a rail and signed up for Top Alcohol at Calder Park – unfortunately the end result was not great!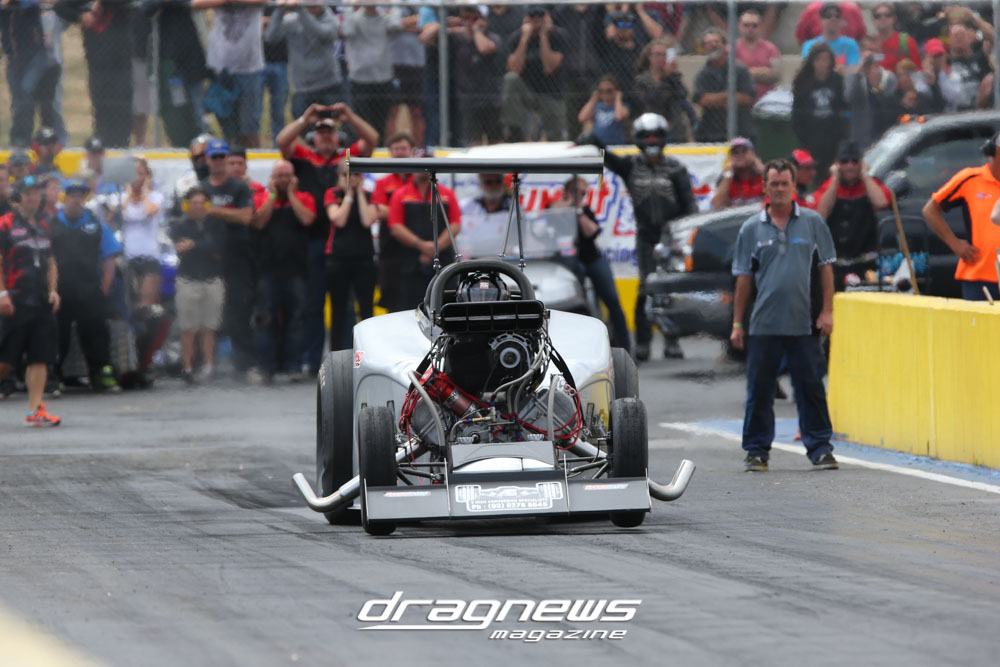 Brian Lockman adds to the numbers of altereds with this entry in 2016.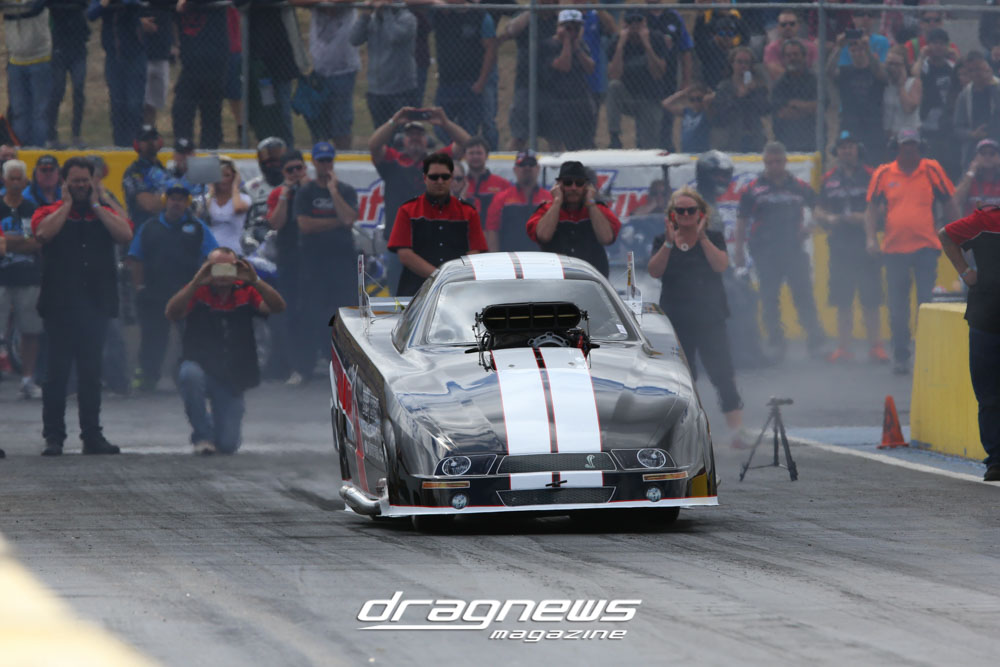 Chris Hargraves has made occasional appearances in the later part of the 2010s with this Ford Mustang.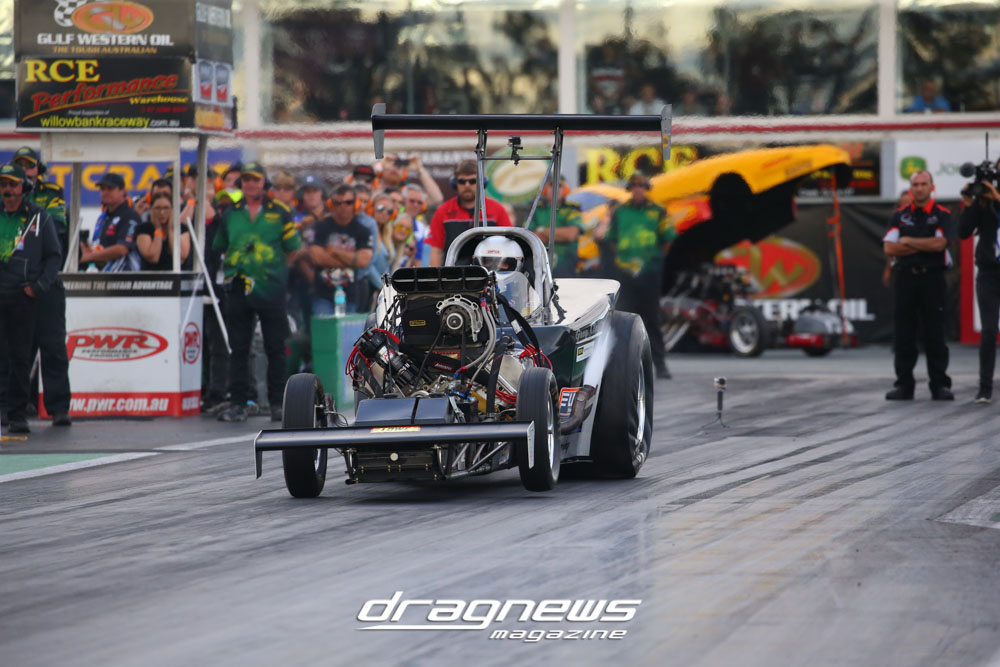 Ahhh more altereds! This one is Greg Clayton's, another contender for the record.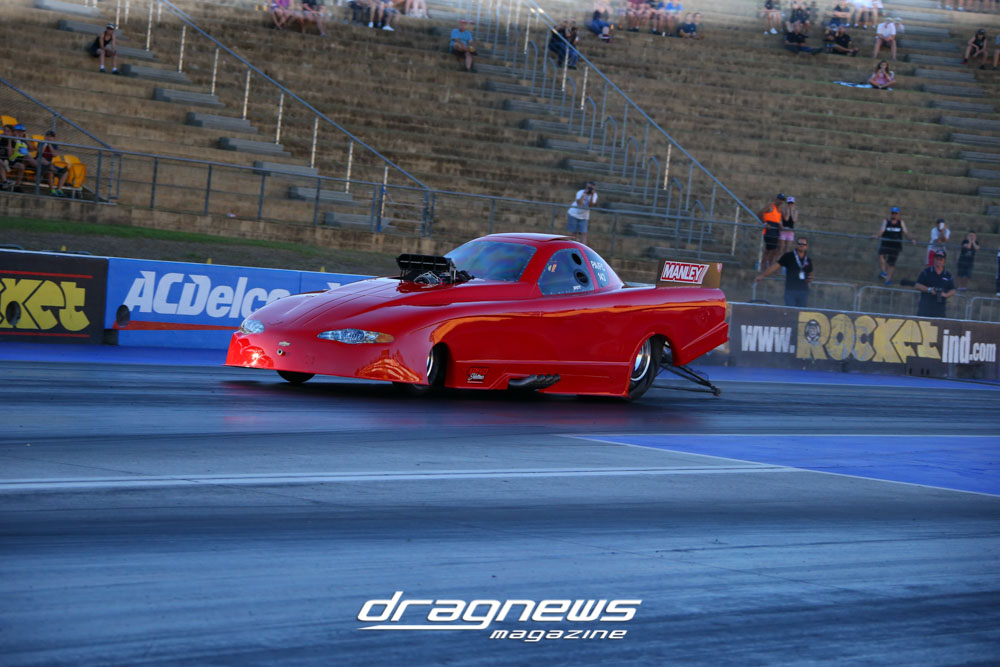 Brett White in the ex-Newby Funny Car, now known as Carlos.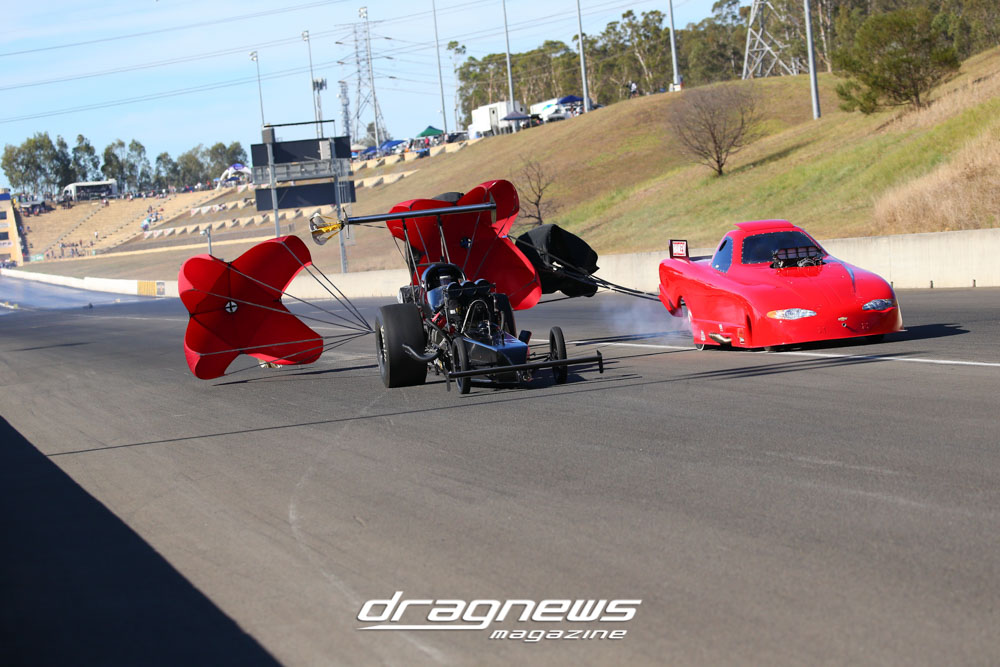 Not an altered, not a dragster, not a funny car, it's a Funster! Russell Mills is actually designated as a dragster with this very cool short wheelbase front engine car.
Speaking of front engine cars, Geoff Blake's nostalgia front engine car is a five second runner that has made occasional appearances in what is now called Pro Alcohol.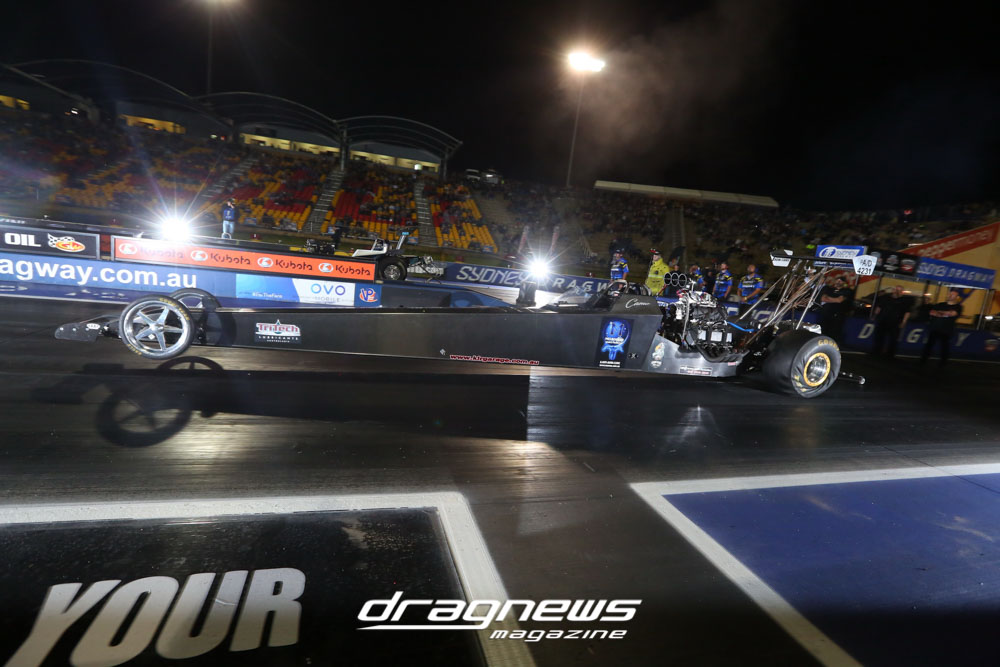 Cameron Ambesi hikes the front end in his relatively new rail.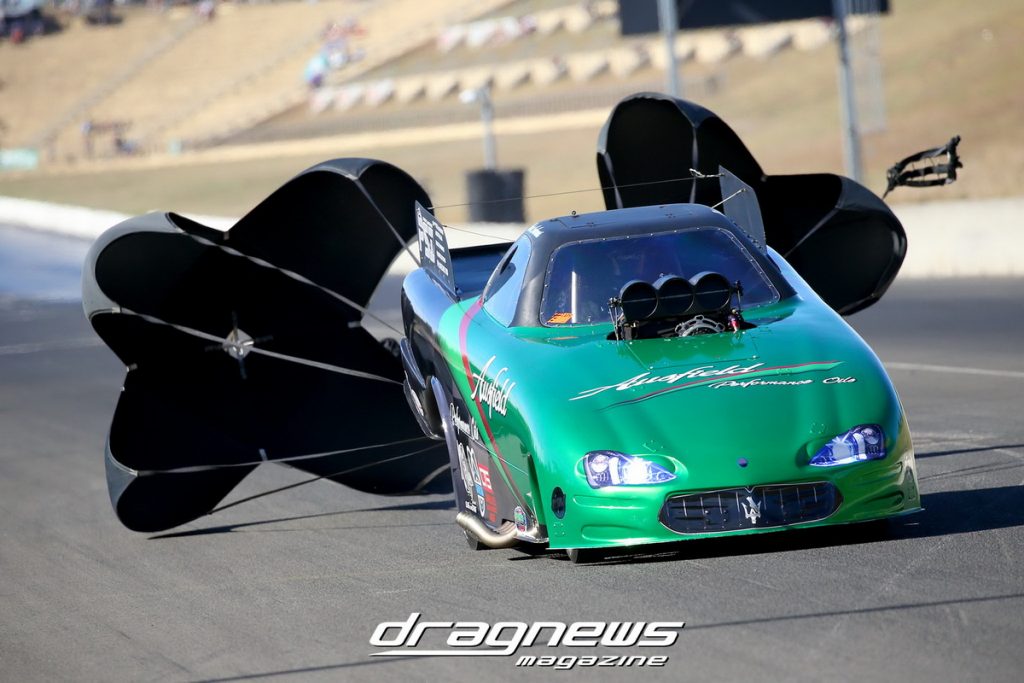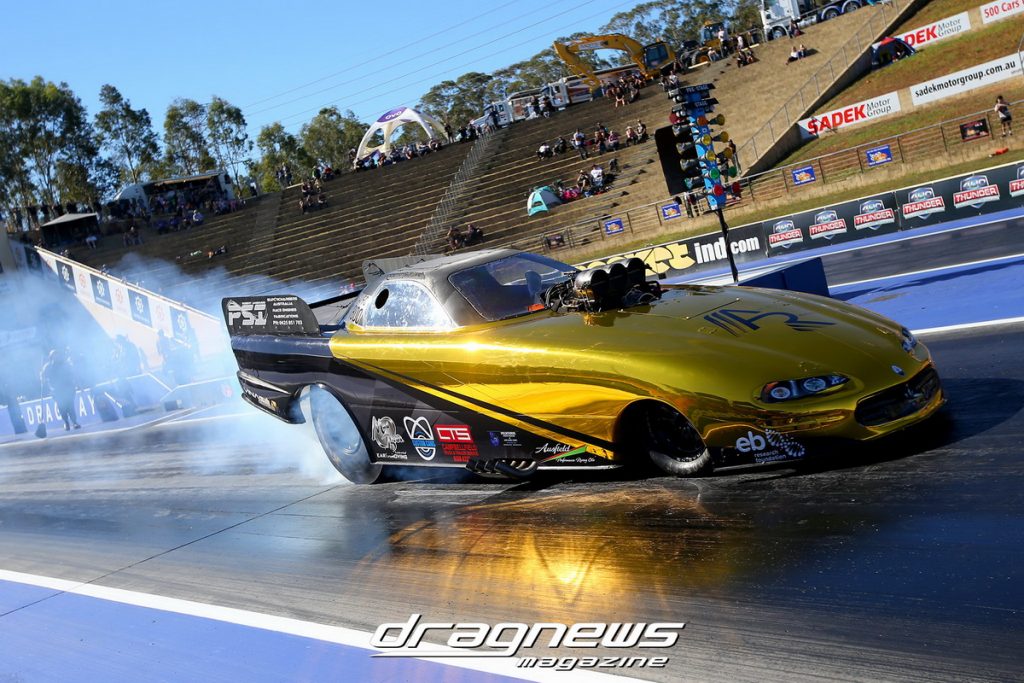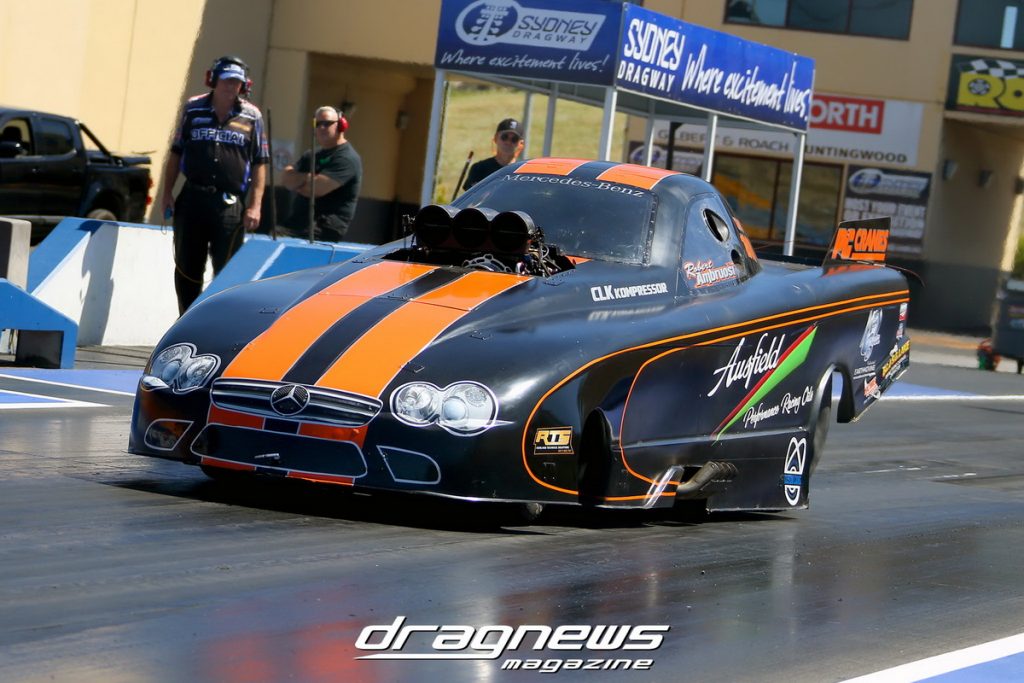 Robert Ambruosi has added some automotive prestige to funny car bodies with Maserati and Mercedes decals in recent times.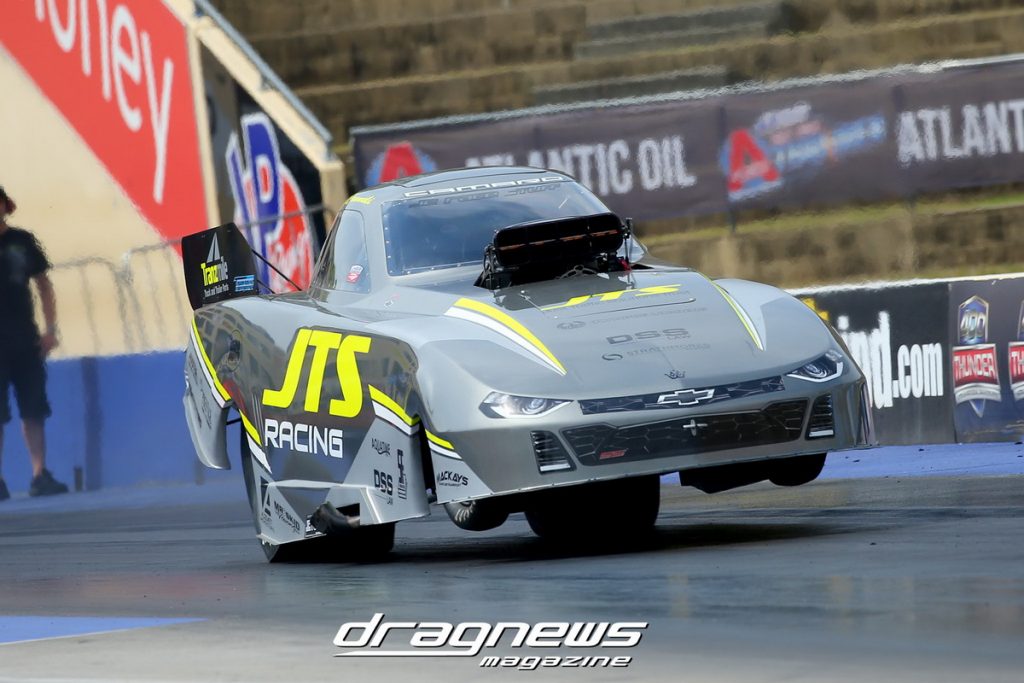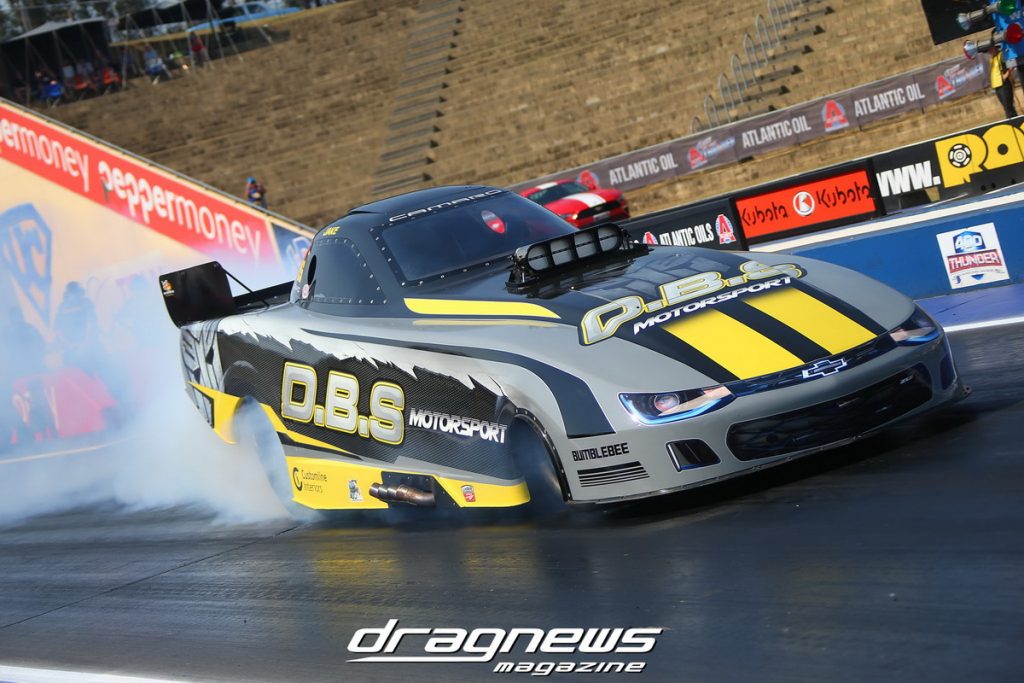 While other racers have stepped up to the latest and greatest shapes including John Cannuli and newcomer Jake Donnelly.
Well that's about where we will end it for now, though I think there are still a few more recent cars to add. Check back soon for an update and for now, enjoy the rest of the photos below.