Since they burst onto the scene in 1996, Top Doorslammers have held a special place in the hearts of Australian drag racing fans for their wild antics and brutal speed.
When I begun taking photos trackside in 2001, the Top Doorslammer drivers were my heroes. Names like Victor Bray, Peter Kapiris and Gary Phillips were the legends who tamed these supercharged sedans and drove them to world record performances.
With so many photos in my archives, I wanted to give you a really extensive look through the years at the unique cars we have seen in the last two decades. Please enjoy scrolling through this page (and there will be even more pictures in the gallery at the bottom). I have tried to include every Top Doorslammer I have ever photographed, beginning from 2001. I have also included my memories of various cars – I apologise if any are a little sketchy or cross-wired!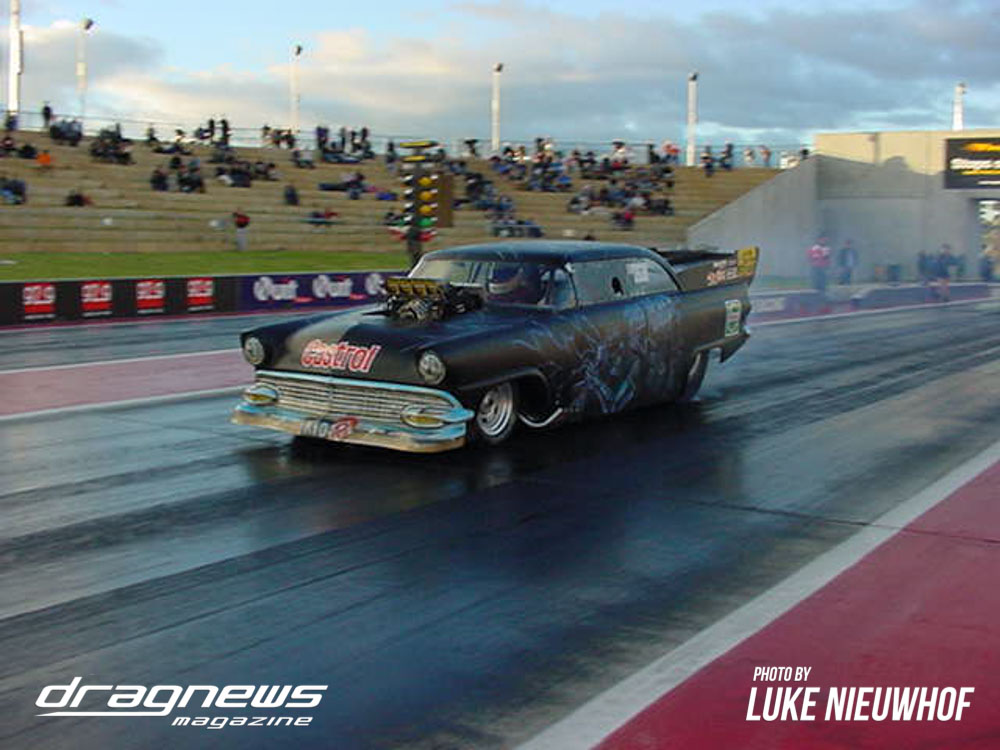 So let's start from the start. This was one of the first Top Doorslammer photos I ever took, I think maybe the first one where I was trackside. This was Ben Bray when he was 17 or 18 years old, and he'd been given the keys to the Ford Customline father Victor had sitting in the shed.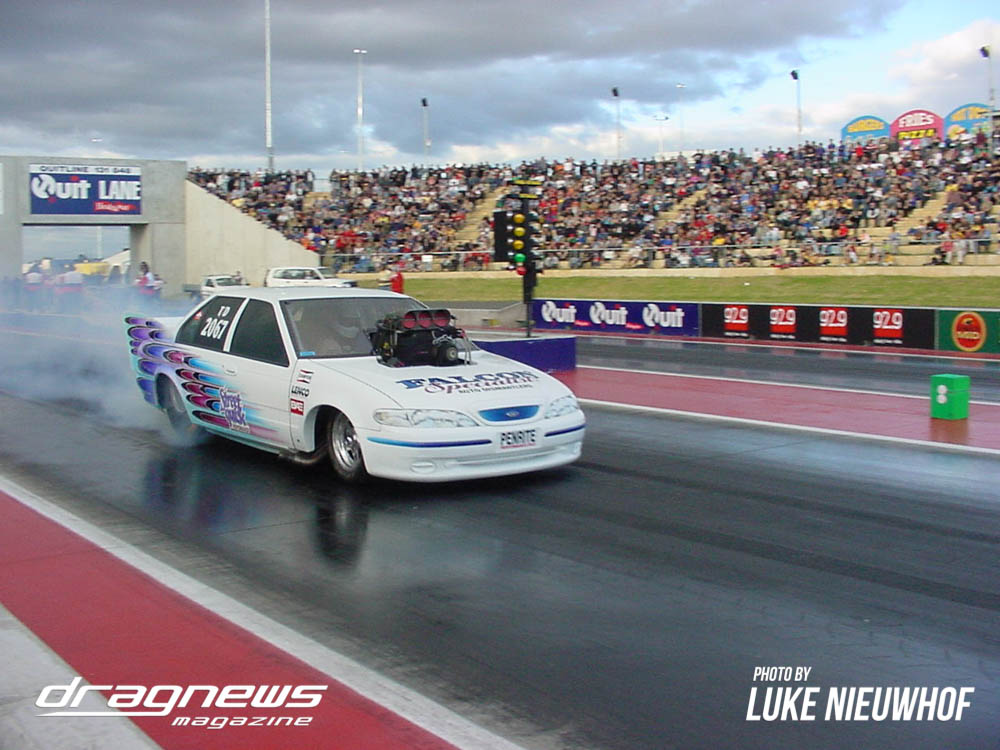 Dave Simpson's Ford Falcon was a part of the bracket from the late nineties. It had beautiful paint work on the rear, and was part of the uniquely Australian trend of four-door sedans being made to go real fast.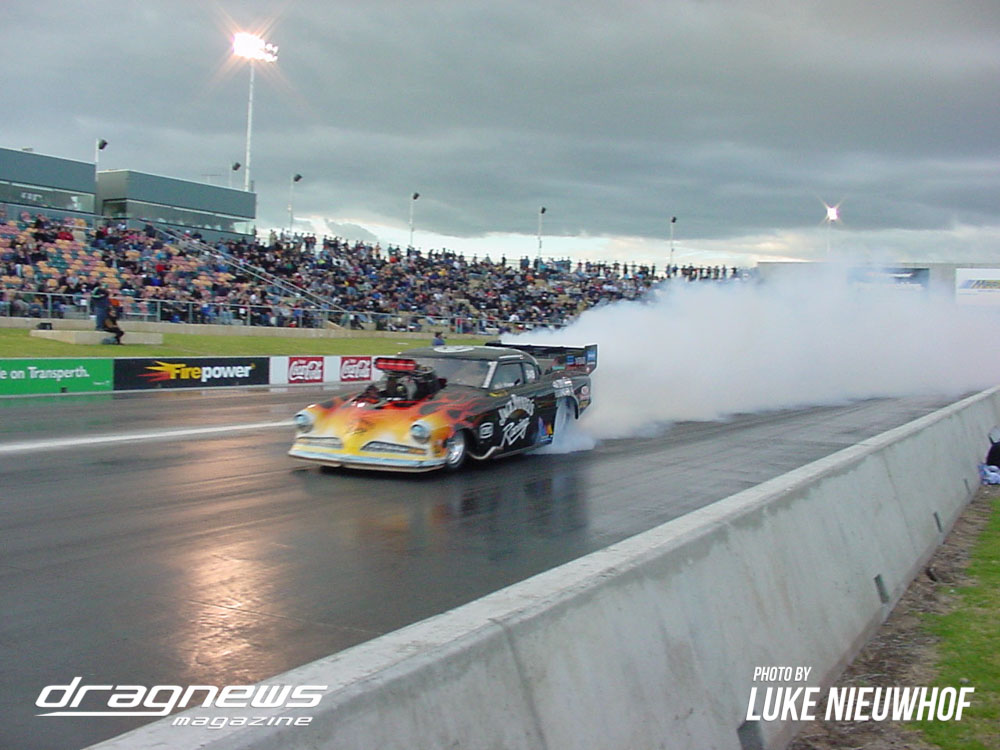 Brett Stevens' fall from grace is well known to all, but in the early 2000s he was a huge figure in the sport, bringing the flair of big burnouts and proving a thorn in the side to established teams.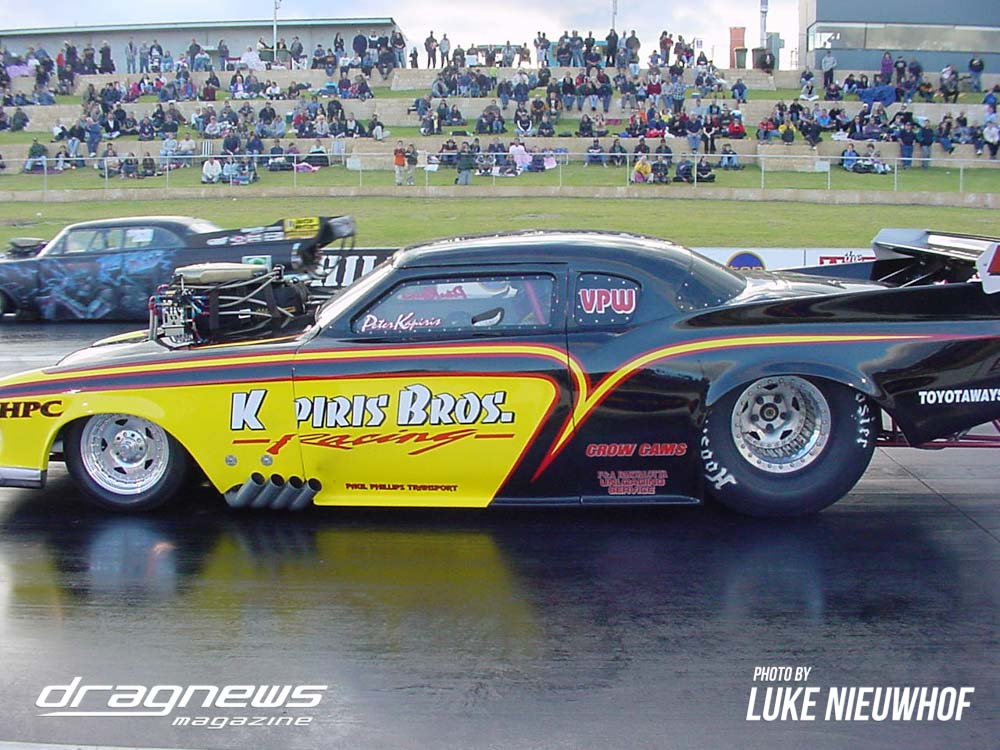 Peter Kapiris' Studebaker set a world record of 6.07 in 2001.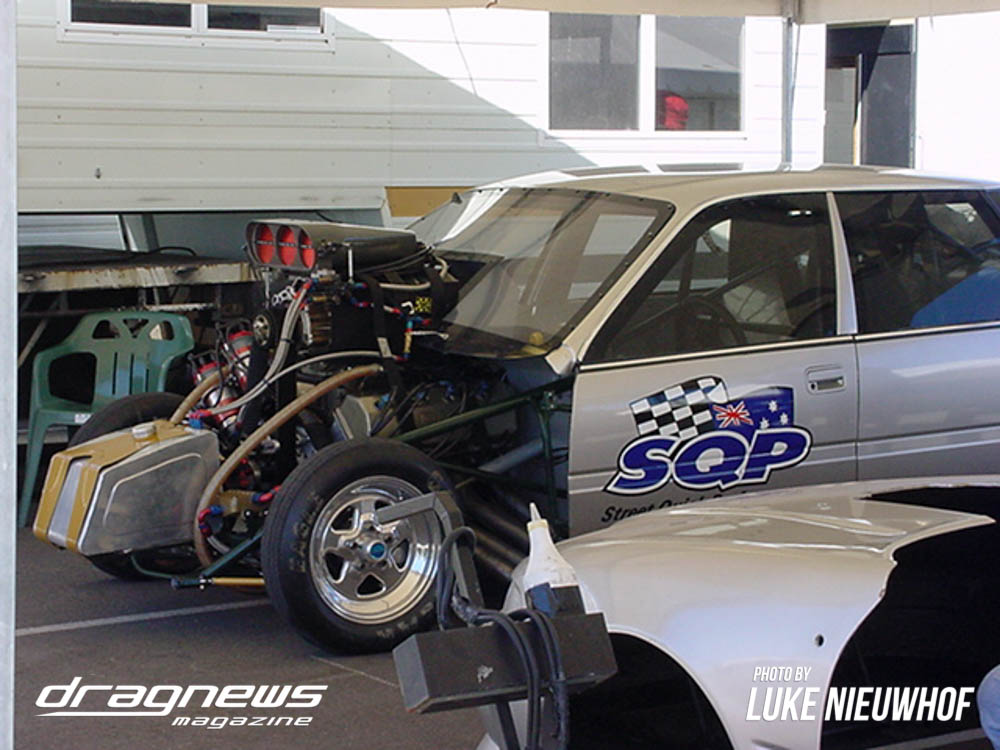 WA driver Peter Hamilton's Holden Statesman in the pits. Hamilton had a good set up and he managed to upset a few big names during his time in the sport.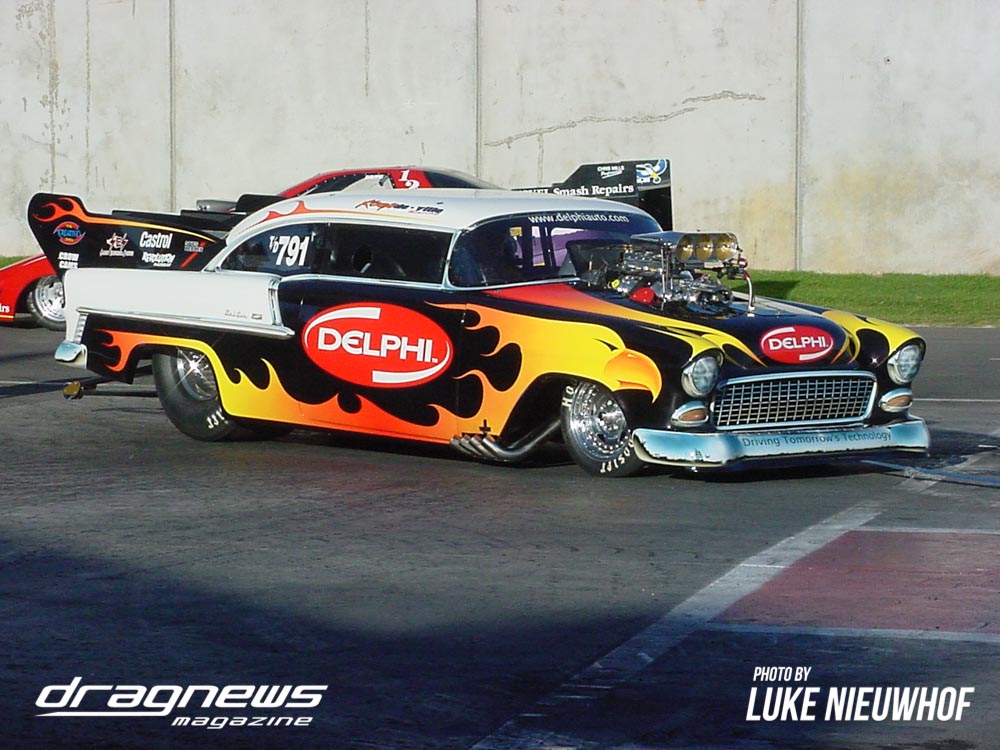 David Koop's spectacular 55 Chevy was a Best Appearing award winner at the 2002 Westernationals. The car had been repaired from a fire at the Motorplex in 2001, but an almost identical fire later in the year torched this beautiful car once again.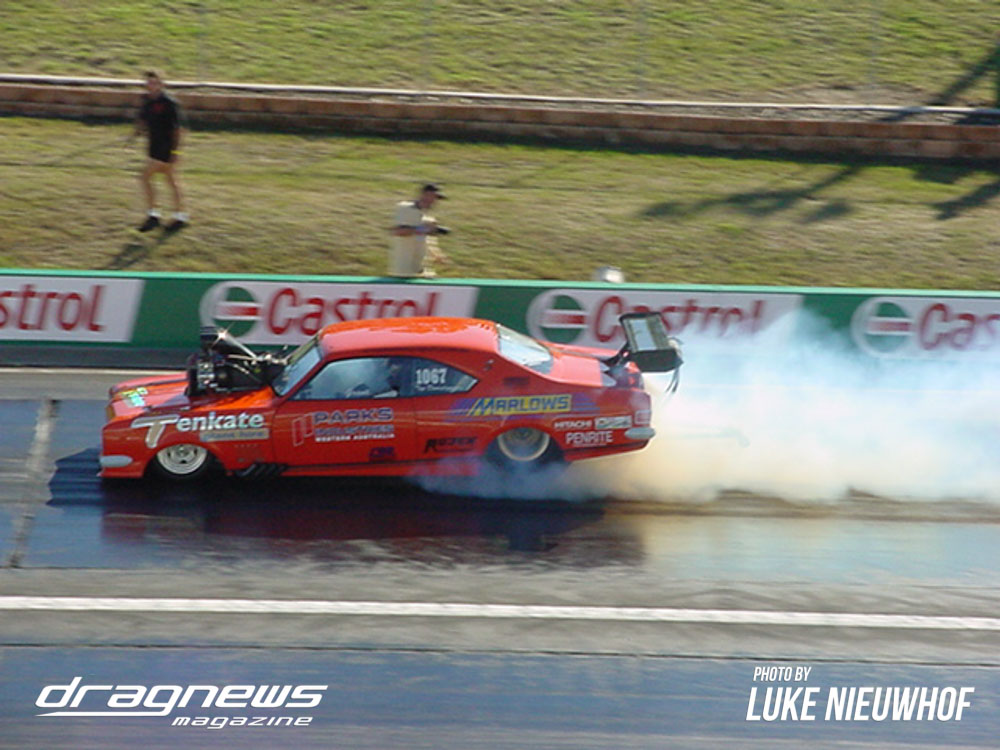 Grant O'Rourke's Monaro during a rare early morning qualifying session at Willowbank Raceway in 2002. The session had to be held over after rain the previous night.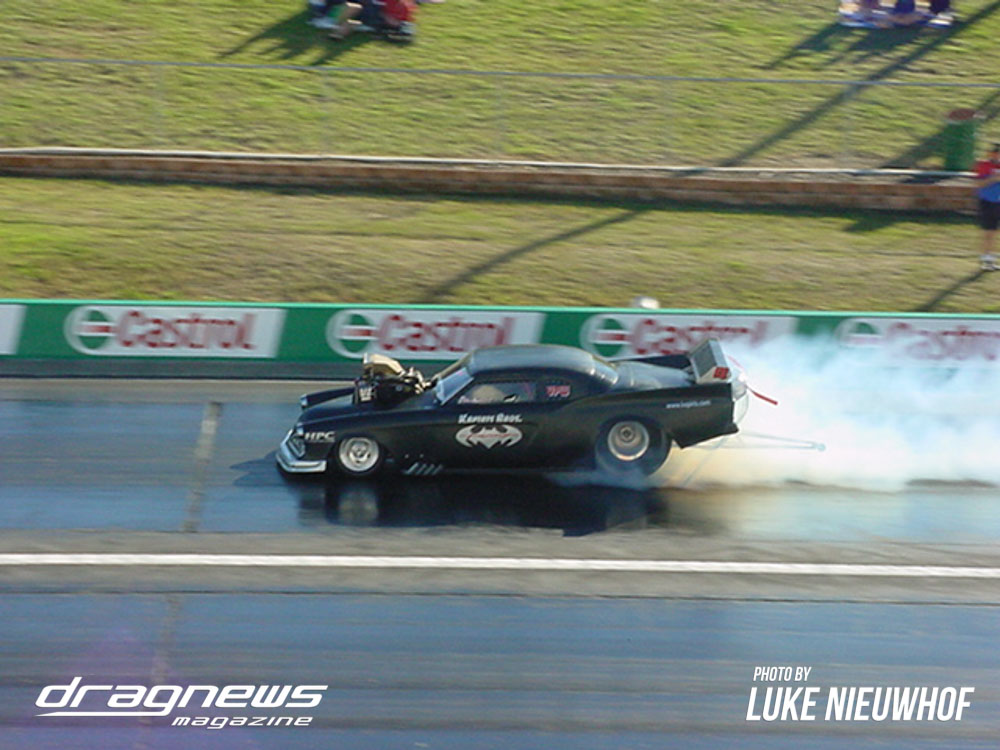 Peter Kapiris briefly ran a matte-black body with the Studebaker.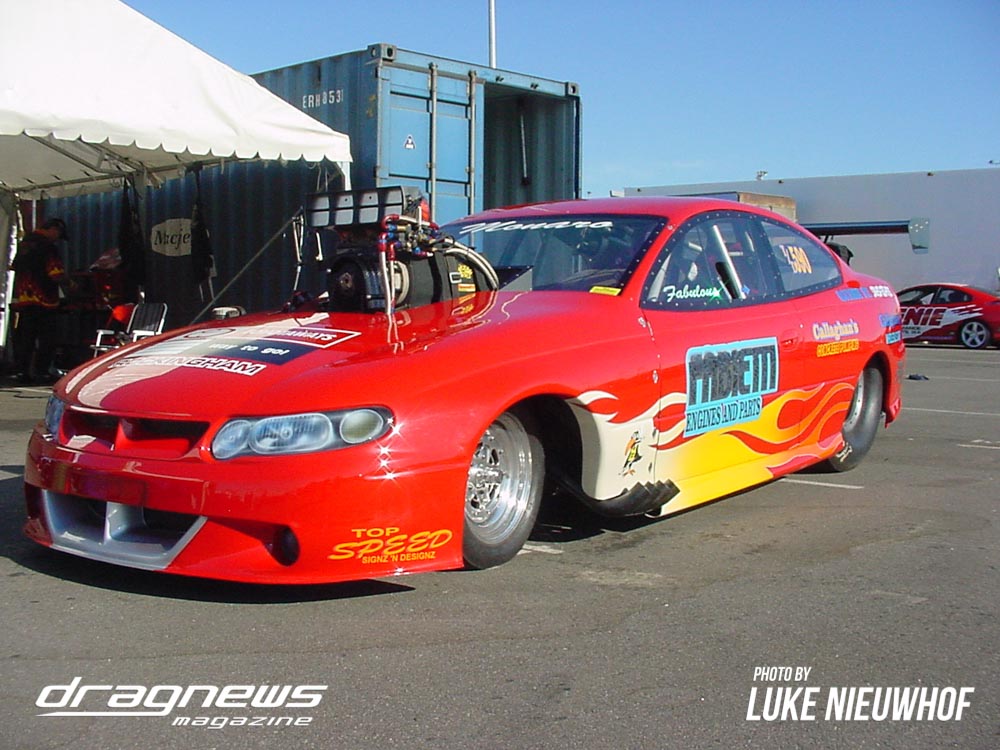 Maurice Fabietti unveiled a Monaro body in late 2002. From memory this was his Pontiac Firebird rebodied.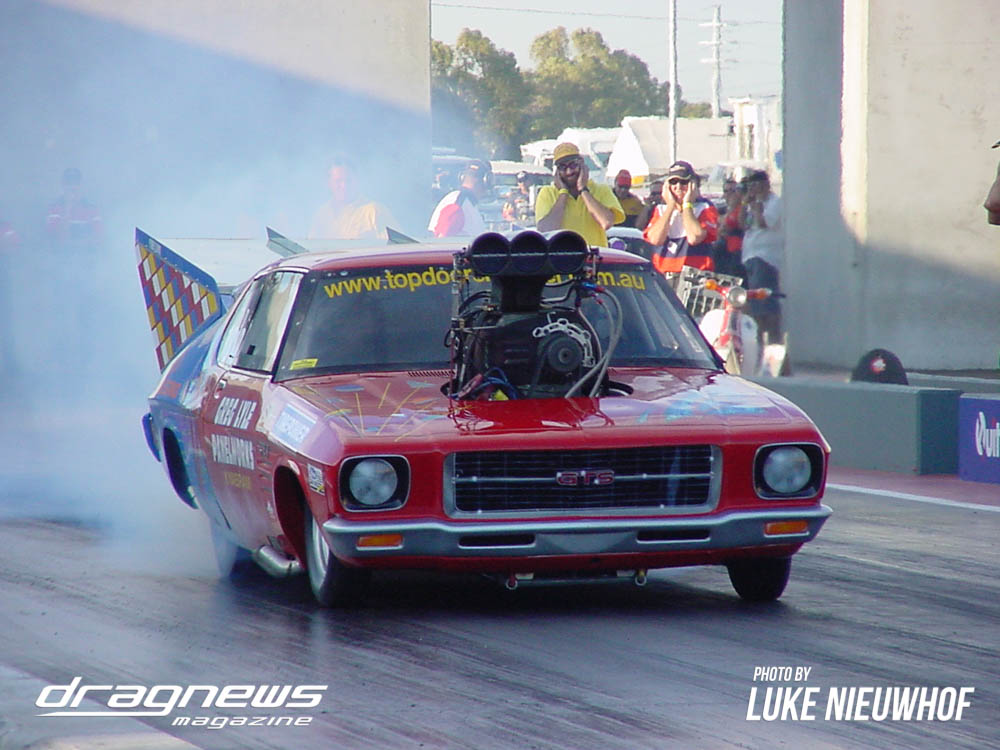 Marcus Chambers' HQ Holden had one of the biggest wings in drag racing. He took a surprise win at Perth Motorplex in 2002.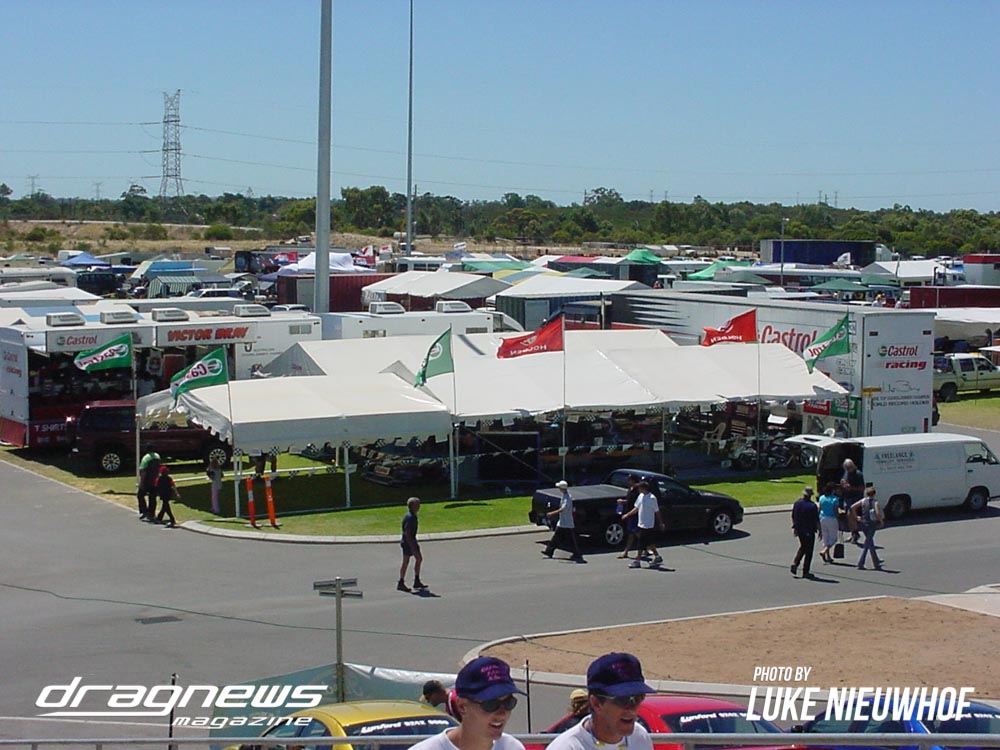 The Team Bray pit area with their iconic Castrol backing.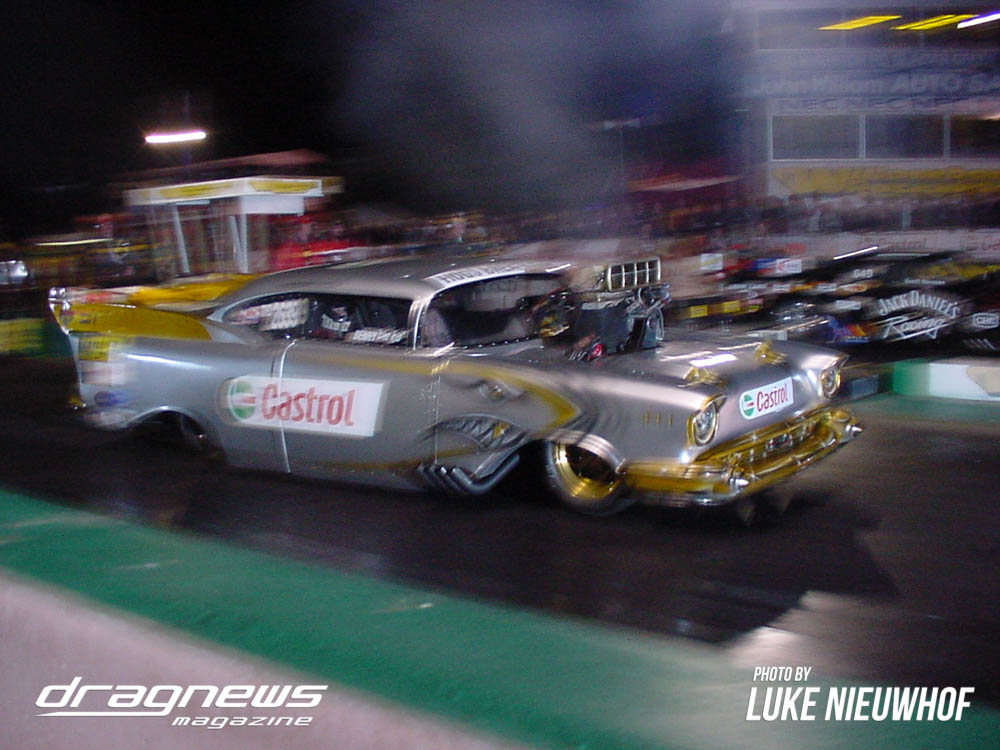 When Victor Bray updated his 57 Chev, Ben took the old 57 Chev. The car proved to have plenty of life left in it as he later took it to a championship.
Andrew Searle's Customline was very reflective of the era, with its shoebox shape.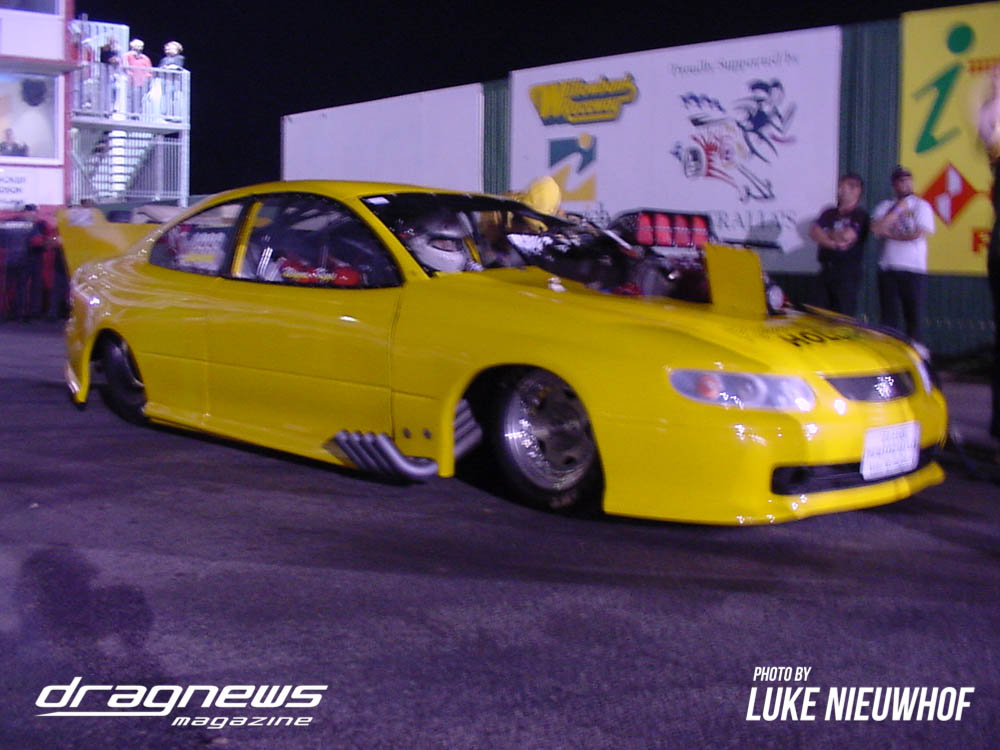 Wayne Keys alternated between Competition and Top Doorslammer for a few years in his Monaro.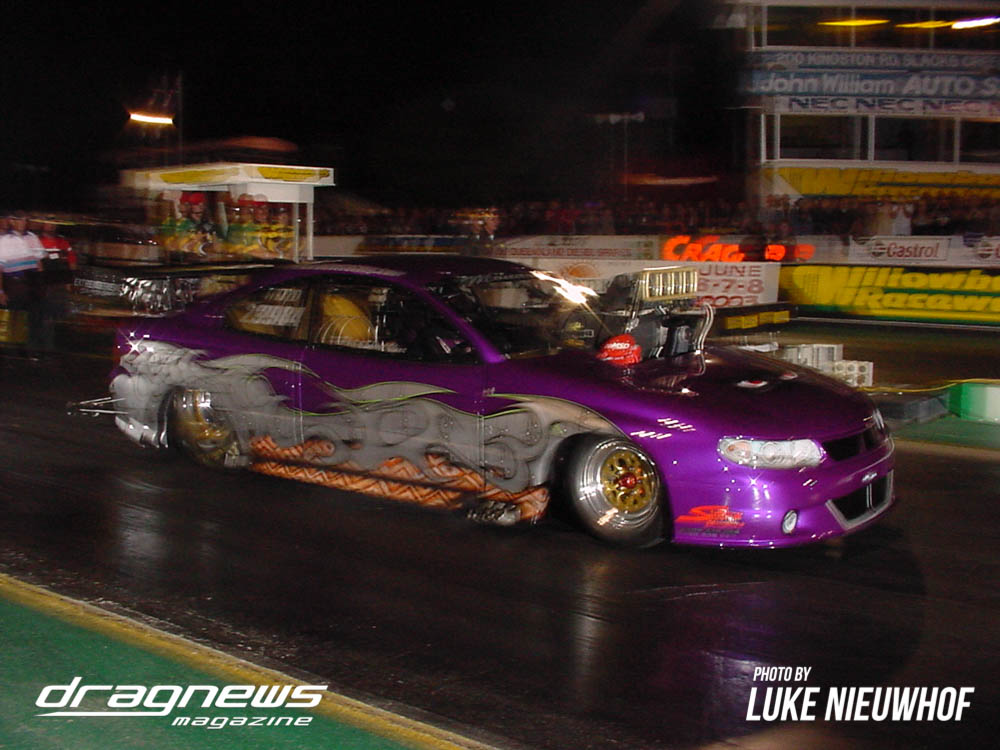 Monaros were certainly popular for a while! This was Shane Olive's PSI-supercharged version.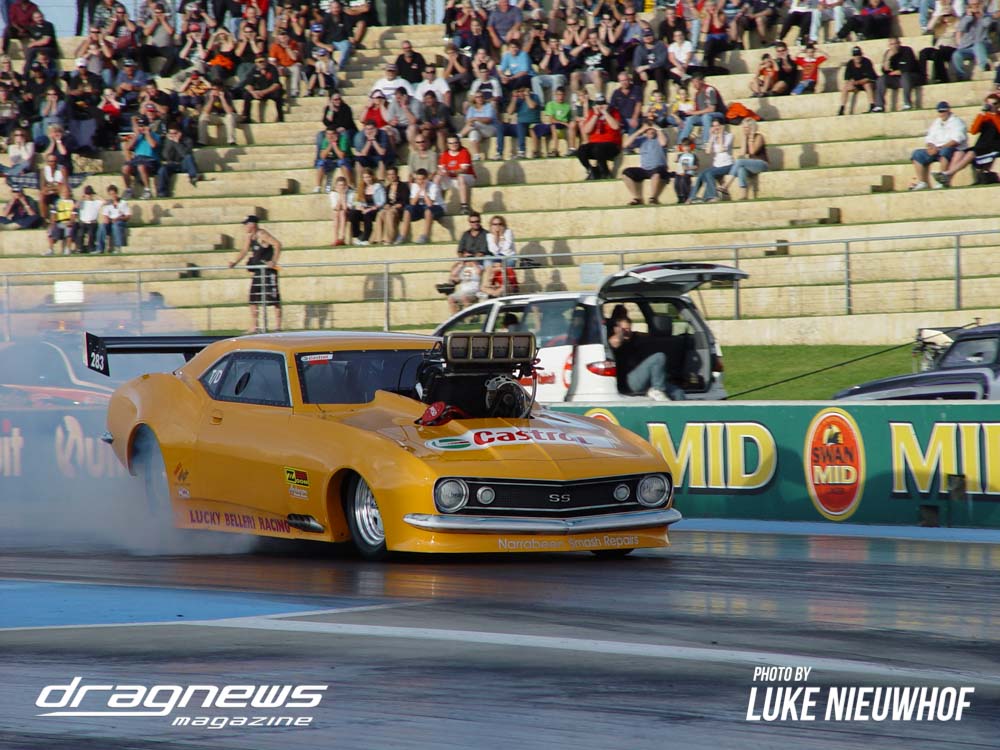 Lucky Belleri returned to racing with a new Murray Anderson-built Camaro in 2003. Steve Stanic did the driving, and the pair would together earn a championship.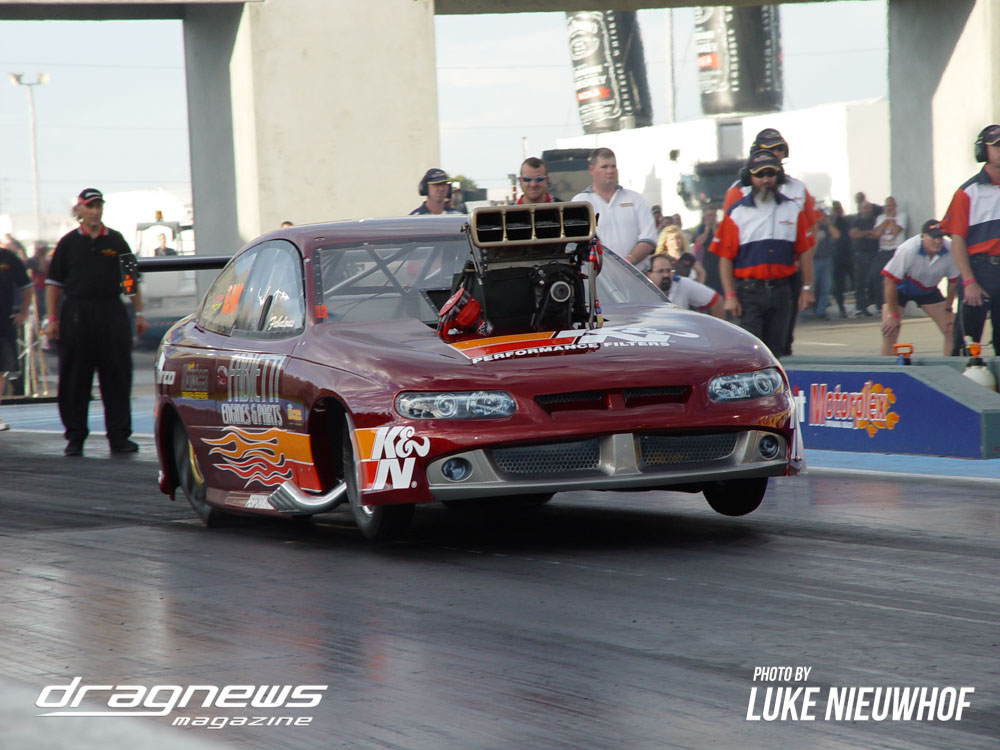 Fabietti's Monaro with a new look. This car was constantly changing in appearance across the years.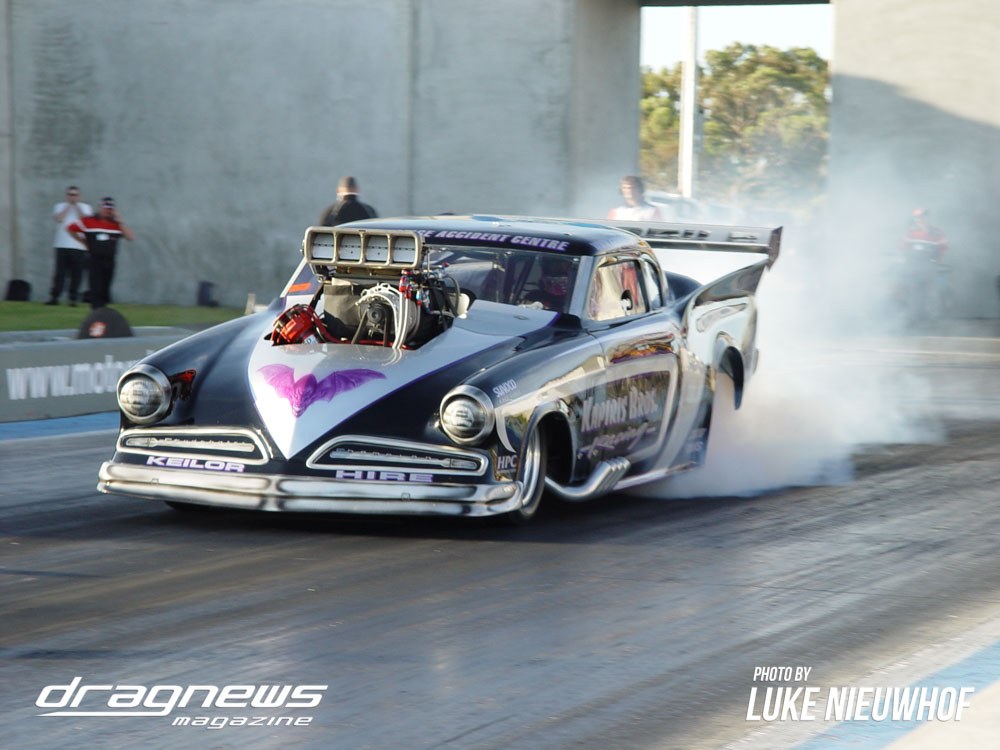 Also embracing a new look was Peter Kapiris. This silver, black and purple scheme was one of the best looking in our opinion.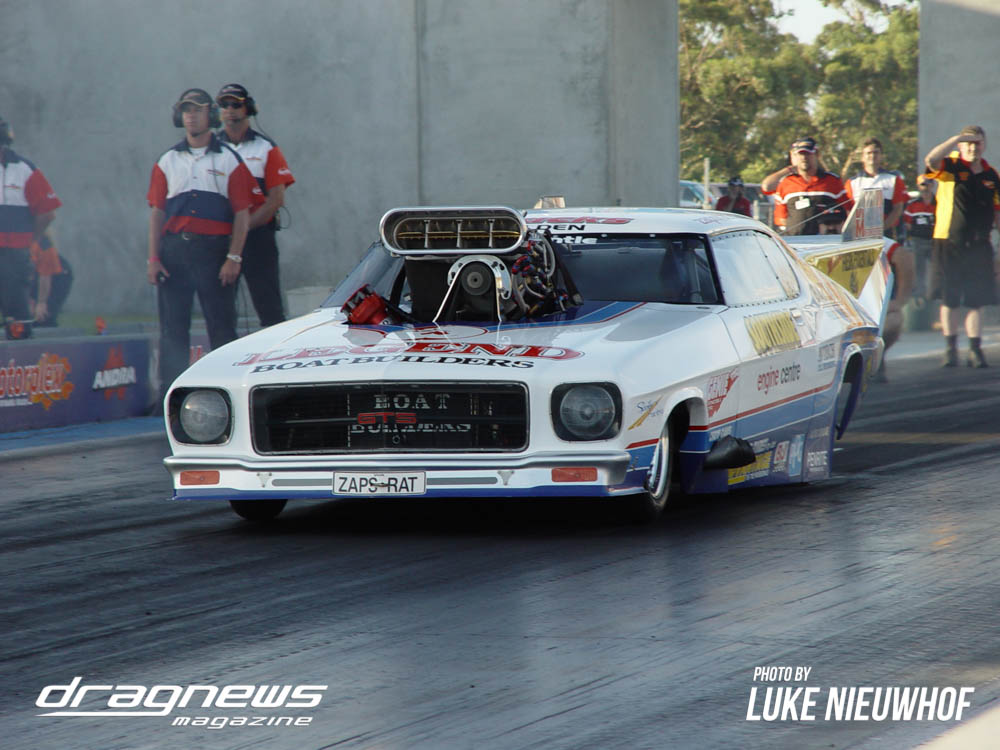 John Zappia was one of blown doorslammer racing's biggest names in the early and mid-nineties, but he missed the earliest years of the official ANDRA championship. In 2003 he returned with a Whipple-supercharged HQ Holden Monaro.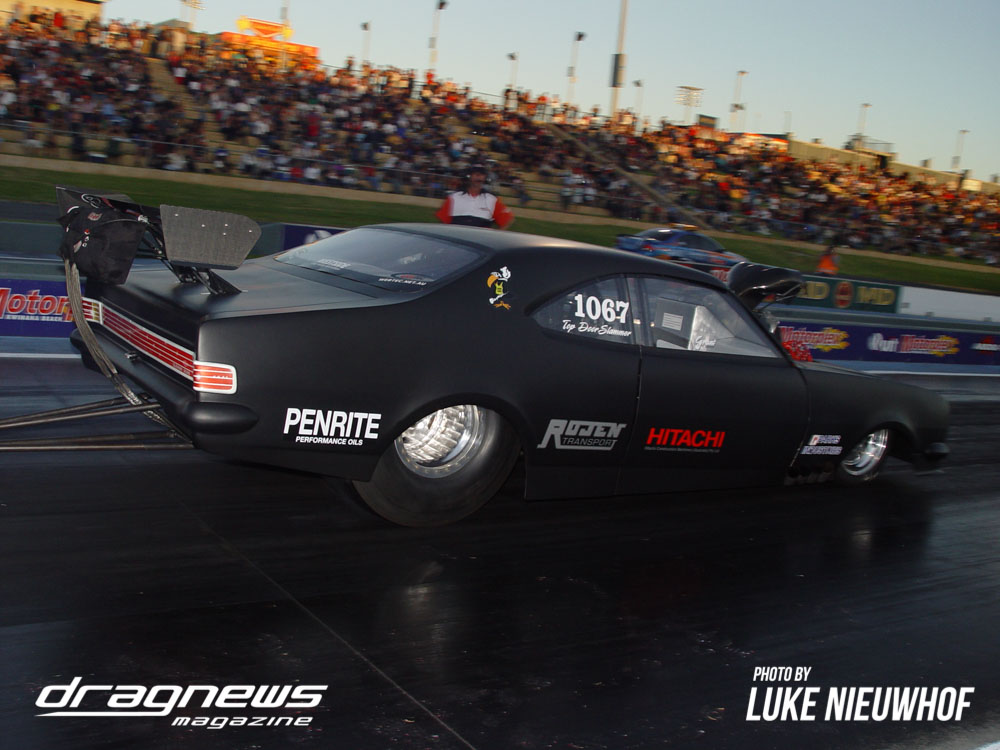 Grant O'Rourke traded bright orange for matte-black on his HK Monaro in 2004.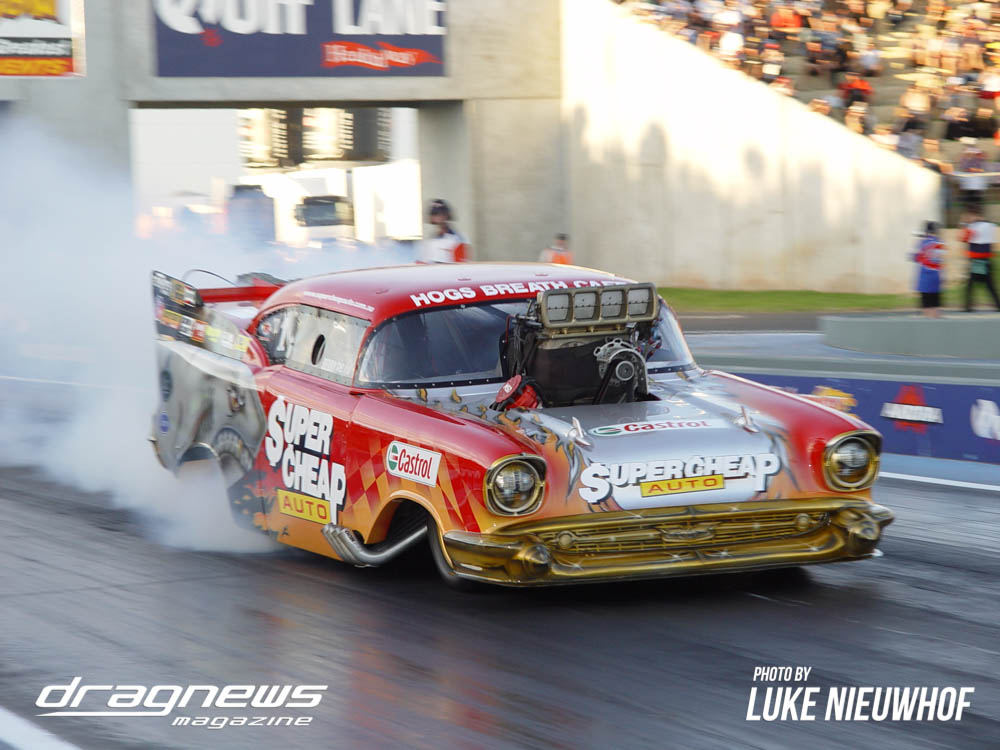 Ben Bray landed a big corporate sponsor in 2004, bringing Supercheap Auto into the sport.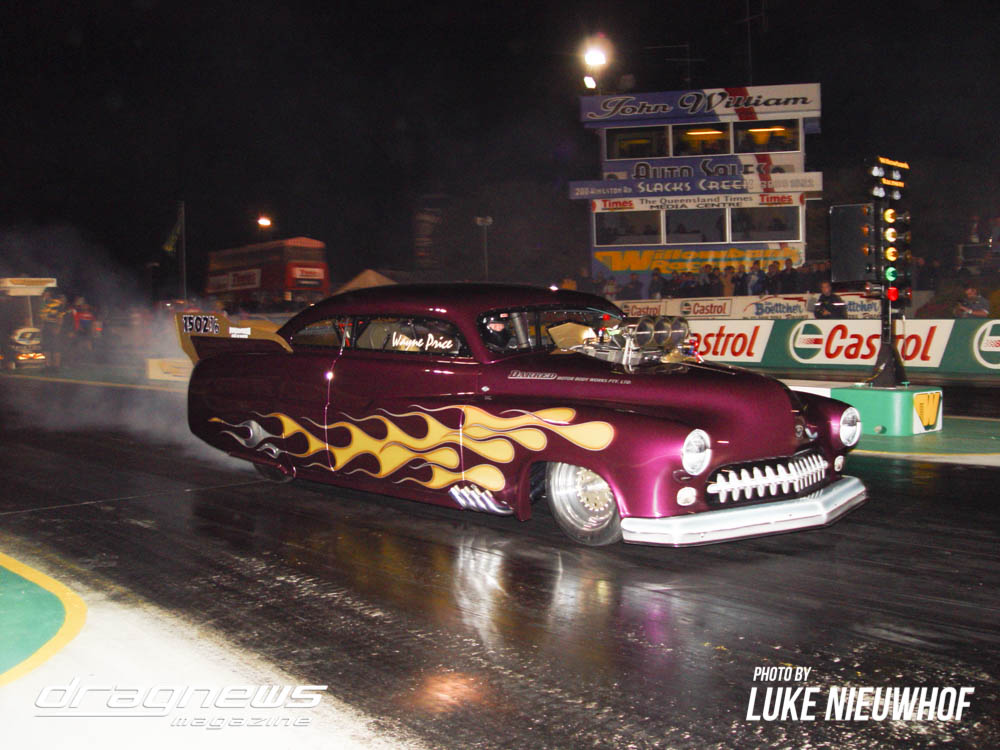 Wayne Price's Mercury brought some street machine-style class to Top Doorslammer. The Melbourne baker had an interesting time stepping into Top Doorslammer, as the car and transporter was stolen from the Rooty Hill RSL car park. We believe this photo is of the second incarnation of the car (if someone has some more details feel free to add).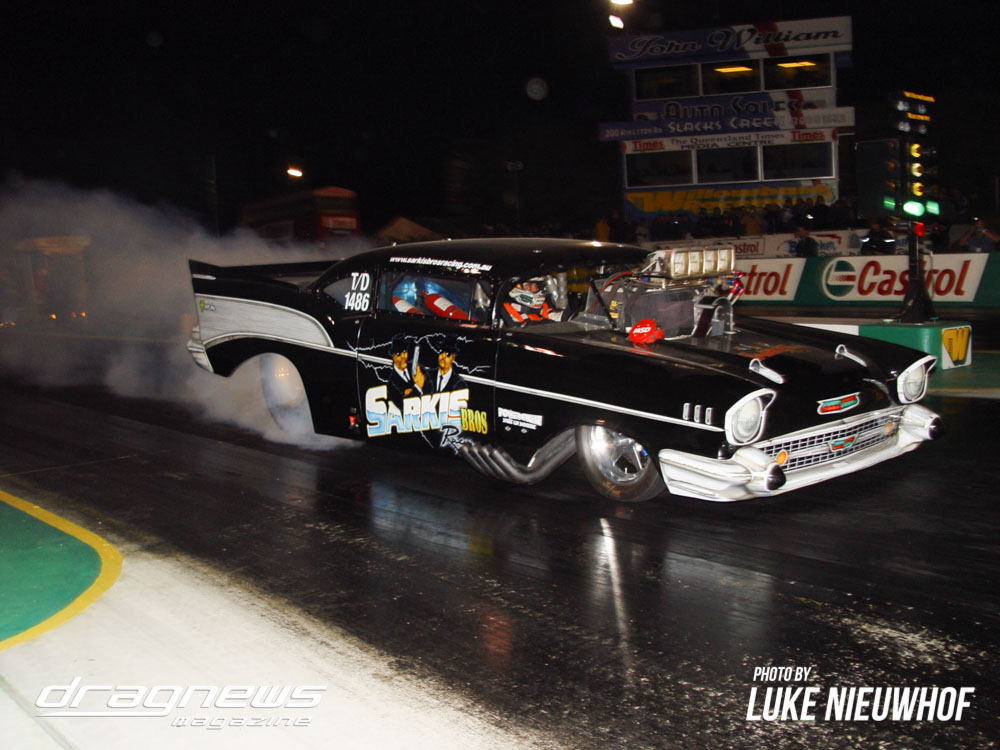 Sydney's Sarkis brothers made a brief foray into the class with a 57 Chev. This car had an interesting history, as it was formerly owned by Peter Gratz, who had the car built by Murray Anderson in 1993. Gratz first ran it as a 57 Chev, then changed to the world record speed setting Dodge Daytona body. The Sarkis brothers changed it back to a 57 Chev and the car was later sold to New Zealand where Ross Taylor took it racing.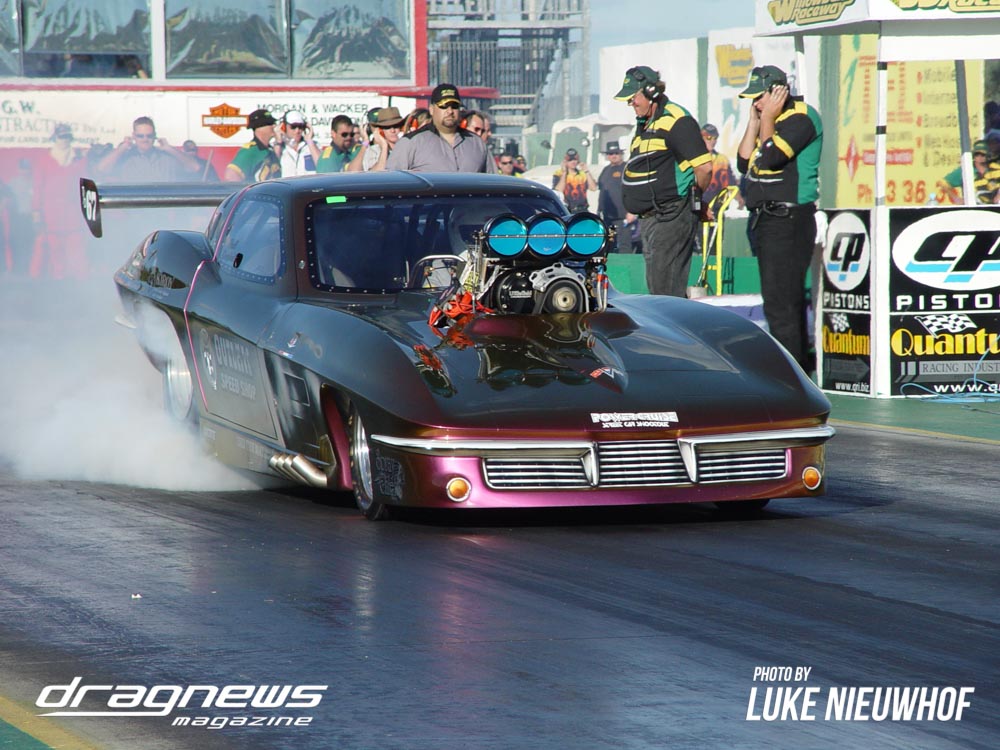 Adelaide's Paul Greghini campaigned this 63 Corvette around the country. It had the harlequin, colour-changing paint which was all the rage at the time. I am not exactly sure of its origin, but I believe this car was owned by Victoria's Cameron and Tony Brooks previously (or at least, looks identical to it).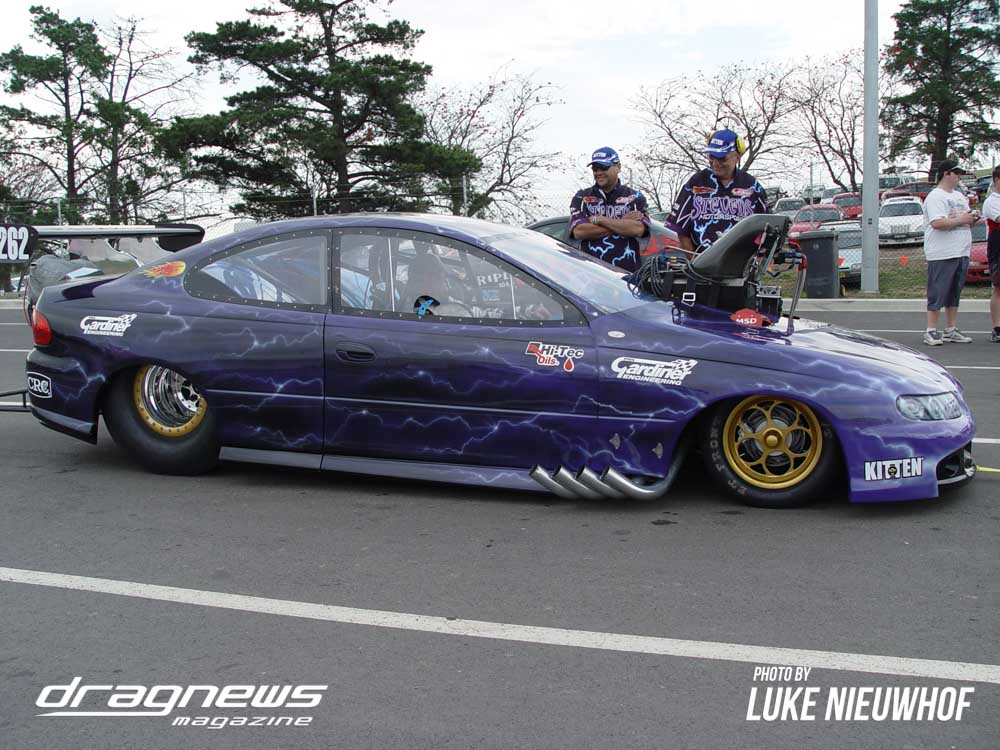 WA's Gary Stevens had a Monaro built by Brett Stevens (no relation). The team were regulars on the circuit for a few years, going where ever Brett's super-team would go.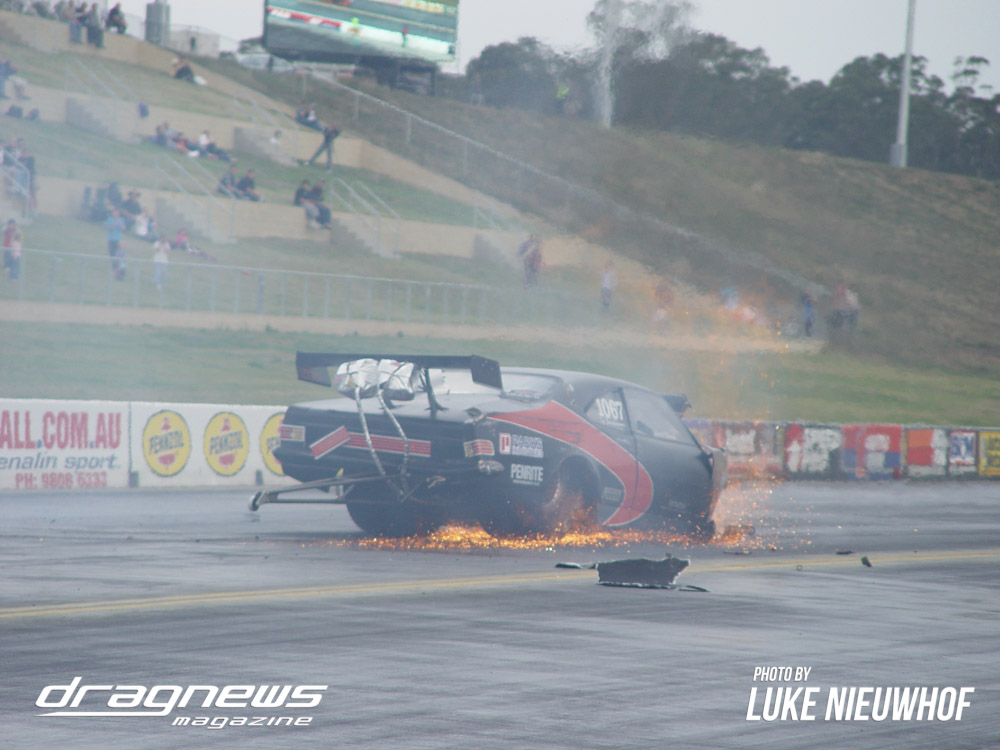 Grant O'Rourke had a couple of nasty incidents in his car. This one at Sydney Dragway was one of the worst, when the car tyre shook into the opposite wall and then caught fire (note the relatively invisible methanol flames).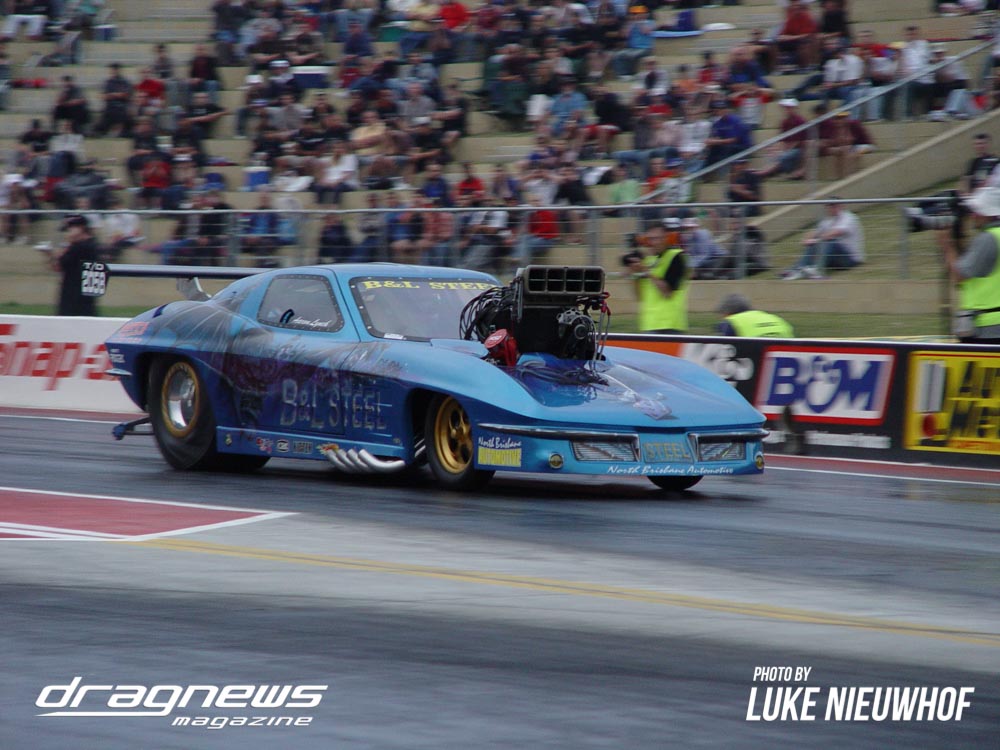 Aaron Lynch was another to join the sport in 2004 thanks to Brett Stevens. His B&L Steel team was managed by Stevens, but would later go out by themselves, and expand to include a Top Alcohol Funny Car and a Top Fuel dragster.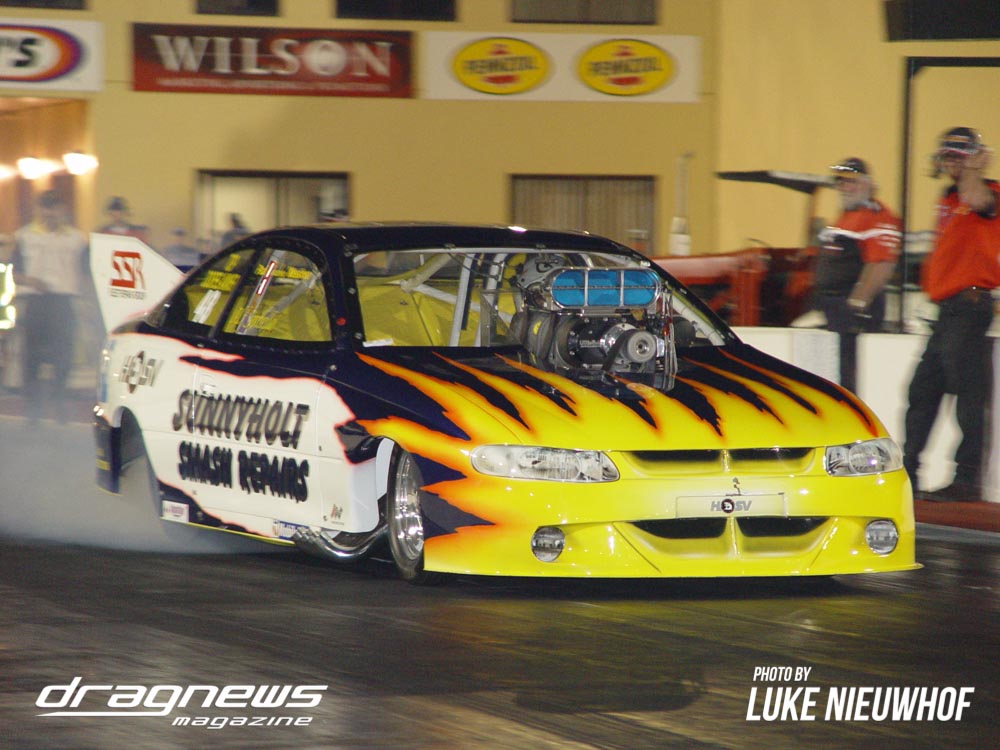 This one was tagged in my photos as 'Messineo', so I believe it is Paul Messineo driving Alf Sorbello's Holden Clubsport.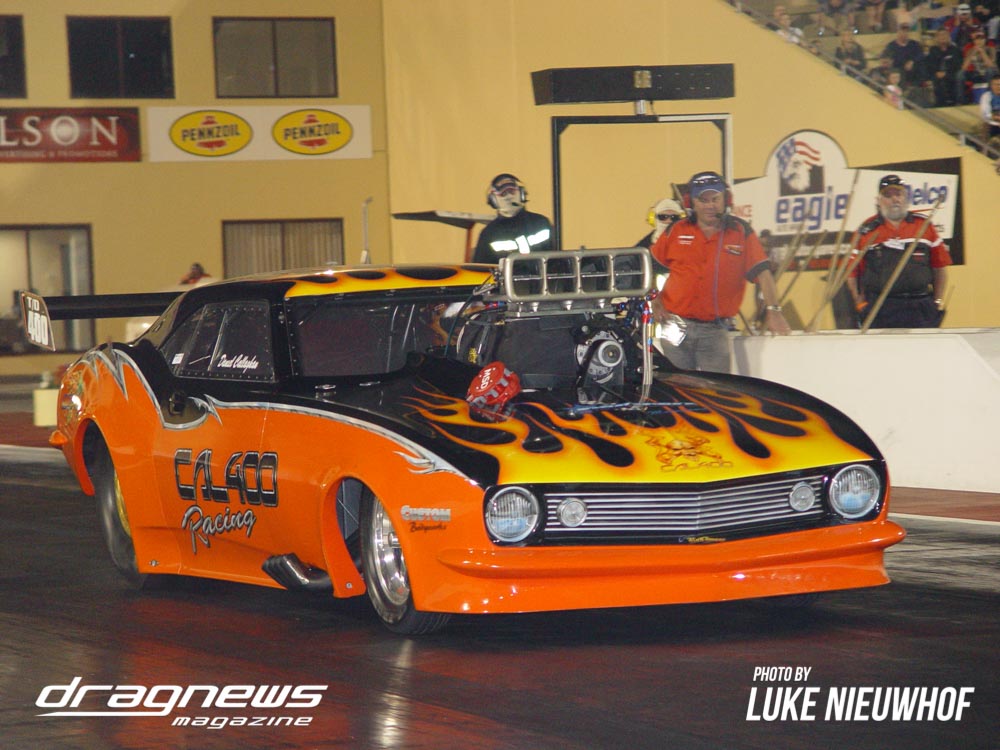 Daniel Callaghan was in a different vehicle just about every time he raced at an event. From tough street cars to nitro Harleys, Callaghan played with them all.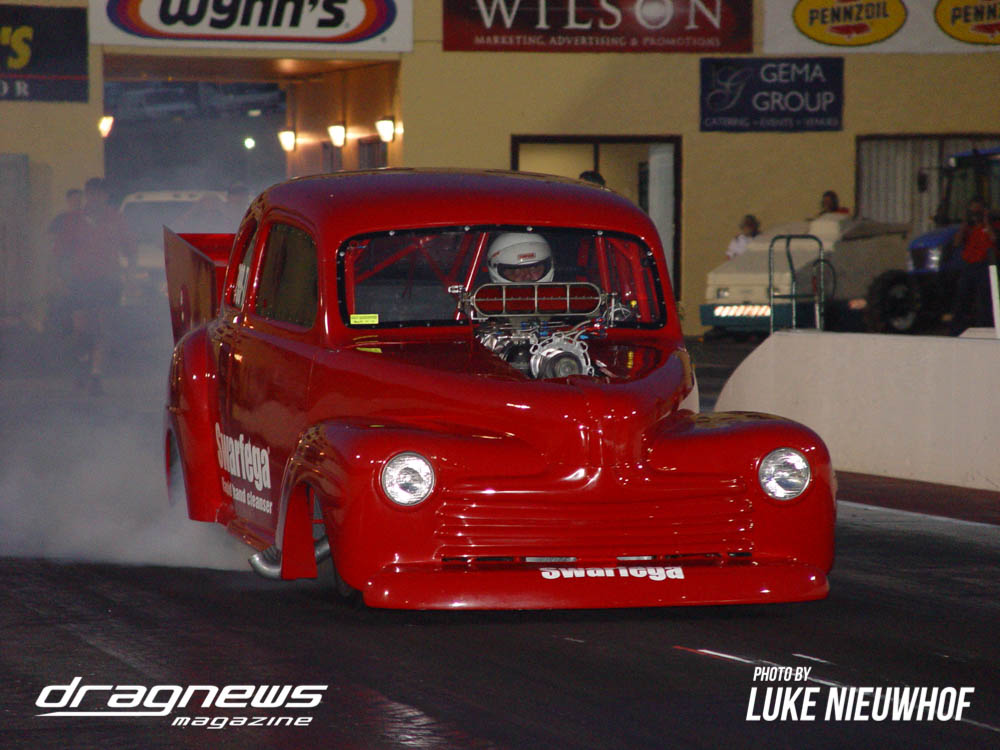 Stephen Dupond's 1948 Ford Coupe wasn't exactly the sleekest car in the bracket, but it brought a lot of character.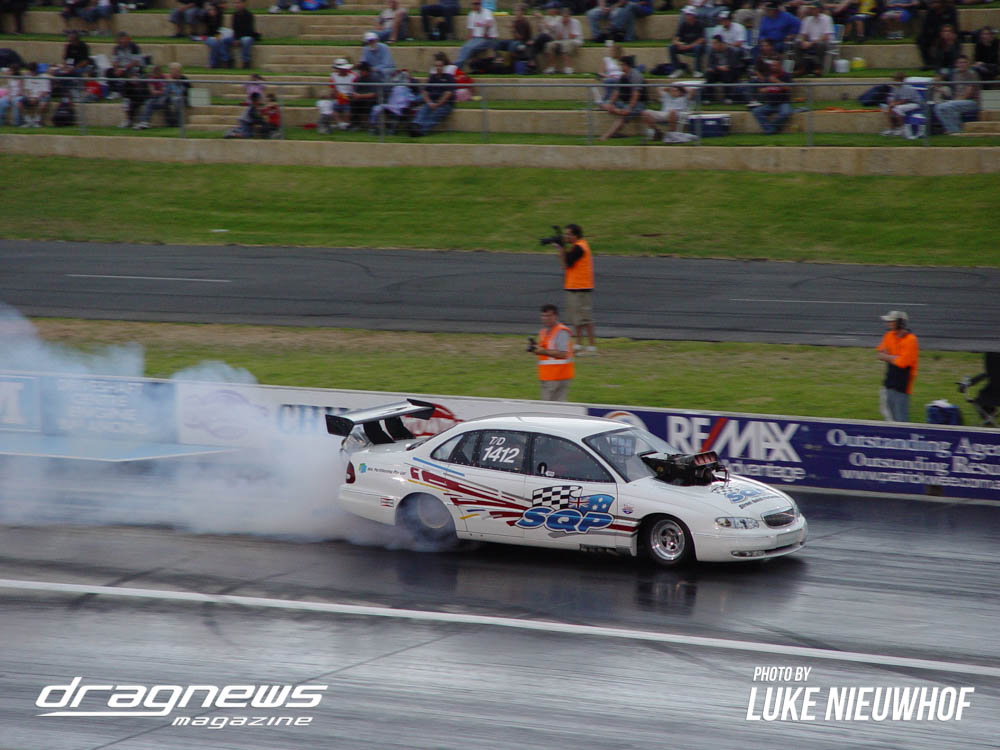 Peter Hamilton rebodied to a Holden Grange in 2005.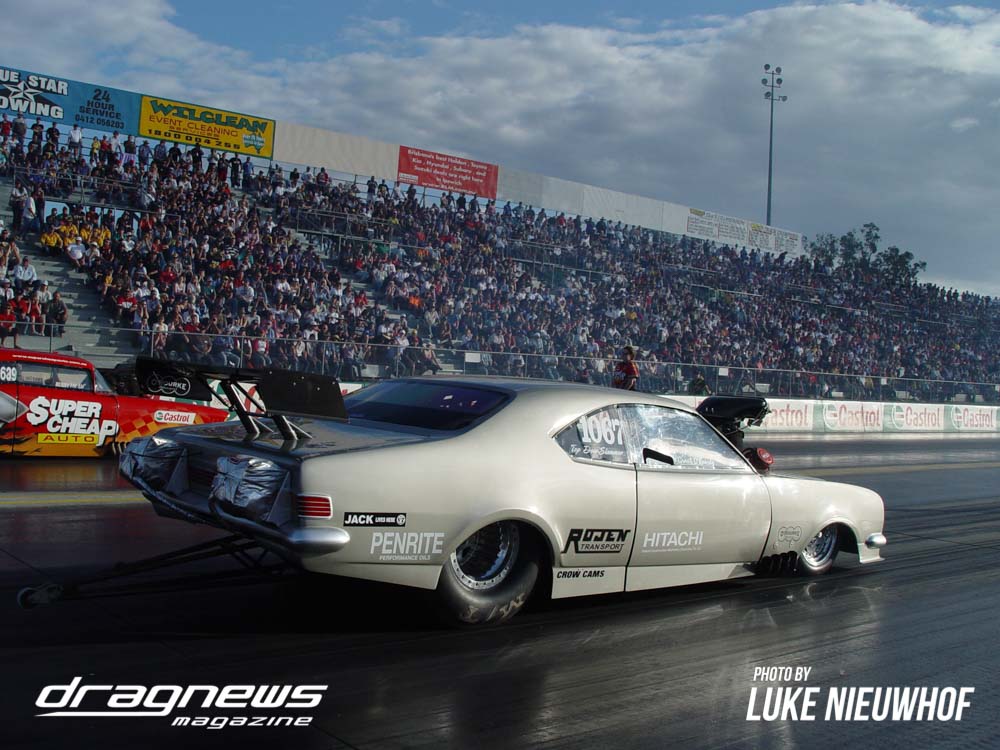 This silver look for Grant O'Rourke's Monaro was one of our favourites.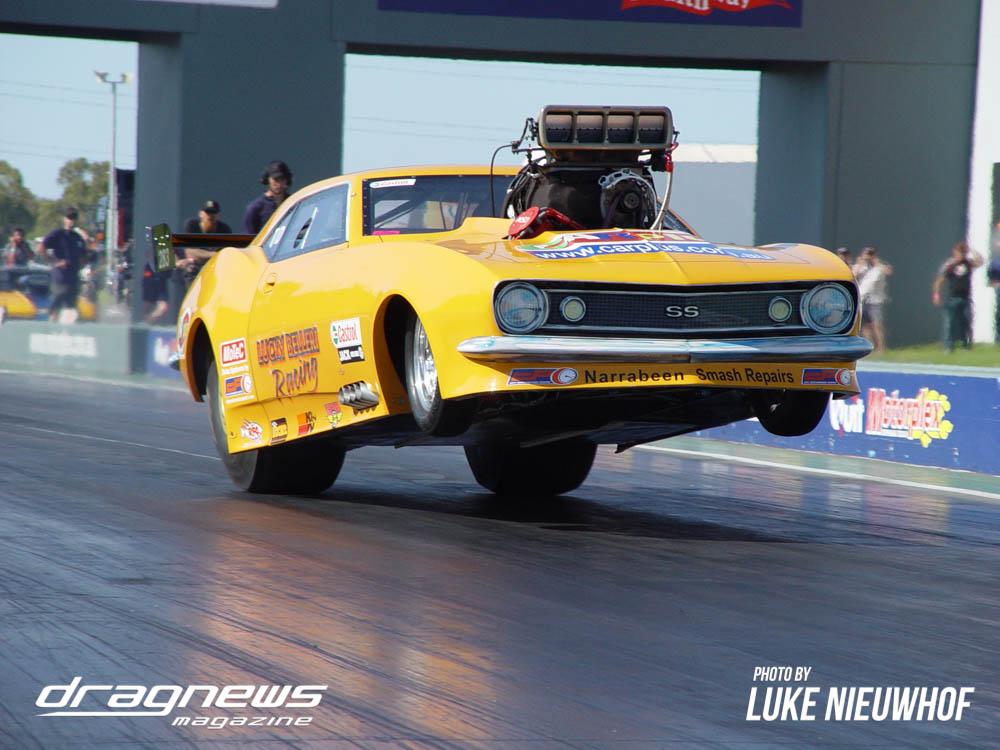 Steve Stanic gets the front end way high in testing before the 2005 Goldenstates.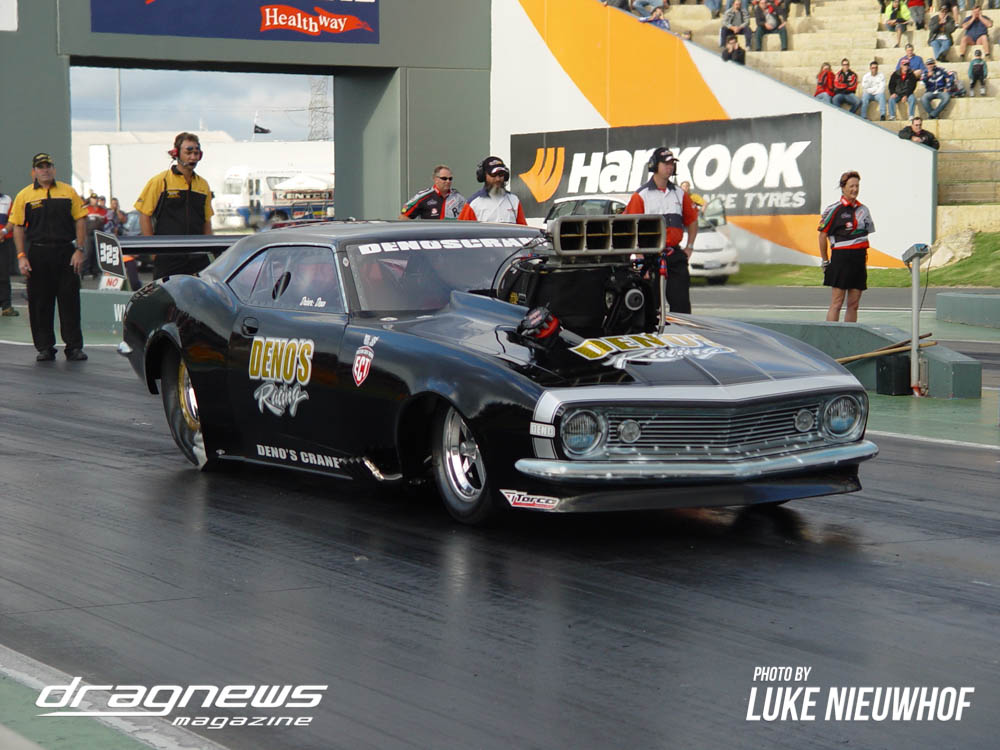 Wild man Deno Brijeski joined the party in 2005. With assistance from Mark Brew, Brijeski had plenty of horsepower on board.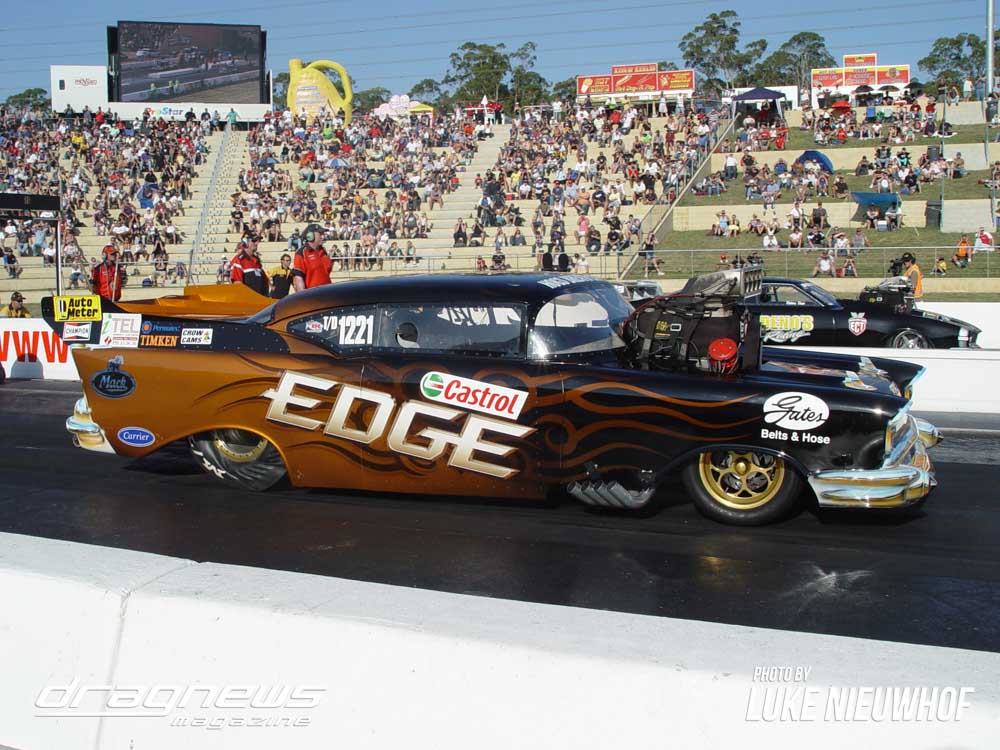 The Bray family's cars took on the new look of Castrol Edge in the 2005/06 season.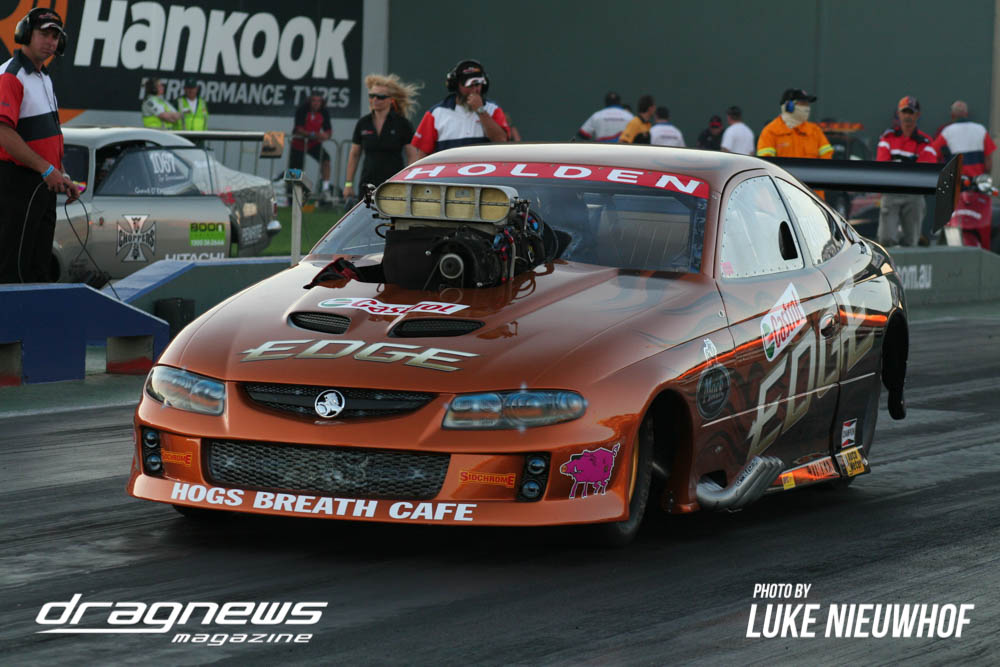 Ben Bray finally got a new car of his own, a stunning CV8 Monaro.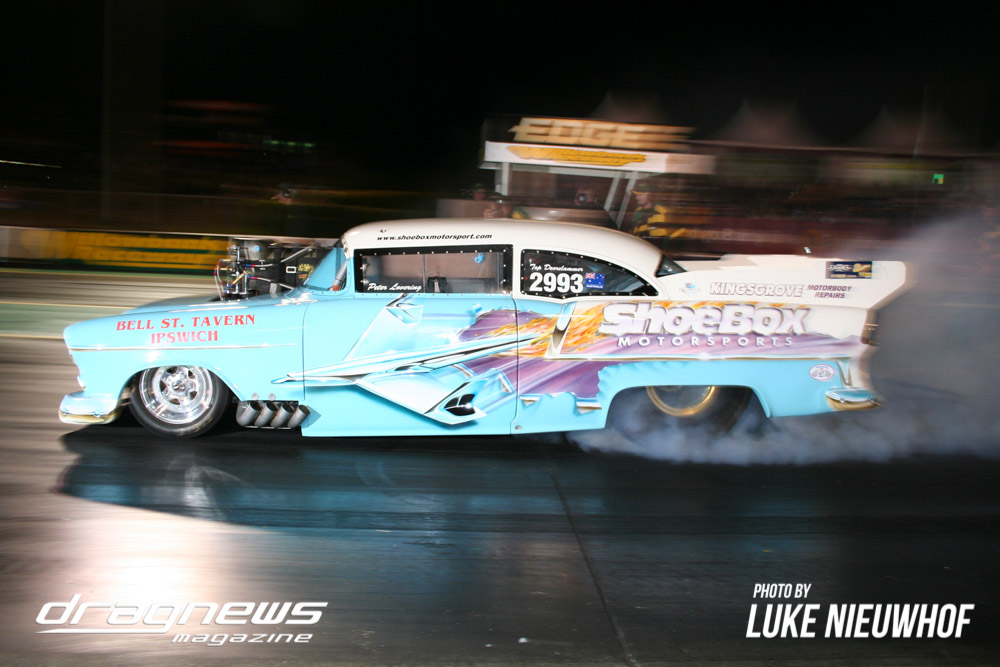 Peter Lovering's Chevy shoebox wasn't a regular on the tour, but it was a neat looking car.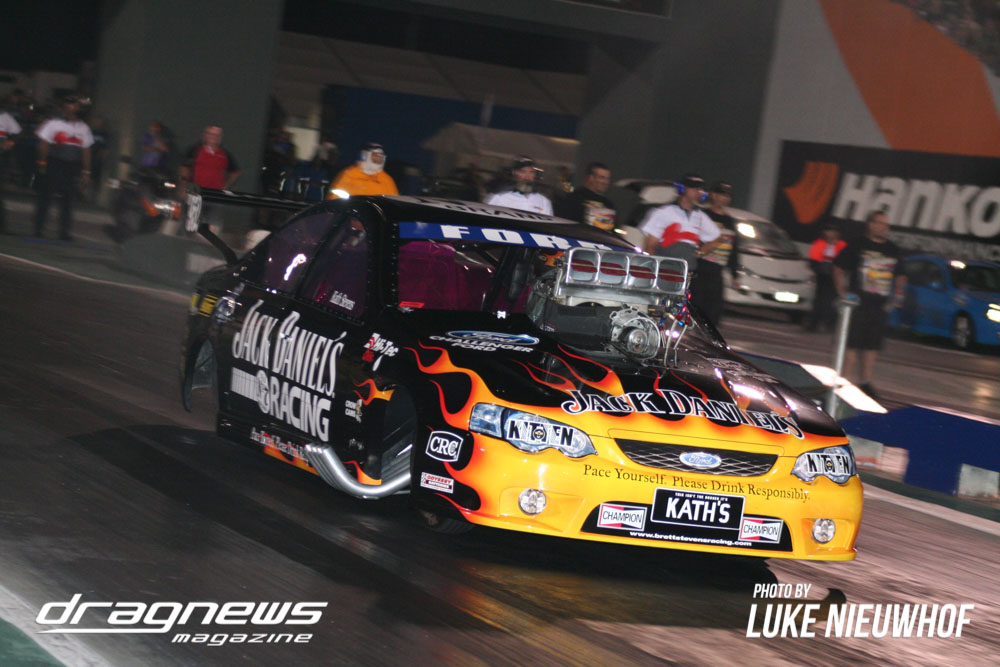 Brett Stevens Racing unveiled new Ford Falcon bodies in late 2006. Seen here is Brett's wife Kath Stevens at the wheel. She was the first woman to record a five second run in the class.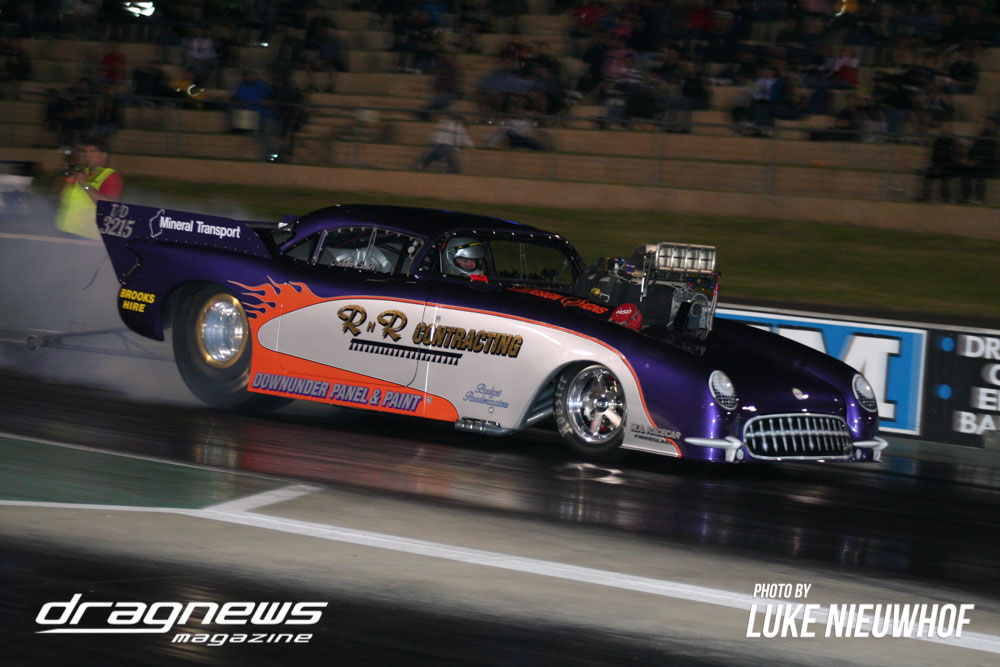 Adam Croker brought this 1953 Corvette to the bracket in 2006, adding some variety to the class.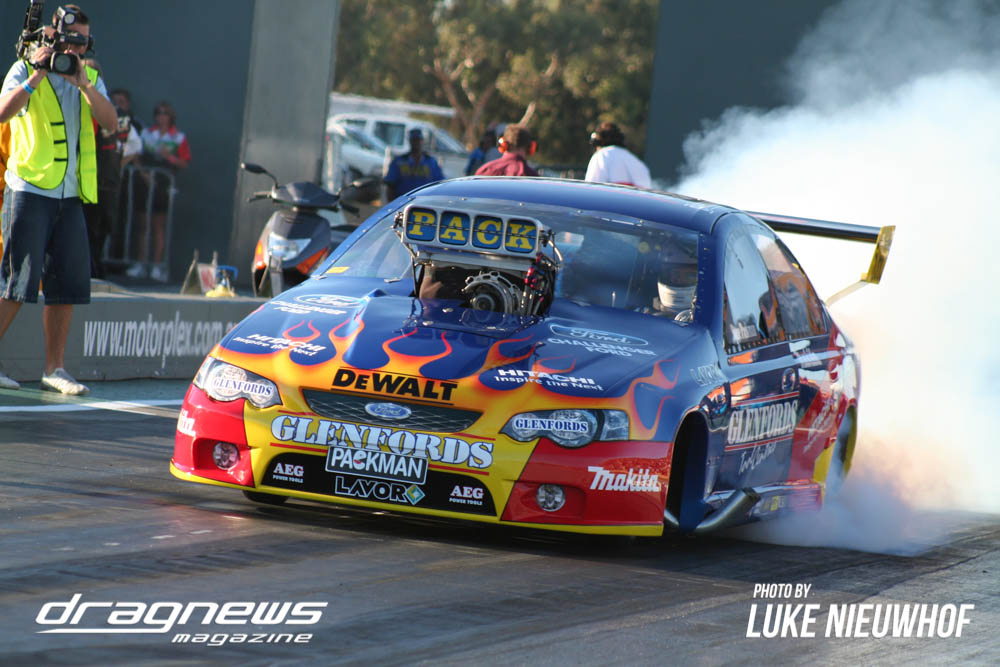 Steve Packman briefly drove a car for Brett Stevens Racing as the team expanded exponentially.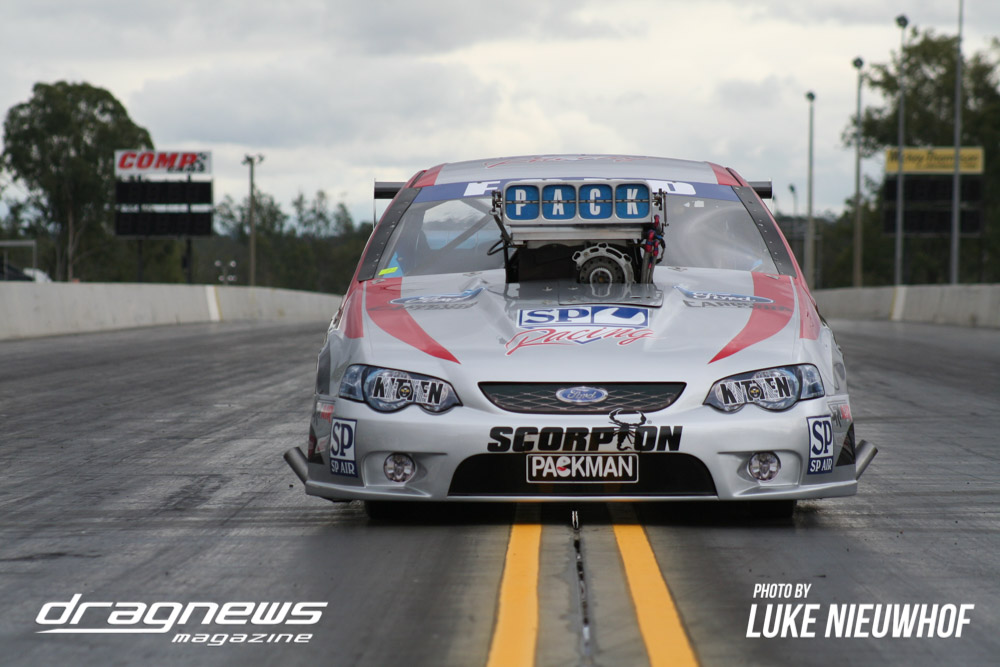 The Falcon was later updated with SP Tools sponsorship.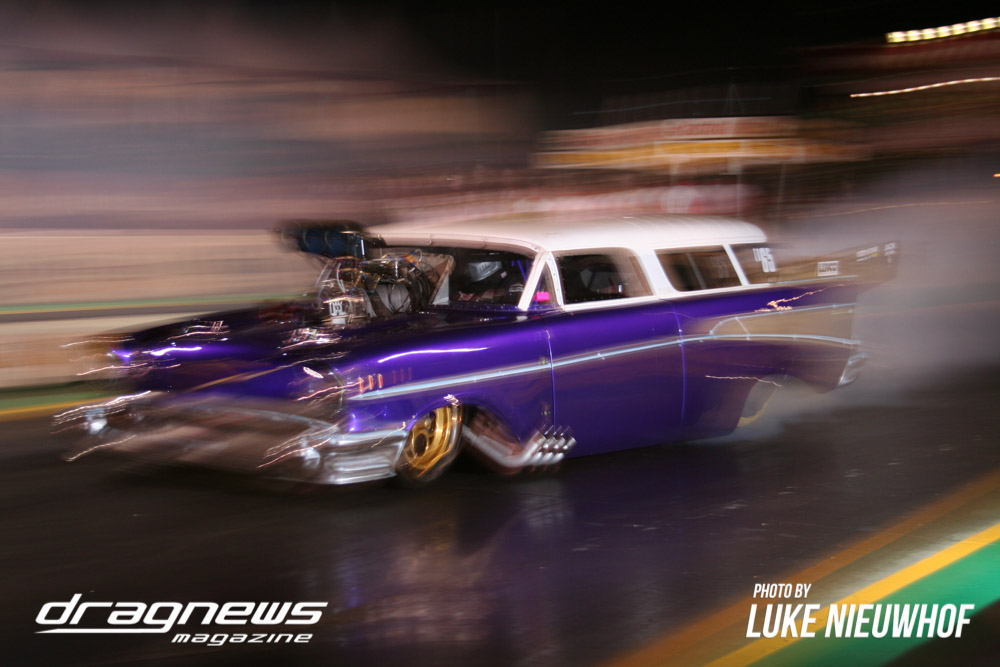 Ray Bernard's Chevy Nomad was definitely one of the most unique cars in the class! It's still running today in the hands of Queensland's Donnelly family.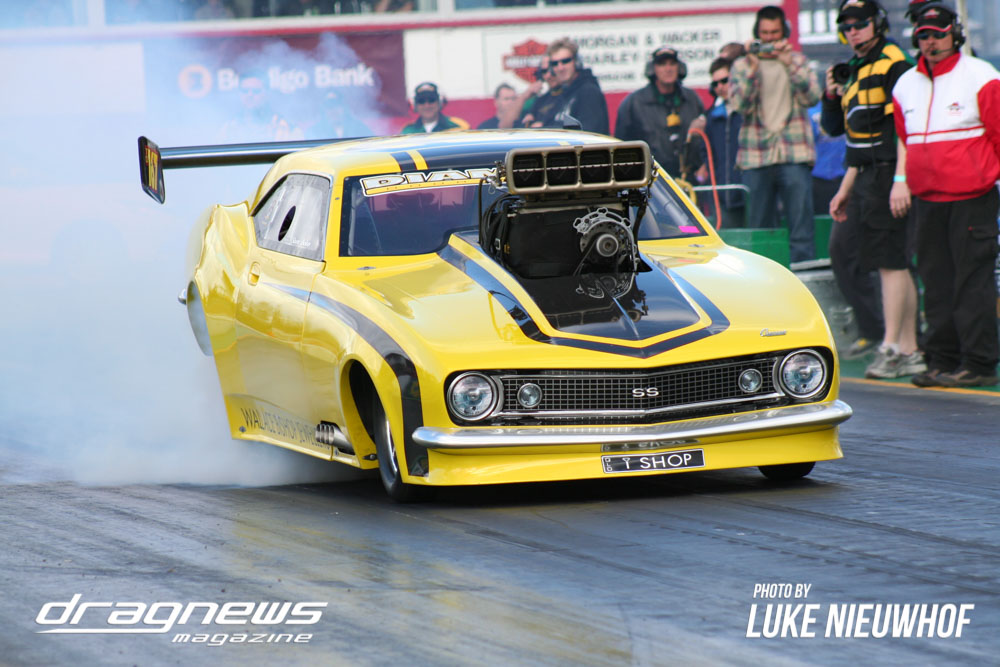 Stuart Bishop joined Top Doorslammer with this stunning Camaro in 2007. The car was famous for having an actual diamond embedded in the roof, thanks to Bishop's business Wallace Bishop Jewellers. It was built by Murray Anderson.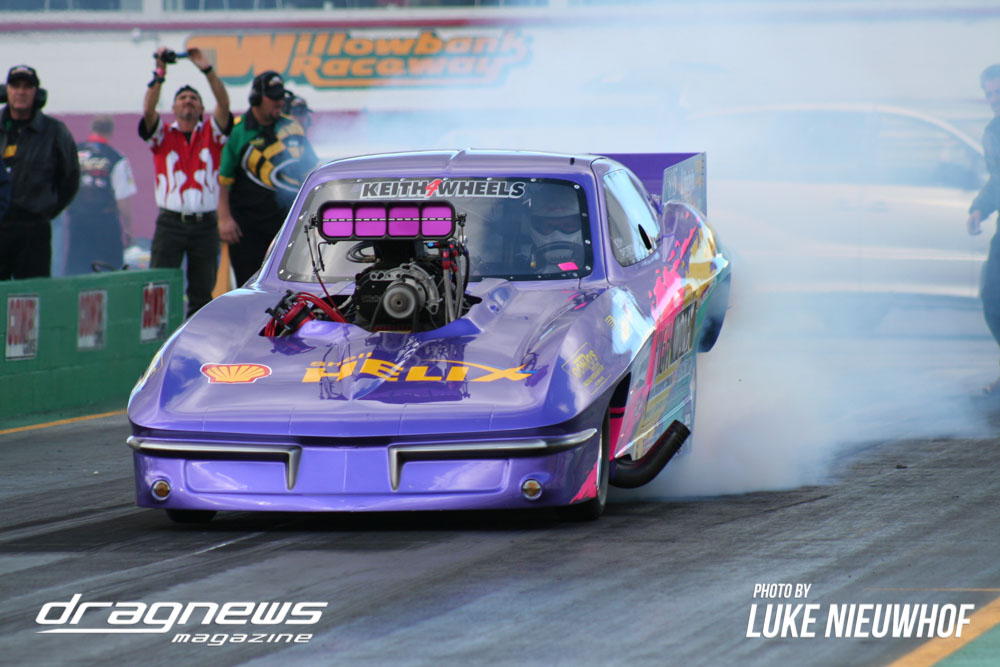 Kym Petterwood's 63 Corvette was one of a few that ANDRA worried were going to take over the class for a time due to their sleek, Funny Car-like shape. Petterwood was an ex-Pro Stock driver.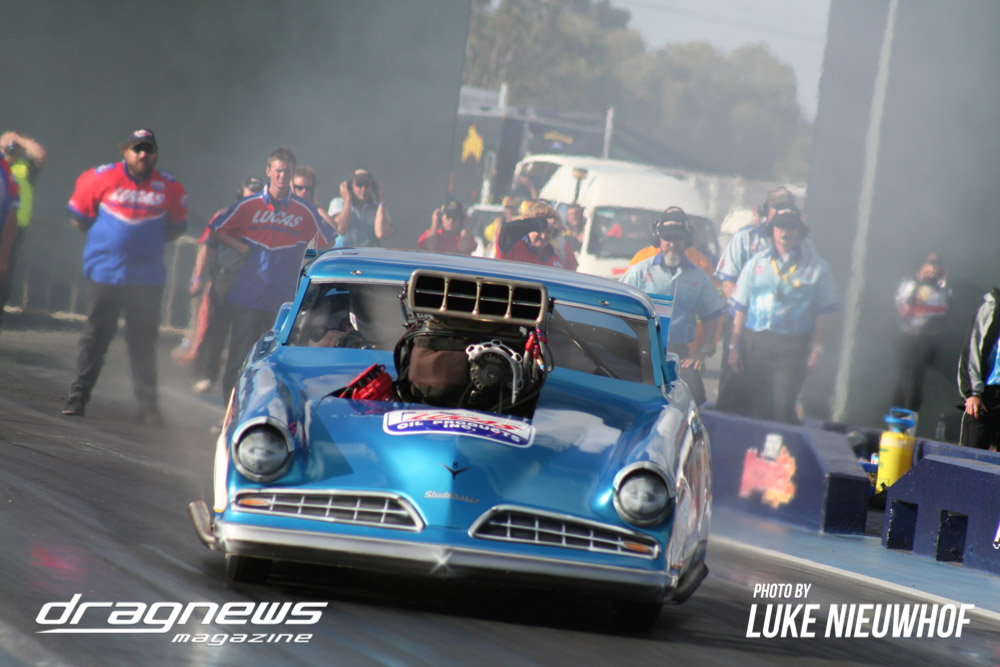 Gary Phillips' Studebaker was a little different, being a right hand-drive vehicle. Before shifting to a PSI, Gary used a Whipple supercharger.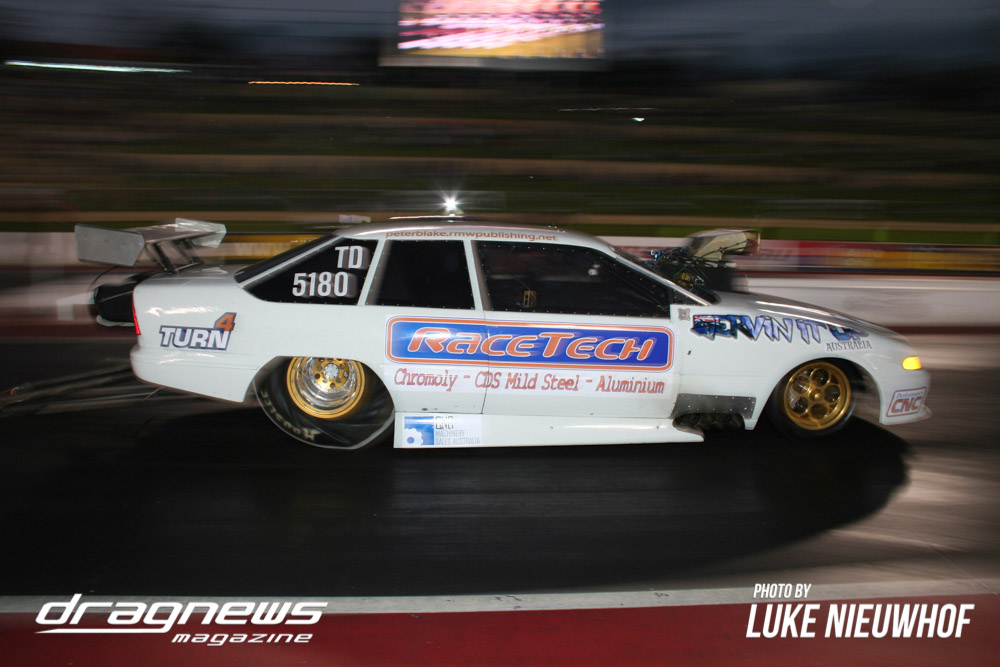 Rob Broadbent was one of the few to ever run a Sainty motor in Top Doorslammer. Before that it had a McGee, so Broadbent has clearly been a fan of Australian engine technology!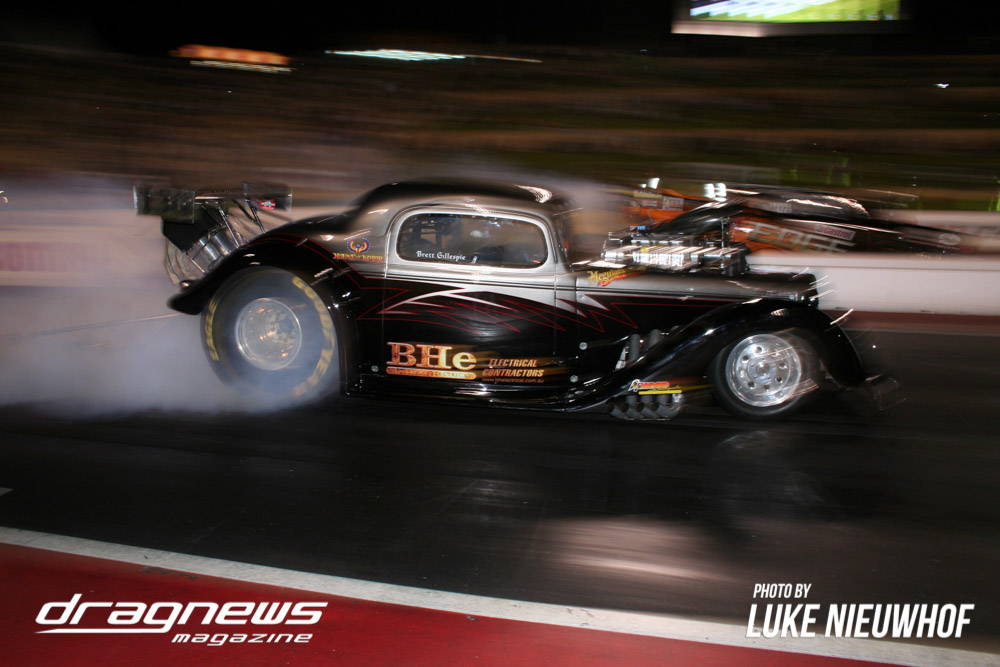 The variety of Top Doorslammer has always been its appeal. Brett Gillespie's 1934 Chev hot rod is one such example! The car later had its wheelbase extended to make it more stable on track.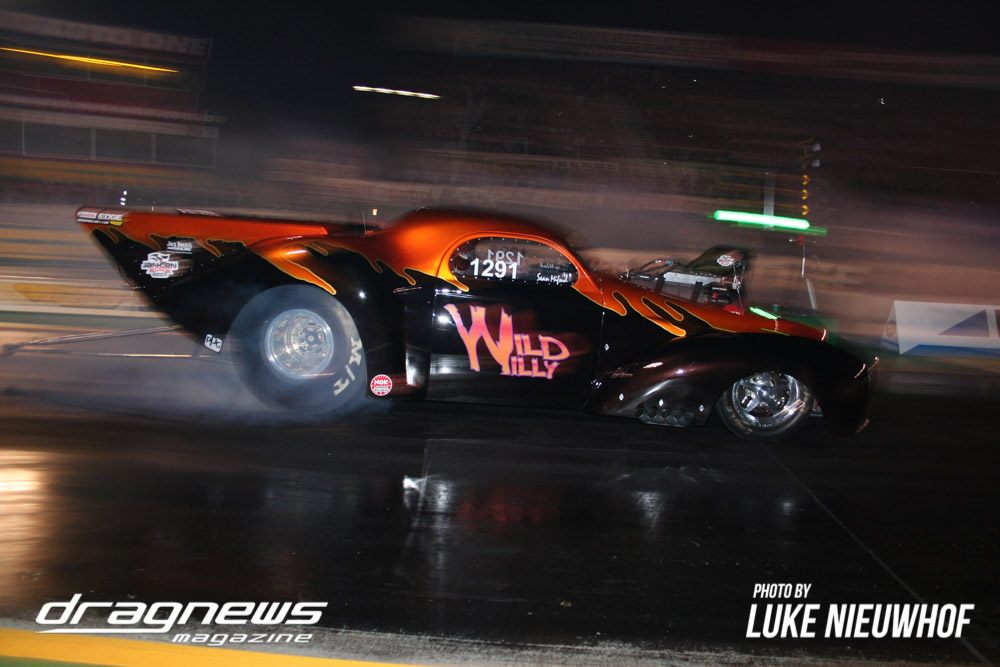 Sean Mifsud's 1941 Willys, named 'Wild Willy', was a radical looking machine. It originally had an Alan Johnson wedge-headed Oldsmobile combination topped with a roots blower.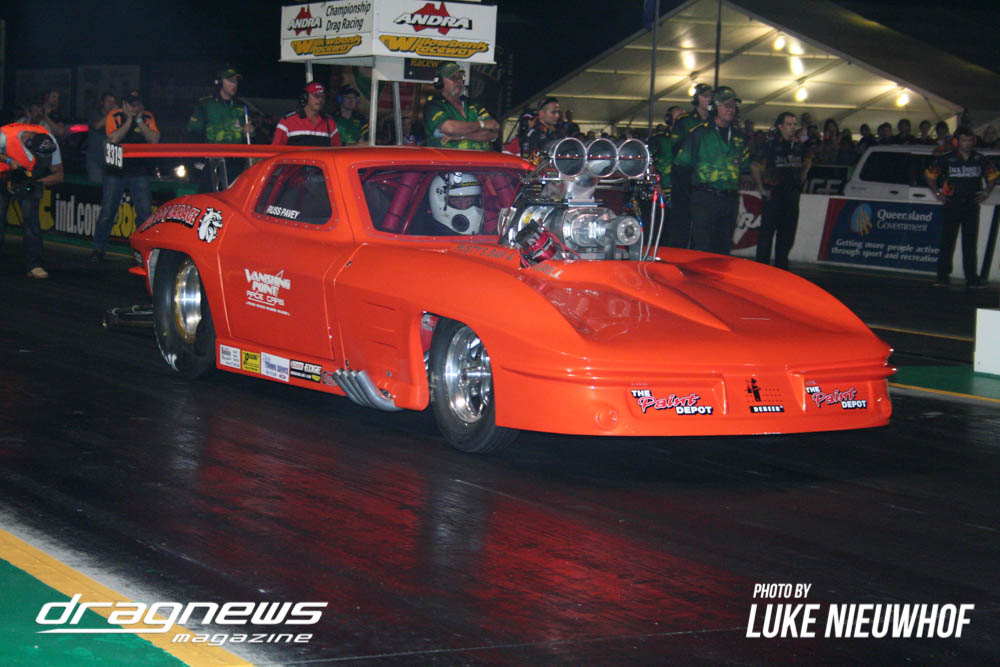 Queensland's Russell Pavey first emerged into Top Doorslammer in 2008 with this 63 Corvette from Vanishing Point Race Cars. I'm not sure if this is correct or not but I seem to remember this possibly being a kit car? Feel free to correct me, Russell!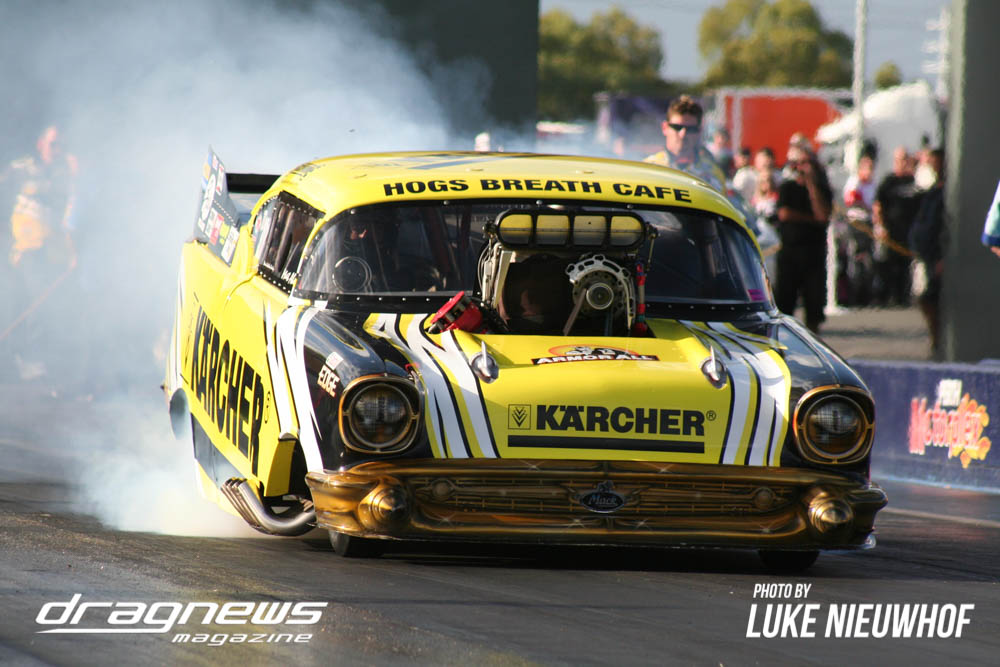 The Northern Territory's Matt Abel ran as part of Team Bray Racing for a season or two, carrying bright sponsorship from high pressure water cleaning company Karcher. This car was the one Victor ran in the late nineties, which Ben then took over in the early 2000s.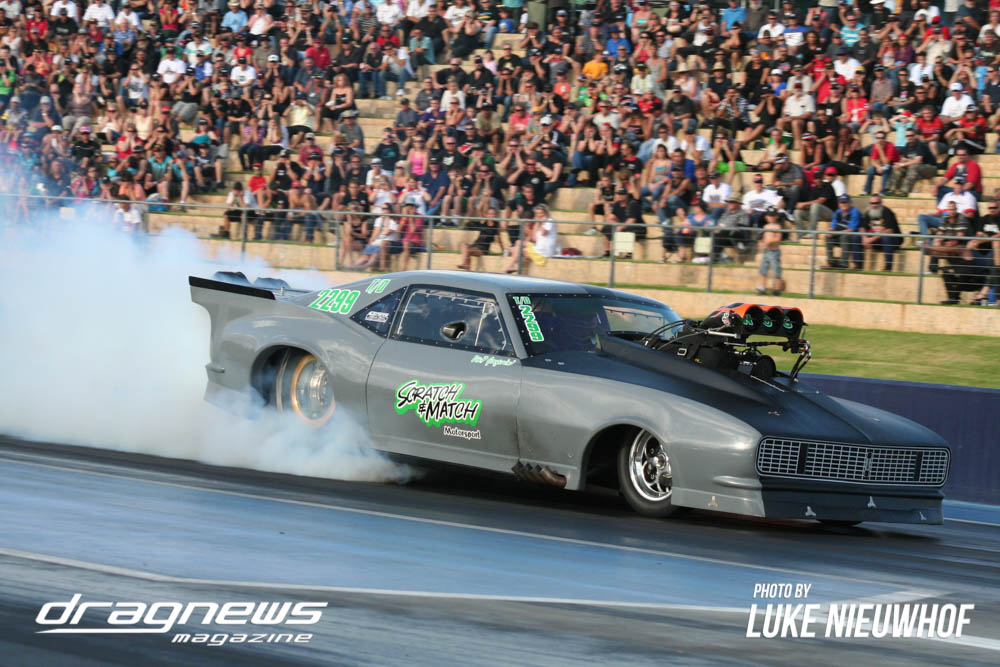 2009 saw Daniel Gregorini's G Force Race Cars-built Camaro hit the track for the first time. This car is still racing today and has been as quick as 5.65.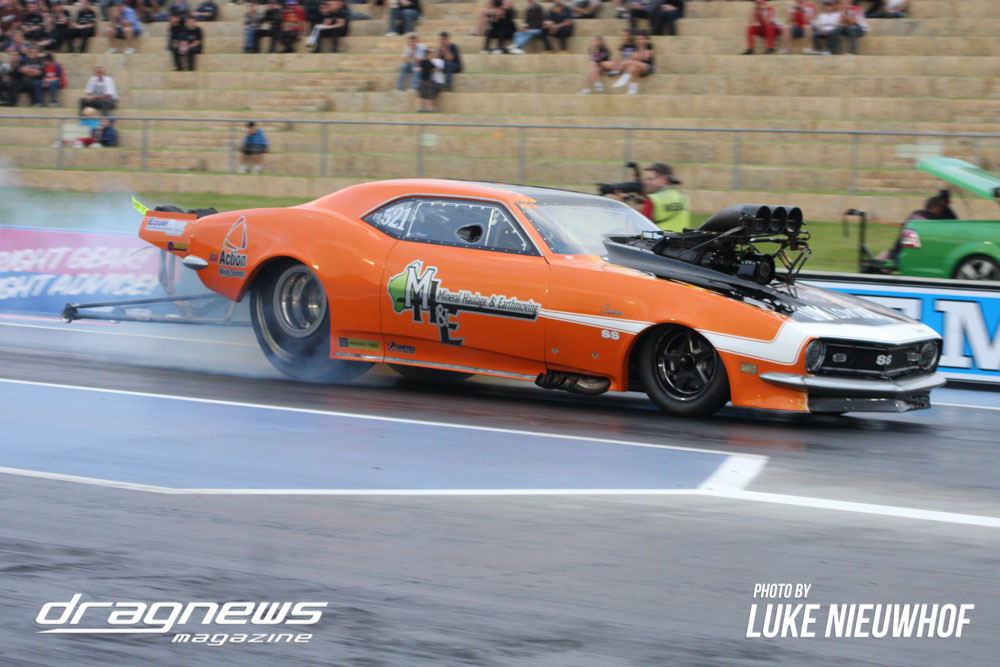 Adam Croker moved on from his Corvette to this G Force Race Cars Camaro, which later had a high speed accident in the braking area of Perth Motorplex. Grant O'Rourke purchased the car and transformed it into a Pontiac Firebird.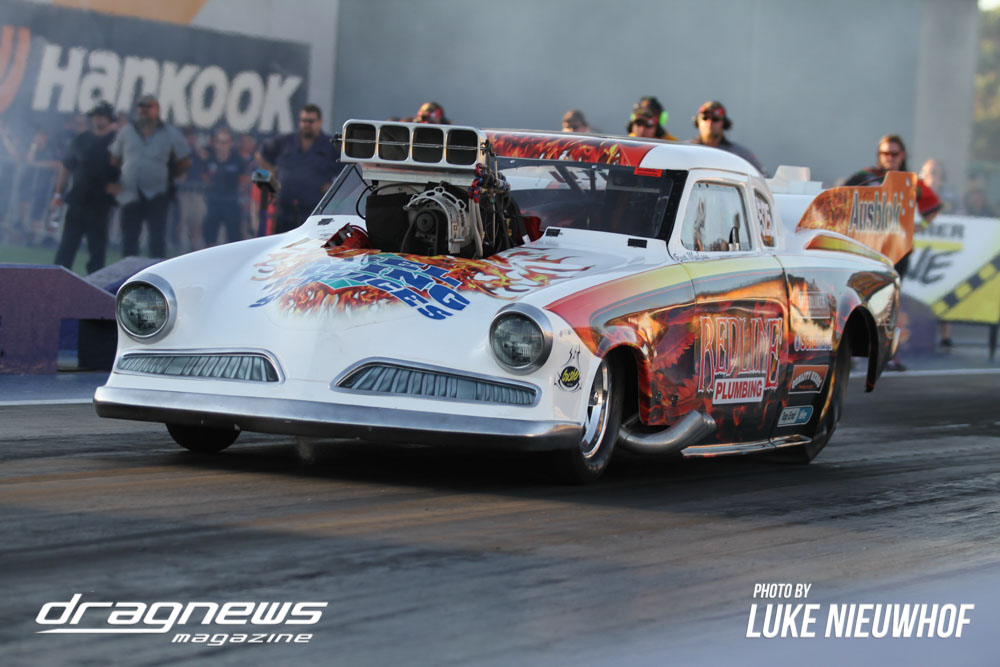 Scott MacLean's Redline Plumbing Studebaker was an ex-Brett Stevens Racing car based out of the Northern Territory.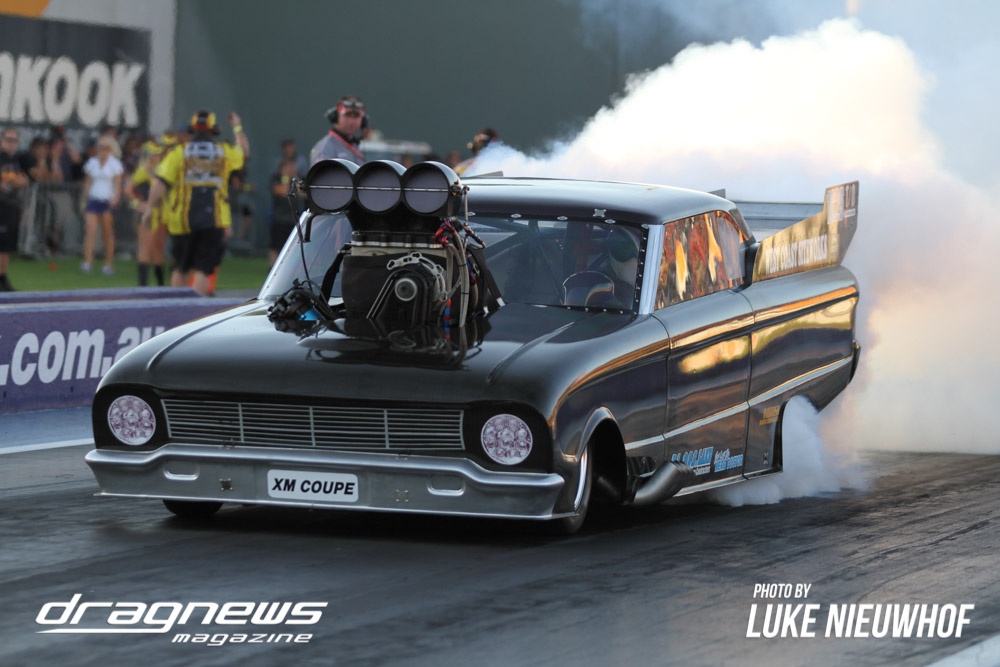 WA's Murray O'Connor ran an XM Falcon in Comp for many years in AA/AP, and he later built this new car, also an XM, for Top Doorslammer.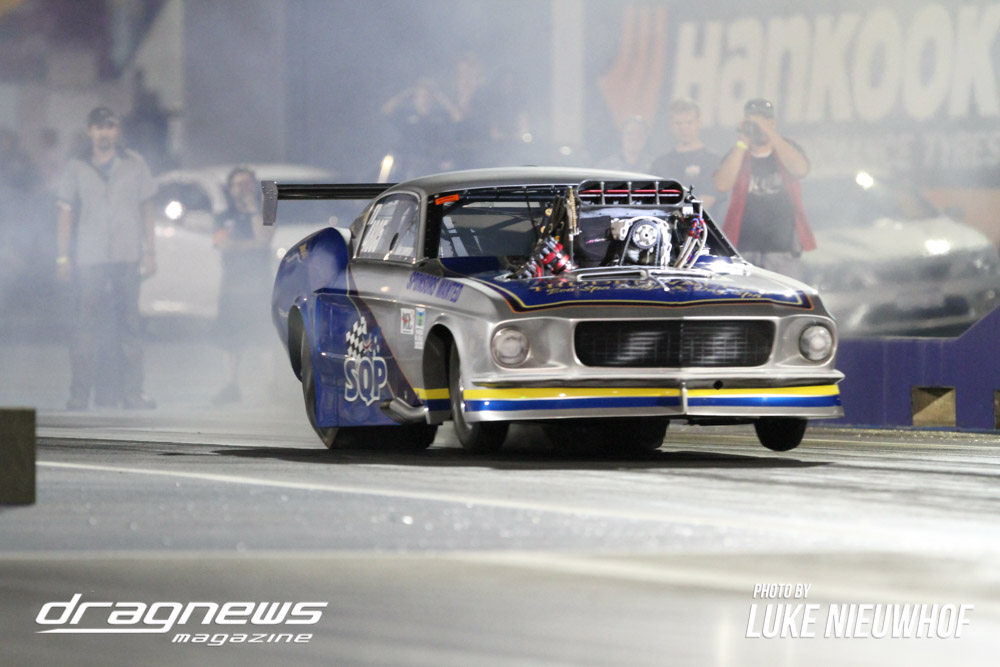 Dave Simpson returned to the scene in 2010 with a Ford Mustang.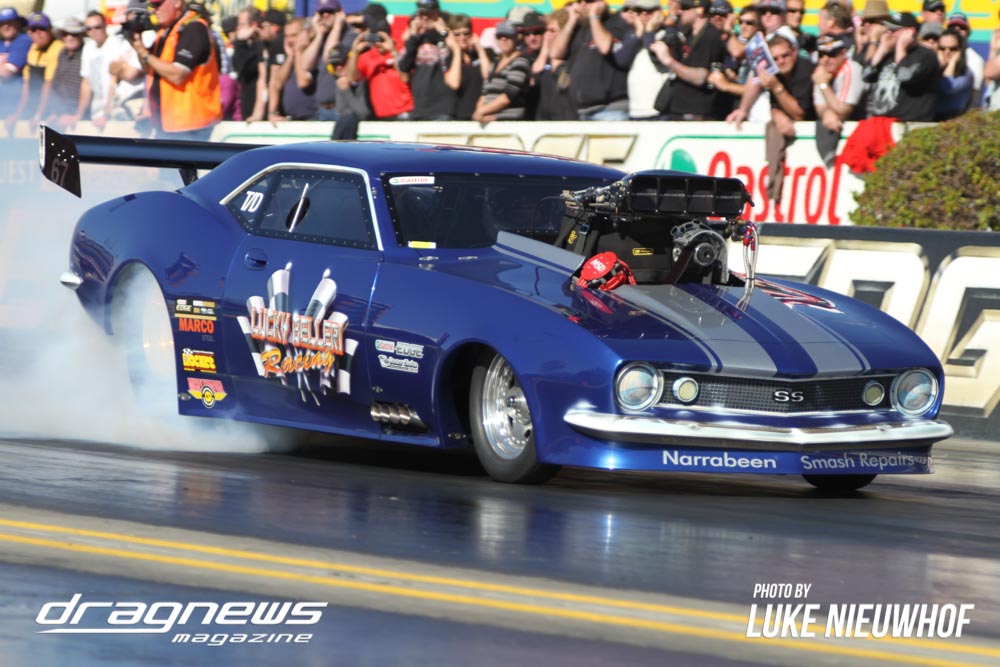 Mark Belleri took over the seat of the family's Camaro as they returned to racing in 2010. Belleri would later drive for Maurice Fabietti and earn a championship.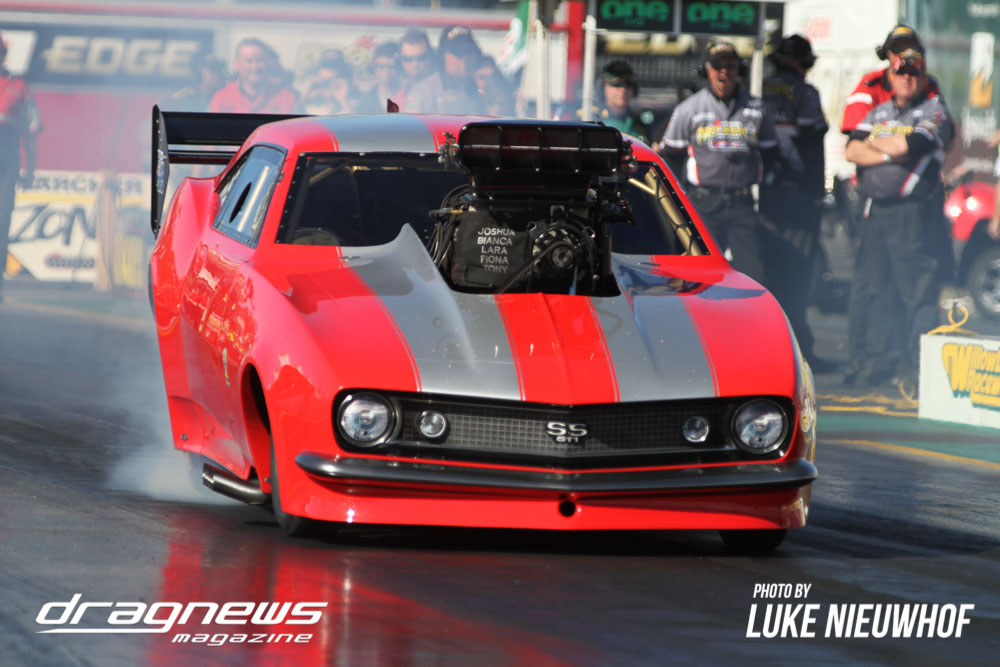 Tony Defelice was one of the few drivers to ever run a nitrous car in Top Doorslammer back in the late nineties, before the combination was scrapped from the class. This Murray Anderson-built Camaro hit the track in 2010.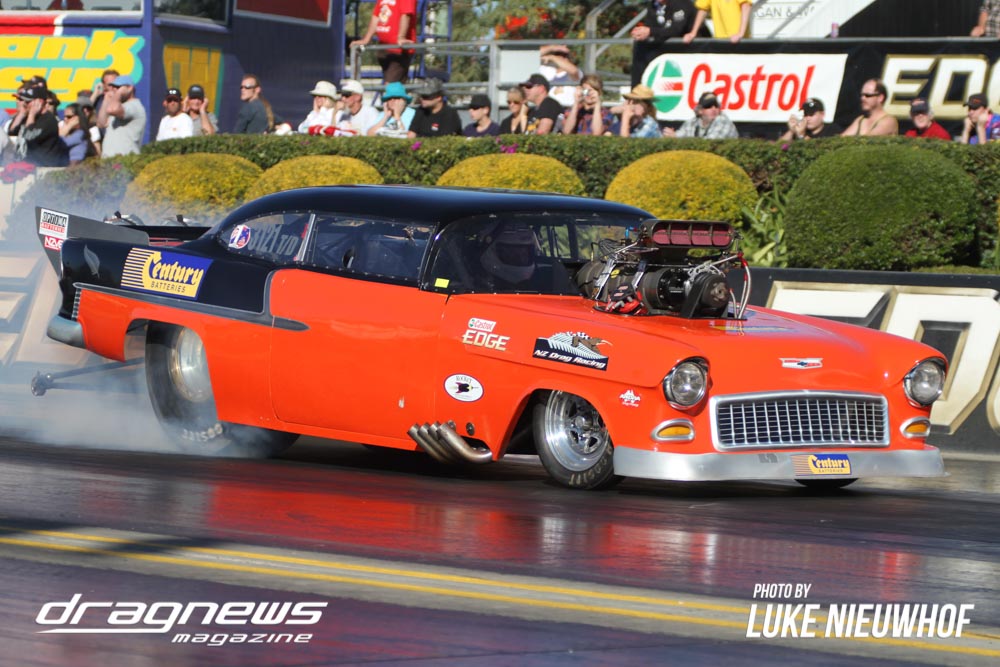 New Zealand's Chris Tynan came to play at the Winternationals in 2010.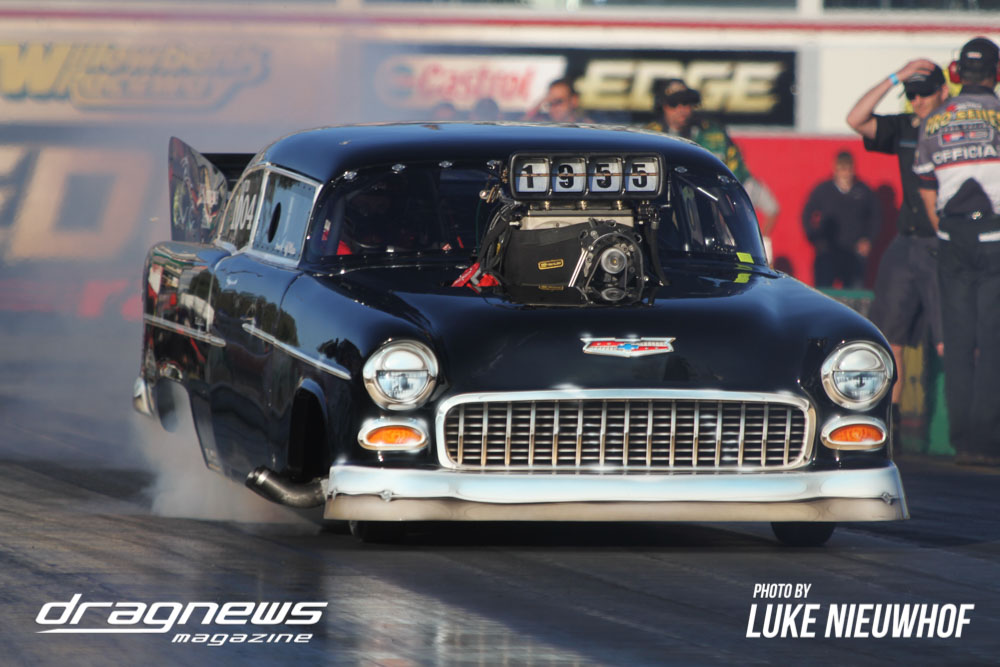 Jeff Wilson's 55 Chev Top Doorslammer kept things simple in black. The class was really booming in 2010 with so many new cars coming online.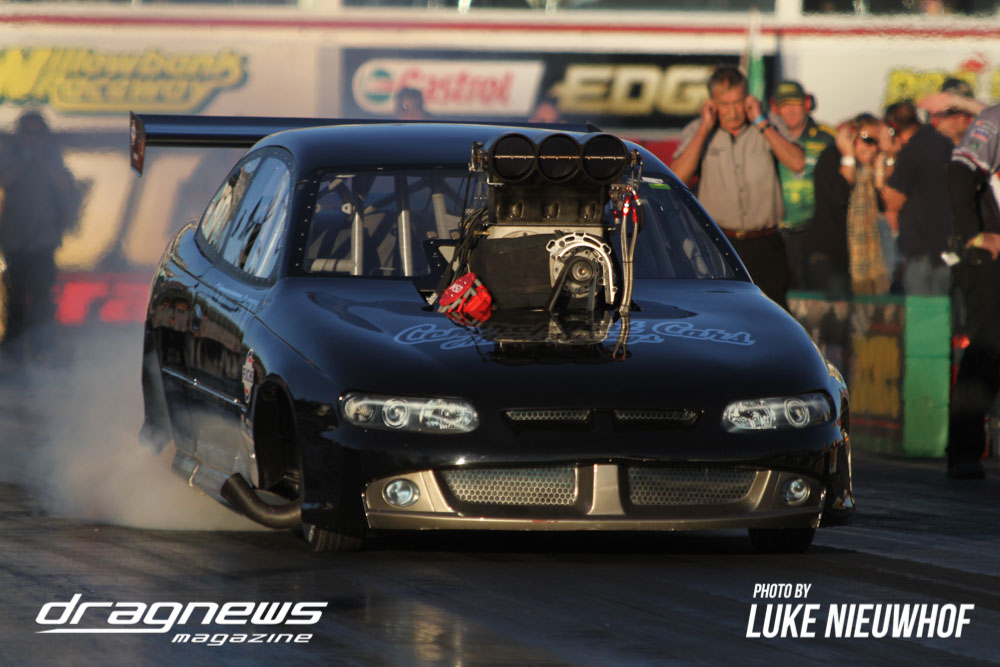 Alice Springs' Andrew Sutton in what I believe is the ex-Fabietti Monaro.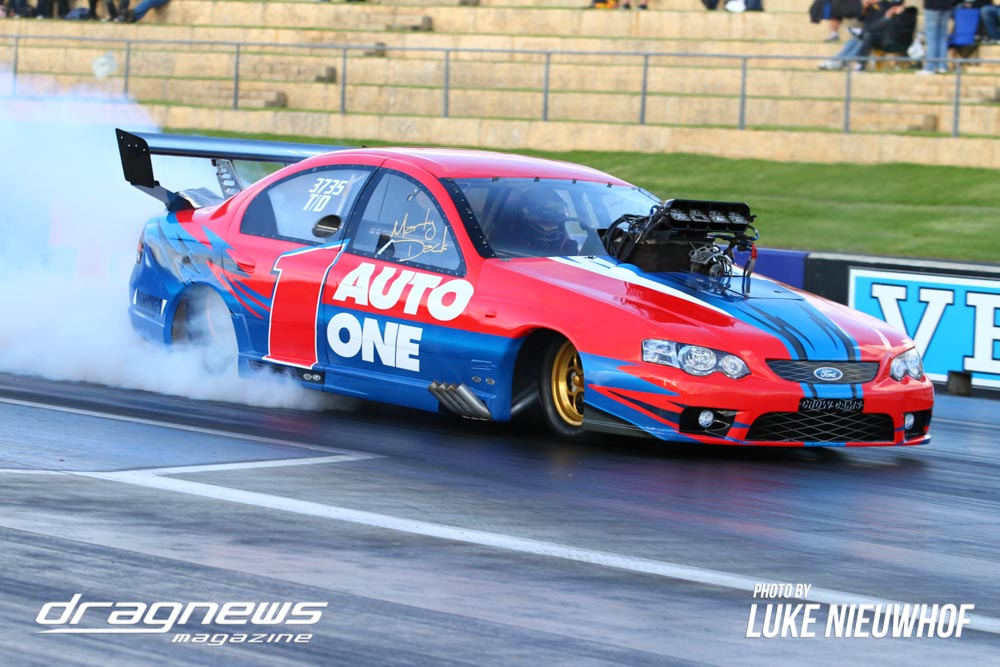 After Brett Stevens' fall from grace, an auction was held to sell off all of his race team equipment. The Ford Falcons thus returned to the track. Marty Dack stepped up from Supercharged Outlaws with this car, which looked great in Auto One colours.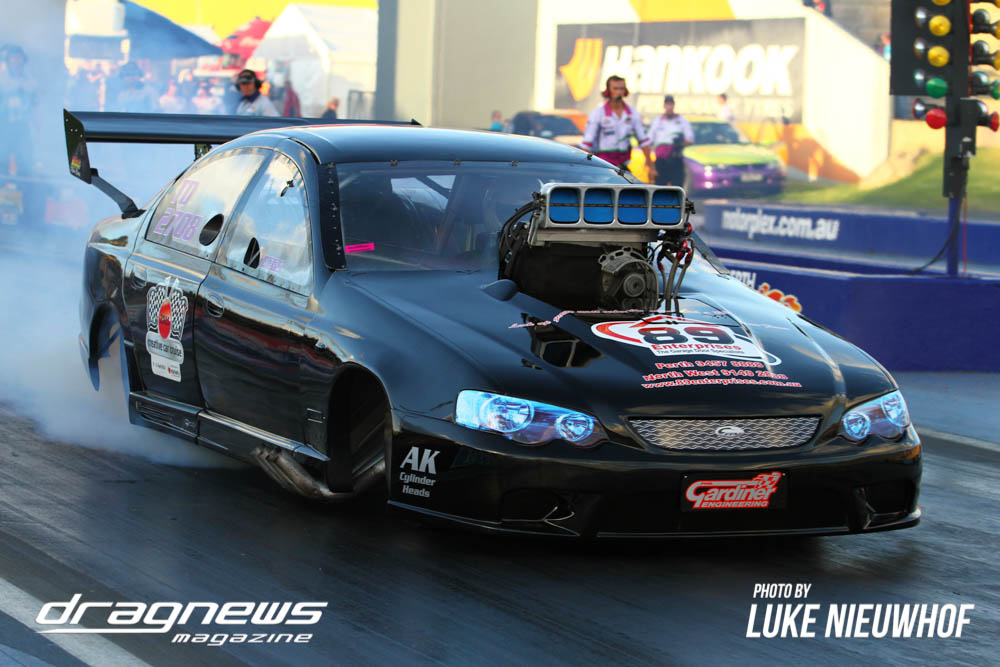 Anthony Begley added a Top Doorslammer to his existing Top Alcohol Funny Car. Begley is now more well known as a driver in the Aeroflow Outlaw Nitro Funny Car Series.
Sydney's Phil Glendenning made just a few appearances in Top Doorslammer guise with his Falcon.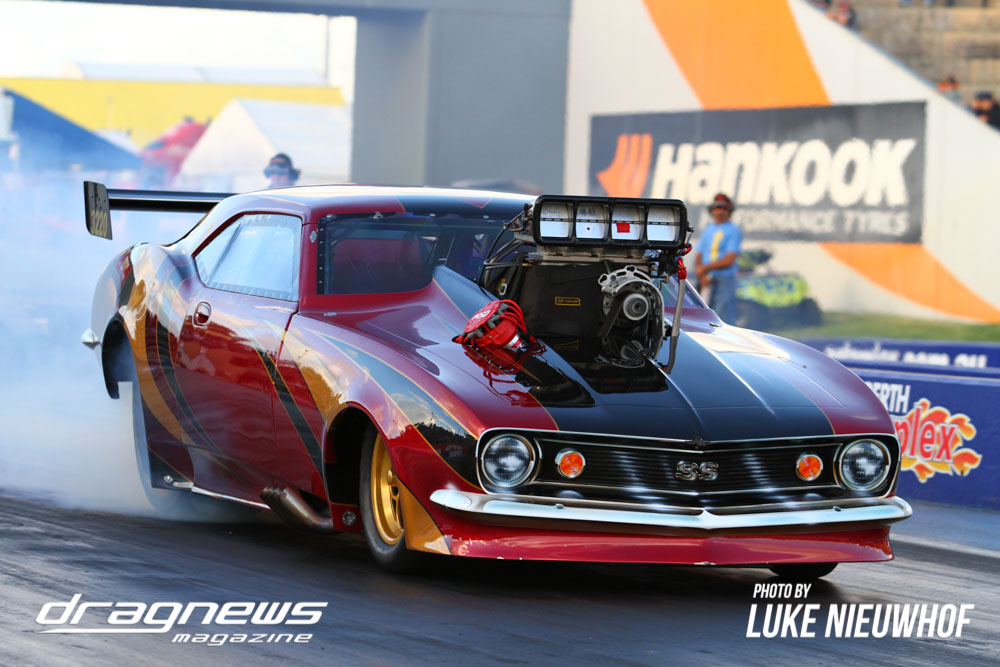 Ivan Skaramuca made just a handful of appearance in his Camaro. He was part of a 22-car field at the 2010 Goldenstates.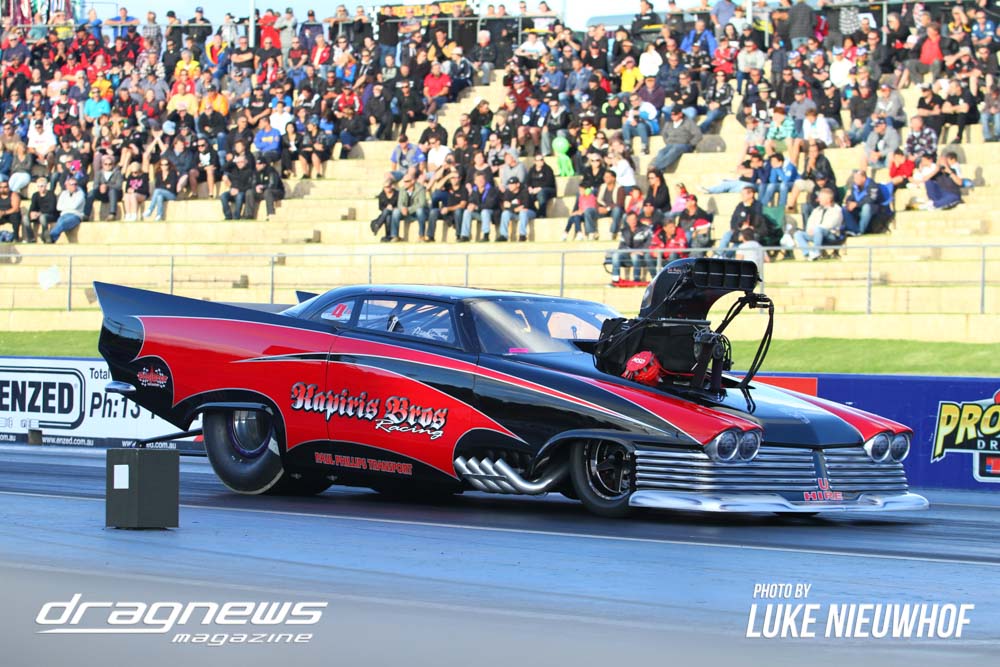 Peter Kapiris unveiled a new Chrysler Saratoga to replace his Studebaker. The insane wedged looks earned quite a following for the already-popular driver. The car was another Murray Anderson build, and is still sitting ready to go today.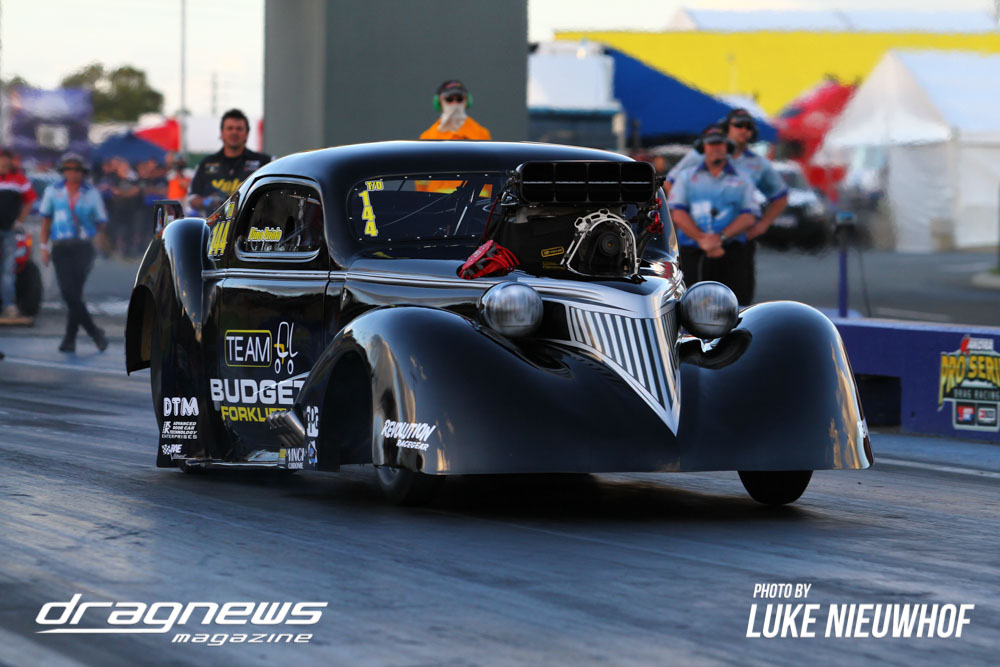 Ex-speedway racer Pino Priolo stepped up to Top Doorslammer with this radical 1937 Chev. The car was a little bit of a headache in the build, as Priolo had to deal with collapsing car builder Vanishing Point Race Cars.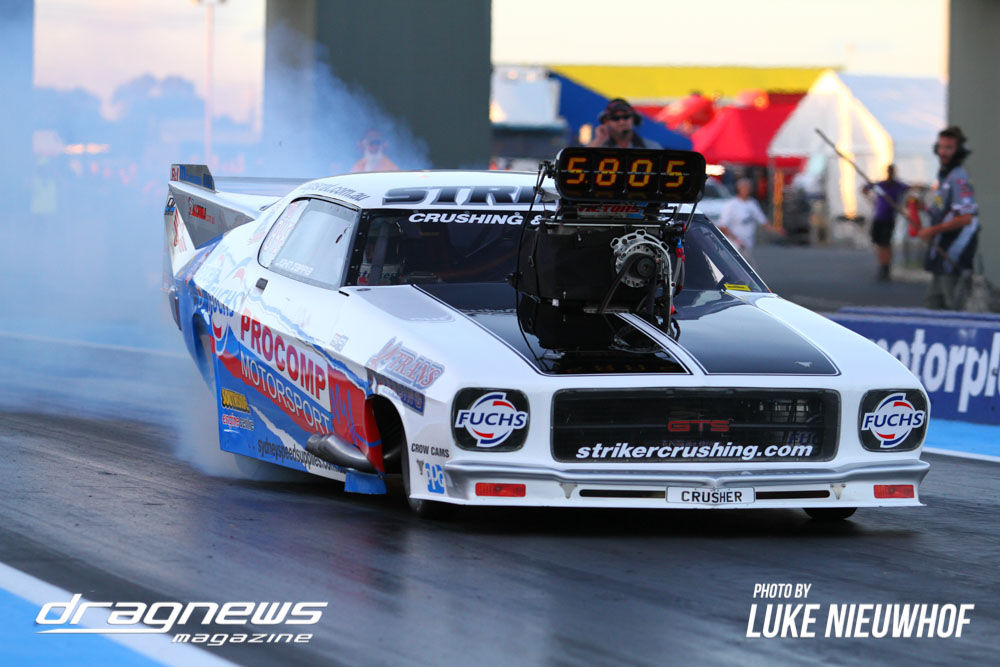 After a crash at Willowbank in 2009, John Zappia changed to the 'Crusher', a car that had been built for sponsor Craig Pedley. This is the car that Zappia still campaigns today.
Sydney's Sean Mifsud switched to a sleek Camaro, which I think later went to the Cannuli family.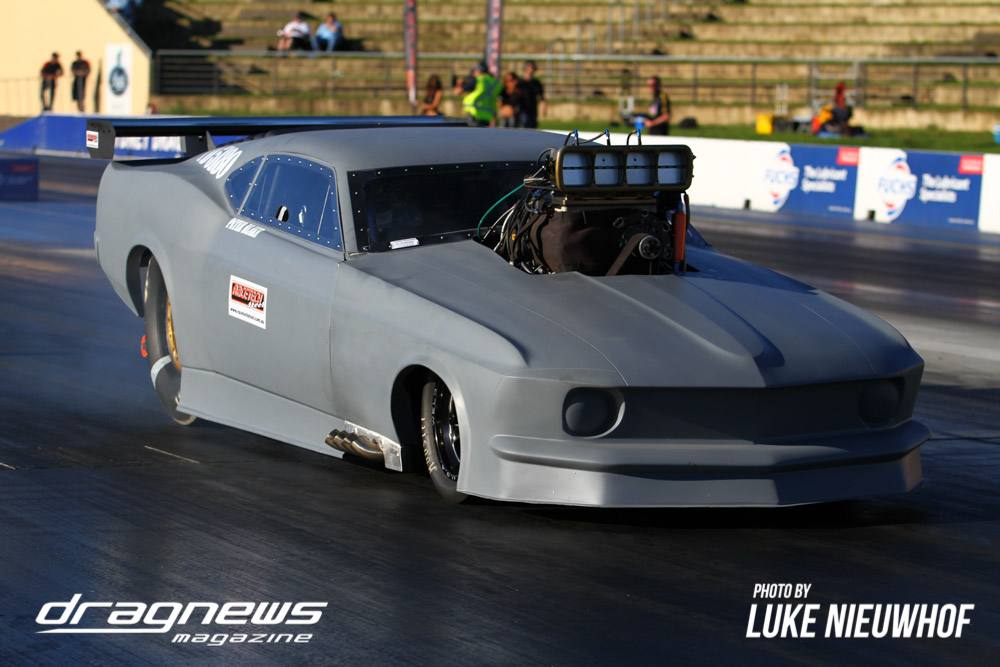 Peter Blake self-built his Ford Mustang, using a Sainty engine – naturally inspired by father Rob Broadbent!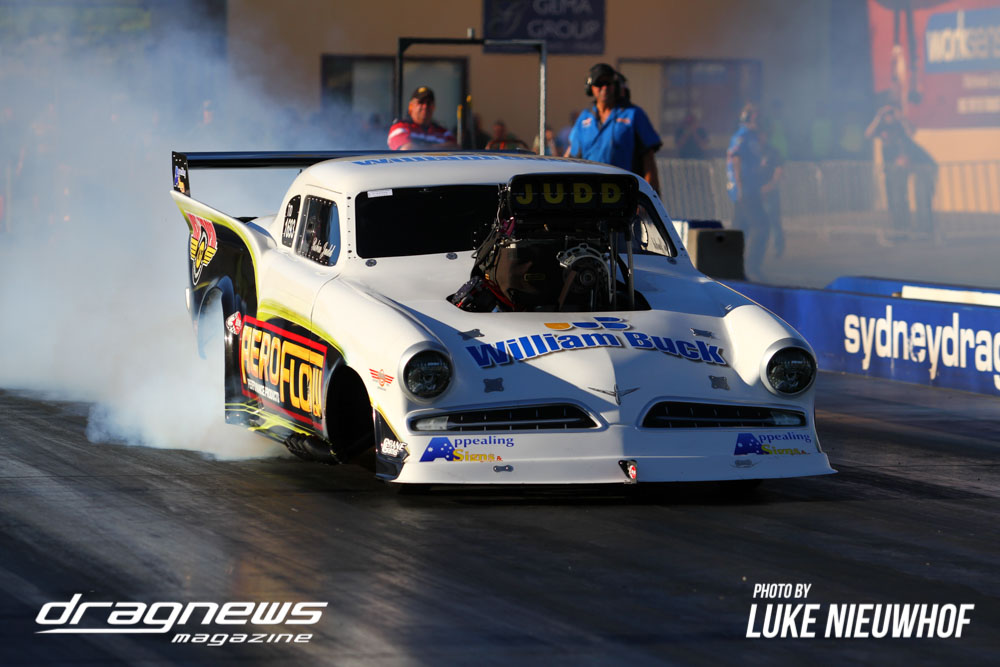 We probably should have mentioned Robin Judd by now. He stayed at the forefront of Top Doorslammer with his Studebaker for many years. It was at one point a world record holder when it ran 6.17 at the 2000 Winternationals and would go toe-to-toe with John Zappia for the quickest doorslammer in Australia as times plunged into the 5.8s and 5.7s.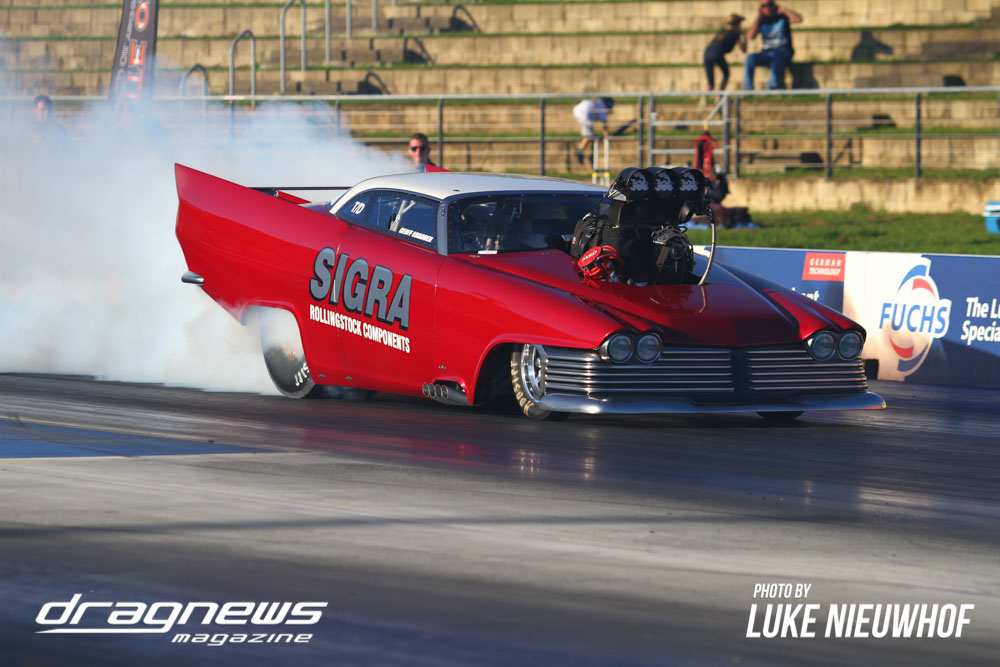 Geoff Gradden joined the Saratoga club, unveiling his Murray Anderson-built car. Gradden has since become one of the quickest privateer drivers in the country.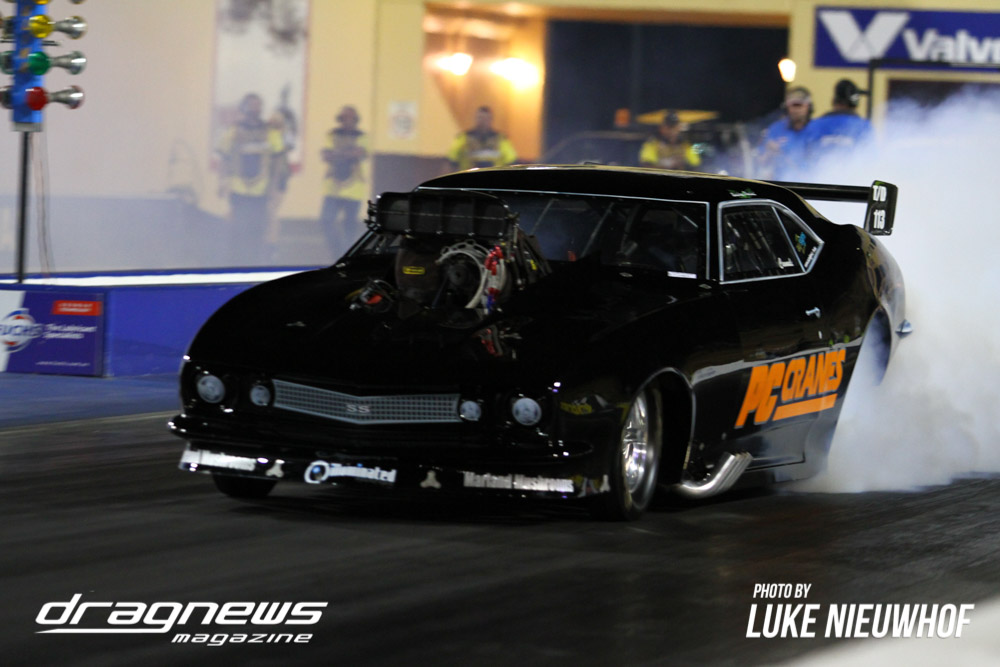 John Cannuli added a Top Doorslammer Camaro to his Top Alcohol Funny Car, often doing double duty driving.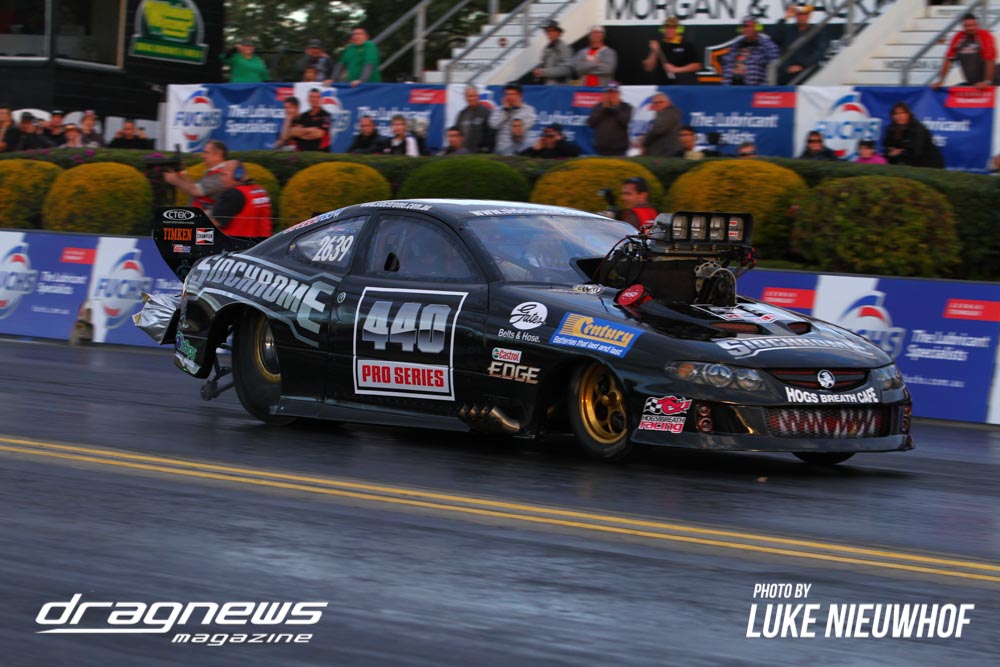 The Bray family's major sponsorship deal with Castrol came to an end in 2010, but tool makers Sidchrome were quick to replace the oil company.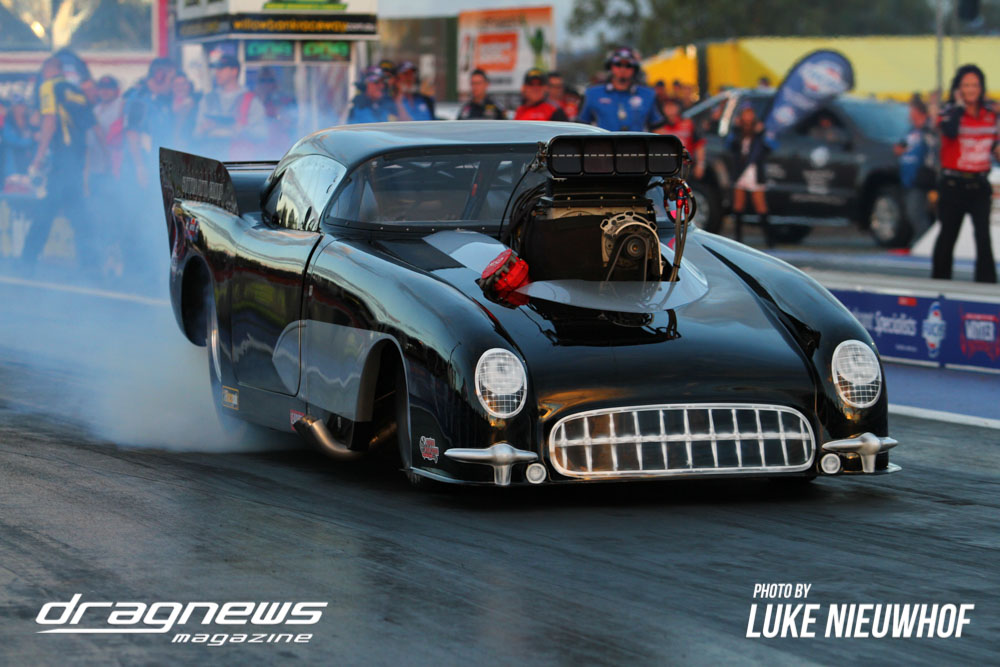 The Adam Croker Corvette changed hands to Andrew Sutton, who made sure the car was in his requisite black.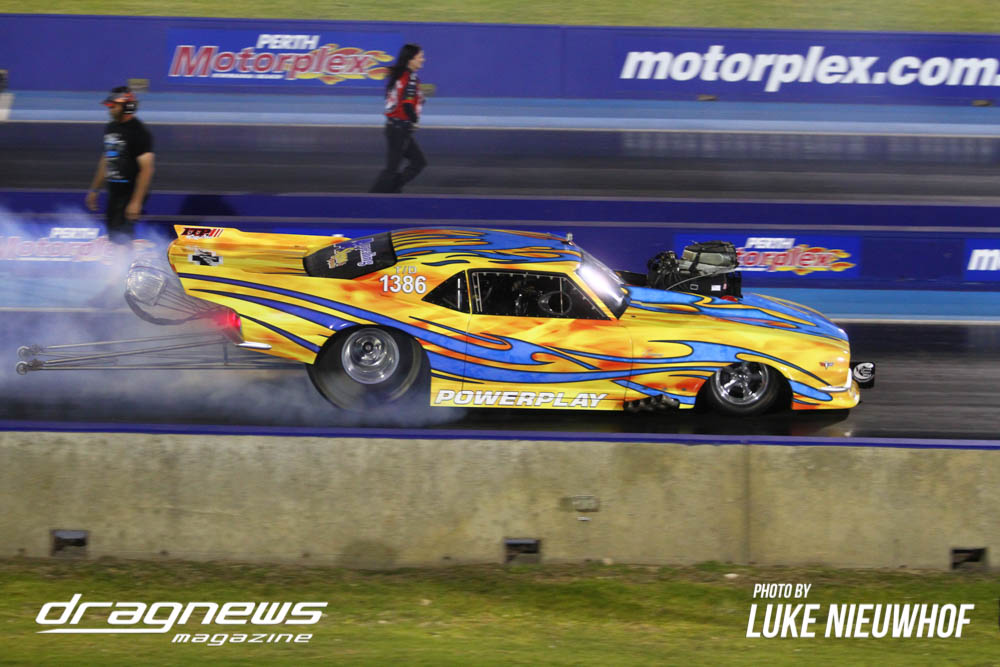 South Australia's Pat Carbone was a long time AA/AP racer who made the switch to Top Doorslammer around 2012.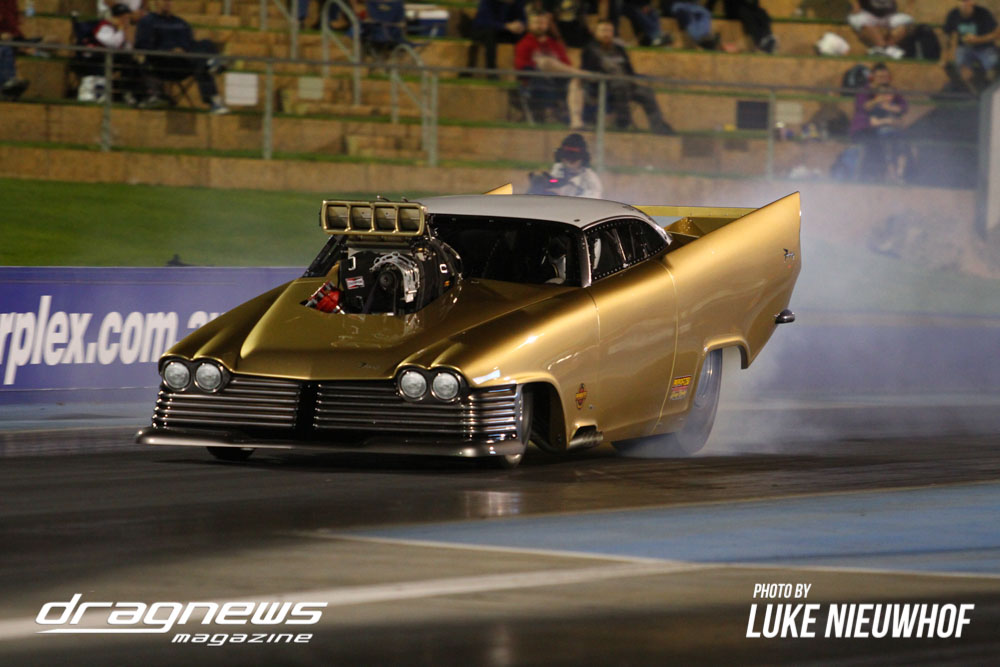 Mark Chapman's 1959 Plymouth Fury brought a touch of gold to the track when it debuted in 2012.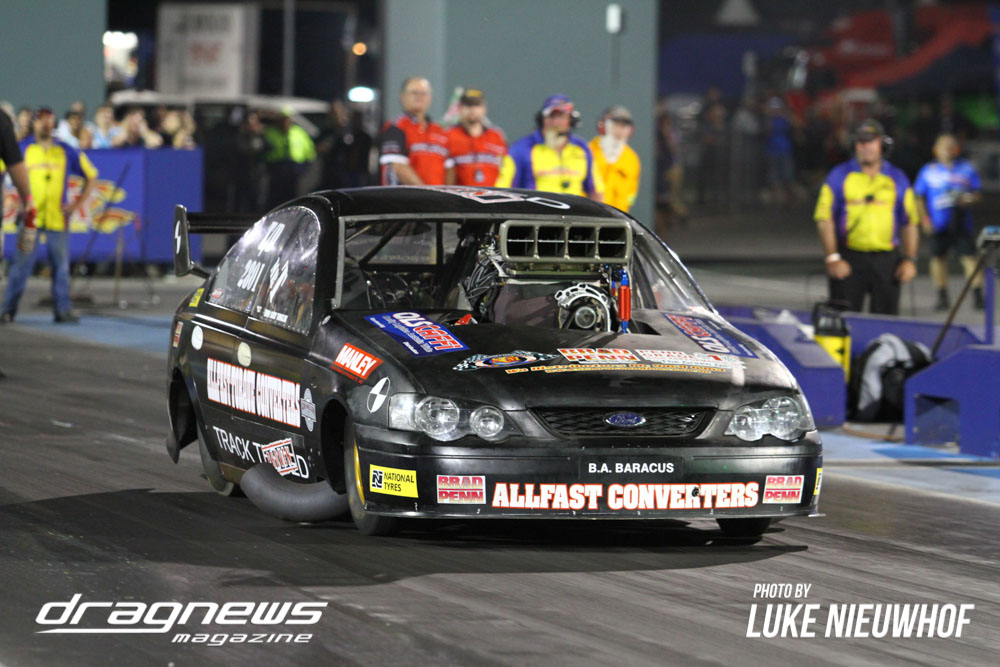 Simon Travaglini's 'BA Baracus' Ford Falcon was a home built car that took a decade to complete. It is not an ex-BSR car, despite the similar body. The car now has radial tyres on the back and makes occasional appearances at Perth Motorplex.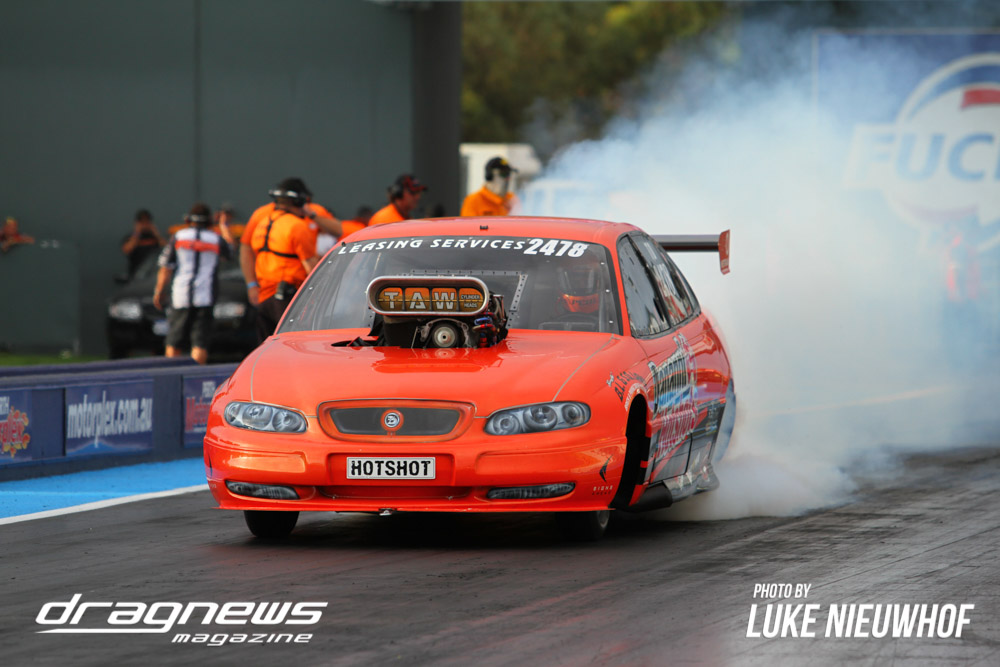 The ex-Peter Hamilton Holden Grange ended up in the hands of Ryan Moresby.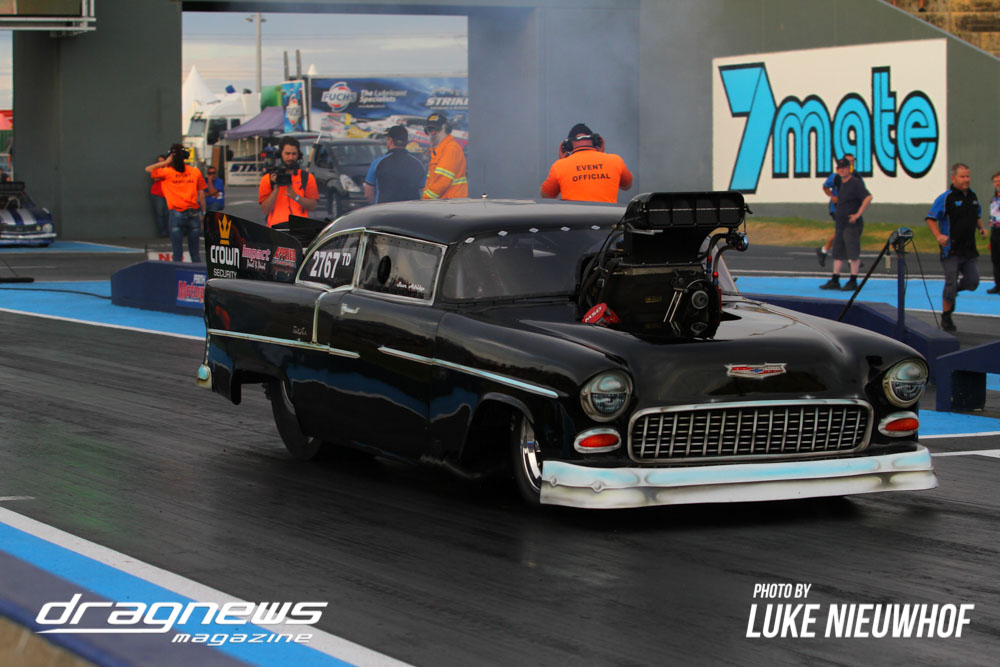 Steve Aldridge went Top Doorslammer racing in 2013. I think this might be Jeff Wilson's old car, but I'm not 100% sure.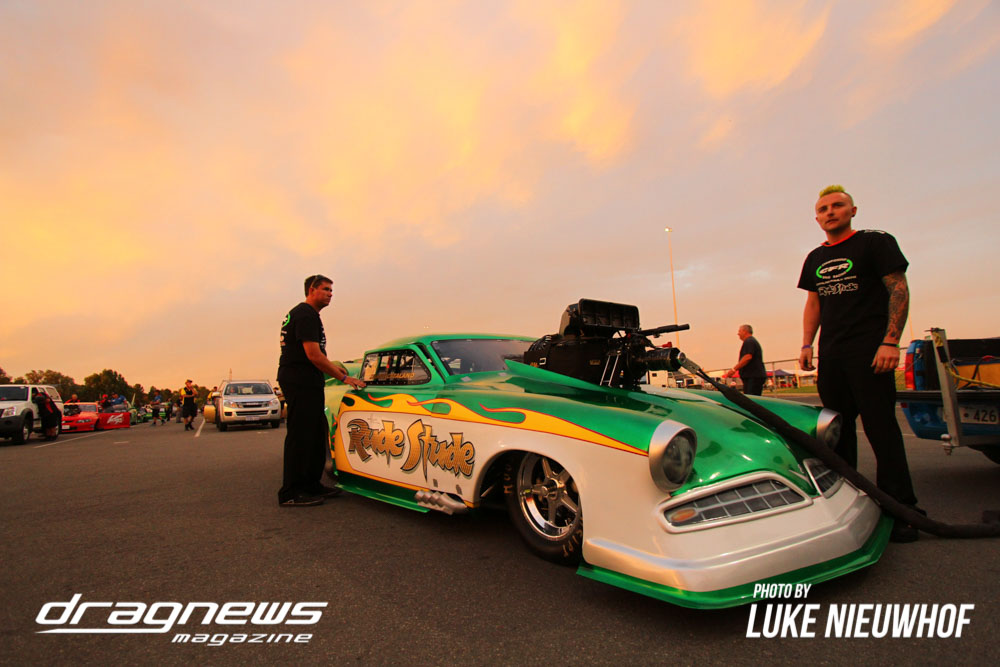 Shane Catalano's Rude Stude debuted around 2014 or 2015. I'm not exactly sure on the origins of the car. It had a big accident at the Motorplex after tyre shaking into the wall, but was later rebuilt for Supercharged Outlaws.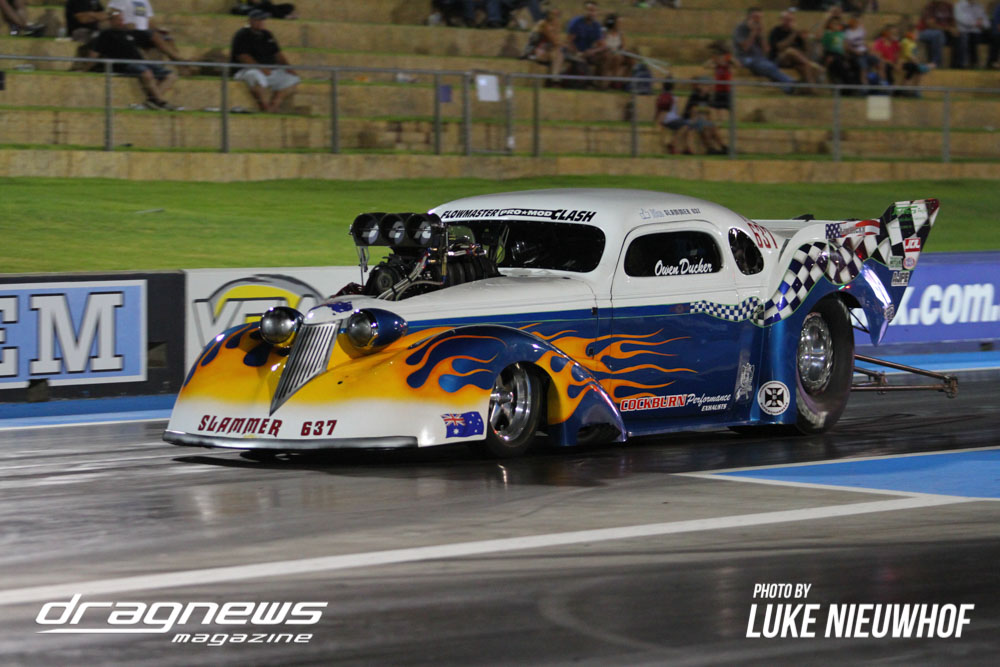 Owen Ducker bought this Pro Mod Chev coupe from the USA and raced it a few times in Top Doorslammer with a roots blower combo.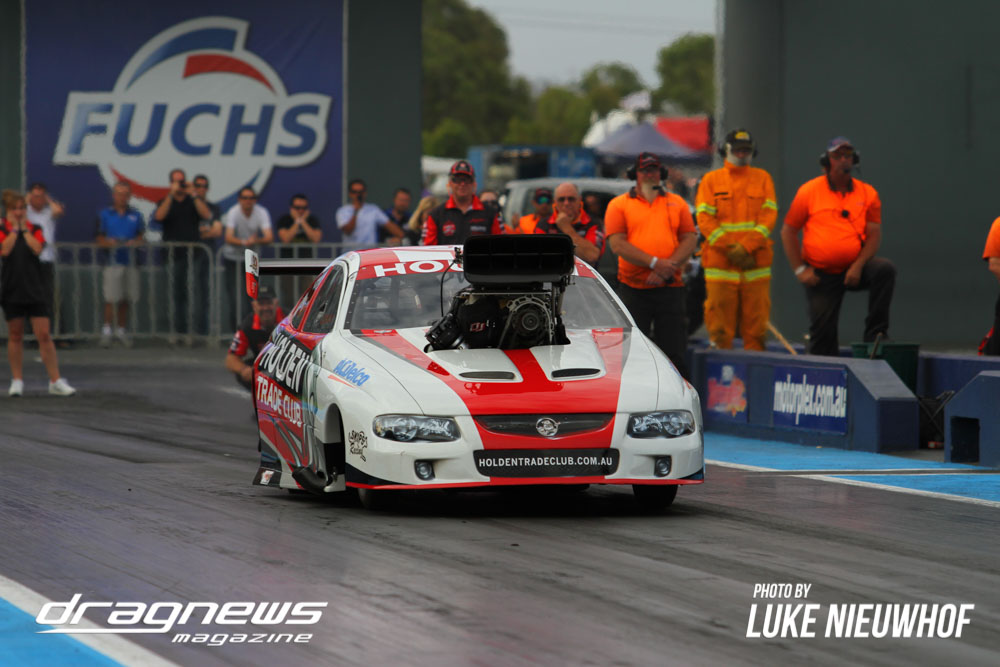 Maurice Fabietti had a new Monaro built by Murray Anderson around 2009 or 10, and would run several different liveries with Holden Trade Club on board. The car was later driven by Mark Belleri (I think this photo may be of Fabietti's last season in the car).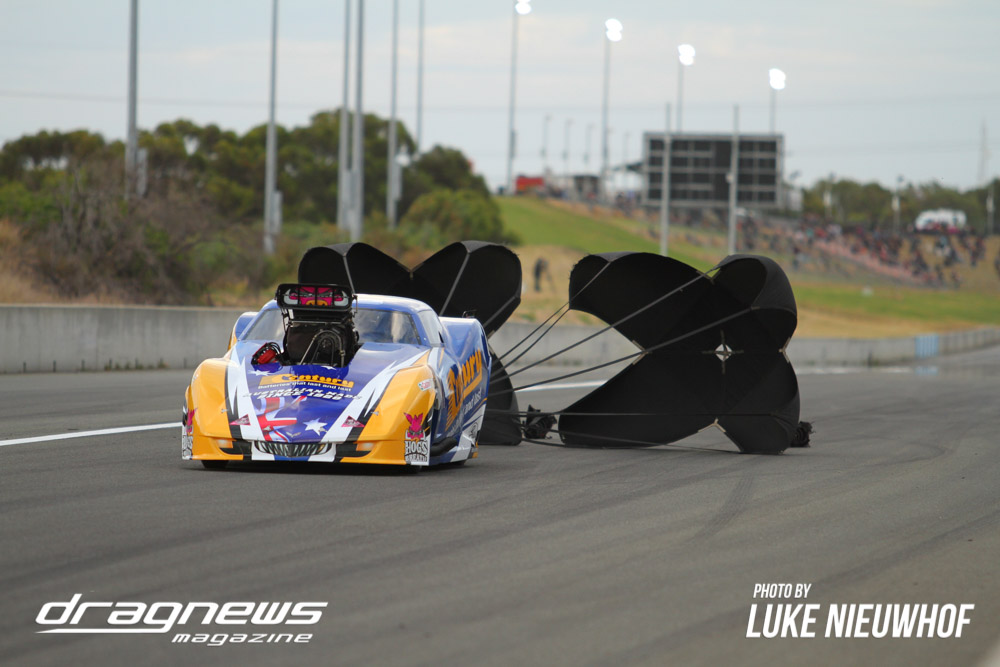 Ben Bray received a new 1979 Corvette Stingray from Murray Anderson which he unleashed in 2015, once he had recovered from a serious accident in his Sport Compact car that left him with fractured vertebrae.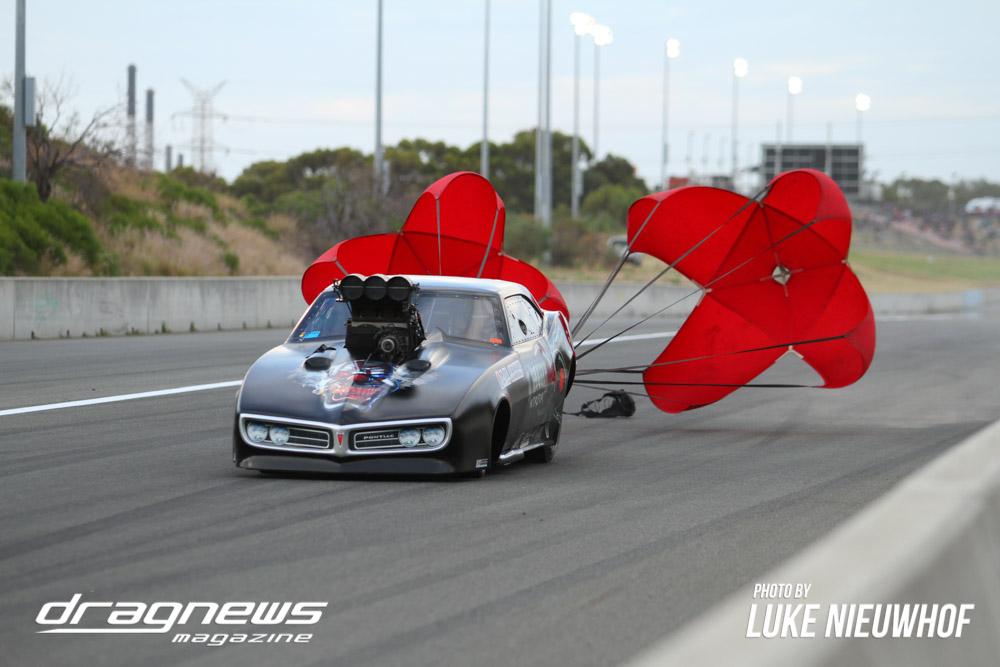 Remember how we said Grant O'Rourke bought the Adam Croker Camaro and turned it into a Firebird? Here it is!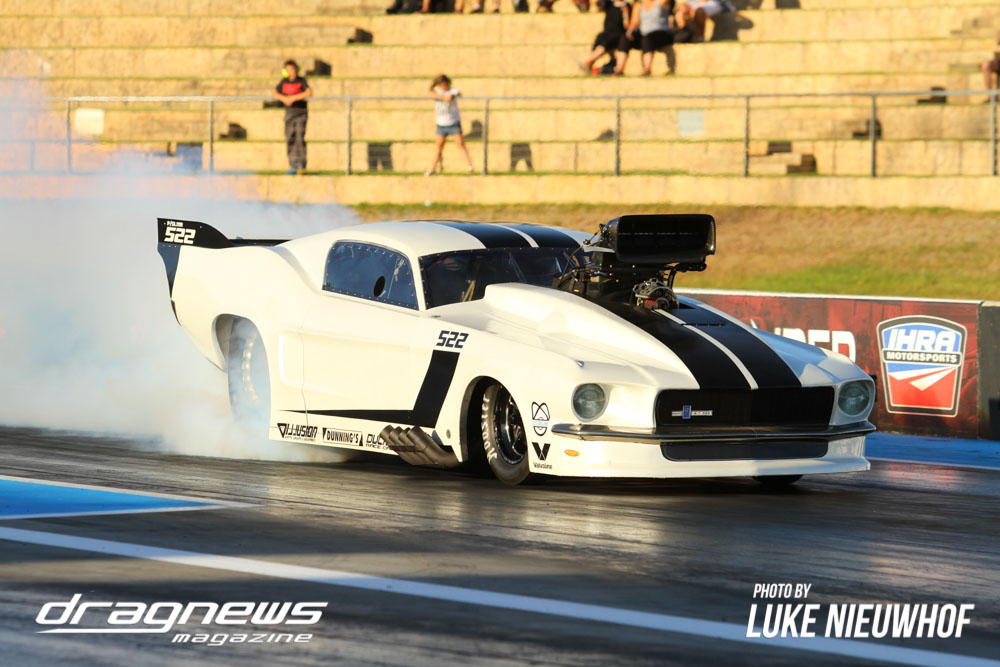 Marty Dack's Larry Jeffers-built Ford Mustang looked very mean on track, and delivered some quick times. It was frequently changing in appearance, sometimes feeling like there was a different wrap on the car at every race! It most recently entered the winner's circle at the 2020 Westernationals.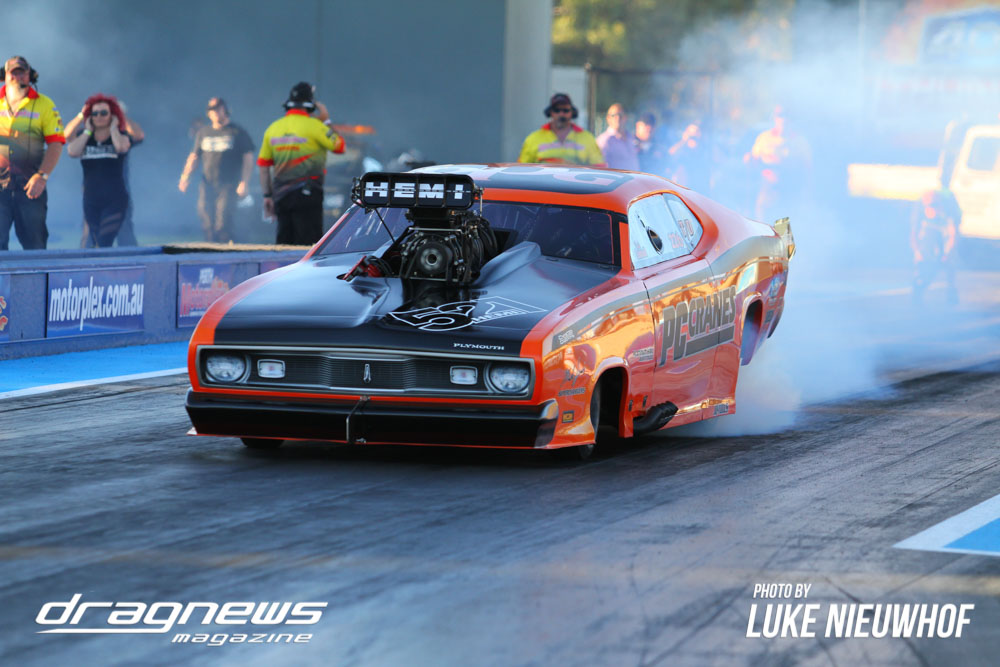 Sean Mifsud's Jancen/McCoy-built Plymouth Duster aimed to bring roots blowers back to the forefront of Top Doorslammer.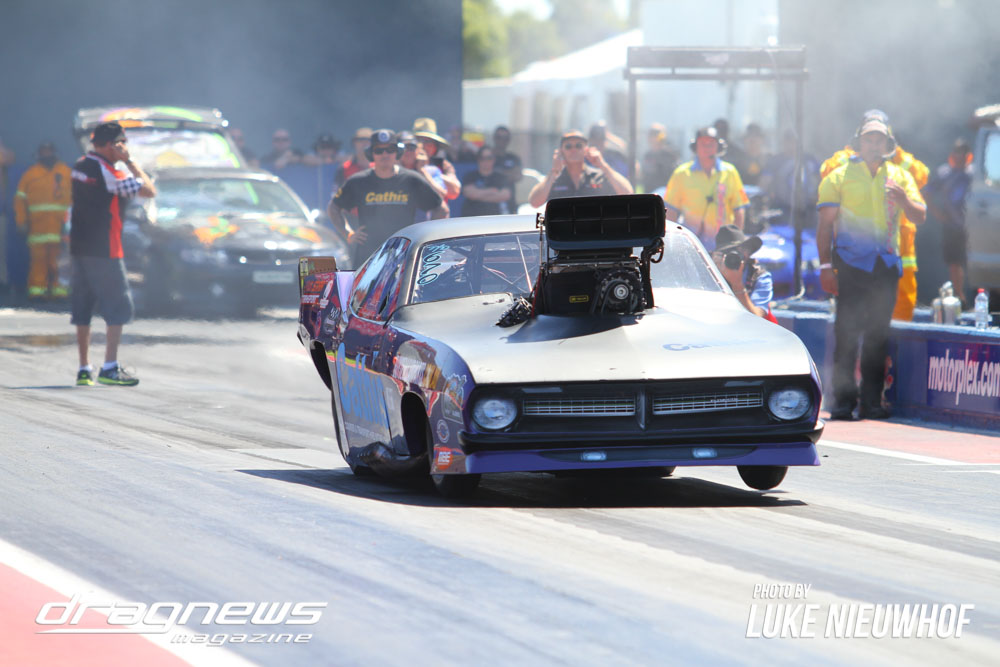 Outlaw 10.5 racer Frank Mamone switched up to Top Doorslammer with this Plymouth Barracuda. The car was later sold to Steve Aldridge.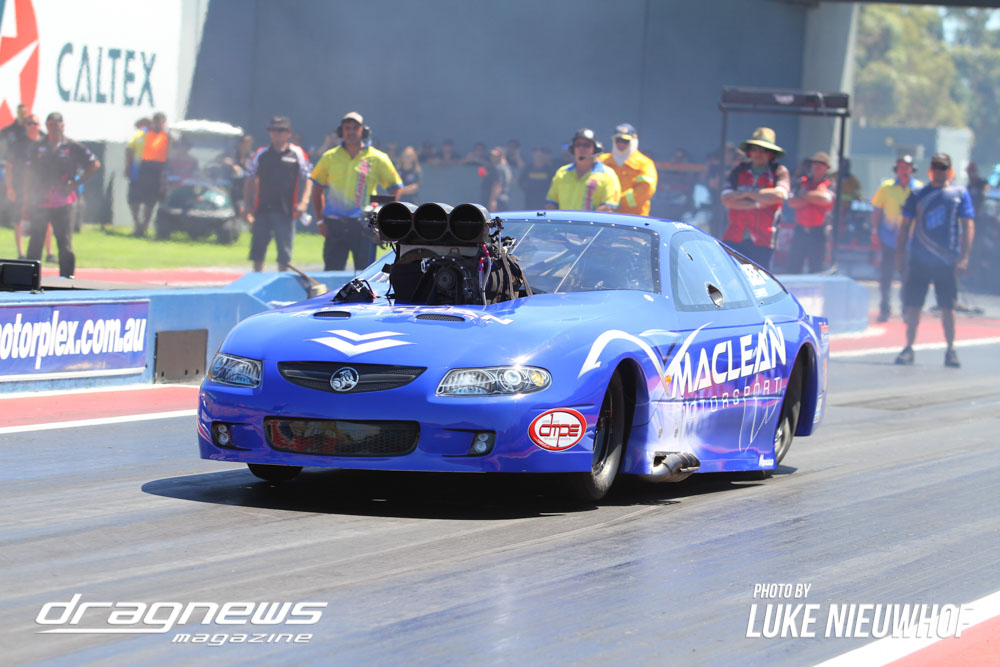 Scott Maclean went big for his return to Top Doorslammer, unveiling this Jerry Haas-built Holden Monaro in 2016. With Darren Mayer power, the car has been a real performer and is the quickest blown sedan in Australia (Scott recorded a 5.572 in testing).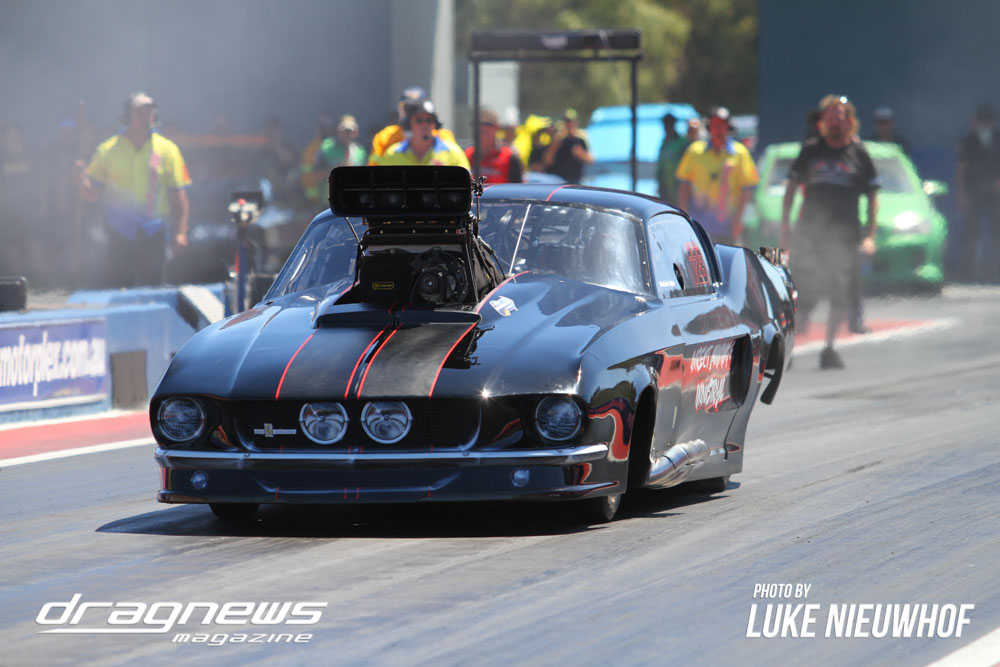 Kelvin Lyle stepped up from Supercharged Outlaws to this Ford Mustang Top Doorslammer he bought from the USA. The car was originally tuned by John Zappia, with Lyle later bringing on US crew chief Jon Salemi. This car was crashed at Willowbank and replaced by a nearly identical Mustang which Lyle now campaigns.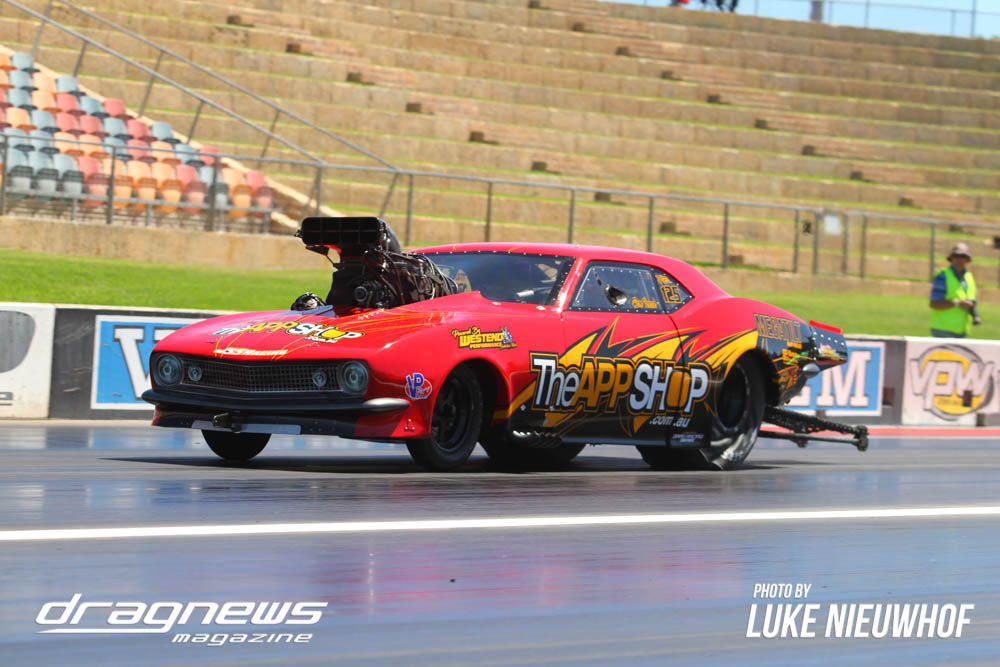 Sam Fenech is a former 10.5 racer who decided to go into Top Doorslammer. The Sydney team developed an impressively consistent 5.7 second combination with this car.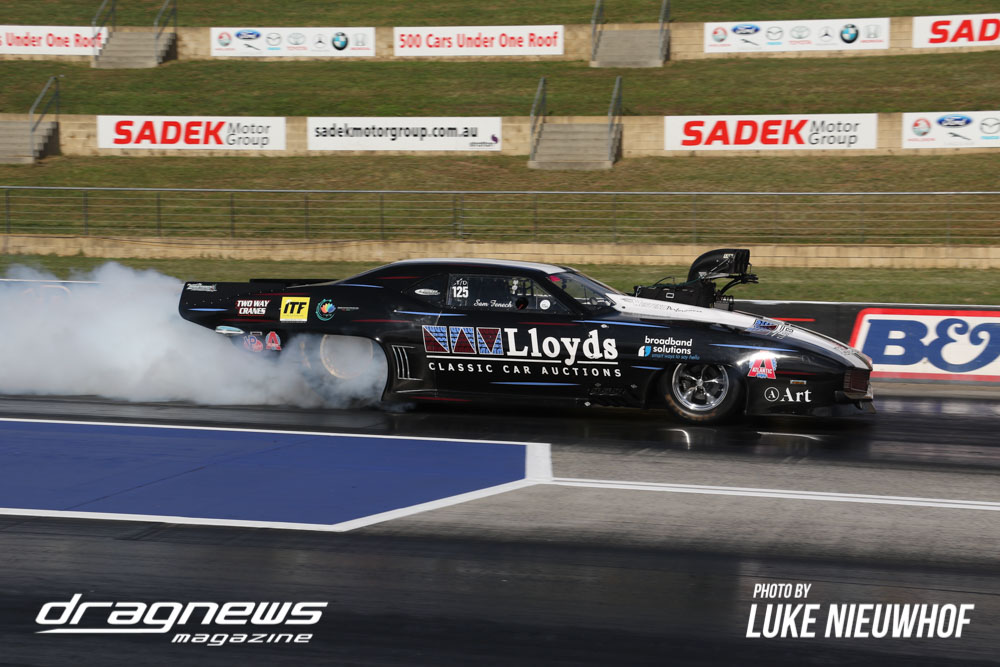 After a chassis failure in Darwin Fenech's ride was updated with a Jerry Bickel Camaro the team purchased from a racer in Canberra – this was the one one which unfortunately went hard into the braking area nets of Sydney Dragway.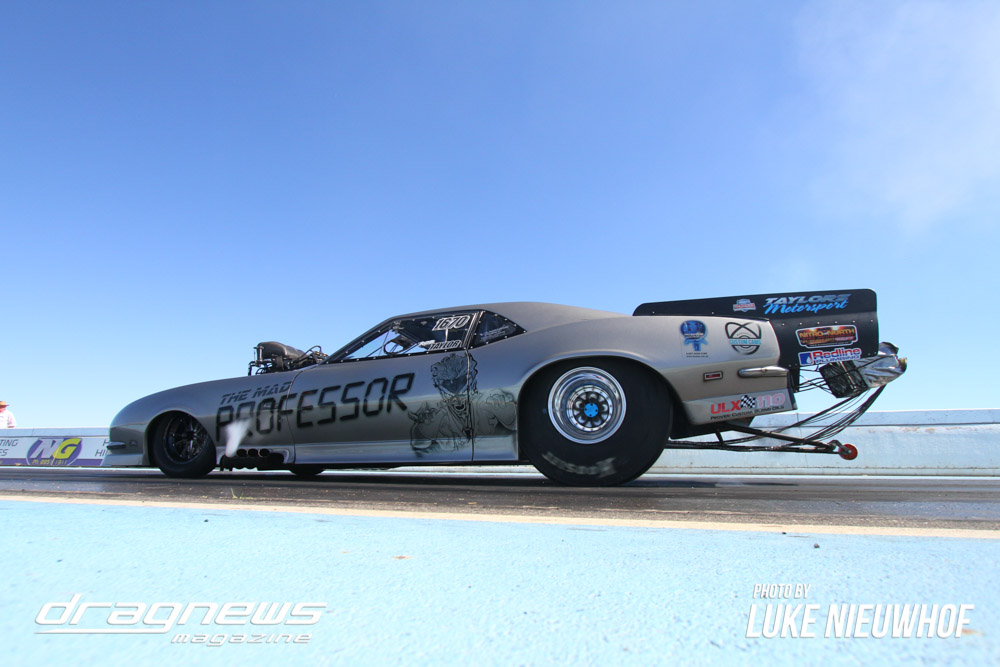 'The Mad Professor' Rob Taylor's Camaro in action at Alice Springs Inland Dragway.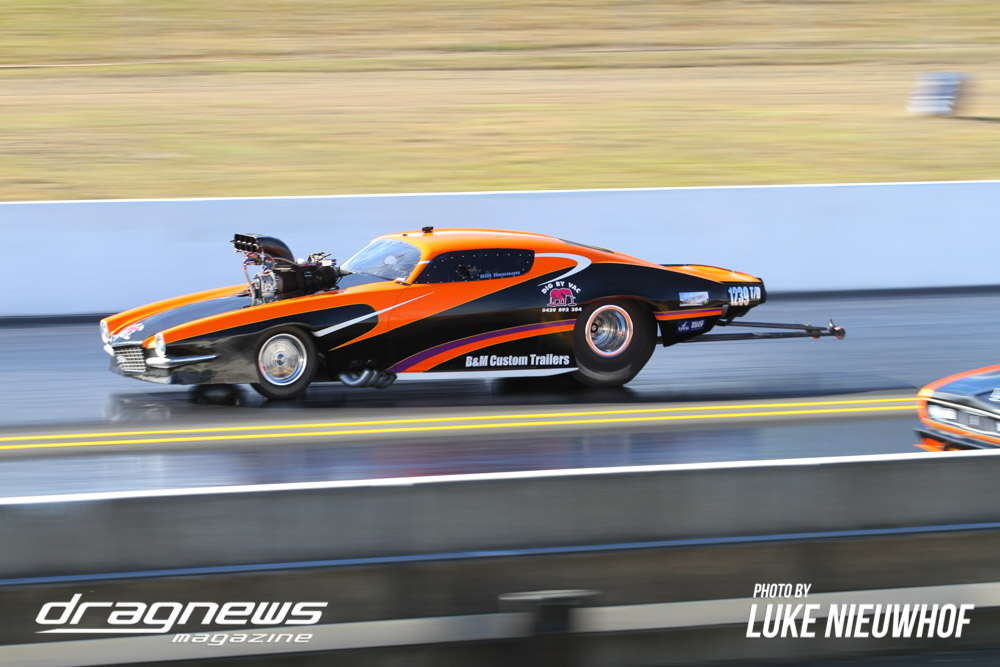 Bill Goonan spent a couple of seasons running this beautiful Camaro.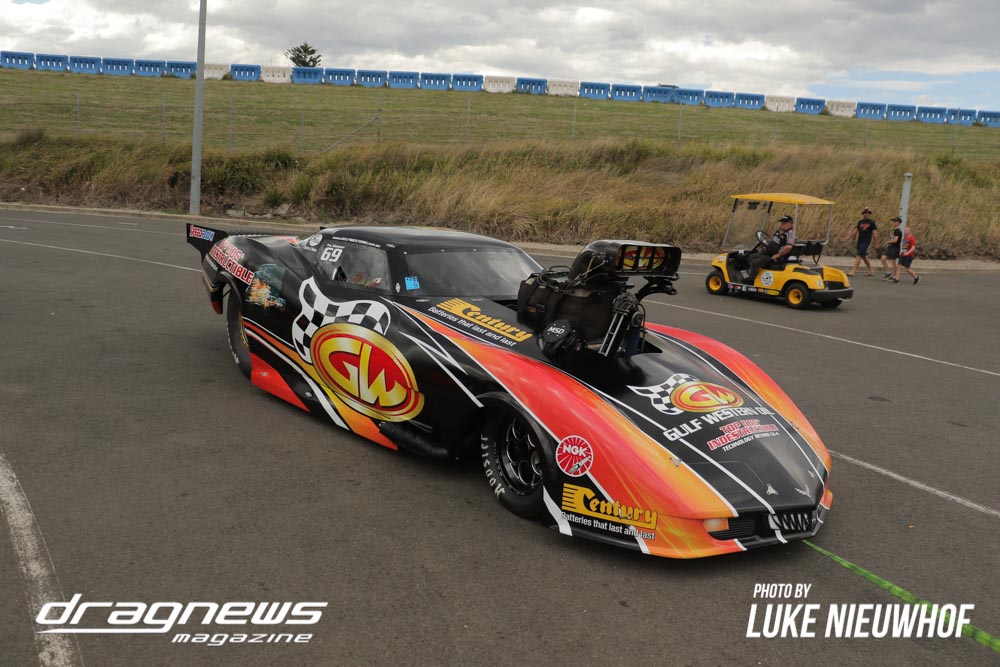 The USA's Frankie 'Madman' Taylor joined Team Bray Racing for a season in a Murray Anderson-built Corvette and became the first American driver to win in Top Doorslammer/Pro Slammer (it was around this time that the split between ANDRA and IHRA Australia happened, creating the Pro Slammer nomenclature) competition since Scotty Cannon.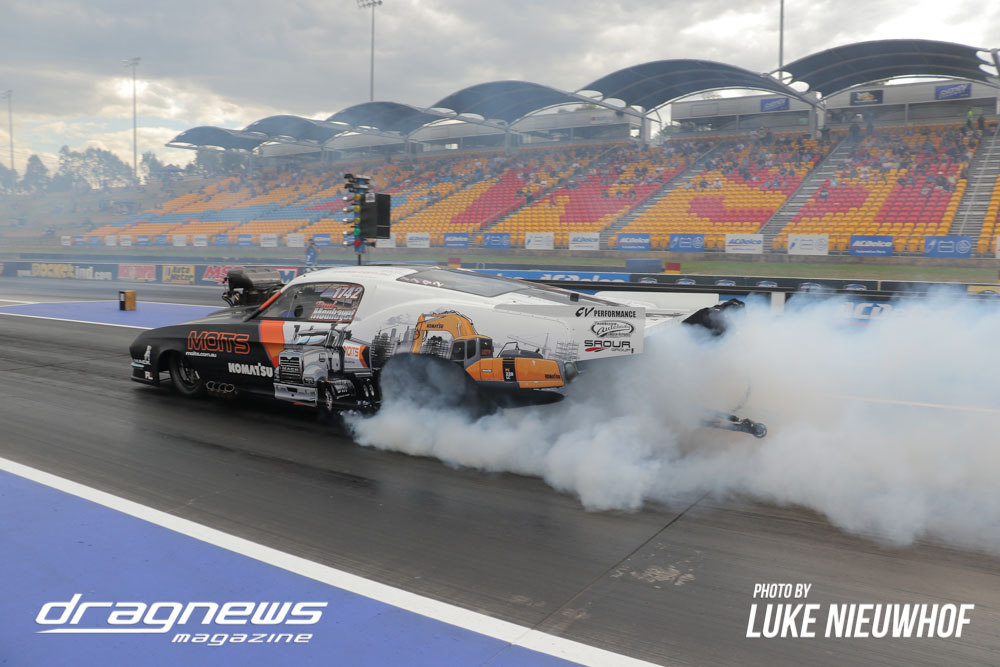 There were few greater 'disruptors' to the class than Paul Mouhayet. After years running a variety of turbocharged cars, Moits Racing came to Pro Slammer competition to take on John Zappia and that they did, winning two championships and setting new records along the way with their Ford Mustang.
Steve Ham became one of the huge number of Top Alcohol drivers to cross over to doorslammers, and is now one of the leading contenders in the class.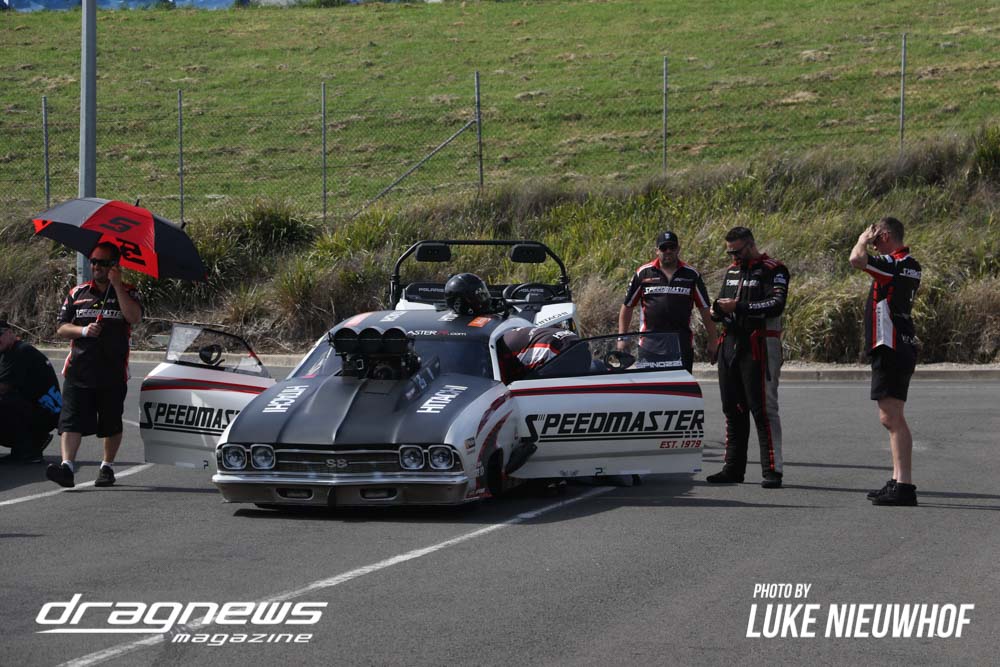 Also making a switch was Emilio Spinozzi, who changed from Pro Stock to this beautiful blown Chevelle.
Phew, so there we have it. This list is far from exhaustive and we are sure there are more than a dozen cars we have probably missed along the way, but it sure took a while to put this lot together! If you'd like to send us any pics or info, hit us up at press@dragnews.com.au.
There's a few more pics in the gallery below.