This weekend, for the first time in 30 years, Top Fuel championship racing will return to Heathcote Park Raceway with the running of the fifth round of the Burson Auto Parts Top Fuel Championship. However a winner from the incomplete round four in Sydney still needs to be decided, ensuring a frenetic qualifying show on Saturday.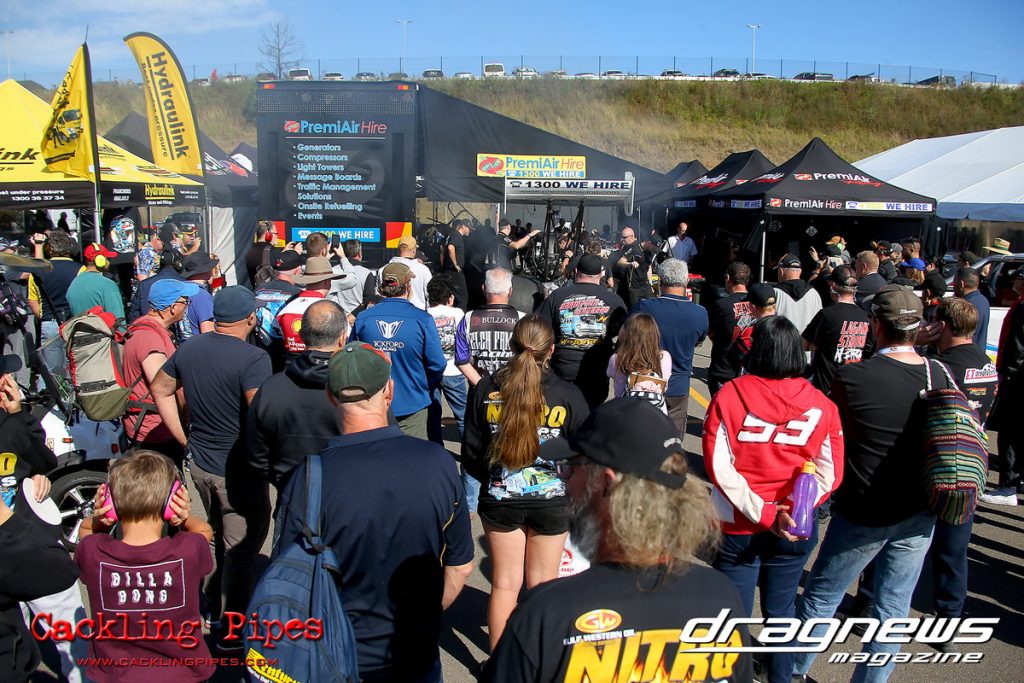 Summernats Slam will playing host to round five of the Top Fuel championship at the rejuvenated Heathcote Park Raceway. New track owner Lance Warren has done an extraordinarily monumental job to bring the Central Victorian regional venue back from a literal goat track, to high quality drag racing venue in such a short time. After consistent upgrades since purchasing the venue, including new concrete walls, the HPR crew have been working day and night for weeks on end to prepare for this event.
Firstly resurfacing the entire bitumen racing and braking area track surface to handle the thundering horsepower of Top Fuel fury. Further improvements involved the installation of new track and pit lighting, return road and pits resurfacing, plus many other venue upgrades for racers and the 10000 plus spectators expected this weekend.
The venue now stands in distinct contrast to the last time Top Fuel ran there 30 odd years ago.
"I believe the last time we raced there was on a Boxing Day in the early nineties, and we had a brutally hot track," Jim Read Racing Crew Chief, Bruce Read recalled. "We had the likes of America's Glenn Mikres there, and New Zealand's Garth Hogan. It was a very different place back then, little more than a bumpy old drag strip in the middle of a paddock.
"We raced a lot at Heathcote back in the day; the southeast was spoiled for good tracks at the time. It looks like we are returning to those days with Heathcote's upgrades, the new Tailem Bend facility and a plethora of top-class eighth-mile tracks.
"As far as Top Fuel goes, the last time there was a championship round at Heathcote we were still running single mags and small fuel pumps, and we would have been over the moon to run 250mph on the quarter mile. This time we will be looking to set Heathcote's track record over 300mph for the first time in history."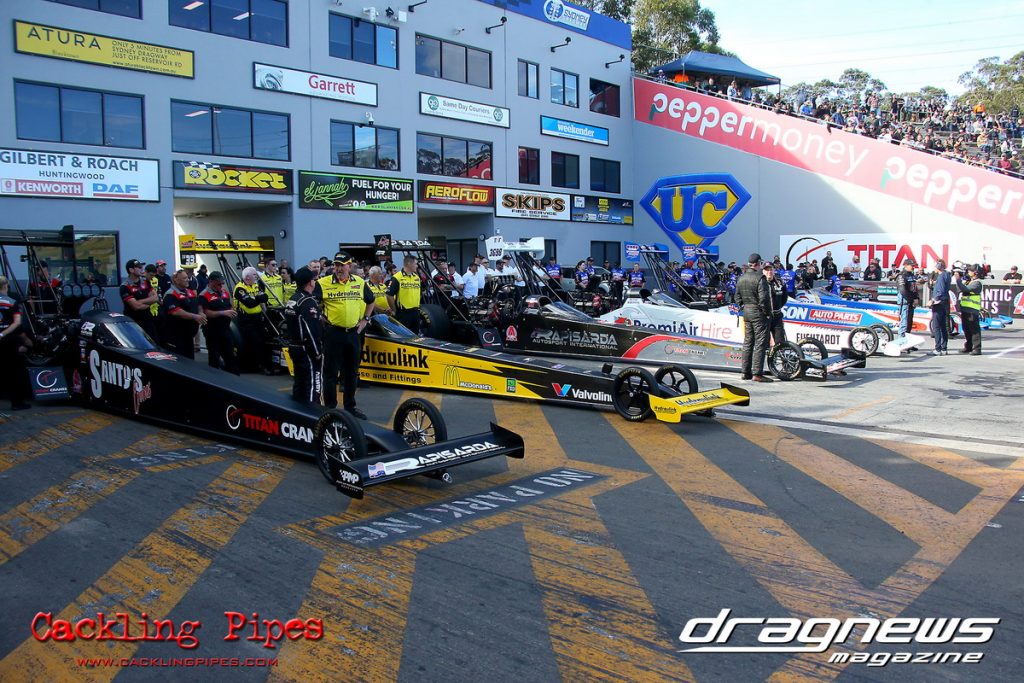 Before racers and teams enter the trenches for round five, there is still unfinished business with the final round from the previous event at the Nitro Champs still to be run. Delays and cold weather in Sydney forced the postponement of final until the second qualifying session at Heathcote, which will now double as a championship critical point with the series delicately balanced.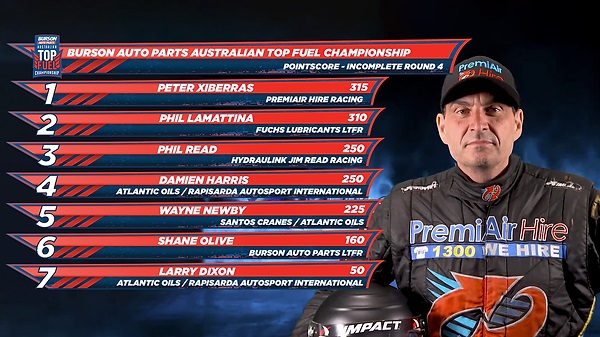 The updated points has Peter Xiberras now edging ahead of Phil Lamattina in the championship. The PremiAir Racing team were on point in Sydney, snatching the track record with a 3.768, and recording two round wins – critically one being over then championship leader Lamattina – to contest the A-Final.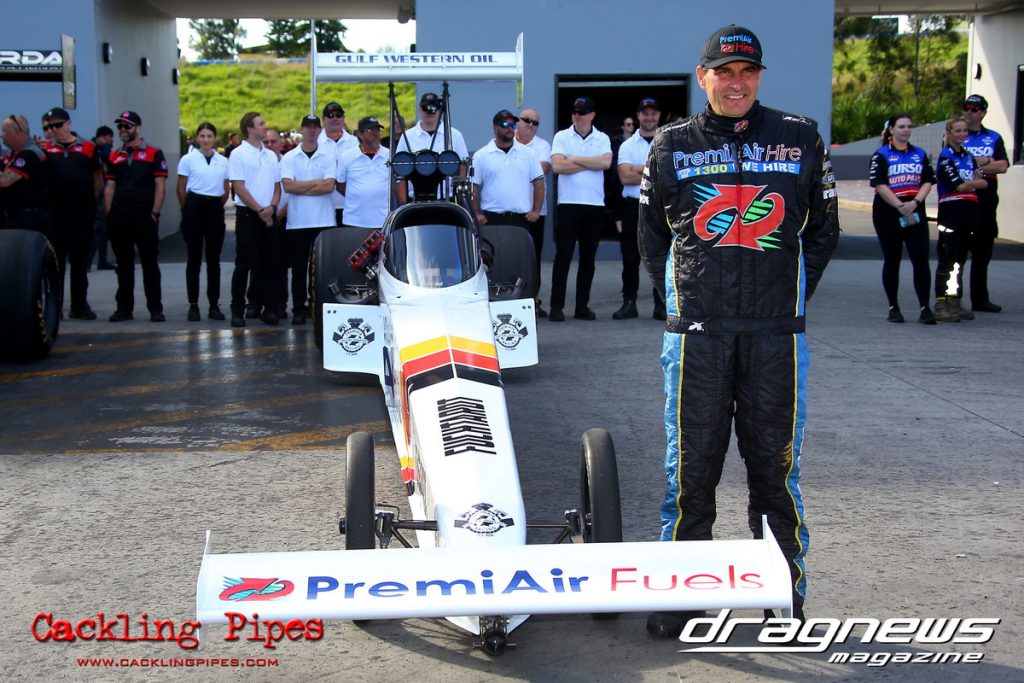 "It is a bit of an unusual situation to be heading to Heathcote Park for round five, having yet to run the final for round four, but hopefully it just means we can bookend the weekend with a pair of round victories," smiled Xiberras.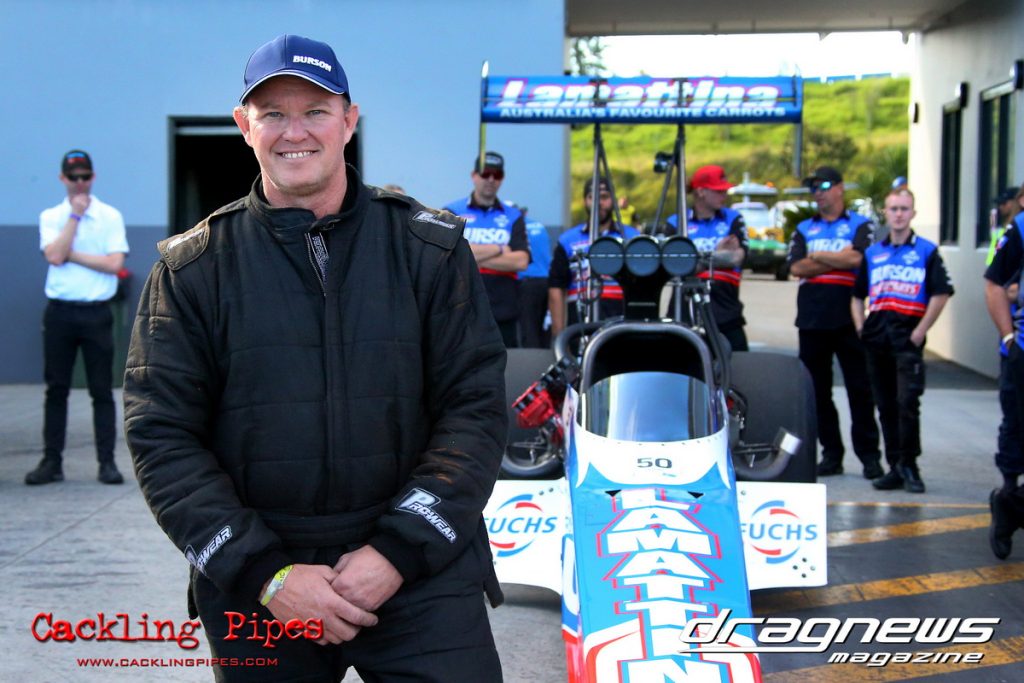 In the other lane will be rookie Shane Olive and the Burson Auto Parts team fighting for not only his first ever Top Fuel event win, but to stop Xiberras earning crucial championship points against team mate and team owner Lamattina.
"We are super excited to be in our first final, Pete and the team have been on their game lately, but we are all in unknown territory now, so it's going to be an exciting final," said Shane Olive.
Olive's road to the final lacked some finesse, but the team pulled it together when it counted to defeat Wayne Newby in second racing round in Sydney with a personal best time to sneak into the final.
"We struggled in Q1 and Q2 with a heap of tyre shake. However on Saturday, even though we were not the quickest on the day, we still managed to get it down there with a 3.93, then later running a 3.85, which is a PB for me and the team," said Olive.
"We are also looking forward to Heathcote, it's going to be a challenge for all of us, but none the less, exciting to race somewhere new."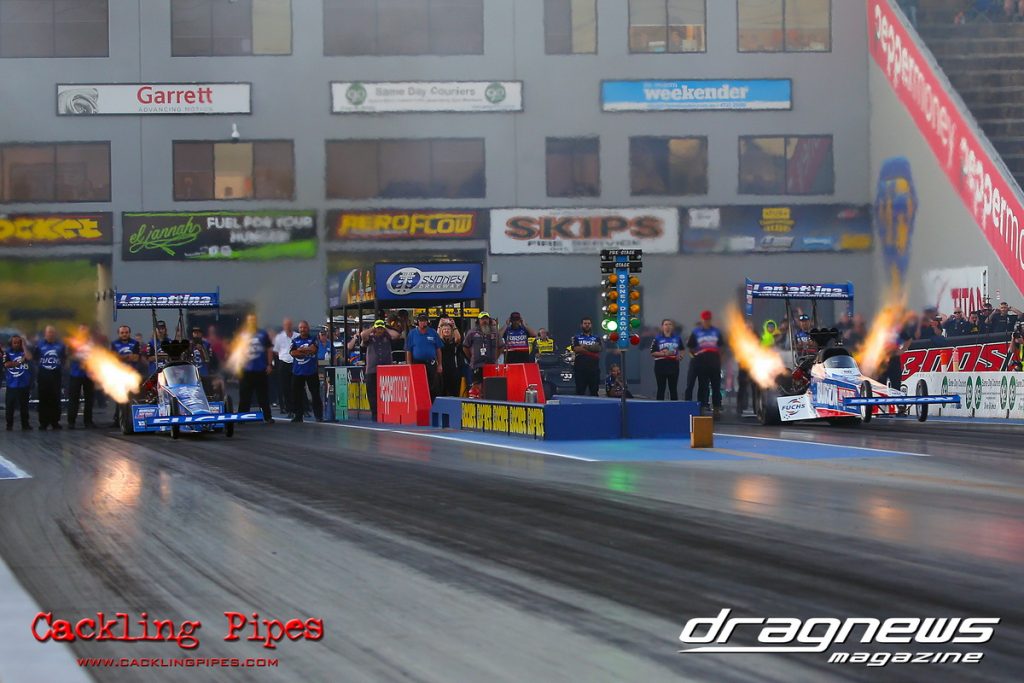 The Fuchs Lubricants team surrendered their championship points lead in Sydney in what was a mix bag of fortunes. A 3.82 PB for Lamattina in qualifying and a second racing round win over Damien Harris was soured by continual mechanical issues, but the team still qualified for the B-Final.

"Sydney I ran PB which was great, but I would to try and make it to the finish line without being on fire, that's going to be first and foremost," remarked Phil Lamattina. "We are going to rectify that situation, so it's all good."

On the inaugural final for the LTFR team car and heading to Heathcote for the first time, Lamattina is full of praise.

"I'm very proud of Shane, Luke (Marsden – Crew Chief) and the whole team, it has come together nicely from scratch, and for them to be able to make the final after just for rounds, it's pretty good, and pretty cool, hopefully they can get the win," said Lamattina.
"Any time you go to a new venue it is always very exciting because of the unknown. We are so excited to see drag racing in my home state at a venue close to Melbourne, I am actually a bit lost for words for how many tickets they have sold already.
"With the venue packed out, we hope to put on a good show for the fans."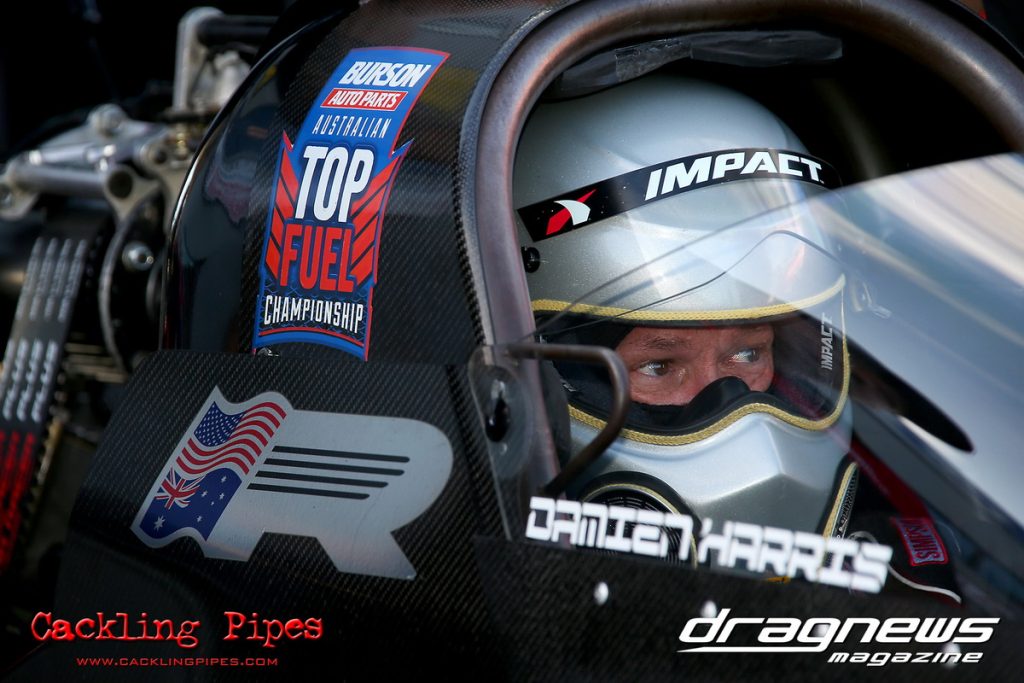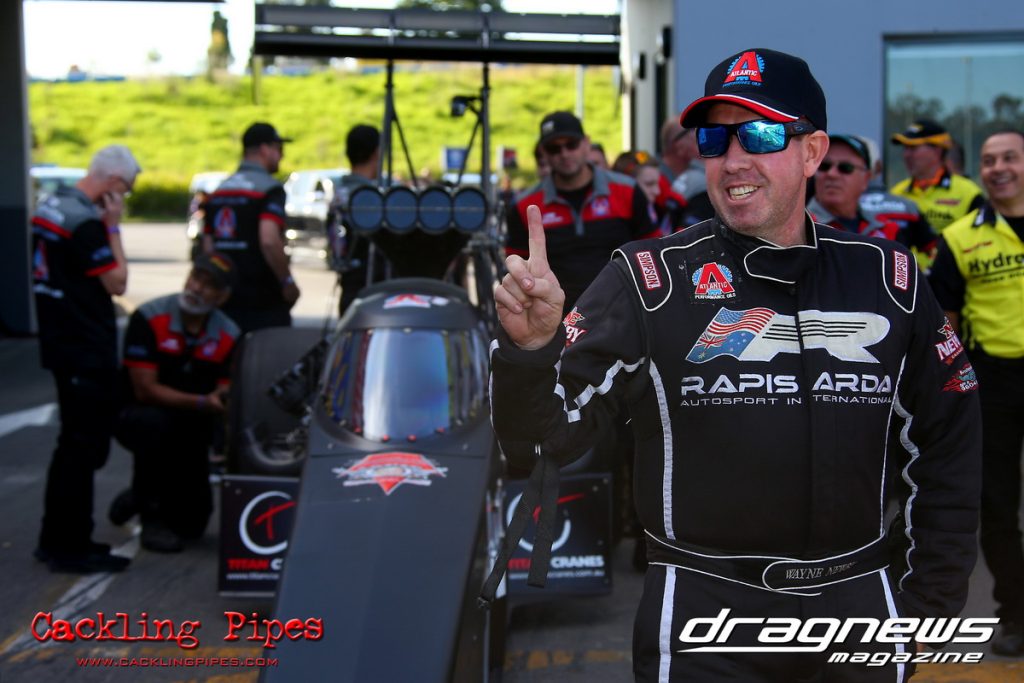 Damien Harris will be fronting against Lamattina for Rapisarda Autosport International in that B-Final, with team mate Wayne Newby taking on Phil Read in the C-Final, both racers are on the precipice of staying relevant in the championship, needing win lights across the whole event.

"This weekend is shaping up as the most important meeting of the season for our team," said Team Owner Santo Rapisarda. "We need to win both of those races. Then on the next day, which becomes round five of the championship, we need to put all our energy into getting both cars into the A-Final."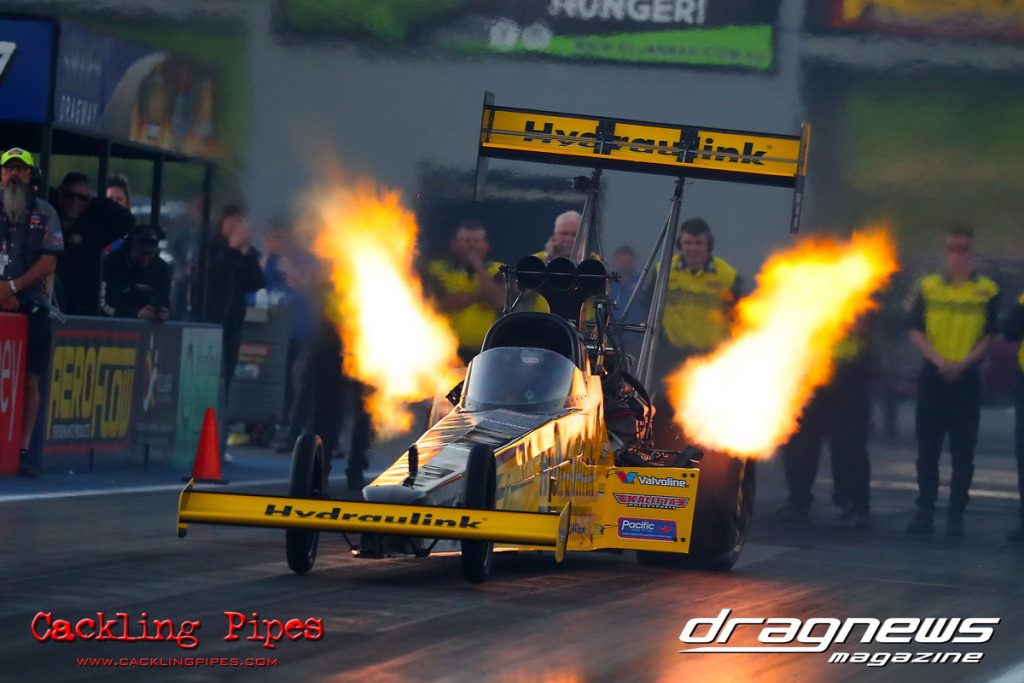 After the horrendous event of Sydney, that saw five crew members hospitalised – and thankfully released quickly – following an explosion during the team's preparation for their round one race, just seeing the Hydraulink/Jim Read Racing hauler in the pits at Heathcote will be a wonderful site. For Phil Read and the team, who sit delicately poised on equal points with Harris for third in the championship, they now see the event as a chance for redemption.
"Round one aside, it certainly hasn't been our time of late and we are well and truly ready to bounce back and seek redemption at Heathcote Park this weekend," Team Owner, Jim Read, said.
"The crew are across everything and ready and rearing to go – I am in awe of them and my boys for all of the effort they have put in over the last two weeks to turn everything around ready for this weekend.
"Rest assured – we will be doing everything we can this weekend to make sure we walk away with good news to shout from the rooftops."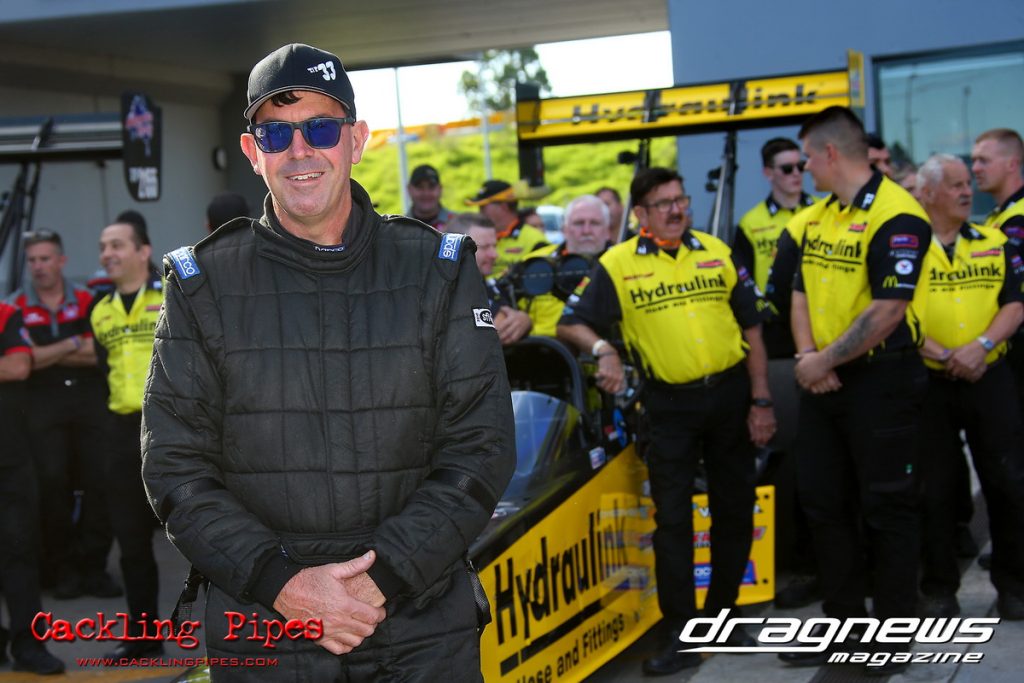 Phil Read, echoed Jim's comments.
"The crew really have done a fantastic job turning around the car in such a short period of time after the incident at Sydney Dragway, they really are the true heroes," Phil said.
"We are well and truly due for a change of fortunes, so watch this space! Now is the time for redemption, and we will be throwing absolutely everything at it to bring home the results to say thank you to all those who have supported us this season and in particular, over the last couple of weeks.
"We have said it before, but I will say it again, we have really appreciated the support and well wishes that have poured in from all over and everyone at Hydraulink Jim Read Racing is excited to be back at the track this weekend and fighting for a win!"
The Top Fuel championship will be backed by well over 100 other professional and sportsman other racers, and a monster Summernats burnout out show, and the best tyre shredders in the land compete to qualify for Summernats 35 in January next year.

Full details and tickets available here: https://summernats.com.au/slam