John Willard's 'Aussie Outlaw' has hit the Santa Pod dragstrip for the first time, and has already caused a sensation in the UK by smashing Outlaw Anglia records.
The Outlaw Anglia scene is a quite passionate and crazy scene in the UK, with events attracting dozens of these machines with all kinds of powerplants, and to race with them has been a long-time dream of Willard – a story we have previous covered on Drag News.
Last weekend Willard fulfilled that dream at the Sportsman Nationals, in what was supposed to be only a shakedown event, Willard – straight out of the shipping container – cranked out a 6.73 at 206mph, setting history and breaking hearts with the first 200mph Outlaw Anglia pass in the UK. The response from the track commentator in the video footage sums up the run.
After several months in the shipping container, Willard's Anglia along with counterpart Paul Stephen's Supercharged Outlaw altered – who will be contesting the next two events with Willard – arrived at Santa Pod. Willard landed a few days before the event, and with the assistance of a number of locals including Mick Taylor of the famed Banshee Anglia Van in the UK, set about preparing for the car's first outing.
"My mate Mick Taylor met us at Heathrow Airport at 5.30am on Monday before the event, we all went to Mick's house not far from London for a cuppa and great chat, it was just so good to see him again after five years," said Willard. "The next morning, we went to the track and met Daniel Melrose and some of the track staff, everyone was incredibly welcoming. Again, Mick was there to help us – the guy is just unbelievable – we unloaded both cars and 90% of the container contents.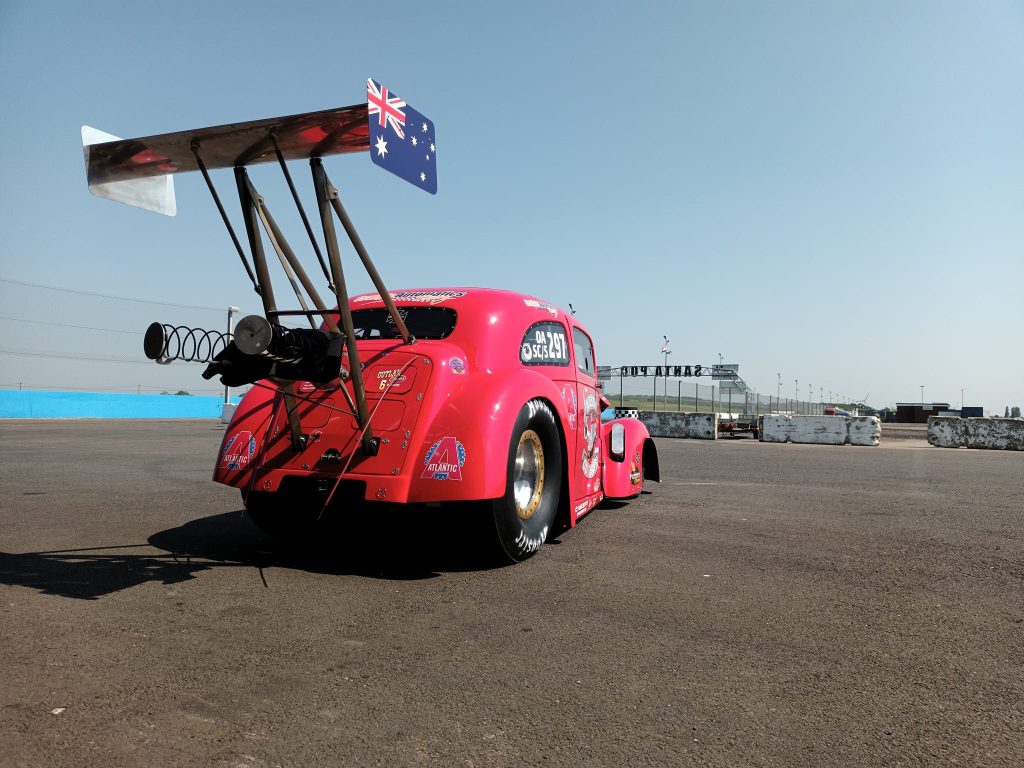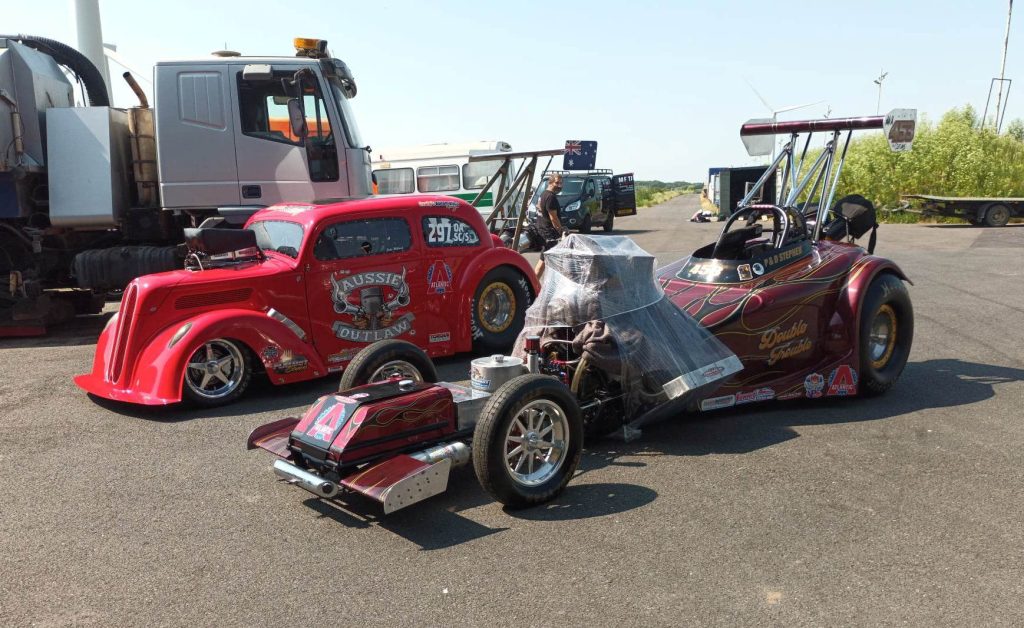 "We took some pictures of the cars together, and a couple of the Anglia with the iconic Santa Pod bridge in the background, before putting the car on stands, pulling the body off, installing the shocks and general preparation. Later in the week on Thursday we went back to the track to finish and fire the car. But we had such a great time meeting everyone and chatting, we didn't get anywhere near that."
At this point, the Sportsman Nationals event was now upon the team and Willard was entered in Supercharged Outlaws. Friday was a test day for the event, and it would be the first time the car would be in the public eye.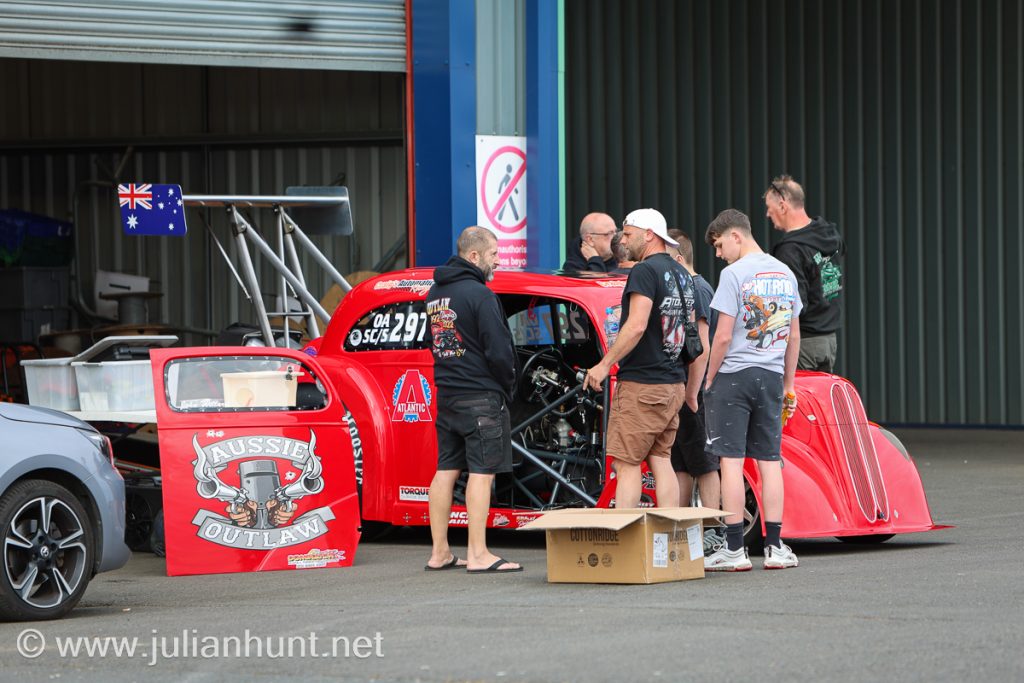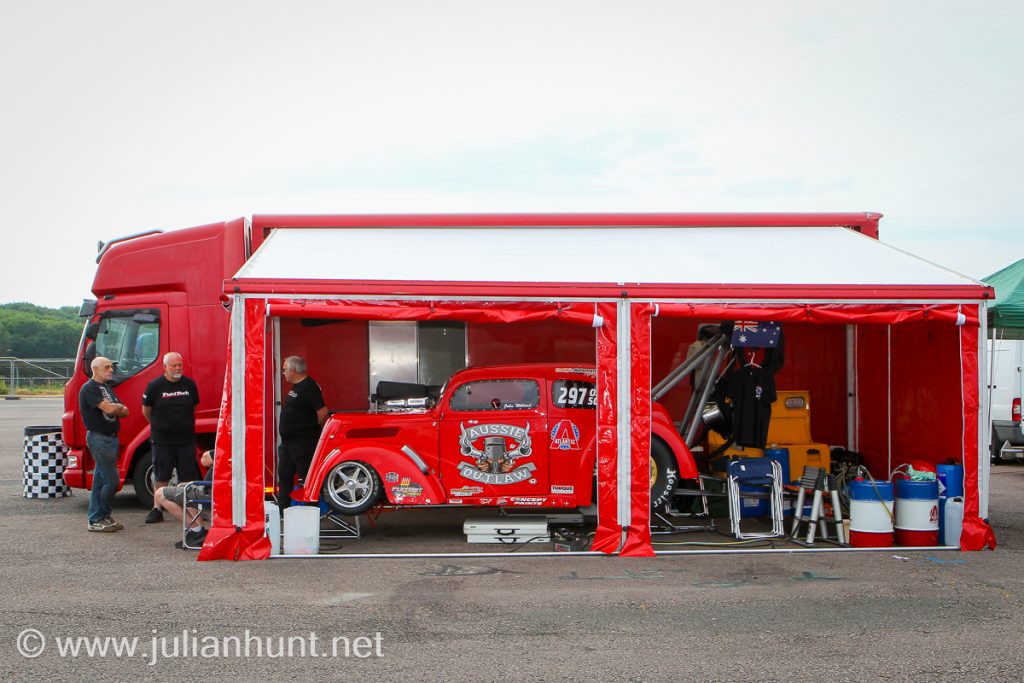 "Friday morning, we finished prepping the car," recalled Willard. "We had to push the car out of the shed to get some nice flat ground to set the preload and sway bar. I sat Doug (Willard's son) in the driver's seat while I set them, and from under the car I said let's get back in before we attract any attention from the guys testing.
"As I rolled out, I realised it was to late as there was a ring of people around the car with their cameras rolling. When we moved it back out to start it in the afternoon, there was an even bigger crowd."
By race day Willard had assembled a few locals to help out on the tour.
"Organised by Mick, we had Patrick Byrne who has a good background in racing, being involved with several fast cars including Pro Mods," continued Willard. "Albert Carter who is the son of the famous Andy Carter who had a successful career in Top Fuel, but before that killed records with a blown Hemi Outlaw Anglia way back in 1994 with a 7.57 at 180MPH. Trevor and Steve Hirst are also on the crew, they are very knowledgeable guys with a ton of experience on fast cars here and in the US. Mick Taylor is also an honorary crew member for this meeting although he will be racing his van at the next two events, and we've also got a Kiwi Anglia racer Graham Lilly on the crew, he is very handy around the car and will be our starter guy."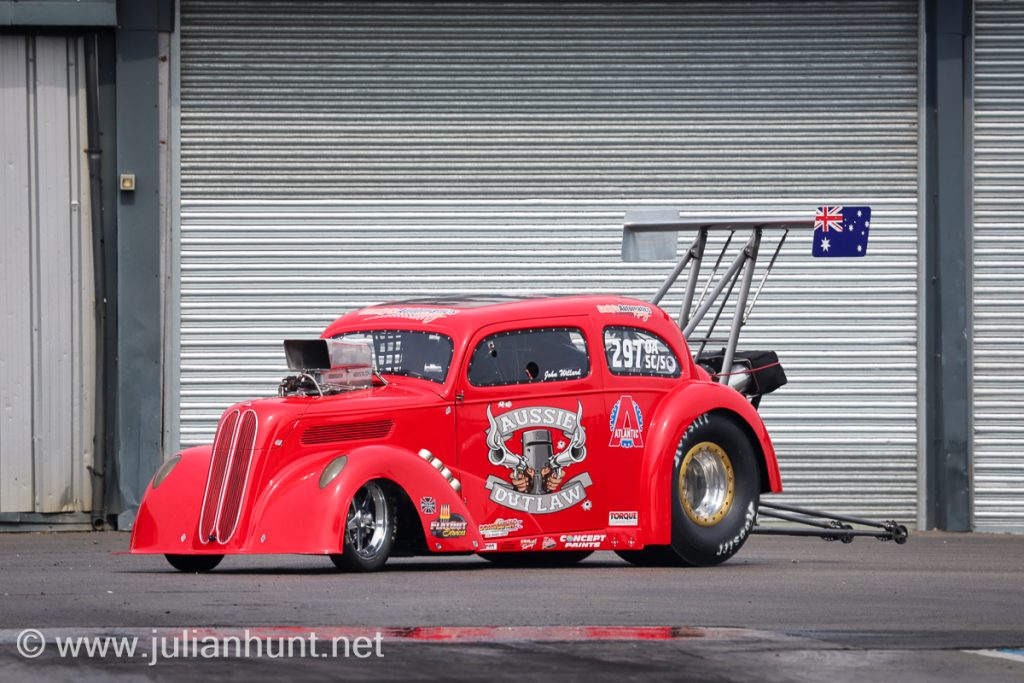 It was time to bring the noise and show the UK faithful what the Aussie Outlaw was all about, even if there were some trepidations going into the first pass.
"For quite sometime before leaving Sydney, Brett (Gillespie) and I discussed a suitable tune up for our first pass as there was talk of us perhaps struggling in the 60-330ft zone," said Willard. "We didn't want to look like idiots by overpowering that section of the track, but did want to lay down a decent pass.
"Brett came up with the 'Santa Pod soft tune' file that he believed would run somewhere in the 6.9s at around 200mph. He even got me some new weather instruments to take pictures of prior to running for him to determine the main pill size.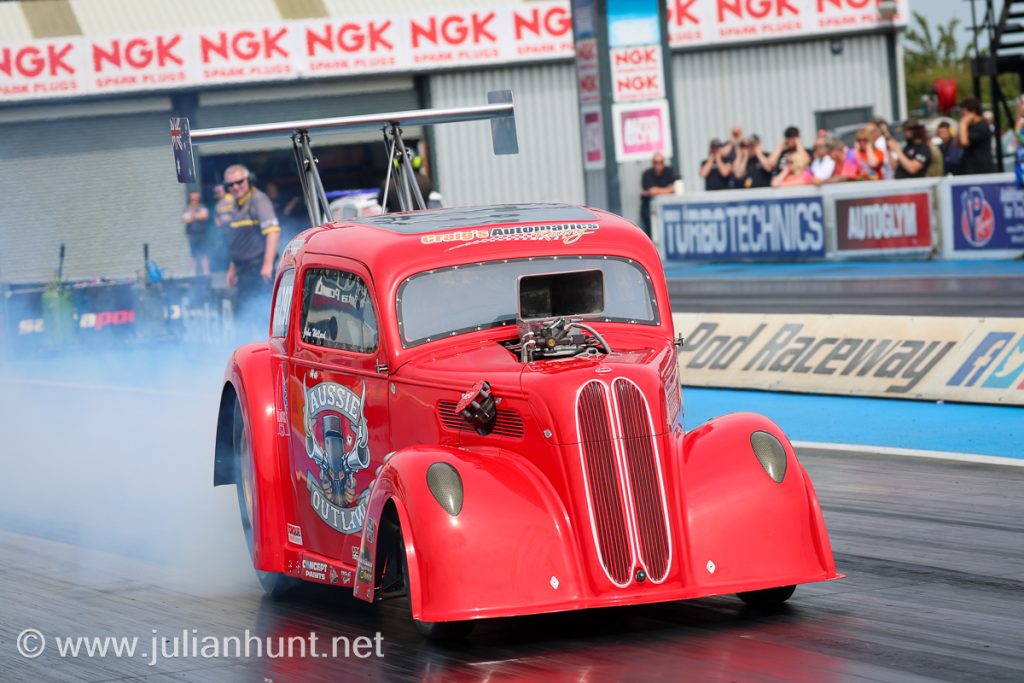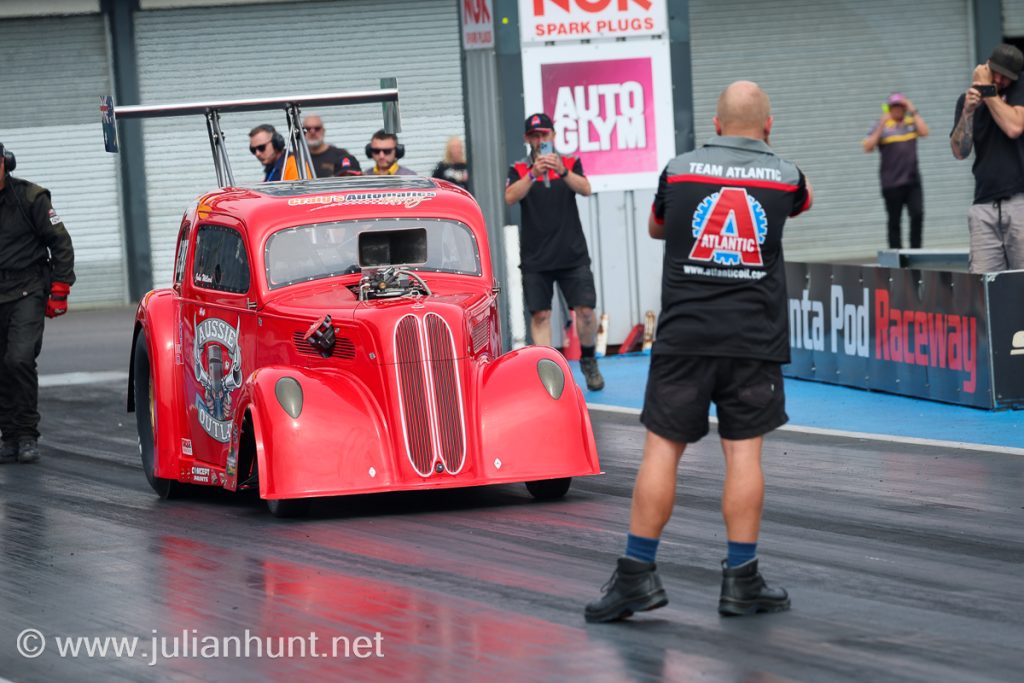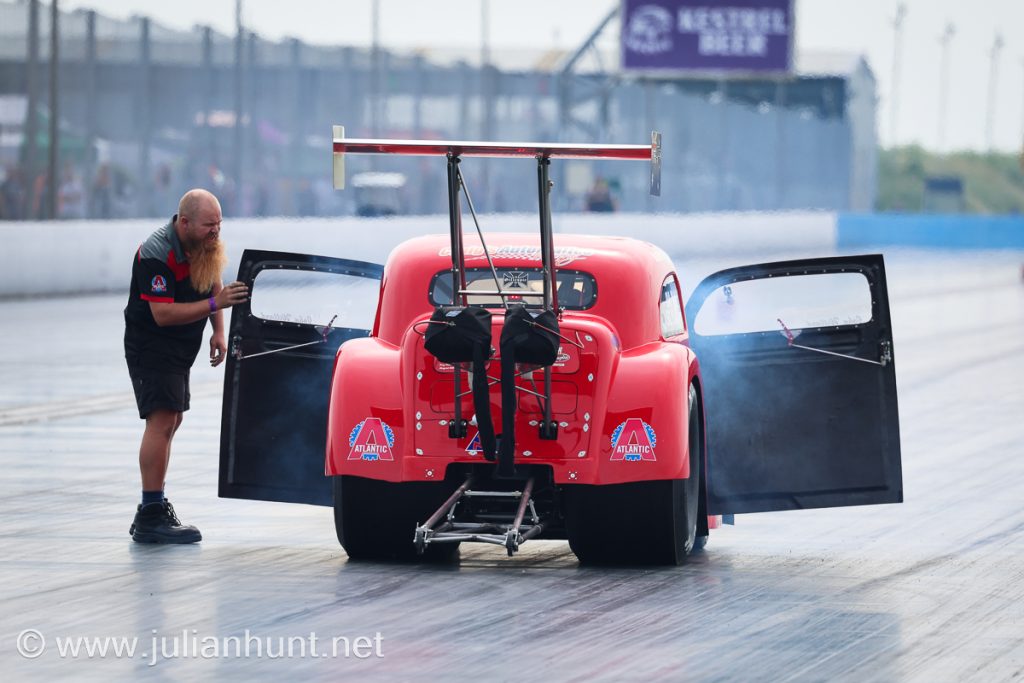 "Well as you know, the car ran perfect. I got out of the car with a 6.90 at 200 in my head and asked the Supercharged Outlaws guys already there if it went okay. They just kind of looked at each other in disbelief and told me what it ran – I couldn't believe it went so fast.
"I got the boys to drop me at timecards and then started walking back to the pits, I only got a few yards and I had people hugging me, shaking my hands and congratulating me – it was unreal. When I got back to the pits it was crowded three or four deep, the t-shirt sales, and signing of hero cards was going crazy. This is only a small meeting with no other Outlaw Anglias there so I can only imagine what the Summernationals, and particular Dragstalgia will be like."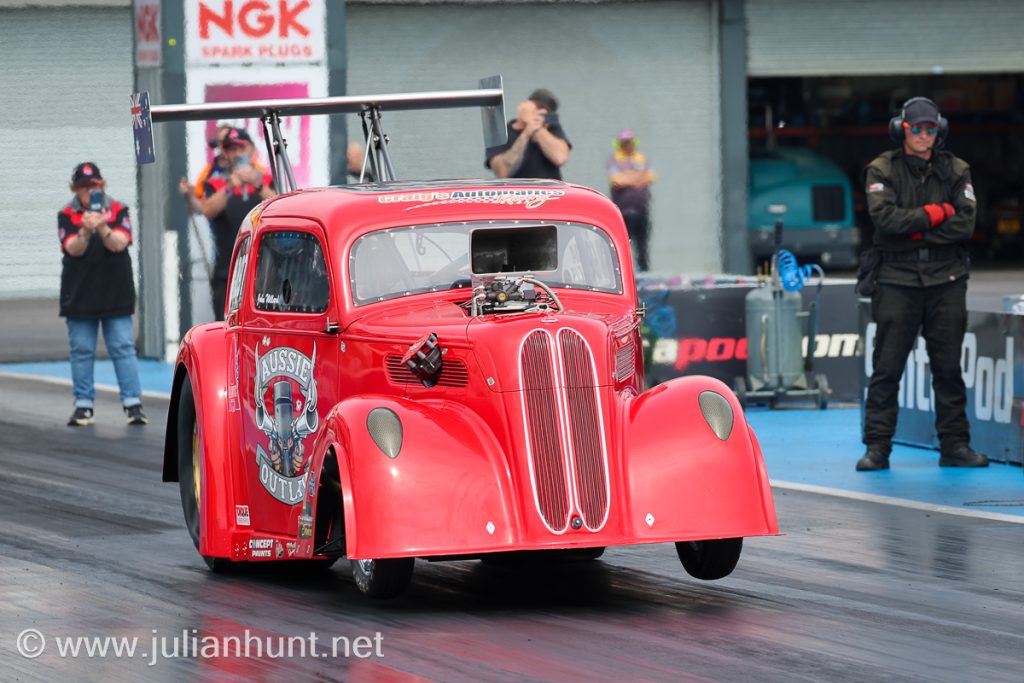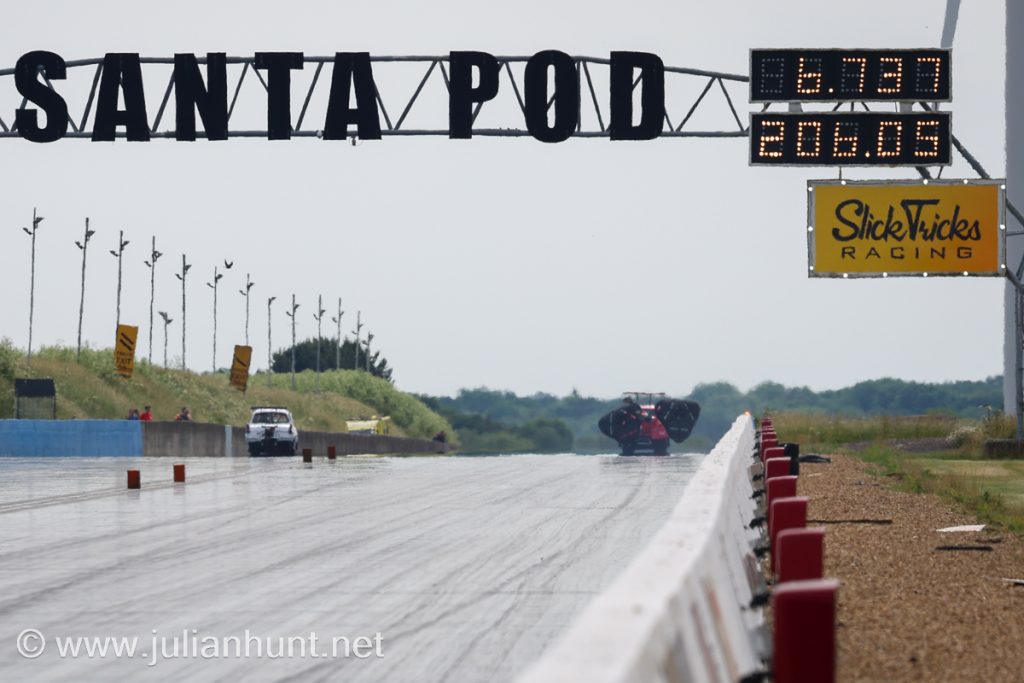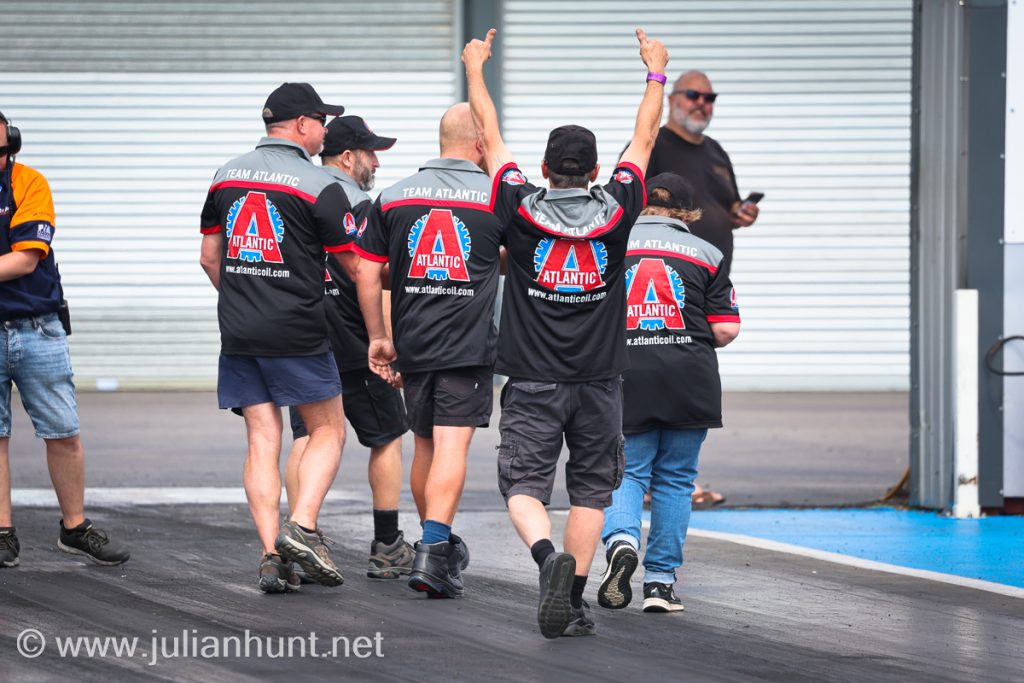 Willard decided to sit out running on the Sunday of the event after a minor issue was found with the engine, which would be easily rectified, however he chose to save the car for the major upcoming events and just soak up some atmosphere.
"Even though we weren't racing on the Sunday, we left the car set up and the interest was as strong as Saturday, and it still hasn't stopped – it is just unbelievable how much they love these little cars here," beamed Willard.
Atlantic Oil is the major supporter of the UK tour of John Willard and Paul Stephen, the Australian owned company based in Sydney, New South Wales, and for 26 years has been supplying oils to the automotive and primary agriculture industries, whilst also specialising in high powered performance oils for all major motorsports. Atlantic Oil is actively involved in drag racing, sponsoring tracks including Sydney Dragway and Mildura's Sunset Strip in Victoria. The 12 year partnership Atlantic Oil has had with the elite Top Fuel team, Rapisarda Autosport International, has helped put the company not just on the Australian stage, but an International one as well.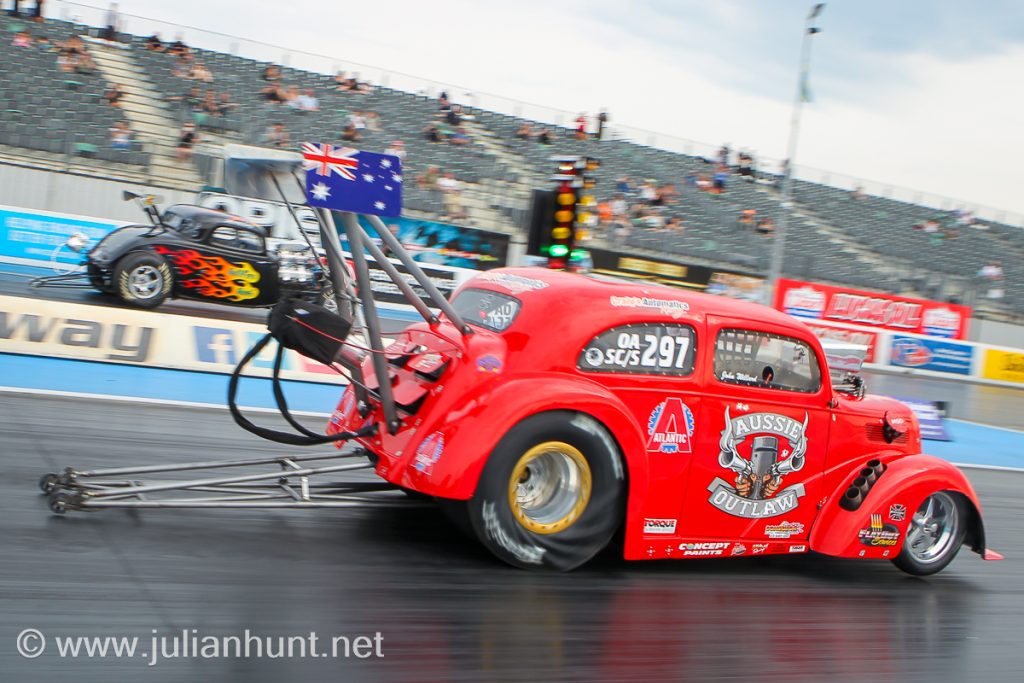 "Six years ago, Atlantic Oil asked John Willard what his intensions were whilst building his Outlaw Anglia, and he explained to us he wanted to race at Santa Pod Raceway with the best Outlaw Anglias in the world," said Suzanne Lazar, Drag Racing Sponsorship Manager. "
This car – whilst still being relatively new – has been raced at selected events at Sydney Dragway, with John's most successful pass, a World Record 6.672 seconds down the quarter mile at 198.85 mph."
"The opportunity to sponsor an Australian built Outlaw Anglia was a decision that Atlantic Oil jumped at without question as we knew this was going to be an exciting ride. Just like with Paul, Atlantic Oil are so eager to see how John does racing against the world's best, and we are quietly confident that if the Anglia runs to its potential, it is certainly going to turn some heads at Santa Pod Raceway.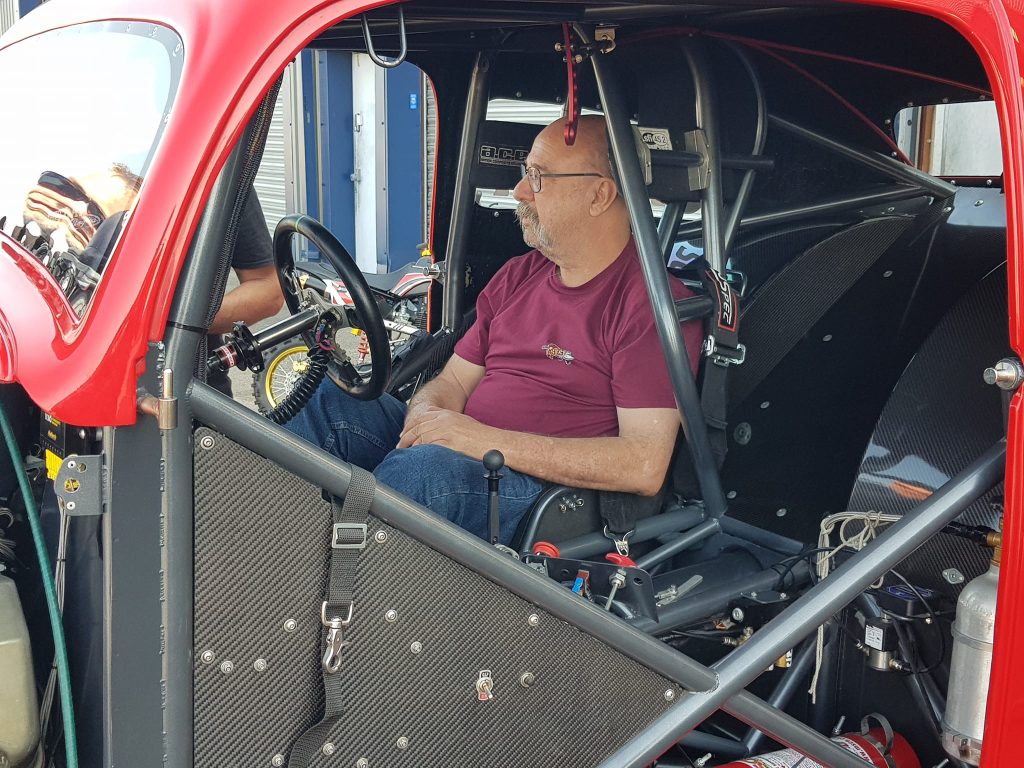 "Atlantic Oil would like to wish both Paul and John all the best at their respective events, and we would also like to congratulate them for chasing after their dreams. Have fun, be safe, and run fast.
Santa Pod Raceway live stream all their event via their SantaPodTV Youtube channel, you will be able to watch Willard and Stephen contest the SummerNationals on July 1-2, and Dragstalgia on July 7-9.
-Drag New Magazine
Photos courtesy of Julian Hunt – www.julianhunt.net