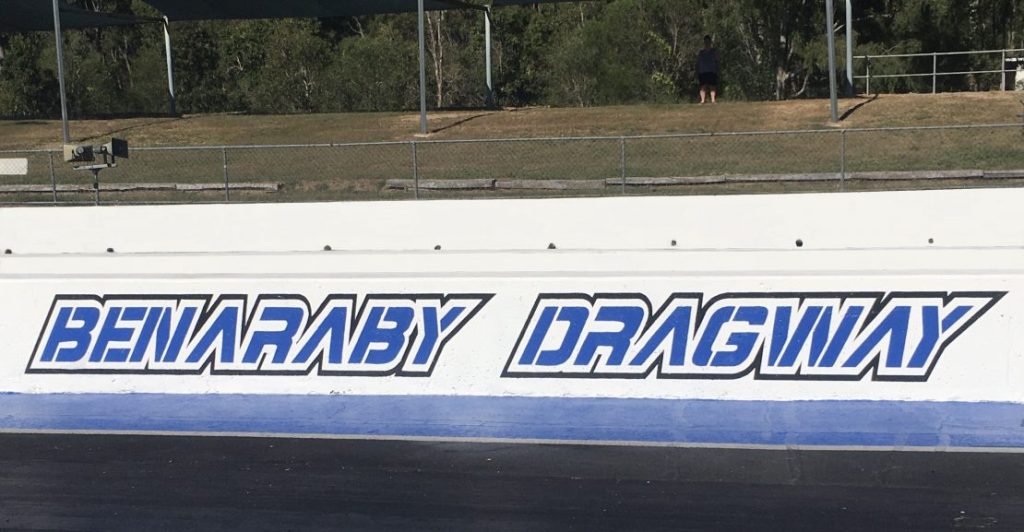 The partnership between Benaraby Dragway and the Australian National Drag Racing Association (ANDRA) is going from strength to strength and under the new management committee installed in 2019, the track is swinging hard to ensure it continues to evolve and innovate for the benefit of its members.
The hard work is paying off, with the Club being the first to get back to racing under COVID-19 restrictions, set to host a round of the Summit Racing Equipment Sportsman Series in the future, and enjoying a 110 percent increase in financial members in the last 12 months.
As the Club nears its AGM, Club President Mike Gawley has reflected on the past two years and there is no arguing, it has been a busy and successful two years with plenty of exciting things ahead for this Queensland Club.
"My partner Alicia and I came to Australia in 2008, and at that point I already had two decades of drag racing under my belt," Gawley explains.
"However, the move to Australia was not about Drag Racing. It was about making a new, sustainable life in a positive environment, an effort meant to give us a bright future for many years to come.
"Despite living only an hour and a half away from the local drag strip, we focused on work, building a house, making friends, and enjoying our new life in this beautiful country before in 2014, a work mate invited me to come to Benaraby to watch him race his Falcon XD.
"I was honoured to come support him in the sport of drag racing in Australia and then befriended Mark Loftus and his lovely partner Helen Millen, and we have all been involved together in the operations of Benaraby Dragway ever since.
"I raced there for a couple years, and it really brought me back to life – the mates we made through drag racing have been inseparable to this day. A few years ago, my partner Alicia decided it was her turn at the tree, and she took up racing on a Modified Bike at Benaraby.
"After spending a few years racing at Benaraby, we all became involved in the CQDRA Management Committee so we could help steer towards a positive outcome for the club. We observed, participated, made decisions and learned a lot over the course of a couple years.
"Then in late 2019, several loyal club members asked me to put my hand up for President of the club.
"I did just that, and have had the honour of holding this position for the last two years while Alicia has been our Treasurer for the same period of time. Mark and Helen have also been on our committee the whole time, along with Viv Jocumsen, Shane Simpson and Noel Smith.
"The last two years have presented some real challenges. The first, and very serious, topic of our new Management Committee was whether or not Benaraby was to stick with ANDRA, or switch to another sanctioning body for support of our club and facility.
"I had already found that the level of communication and professionalism with ANDRA personnel was second to none.
"Indeed, they helped us succeed at our All Bikes event in ways that I simply didn't expect from a sanctioning entity, and treated our club with integrity and respect.
"In January 2020, I had the honour of signing our 10-year sanctioning agreement with ANDRA CEO Brett Stevens. It is a fair and amicable agreement, with valuable input from both parties, providing us financial flexibility, the option to do various things, and of course fair terms for disposal if required by either party.
"Our new committee has always taken the role of running Benaraby Dragway very seriously, and we all got to work straight away, organising events, contacting sponsors, booking vendors, arranging trophies, developing new brackets, chasing grants, making repairs, scheduling medical services, and organising rescue personnel and event security.
"We have also developed a new website, repainted the dividing wall near the start line, upgraded electrical services and made all the necessary purchases to keep the place operating smoothly.
"The 2020 race season saw rainouts and the onset of COVID-19 restrictions across the nation, however through the team effort with ANDRA and our Management Committee, Benaraby was the first drag strip in Australia to get back to racing!
"We did have to work hard, and work smart, but the support received from ANDRA personnel was exactly what we needed to be successful.
"And as far as the question of how successful was Benaraby in our first year as the Administration? The answer is extremely successful!
"In fact, the timing could not have been better. For a number of years our facility needed improvements on the concrete safety barriers and with the diligent track inspections performed by ANDRA officials every couple of years, our latest inspection demanded attention.
"With this known and our account standing in good order, the CQDRA Management Committee went directly into action and hired a great set of local engineers and civil contractor to address these needs in a fast and professional manner.
"The results are astounding, and the current committee is proud to have participated in the improvements that currently keep our facility open for safe operations.
"The look of the track and realistic safety values have been greatly improved.
"With these solid improvements in place, ANDRA recognised the possibility of Benaraby Dragway hosting a Summit Sportsman Series round for 2021. In fact, we were honourably chosen to host a Double Header, with two days of competition set to be held back-to-back before border closures across most of the nation saw this unable to be realised on this occasion.
"Instead of quitting or cancelling though, the machine that is Benaraby's Management Committee crunched the numbers and put on our own 'Racin' for Aces 1/8th mile Shootout,' attracting numerous Supercharged Outlaws and a host of other racers that wouldn't normally get to line up against each other throughout the year whilst competing in our Championship series.
"This great little weekend event set the precedent for something that may become another regular event at Benaraby.
"The 2020 season also saw extensive ANDRA rule change submissions by some of our locals, leading directly to the creation of our Dobinsons Spring and Suspension 'King of the Strip' 4×4 Drags with the first event bringing hundreds of new people to Benaraby, many of which have returned over and over since.
"The event was such a huge success that it too has become an annual staple of variety in our 2021 and 2022 Race Calendars, alongside the Club Championship events and the hugely popular All Bikes Day, which was our largest event of 2020.
"2021 has also been a hugely successful year for CQDRA and Benaraby Dragway.
"We are constantly working closely with ANDRA on ways to improve the sport and broaden the field of spectators and participants. We are also working closely with the local government to try to attract much needed funding for more massive improvements to our facility and working hard to introduce new participants to our sport
"The positive atmosphere has definitely been growing at Benaraby for the last couple years and has garnered us more great new sponsors, heaps of great new racers, and a 110 percent increase in financial members that live all across Australia – with over 270 members now.
"Coming up now is our Championship Finals and our AGM. If you are one of the many Benaraby Family Members across Australia and, please visit our website and download the PROXY FORM 2021 and fill it in with some of the great candidates that nominated for these positions (shown on COMMITTEE CANDIDATES 2021).
"Both forms can be found on the dedicated AGM page of our website at www.benarabydragway.com/2021-cqdra-a-g-m and need to be emailed to our Secretary at admin@benarabydragway.com by the 12th of November.
"2022 is going to be another great year for CQDRA and Benaraby Dragway. Please support us and ANDRA as we continue to bring Drag Racing to the front line of motorsports in Central Queensland."
To learn more about Benaraby Dragway, please visit www.benarabydragway.com