After almost a quarter-century of operation, Perth Motorplex will play host to its first ever championship-level round of Nitro Funny Car Drag Racing at the 49th Goldenstates Championship presented by Electrical Group Training.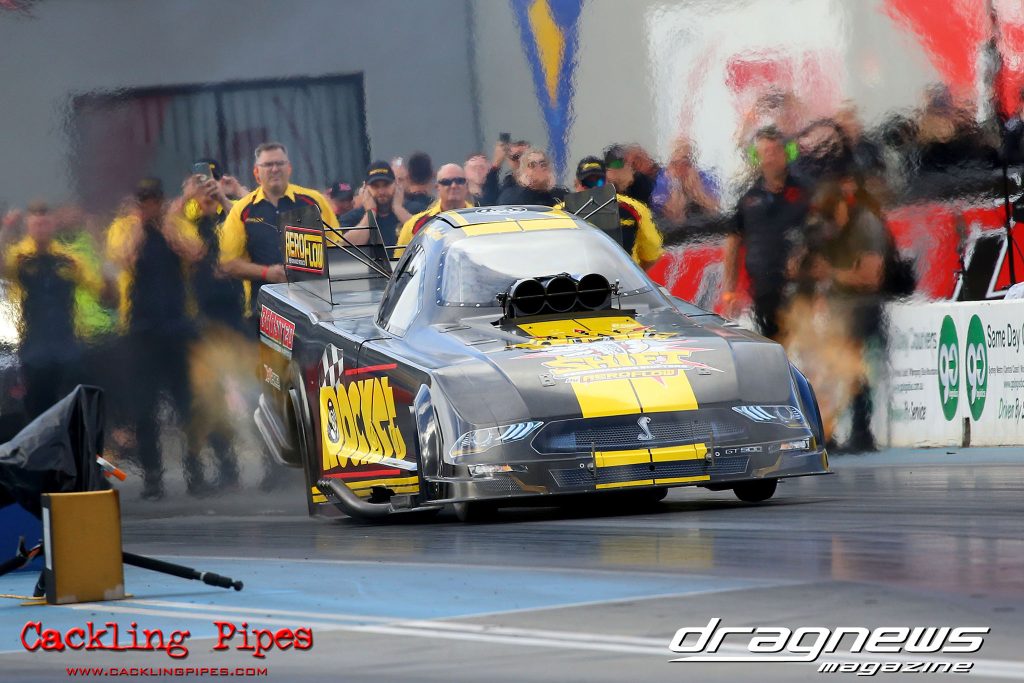 Nitro Funny Cars have long been a crowd favorite in Western Australia. The breed really took off in the mid-nineties, when USA racer Gary Densham was flown into Ravenswood Raceway to compete against Allan Greene's Greene Machine, driven by Allan Dobson.
The local presence of the Greene Machine made it easier for the promoters of Ravenswood Raceway to set up match races and it became easier again when Graham and Lloyd Jones began racing their Southside Dodge Daytona. This era was highlighted by the running of the 1998 Funny Car Nationals as part of the Westernationals, with Dobson and Jones getting to race against a bunch of east coast competitors.
Unfortunately both the Greene Machine and the Southside car suffered fires later in the year (in the same race, if you can believe it) and were put out of action. The opening of the Motorplex in 2000 rallied Allan and wife Cheryl to rebuild their Beretta to, where they were booked in to match race newcomers Ashley and Rod Bailey. As the first nitro cars to ever roll under the bridge at Perth Motorplex, they delivered a side-by-side five-second contest in the opening round, to the wild cheers of the fans. The second round made headlines for different reasons when the Baileys' Ford Probe threw rods before the Christmas tree, sending the car sliding on its own oil into the wall.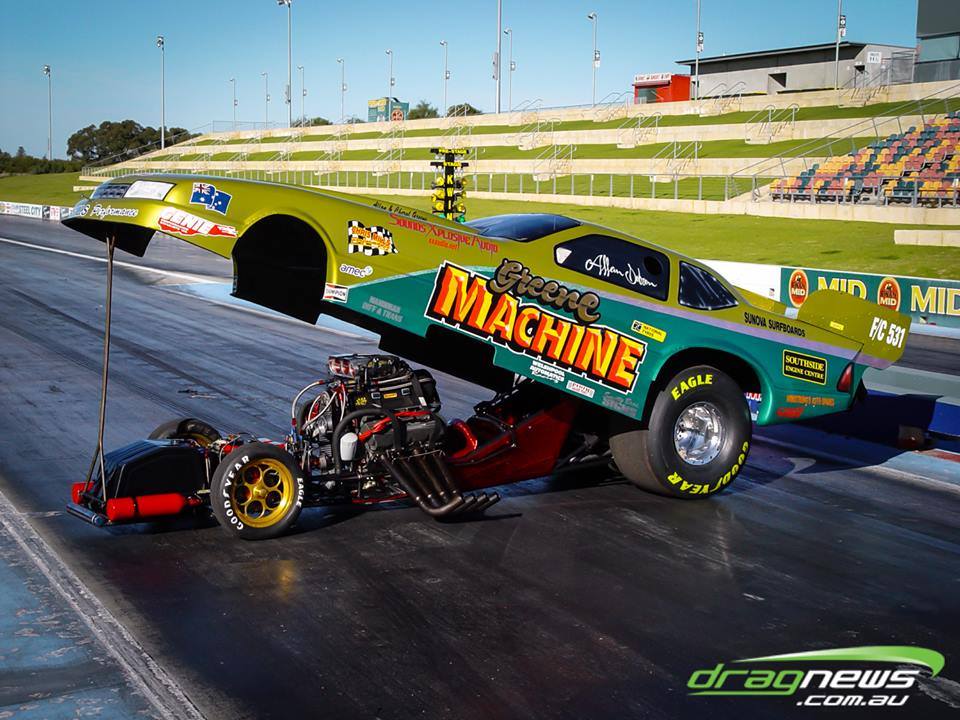 The years that followed saw many more Dobson vs Bailey encounters, before local Nitro Funny Car stocks grew once again. Mark Sheehan added a Ford Mustang-bodied ride while Damien Harris joined forces with Paul Shackleton to field the Best Tractor Parts Chevrolet Monte Carlo. Meanwhile the Greene Machine went through some driver changes, first to Fergie Donaldson and then to Matt Treasure. Another WA driver joined the party when Anthony Begley began piloting for Rod Bailey. These racers ushered in the four-second, 300mph era — pushing the boundaries of the class. There were hopes of a championship at the time, but it never came to fruition.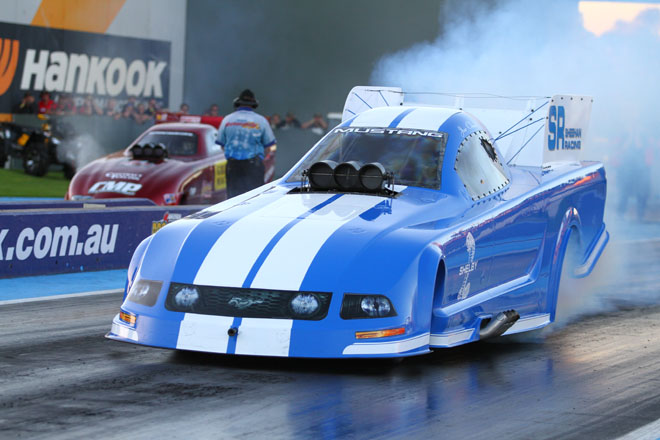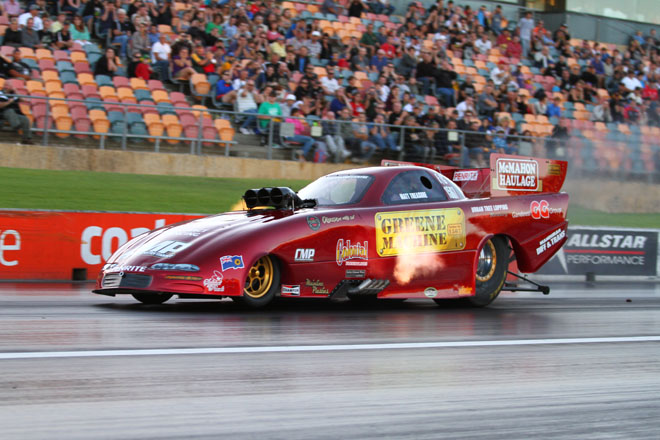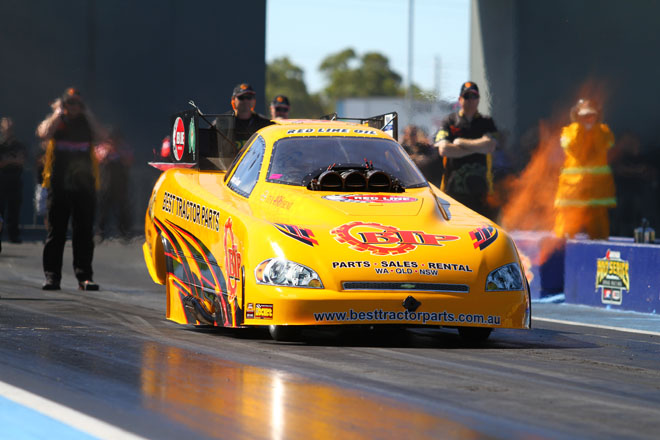 Perth Motorplex's Nitro Funny Car track records are long standing. Sheehan set the ET mark at 4.876 in March 2014, while Harris holds the speed title with a 315.78mph run from January 2012.
From there, the class began to wind down. Harris and Shackleton went Top Fuel racing, while Sheehan also chose to concentrate on his dragster. The Greene family retired from racing in 2013. Begley has been the hold-out, continuing to race together with Bailey.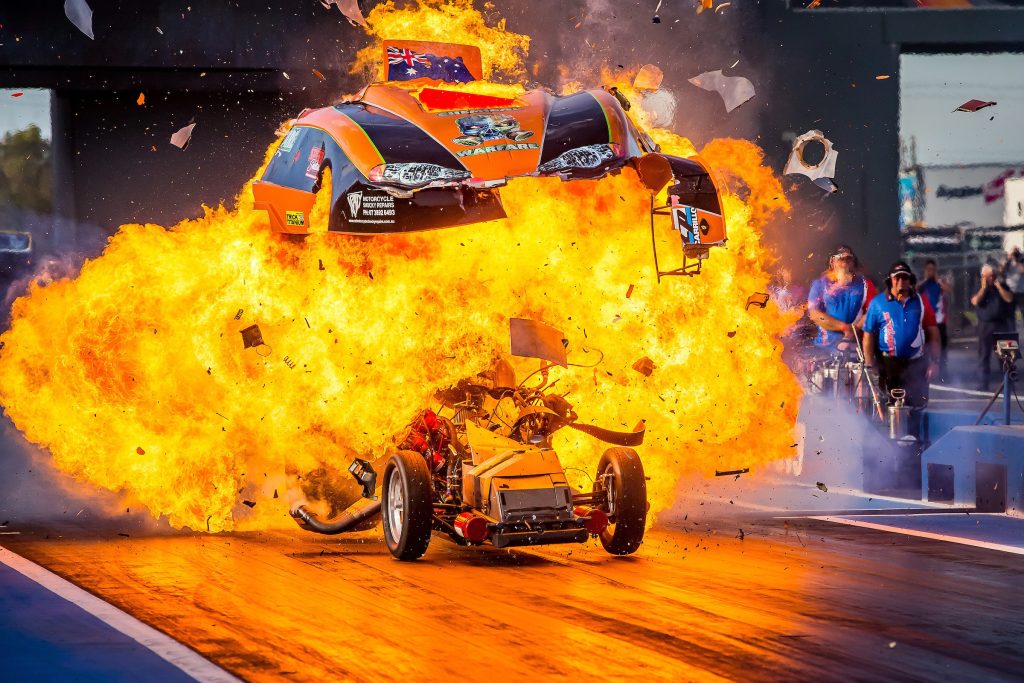 Begley was briefly joined by Matt Abel in Rory Taylor's car, but the infamous 2019 side-by-side explosion was the last time two big show Funny Cars raced against one another in WA. That's not to say there wasn't a lot of nitro racing going on, as the Aeroflow Outlaw Nitro Funny Car Series brought some of the biggest nitro shows ever seen to WA with their retro-themed cars, running smaller motors, superchargers and fuel pumps than their NHRA-spec brethren.
But now, it is time for the big show cars to come back — and in style! Five cars will be racing for national points. They include Morice McMillin in the Aeroflow Mustang, Brandon Gosbell in the Rocket Industries Mustang, Justin Walshe in the Harts Paint Supplies Dodge Charger, Anthony Begley in the Chemical Warfare Dodge Charger and Adam Murrihy in the Nitro Freak Dodge Charger. None of these cars have ever been seen at Perth Motorplex before, meaning that the 49th Goldenstates Championship is not to be missed. Those track records are almost certain to fall, with McMillin and Gosbell in particular having recently clocked times in the 4.7 second zone at well over 320mph (over 515km/h!).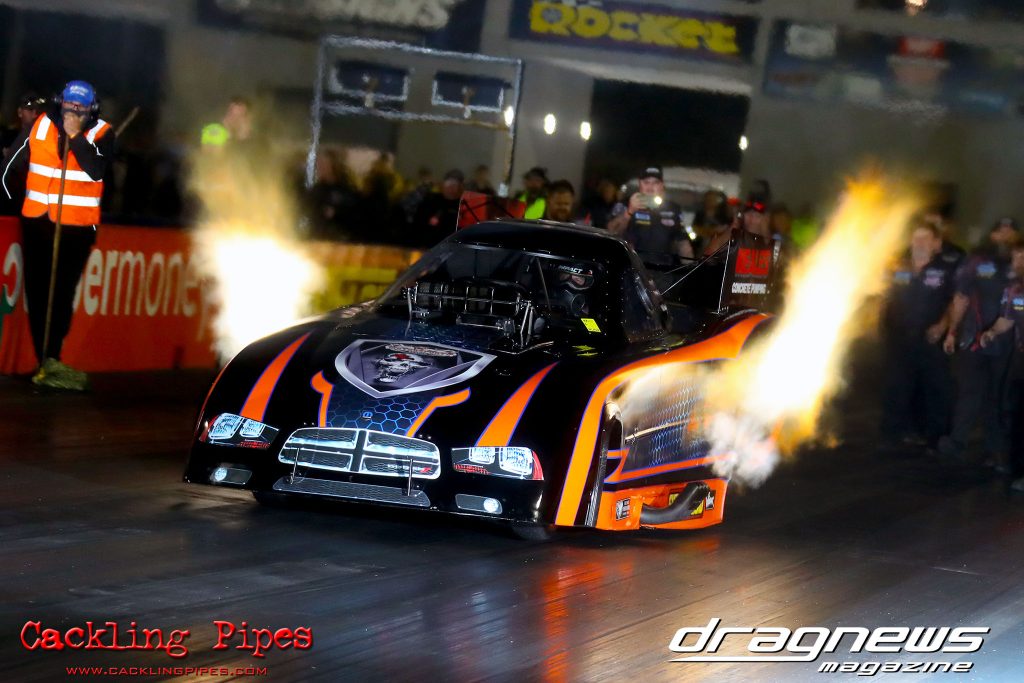 The National Drag Racing Championship action continues into Top Doorslammer, where ten cars will be vying for national points and a strong Top Fuel Motorcycle field, also featuring ten teams. Throw in the first Pro Alcohol round at Perth Motorplex in many years and you have an unbelievably strong line-up of drag racing action.
If you consider yourself a fan of Funny Cars or just nitro drag racing in general, you have to be at Perth Motorplex this Friday and Saturday. There's nothing like that nitro thunder!
Get your tickets for this weekend's Nitro Action for the EGT 49th Annual Goldenstates HERE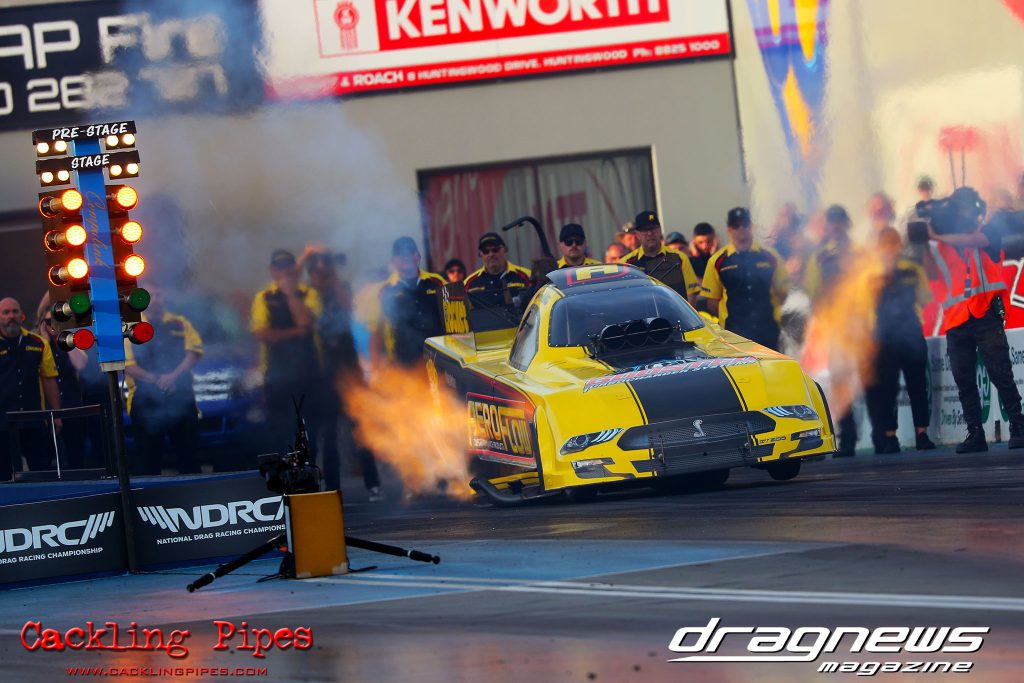 Words by Luke Nieuwhof – Pictures by Luke Niewhof (Drag news magazine), Grant Stephens (Cackling Pipes) and Phil Luyer (High Octane Photos)