It was Kawasaki consistency that earnt Victorian Rob Cassar an early leg up in the new Top Fuel Motorcycle ADRC championship season, with a win at Nitro Up North.
"I think generally my bike's consistency made for an easier weekend than we might otherwise have had – that certainly contributed to the outcome," said Cassar following his event victory.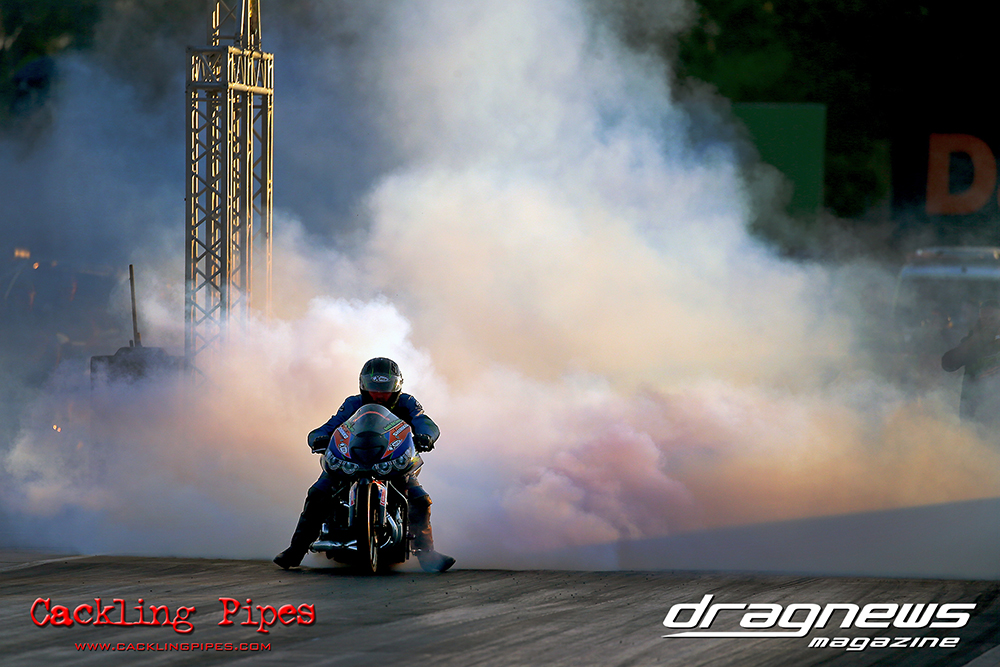 Nitro Up North delivered a cracking event in front of a monster crowd, as the Australian Top Fuel Championship reached its crescendo. Forming part of the Darwin Triple Crown, fans were treated to Supercars, Australian Superbikes and drag racing on the same card, producing an electric atmosphere for Cassar to soak up and put on his own show.
"It was certainly a different experience in the Top End, and combining with the V8 Supercars and Superbikes made for an enjoyable meeting- with racing from morning 'til night," said Cassar.
"I was there to have a good time. I really enjoyed doing big smoky burnouts for the crowd, and appreciated the encouragement and excitement they gave back."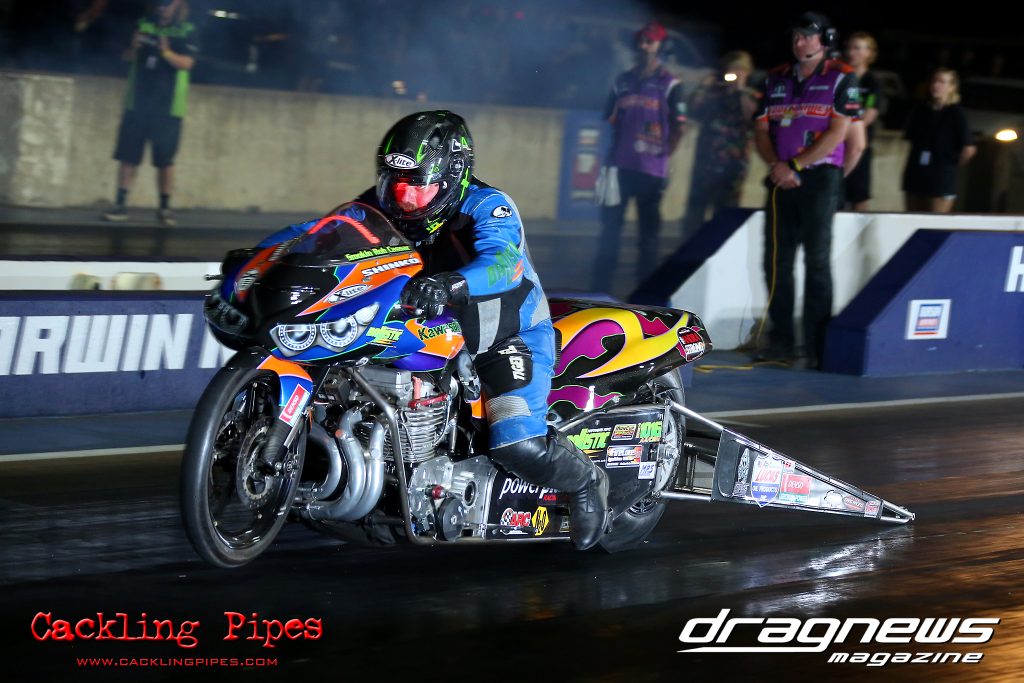 It was a long trek for Cassar to support the reimagined Top Fuel Motorcycle championship, while still recouping the bike from its last outing at Heathcote Park, and with the anticipated increase in competition over the coming season, Cassar also brought some upgrades for his Kawasaki.
"Well, it was a long trip from Melbourne and this is the year I want to chase the ADRC championship," said Cassar. "After Heathcote I found that I had hurt the motor, and so there was some rebuilding to do before we headed north without testing.
"I put a safe tune in for Q1. I was a bit nervous about how things would go as I haven't raced in this type of weather before with high humidity. We ran a 7.23 at 178MPH, so I was pretty happy with that for the first pass. With something now to work with I decided to try the second stage nitrous which I had never used before, but with a good track I felt confident to give it a go.
"In Q2 we ran a 7.25 at 186MPH picking up 8MPH over the quarter. Pretty stoked that seemed to work!
With Cassar happy he was still able to deliver the consistency in lieu of the tricky conditions and tune up changes, he was optimistic on stepping up the performance on race day against strong competition.
"The first round against Mark Drew was a little daunting as I knew if Mark got things together, he would run a number," said Cassar. "In my favour that didn't happen, and I improved my time with a 7.17 at 167MPH. The MPH was down as I couldn't hear Mark, and I backed off. I thought that I may have hurt the clutch, however that wasn't the case, and I had to give myself a talking to that I wasn't running Comp Bike, so I didn't have to concern myself about indexes.
"The second round I was up against Danny Rickard. With Danny always sharper than me on the tree I was focused on getting a good start. He still got me on the tree, but I ran a 7.05 at 188mph – my best run of the weekend so far.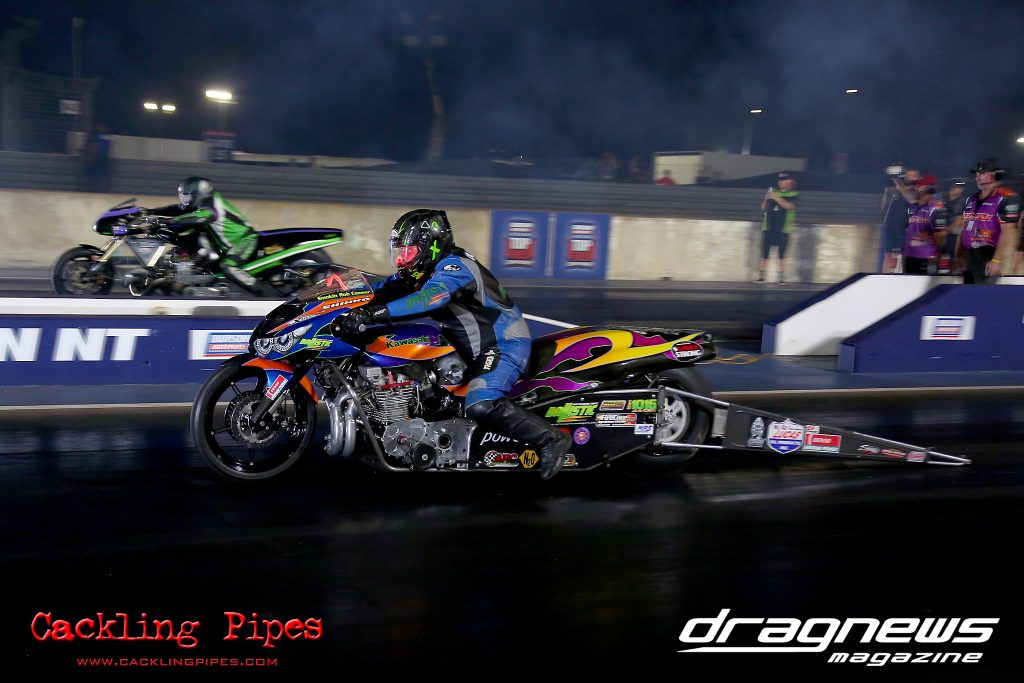 Through to the A-Final, and racing for the event win against fellow Kawasaki rider West Aussie Greg Durack, Cassar was still dogged by a tyre shaking problem that was seemingly contagious across all the professional classes.
"I wanted to do something about the bike shaking the tyre out of the hole on every pass so that I might run that elusive 6 second pass," said Cassar. "I just couldn't sort out the sixty foot, and leading into the final round I just left the bike as it was. I was fortunate to have lane choice by 1/1000th of a second!
"I really enjoyed racing Greg Durack in the final. It was going to be a showdown of two non-Nitro Kawasakis in the final – nitrous versus turbo.
"It was a really good race that I won by 1/1200th of a second. Greg was well ahead of me at the 660ft, I looked across and saw his front wheel in the air and him motoring down the track. I punched top gear and thought that he had me so relaxed back in the seat. Suddenly he was heading for the wall and I cruised past him to take the win.
It was a giant killing performance from Cassar, that sets himself up well in the championship chase when the series heads to Alice Springs for the Red Centre Nats in a few months. With the new setup changes also working well, Cassar can also focus on his six second goals and performance increase to combat the expected increase in competition as the series gains momentum.
"I was pretty excited, it all felt a bit surreal as I thought I would never win an ADRC round in Top Bike. With the smallest bike in the field, it felt like a huge accomplishment," said Cassar.
"I am definitely going to keep that second stage of nitrous now that I know it works, so that will stay – the sixty foot is now my big focus.
"Of course, I would have loved to run a six second pass. I thought I might have achieved that on the good track, however I think the humidity affected my tune. If I can calm the bike down in the 60ft I think we can achieve a high six.
In a perfect start to the season, Cassar has plenty people to thanks, and is excited on what's to come for the new series.
"We had an awesome weekend catching up with our good friends Kev and Dale Gummow who crewed for us," said Cassar. "Of course I want to thank all of my sponsors who helped me; Ballistic Performance Parts, Lucas Oil Australia, Powerplus Race Fuels, Shinko Tyres, Denso Australia, Lectron Cars Australia, and those who particularly hopped on board for this meeting – Force Wear Group, Andrew's Automotive and Cabinetworks.
"I am feeling really positive about the series. I competed at a number of events last season, and I really like the approach that is being taken by the promoter in building the excitement back into the sport. I have a lot of faith in the way that Andy (Lopez), Anthony (Clarke), and the rest of team are going about things. They are on the ground, in the action, and listening to racers – something that will be the key to their success.