Since Chris Matheson's arrival on the Australian drag racing scene 14 years ago, he has kept fans on the precipice of witnessing history – one of the last major milestones in the sport – the first five second Top Fuel Bike run.
Matheson was born in Tamworth, NSW and grew up in Armidale, but now resides in Brisbane, QLD where works as a large-scale specialist, purpose build industrial developer.
While not involved in drag racing growing up, Matheson developed a love for motorcycles and racing them.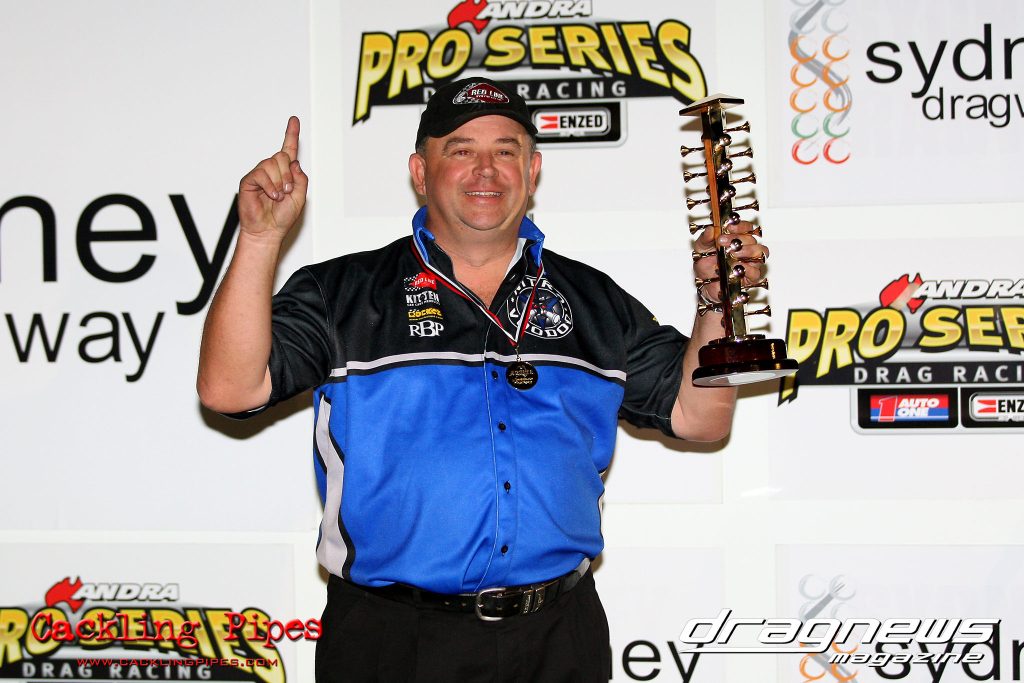 "I'm driven by the will to succeed, and the challenge to embrace technological detail, and engineering of motorcycles," said Matheson.
"I was bought up on dirt bikes from the early age of 12 when Dad brought home an old Honda CL 175cc twin cylinder Ag bike. My father said 'if you can get it running it's yours,' and the rest is history. Motorcross, Enduro, speedway, then fast big bore road bikes up until my mid-20s.
"I then stopped for 20 odd years with family and work taking pride of place, then decided to run Top Fuel Motorcycle before I grew too old!"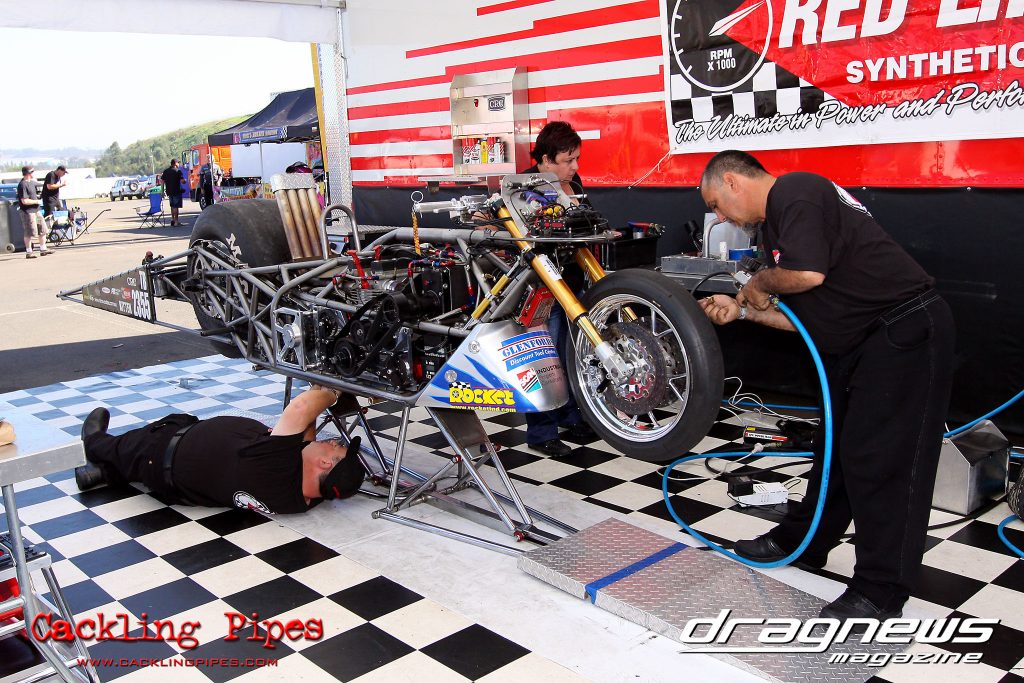 Matheson was drawn to challenge of drag racing, but first he needed to find a ride.
"I love the sport of drag racing for the friendships I have made, the experience, and the challenge it brings to succeed," he said.
"The opportunity came about in 2008 to buy a fuel bike off Larry McBride in the States, so that's what I did. We then set about upgrading the bike, building our own power plants and raced for some 14 years."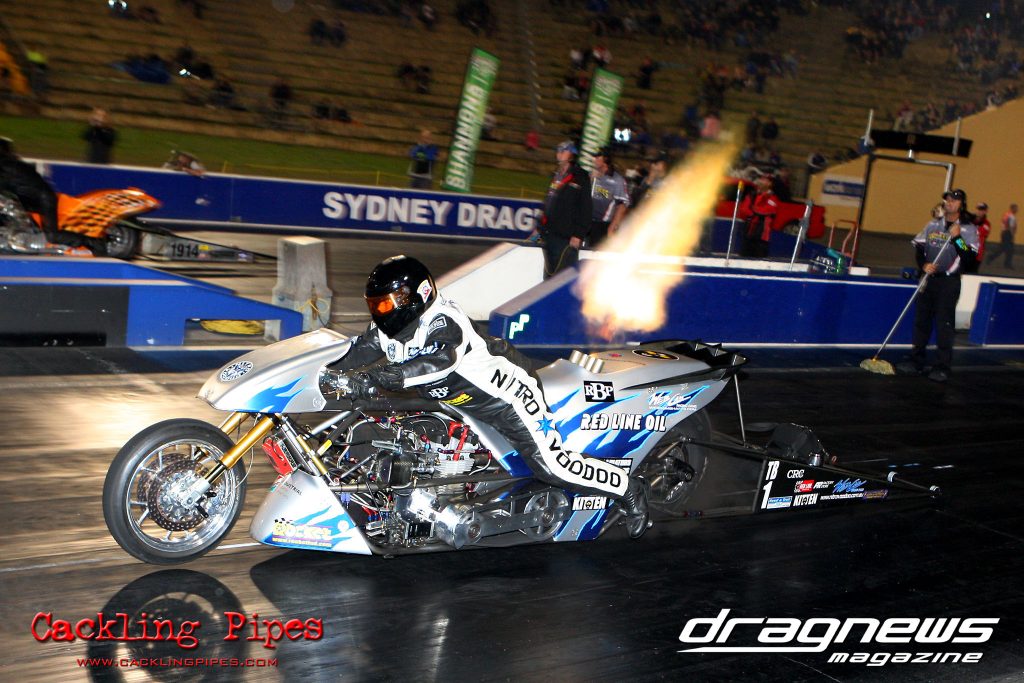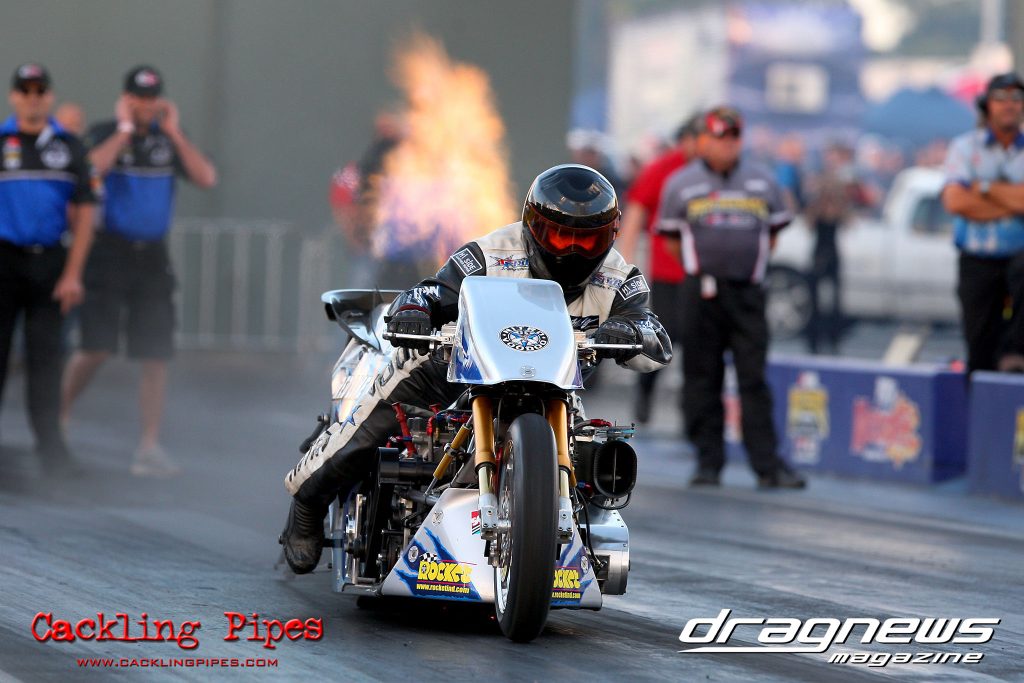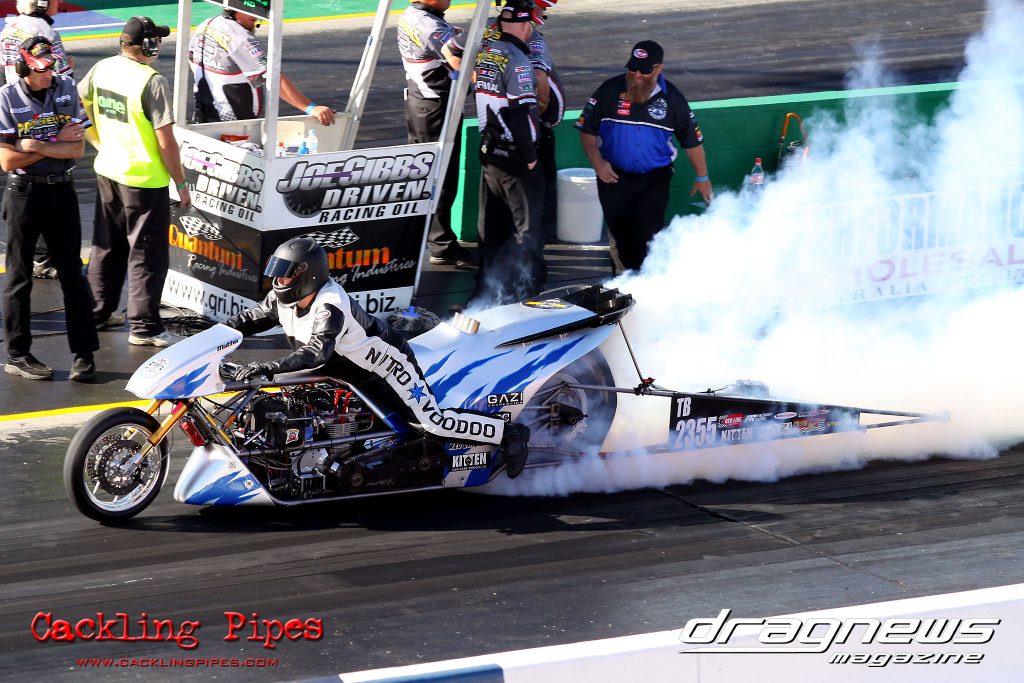 It was an epic journey for Matheson, racking an astonishing catalogue of wins and records. The team set the national ET record at their first meeting – a benchmark they continued to reset over the course of the next 14 years – hold the highest speed at 241.8mph, and have held or hold track records at all the major tracks in Australia. The Nitro Voodoo Team finished with eight Australian Championships – five of these consecutive – that included over 50 event wins, 70 podiums and 60 top qualifying performances.
However, one goal still remained.
"We were successful on our journey chasing a dream, but I had to run a 5 second pass in the Southern Hemisphere, and to be the first to record that history," said Matheson.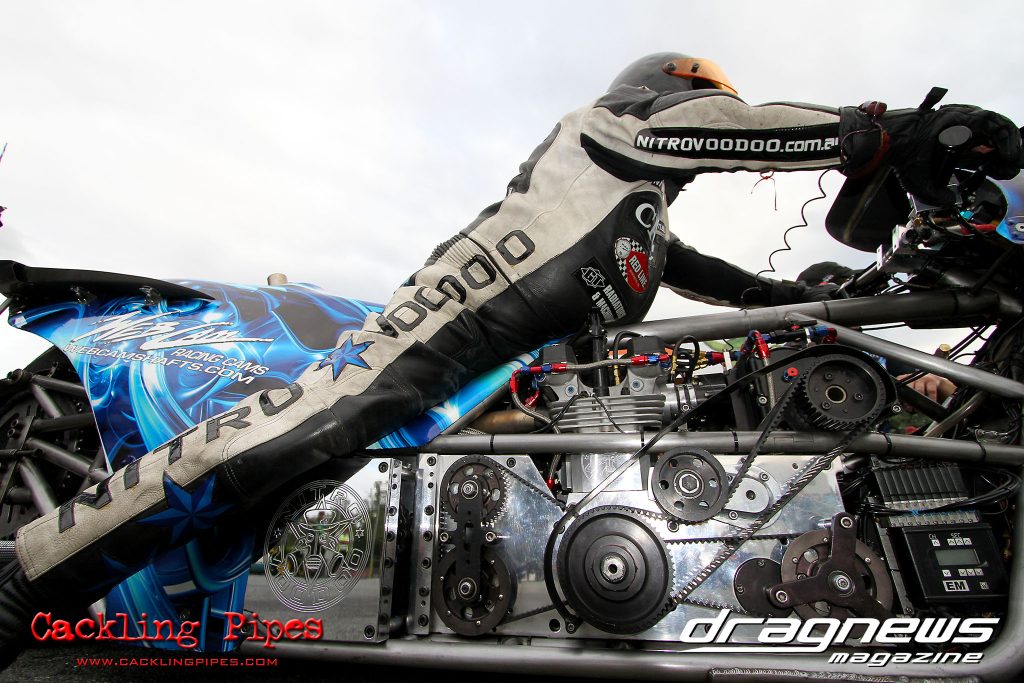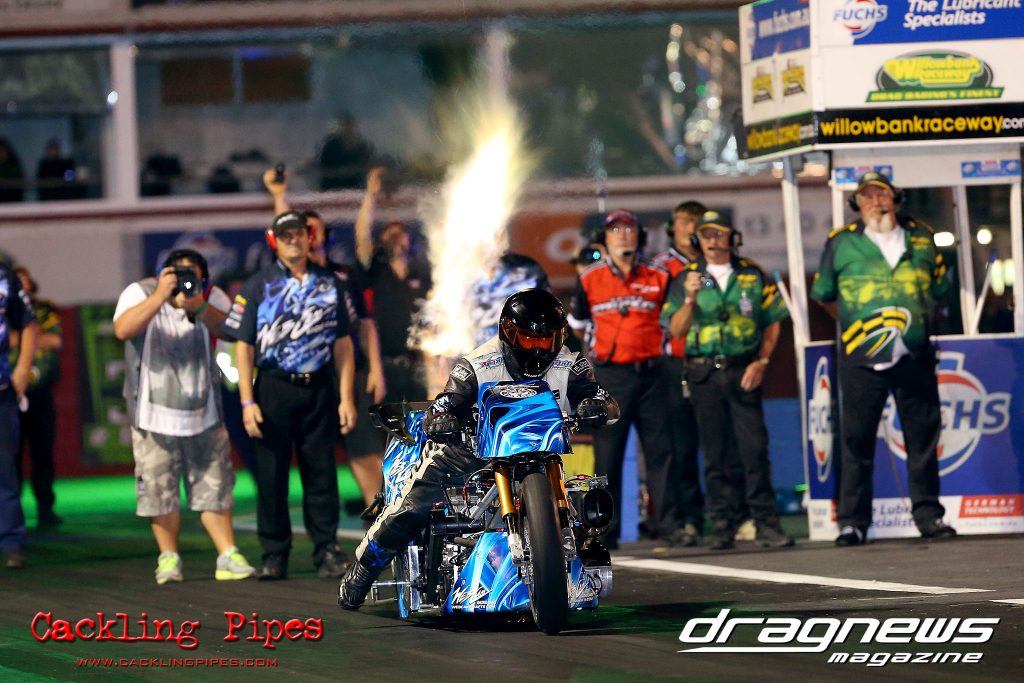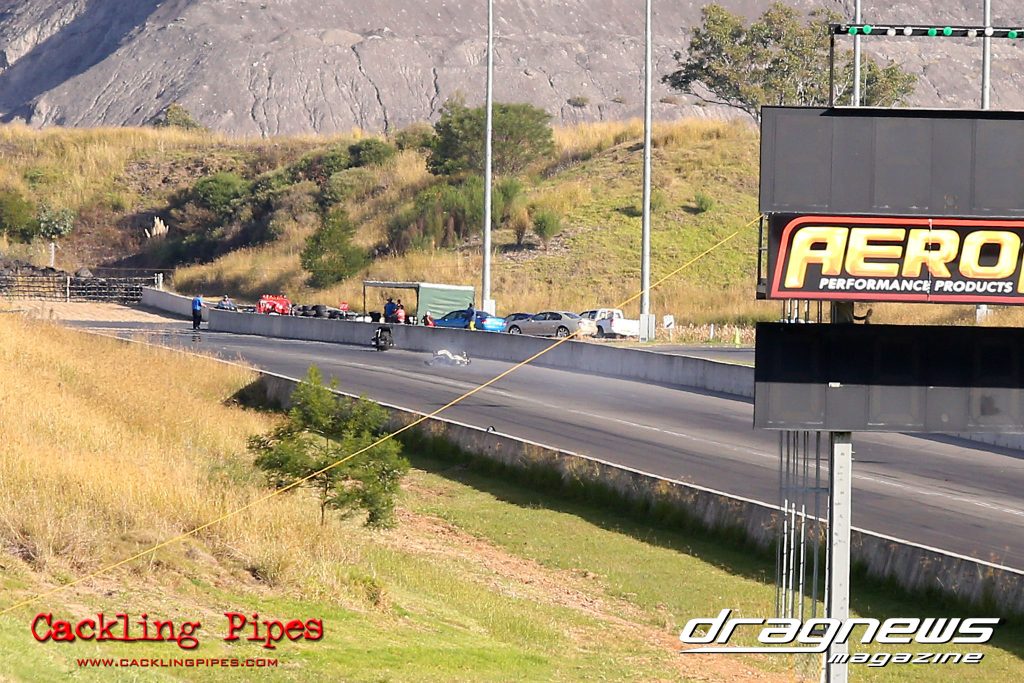 To do that the bike evolved over the years, some of it forced, like from the low point of Matheson's career when he had a terrible crash at Sydney Dragway.
"The motorcycle started as a McBride machine, however was rebuilt after being demolished in a major crash in 2013 at over 237MPH," recalled Matheson. "The motorcycle has been upgraded on numerous occasions to what it is now. We make our own power plants with some 2000 horsepower, blown injected nitro base, with FuelTech ignition and McBride inboard clutch system. We utilise a BJ box, the rest is all specialised equipment virtually custom handmade.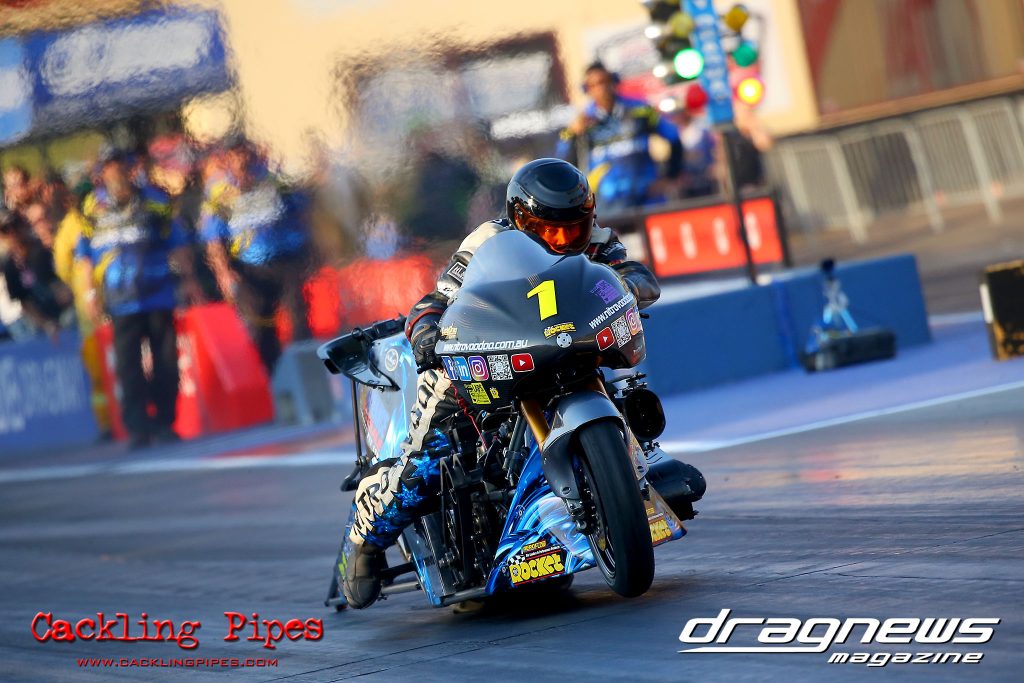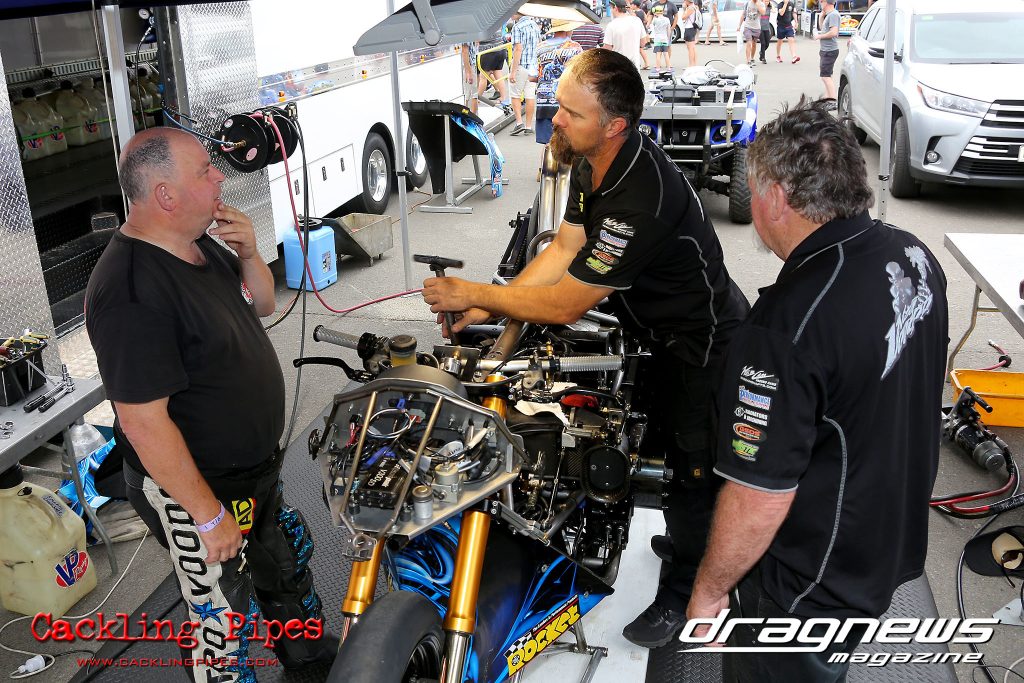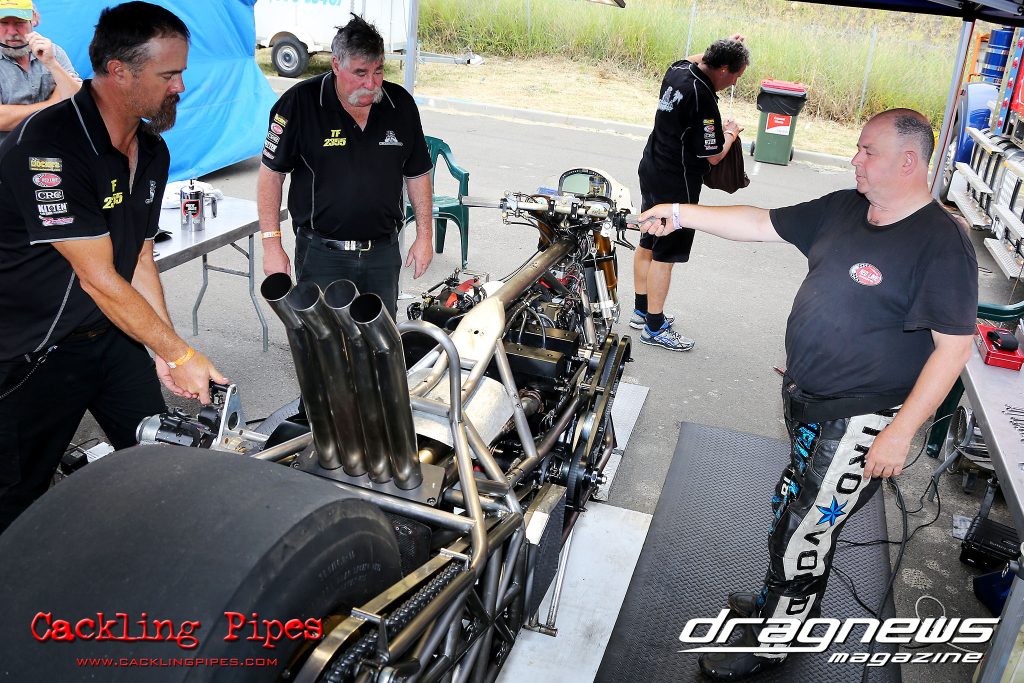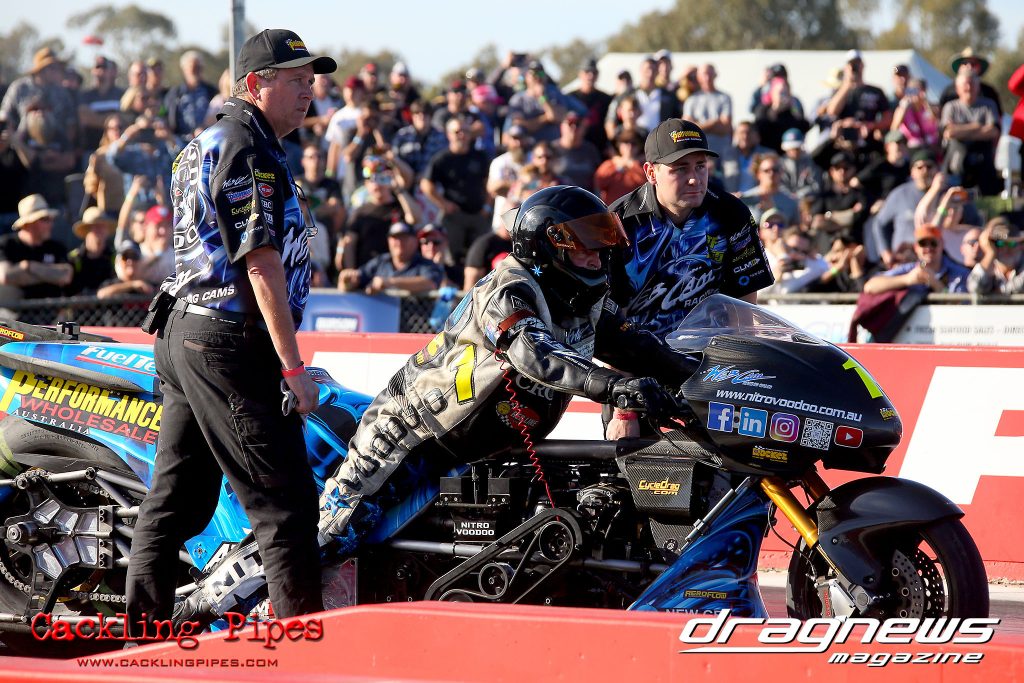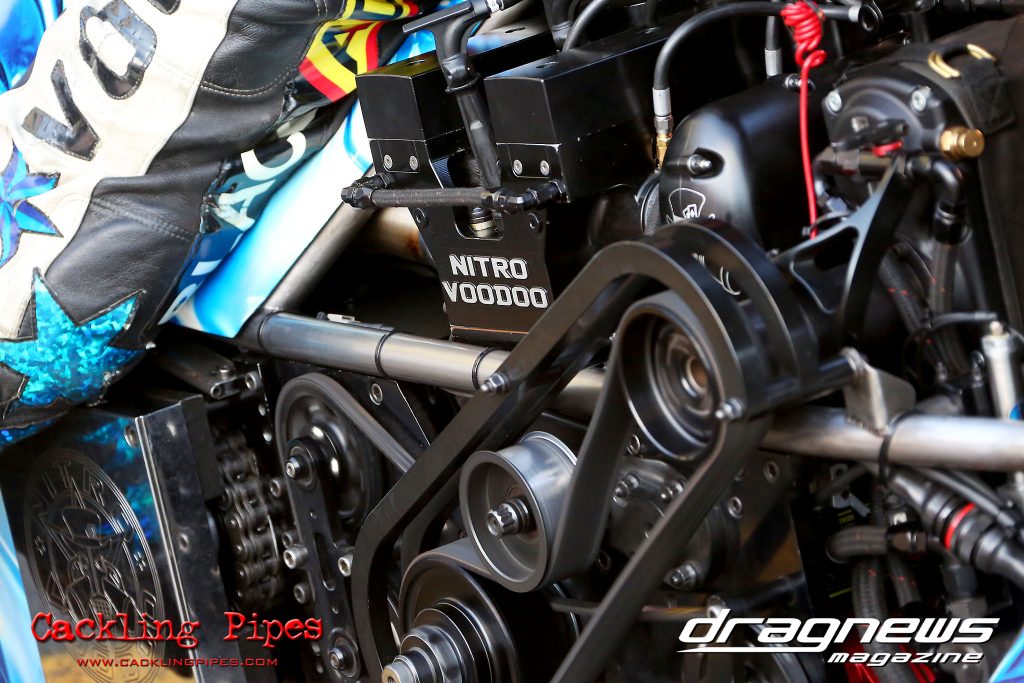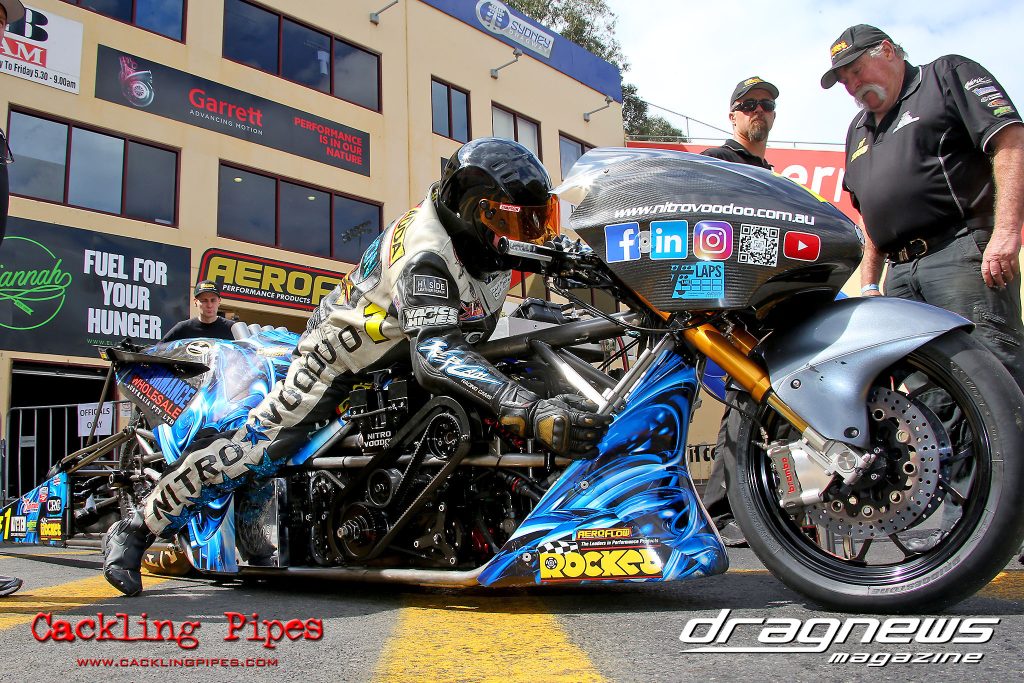 Come Nitro Champs at Sydney Dragway in 2023, the final piece in Matheson drag racing legacy was fulfilled.
"It took some 14 long years to achieve our goal to run the 5," said Matheson. "We travelled the country in our quest, set records, won championships along the way, and made a lot of friends in the process. The bike went under constant change from race to race developing various parts to improve the bike and re-write history.
"The five second pass was the next step in our strategy. We had run many 6.0 second passes and we knew we had the door open, we just needed to do what we do best. The track conditions and weather in May in Sydney are always good and conducive for record runs. The pass was smooth but not perfect leaving more potential in the bike.
"In the lead up to the race at the Nitro Champs we were very confident as we knew we had good conditions, the bike was on song and I was in a good place mentally to chase the five. The run felt relatively smooth for my machine, this thing is far from sitting on the couch watching I Dream Of Jeanie, it's a hand full and extremely dangerous.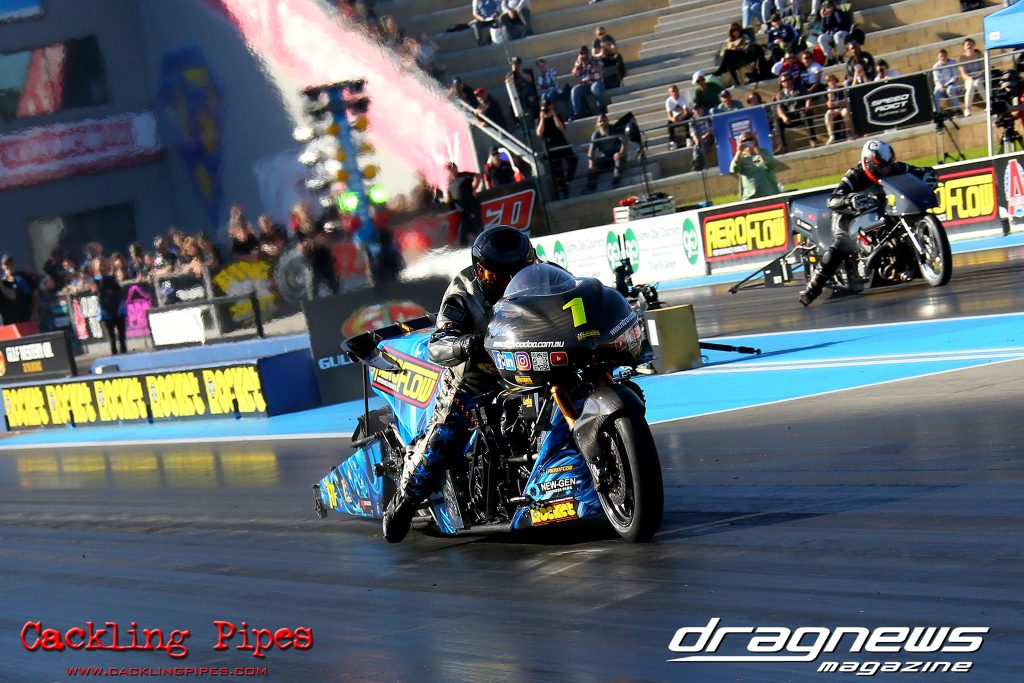 "At the hit I held 100% throttle, then had to ease off in the middle of the run as the bike began to slide, and then wobble. Once it settled down, I resumed full throttle to 1200 ft a little short of the finish, however, confident it was enough to get the job done. The bike mixed up a couple of cylinders from about 900 feet, regardless I kept into it, hoping the cylinders would re-light, they didn't so it was pointless running any further.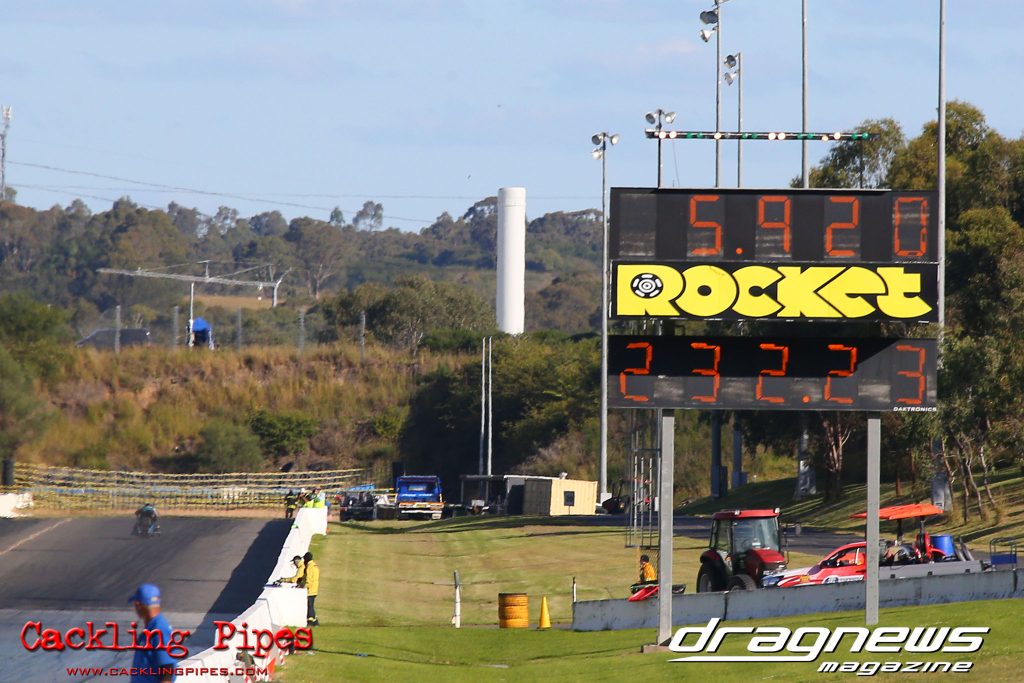 "As I slowed to a stop in the deep end, the camera crew said it was a record pass. I had the track record at Sydney at 6.07, so I thought wow I have run another 6.0 something! Eventually someone yelled out 5.92, wow elation set in we did it, my crew guy rolled in on the tow bike to return me to the pit, he was jumping for joy as was I.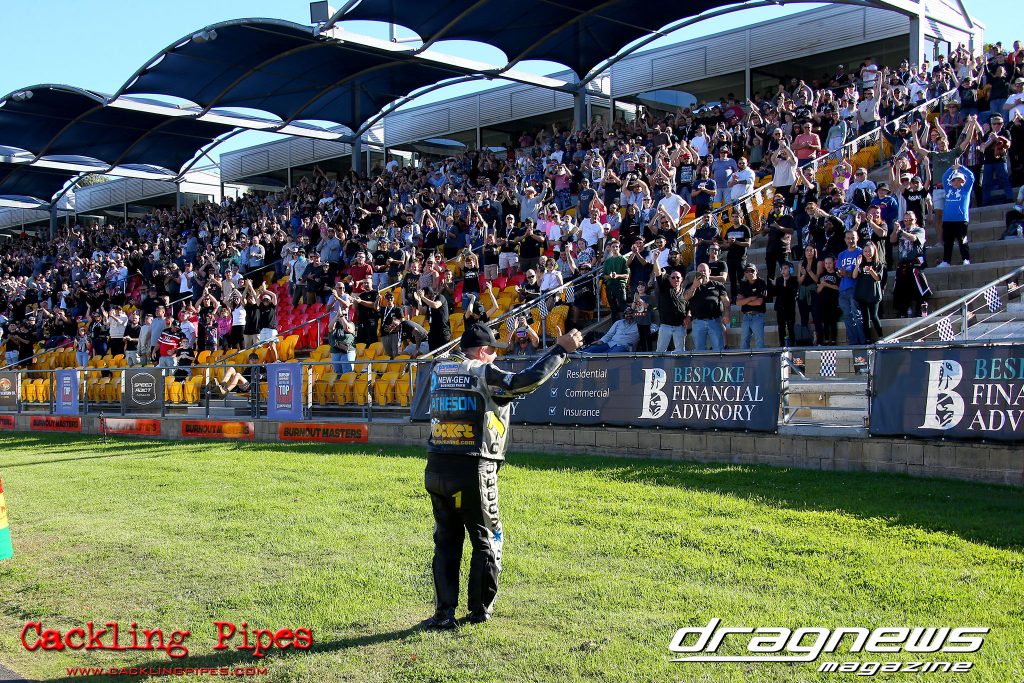 "I'll never forget the day, the crowd and fans well wishes were huge, so many kind words, I just cannot thank the team, our sponsors and all our fans enough.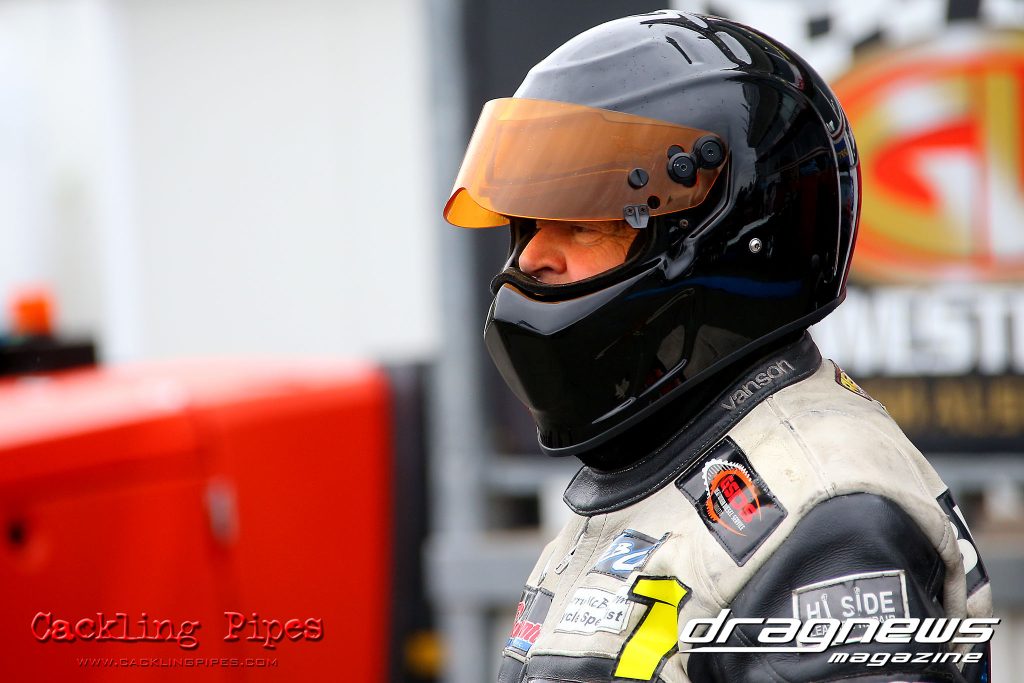 Misson completed for the Chris Matheson who then announced his retirement from riding Top Fuel Motorcycles a short time later. The Nitro Voodoo Team leave the sport as history makers, 5.920 – the quickest Top Fuel Motorcycle pass in Australia, and have a speed record of 241.8MPH set at Willowbank, but this may not be the last we see of Matheson in drag racing.
"Yes, I announced that I would retire from riding the bike as we have done what we set out to do," said Matheson. "It's time some younger guys can chance our history, and make their own in the sport.
"We retired the bike as number one plate holder of both the 400 Thunder National Championship series and the Australian Drag Racing Championship, to finish undefeated as eight-time National Champion.
"I have some plans for the next stage in life, and I will announce in due course. Thanks to all our sponsors and supporters my team, family, and all the fans for their support and kind words. Thank you."