Queensland's Controlled Insanity team are hoping to soon have their injected nitro combination running as part of the QDRC Outlaws at Willowbank Raceway – that's right, nitro bracket racing!
Car owner Allan Ray said the chassis is a Rod Andrews Race Cars rail which was built in 1997 for Dwayne Riley but only saw the track for less than a dozen runs, including by US driver Terry Haddock. The car is driven by Stewart Prior.
Want to trial Drag News Magazine in print for free?
"The car got sold a couple of times but was never raced until I purchased it last year," Ray said. "The engine and drive train was a 481 KB alcohol spec that I originally purchased in the blown dragster that Dave Glasson now drives for our team."
Ray was inspired to go in the nitro direction when Willowbank opened up their QDRC Outlaws bracket to include turbochargers, nitrous, centrifugal superchargers and injected nitro. There's a temporary pause on the nitro cars while some safety rules are sorted out, but Ray hopes there will be some movement on that issue soon.
"Injected nitro running in Outlaws is currently on hold until a safety rule is updated for the fire suits," he said.
The Outlaws bracket is the perfect place to go racing for Ray, who doesn't have any ambition to run the car in Pro Alcohol, which was opened up to injected nitro but has yet to see any entries in official competition.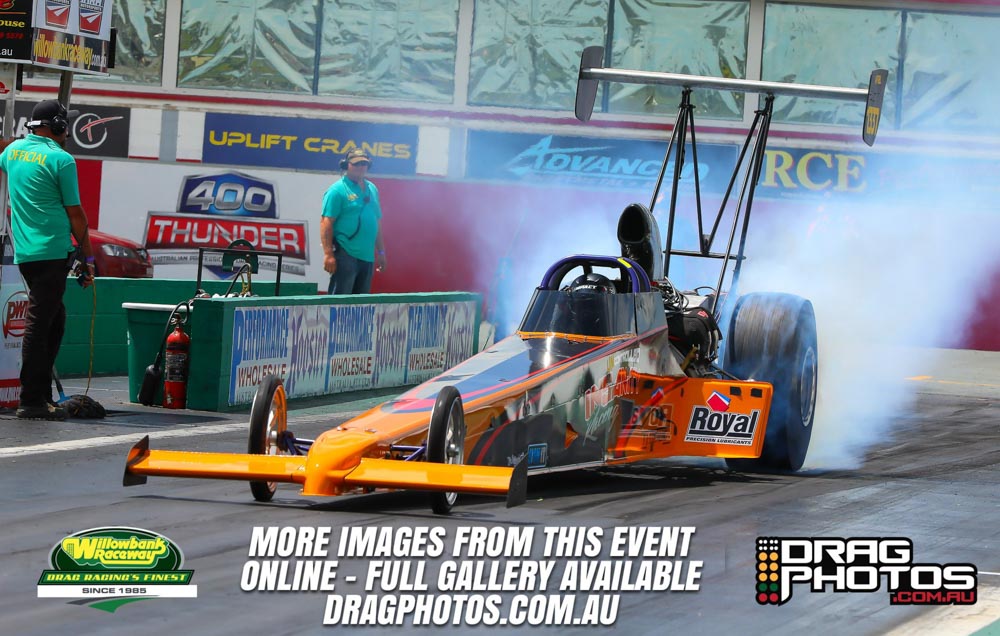 "I have heard that Sydney are looking to do similar with their local Outlaw bracket. I do believe there is talk of also opening up the Outlaw bracket at 400 Thunder events. The Queensland Supercharged Outlaws group have discussed this at a recent meeting and it was unanimously supported by the racers, so hopefully one day we may see some changes in Outlaws, or as I would like to call it 'Top Outlaws'."
There is very limited help for running an A/Fuel style car in Australia, so Ray said the team are taking it easy as they learn. They were out at the QDRC opener on the weekend.
"For now we are still learning as there is no information out there on tuning these cars and what information is available is limited or applies to twin mag big fuel setups. Stewart Prior is driving the car and helping with the tuning with some help from others. We made some progress last Saturday and got some good data so hopefully at the next QDRC round in April we will progress further to achieve our goal of running in the low six second zone."