The planned debut of Australian Pro Stock Championship points frontrunner Wayne Daley's new Diamond T Custom Toolboxes Dodge Dart has been delayed by the unfortunate COVID lockdown enforced cancellation of Willowbank Raceway's Apex Epoxy Flooring Super Thunder this weekend.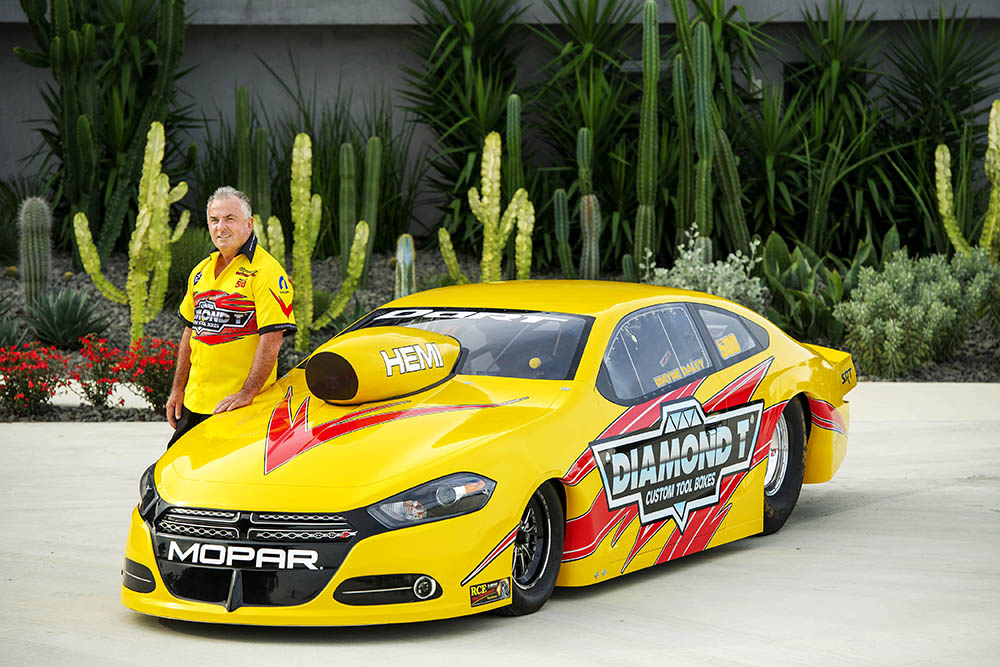 The Dart replaces the team's previous Dodge Avenger that Daley drove to the current Pro Stock National Record of 6.915 seconds at the opening round of the current 400 Thunder series at Sydney Dragway. This weekend he had been hoping to use the new car to stretch his razor thin two point lead over Tyronne Tremayne established at Round 2 of the series at Willowbank in January 2020 before COVID epidemic restrictions saw racing suspended for the remainder of year.
"We were really looking forward to racing the new car for the first time here at our home track, but we fully understand and support the Raceway's decision to cancel the event when they did. A large number of competitors are from outside South East Queensland and interstate so with so much uncertainty regarding the lockdown and travel it would not have been fair to proceed. After 15 months since we last raced, we can wait a little longer. However, it is particularly disappointing as we planned to run with special pink ribbon stickers on board to signal our support to a good friend and member of the Pro Stock Drag Racing family facing a battle with breast cancer. She's certainly in our thoughts and prayers," said Daley.
As the team now switches focus to the penultimate round of the series with the Nitro Champs event on May 6-8 at Sydney Dragway, Willowbank fans will have to wait until the championship finale at the Gulf Western Oil Winternationals in June to see the Dart on track.
Speaking about changing cars mid-championship Daley commented, "Originally we planned to finish the season in the Avenger but, with no racing happening, we had time to complete the new Dart leaving us with a dilemma. The Avenger was a fully sorted, proven product but we could easily see areas where the Dart is superior, particularly aerodynamically. Then we received a serious offer to sell the Avenger which made the decision to switch cars easier. We are running the same engine and transmission so we're confident of being on the pace quickly. Naturally, there's still a few nerves on edge about switching horse midstream so we're definitely keen to get some testing under our belt before race day."
The Nitro Champs will be the first 400 Thunder event conducted on Sydney Dragway's all new racing surface after its multimillion-dollar upgrade while the eagerly awaited Winternationals at Willowbank raceway is Australia's largest and most prestigious Drag Racing event.

For event information and tickets
Gulf Western Oil Nitro Champs, 6-8 May – www.sydneydragway.com.au
Gulf Western Oils Winternationals, 10-13 June – www.willowbankraceway.com.au

Follow Wayne Daley Motorsports www.facebook.com/WayneDaleyMotorsports
www.instagram.com/waynedaleymotorsports/
www.diamondtproducts.com.au

Photo Credit – Dale Haberfield, Millbrook Studio