Perth's Colin Davis has claimed many trophies at the Perth Motorplex over the years, including Christmas Trees at the 2017 Westernationals and the 2022 ANDRA Grand Final.
Now, the Top Sportsman racer is hoping that following a range of upgrades to his storied Ford Probe, he may be able to finally add a Goldenstates ANDRA Christmas Tree to the trophy cabinet when the event fires up at the Motorplex across November 24 and 25.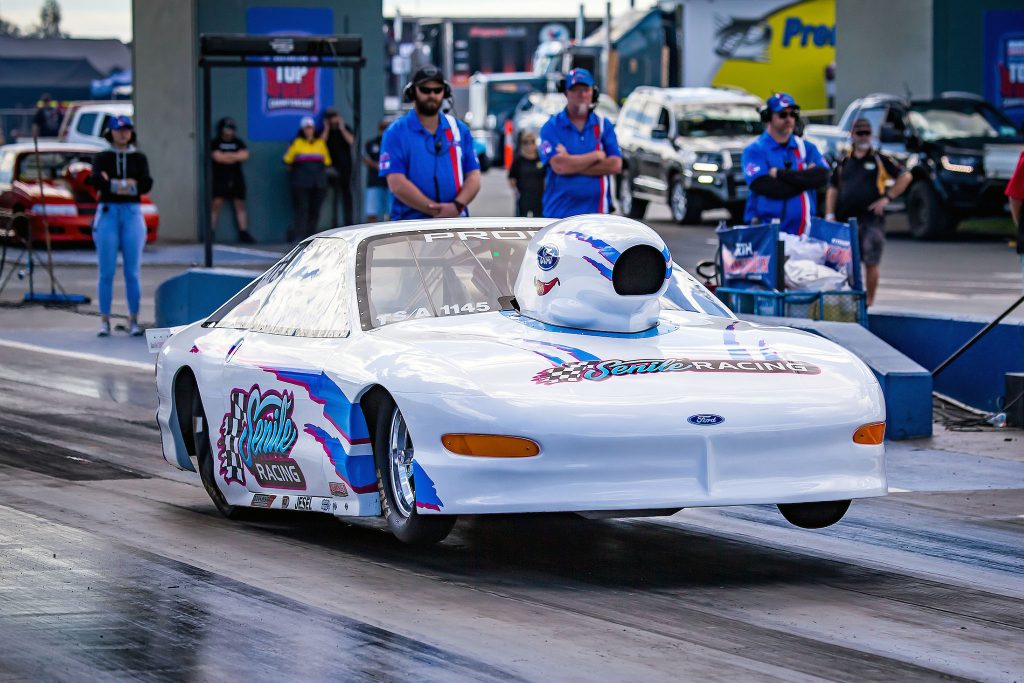 The Goldenstates event will feature the latest round of the Summit Racing Equipment Sportsman Series, as well as Nitro Funny Car, Top Doorslammer, Pro Alcohol and Top Fuel Motorcycle action.
"I started drag racing in 1993 at Ravenswood on Wednesday nights with a 1976 Pontiac Transam street car, going on to continue racing at the Motorplex when it opened in a V8 powered Ford Capri," Davis explained.
"In 2008 I started racing my Ford Probe and won in Super Sedan at the Top Fuel Championship event that year before going on to top qualify at the Westernationals in Super Sedan with an ET of 7.93 later that year. Come the end of the season, I was surprised at the WADRA presentation night that year with the Best Appearing Car and Crew trophy and also the YAHADABADDAY trophy due to ending up in the sandpit and having an engine fire both on the same day!
"They were the first trophies presented to me from WADRA and I have since been happy to receive several runners-up for the club in Top Sportsman over the years, which I progressed to after my time in Super Sedan.
"Since joining the Top Sportsman ranks, I have competed several times at the Westernationals, Top Qualifying several times and claimed the ANDRA Gold Christmas Tree in 2017.
"In 2022, I won a total of five awards – including the runner-up trophy at the Westernationals and the Gold ANDRA Christmas Tree Trophy at the ANDRA Grand Finals. So I have had some good results over the years!
"I have also top qualified at the Goldenstates, but I haven't yet been fortunate enough to take away the Christmas Tree – maybe I can change that this year!"
In his pursuit for more victories, Davis has been taking some time this year to undertake a range of upgrades to his Ford Probe, which has an exciting back story behind it.
"At the moment by best ET is 7.15 seconds at 308kmh but I am working on getting that down into the sixes – besides chasing a Christmas Tree next weekend, getting a six is a top priority for the Goldenstates.
"My Ford Probe is a former Pro Stock car which was built by Gateway Race Cars (USA Serial #180) with a chrome moly chassis.
"It was built for the famous Pro Stock racers, Bob and Rusty Glidden, in America, but when Bob and Rusty could not find race sponsors they sold the car to Australian Nick Xerakias who commenced racing it in January of 1998.
"At Sydney Dragway at the 2004 East Coast Nationals, Nick and Dave Rogan ran the quickest and fastest side by side pass in Pro Stock history at the time, with the run being written up in Australian Drag Racing Magazine at the time.
"Nick later sold the Probe to an Adelaide racer who never got it on the track, and then I purchased it and started racing it in 2008 after bringing it over to Perth.
"Hopefully we can make the most of the upgrades and the now 645 cubic inch engine to achieve a six second pass of some sort next weekend, ideally on the way to a victory," he grinned.
"To take out the win and claim the Goldenstates ANDRA Christmas Tree would be fantastic – this meeting is even more important to me this year as I missed most of last season due to various upgrades and improvements we were working on with the car, so I am really looking forward to seeing how the car performs, and also how I perform!" he laughed.
As he prepares to get back on the track next weekend, Davis has some key people he would like to thank for their support of his drag racing journey.
"Thank you to Sandro Principe at SCM Race Engines, he has been my engine builder, tuner, and crew chief since 2013. Thank you also to Michael Crossing of Race On Custom, Brodie Mitchell of Advanced Race Fabrication and Stuart Bond of WA Suspension, as well as my family, all of my past crew members, and this year's crew: Sandro Principe, Craig Bienvenu, Grant Renall, Brian Asher and Craig Barr," Davis said.
"Finally, I must say a massive thank you to all of the Perth Motorplex staff, volunteers, track officials, ambulance, fire and rescue staff, ANDRA officials and WADRA – especially Liz Johns. Without all you guys there wouldn't be any opportunity for us to do what we look forward to every year, so thank you!"
The 49th Goldenstates will be held at the Perth Motorplex across November 24 and 25, featuring not only the latest round of the Summit Racing Equipment Sportsman Series but also NDRC racing for Nitro Funny Car, Top Doorslammer, Pro Alcohol and Top Fuel Motorcycle.
For event information, visit www.motorplex.com.au
For more from ANDRA, visit www.andra.com.au