Day one of the Desert Nationals – round two of the 2022/2023 Summit Racing Equipment Sportsman Series – has lit up Alice Springs Inland Dragway with impressive qualifying performances delivered by more than 80 racers.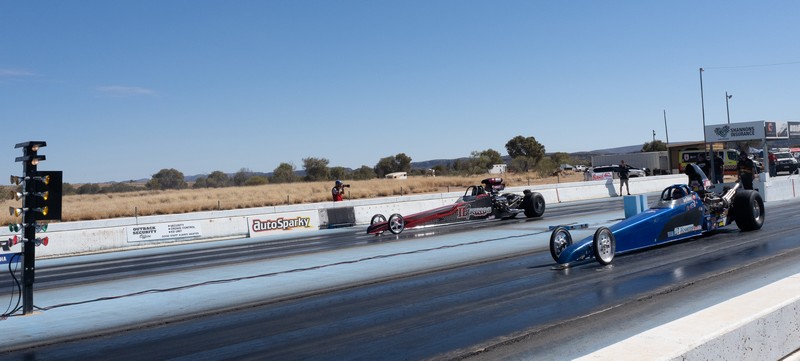 At the close of action, Brodie Zappia (Summit Racing Equipment Junior Dragster), Jake Hamilton-Moderate (Modified Bike), Bruce Howie (Super Street), Chris Moore (Modified), Tony Miskelly (Super Sedan), Greg Damiani (Top Sportsman) and Alan Mahnkoph (Supercharged Outlaws) are topping the chase for the Decoglaze Glass Splashbacks Top Qualifiers Medallions for their respective brackets.
Each bracket has one more session of qualifying to run which will be held Sunday (24 July) from 11.00am ahead of eliminations racing from 12.40pm, with the finals scheduled from 3.35pm.
In Modified, an overly consistent day for Chris Moore was marred only by a temporary starting issue.
"We dropped one qualifying round because we couldn't get the dragster started at the line, but we took it back, pulled out the starter motor and fixed a few things up and got back out there for the next lot of qualifying, so that was okay. Other than that, it has been a reasonably smooth day and the weather is good which is a real bonus," Moore said.
"We reckon we have a touch more in it. Originally, we weren't thinking about top qualifying or anything, we were instead thinking about consistency, and we ran three very consistent runs, an 8.36, 8.36 and a 8.34.
"Consistency is what we were after, and I think now we just have to tidy up the reaction times and hopefully that will see us able to really get in there tomorrow.
"The racing is going to be pretty close. If things stay as they are currently, we will be up against Craig Baker in round one who is the current Australian champion – I wouldn't say we are worried, but he is going to be the man to beat I think," he concluded, while thanking sponsor Great Northern Air Conditioning and new local supporters for this weekend, TJM Alice Springs and Central Communications Alice Springs for their support.
In Supercharged Outlaws, Alan Mahnkoph has headed to the Desert Nationals as the last round Decoglaze Glass Splashbacks Top Qualifier and event runner-up and so far, is on track for another strong result.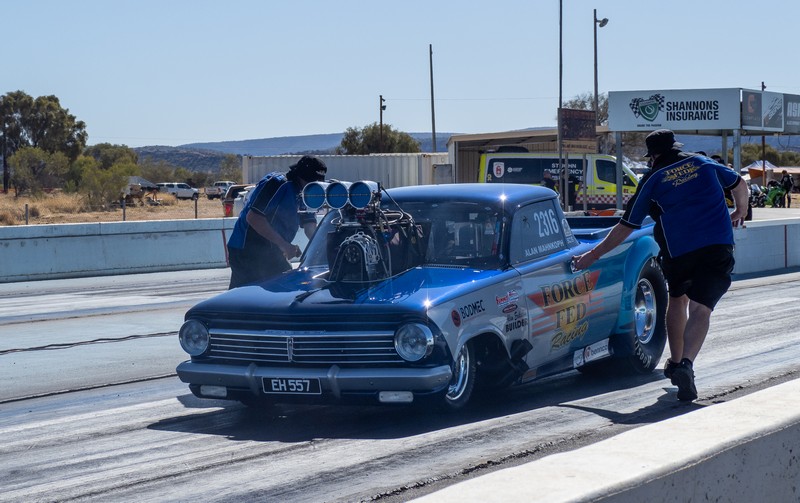 "It is going not too badly, I have some new people who have come and given me a hand this weekend as the rest of my normal crew couldn't make it, but it is all going pretty good," Mahnkoph said.
"We got out there and the track was a bit loose for us at the start of the day, but it has come around a little bit for us now and we have enough data for tomorrow to get down the track. The car was doing what we asked it to, and it has been good, but I wouldn't say I am confident of top qualifying officially tomorrow as I never count my chickens before they hatch!
"Everyone seems in pretty good spirits heading into the racing and feels we are heading in the right direction. I think as long as we stick to the routine and stick to the plan, we should hopefully do all right. Hopefully the car grabs the track, and we can get through the first round – if we can get through that first round, we should be all right," he concluded, while thanking his sponsors Bodmec Maintenance Solutions, Alan Eriksson Builder, Bennco Group and JaziNET.
The Desert Nationals racing will conclude tomorrow, Sunday 24 July, from 11.00am. For full event information including entry lists and event schedules, go to www.cadra.com.au
Images by Amber Simms Photography