Darryl Stephen is launching Australian Pro Stock's biggest Ford team yet with a two-car assault on the six second zone, and deservedly takes the cover of Drag News Magazine Issue 48!
Purchase Drag News Magazine Issue 48 – $15.95 incl Australian postage.
Purchase Drag News Magazine Issue by Issue Subscription – $14.95 every six weeks
Purchase Drag News Magazine Eight Issue Subscription – $119
As a champion sportsman racer, Stephen knows what it takes to win but the 400 Thunder pro series will be a brand new challenge. We take an up close look at his double-vision rides which are set to reinvigorate Pro Stock, especially for blue oval fans! Find out how he intends to succeed in arguably drag racing's toughest bracket.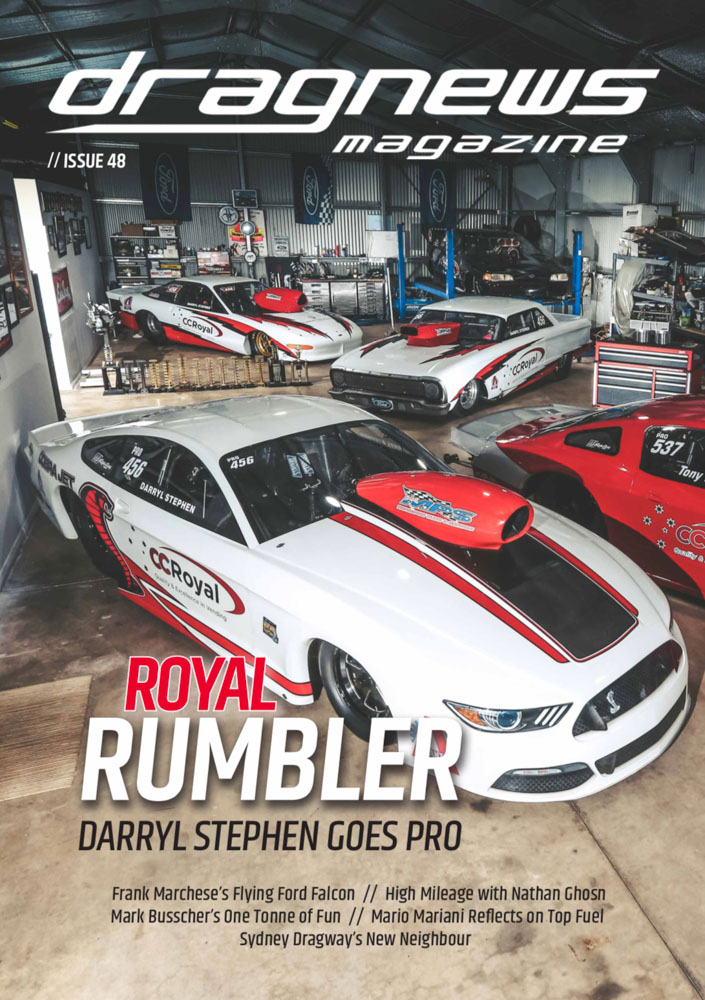 It's a tough tin-top issue this one, as we next have a three-pack of Australia's toughest Drag Challenge rides under the microscope. Continuing in the Ford vein, Frank Marchese's legendary 200mph Ford XW Falcon street car shows off its secrets, while Nathan Ghosn's nine-second Ford Capri (with an incredible 50,000km of street driving on the odometer) demonstrates that you can have a blast on both the strip and the highways. It's definitely worth reading to find out more about these rides!
For the Holden fans, we do have you represented thanks to Mark Busscher's bad, black one tonner. While Holden intended the one tonner to be carrying cargoy, Busscher has it carrying the front wheels!
Changing gears into R for retro, Mario Mariani reflects on his time as a Top Fuel privateer. Together wth son Mark, Mariani showed it was possible for a working class man to make his way in nitro, even as he battled cancer. An interesting perspective that every drag racing fan should read.
Plus, we look into the plans for a new speedway right next door to Sydney Dragway. How will this affect the future of Australia's biggest drag racing venue?
As you can see, we've pushed hard to give you a whole bunch of content to make your drag racing winter a little warmer, so do us a solid and buy the issue or a subscription using the buttons below, or scroll a little further to see the pages of this issue.