Our latest issue of Drag News Magazine is now available, featuring nitro driver Paul Messineo, plus the world's quickest Ducati, the state of Super Street, dragster rookie Terri Jones, a nine-second turbocharged Toyota street car – the list goes on!
Please note that due to an increase in subscriptions limited numbers of this magazine are available for single sale – please order early using the buttons below if you would like copies. Scroll down for full issue description.
Magazine is now sold out, sorry!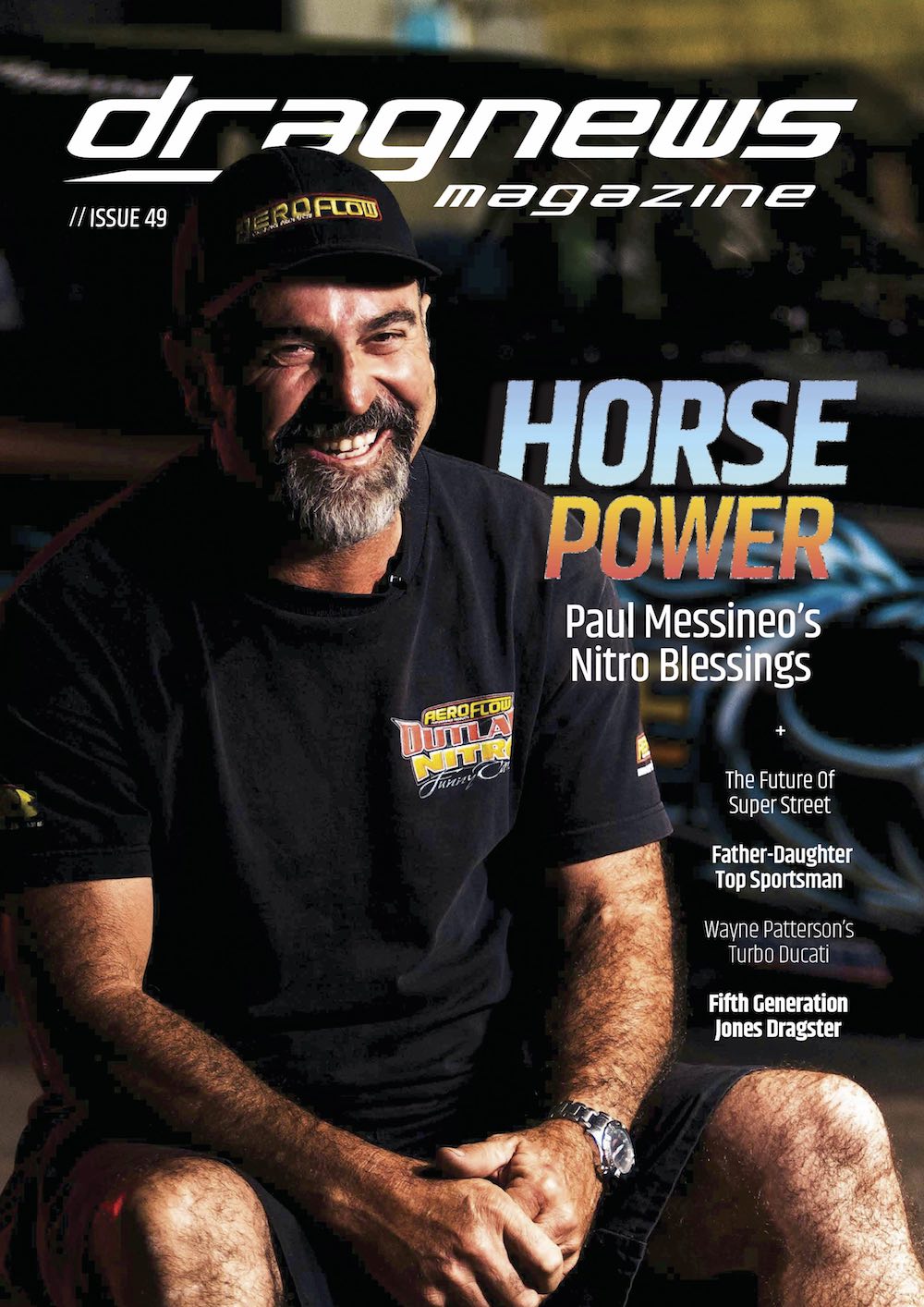 Our cover star for this issue is Paul Messineo, who got the chance of a lifetime to drive a Funny Car for Graeme Cowin's growing Aeroflow series back in 2013. It was an opportunity the Queenslander has not looked back on since, as he has become one of the veterans of Australian drag racing's most spectator-friendly series. Find out from Paul how he got involved and what it is like to steer one of these 4000 horsepower beasts.
We next switch sides of the pit area to one of Australian drag racing's success stories – Super Street. As the entry level to championship competition, Super Street is where many drag racers kicked off their careers and where others choose to enjoy their racing permanently. We surveyed Australian Super Street racers to get an idea of what they liked and what they would change in the bracket. From trans brakes to time limits, and roll cages to rivalry, find out about what the future may look like for the bracket.
The world's quickest Ducati, ridden by Wayne Patterson, has become a Comp Bike force in Western Australia. The larger-than-life Patterson, who got involved in drag racing by winning a wheelstand contest, has developed his turbocharged superbike into a record-setting machine.
On the other end of the experience spectrum from Patterson is Queensland's Terri Jones, the daughter of former Comp racer Wayne Jones, who has just begun her journey. While she has had to be patient for a new dragster to be built after a big crash for Wayne in 2014, Terri is now ready to go and keen to take her father's records!
Speaking of father-daughter teams, there is one emerging in Top Sportsman right now, with Victoria's Chris and Nicole Theo trading seats in the family Camaro. They both love racing but let's just say they have a different outlook on the future of the team!
Luke Redman shows off his Toyota Corona powered by a turbocharged 1JZ. Already running nines and aiming for the eights, this is one heck of a street sleeper, and we find out more about this really cool sedan.
Plus, we feature Power Shots from the Kenda 660 Drag Radial Series Expression Session.
Drag News Magazine is a 64 page, full colour print magazines mailed to hundreds of households around Australia. If you would like to join the list, please select one of the subscription options below.
Buy Drag News Magazine Issue by Issue Subscription (Australian postage) – $14.95 every six weeks
Buy Drag News Magazine Eight Issue Subscription – $119