The first Drag News Magazine of 2021 is now available, featuring John Zappia on the cover.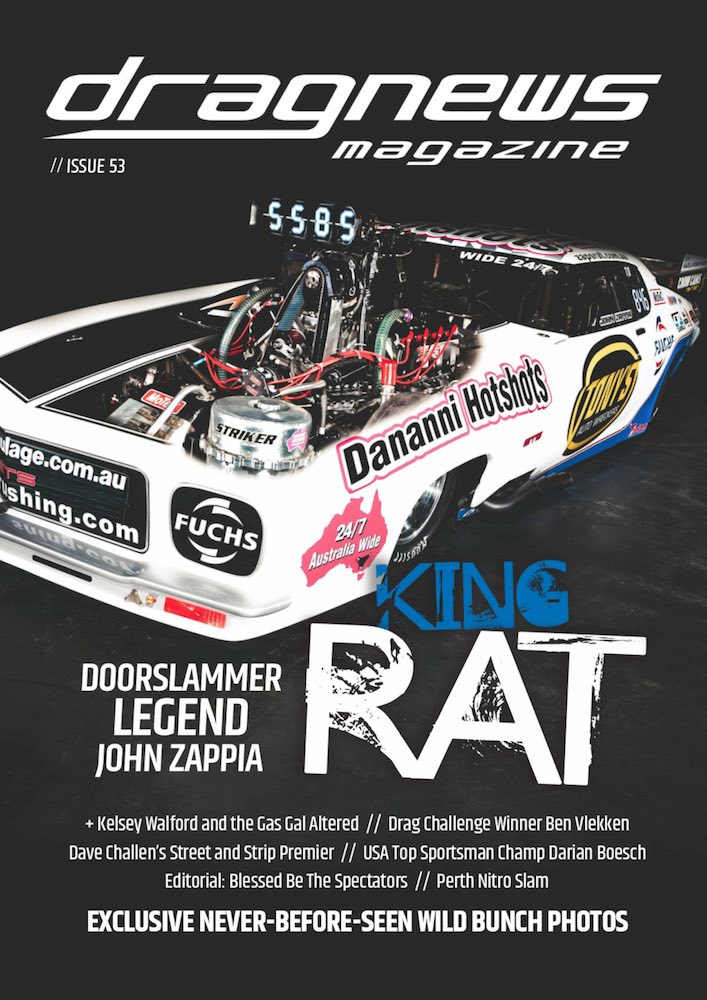 Accompanied by a beautiful photo shoot from Richard Hathaway, Zappia talks about how he has turned blown doorslammer racing into a career – and he's not done yet. From how the first five second run in a doorslammer boosted his sponsorship prospects, to how he feels about waking up every day with only drag racing on his mind, we go behind the scenes with the greatest doorslammer driver Australia has ever seen.
If you're a fan of the Wild Bunch or Top Doorslammers, you're simply going to love this issue. The next reason why is Jon Van Daal's photo special, featuring a bunch of photos (some never before seen in print) out of his archives. You'll have a great time looking through the pics and seeing the wacky machines that have made the classes such an important part of Australian drag racing.
We talk with the 'Gas Gal' Kelsey Walford who is bringing some fresh blood to Modified with her pump-fuel altered. She's another racer who just lives drag racing 24/7 with her partner Josh Leahy.
The Street Machine Drag Challenge crew have some of the coolest cars going in Australian drag racing right now. We talk with Drag Challenge Weekend winner Ben Vlekken and fellow DCW competitor Dave Challen.
Drag News Magazine Issue 53 is available via subscription only (use the buttons below to order). We expect this issue to be one of our most popular so please get in early. If we have any magazines available later in the cycle we will make them available for single issue sales.
| | |
| --- | --- |
| One Year (Eight Issue) Print Subscription – $119 | |
| Issue by Issue Print Subscription – $14.95 every six weeks | |