We have a bumper issue of Drag News Magazine about to go to the printers – get your pre-order in now and help us through the lockdown!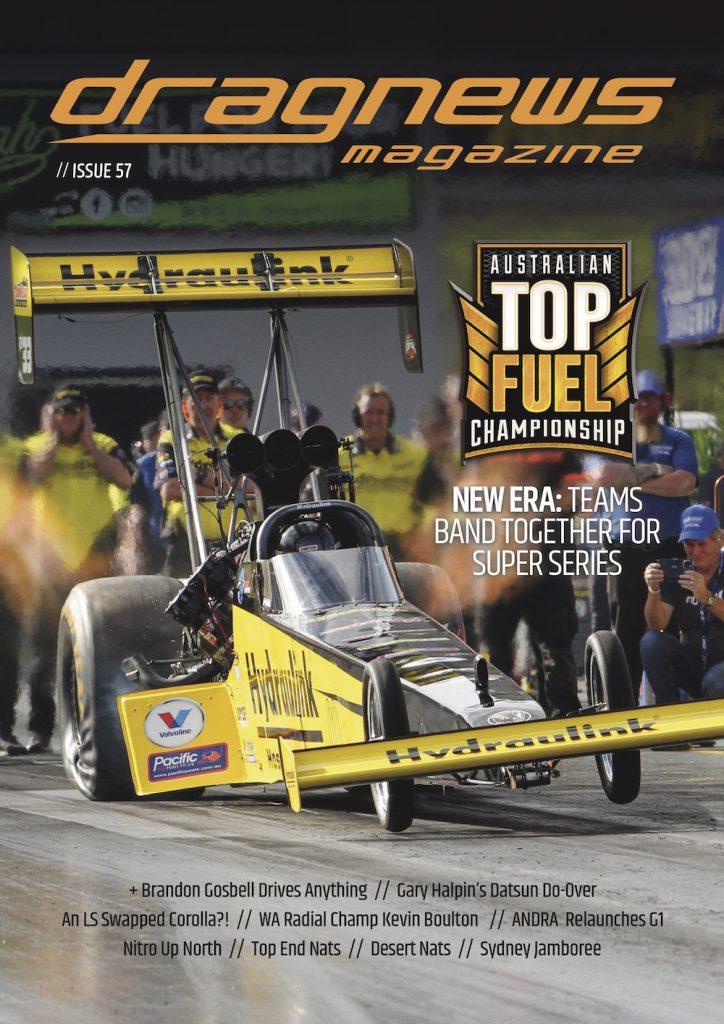 With Sydney currently under restrictions for travel, we are aiming to get as many orders as we can before we go to the post office to mail out – so please help us by getting in your order early!
| | |
| --- | --- |
| One Year (Eight Issue) Print Subscription – $119 | |
| Issue by Issue Print Subscription – $14.95 every six weeks | |
| Drag News Magazine Issue #57 – $15.95 | |
In this issue we speak with Australia's Top Fuel teams about their new championship series, which will see them take control of their own destiny.
It has been a big few months for changes at the top, with ANDRA announcing they will be returning to running a Group One championship for Top Doorslammers and Top Fuel Motorcycles. We find out from ANDRA CEO Brett Stevens why now was the right time.
And of course we have plenty of pages dedicated to highlighting some of the most amazing racers from around the country.
Brandon Gosbell was well known to fans of two-wheeled drag racing but he has now become a successful addition to the Aeroflow Outlaw Nitro Funny Car ranks. We speak with Brandon about where his passion for drag racing has taken him and how he felt about the transition to nitro.
Gary Halpin experienced the worst of drag racing when he lost his Datsun to an accident, but he took the opportunity to build a new one bigger and better, exactly how he wanted it. We check out V2.0 of his Datsun dreaming!
We love when drag racing gets into unusual areas of life, and the Fusion Toyota Corolla certainly meets that spec. The turbo LS swap is cool, but the meaning behind the program is what really makes this a neat deal.
WA Outlaw Radial champ Kevin Boulton tells us how he won on a budget that would put most heads-up teams to shame.
Finally we cover the opening round of the Australian Drag Racing Championship and the Summit Sportsman Series, plus Nitro Up North and the Sydney Jamboree.