There's an old saying – make hay while the sun shines. For South Australian drag racer Greg Damiani, it is one to take literally.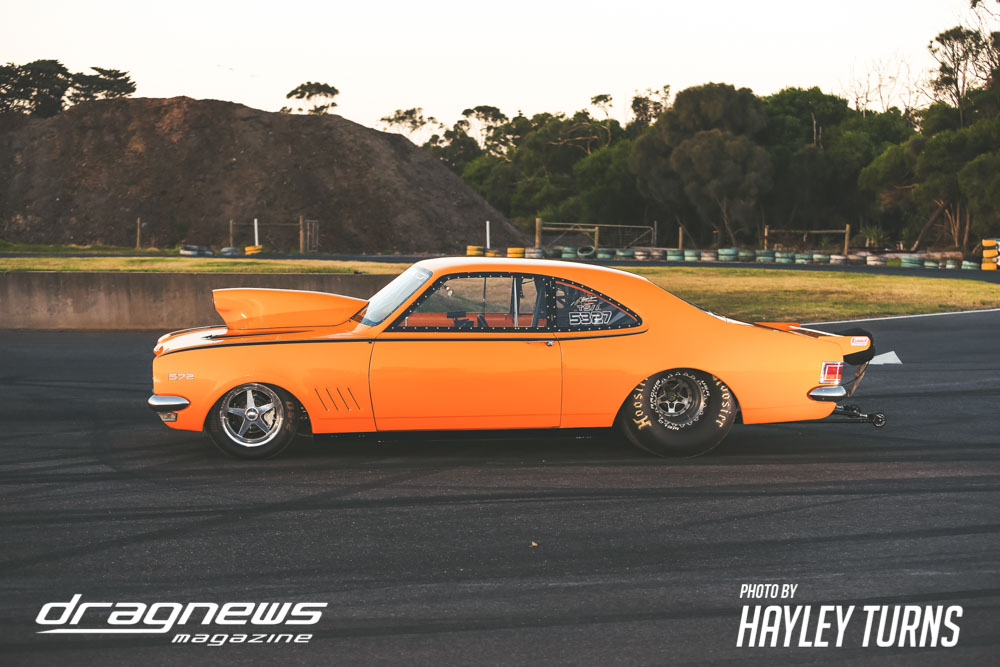 The Gawler River-based farmer and market gardener grows hay and potatoes when he isn't at the track, supporting his racing. And it doesn't hurt that Adelaide International Raceway is just minutes away.
"As a kid I loved muscle cars, Pro Street cars et cetera, and as soon as I got my license I'd go to most meets at Adelaide International Raceway," Damiani said. "I have always wanted to race since then."
Owning a Holden HK Monaro, Damiani had fun trying to improve his times, but it wasn't until he raced in Super Street at the Springnationals that he was introduced to competition.
"Although I red lit and went under the allowed 11.00 I still got addicted to the competition side of racing," he said. "The following year I came back to the Springnationals again and I came runner up in a big field – that's when I really got hooked."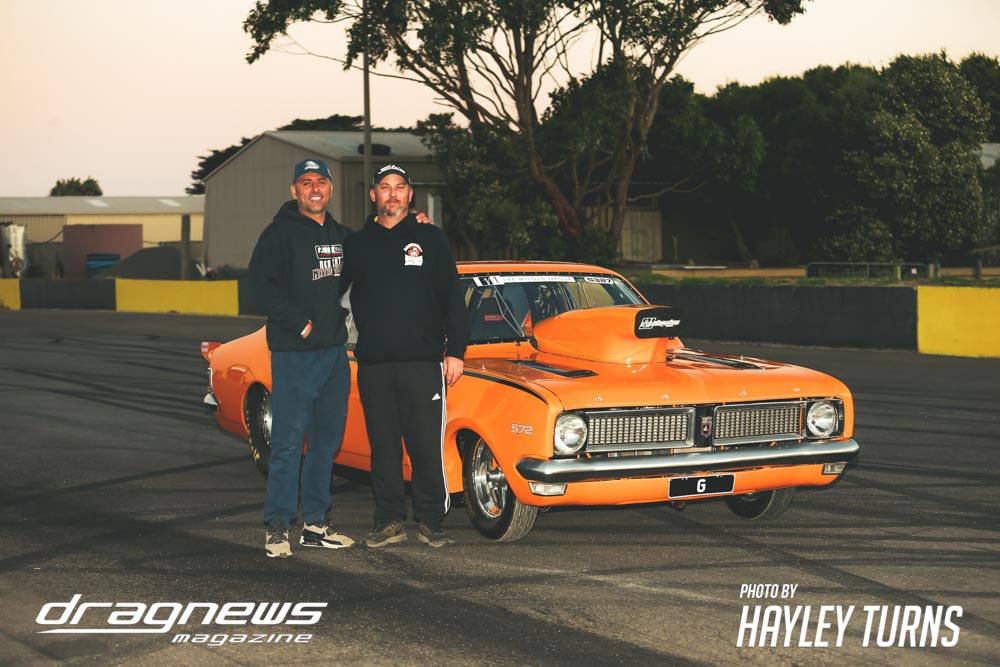 This article originally appeared in Drag News Magazine #39. Help us continue telling Australian drag racing stories by subscribing now.
| | |
| --- | --- |
| One Year (Eight Issue) Print Subscription – $119 | |
| Issue by Issue Print Subscription – $14.95 every six weeks | |
The pristine Monaro looked great on the track, but Damiani was hesitant to beat up on the classic for too long.
"I didn't want to keep racing the street car because I thought it would ruin it, so I looked for a cheap race car and found the Pontiac Firebird in Adelaide," he said. "I built an engine for it and raced Super Sedan.
"The car slowly got quicker and I moved up to Top Sportsman with it, and I won my first and only Christmas tree at the 2017 Desert Nationals."
Damiani began to push the boundaries of his Firebird as he upgraded the motor. With each run it became more clear that the chassis was not going to be up to the job. Rather than risk both race wins and the car, he began to look elsewhere.
"Towards the end of the season I rebuilt the engine and it made a bit more power and I could never get the car to handle the extra power, so I started looking for a full chassis car."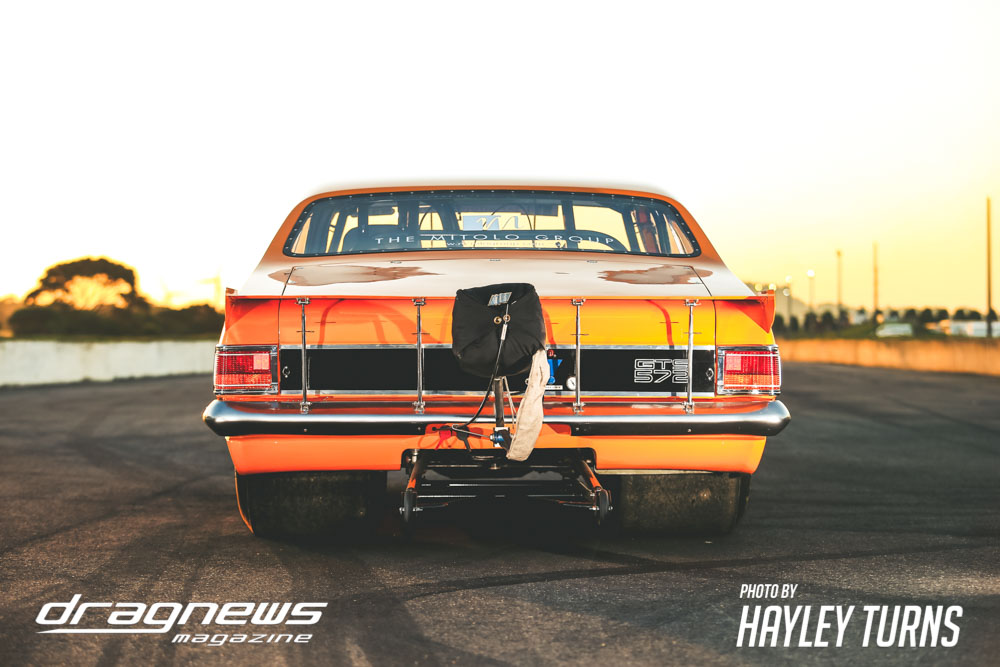 The search begun in earnest, but with a limited amount to spend on a new toy after his engine upgrades, Damiani had a hard time finding something that wasn't just affordable, but that he would be proud to have sitting in the shed.
"New was not an option with my budget and although there were plenty of good chassis cars relatively cheap, I just didn't love any of them," he said. Being a Monaro man, Damiani wanted Australia's classic muscle car back in his life.
"The few Monaros for sale had chassis no better than the Pontiac. and the good chassis cars were late model which don't do it for me. Then I saw this HG for sale. It was well out of budget but I loved it."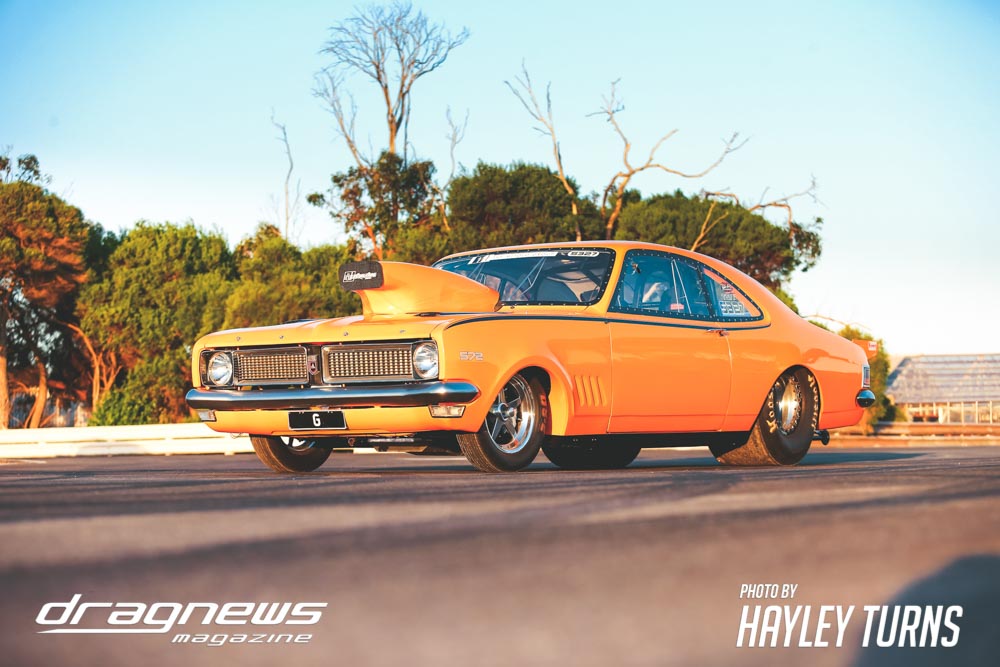 The perfect car was there, but Damiani had to get a few planets to align first.
"A few months later a mate of mine was looking for an engine similar to what the HG Monaro had, and we did a deal to buy the Monaro so I got the car as a roller and he took the engine and transmission off of me."
It was the perfect fit for Damiani, as he was able to offload the Pontiac Firebird as a roller too and put the 572 big block Chev and Powerglide into the waiting Monaro.
The Monaro arrived in white, which Damiani did not mind, but he always had a favourite colour when it came to Monaros.
"I had to make it my own so got it painted in my favourite HG colour, Indy Orange, by Chris at Born Again Restorations," he said.
From when the Monaro arrived to when it first hit Adelaide International Raceway ready to go in Damiani's hands was a quick process, taking just two months.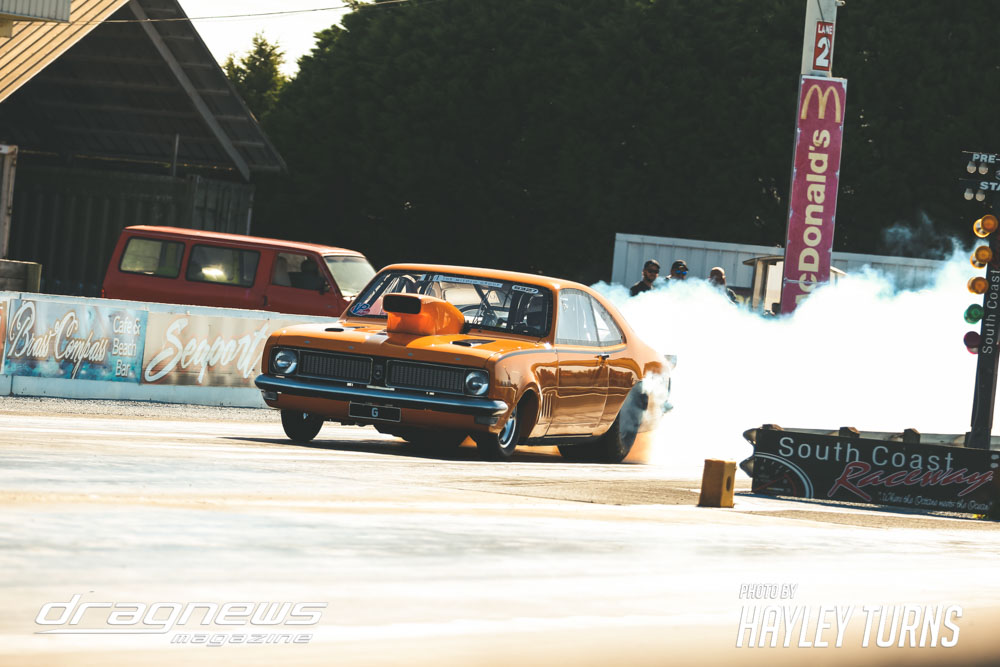 "It all happened pretty quickly," he said. "We went to test at AIR and it went 7.99 first pass."
Full of enthusiasm with his new ride, Damiani entered for the 2018 Desert Nationals in Alice Springs. After making the long tow into the red centre of Australia, the debut outing in competition failed to meet his expectations.
"The season started terribly for me," he said. "I went to Alice Springs and couldn't make a pass. From an electrical issue to a transmission issue I never got down the track."
Damiani took just 20 points home in a rough start to a long ANDRA Summit Sportsman series season. Damiani solved the mechanical issues but was then driving a new car with unpredictable performance.
"I then raced Mildura and Portland and broke out both times in the first round," he said. "The car was at a point where it felt good and was working well, it was just the driver that needed work."
As well as personal satisfaction from doing well, Damiani revels in the support of his family at the track.
"I love it when my family come to watch me race; it just amplifies the emotions," he said.
"Pulling back into the tent after a round win and seeing how happy my wife Natalie and the kids are is the greatest feeling in the world. But coming back after a loss and seeing them feeling sad for me is the other end of that!
"We've made some awesome friends in our journey so far and I'm sure we will make many more. Hopefully we can race at some tracks we haven't raced at yet.
"I need to thank my major sponsor The Mitolo Group. They are world leaders in their industry (potato and onion packing) and have helped me for the last few years. Also VP Race Fuels and Damiani Premium Hay for their support, and my crew – especially Adrian who has helped me at every meeting for the last few years."