A father-daughter Top Sportsman outfit might soon be preparing for expansion – although that will come as news to the team patriarch Chris Theo.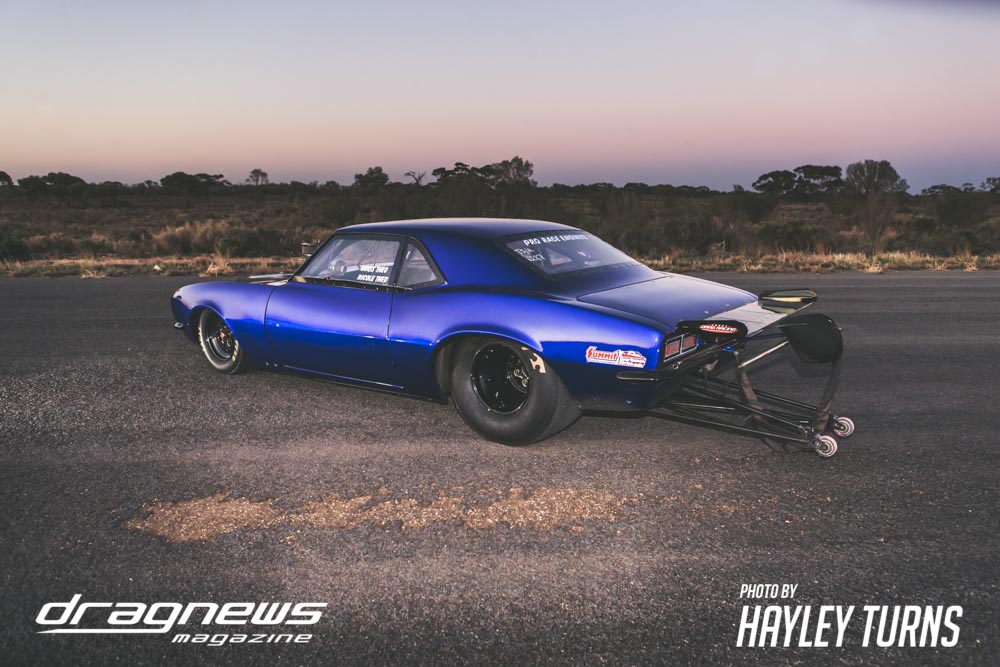 This story originally appeared in DNM #49. Support us telling more great Australian drag racing stories by grabbing a subscription today.
| | |
| --- | --- |
| One Year (Eight Issue) Print Subscription – $119 | |
| Issue by Issue Print Subscription – $14.95 every six weeks | |
Clearly Chris has passed on whichever gene is responsible for enjoying burnout smoke and exhaust fumes to his daughter Nicole, as the pair tear up drag strips together around the country together.
"I've always been a revhead, since I was a kid," Chris said. "Initially I liked the V8 Supercar-style stuff, and then overnight I fell in love with anything with big wheels on the rear end.
"I started off street racing, then we joined ANDRA back in the early nineties. I was racing a HQ Monaro, which I have still got, and then I bought myself a tubbed Torana hatchback."
The Torana met an untimely end at Heathcote Raceway in Victoria, when Chris rolled the car in a serious tumble.
"The car got loose on the start line and turned the tyres, then it hit a little bit of dust on the track and I didn't lift, I thought the car would come good," he said. "The rear end came around and it tilted on to one side, then it gripped and slingshotted into the wall. After it climbed the wall I was upside down and skidded on the roof to the finish line. It was nasty."
The accident left Chris beaten and bruised, but he was unwilling to let the incident change his life and he stayed optimistic about his future in the sport.
"I had a lot of bruising. The ambo guys came to my rescue and they said by 2am or 3am I would start to feel the pain when the adrenaline stopped running through me. They were right and at 3am the pain kicked in and all the bruising came up. I was out of work for a week or so, but we jumped back on and have been continuing ever since."
With the Torana now a wreck, Chris needed to look for a new chassis. The online search took him around the world until he found a Camaro for sale in Miami, Florida. It looked like a good deal and the money changed hands without issue while the car was bundled into a shipping container and taken to the opposite side of the planet.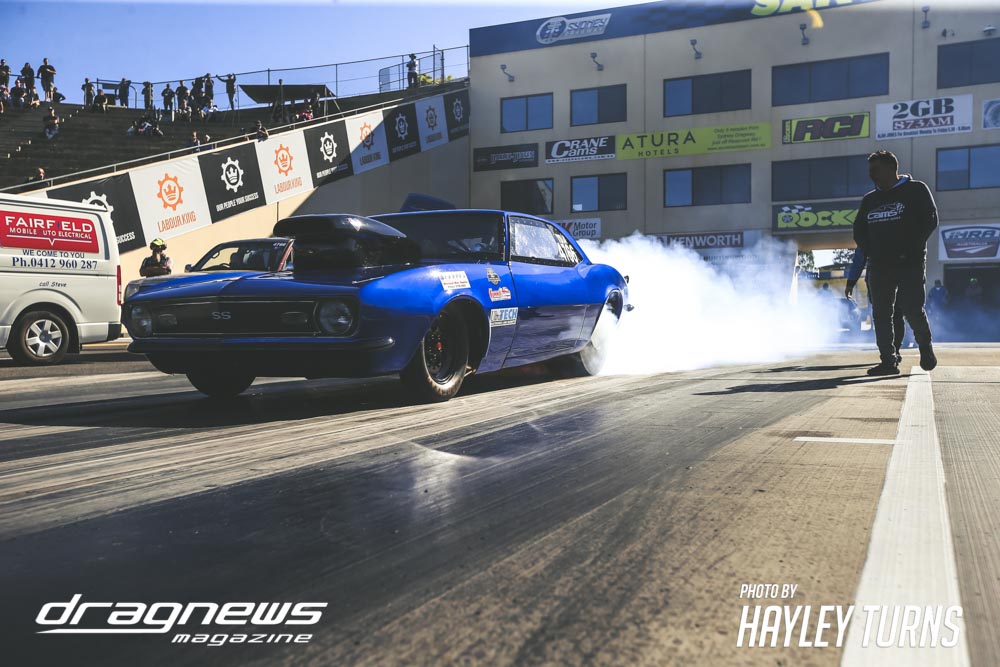 "We put all the running gear from the Torana into the Camaro and raced that for a few years, then we thought we would step it up with a big block and we have been running in Top Sportsman ever since."
The Camaro now sports a significantly more powerful motor, though its focus remains bracket racing. Chris chose a 555ci big block Dart-block Chev running Dart cylinder heads and filled with Manley rods and pistons and a Manley crankshaft. All up it produces 935 horsepower which is plenty enough for low eights over the quarter-mile. A 5800 stall convertor hooked up to a two-speed Powerglide handles the shifting duties. The whole shebang has E85 fuel flowing through the veins, a move Chris said he made simply due to cost.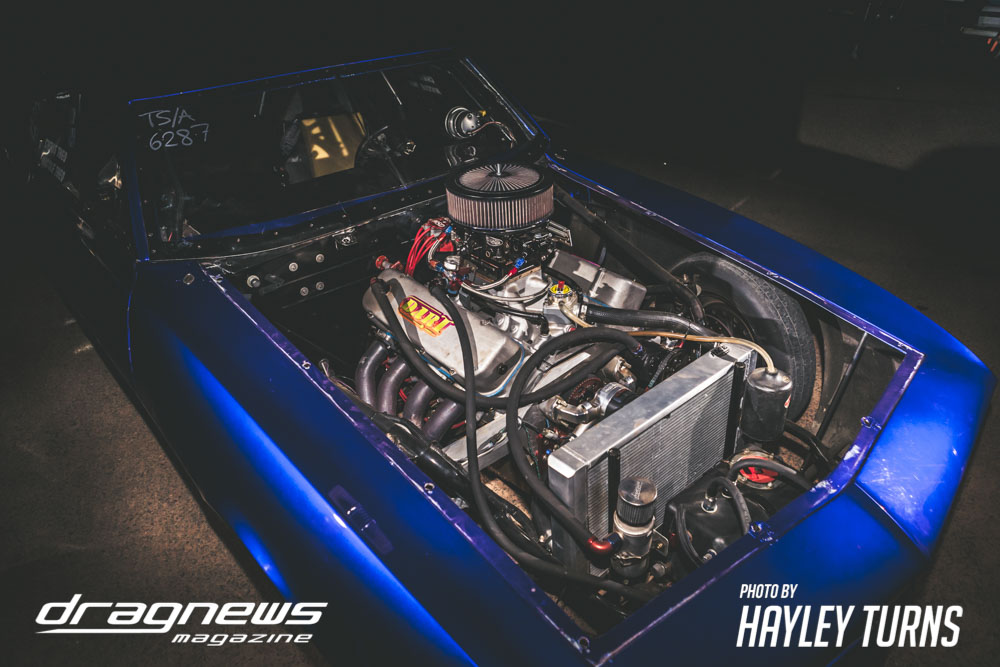 "I think we were one of the first teams in our bracket to jump on that," he said. "I wasn't paying stupid money for fuel anymore; it took the fun out of it. We ended up making the same power on E85 and it was a fraction of the cost of race fuel."
Chris used the new combo to great effect, coming runner up in the 2017/18 ANDRA Top Sportsman championship.
"We had a good season, then after that with some family issues my focus went away a little bit. My job now is to lift my game coming up to next season, to try and get back to what we had in 17/18. There are a lot of tough competitors in Top Sportsman."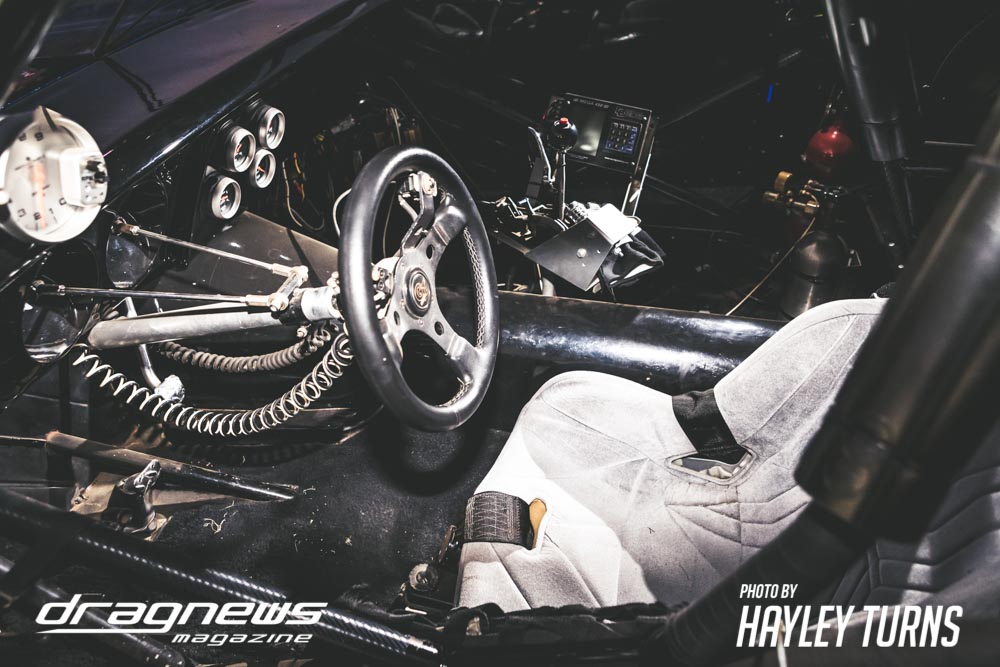 To aid in the pursuit of better results, Chris is increasing the size of his motor. While Top Sportsman is a dial-your-own category, a quicker car has the advantage of chasing down slower opponents.
"It will up the cubes a little bit from 555 to 565. It's basically new rods, new pistons, a larger bore size, larger diameter valves, and that is it. We are aiming for high sevens naturally aspirated.
"Pro Race Engines does my engines, a big shout out to Con, he has helped us from the beginning with the small block to the big block, and they are a credit to his engine building skills."
Chris has been happy to swap engines around it would seem, but he is also accepting swapping the driver every now and then too. Daughter Nicole Theo has been taking over the steering wheel at select events, ever since she organised her medical assessment and drag racing licences without telling her Dad.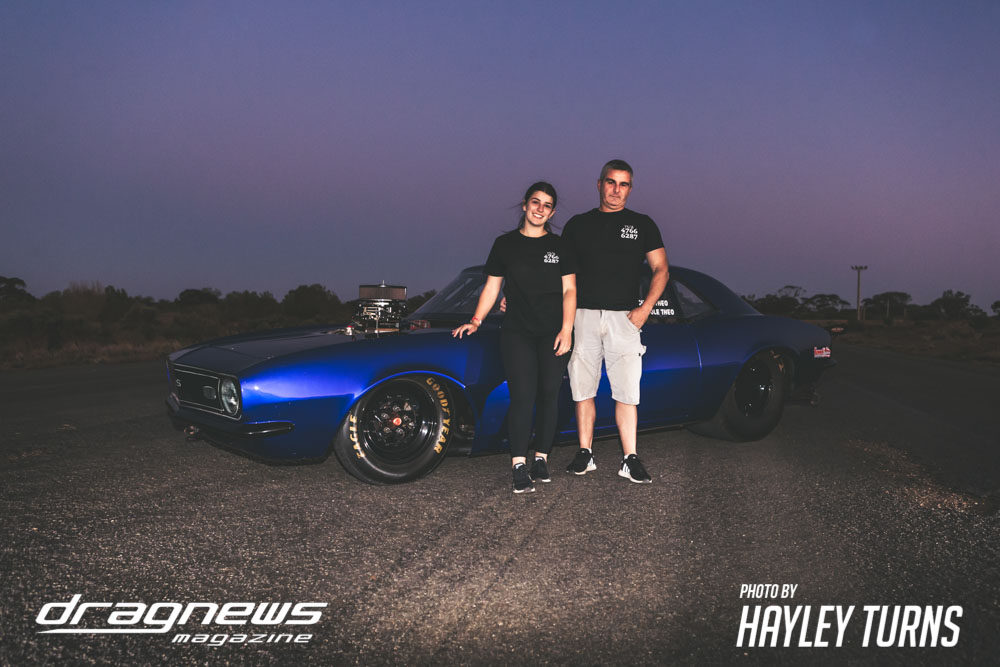 "I was pushing my son to drive for years," Chris said. "I got him the forms and organised the medical, I guess it was me being a bit biased and thinking it was a bloke thing. The whole time Nicole was saying, 'What about me?' My son didn't have as much interest in driving.
"Then one day I said, 'Let's do your medical.' She said it was already done!"
Nicole was given her first laps in 2018 at Swan Hill Dragway, with a cautious father letting her make short hits there but waiting until they could travel to Sydney Dragway to make quarter-mile passes.
"We got to Sydney about a year ago and we turned the car down a bit, took down the launch control and shift points, and thought she might run an 11 or a 10. She runs 8.90 at her first meeting!"
For Nicole it was a chance to move from behind the scenes to centre stage.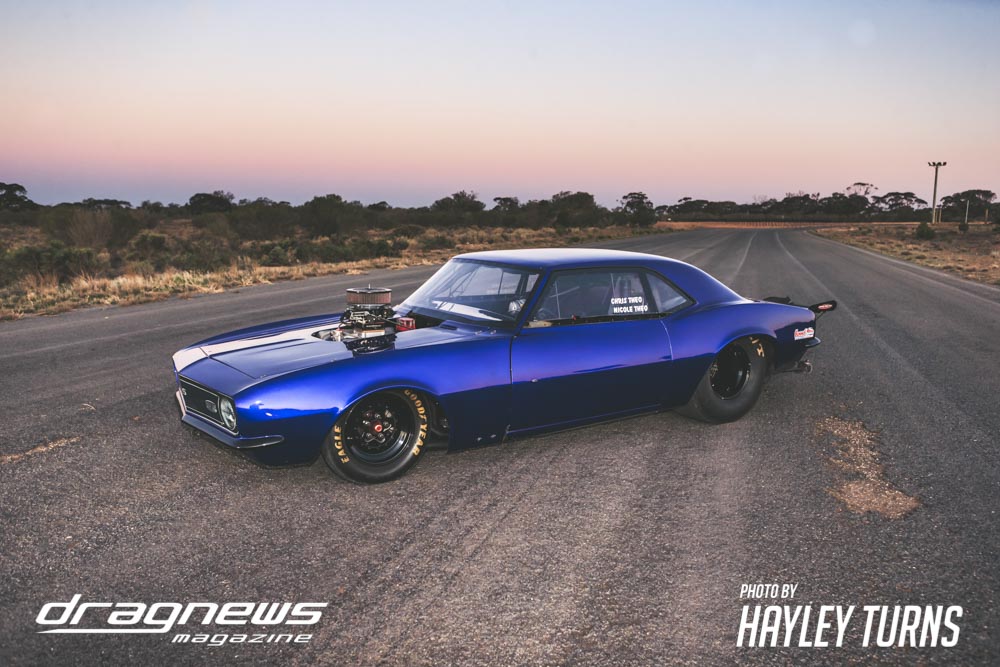 "I've always grown up around racing and watching my Dad go down the track, so being around it so much made me want to actually race myself," she said. "I always saw the adrenaline and joy that it brought my Dad and everyone else, and even though being Dad's 'back up girl' was exciting enough, experiencing racing became one of my biggest goals. As I began doing a lot of hands-on work on the car and motor, getting to know the car, it made me want to race even more."
While Chris' attentions were on her brother Costa, Nicole wanted to show that she was more than interested in taking the hot seat.
"My brother had more interest in being the crew chief rather than being a driver, so after a bit of time waiting I went and got my licence without anyone knowing, just to show that it's something that I wanted to do."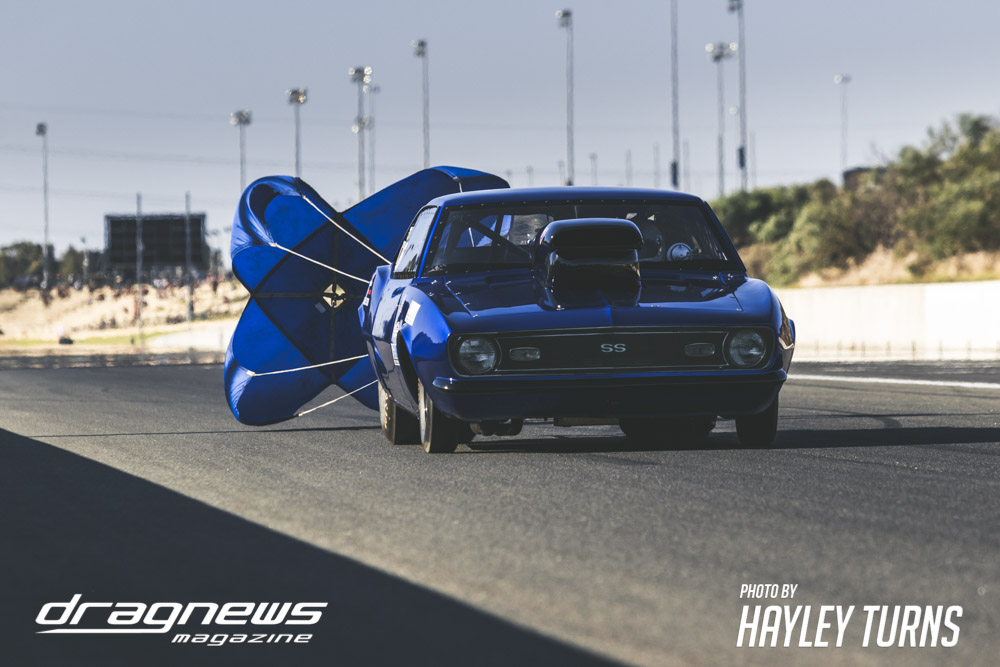 Before she was allowed into the Camaro, Nicole was first given some laps in her Dad's street Holden HQ Monaro. The idea was to familiarise her with drag racing, but she said the two were worlds apart.
"I thought it'd be a similar feeling in the Camaro, however it was nothing alike. When I first jumped in the Camaro I felt excited, happy and nervous all at once. It is one of the biggest adrenaline rushes ever going down the track, no matter the speed and ET. When I did my first eight second pass and pulled the chutes, I jumped out of the car at the end of the track and I was getting asked how it felt – I just couldn't explain the feeling of going down the track at that speed."
As the sensations of acceleration and speed impressed Nicole, her father was left to deal with the nerves on the start line.
"It is nerve racking, but at the same time it is good to be outside the car and making sure everything is okay for her. Once she pulls the parachute and the car settles, that is when my nerves settle. I don't care who you are as a parent, it is an emotional experience to see your daughter go down the track."
Indeed, it is an emotional experience just to be at a drag strip. The atmosphere of the pits, the noise of the track and the social bonds all appeal to Chris.
"I love the sport, I love the atmosphere, I love the colours, the cars and the noise. I have met such nice people, you might get a couple that you steer away form, but I have made some really good friends only through the drag racing scene. That, along with the competition, keeps me coming back."
Chris is a motor mechanic by trade, and you might think he would be keen to take a break from internal combustion on his holidays, but the opposite is true.
"I am not into fishing or hunting or anything. I like motorbikes as well, so when we are not racing I will jump on the bike and go for a nice ride. Our holidays are racing, because when you do the ANDRA rounds it takes up a lot of time. I don't want to drive for days just to race for a few minutes, we enjoy our time and travel around where we race."
With two pilots but only one seat in the cockpit of this high speed machine, the family now has to divide up the racing, but at least one member of the family is happy with that. Chris envisions his daughter taking over on a full-time basis, and for now he will do the quarter-mile races while Nicole handles the eighth-miles.
"We do both the ANDRA and IHRA series, we will probably go to Sydney Dragway, the Winternationals and the rest of the stuff will be the ANDRA series.
"We did speak at length about having two cars, but it is not going to happen. You need a big transporter, you need the room, and I am happy to share the one car."
Well, that's what Dad said. Nicole had a different scheme in mind.
"Future plans for our 'father daughter team' would to buy another race car and definitely make this a two-car team. That's the ultimate goal for my Dad and myself and we will do whatever we can to achieve this."
Sorry, Chris. It looks like you have some work to do!