The need for speed is often joked about as being hereditary, but in the case of the Jones family one must wonder if there is some truth to the genetic theory.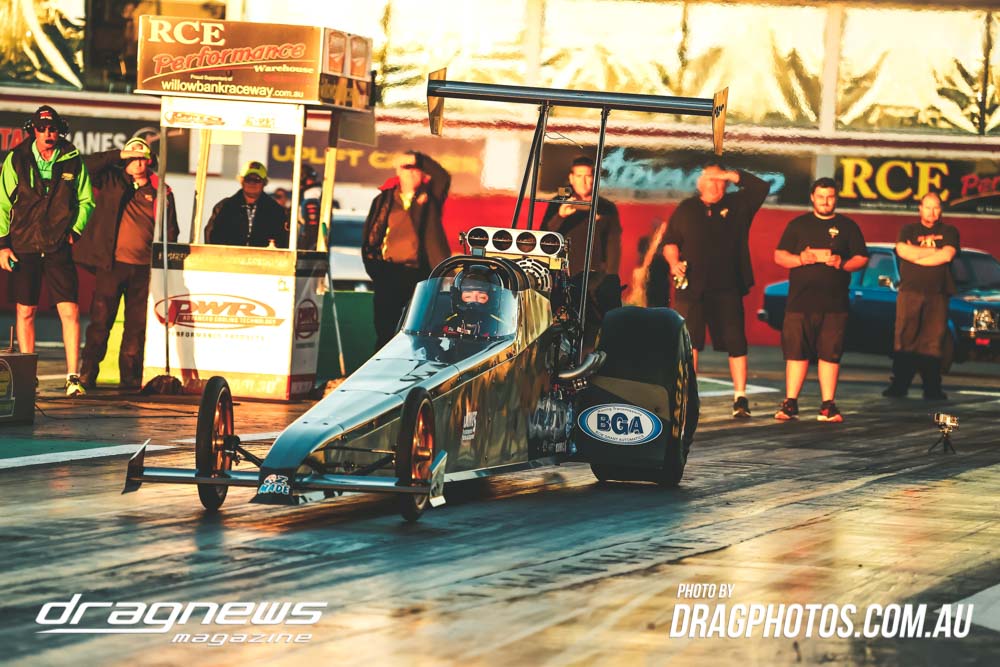 This article originally appeared in Drag News Magazine #49. Support more Australian drag racing stories like this by subscribing now!
| | |
| --- | --- |
| One Year (Eight Issue) Print Subscription – $119 | |
| Issue by Issue Print Subscription – $14.95 every six weeks | |
For generation after generation, the Joneses have indulged in motorsport, finding ways of making man and machine ever quicker and faster. The latest branch of the family tree to find her way on to the track is Terri Jones, whose father, grandfather, great grandfather and great, great grandfather all partook in horsepower-related hobbies.
Terri is the daughter of Wayne Jones, who terrorised Competition Eliminator throughout the nineties with a range of iron block-equipped, automatic transmission rides that set national records in BB/A and BB/D.
"I come from a family of five, and I have two older brothers, one who loves racing just as much as the rest of us and one who couldn't care less about cars," she said. "My mother always said she wanted three boys, and now she jokes that that is exactly what she got!"
The family history is really something. Motorbikes were the first thing that got raced, before Terri's grandfather Bill took the Jones name into drag racing. He, and Terri's grandmother Dale, also started the Weldwell Engineering family business.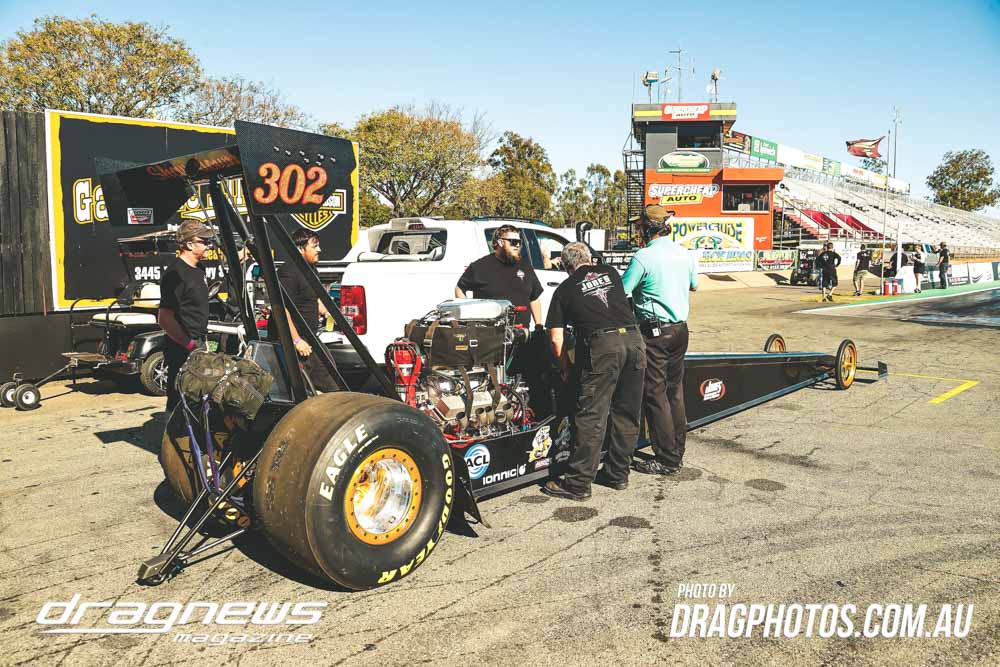 "Granddad circuit raced and drag raced and held numerous records over the years," she said. "Then my dad raced a bunch of different cars and at one point held multiple records for multiple classes.
"My favourite would have to be his altered, which ran 6.38 at 211mph and held the BB/A record, but the record I'm most interested in is the one he still holds in BB/DA with our last dragster."
Yes, believe it or not, Wayne Jones still holds the BB/DA national record, which he set at 6.15 in 1997 (his speed record of 226.93mph was set even earlier in 1996). That was with an OEM iron small block Chev and an OEM Powerglide transmission.
Terri was all set to follow in Wayne's footsteps in 2014 by taking over the wheel of the family dragster. The weekend before she was set to begin licensing, Wayne took the car out to make sure the team had solved a tyre shake issue. After running close to his PB with a 6.07 run, a skating pass saw Wayne lose control at the top end of the track, making heavy contact with the Willowbank Raceway safety barriers. He walked away after the crash thanks to the adrenaline, but was later taken to hospital where scans revealed the seriousness of his injuries.
Wayne reflected how fortunate he felt, when Drag News Magazine interviewed him about the crash at the time.
"The doctors told me I had some severe fractures in my spine, one at the top of my neck, one at the base of my ribs and then one between T12 and L5, as well as a fractured coccyx," he said.
"The car was written off. While it was severely damaged after hitting the wall, the blessing was that the car did exactly what it was supposed to do in a situation like that. The cockpit was completely intact and there wasn't one broken weld on the car."
Terri's plans were understandably delayed, and it was back to the drawing board. Despite the setback, she is as keen as ever to reset her father's quarter century-old record.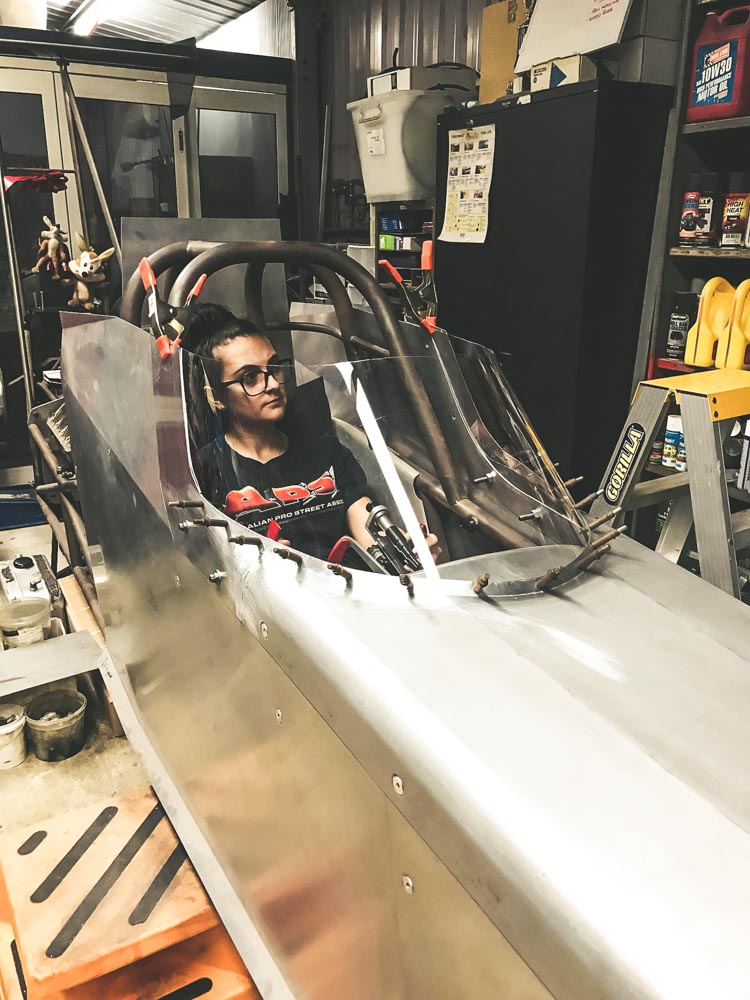 "We have built a new car purposely to break his record, and if I can get there I definitely get bragging rights in the family," she laughed. "To be honest my dad has had it long enough and it's time to pass it on."
Sitting behind the cockpit is the familiar small block Chev and Powerglide, the latter of which was built by Bob Grant Automatics. A PSI D-Series supercharger handles turning air into boost.
The chassis was naturally built at Weldwell Engineering, where the Jones family endeavoured to make the car display very low numbers on the scales.
"The car has been built as light as possible with a full carbon fibre body and light weight chromoly chassis built on a budget," Terri said. "We have machined and fabricated every part of the car we could, leaving very little left to purchase. Every part we could make out of carbon we did, including the seat, which has been fitted for myself and makes it hard for anyone to take my spot! All of the carbon and Kevlar was done in-house, including the complete carbon front and rear wings by the crew with guidance from my dad."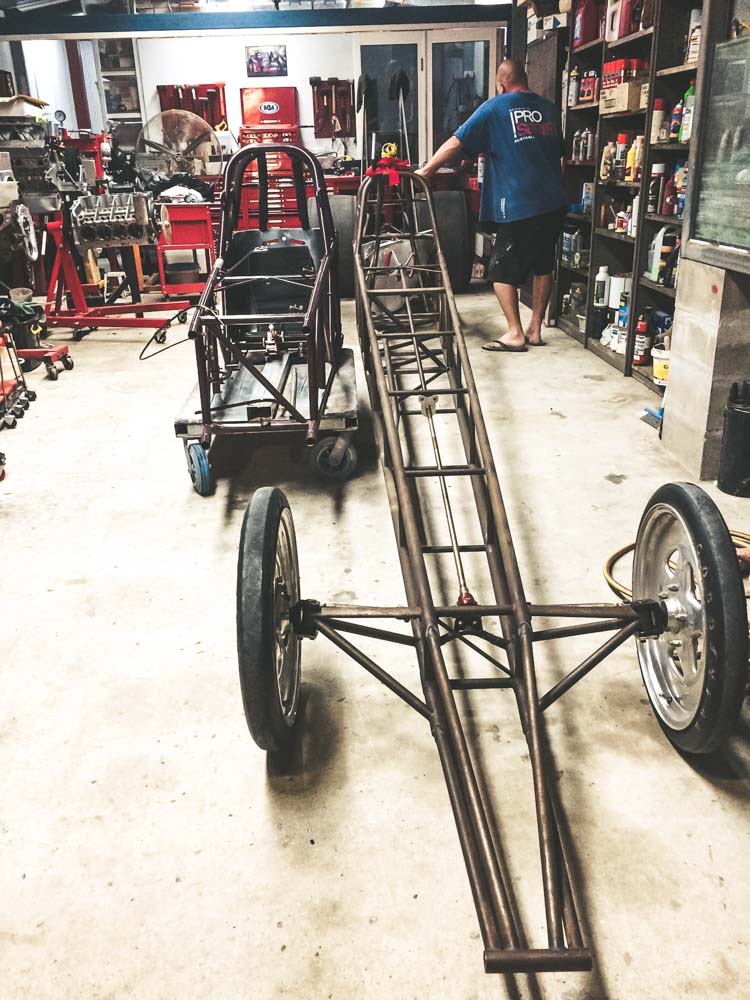 If you think Terri has just been watching and waiting, you'd be wrong. She is a fitter and turner by trade and has been hands-on throughout the dragster's build, her fingerprints over the car from end to end.
"My family build race cars and fabricate for a living, so coming from a family of machinists and boiler makers there was really only one path to choose from when I left school," she said. "Despite what my teachers told me I followed my family and did a trade in fitting and turning.
"When we are not at the race track we are at home building cars and playing with anything with an engine. I guess going racing wasn't really a decision I made myself. It runs in the family; it's just what we do."
There was something special for Terri about crafting her own car, a dragster that will hopefully create life-long memories.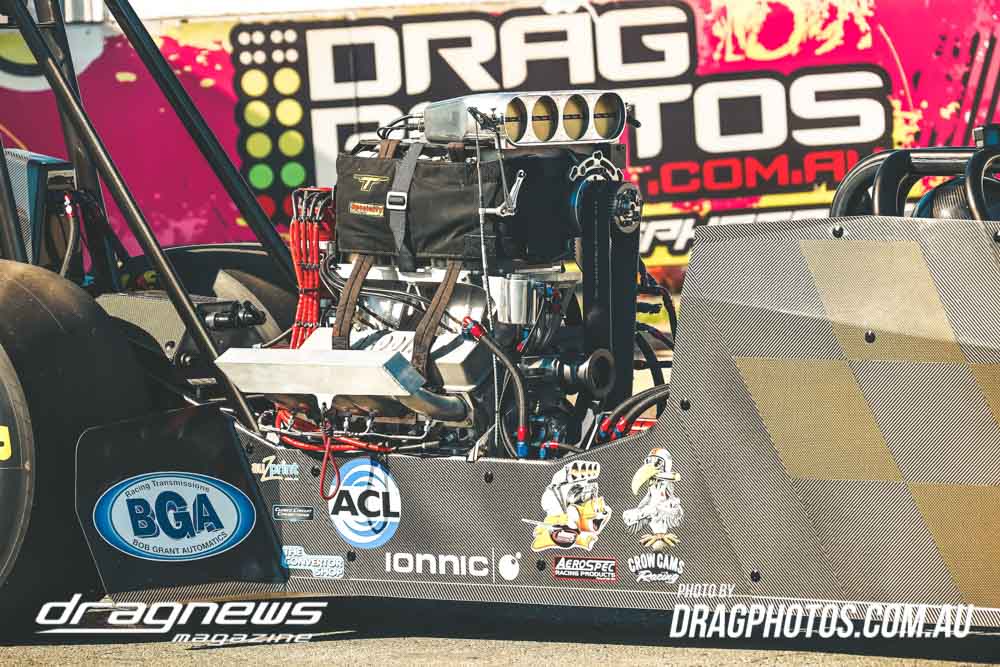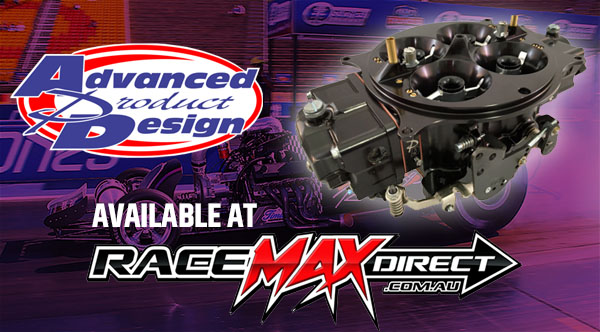 "The building of the car was definitely fun but also very challenging for myself, obviously for my dad it was just another build," she said. "Lots of laughs were had and a couple of tears, but it was very rewarding knowing I've built it with my dad and we've done so exactly how I pictured it. Being a family person, having them so involved in every part has been the best part of the journey."
There were few disagreements along the way, though Terri put her foot down when it came to weight and colour.
"I wanted as much carbon as possible and to have it as light as it could possibly be. The biggest disagreement over the car would have had to be the colour. My dad didn't want a black car and I wanted as much black as possible, so there wasn't any other choice than to leave the carbon and Kevlar raw. The gold wheels were gifted to me by Bob Grant so for me that was it, black and gold it was! But my dad didn't quite have the same vision, so we came to an 'agreement' and did it my way like the rest of the car."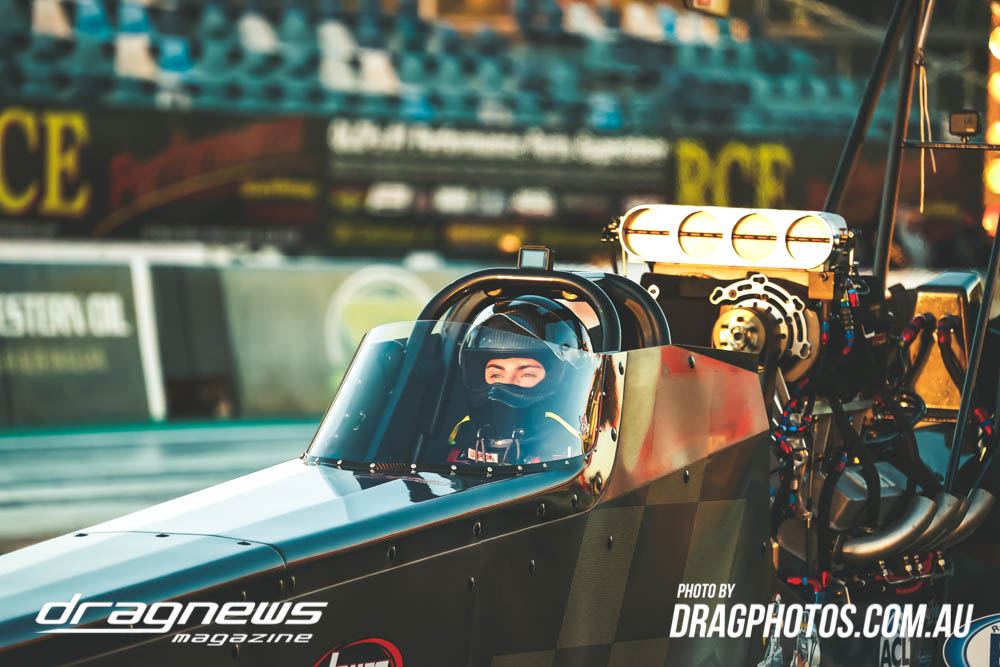 Once the dragster had been completed to the perfecting standards of all members of the family, the focus shifted to Terri, who had to mentally prepare to drive the 230mph-capable missile. But she didn't arrive in the staging lanes blind, having already been down the Willowbank Raceway quarter-mile in an injected big block Modified altered.
"I'd been strapped into the car at least 200 times to make sure everything was perfect before it had even seen the inside of the trailer so to be strapped in for the first time and hear it start up knowing it was my turn to race put the biggest smile on my face," she said.
"I didn't know what to expect, I was just along for the ride. Driving the car was like a big weight had lifted, it was finally done!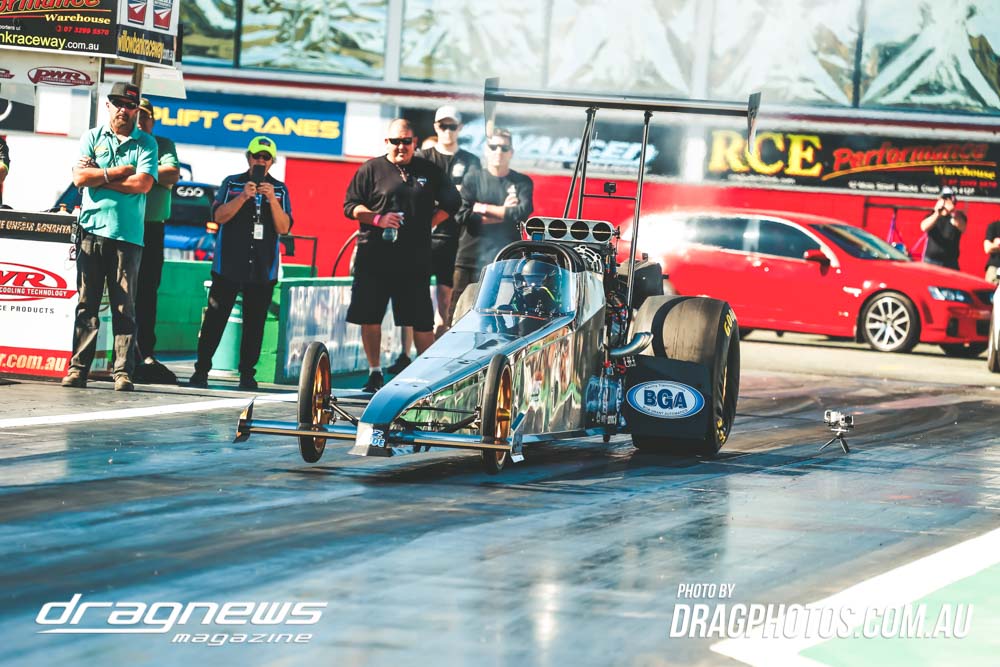 "The car has taken some time to build, ensuring it was as light and safe as possible, and it couldn't have been done without the help of my crew and parents. Each one of my crew plays a massive part in getting this car going and I couldn't thank them enough. The best part about drag racing for me is my family, being able to have them stand beside me makes the wait worth it."
If family is indeed the best part, then Terri has a lot to look forward to in coming years. Her brother Ben is putting together a Funny Car with a big block Chev for Supercharged Outlaws action, and eventually BB/FC in Competition Eliminator. And in some interesting news, Wayne is putting together a fuel bike.
"We don't have much room in the shed, but despite what my mum thinks, there is always room for more," Terri said.