Drag racing's rich origins are closely tied to the streets, where acceleration contests between machines proved an addictive activity for post-war America. That early DNA still runs deep and there is a level of pride among racers who are able to cross the gap between the two.
Nathan Ghosn has followed the formula to build one of Australia's best Ford Capris, capable of handling 402 metre sprints as easily as the highways of outback Australia.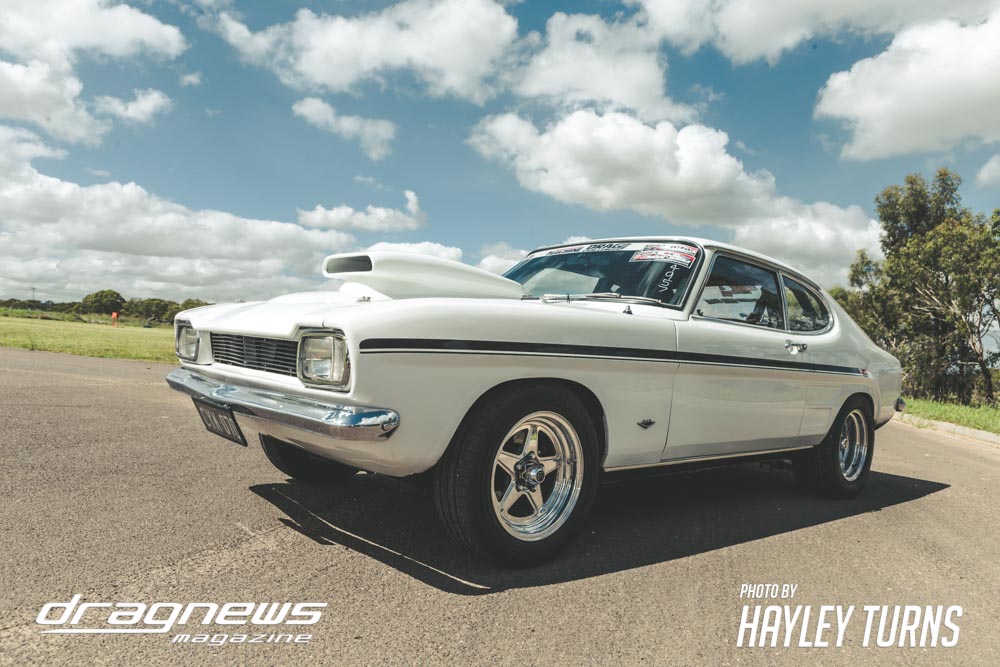 Ghosn's Capri is in fact the first car he drove down a 'legal' drag strip. He's owned several versions of Ford's underrated coupe previously, with this 1970 GT model coming on to the scene about 15 years ago.
"I had owned several Capris over the years and always loved them, I don't know what it is but I have always had a passion for them," he said. "I had a break for a while but eventually the bug bit again and we purchased this one as a fairly stock car, apart from the 289ci Windsor and C4 auto trans. Let's just say it has evolved from there."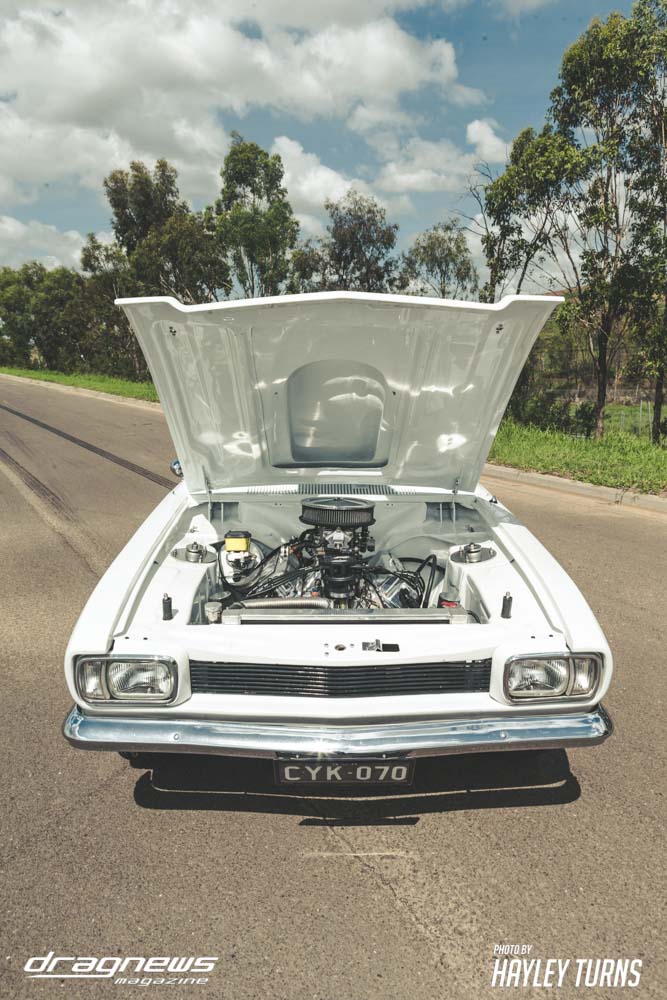 Ghosn followed his father's footsteps into drag racing. Paul Ghosn competed at New South Wales' Castlereagh in an FE Holden called Shell Shot in the late sixties and early seventies. He then purchased an FJ Holden which was variously known as Keegan's Kustom (owing to the links with Ghosn's friend Brian Keegan), Shell Shot 2 and finally Ghosn's Gasser.
"I do not remember too much of those days as I was very young, but I can still recall the cars and the people of what Dad calls the good old days. In my teen years I enjoyed cars and did a bit of street racing as most of us did."
Arriving in Ghosn's possession as a street cruiser with some poke, he enjoyed the Capri for some time before making the mistake of taking it off the road to 'tidy up' a few things. Any good street machiner will know that a 'tidy up' rarely ends without wholesale modification.
"When we first purchased the car it already had a V8 fitted to it but that was about it. It was a nice little cruiser and was certainly a credit to the previous owner.
"What we wanted was a tough street car that would hold its own at car shows and also run a respectable number, but nothing outrageous or so we thought! As with most cars, what started out as a 'tidy up' sort of got out of control and before I knew it the car was completely stripped and off to the sand blasters. With the help of family and friends every component in the car was replaced: paint, dash, gauges, interior, engine, gearbox, diff, glass, wiring, wheels, suspension, brakes – the whole lot. A planned four-week tidy turned into a four-year complete build from the ground up."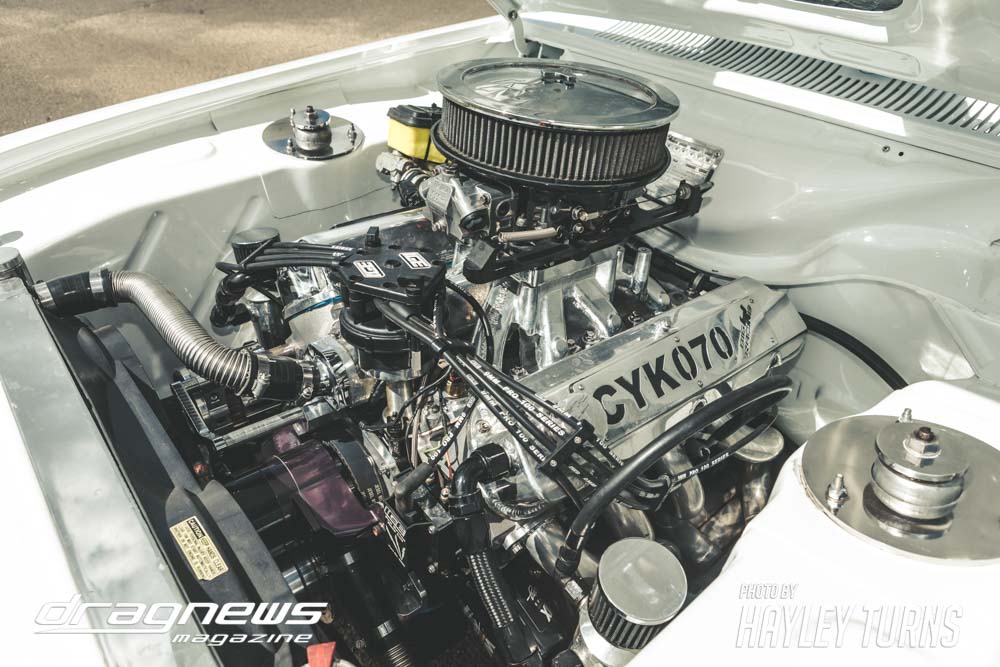 There has since been constant evolution underneath the half-century old body, bring Ghosn to a 720 flywheel horsepower, nine second street car. The 289 was ditched in favour of a 370ci Windsor short deck using a Ford SVO Boss block, Callies crank and rods, RaceTec pistons, Trick Flow cylinder heads, Jessel rockers, Jet push rods and Edelbrock intake with a 1050 carb. The internal combustion chaos is then handballed to the C4 with SDE converter and nine inch diff.
"To date the best ET is a 9.64 at 141mph," Ghosn said.
The most impressive thing about this car is that it is genuinely a street car. Ghosn insists on driving it to and from the track, while towing a trailer behind, before he mounts a set of 235 radial tyres and hits the strip.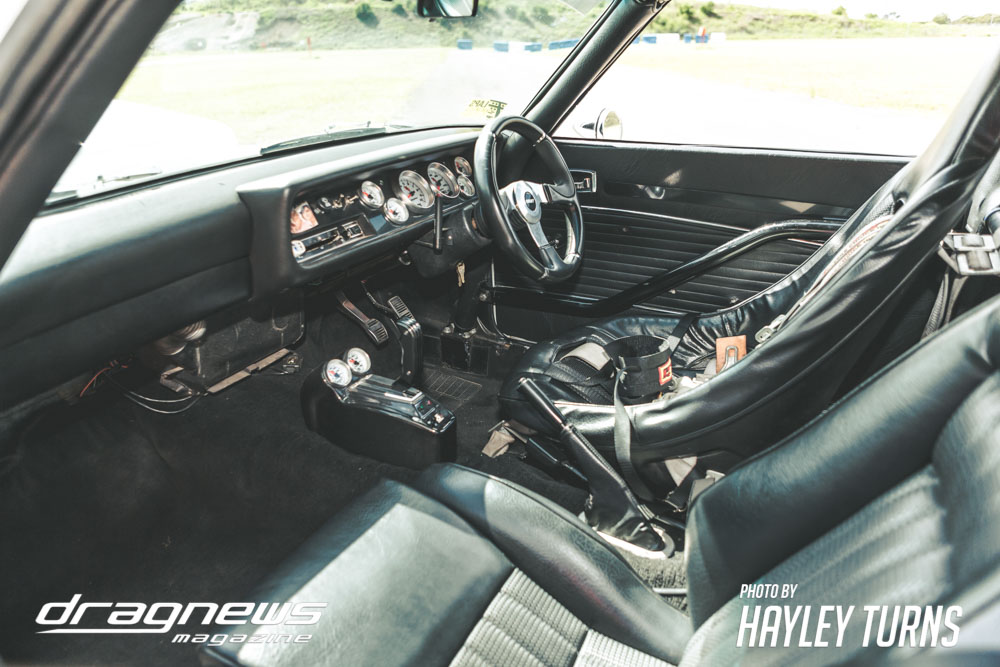 "There's no slicks here, with all factory standard mounting points for the suspension apart from a set of CalTracs. The rear end is a very basic leaf spring setup with a pair of Koni shocks. We have found what we believe to be a great compromise between street and track with it, and I drive the car as I race the car as far as suspension goes. There are no electronic aids at all, it's footbrake and shift the gears – no trans-brake, delay boxes or solenoid air shifts for me."
Along for the ride with Ghosn has been his daughter Isabella, who was eight years old when the build started and has helped where ever she could, along with his wife Sharon.
"After the build we looked at the car and it had turned out exactly as we wanted it to, and it did everything we wanted it to do and more," he said. "We won best Real Street at the first Summernats the car attended and my son Anthony, who was celebrating his 18th birthday that day, went up and accepted the trophy. That and the 50,000km it has done in 10 years makes me proud."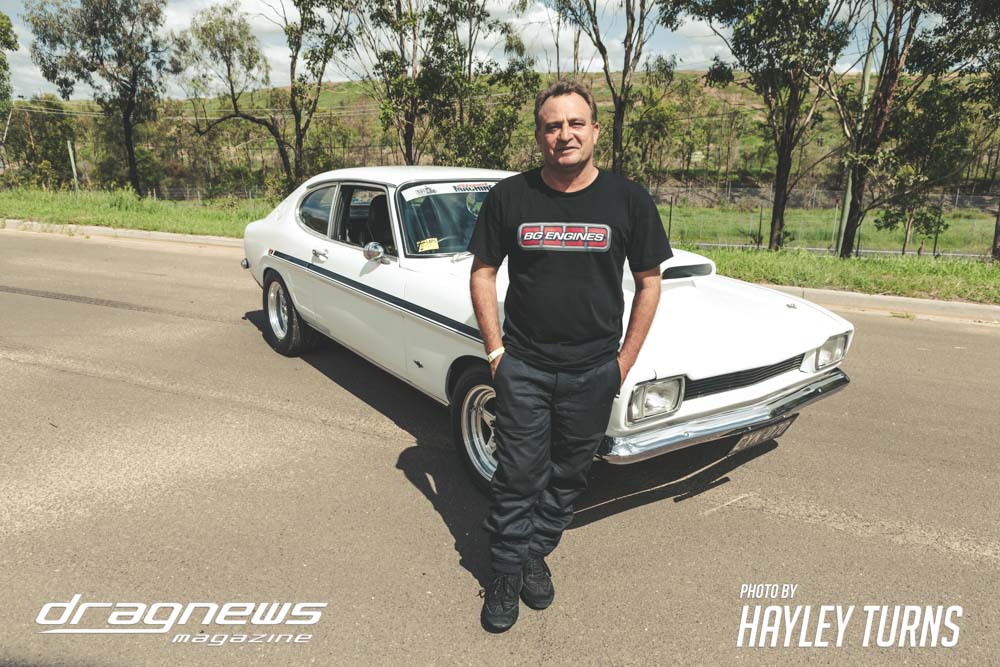 Yep, you read that right. Fifty thousand! Some people like to claim they have a street and strip car because they occasionally drive the car back from the track after a run without any risk, but Ghosn has genuinely earned the moniker.
There is no better test of street and strip credibility than Street Machine's Drag Challenge. Based on Hot Rod Magazine's Drag Week in the USA, entrants are required to race on five consecutive days, driving to and from the tracks in the car they race. Ghosn was among the exclusive group of drivers who were invited to take part in the first Drag Challenge, held in rather secretive fashion in 2014.
"It was invitation only as the organisers where not sure on how it would be accepted by both participants and the police, so it was kept very low key until the day it started.
"That first event was to start at Sydney, then head to Albury for day two, then Calder Park on day three with the final day at Heathcote. It was bucketing down rain when we all met at Sydney Dragway for day one so the first day was cancelled. Although we all called our cars street cars, to jump in them, full of gear or towing trailers behind and head off for a 550km drive down the freeway to Albury was really going to prove it."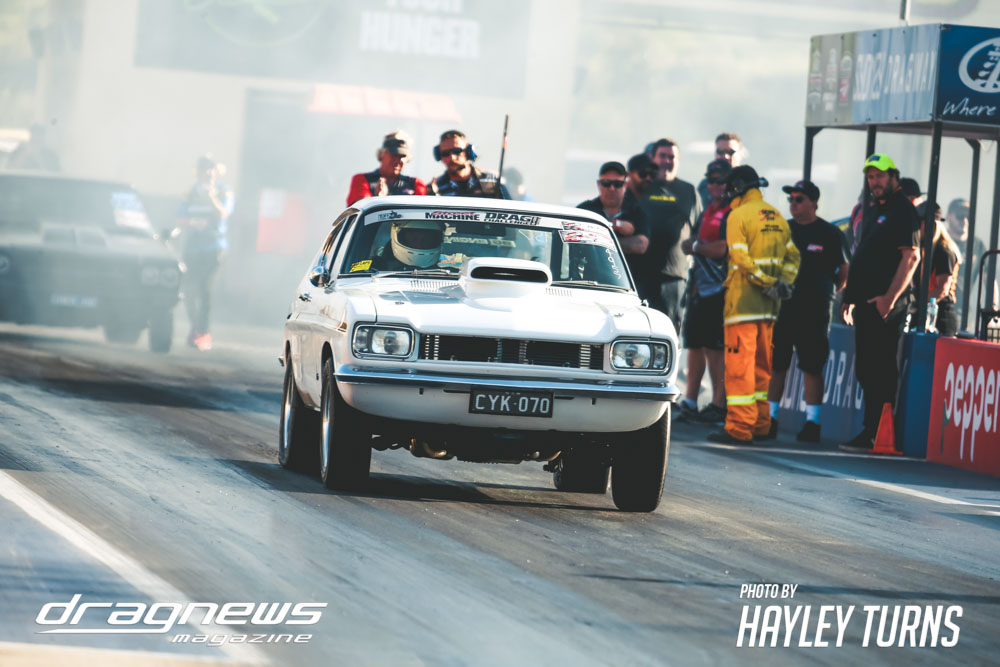 Ghosn's nerves were racked as he asked for more from his Capri than it had ever given.
"I remember the first 200km or so I was constantly looking at gauges and listing for strange noises, almost waiting for something to go wrong. Apart from a fuel pump packing it in, the car did the drive easily and we even drove from Heathcote back to home in one hit after the event, that leg on its own was over 1000km. That first event remains one of my fondest memories with this car to this day."
Ghosn has not missed a Drag Challenge since, and has even been up to Queensland for the Drag Challenge Weekend versions, meaning he is just one of two drivers (the other being Alysha Teale) to have started and finished every Drag Challenge.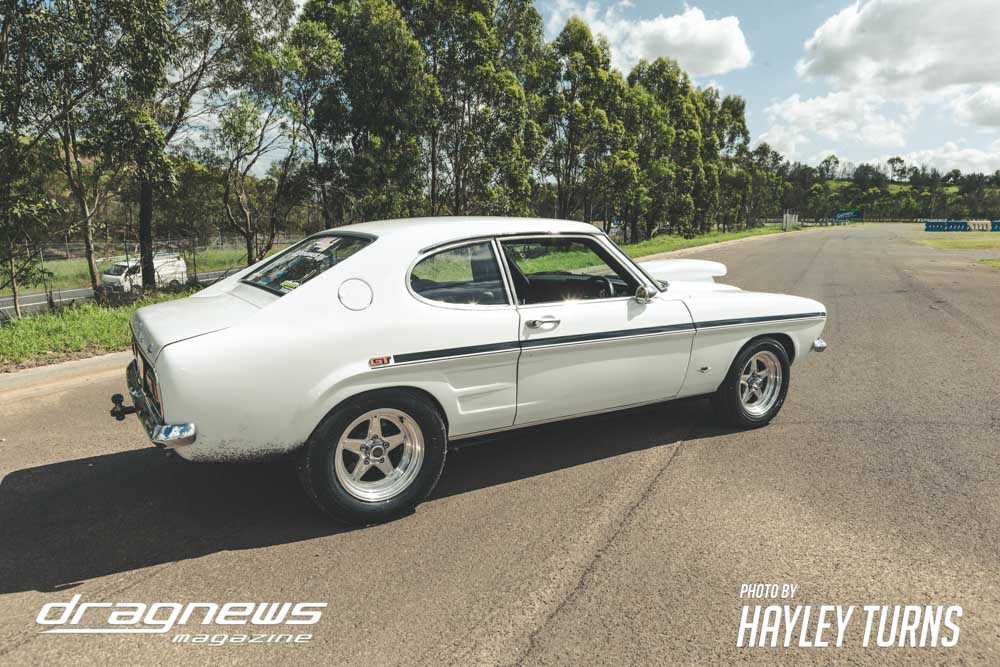 "It is without a doubt the best event I do all year, five days of driving and racing with the toughest cars in Australia alongside, and I have seen it grow from our original 18 cars to 250 cars at some events."
Full of passion for the concept, Ghosn said Drag Challenge can't be explained in words (though he tried); it is an experience. Having been along for the ride ourselves here at Drag News Magazine we can only agree!
"It is an event full of drag racing, with drag racers talking drag racing 24/7 (that's a lot of drag racing). There's a mix of cars from early seven-second turbo street monsters to 16-second bracket cars and everything between. I've watched engines swapped in carparks, gearboxes rebuilt on the side of the road and even a top end rebuild on the side of a freeway at midnight in the pouring rain. Even if you pull up on the side of the road for a toilet break, other competitors see you pulled over and stop to see if you need any help. I have lost count of the sleepless nights I have had helping fix a car for people who I only just met, the same as they would do for us."
Ghosn's Capri is no record-setter, he will admit as much, but its reliability has made it a successful Drag Challenge fighter.
"As I reach out to touch a piece of wood, we have had a great run at Drag Challenge considering the calibre of the cars we are competing against, most of which are running a much larger tyre and a lot bigger cubes with a lot more HP. In the Radial Aspirated class (naturally aspirated cars running on a radial tyre no bigger than 275) we have run either second or third. They introduced an X235 Aspirated class that we have been lucky enough to win each year at both the Victorian and Queensland events. We have had no real major issues, mostly due the amount of prep that is put into the car before we leave, but the events are never completely drama free."
Using a radial tyre during Drag Challenge is tough, given the tracks only get regular preparation and are frequently blasted by the midday sun. But outside of that extreme setting, radial-only events provide a lot of fun for Ghosn.
"I love the radial scene and everything it has to offer. Like Drag Challenge, the radial scene is made up of some of the nicest people you could meet who have a real passion for racing. It's fresh and has the same feel as APSA did back in its heyday. The guys who are running it really know how to put on a show and they look after the racer as well.
"I have done a lot of bracket racing with the car but I prefer heads- up racing and not just on the drag strips either. We have competed on airstrips which I suppose is our take on no-prep style racing, as well as on the main straight at Eastern Creek for the Powercruise Street Outlaw list, where we are currently ranked fourth.
"We try to do as many events as we can including Powercruise, SuperNats, airport racing, nostalgia racing, bracket racing – pretty much anything that means lining up alongside another car."
The prolificacy of Ghosn's racing has produced many highlights during his time in the faithful Capri, from trophies to special family moments.
"The wins are always good and each one has its own special reason, be it a car show, a race meeting or even a grudge race. We won the Street Outlaws class at a Nitro Funny Car event in Sydney a few years ago, and that was special as my daughter Isabella was my crew that day and we pitted with a group of Drag Challenge friends. Everybody stayed around until the final and after the race I went back to the pit to see everyone applauding and Isabella running up and giving me a huge hug with tears in her eyes. That was a pretty special moment. I have the photo of the two of us with the trophy at the presentation hanging up at home.
"Of course, the Drag Challenge wins always mean a lot as you put so much into the car before each event and the event itself can be mentally and physically draining. Just finishing it is a win in my book but taking home an award tops it off.
"I entered a Nationals event with my good friend and fellow racer James Barnes last year or the year before. As it turned out we both made it through to the semi-finals after a tough two days of racing. I was ecstatic that I had made it this far and was only two win lights away from a gold Christmas tree, but the other part of me was disappointed that I was racing my mate and one of us was going to be knocked out. As it turned out I hurt a lifter at half track and James went through for the win and into the final."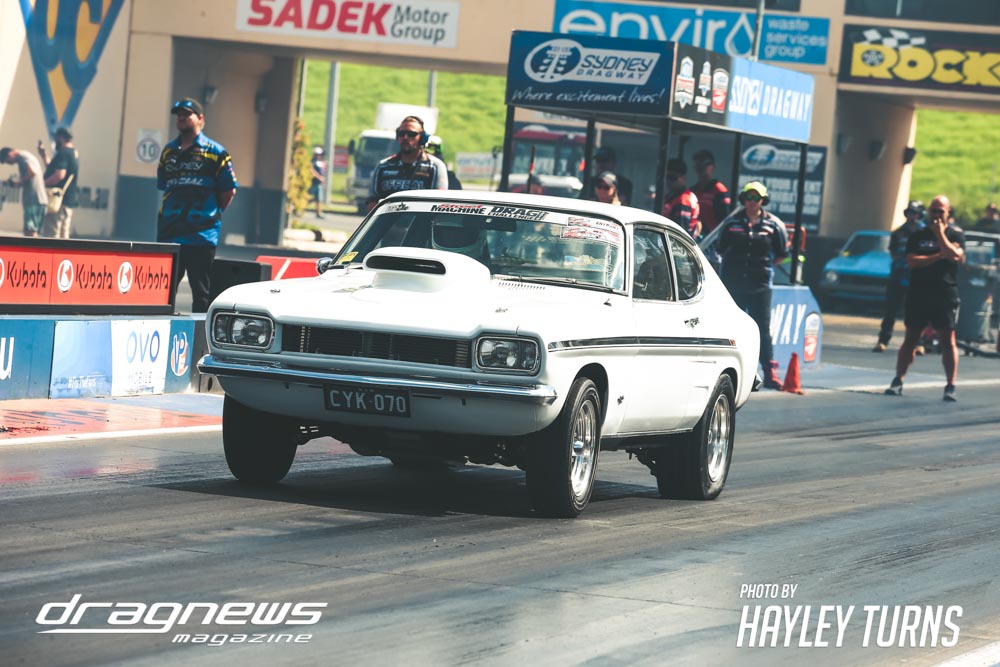 Luckily Ghosn has not had to deal with any balance of fortune on the track.
"There have been no lowlights with the car itself, but a few nightmares dealing with the wrong people in the very early days who took me for ride. I am sure everyone has been through that."
Ghosn expects better performances to come from the Capri, with a focus on getting the suspension sorted out to play nicely with the radial tyre. He confessed that the road time has taken its toll over the years.
"We know the car is not showing its full potential on the track and should be a bit quicker than what it is. This probably comes down to 60 foot times so the next step is improving that. We should be running 9.40s but due to my stubbornness in not wanting to change too much on the suspension, as the car does so many road miles, it struggles. We should be well into the mid 1.3s in the 60, it has gone 1.38 in perfect conditions but normally it's around 1.44. If we can shave a tenth off that time the car should start to show a much better number.
"It's starting to show the road miles it has done and is a long way from the show car/street car we started with, so it's nearly time for a strip down, re-paint and birthday."
We all know how that ended last time!
"After that, if funds allow it, I would love to put it on a ship and send it to the US to do Drag Week. That's always been a dream of mine. I also have a couple of mates who want to do the same so hopefully I will have a few more drag strips to add to the list."
More drag strips will mean more memories for Ghosn, and it is those he values over time slips.
"We built the car as a family and every win and every event is shared and celebrated by my family, it's part of us for a number of reasons. The Capri that was built as a family cruiser has raced at Willowbank, Warwick, Sydney, Calder, Heathcote, Swan Hill, Mildura, Portland and Adelaide drag strips, not to mention the runway racing at Cootamundra and all the other events such as Powercruise in Sydney, Motorfest in Bathurst and car shows from Sydney, Melbourne, Canberra and even Orange.
"Not in my wildest dreams did I ever imagine I would be doing the things I do with it and taking it to the places, towns and tracks I have."