Graeme Cowin's Aeroflow Outlaw Nitro Funny Car Series has frequently been called a gift to the drag racing community, and spectators have reaped the benefits of some of the greatest nitro shows ever seen in Australia over the past seven years.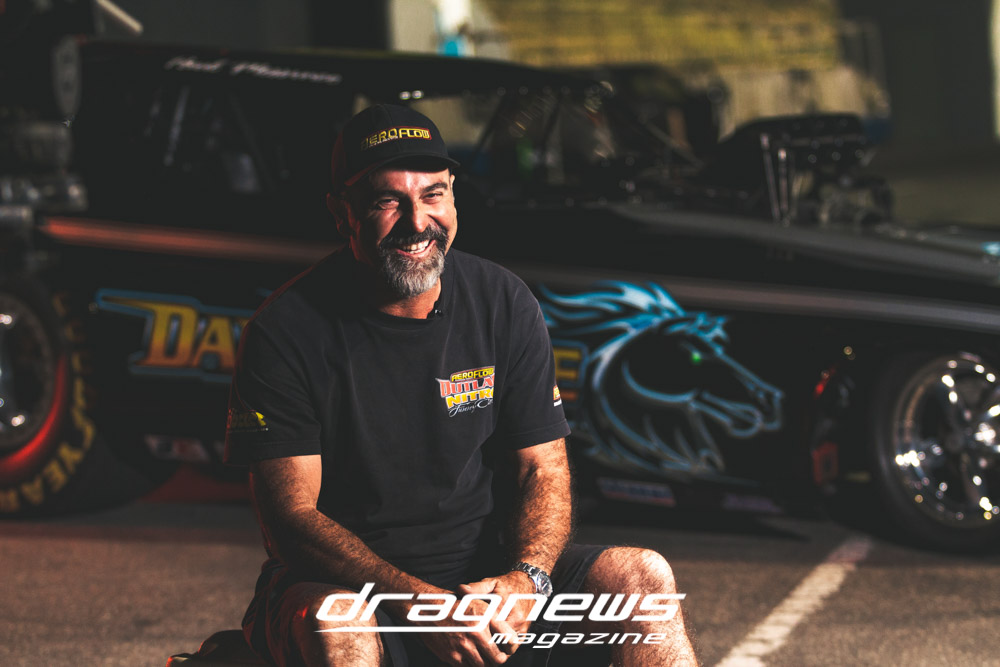 This article originally appeared in Drag News Magazine #49. To support more articles telling the great stories of Australian drag racers, please consider subscribing to our print magazine.
| | |
| --- | --- |
| One Year (Eight Issue) Print Subscription – $119 | |
| Issue by Issue Print Subscription – $14.95 every six weeks | |
Less considered is just how important the series has been in giving drivers opportunities to experience nitro drag racing. If you're reading this website, there is a good chance you know nitro is not a fuel for those afraid of big spending or long hours in the workshop. The knowledge barrier alone can be enough to send prospective competitors away with their tail between their legs, while the demands of team infrastructure and maintaining a talented crew make even the most talented driver or crew chief think twice.
But this is where the true brilliance of the Aeroflow Outlaw Nitro Funny Car Series has come to shine. When Cowin put together his series, he gave a rare opportunity for motivated and hard working people to get involved with nitro drag racing. For guys like Paul Messineo, it was the perfect scenario.
The Queensland construction manager has been drag racing since he was 19 years old, when he put the pedal to the metal in a Ford XA Falcon at Oran Park, the temporary home of New South Wales drag racing at the time. A later trip down the strip in his late brother-in-law Tony Dagostino's 'Lounge Lizard' altered sealed Messineo's love for speed and his own altered shortly followed.
"As soon as I drove (Tony's altered) that what was I wanted, I had never driven anything like it," he said.
Messineo built a car called the 'Ratcatcher' and debuted it at Eastern Creek in 1993, racing with a carousel of engine combinations. He began with a big block Ford, before shifting to a Buick-headed motor from Roy Stivala and Joe Culmone. Next came a block and injected small block thanks to Jeff Penton, which Messineo used to win the Supercharged Shootout Canberra International Dragway in 1995.
When Eastern Creek closed, Messineo sold the car and moved to Queensland, taking a break from the sport for a while. Fortunately his dark ages did not last long and five years later Messineo purchased a 1927 Ford Roadster put together by legendary South California chassis builder Warren Brogie. That fit nicely into A/HR in Modified for a while, before Messineo decided the carb was not enough and needed to be replaced with a blower.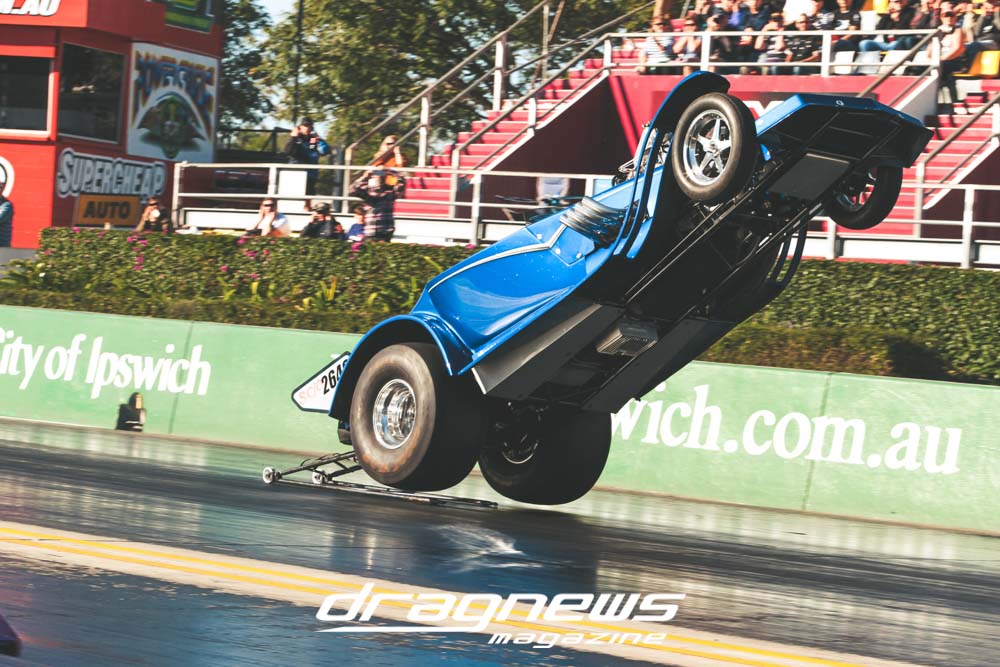 "I rebuilt the car from start to finish, ran it for two or three meetings, and then got sick of the carb," he said. "Once I put the blower on it we campaigned that for a good three years and ran 6.94 at 199mph before I got a whisper that Graeme Cowin was putting some teams together for a Nitro Funny Car deal."
Messineo went to speak with Cowin and the pair found some common ground, or at least enough for Messineo to be given the keys to a Ford Mustang-bodied Funny Car known as 'Dark Horse'.
"As soon as I sat in the car it was comfortable and perfect," he said.
He and his assembled team then went on an intense learning curve.
"I sat in the car and went through the whole start up procedure with Shane and Graeme," Messineo recalled. "I memorised everything they told me, and then I worked out with my guys who was starter, who had the fuel bottle, and so on. We went straight to the track on test day and went through the same procedure once or twice, there wasn't a lot of schooling! It was nerve-racking, and we made a few little errors on the day. But on my third run I went 5.99/248mph.
"I didn't expect to run so quick. At the top end the boys said I ran 6.1 at 220, and I was jumping around. Then they said, 'You idiot, you ran a five!'"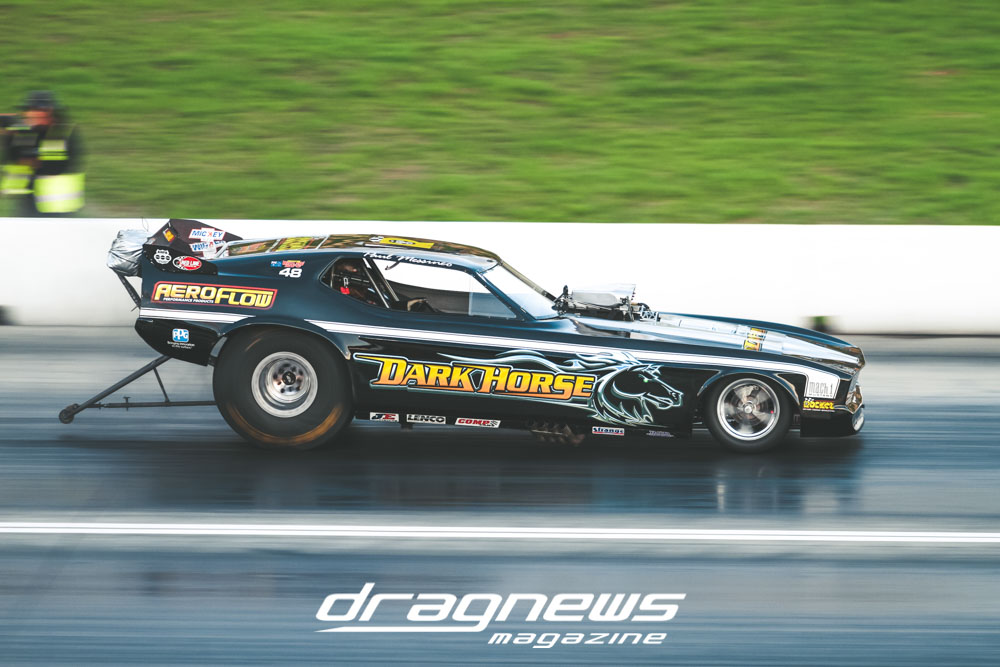 Later in the year Messineo got to be a part of the Aeroflow Outlaw Nitro Funny Car Extravaganza featuring US driver Ron Capps. It was the proverbial dream come true for Messineo to be alongside legends of the sport.
"We got runner up and that was one of the coolest experiences ever," he said. "Just to be involved in something so special was the best, there had never been 17 Nitro Funny Cars together at one time in Australia."
Since then, Messineo has been one of the mainstays of the series, travelling the country and helping to build the reputation of the Aeroflow show. Side-by-side runs and fan accessibility have been basic tenets that Messineo and others lucky enough to drive for Cowin have stuck to.
"We are not racing for sheep stations. We are out there to put on a show," he said. "That said, we are all racers and of course we all want to win still! People say they want to go A to B but that's bull, you go to the start line ready to throw everything at driving.
"The main thing is not to destroy the cars, and in that regard we have been pretty lucky. We haven't hurt too much apart from smacking the wall once at Adelaide and then having a rod failure another time where we lost a motor. But considering how many times these cars go down the track and their numbers, the amount of blow ups has been nothing."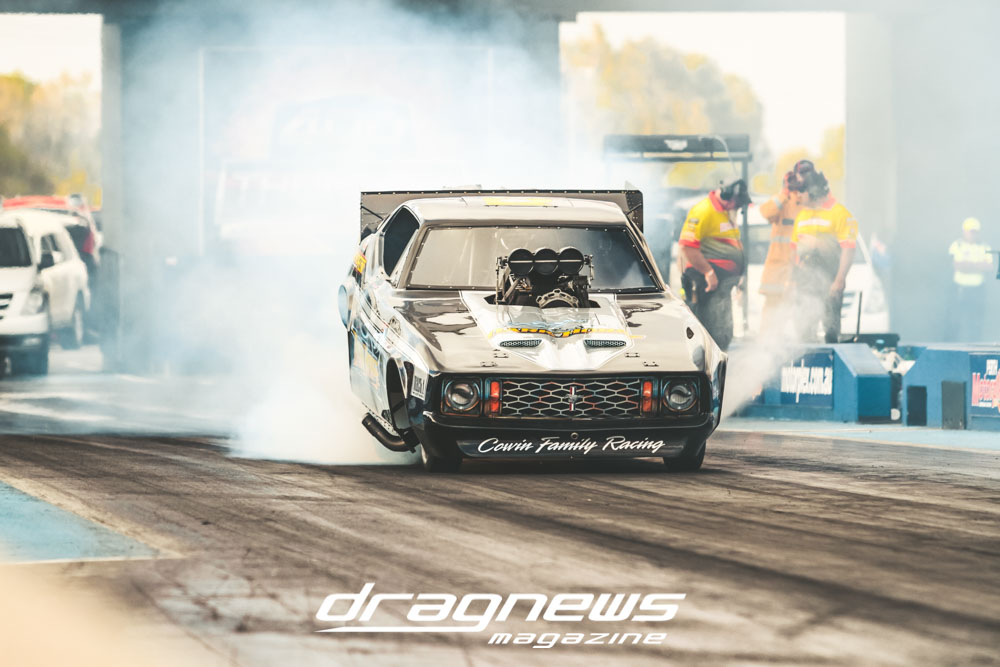 The Aeroflow Outlaw Nitro Funny Car Series is run differently to any other drag racing promotion in the world. Tracks buy in the show and are guaranteed the 'house cars' such as Nitro Express, Red Devil and Dark Horse, which are owned by Graeme Cowin, along with any privateers who want to turn up. There is no ongoing points chase; each event is simply its own contest and a winner determined over three rounds of pure racing – with no testing or qualifying. The teams are allowed to enjoy spirited competition but never at the expense of a poor show.
"Graeme sets the baseline tune, he is the master. We then have a little bit of flexibility on which direction we want to go, but he can hear them and see them and (if we mess up) then we have to explain why. No-one goes stupid and tries to set them on fire. At the end of the day sometimes it is a tuning win, sometimes it is a driving win.
"Graeme is always trying to make a better show. That is why we have the big pumps and big mags, so we can make big flames that are entertaining for the crowd. We don't need to be burning them up like they do in the NHRA Heritage Series."
Provided he has been given a tune-up that will meet muster, it is then Messineo's role to ride this 4000 horsepower, nitro-drinking steed to the finish line. He was no stranger to quick drag cars when he first drove one of Cowin's Funny Cars, but the extreme acceleration of a nitro motor under load still caught Messineo off guard.
"The way these things pull at the top end is crazy, they don't stop," he said. "On that first 5.99 I ran it just kept going, it was like I was launching again when I hit top gear. My roadster ran 6.9s but it mellowed out in top gear."
Messineo had to learn how to describe each pass to his crew. Believe it or not, none of the Aeroflow Funny Cars use data loggers. Inside the cockpit, Messineo has only fuel and oil pressure gauges to rely on, the rest needs to come from his senses, and his behind.
"It has become normal now and I can get back to the boys and explain what happened down the track inch by inch. Your eyes and ears are your gauges and your bum cheeks are your computer. You have to feel it to drive it, picking your shift points and feeling what the tyres are doing. It really teaches you how to drive.
"Fortunately Graeme has got these things down pat and he knows what to change and when. He sets the baseline and then he was us to learn how to run them on our own."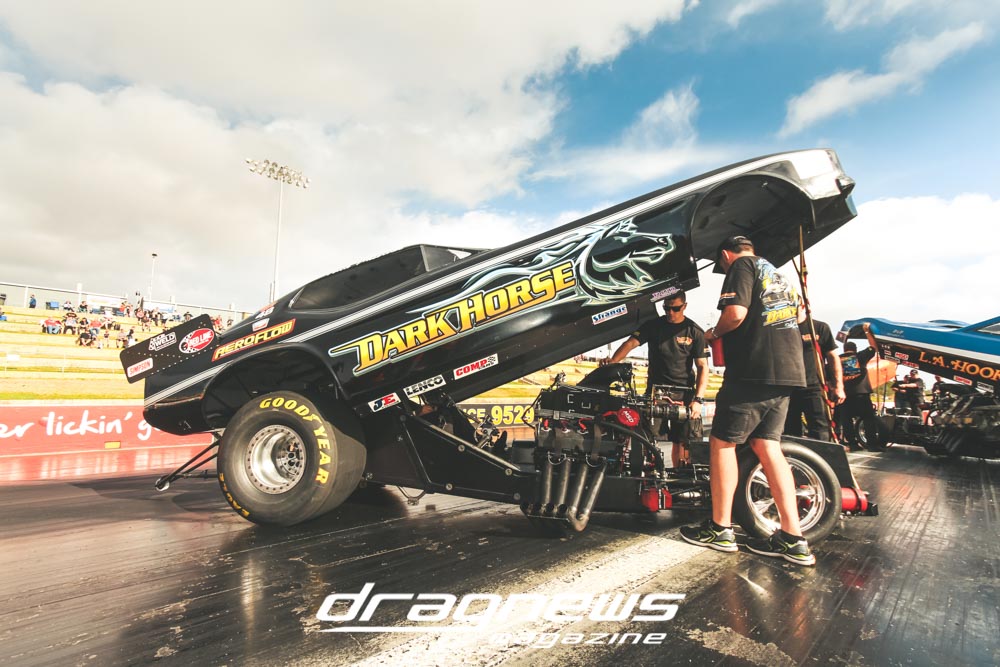 While Dark Horse ultimately sleeps in a Sydney stable rather than his own Sunshine Coast shed, Messineo said he still treats the car as it if it is his own – a driver who abuses the equipment of the team owner is sure not to enjoy longevity in the role after all.
"It was a once in a lifetime opportunity to be involved in this deal and it has been the proudest times of all of my racing," he said. "It is so special and I sometimes think to myself, who gets to do this? Even around the world it is so rare in drag racing."
Since its inception in 2013, the Aeroflow Outlaw Nitro Funny Car Series has become a reliable option for tracks to bring big crowds to one-day events. Messineo has enjoyed a front row seat to the growth and following the series has experienced.
"Going all over Australia never gets old, even though that is the hardest thing about the whole deal because you have to make sure you have enough crew, not to mention the right people on the car who won't mess it up.
"At every event, more new people come to the sport who have never seen it, and they are blown away. We never get told we had a crap show! Once we are at the track it is balls and all, no qualifying or testing and no chances to mess it up.
"Seeing people's reactions is great, especially the kids, they look at you like a superhero! But we are just normal people getting to do the coolest thing."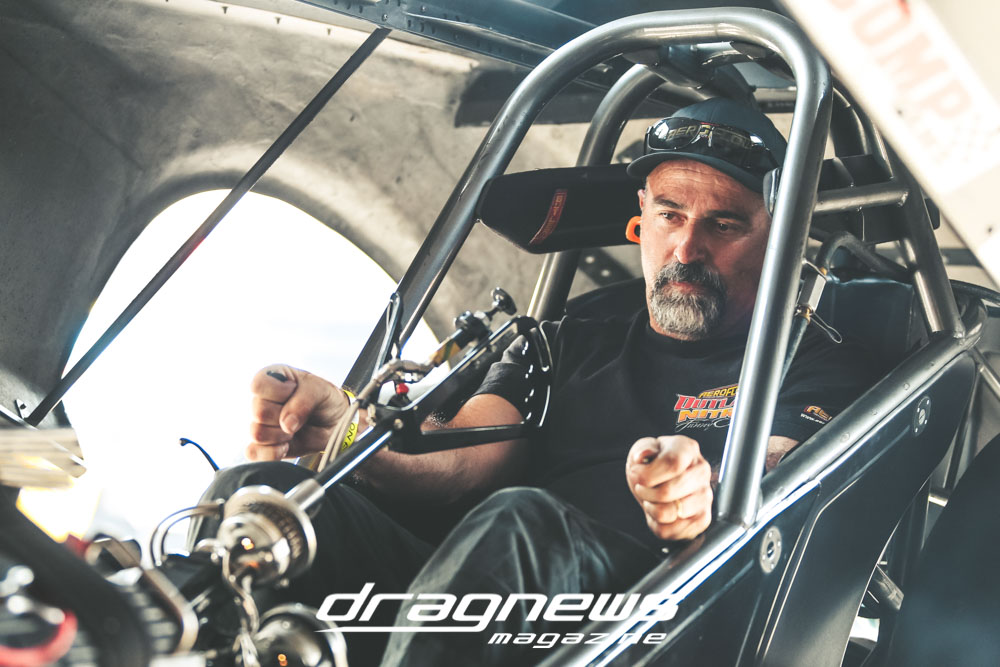 The recipe has been tweaked here and there for the Aeroflow Outlaw Nitro Funny Car Series but the fundamentals have stayed much the same. We asked Messineo what he thought the future would entail for the series.
"All I know is Graeme doesn't sit still, he always tries to reinvent the wheel. I can see in the future he will want to continue to make it grow. There will be challenges to doing it of course, but I think it will be around trying to get more cars, and more privateers. It would be great to have 20 of these things running, and there are plenty of cars in the country now. Maybe now that we have had a break, people will have had the chance to regroup."
Whatever the future looks like, Messineo remains uber keen to stay a part of the real nitro circus.
"I still pinch myself, it still feels surreal when I get to the track. I've got a lot of respect for Graeme, he is one of those guys that is very tough but he has a big heart. The opportunities he and (wife) Wendy have given myself and all the other teams have been amazing."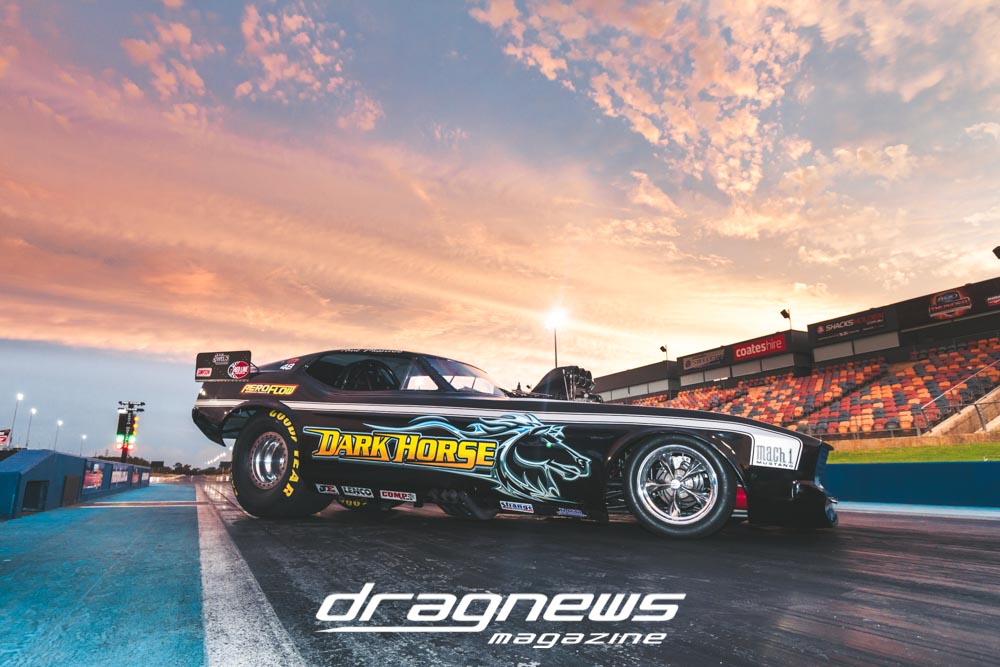 Outside of the Funny Car life, Messineo enjoys hot rodding on the street with his 1931 and 1928 Fords, and he is also into Harley-Davidson motorcycles, boats and anything else with an engine.
Messineo's opportunities for adrenaline inducement have only increased since he began driving the Funny Car, with Graeme Cowin also offering up a seat in the 'Agro' Fuel Altered, known as an Aeroflow Nitro Hot Rod when it is on tour.
"The thing wants to tear your head off and go anywhere but straight," an excited Messineo said. "I come from altereds, they are where I started. When Graeme whispered in my ear that he was building another one, I said I was in.
"I had kind of let it go and then I got a call from Maurice they they were doing the World Fuel Altered Challenge so I went and tested. What a different car to drive it was."
As cool as these cars are, there is one thing that is even cooler for Messineo, and that is when he gets to race at Willowbank Raceway in front of his grandkids. They are very much the target market for the Aeroflow Outlaw Nitro Funny Car Series, allowing Messineo to be a living legend to his kin.
"My grandkids get to see my racing and that is just the coolest. People take footage of them in the stands cheering me on and jumping around and that is so special. I think I can see having to get them Junior Dragsters in the future."
And isn't building the next generation what it's all about?