There's a lot of advice on how to go fast out there – the problem is knowing which advice to take. It's a lesson Tony Webb has had to learn the hard way.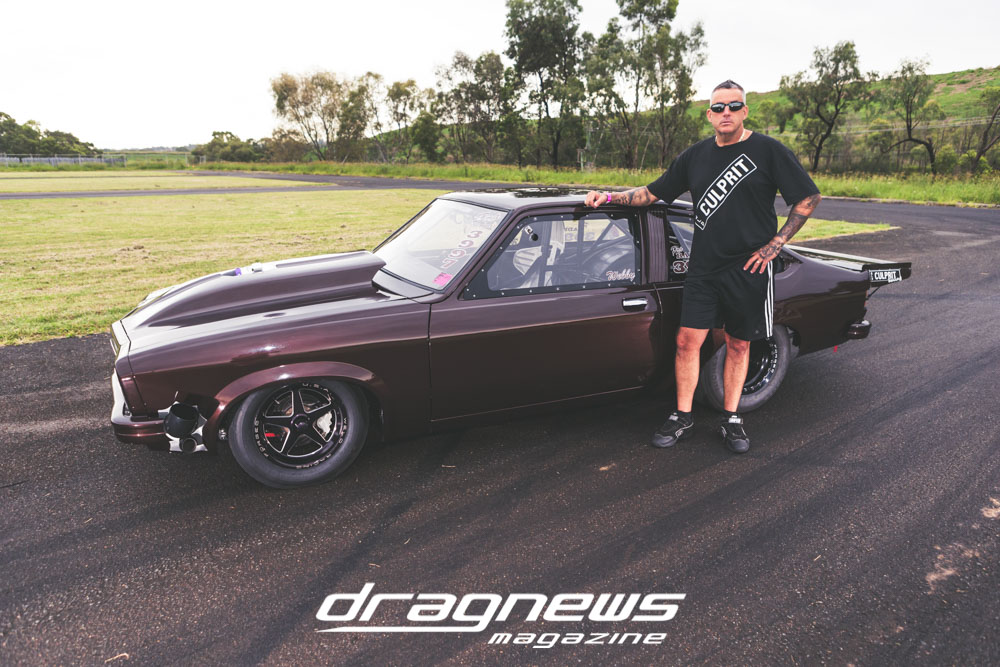 | | |
| --- | --- |
| One Year (Eight Issue) Print Subscription – $119 | |
| Issue by Issue Print Subscription – $14.95 every six weeks | |
| Drag News Magazine Issue #57 – $15.95 | |
This article originally appeared in Drag News Magazine's print edition. Please consider subscribing today to support Australian drag racing!
He might now have a very quick radial car, but for Webb it has taken some life lessons to see the path to the performances he expected from his investment.
"The biggest killer I have found, and I have been building engines for seven or eight years, is that a lot of people want to learn and develop themselves with your money," he said. "They say, 'Do this, do that.' You spend $3k or $4k a pop and it makes no difference. Then they say, 'Oh shit, that didn't work.' What I have learned now, for everything I do in business or racing, is to look at somebody doing what I want to do and to follow in their footsteps."
The path well trodden comes to mind.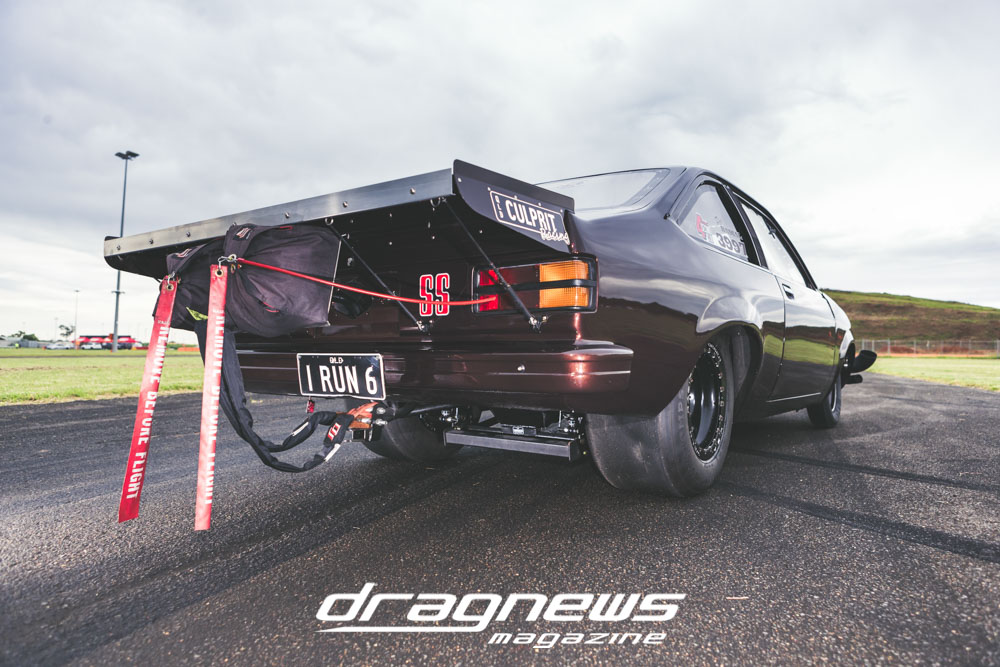 Webb is a long term drag racing fan with a Torana problem. He first got involved by crewing for his uncle at Surfers Paradise International Dragway on a car called the Jumpy Jay. It took many years for Webb to take the next step into actual racing, but in 2014 he decided it was time to give his street car a thrash.
"I had (and still have) an LJ Torana with a Holden V8 engine and a rear mount turbo set up on it. I built it as a street car and it got faster and faster. We thought we could do half well when it came to racing so we went out and had a go at an APSA race. We showed up at Willowbank with a tilt tray and jumped in at the deep end and the bug bit."
In 2015 Webb committed to running the whole APSA series, and he took home the X275 championship. It started his love for big horsepower on little tyres and he pushed the limits of the LJ's still street-based architecture.
"I always loved the fact that I could literally drive my son to school, and then race the car exactly the same with the radial tyres on it at Willowbank. Slick tyre cars are fun and all, I drove one in the nineties, but with a radial you never know what you are going to get. It is all down to power management and driver skill.
"We found that we were pushing 175mph over the quarter in the LJ and it didn't have any aerodynamics. I started to look at putting wings on it but that meant it wasn't going to be a street car to me anymore."
Webb instead decided to search for a race chassis that would better stand up to the high demands he was placing on it.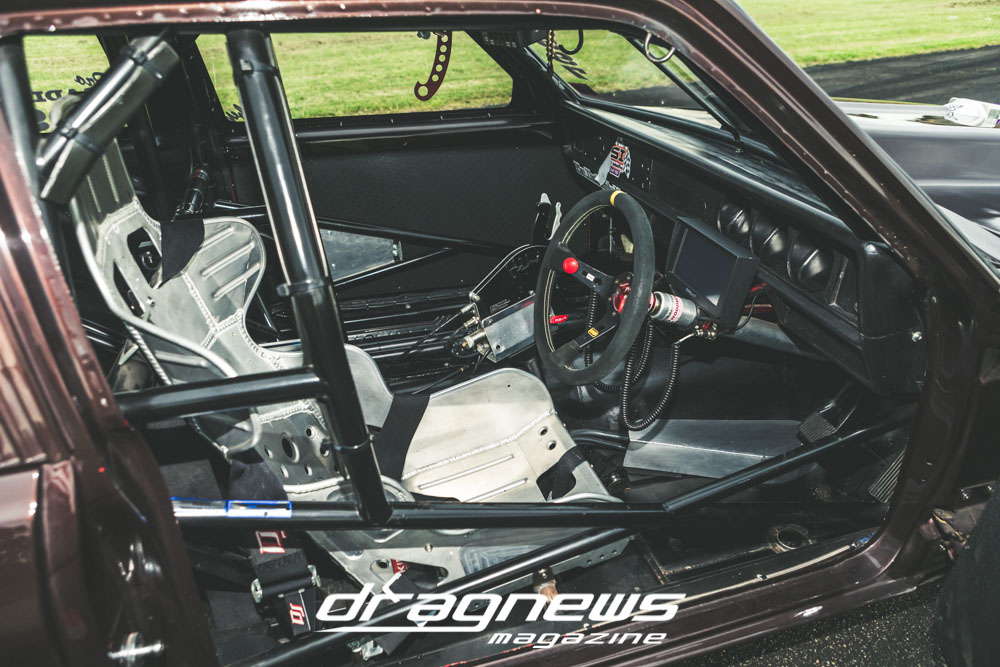 "I saw the LX hatchback pop up as a roller. Being an ex-race car it had some aero, and it also had some good four link suspension and was already mini-tubbed. It had the bones for what I wanted, and it didn't hurt that it was brown – which was our favourite colour."
Wait, hold up. Insert skipping record sound here. Brown? "Well, when I bought my LJ it was brown and patina, and it was well before everyone was doing a patina car. I didn't have to worry about keeping it clean and the brown thing just stuck. We named it Leroy Brown and that name stuck too. We call the new car James Brown. Everyone has red, blue, black, white or whatever, brown is different and unusual."
The LX is a back half car and is legal for both Outlaw 275 as part of the Kenda series and Pro Radial in the 400 Thunder championship. It retains the factory floor and fire wall, along with steel roof and quarters.
Under the fibreglass bonnet is a very un-factory 565ci Brodix engine, built by Sam Fenech at Westend Performance. A pair of 88mm Garrett turbos are along for the ride. Kon from Wollongong Automotive Services looks after the tuning so that Webb can simply settle in for the drive.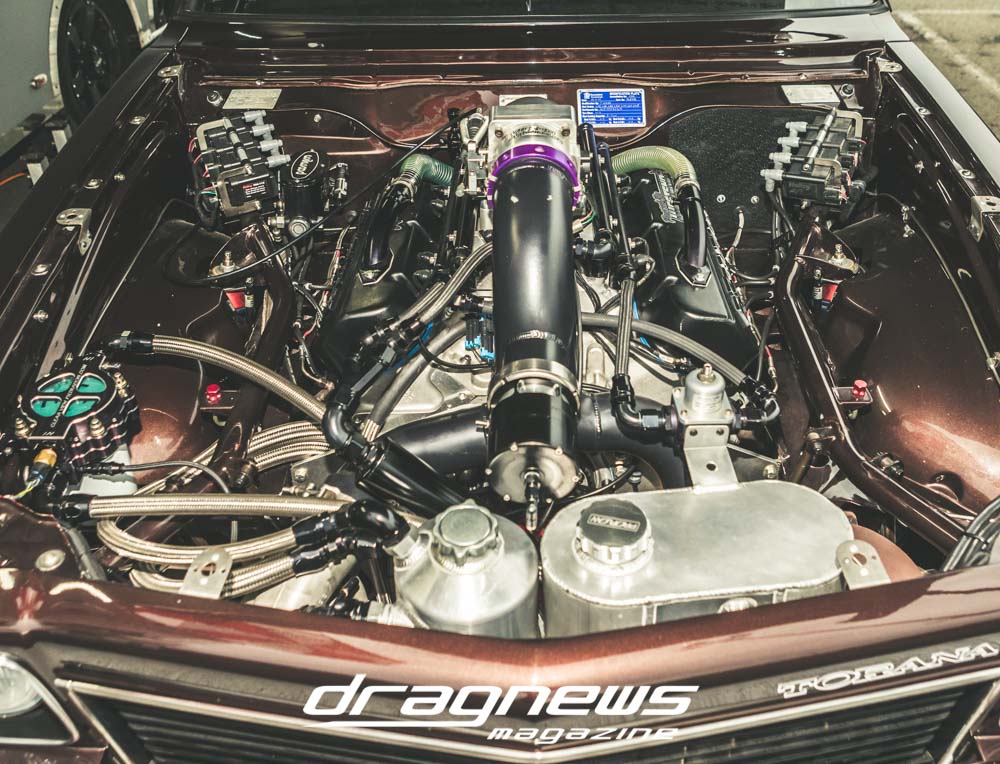 "What we are doing is a bit old school; we run a sticker on the windscreen that says, 'Can't afford a Proline.' It's a pretty basic set up for what it does and the numbers it pumps out."
Those numbers would be 4.32 and 174.9mph in the eighth, enough to make it the fourth quickest car on 275s in the nation.
"We have only raced it at three meets. The guys in front of us have a lot more experience, but we think it's a matter of time until we get the right conditions and can step up.
"It was a quarter mile car when I bought it. When I started building it for an eighth mile we had to change a lot of stuff with the car, diff ratios and so on. It is going to be a comfortable 4.2 car; the 4.32 had two big pedals.
On debut with the car, mechanical problems beset the team and Webb called it a bust (more on that a bit further down the article). But he was able to restore some faith in the program with a strong 4.4 second performance in Sydney and a couple of win lights.
"We were rapt with that. For the second meet it was extraordinary."
When Webb returned to Willowbank Raceway, he enjoyed a fairytale event that demonstrated the importance of consistency.
"We had two wins and got into the final for 275. Earlier we had raced Stu Henry (one of the heavy hitters for the class) and he had spun the tyres. We both made it through though. I said to him before we raced, 'I hope you do that in the final!' Sure enough in the final he let his finger off the button and zinged the tyres and we were able to win the whole event.
"I think the key with radial racing is consistency and we proved that in 2015. When we won the championship we didn't have the fastest car, but we showed up every time, had good lights, and we ran the same numbers all the time.
"I want to run into the low 4.2s and I think soon enough there will be people running a lot faster than that, but every time you let your finger off the button you can spin the tyres. If we can go 4.2s back to back we will make finals.
"I respect everyone I race and people do what they want to do, but some people just want to run a PB all the time. But you break stuff, you spin tyres a lot and lose races a lot."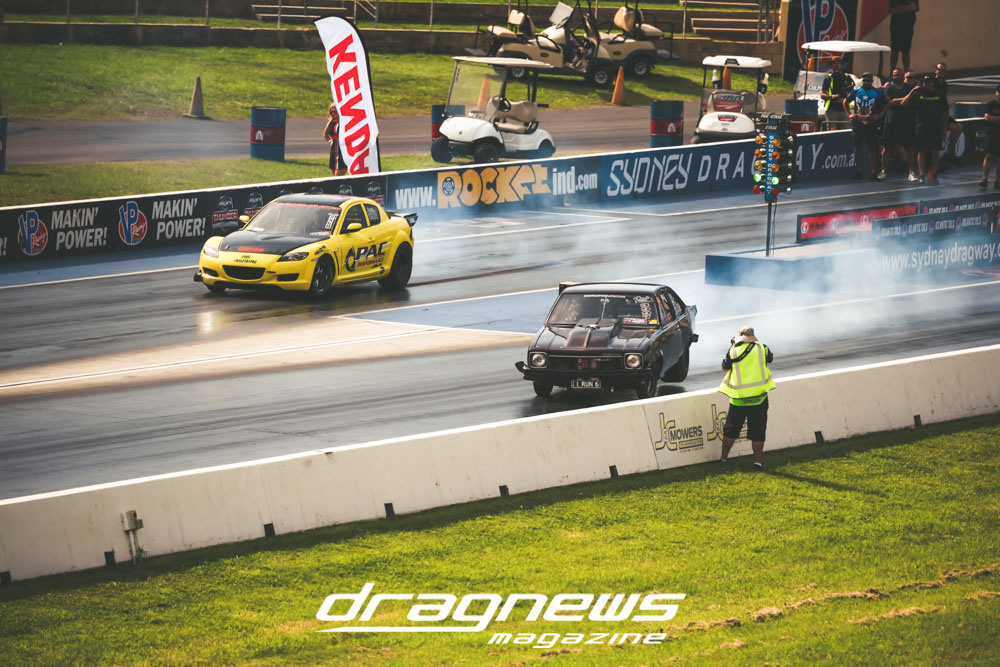 Finding the winning formula has meant taking some wrong turns here and there for Webb. As mentioned in the first paragraph of this article, bad advice has held up his progress.
"Predominantly it was an engine combo problem we had. I fitted the wrong set of heads to it. They were water jacketed heads and by not having water in it, it allowed them to move around a bit, so we had some head failures. Then there were problems with getting the correct parts. After talking to Brodix in the States, they said they would do a set of cast heads with no water jacket for us. That is when I engaged Sam at Westend to screw my motor together and it all wrapped up very quickly. It has been very reliable, and once we got the right parts the major problems disappeared.
"To go from a 355 Holden to a big block 565, and from a water car on the street to a straight methanol car on the track, was a big learning curve. Getting the right advice is the key, to have guys like Sam and Kon on board. It's about meeting the right people and getting the right information."
That sound advice has given Webb about 2530 horsepower to play with, which is more than enough to shred those skinny 275s. Of course, shredding is not the aim here – it's control.
"We haven't even really used all that power yet. From a tuning point of view, your window for success is so tiny and it gets smaller the faster you go. My street car was forgiving, but this one is not the same. As an example, I got to 330 feet and Stu Henry started pulling a big power wheelie, so I rolled off the throttle. I jumped back on the pedal and it went crazy and tried to go in the wall, because there was so much power in a split second. They are very unforgiving, and you have to keep your wits about you."
Essential to the lowering of elapsed times for any radial car is good track preparation. Thankfully, Webb has the Kenda series at his home track Willowbank Raceway, which leads the way in concrete stickiness.
"APSA died and went by the wayside but luckily Scotty and Jason were there to pick up radial cars with Kenda. It has gradually expanded now to Sydney and soon into Melbourne and that will give it an east coast series. The series has worked really well for us.
"A lot of guys in the radial world will put their hand up and give you some help. If you are at the track and need something there are five people there to give it to you."
Webb wished to pass on some thanks to those who have got him the win lights and the sick time cards.
"I'd like to say a huge thank you to my family. I am blessed that my wife is unbelievably supportive. She hides in the trailer or the grandstands while I race, but she is the strength of the team. My young fella is right into Junior Dragster racing, and he is all across it. I've got three mates that crew for me – Dave Malcolm and Grant. You can't race these cars without commitment from everybody, they travel with me and if it wasn't for them we wouldn't have a team."