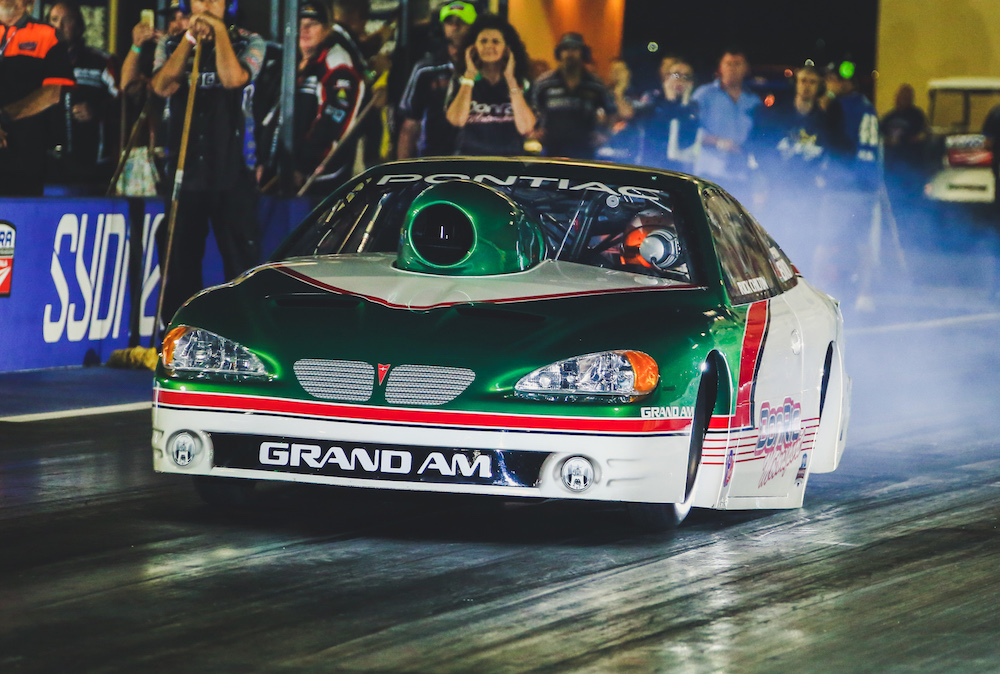 Half a dozen years ago, Canberra's Rick Chilton had new Bob Book engine power. In qualifying for the 2013 Winternationals he went from the outhouse to the penthouse after dropping a 7.001 at 195.59mph. The personal goal of the team's first six second pass seemed tantalisingly close.
Drag News Magazine strives to deliver original Australian drag racing content. We are asking for your support so we can cover our server costs, extend our coverage to new tracks, better compensate our contributors and continue to provide a quality service to drag racers and fans. If you enjoy our content, please donate any amount you can – it all goes towards improved drag racing coverage around Australia.
Everyone races for personal achievement. Sure, competitors like to win races, but for many that is not a primary goal – especially when pitted against well funded teams in the pro ranks.
This article originally appeared in Drag News Magazine Issue 36 – to continue to support stories about Australian drag racing, why not get a subscription?
In Pro Stock, six second passes have been common place for some time now. But it still takes a specialised engine program, track time, money and favourable atmospheric conditions for even the top teams to consistently record six second passes. It would take Chilton another five years before he picked up those two thousandths of a second needed for a six second time slip. This is the dedication racers will go through for personal achievement.
"Running a six second pass in Pro Stock is easy right?" mused Chilton. "We ran a 6.992 at the 2018 Nitro Thunder, but five years ago we ran a 7.001. So what took so long?"
The first problem was that after the drive home from the 2013 Winternationals, the team found some engine damage.
"The meeting was rained out, so we drove back to Canberra only to find out we had a water leak in one of the cylinders. We had the engine repaired, and in the quest for more horsepower, the cam and manifold were changed."
Chilton is a privateer and races as budget and time allow. Work and family always took priority.
"We were only running a limited schedule. I believe that to run consistently quick you have to run every meeting, and also test as frequently as you can.
"Most teams would be getting some help from overseas, so you have to keep improving on your processes, to keep up to date. As this was not possible, we raced when we could, and ran into some valve spring problems, which in turn caused some valve failures and engine carnage."
With the Book motor out of commission for repairs, Chilton switched back to an old faithful bullet.
"I had a spare motor, which we used for a couple of meetings while I was in discussion with valve spring and valve manufacturers about the cause of the good motor failure. A good lesson in time wasting and duck shoving. I was limited to a lot lower RPM, but it still ran pretty well, a 7.10 at 191mph.
"After some serious consideration, the decision was made to go back to the original cam and manifold for the good engine, and to sneak up on the RPM."
Chilton typically found himself choosing events without ideal weather conditions, which proved another factor holding back his performances. Pro Stock cars are sensitive to their environment and even top teams like the Tremaynes can not punch out six second passes without half decent conditions.
"A lot of the weather conditions that we raced in were not favourable, and when they were good we underestimated the conditions and slipped the clutch too much," Chilton said.
With five years passing since being on the precipice of a six second run, Chilton headed back to the track armed and determined for the 2018 Nitro Thunder event.
Track conditions weren't optimal, but atmospherically it was perfect, so tuning would be a critical balance. With runs already of 7.05 and 7.03 on the data logger, the final run of the event would be the Hail Mary play.
"After looking at the RacePak data from the previous run we decided on the settings for the next run. We saw that the air was getting better, so we knew the engine would make more power. We had found the track conditions challenging all weekend especially when the track got cold. We had just fitted a front splitter and a taller wickerbill as per the rule changes that had come in – those changes made a difference in the second half of the track with regard to downforce, which Pro Stock cars have very little of."
Small changes proved enough as a 6.992 flashed up on the timing boards, triggering jubilant start line scenes and a personal goal achieved that was never more deserved – yet Chilton is still analytical on the run.
"The final run had all the ducks in order: the weather, burnout, staging procedure, tune, launch RPM, clutch setting and gear shifting was all spot on. The only bad point was I shut off a little early. Having said that, we tried to get some new tyres for that meeting, but couldn't get any, we like to have a certain roll out for the tyres, and new tyres may have helped a bit more.
"You need a great team to help with all the work – big jobs, small jobs, and decision making. Thanks to Donna, Dean, Cheryl, Kane, Ross, Shauna, Phil, Kristin, Amy, Aaron, Thomas, Ben, Lina, plus our four grandkids that come along to support our effort to make it all possible and fun."
The run was an emotional one on another level for Chilton, with lifelong friend from childhood and drag racing partner in crime 'Dangerous' Doug Stewart joining him for the ride. His ashes have been on board for every run since passing away in 2007.
"That was really special," said Chilton. "Should we have run a six second pass earlier? Of course we should have, but sometimes you get a little lost."