This weekend Modified racer Fiona Crisp will join an exclusive list of Australian racers who have competed in the NHRA. Fiona will be driving the Randy Meyer Racing A/Fuel Top Alcohol Dragster in the Division 5 Lucas Oil Regional Series event at Heartland Motorsports Park in Topeka, Kansas.
As a third-generation racer, drag racing was in the blood for Fiona. From her first visit to the track at a mere 3 weeks old started her journey in the sport, to watching her Dad (Geoff) race at Eastern Creek, drag racing became her life.
"It has always been something that I have been involved with ever since," said Fiona. "I have loved to be involved, and help anywhere I can. Whether it's being a spectator, or supporter for my friends who are racing, or helping crew for a weekend. The focus isn't always about my racing, it is about being a part of the sport."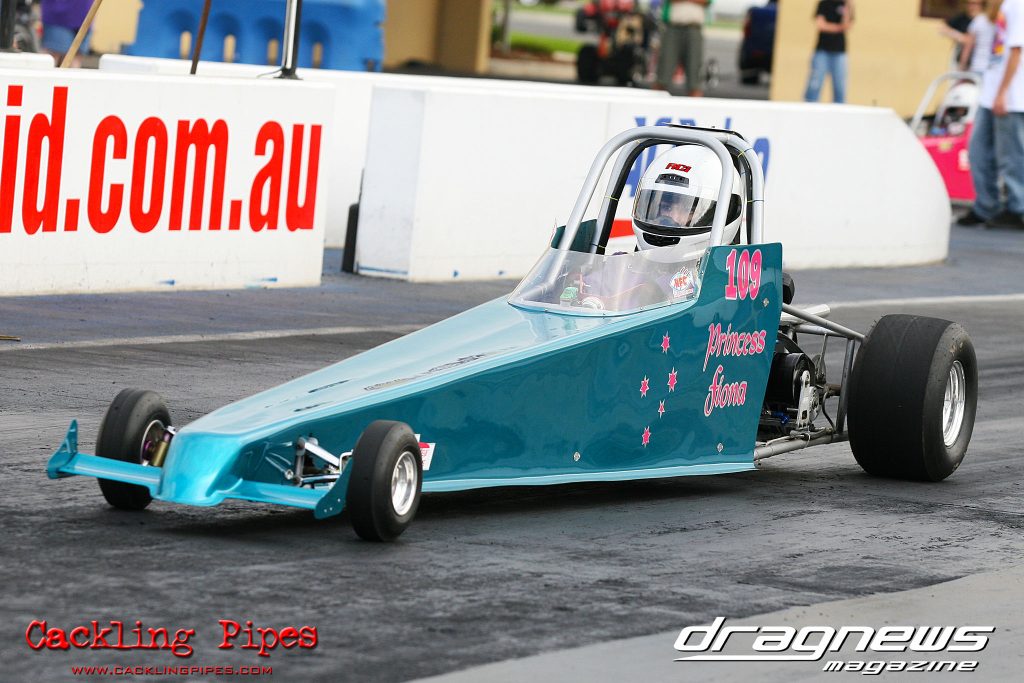 With the opening of Sydney Dragway came the opportunity to start on her own racing career, Fiona, 11 years old at the time, along with her sister Jessica started out in Junior Dragster, her drive to race progressed into Modified.
"After finishing junior dragsters, I wanted to continue racing so I worked hard and saved up enough money to buy a car," said Fiona. "I purchased my undercover rear engine dragster from the states when I was 20. It ran 8.90s over the quarter at the time, and I still compete in that car in modified today – although the car has had many upgrades and changes since I purchased it. The PB on the dragster now is 7.67 at 173mph.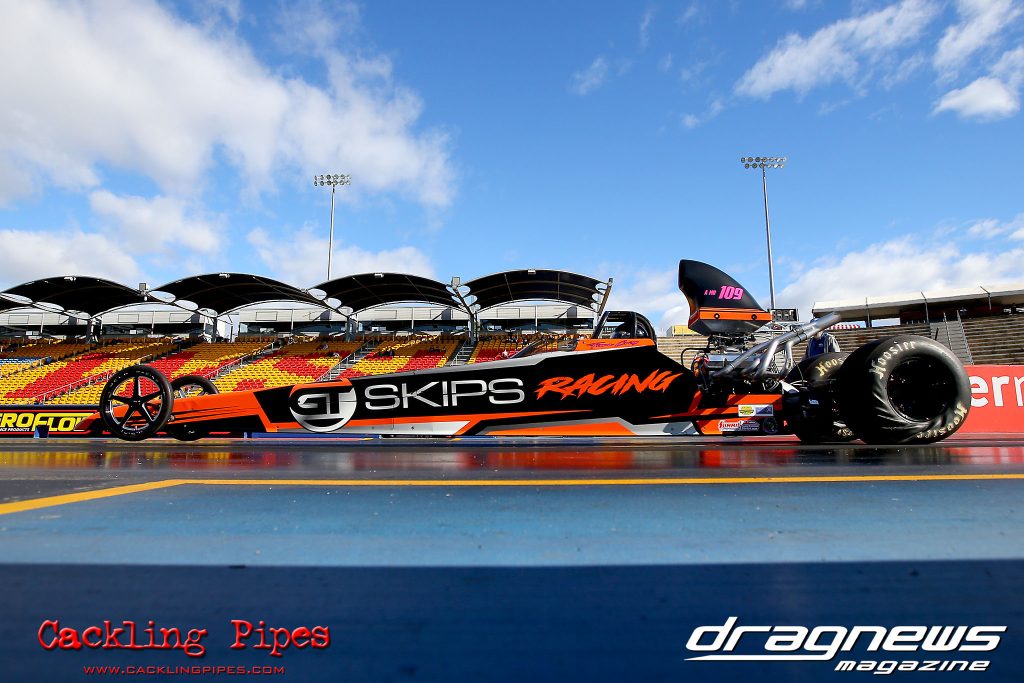 Developing Fiona's love for dragsters came from sitting in Dean Oakey's American Auto Parts Top Alcohol Dragster in the early 2000s, and Top Alcohol became the path Fiona wanted to be able to take, aligning with many of her idols.
"As a young racer I looked up to Debbie Read, and loved watching her compete in Top Alcohol, she is one of the main reasons I wanted to get into that class," said Fiona. "Watching a female compete at that level was something I really enjoyed. I was also a huge fan of Wayne Newby and Aaron Hambridge's Top Alcohol Dragsters, both of those guys are still doing amazing things within the sport, which is awesome to see.
"In more recent years I have really enjoyed watching Kelly Bettes success and journey through the ranks – especially as a fellow competitor in Modified – to Australian Top Fuel Champion."
"I would be lying if I didn't also mention the international influence of Megan Meyer and Brittany Force on my racing, they are both champions and people I admire."
With the bug-biting to race a Top Alcohol Dragster, the challenge for Fiona was how she was going to be able to pull it off.
"This is something I had been wanting to do for some time, and it actually got delayed due to Covid-19," she said. "I really wasn't sure how to go about it, I did at first think about participating in the Frank Hawley program, but it just didn't feel like the right fit for me.
"After a lot of emails, messages, and phone calls I was able to secure a position and sign a contract with the Randy Meyer Racing team to license in one of their cars, and honestly, it really didn't feel real, or like it was going to happen until the day I arrived."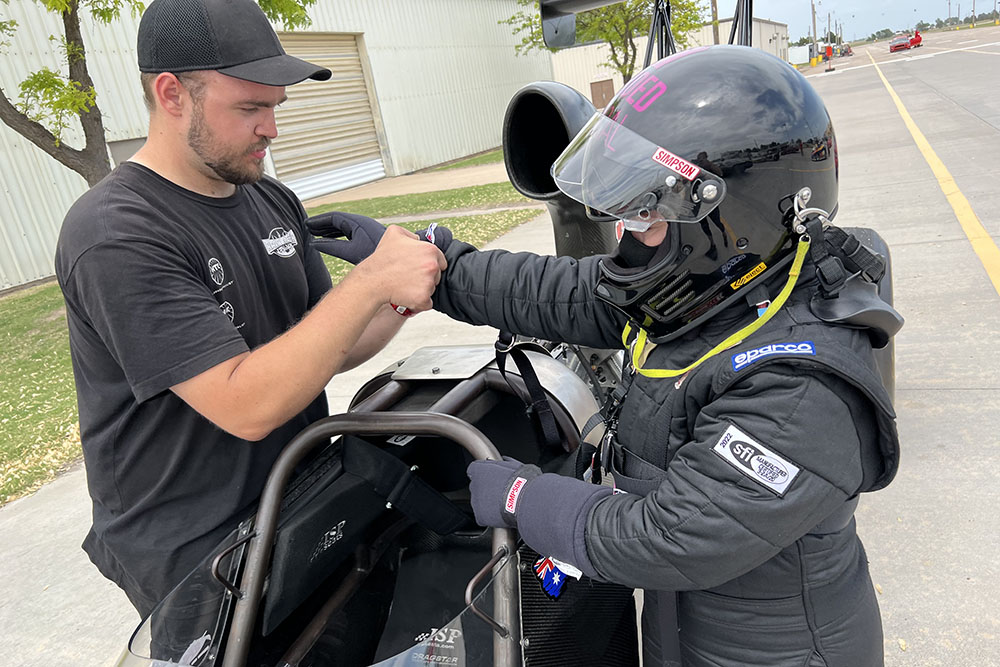 With her race bag and suitcase in tow, Fiona made the potentially daunting 24 hour trip from Australia to Meyer race shop in Kansas alone, to be fitted up in the team's A/Fuel machine.
"It was a great experience. Randy and Megan really made sure that I felt comfortable and confident in the car, I was surprised how calm I was the entire weekend. The entire team were very supportive and encouraging throughout the process."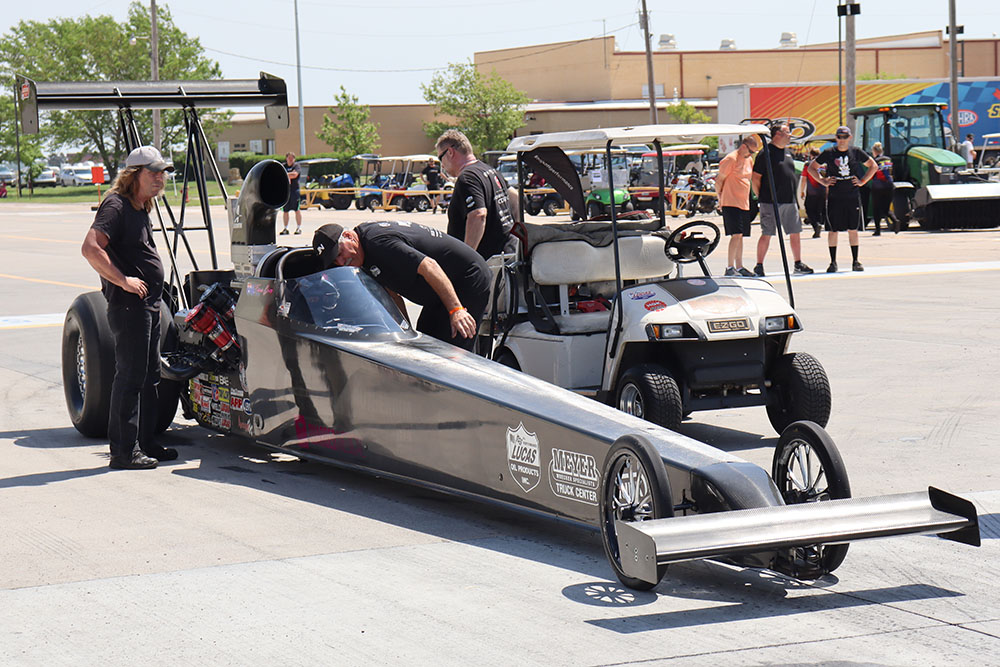 At the S.R.C.A Dragstrip Great Bend, licensing proved no problem. After a 6.24 half-track shut off pass, Fiona cranked a 5.41 at 255mph first full pass, then backed that up with a 5.42 at 257mph in the injected nitro car to have her NHRA Top Alcohol license approved.
"Wow! The feeling after my first full pass was something I cannot describe," beamed Fiona. "I was so excited, and it was a real moment of 'I just did that!'"
"I shed a couple of tears, I couldn't wait to let everyone back home know, and when the team came down to get me, they were just as pumped as I was. Overall, it was a ten out of ten experience – it was everything I dreamt about for many years."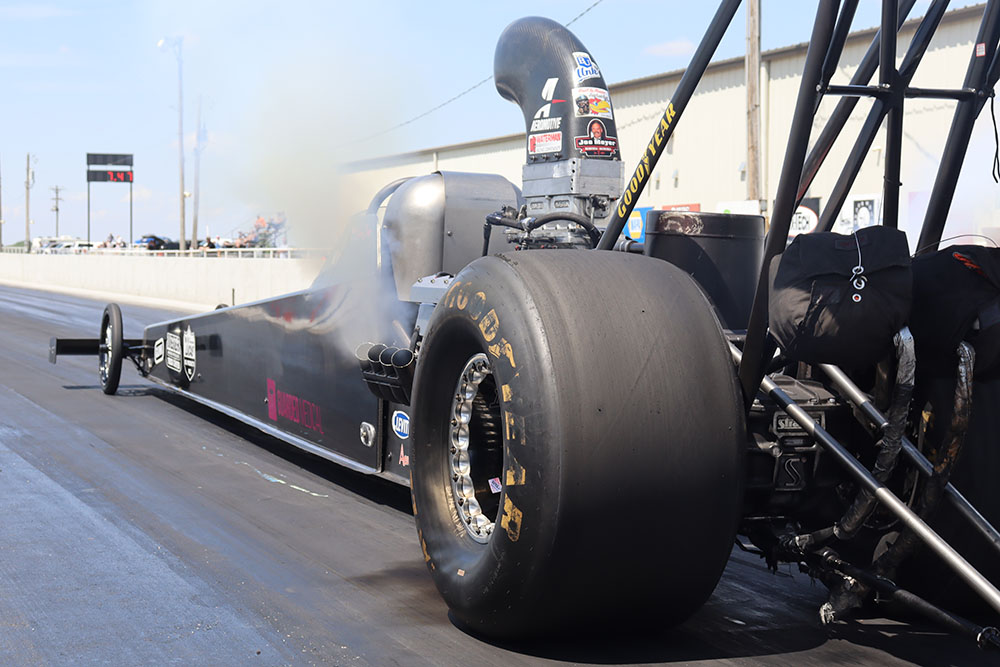 The licensing took place during a NHRA Divisional 5 event, and there was the prospect Fiona could have competed in the event once her licensing was completed, but that unfortunately wasn't able to happen. However, Randy and Megan Meyer were keen to have Fiona comeback and race for the team, an opportunity Fiona wouldn't pass up. After checking calendars, a deal was done for Randy Meyer Racing to field a A/Fuel Top Alcohol Dragster for Fiona to compete alongside Julie Nataas in the other Randy Meyer Racing car at the NHRA Lucas Oil Regional event on July 28-30 at Topeka's Heartland Motorsport Park.
"I am super excited to head back over and get a chance to race in Top Alcohol Dragster at an NHRA event," said Fiona. "It really is a dream come true, I admire all the guys and girls in that class, and I just want to stay calm and enjoy the entire experience. If I qualify and go some rounds, well that's a bonus."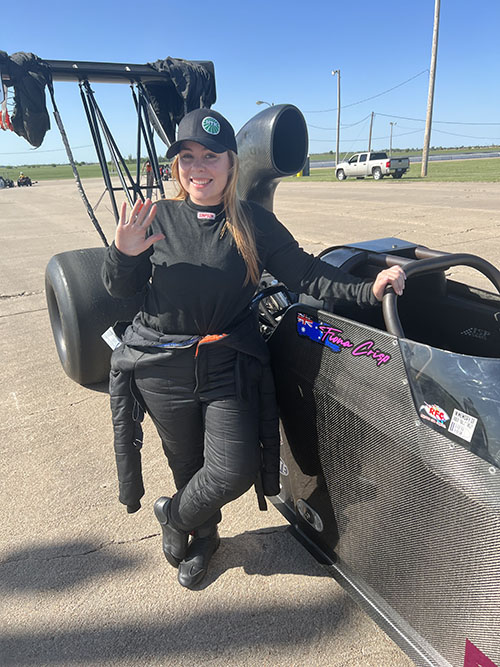 Looking past this weekend, Fiona will return to Australia and racing her dragster in Modified, and is excited by the opportunities of more racing in the east of Australia with the likes of Tailem Bend coming online.
"I am not sure what else might be in the future for me, but I would love to continue to progress in my racing career. I hope by sharing what I have been able to achieve I might inspire someone else to chase their racing dreams no matter what they are," she said.
"At heart I am a dragster girl, so I would love the opportunity to race Top Alcohol or Top Fuel Dragsters in Australia one day. I have no current plans in motion, but you never know."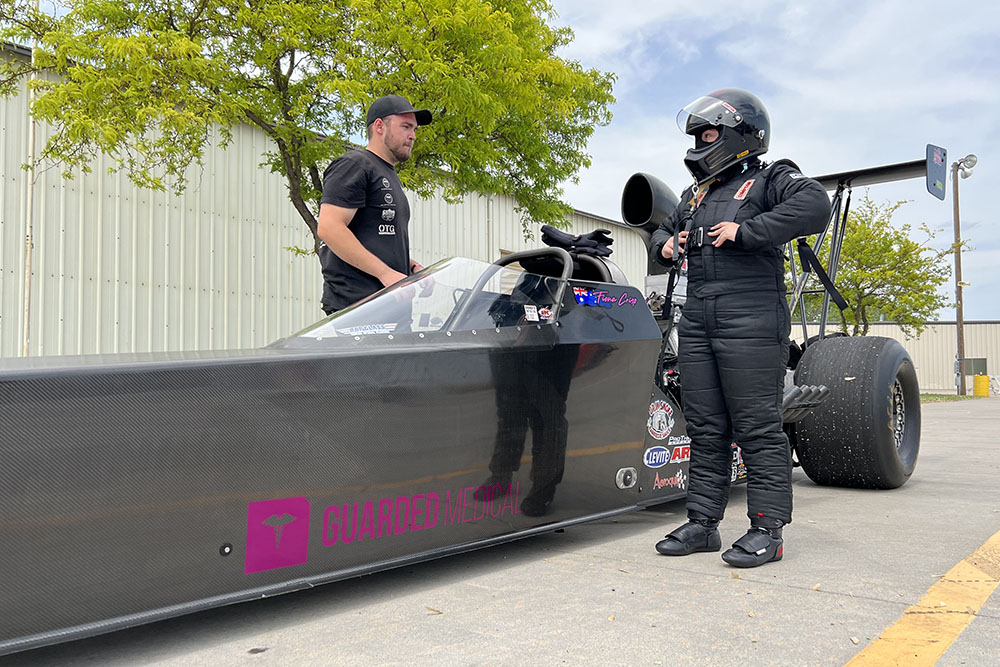 Fiona didn't embark on this journey alone, and has plenty of people to thank for their help in her drag racing story.
"Drag racing really is a team sport, and so many people have encouraged, supported and offered advice throughout the years, so thank you to everyone who has been part of my racing career so far," Fiona said.
"A special mention to my family, Dad (Geoff), Mum (Denise) and sister (Jessica) for their unconditional support over the years. I also want to thank the Dyson family who have been huge in supporting and encouraging my journey.
"The guys who support me on and off the track Cory, Kailtyn, Cam, Jamie, Zac, Daniel, Neil, Kevy and Nataya at any given event most of these guys show up to help out or cheer me on. And of course, my sponsors, GT Skips, Guarded Group and Vinyl Wraps and Graphics."
You will be able to watch Fiona compete live and free on NHRA.tv, and support her via her socials https://www.facebook.com/fiona.crisp.109
-Drag News Magazine