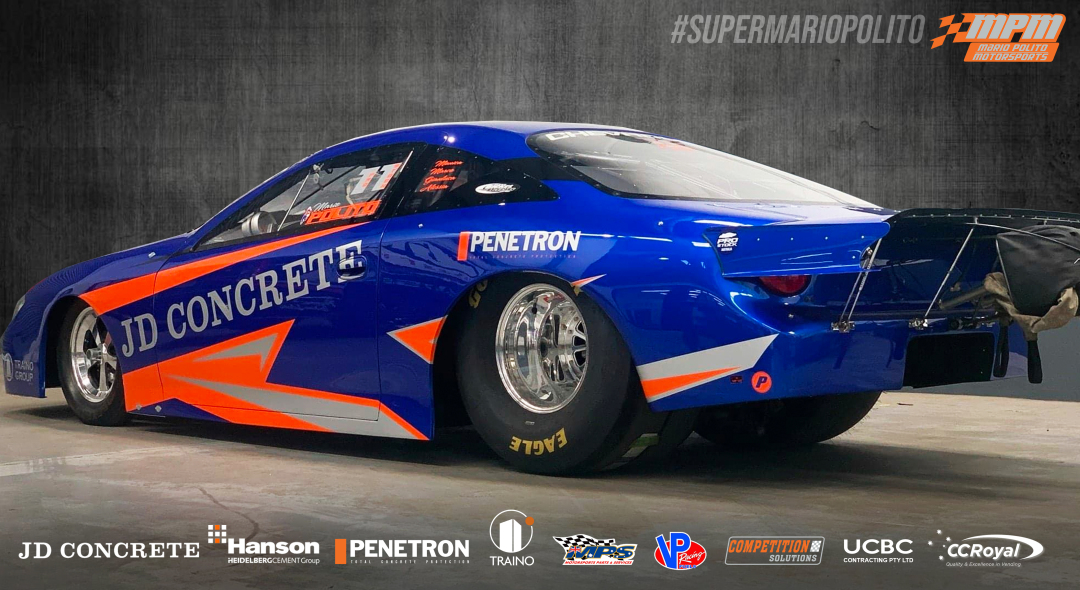 Pro Stock debutant, Mario Polito, has announced Western Sydney concreting and excavation firm, JD Concrete, has signed as a major sponsor with the Mario Polito Motorsports Chevrolet Cobalt.
The second-generation Polito is eager to begin his 400 Thunder Pro Stock career at the re-scheduled 2020 Winternationals at Willowbank Raceway, Ipswich on September 17-20.
"I'm thrilled to partner with JD Concrete in my debut season", the 41 year old from Concord said. "JDC pride themselves on their workmanship and I'm really excited to represent them on-track".
Joining JD Concrete in the impressive sponsorship line-up is Hanson Australia, Traino Group Australia, Penetron Australia, UCBC Contractors, Competition Solutions, CC Royal and MPS.
"To compete at the front of Pro Stock, you need to assemble a group of key personnel and business partners that have a proven track record in high-performing organisations", Polito said.
Polito is fully aware of the challenges and expectations that lay ahead of his professional debut.
"I have some big shoes to fill, following in the footsteps of my dad (Joe Polito). I've gone from being a crew guy, to asking him for racing advice. I'm so glad to have him in my corner as I make my way into the cut-throat world of Pro Stock".
Power for the JD Concrete Chevrolet Cobalt will come from Father and Pro Stock legend, Joe Polito.
"We have a new Joe Polito-built 400 cubic inch Small Block Chev Billet engine, suspension, driveline and also given the Cobalt a full electrical upgrade. I have completed a full restructure of Mario Polito Motorsports to enable us to compete at the highest level possible from the moment we hit the track", Polito said.
"I would like to mention without the help of my dedicated crew, Stretch, Vito, Bob, John, Christian, Joe Polito (MPS), my Sponsors, my wife Monica and our 3 kids – none of this would be possible. I hope to see my new fans out at the track dropping past in the pits for a closer look at our race team."