Peter Xiberras leads the Top Fuel pack after what was a trying opening day of the inaugural Burson Auto Parts Australian Top Fuel Championship at Sydney Dragway.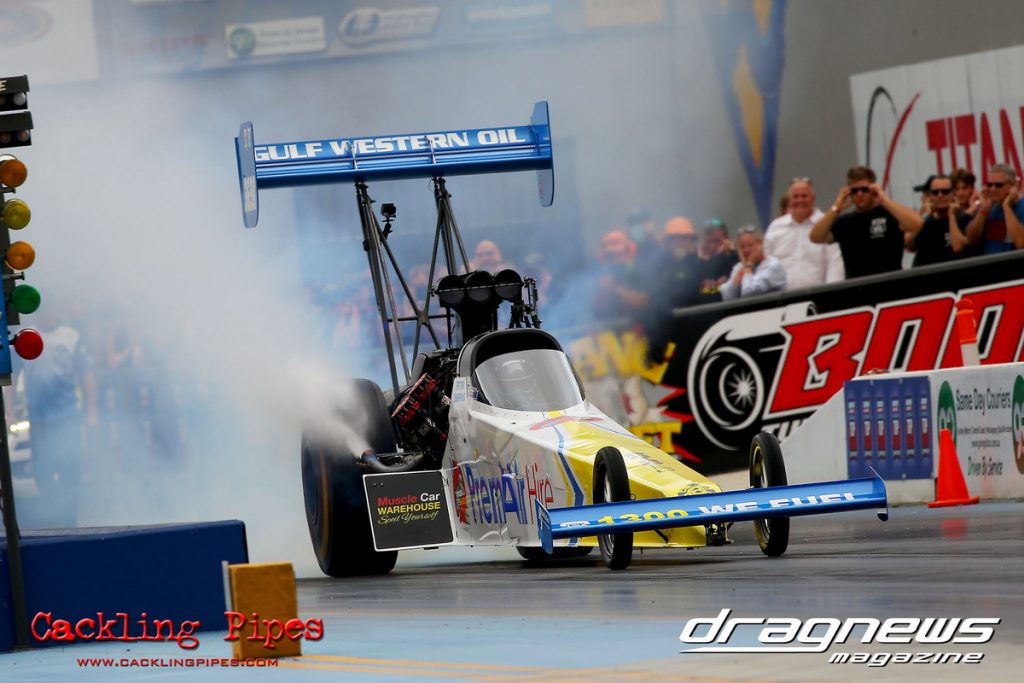 Persistent rain showers that continually interrupted racing during the day tested both racers and officials before becoming too much to overcome in the evening, when the remaining qualifying was postponed to Saturday.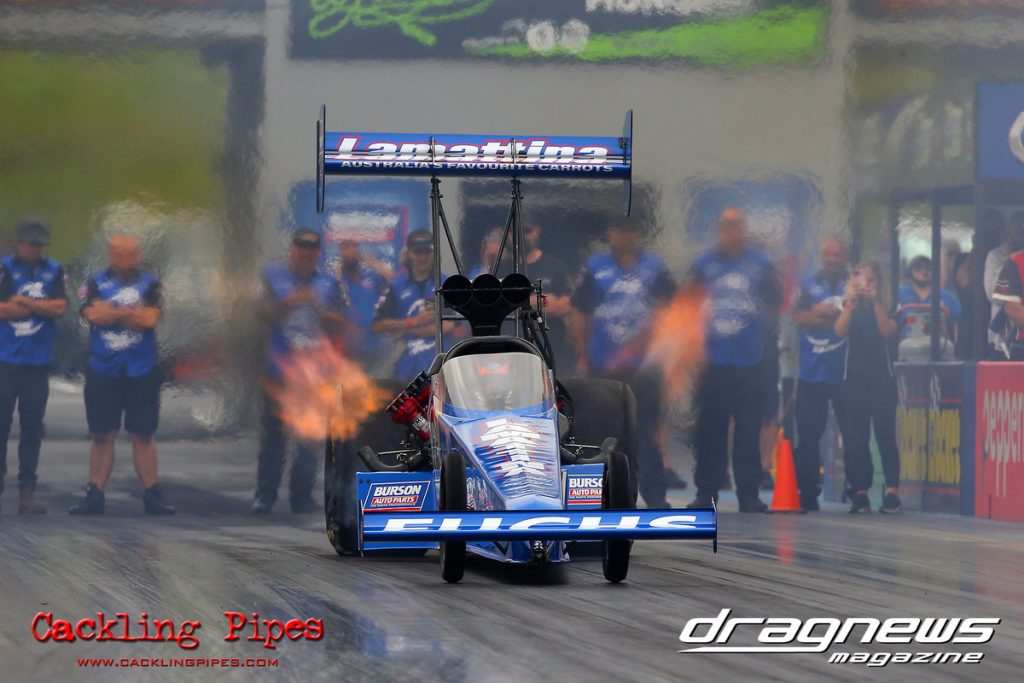 Xiberras' test run against Phil Lamattina during the morning was only supposed to be a half track shakedown pass with the team unable to do any testing in the lead up to the event. Fortunately the PremiAir Racing team principal didn't obey the team plan and kept into the noise for a 3.83 at 279MPH, unknowingly at the time this would count as his first qualifier.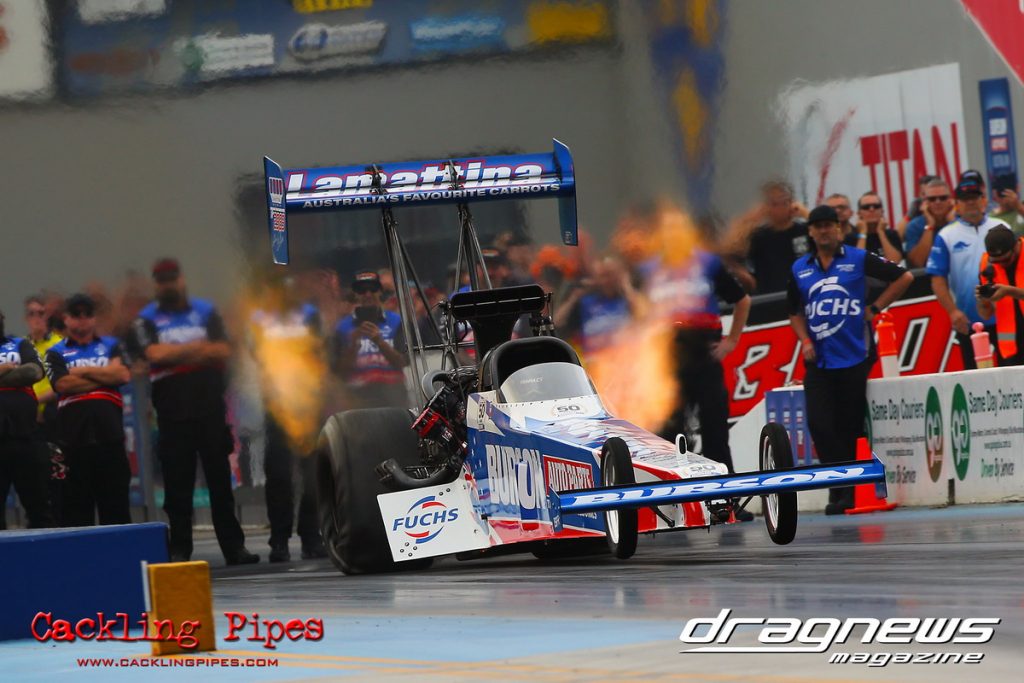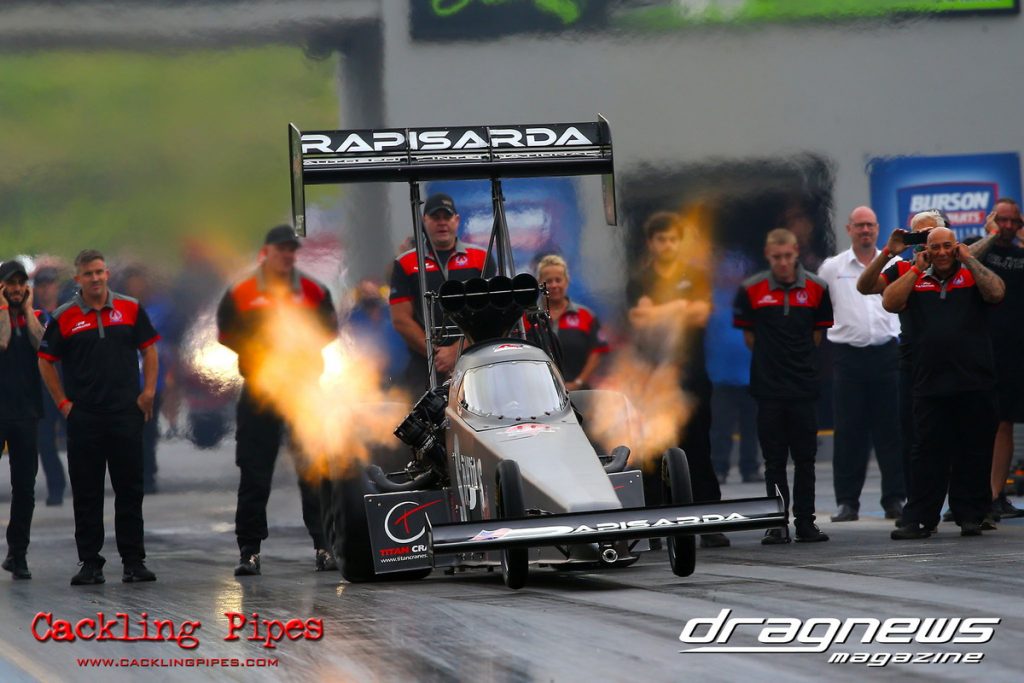 With dark clouds rolling in from the South, the first qualifying session opened with American Larry Dixon and Shane Olive – in his first side by side Top Fuel run – that saw the striking Burson Auto Parts dragster streak away on a 3.89 297MPH blast. Phil Read sent the Hydraulink dragster quicker in the next pairing with a 3.85 at a stomping 312MPH as Newby zinged the tyres on the hit.
As fate would have it, Xiberras and Lamattina lined up again as the final pairing of Q1 in a repeat of the test session. As both drivers were bumping into stage, rain started to fall and their machines shutdown by officials. Continual intermittent showers forced the cancellation of the of qualifying for the evening and it was agreed for the test passes to count as their first qualifier.

First round jitters struck the Top Fuel Motorcycle field, with only three bikes completing passes. Victorian Rob Cassar dropped a personal best 7.09 at 185mph onboard his Kawasaki to top the sheets after Q1. Danny Rickard in his Top Fuel Motorcycle debut hugged the centreline for a 8.11 with his Pro Fuel Harley, and Chris Matheson clicked it of just past the sixty on his attempt.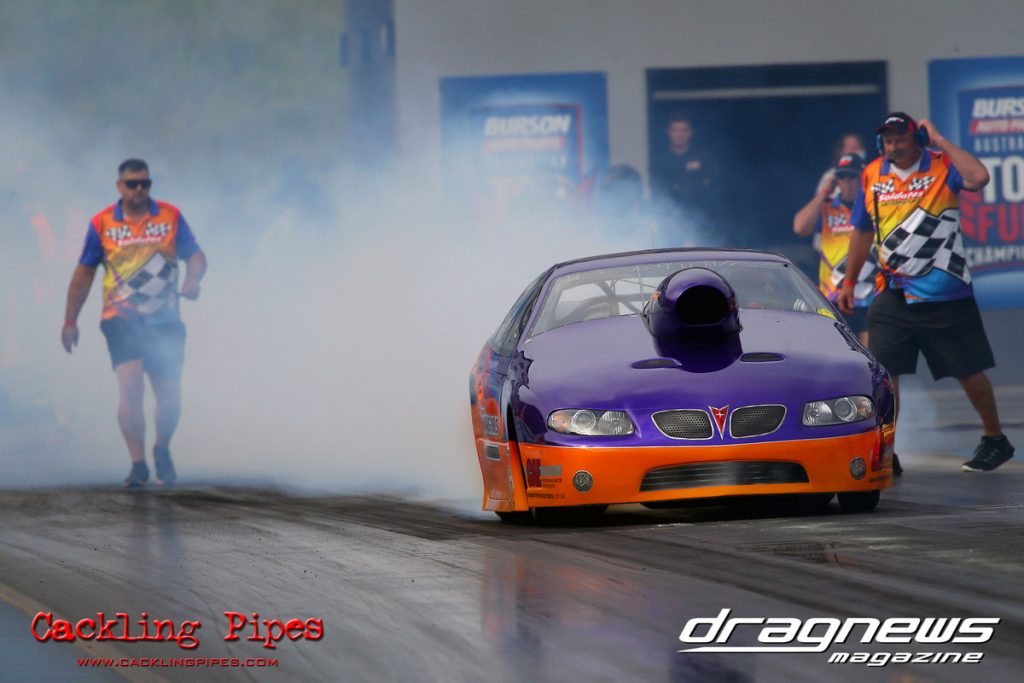 Tricky conditions for the aspirated Pro Stock cars saw Chris Soldatos just edge Rob Dekert out for provisional pole with a 6.941 to a 6.946 respectively in a classic side by side Pro Stock dual that brought cheers from the crowd. Clint George the nearest competitor to the six second duo with a 7.05.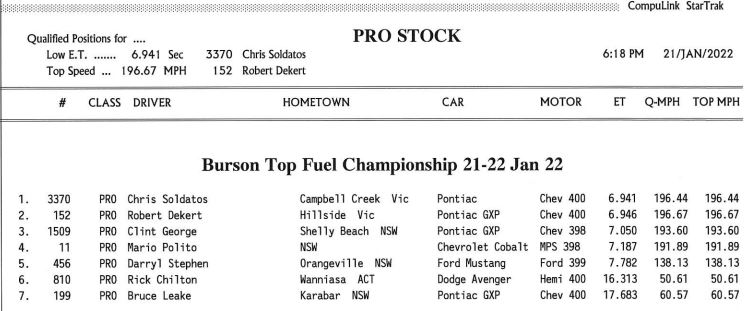 Pro Mod unfortunately did not get a qualifier in and will open Saturday's proceedings being first on track at 10am.
Following that, all the sportsman classes will continue their qualifying with Top Fuel out at midday for their second qualifier.
Due to the rain delays, all ticket holders from Friday can present their ticket at the booth on Saturday and only pay the difference between the Friday gate price and Saturday gate price for entry to the event.  
Qualifying lists for all racers here: https://www.sydneydragway.com.au/baptfc-round-1-results
Our quickfire gallery from the day: