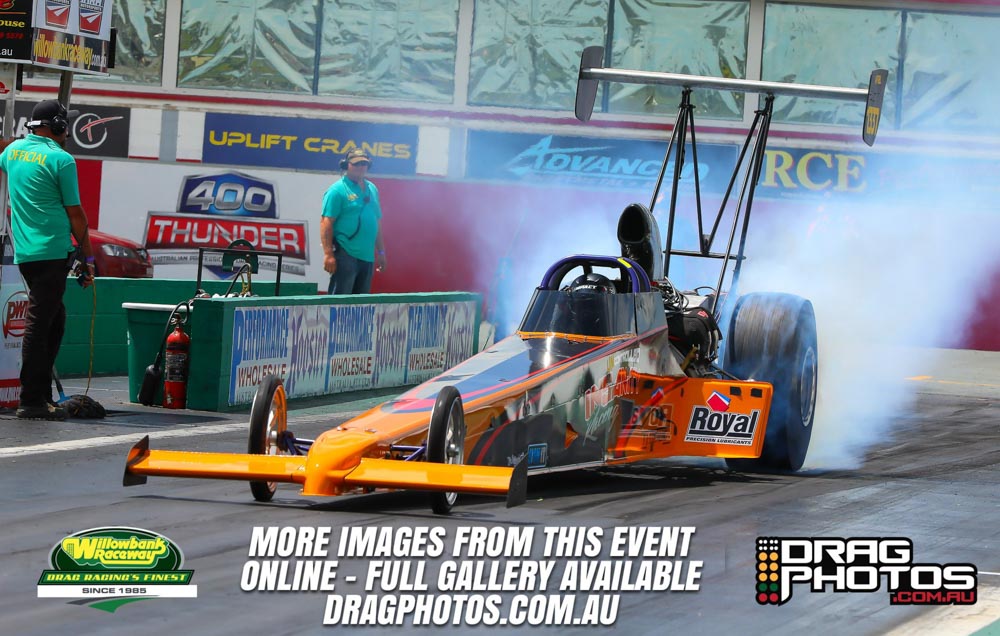 The 2020 Queensland Drag Racing Championships got underway on Saturday at Willowbank Raceway with big fields of competitors and top quality racing right through the eight categories contested.
Among the cool vehicles on the property was Controlled Insanity Racing's A/Fuel dragster (above), driven by Stewart Prior. While there weren't any big numbers recorded by the team, we always love to see more nitro on the track!
Donnelly Blasting Services Supercharged Outlaws saw 10 drivers face the starter with Graeme Frawley claiming the win from a red lighting Cheyne Phillips. Multi-time Modified eliminator champion Frawley proved to be just as sharp on the start line in the DBS Motorsport 57 Chev Funny Car as he had been in his dragster, claiming the ET Chassis & Racecars Light of the Night award in round one with a perfect .000 reaction time. Phillips' runner-up finish may have earned him his first drag racing trophy but is unlikely to be his last judging by his pedigree and good form on Saturday.
Daniel Morris debuted his new Top Sportsman Pontiac in fine style, going all the way to the final before falling to Denis Ryan who demonstrated great consistency through the four rounds of racing in his Torana.
The racing in Knijff Earthmoving Modified was as cut throat as always with Scott Bettes claiming his second win in two weeks in his front engine dragster when Chris Reid suffered the agony of red lighting by just one thousandth of a second and had to settle for runner-up.
Proving age is no barrier, Australia's most senior drag racer George Wegener went all the way to the final of Super Sedan before falling just short as Damien Morris took out the winner's trophy. Morris had some excitement earlier when a brake line failure during round one saw him struggle to pull up his Monaro in the braking area.
Serco Performance Bike was claimed by Nathan Ward from a red lighting Blair Pennington in the final.
The Lifestyle Injury Lawyers Modified Bike final saw Mark Ashworth lay a .008 reaction time on Johnny Lewis and hold the advantage all the way for a strong win.
The final of Prime Signs – Speedelec Super Street came down to a double breakout decision which saw Shaun Doeblien claim the winners trophy from Ian Neilsen
There was a big field of 28 drivers contesting Donnely Blasting Services Junior Dragster where Rustie Willshire broke through for a well deserved first event victory with holeshot win over Geoffrey Naughton in the final.
The next round of the Queensland Drag Racing Championships are scheduled for Saturday, April 18.
Photos with thanks to Dragphotos – check out more below and also their full galleries conveniently ordered by colour.