The biggest nitro event in Australia since March took place at Perth Motorplex on January 2 as the Nitro Slam combined the BME WA Nitro Championship, Nitro Bikes and the Summer Slam.
The early January date has been one of Perth's most successful in recent years, where fans have traditionally expected the Aeroflow Outlaw Nitro Funny Cars to make an appearance. Last year the bushfire crisis saw the Aeroflow stable unable to make its way across the Nullarbor, while this year it was the border closures of COVID.
In the absence of external features through both natural circumstances and politics (the Motorplex and 400 Thunder remain at loggerheads too), the isolated venue has developed stronger local headliners.
Hey, before you read on, how about supporting us by getting a subscription to our print magazine?
| | |
| --- | --- |
| One Year (Eight Issue) Print Subscription – $119 | |
| Issue by Issue Print Subscription – $14.95 every six weeks | |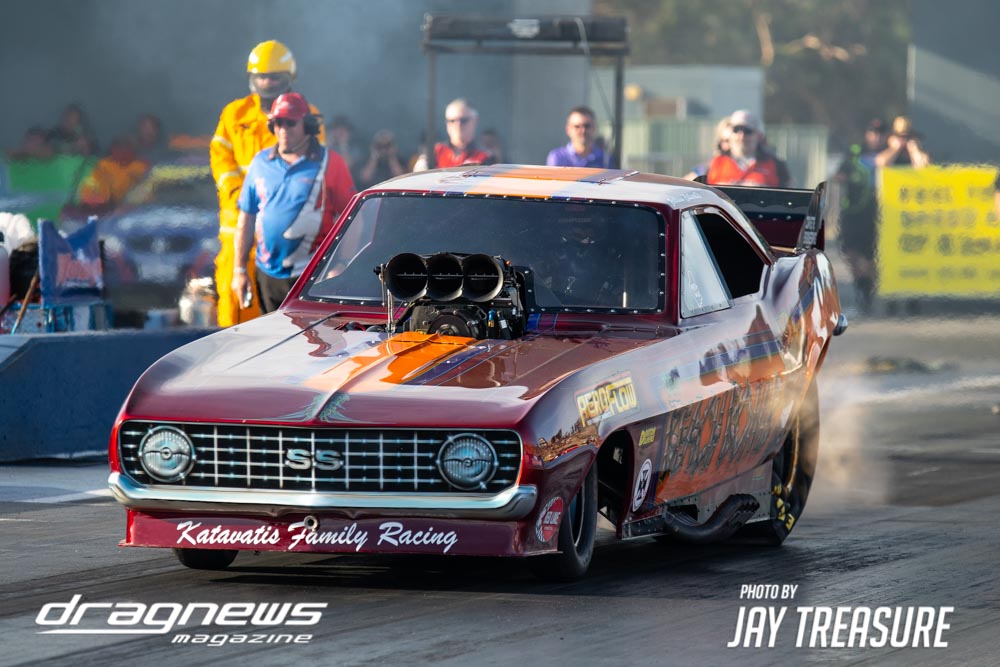 The BME WA Nitro Championship featured six WA-based nitro cars, with Andrew Katavatis (Beach Bomb), Matt Abel (Nitro Thunder), Michael Brooks (Nitro Mayhem), Shannon Taylor (Aussie Digger), Nathan Coles (Thumper) and Anthony Begley (Dark Knight) doing battle.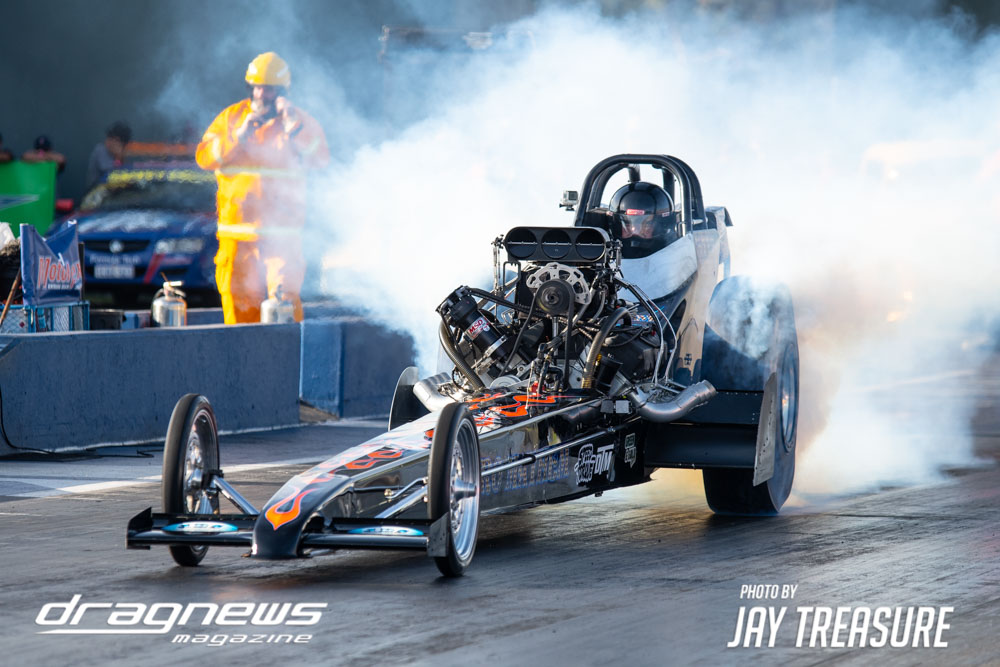 Round one proved a confusing affair as timer problems in the right hand lane saw three racers record two-second elapsed times. The problem was tracked down to a loose wire. Quickest of the legit times for the round was Katavatis with a 5.583 to defeat Taylor, while Begley recorded his first five second time in Dark Knight (though he has run much quicker in a variety of other cars) with a 5.997.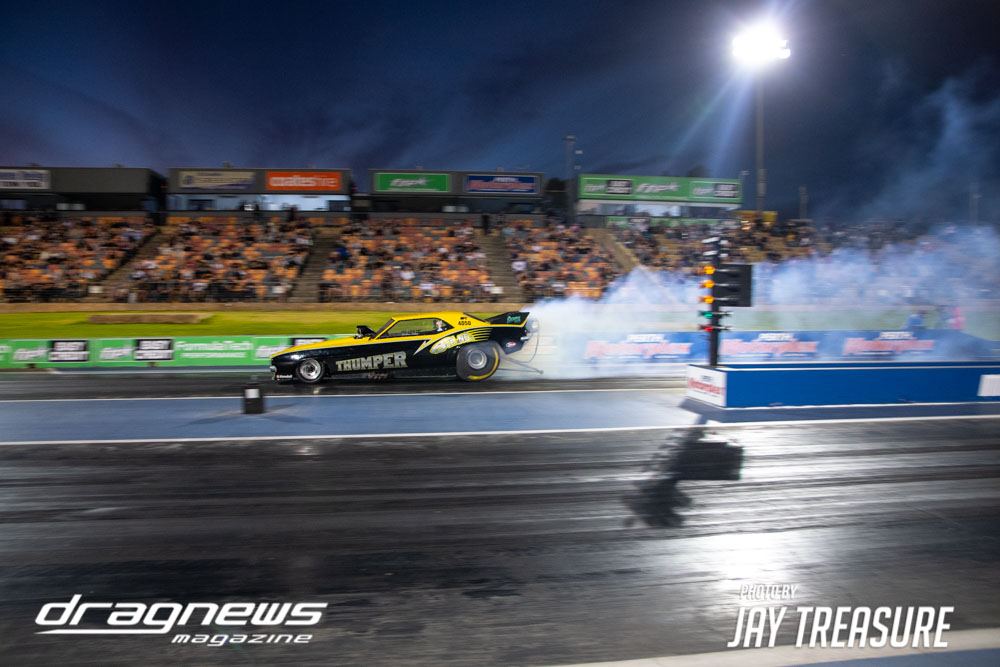 By round two the timers were more well behaved and the racers were ready. Coles hit a new PB of 5.805 to defeat a 6.561 from Taylor, while Katavatis showed consistency and startline prowess with a 0.000-reacted 5.584 to 5.757 win against Abel, who left the start line with the Funny Car's front end hanging in the air. Brooks soloed for a 6.076.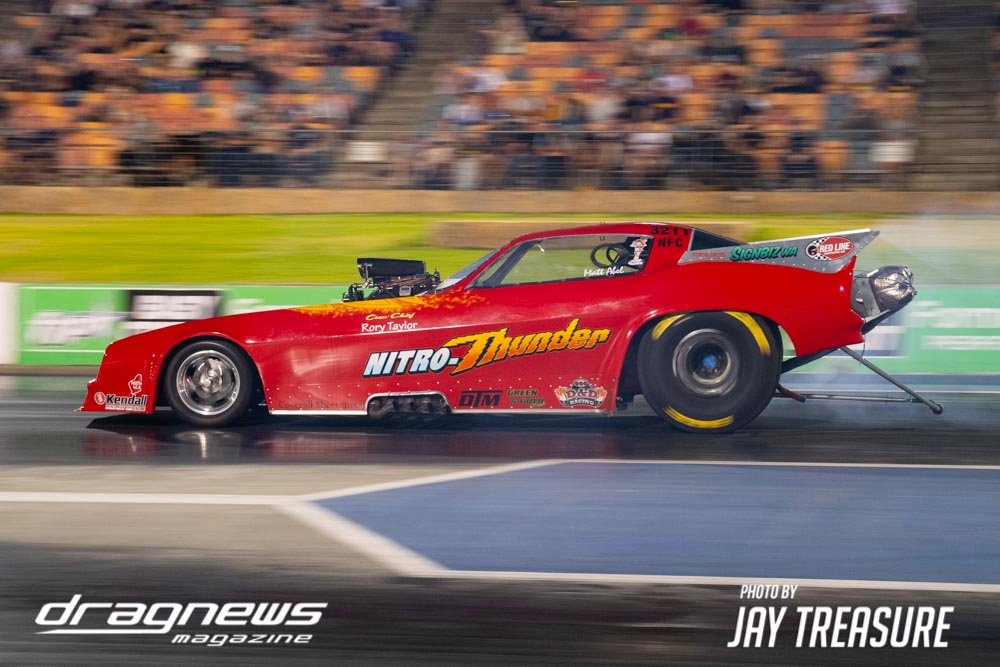 In round three, Begley improved once more to a solid 5.864, leaving the team very happy after a long time trying to get the car sorted. But it was Abel who was the big mover in the next pairing, as he dropped a stunning 5.427/266mph to set a new track record for Outlaw Nitro Funny Cars at the Motorplex.
The final took place between Katavatis and Coles in what was the side-by-side contest of the night. A 5.610 from Katavatis managed to edge out a 5.665 by Coles – which was another huge PB for the Thumper Camaro.
"With great weather and track conditions we were hoping to better our personal best times but it was overall a great night of racing," Katavatis said.
"We started the night off very solidly and we wanted to step it up in the second round. There were a few delays while we were waiting to run, during which time the track got cooler and the clutch set up was slightly off.
"The final was a great race, with Nathan getting his best ever time and we just got there."
Katavatis has now built up a strong lead in the BME WA Nitro Championship with one event remaining in March.
"The night was a great success. Nitro is really something spectacular and headlining the show was a great honour. Thank you to the WA supporters and fans of drag racing, it was a huge crowd that we had great pleasure in putting a show on for."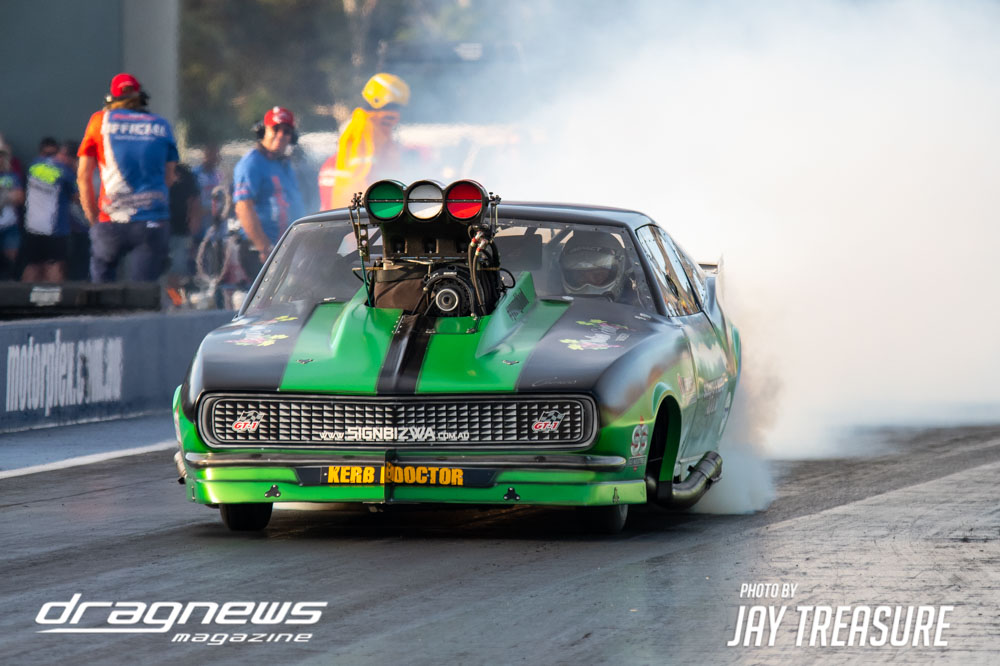 The Summer Slam saw its strongest field of the season to date with eight cars turning up. Top qualifying honours went to Daniel Gregorini with a 5.871, but it was a close field with Kelvin Lyle (5.879) and Steve Aldridge (5.881) following closely behind.
In the elimination round, Gregorini improved to a 5.826 to defeat Pino Priolo. Lyle did likewise with a 5.836 to Ryan Moresby's 6.143. Mark Chapman turned up to a 6.021 which got by a troubled run from Aldridge. John Zappia popped a blower in the compulsory qualifying session and did the same again in his race against Stuart Moresby, though a limping 6.082 was good enough to claim the stripe.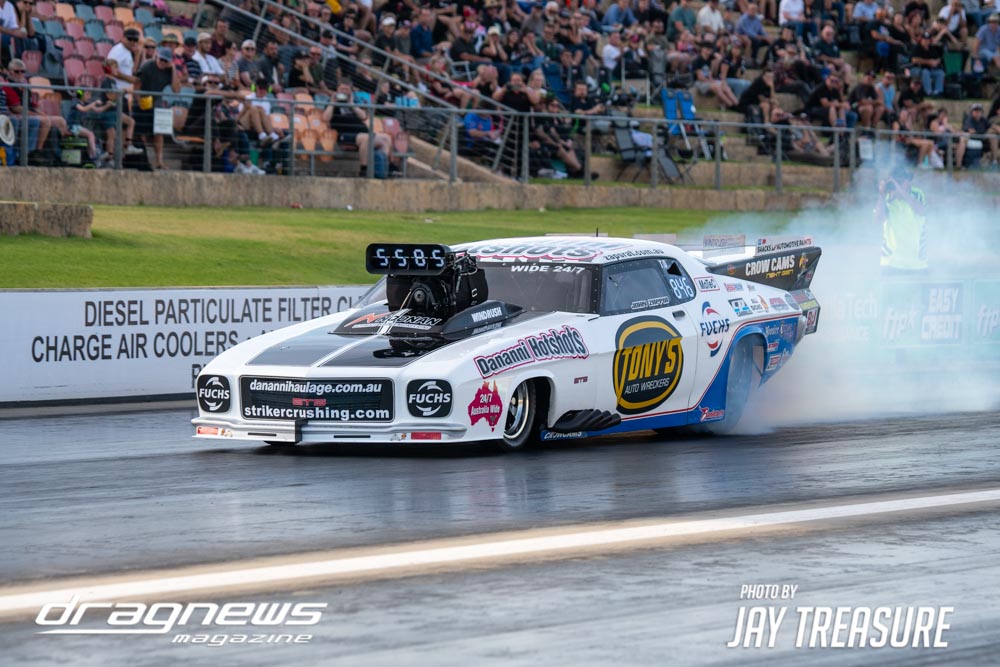 Zappia and Chapman faced off in the B Final. There Zappia finally got his groove back for a 5.764 to 6.057 win.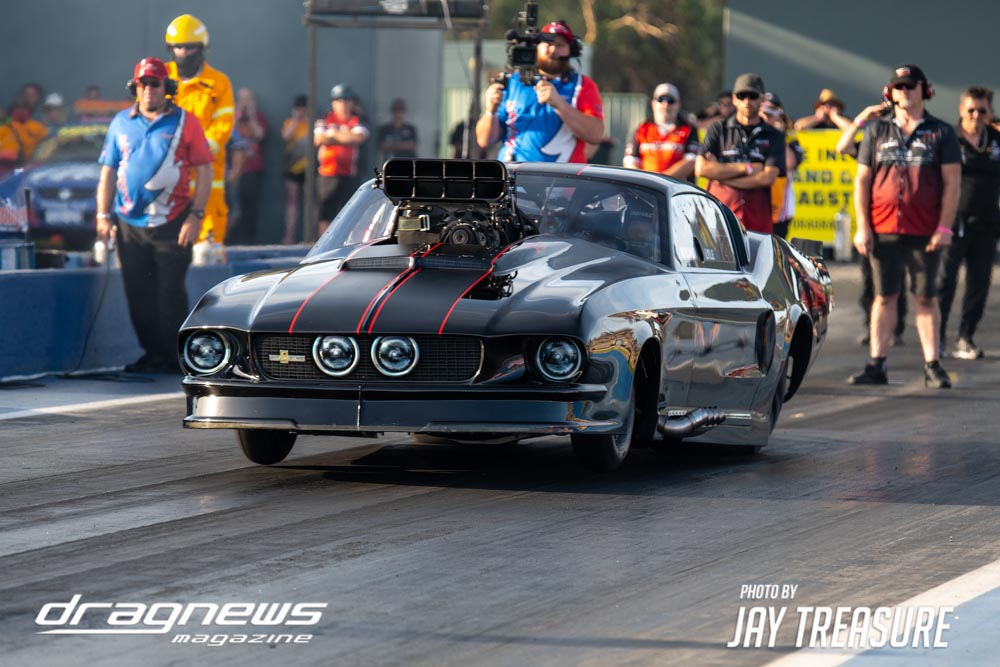 The A Final looked like it was set to be a classic between two of the field's most consistent cars, but Gregorini had a gearbox issue in the burnout and chose to shut his car down, leaving Lyle to take a solo 5.820 for the event honours.
The Nitro Bikes also turned out in force with eight bikes taking part, though points leader Greg Durack withdrew before racing. Making a surprise appearance as top qualifier was Ricky Wood with a PB 7.505 on his nitro-fuelled Kawasaki. Much of the field was struggling with the high cross winds in the braking area.
In eliminations, Justin Vodanovich caused an upset against Jay Upton with a 8.506 to a 8.862 as both bikes struggled to make the end. Benny Stevens was a welcome return to WA and he was back on the pace with a 6.754 to 7.763 win over Les Holden. Wayne McGuinness smoked the tyre on the line which allowed Aaron Deery to take a win despite having to get off the throttle as he got near the centre line. Wood improved his PB to a 7.427 and was rewarded with an A Final place.
The B Final would be a solo as Vodanovich was stuck in the pits with some engine troubles. Deery clocked a 7.321, his quickest run of the day, for the win light.
The A Final saw Wood's consistent run come to an end with start line tyre smoke, while Stevens unleashed a 6.740 for the trophy.
Wayne Keys continued his stranglehold on the Top Comp category, registering his third win of the season. Luck was on Keys' side after his opponent Paul Carey was disqualified for crossing the centre line, handing away a certain win.
Other winners on the night included Errol Quartermaine (Super Comp), Ross Smith (Competition Bike), Darryl Mullins (Supercharged Outlaws), Alby Bakranich (Top Sportsman), Kevin Boulton (Outlaw Radial), Jim McQuade (Modified), Kathy Regan (Super Sedan), Ian Glatz (Modified Bike), Paul Garbellini (Super Street), and Brodie Zappia (Junior Dragster).
Setting new track records were:
Nostalgia Funny Car: Matt Abel, 5.427 and 428km/h (266.19mph)
AA/AP: Wayne Keys, 5.860
RR/SM: Michael Buckley, 7.315 and 301.35 km/h (187.25mph)
C/GA: Rob Gaikhorst, 264.59 km/h (164.41mph)
BB/AB: Michael Holister, 8.198 and 277.42 km/h (172.38mph)
D/MB: Daniel Natalotto, 10.262
For Abel, it was not a surprise to eclipse the track record.
"The first two runs we had done prior had certainly shown it was going to run fast. I think the first pass may well have been faster, but it is hard to know as we didn't get a time (due to a problem with the timing system)," Abel explained.
"The second pass was on-track to actually be faster than the first pass and the last pass, but it had the front wheels off the ground and was heading to the centre line, so I had to short shift and slow the car down.
"That last pass was certainly fast, and I said to Rory that is certainly the fastest pass I have ever done down the quarter mile! It was great.
"At the end of the day, I am just the person that puts the foot down and steers the thing. It all comes down to the massive efforts of the crew and the skill of Rory Taylor as tuner, so my thanks goes to them.
"I would also like to thank our sponsors, Speed Torque, Bill Miller Conrods, Oil and Energy Pty Ltd, SignBiz, Red Line, Dean's Autoglass, D&D Racing, Kendall, Kendall Motor Oils, Coverall Sheet Metal, DTM and Green & Gold.
"Finally, I would also like to recognise staff and volunteers at the Perth Motorplex and send a special thanks to the track crew – the track surface was excellent.
"We will be back in March for the next round of the BME WA Nitro Championship – I am certainly looking forward to the next one, I reckon we might be able to give Graeme Cowin's national record a bit of a nudge!" he grinned.
Check out more images below thanks to Jay Treasure.