Willowbank's sportsman racers turned out in force for the fifth round of the Queensland Drag Racing Championships at Willowbank Raceway on August 8, 2020.
Supercharged Outlaws returned to the roster with a strong field of 14 cars, led in qualifying by Cheyne Phillips' 5.941, his first trip into the fives.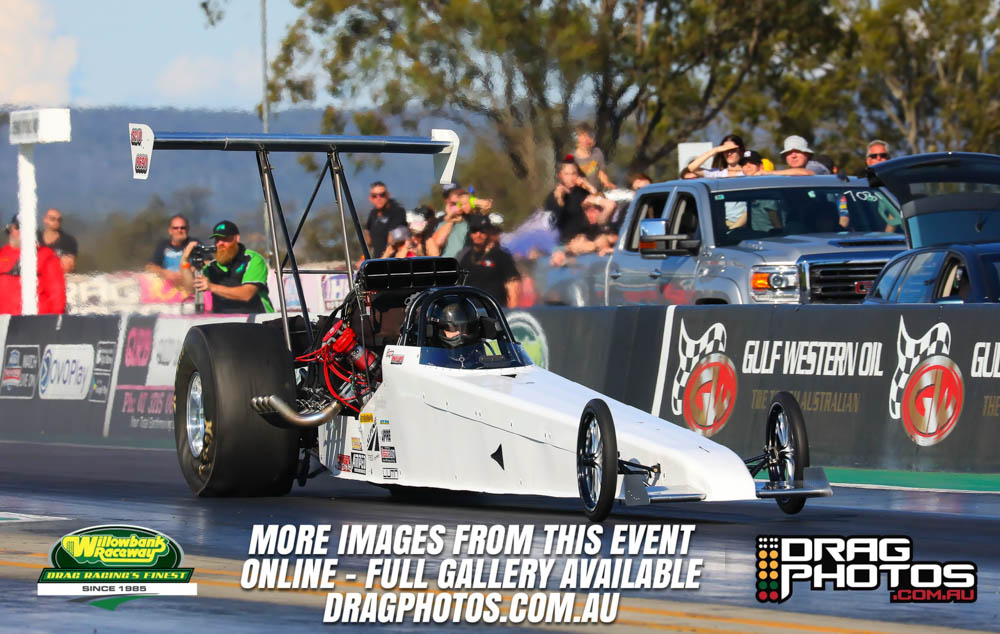 Phillips was not to be messed with in eliminations either, as he knocked out some of the quickest (if not the quickest) dial-in runs ever in Australia.
In the final round, rookie Phillips took on veteran Bill Fletcher for an all-dragster final. Phillips got the tree .038 to .072 and then used a nearly dead-on 5.883 on a 5.88 to defeat Fletcher's 6.872 on a 6.81.
Modified saw 11 cars take part in round one, and they were whittled down to Kellie Kidd and Stephan Gouws for the final round. Kidd took two hundredths on the tree and didn't look back, crossing the line at just .004 over on a 7.874, while Gouws broke out by six thou as he tried to close the gap.
It seems like we can't write a meeting report for Willowbank Raceway without featuring the name Doeblien in the winner's circle, and this time it was Nicole Doeblien taking victory in Top Sportsman. Despite giving up a few numbers at the start to opponent Patrick Barron, the margin proved advantageous as Barron went five thou under his dial-in while Doeblien used a safe 8.651 on an 8.63 for the win light.
Ten Super Sedans did battle, but no driver managed to score three wins during the shootout stage. With two wins and some good race packages, Phil Youlten and Kevin Langridge went into the final. Youlten's .012 and 9.810 on a 9.80 was a stunning package to fend off Langridge's best run of the day with a .033 and 9.610 on a 9.59.
There was some controversy in the final of Modified Bike where Matt Wilson took on the tough Tammy Goldthorpe. Wilson got a red light despite the bike not appearing to move. While motorcycles can occasionally rock out of stage and back in before the flicker of the beams are noticed, Wilson's case was odd as both the stage and pre-stage lights completely went off when the tree started to count down. It was declared a victory for Goldthorpe, but perhaps not in the way she would have liked.
Shaun Doeblien made it a family double by winning in Super Street. A red light from Mitchell Bauer made this one a little more decisive.
The biggest field of the day was Junior Dragster, where 21 cars were in the staging lanes for round one. Will Porter and Deklan McConnell went into the final round, with Porter's .050 reaction time and 8.714 on an 8.63 getting the nod over McConnell's .099-reacted 8.224 on an 8.18, a margin of just a few thousandths of a second.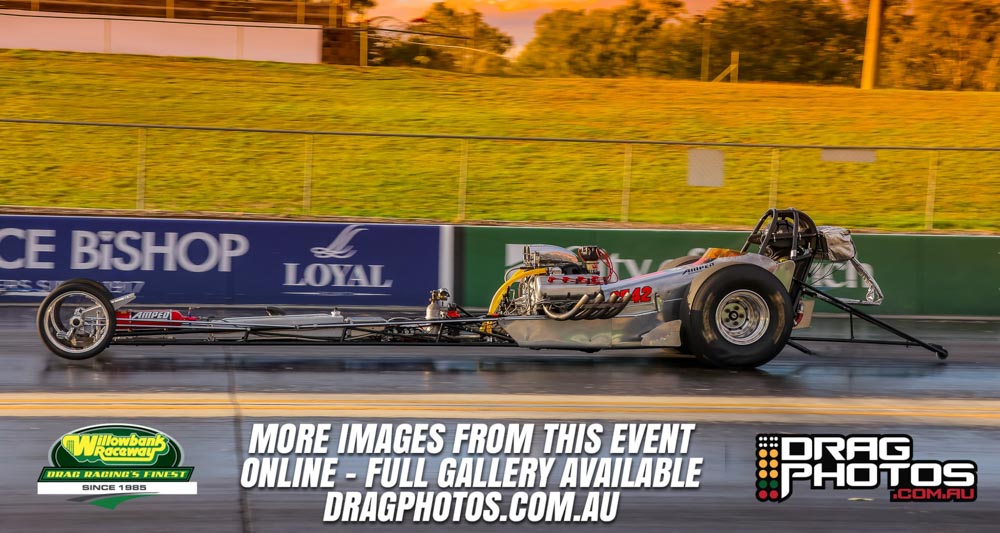 While not in competition, Steven Sugano at the wheel of Graham Slapp's 'Fossil Fueler' ran a 7.01 at 197mph on 100% nitro.
Check out some more photos below thanks to Drag Photos! You can also check out our coverage of round four.