The Summer Slam lived up to its name on Saturday at Perth Motorplex during its opening round of the season.
The field was turned upside down early in the day as championship contender Daniel Gregorini crashed his Camaro into the wall heavily during qualifying. He was taken to hospital for some cautionary checks, but was later released and has already begun work to repair the car.
"I'm okay, (I'm) very sore but the hospital was happy to release me," he said. "Unfortunately the car is not great. It spun the tyres and I lifted (off the throttle), but unfortunately something has jammed the throttle at 80% open for nearly two more seconds, sending me to the wall. We will be back."
Gregorini wasn't the only early casualty, as third-qualified Mark Chapman was also forced to withdraw before racing due to an engine gremlin.
---
---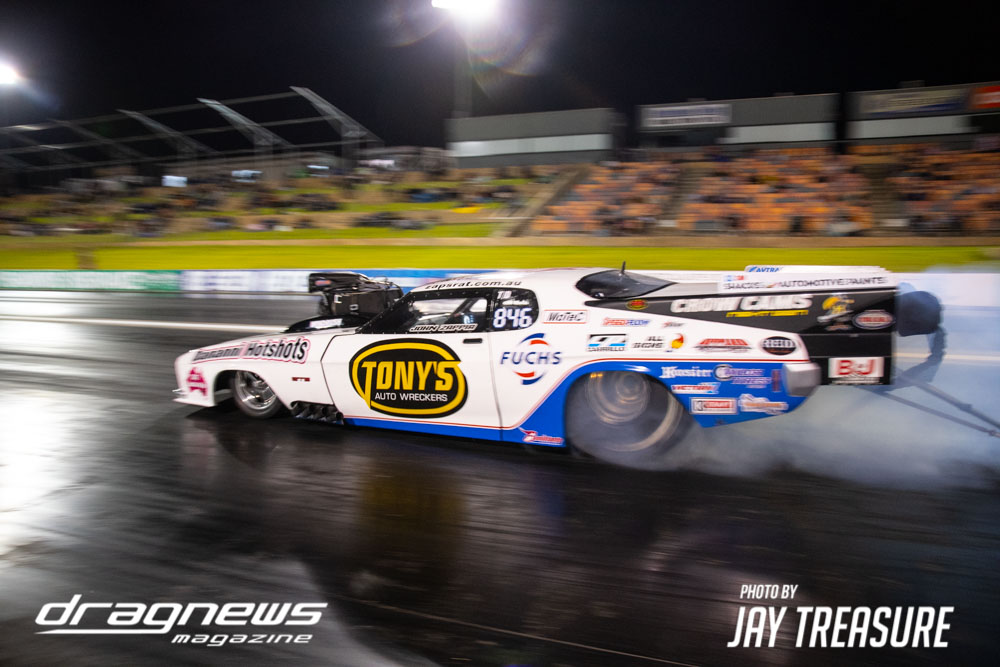 Reigning Summer Slam champion John Zappia proved one of the few racers able to find consistency, advancing through the first round with a 5.70sec. win against Ryan Moresby, before defeating Ryan's brother Stuart in the final with a 5.77sec. pass.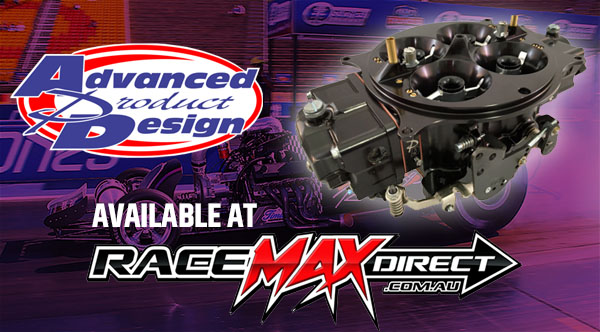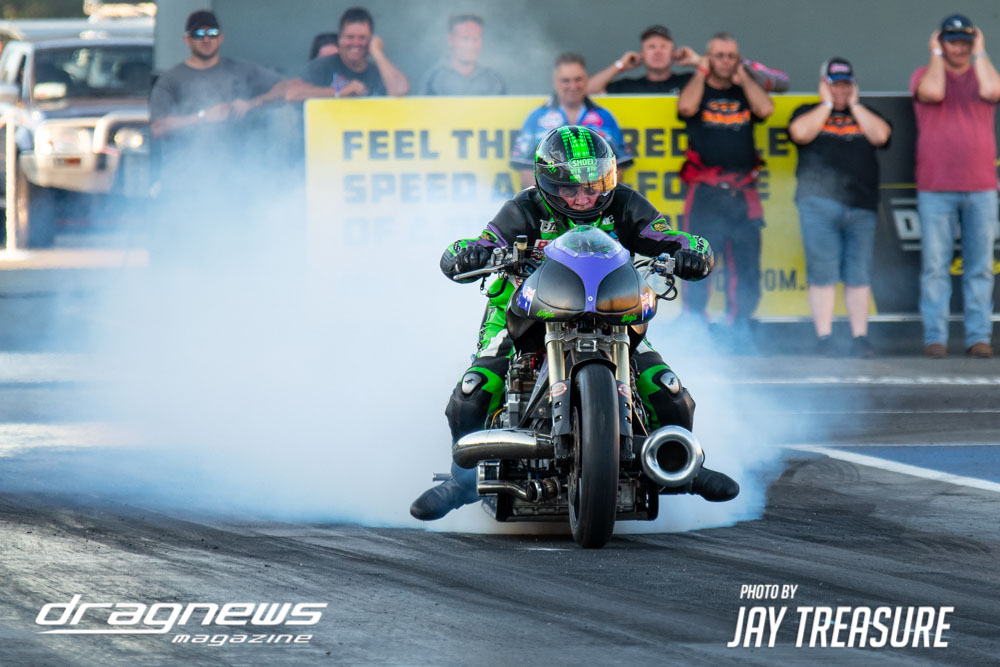 Nitro Bike proved a similar battle of attrition, with Greg Durack ending up as the only racer left available to make the final round, running a 7.04sec. pass for the honours.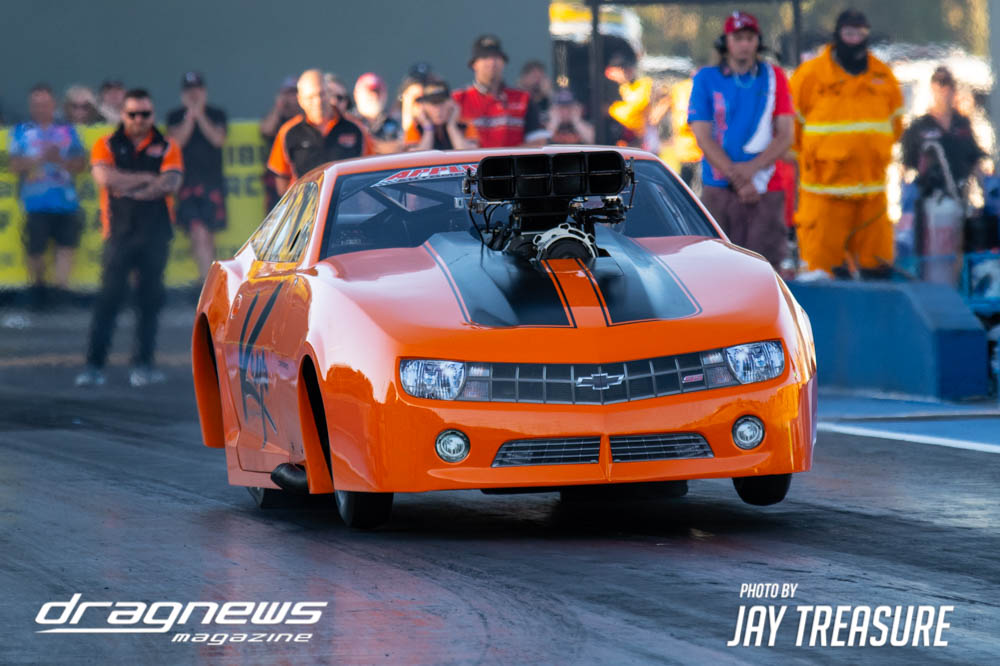 Wayne Keys launched his Top Comp championship defence in perfect fashion, winning the category against new threat James Kemp. Kemp's dragster was in best-ever form, recording a personal best time of 5.65sec. in the first round of racing. The final round saw problems for Kemp however, and Keys was able to run to a 6.01sec. victory.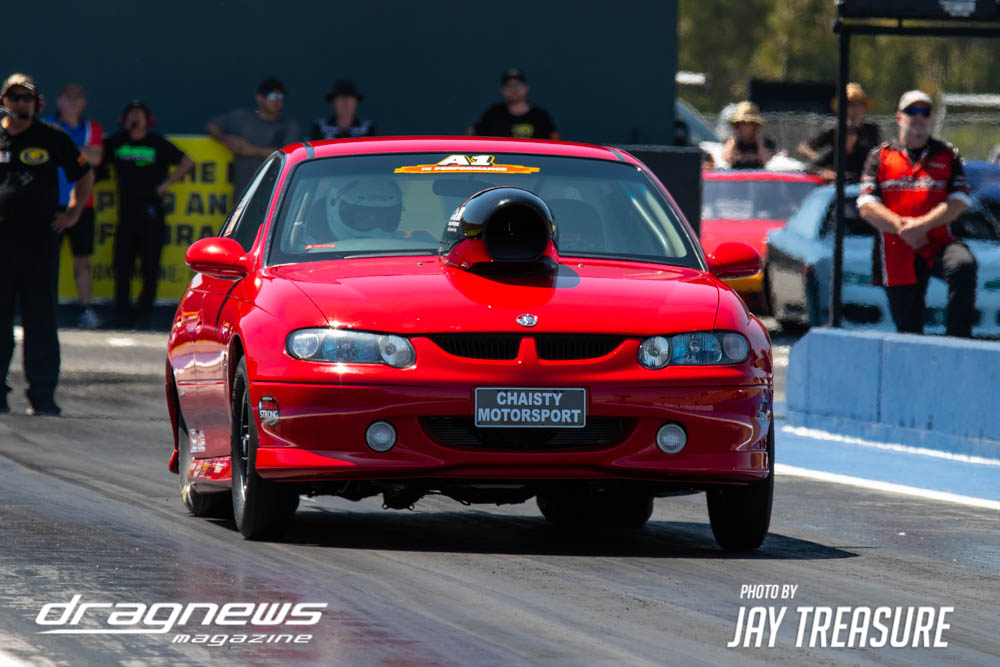 Jake Chaisty showed his hand early in the Super Comp season, running under the national record for the H/MSA class in his Holden Commodore. A hard fought final round against Rob Gaikhorst saw Chaisty clinch the win with his best run of the day, a 9.10sec.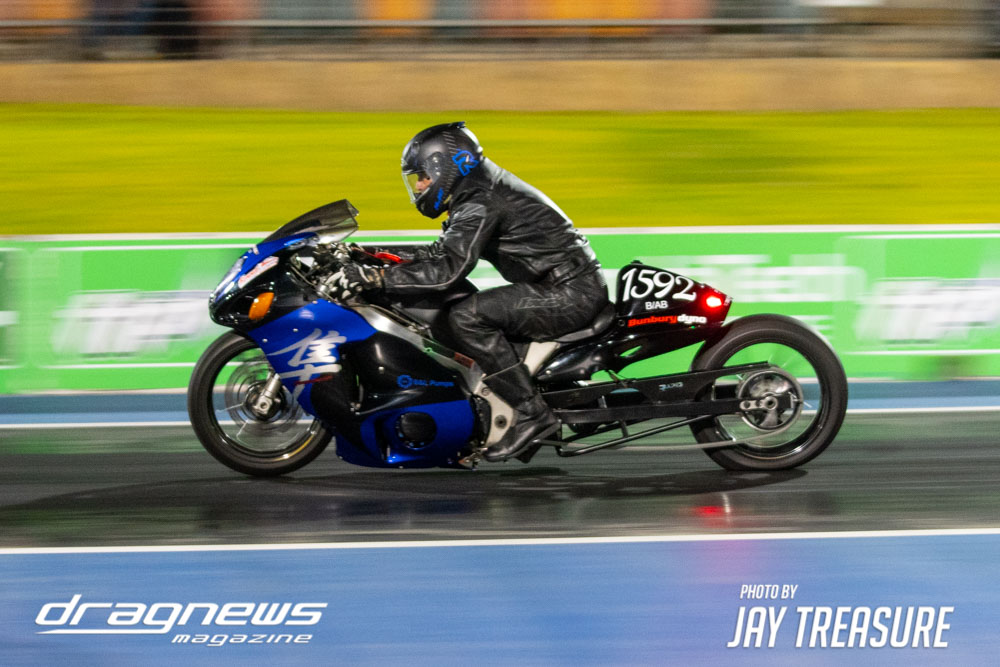 Three-times former Competition Bike state champion Ross Smith has been out of action for a while, but warning signs are already there for his opponents, with Smith back in the winner's circle on his Suzuki Hayabusa. Smith defeated Justin Townson in the final round.
Outlaw Radial saw a surprise result with George Kelly upsetting top qualifier Kevin Boulton. Boulton's Camaro was running best ever performances, until a water fitting came loose in the final round, sending him across the centre line and disqualified from the race.
The dial-your-own ranks saw plenty of tight racing across the night. A whittled-down Supercharged Outlaws field saw Darryl Mullins defeat Norbert Claite, while Alby Bakranich took down Paul Downe. Nick Panagopoulos overcame rookie sensation Kasey McClure in a tight contest, while Martin Mirco showed his national championship-winning credentials in Super Sedan by defeating John Kouw. Power Palooza Modified Bike finalists Ian Read and Zoe Nieuwhof again met in the final, with the result going the same way as Read took the win light from a tyre-spinning Nieuwhof. Joel Trotman took out Michael North in Super Street, while Brodie Zappia matched his uncle's Summer Slam win by taking victory in Junior Dragster against Zara Board.
You can see the replay of the finals below thanks to Perth Motorplex!
Round two of the Summer Slam Series and the WA Drag Racing Championship will take place November 28. Enjoy more photos below thanks to Jay Treasure!