Mildura's Sunset Strip hosted an action packed Easter Supercharged Shootout over the Easter weekend with more than 140 competitors and in excess of 2,000 spectators attending the Sunraysia Drag Racing Association event.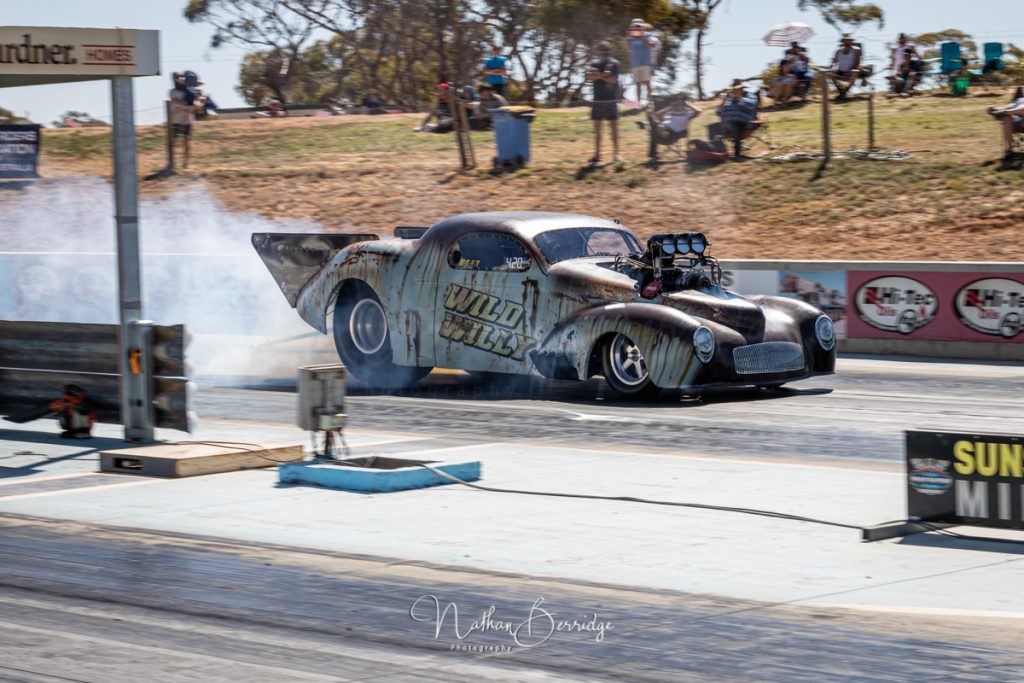 Event winners were:
Junior Dragster – Daniel Carranza (runner-up: Holly Camilleri)
Modified Bike – Nat McKay (runner-up: Anthony Wilson)
Modified – Shane Wynd (runner-up: Stewart Johnston)
Nostalgia – Matthew Cockerill (runner-up: Peter O'Connell)
Top Sportsman – Brett Mathew (runner-up: Lance Larcombe)
Supercharged Outlaws A – Greg Angus (runner-up: Dale Tucker)
Supercharged Outlaws B – Wayne Talbot (runner-up: Bob Sherry)
Super Sedan – Renee Cockerill (runner-up: Chris Farrugia)
Super Street – Neville Herreen (runner-up: Paul Jennings)
"Now that the dust has settled on yet another event for us, we are confident to say the 2021 Easter Supercharged Shootout certainly made up for not being able to run it last year," Sunraysia Drag Racing Association President, Kingsley Kuchel, said.
"The track was fantastic, and the racing was even better. It was great to see the atmosphere among the racers, crew and officials as it was certainly needed.
"Our thanks goes to all of our members and volunteers, with many not taking a weekend off since the beginning of February.
"Thank you also to all of our staff, whether they were working on the track, in the tower, at the end of the track, in the bar, at the gate, or working on time cards, catering or merchandise, you all help to make this event what it is.
"We would also like to recognise all of the helpers that travelled from far away to assist – especially the Adelaide track crew and Luke Davis.
"Thanks also to our emergency crews, St Johns and Women for Wheels for again working with us, and to Tim Reidy for coming over from Adelaide to be our meeting director – he is the best meeting director for our track by far!
"To all of our competitors and their crews – thank you for coming and making it an awesome event, we have nothing without all of you continually coming to support our track – and to Mark Humphrey and Alan Ward for live streaming and commentating respectively.
"I want to make a special mention of Greg Angus and Wayne Talbot – Greg of course took out the Supercharged Shootout, and Wayne ran five consecutive 3.8 second passes to take out the B final which was a real highlight for everyone.
"Last but not least, we cannot forget our sponsors, including Monte Electrical and Monte Engineering who sponsored this event in particular and our long-time supporters Max Crane and Lifting Equipment, B&S Earthworks, MTM Traffic Management, Clean Away, Ductmakers, Audisound, Plumbing plus Mildura, SuniTafe Mildura, Coates Hire, Just Red Gum, Monaghan Trucking and Logistics, 4io, Steve Power, Fulton and Hogan and Orana Motor Inn and MFC Refrigeration."
Next up for the Sunraysia Drag Racing Association is the May 8 Race Your Mates event which will include the feature 'Fast Sedans Big Bucks' and 'Modified Big Bucks' categories alongside a range of other brackets. Entries will open later this week. For more information, visit www.sunsetstrip.org.au
For more from ANDRA, visit www.andra.com.au
Photo gallery courtesy of Nathan Berridge Photography: https://www.facebook.com/nathanberridgephotography