The Kenda Tires 660 Drag Radial Series is pushing on through COVID lockdowns and border closures at Willowbank Raceway, and despite the lack of interstate racers still turned on a showcase of radial racing. Check out our photographic wrap courtesy of Drag Photos.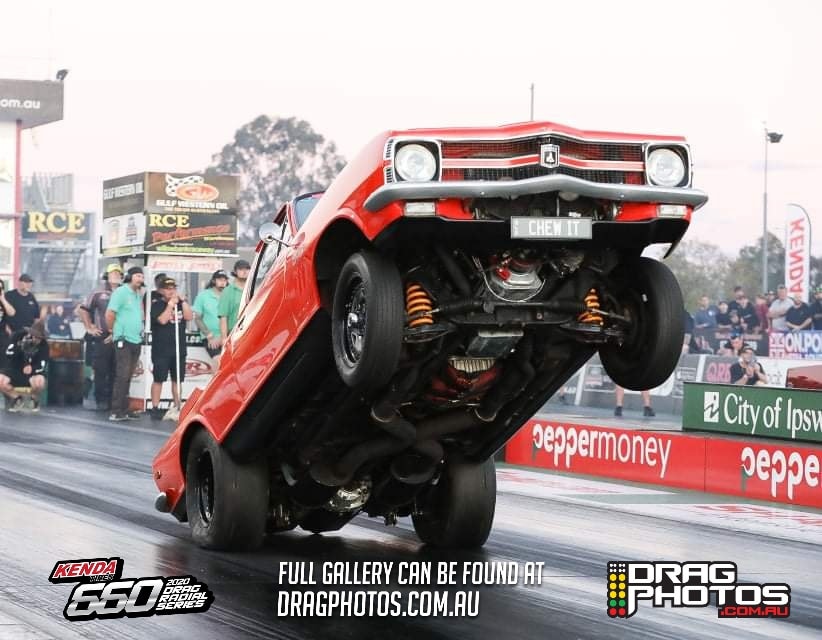 Full report of the event will feature in the upcoming issue #59 of Drag New Magazine.
List of winners on the day were:
All Over Group Rumble A Field
Winner – Russell Tonkin 6.47
Runner Up – Damien Morris 6.44
Rumble B
Winner – Lucas Holz 6.87
Runner Up – Ian Deutsher 7.29

Simon O'Carroll Swimming Pools Renegade A
Winner – Rus Ty N/T
Runner Up – Dale Duffy Red Light

Renegade B
Winner – Derek Logan 5.7.4
Runner Up – Craig Boofer 5.71

STS Speed Shop Outlaw Radial Bike
Winner – Chris Collin 5.05
Runner Up – Matt Wilson Red Light
Low ET & Top Speed – Phil Webster 5.02 @ 149mph

Outlaw Performance Exhaust OG275
Winner – PROVH Racing Tanya Thompson 5.00
Runner Up – Mitchell Bean spun 6.27
Low ET & Top Speed – Ben Vlekken 4.91 @ 147mph

Haltech – Outlaw 235
Winner – Juan Triple-Charged Kudnig 5.21
Runner Up – Jess Beckham 5.26
Low ET & Top Speed – Scott Hoffman 5.15 @ 139mph

Speedy Diffs Outlaw 275
Winner – Spot On Performance & Fabrications – Andy Coles 4.63
Runner Up – Tim Cross Spun & Lifted
Low ET & Top Speed – Tim Cross 4.54 @ 176mph

Race Parts Melbourne Outlaw Radial
Winner – Wade Wagstaff 3.79
Runner Up – Geoff Campbell-Brown 4.42
Low ET & Top Speed- Wade Wagstaff 3.79 @ 201mph

Coastline Building Co Pty Ltd Outstanding Outlaw Car
Andrew Milford

Castle Hill Exhaust and Performance Centre – Outstanding 275 Car
Andrew Coles

Advanced Drive Group Outstanding Outlaw 235 Car
Garry Hunt

Melbourne Access Pty Ltd Outstanding OG275 Car
Shane Baker

Finance Next Outstanding Renegade Car
Archie Kajewski

Bolt King Outstanding Rumble Car
Shane Locke

6boost Hard Luck Award
Steve Warradongle Tattam

Warwick Panel and Paint Best Appearing Radial Car
Billy Shelton -SICKO

Race Bolts Best Engineered
Clint Hepburn – Casper

RC Metalcraft Best Reaction Time
John Payne

60ft Ink Wildest Pass
Mathew Edwards – Chew It

Performance Wholesale Australia Most Consistent Radial Car
John Nason

Ray Je Fuel Systems Quickest Aspo Carby Car
Lucas Jackson

Mood Motorsports Announcers Choice
Scott Hoffman

STS Speed Shop Outstanding Aspo Bike
Karl Pacey

Outstanding Boosted Bike
Phil Webster
The Kenda series will return to Willowbank on Nov 11 with the hope of returning to other states in the New Year.