The popular Kenda Tires 660 Drag Radial Series has turned into a real radial racing showcase in Australia with each event out performing the previous in improvements and innovations, as the scene heads on a steep upward trajectory. Testimony to this is amount of investment dollars being thrown into the scene to compete by racers right now, with some phenomenal machinery now on track and coming in the near future.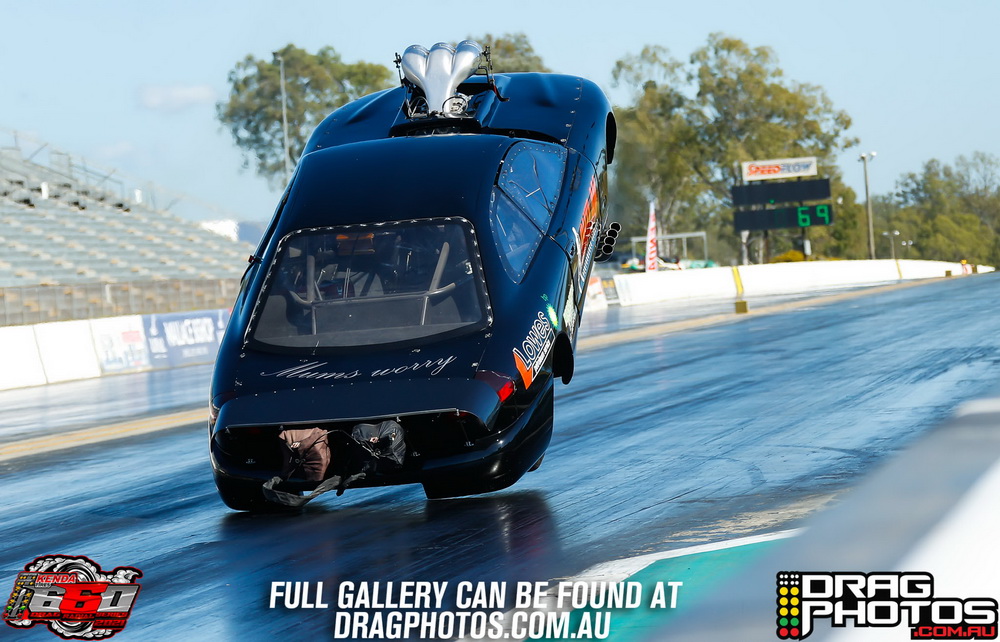 After several COVID related false starts, and the first round washed out in Sydney the other month, the Kenda 660 series is now officially underway for 2021 with an action-packed Willowbank event.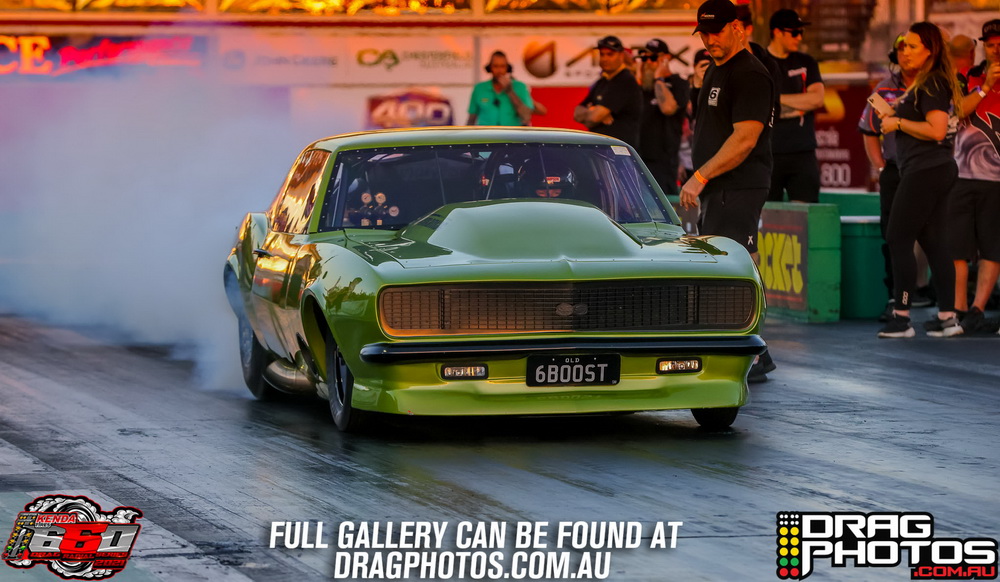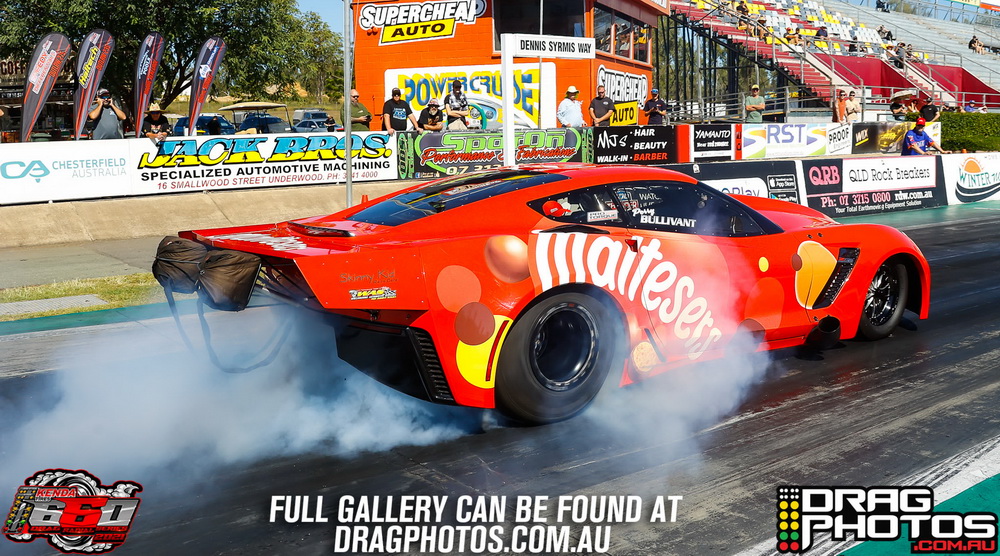 The gauntlet was thrown early in the testing days prior to the event with Terry Seng in Kyle Hopf's Camaro and Perry Bullivant in the stunning Maltesers Corvette trading radial turbo records, a battle that would continue well into race day, adding to bunch of various smashed records across all classes at the event.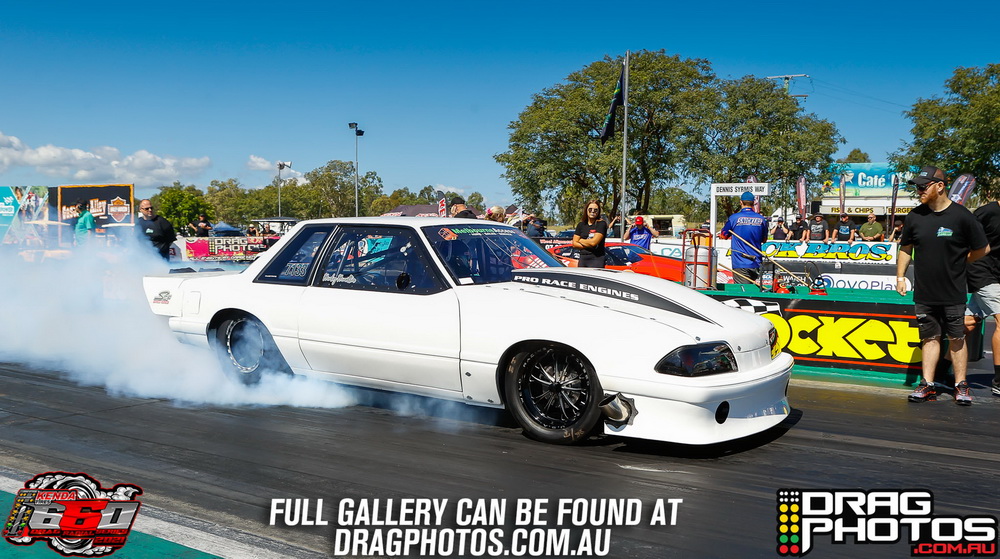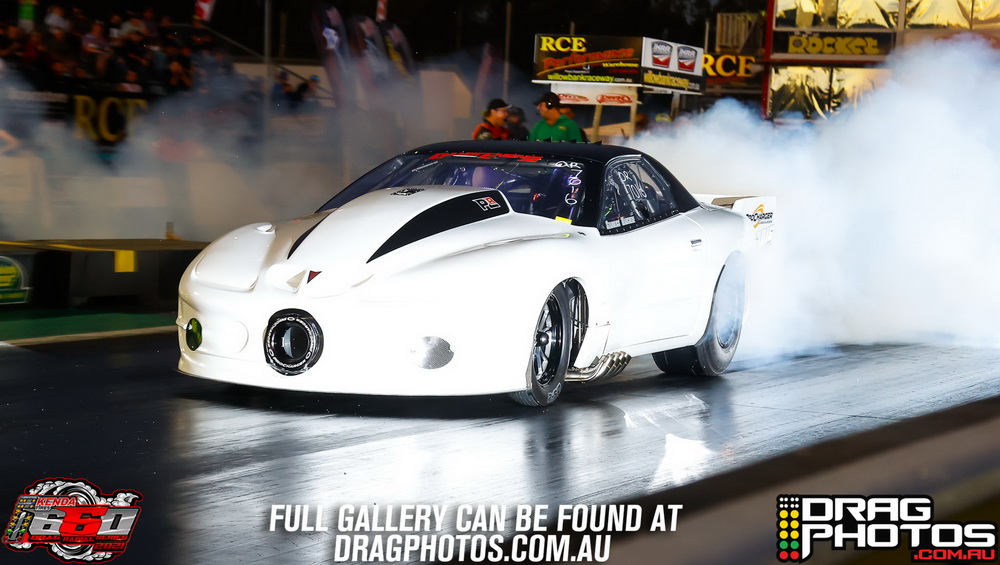 Heading into Chicago Shootout racing format with the headline Outlaw Radial class, Harley Hamilton and Terry Seng set the stage with side by side threes in the opening pairing, Seng taking the holeshot win with a 3.955 to a 3.944 from Hamilton's Mustang. Wade Wagstaff representing the blown brigade backed up his 3.79 PB in testing – the first 3.7 pass in Australia on radials – with a first round win over nemesis Perry Bullivant 3.808 to a 4.232. Other highlight of round one was Daniel Szabolics with the procharged Camaro on his first competitive outing knocked up win light against Stuart Bennett's LS powered GXP – 3.926 to 7.153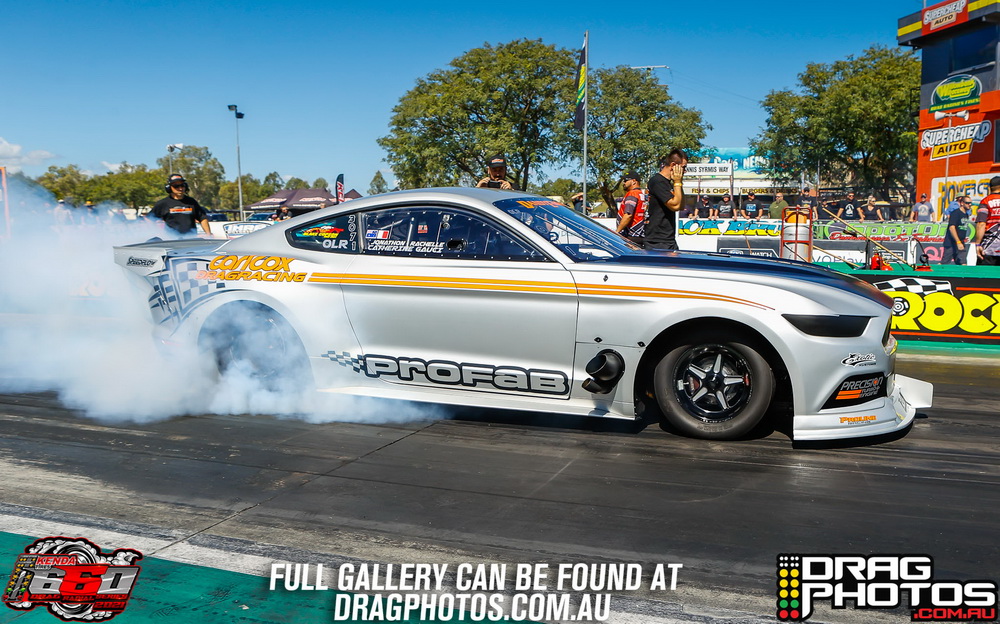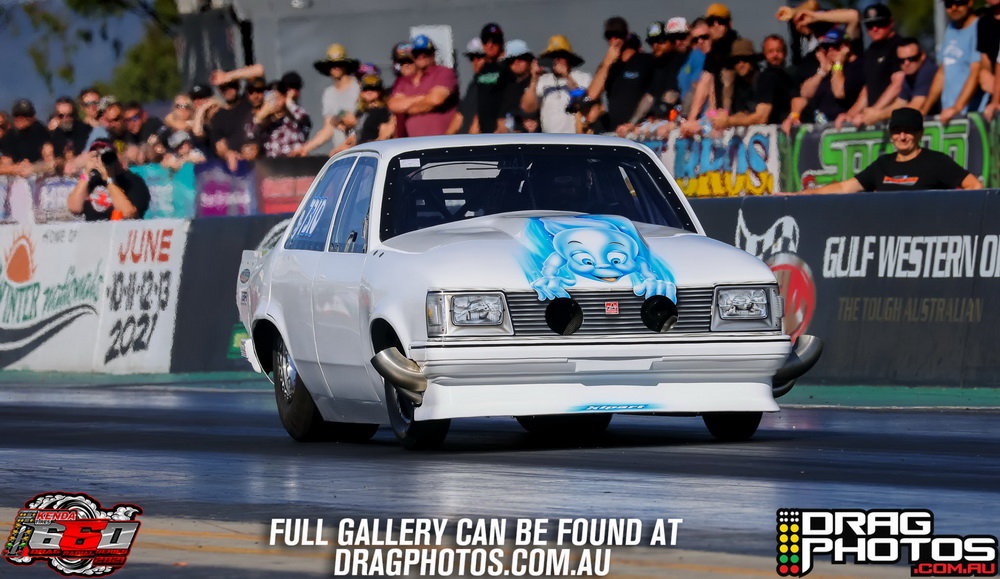 Bullivant bounced back in round two with a big win over Seng 3.943 to 6.353. Joe Gauci had some great testing form in the 3.8s over the double ton in speed but faltered in round one against Clint Hepburn's twin turbo big block Gemini. The ProFab Mustang was back on its game in round two though with a conquering 3.902 at 200MPH victory over Hamilton. Wagstaff's Chev was a bracket car with another 3.80 win this time over a traction trouble Szabolics.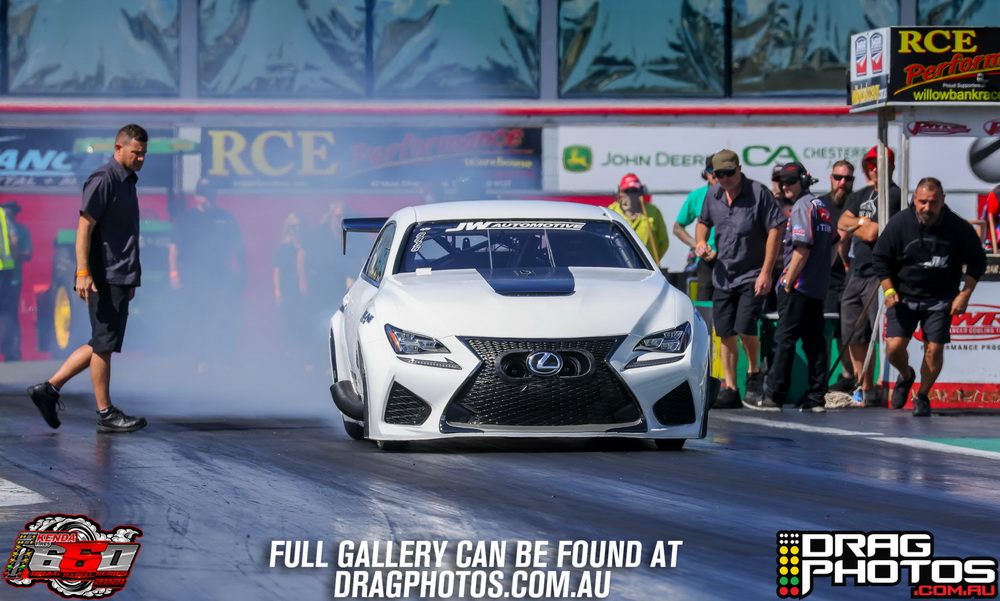 Seng opened the third round that would decide the finalists with a 3.83 202MPH tear against John Haley to reclaim the turbo radial record – not bad for an all steel factory body car aswell – but the team would have to wait to see how other results would fall. Under the radar in eliminations was giant killer George Josevski, his twin turbo Lexus is another one of the latest stunning builds dedicated to the radial world to make an appearance. Josevski, also on a smaller 275 tyre decided to play in the unlimited Outlaw class and picked up wins against Andrew Milford and John Haley before defeating Dale Heiler's Commodore in round three to see himself into the final with a perfect score card. He would face off against Wagstaff who was vulnerable with a 4.45 but opponent Gauci also had problems and couldn't capitalise from the off pace run out of the Chev.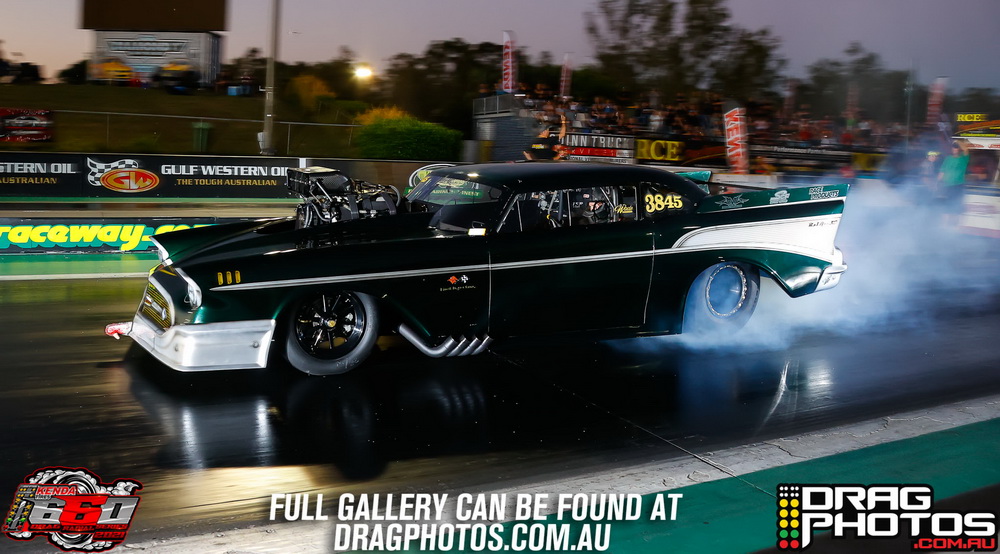 Wagstaff wouldn't make the same mistake in the final and despite a 'safe' reaction with his performance advantage he still ran down Josevski's 275 tyre record setting 4.15 195MPH run with a 3.88 to hold up the title belt.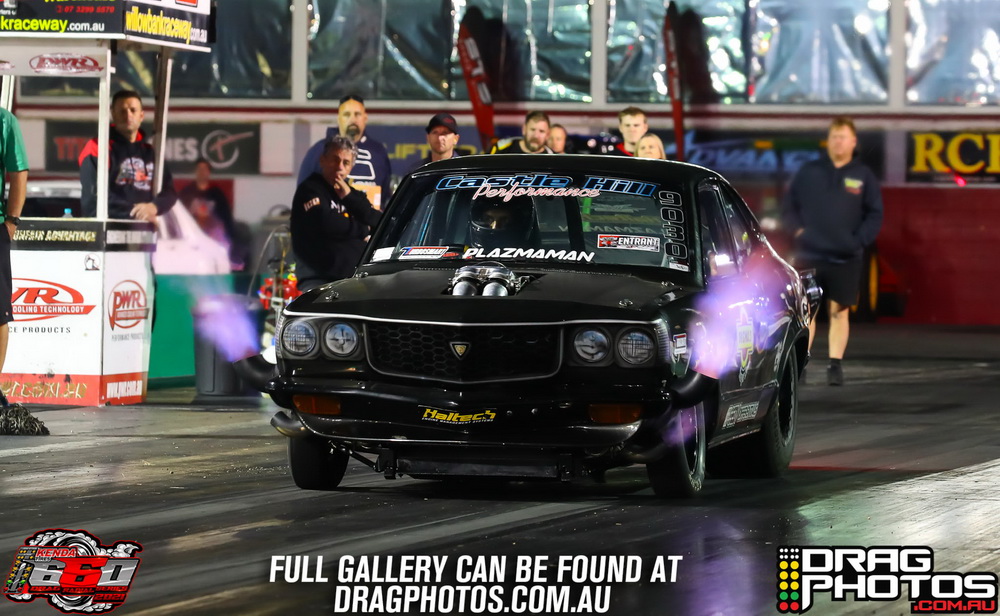 In the anything goes on a 275 tyre Outlaw 275 class, Terry Androutsos was off to strong start in the twin turbo big block RX3 with two round wins despite boost problems. When the problem was found, the RX3 went for the sky against Stuart Henry costing him any chance of a round three win and final's spot. Henry's 4.172 event low ET in the other lane would of been a tough beat either way and saw him through to the final. Joining him was Tony Webb's twin turbo big block hatchback Torana who knocked up wins against Sean Muscat in round one, then lost to Andrew Coles, but a third round win against Steve Smith's Mustang on the back of a 4.36 had him into the championship round.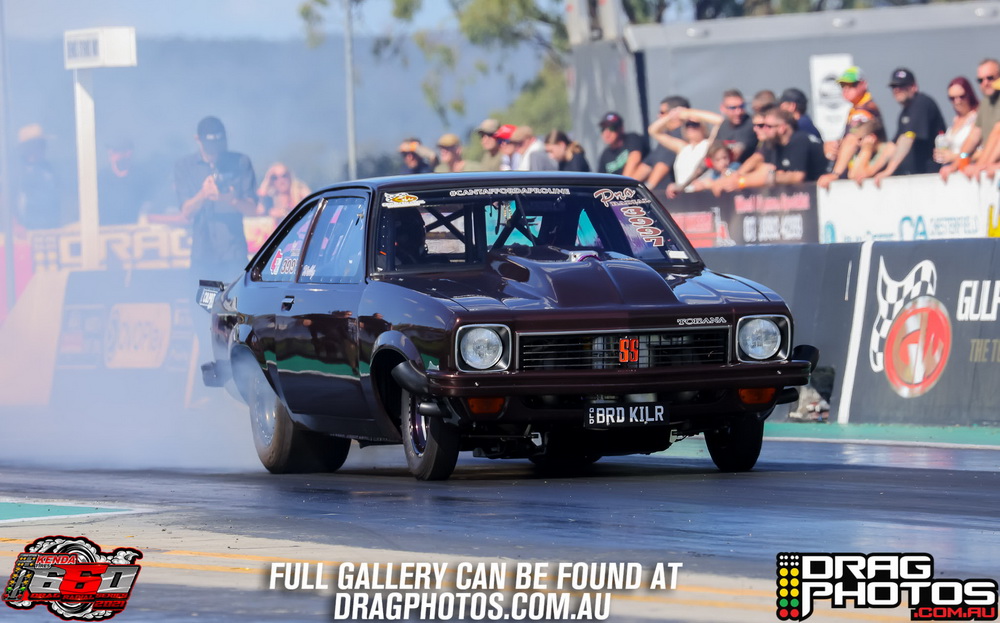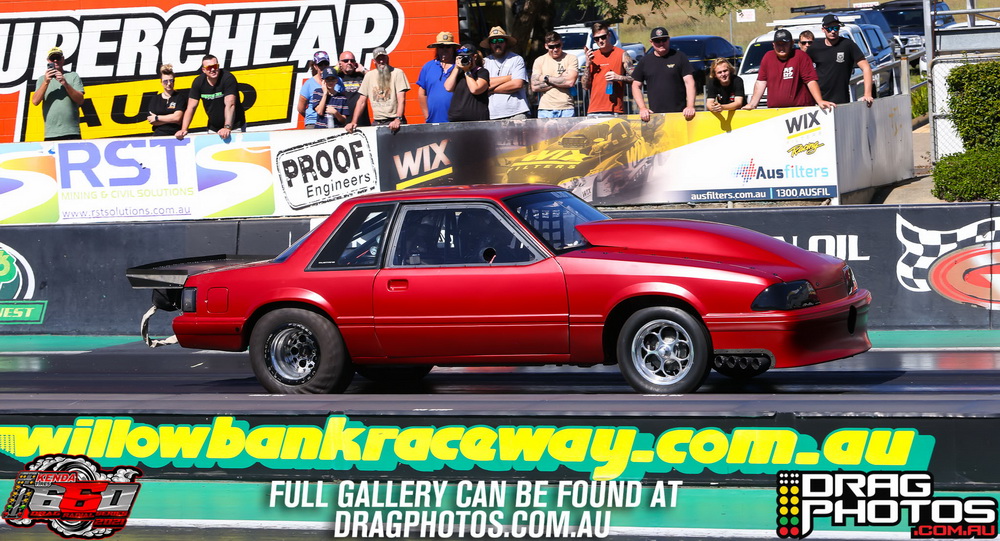 Henry's Fox-body Mustang couldn't retain the previous rounds performance as Webb picked off the win in the final with a 4.37 to 7.37.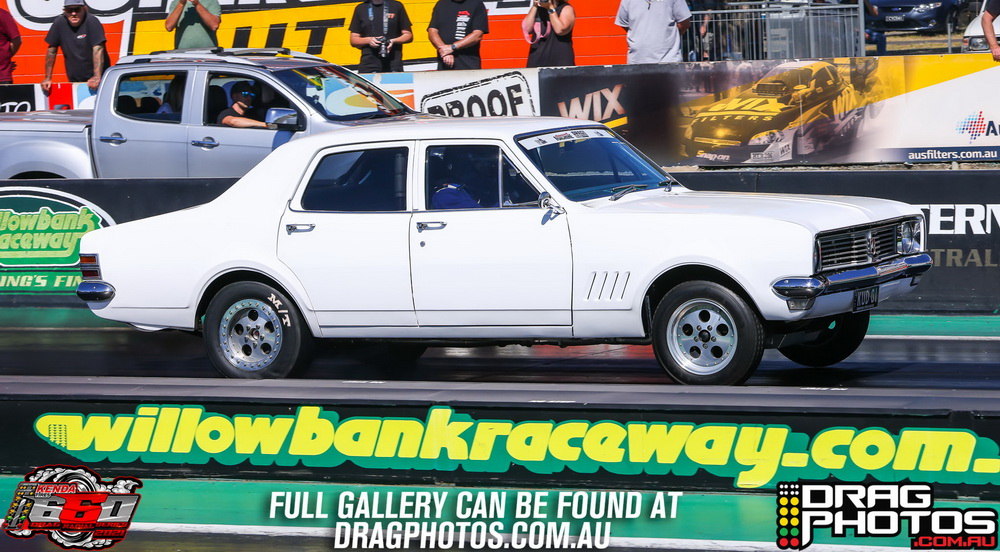 On the small shoes in Outlaw 235, former bracket racing king Juan Kudnig has taken to radial racing with his unique Vortex supercharged and turbo boosted Holden on nitrous (Yep! It is anything goes). The wild combination proved unstoppable taking Kudnig to the final where he dispensed a tyre spinning Jamie Swift with a 5.25.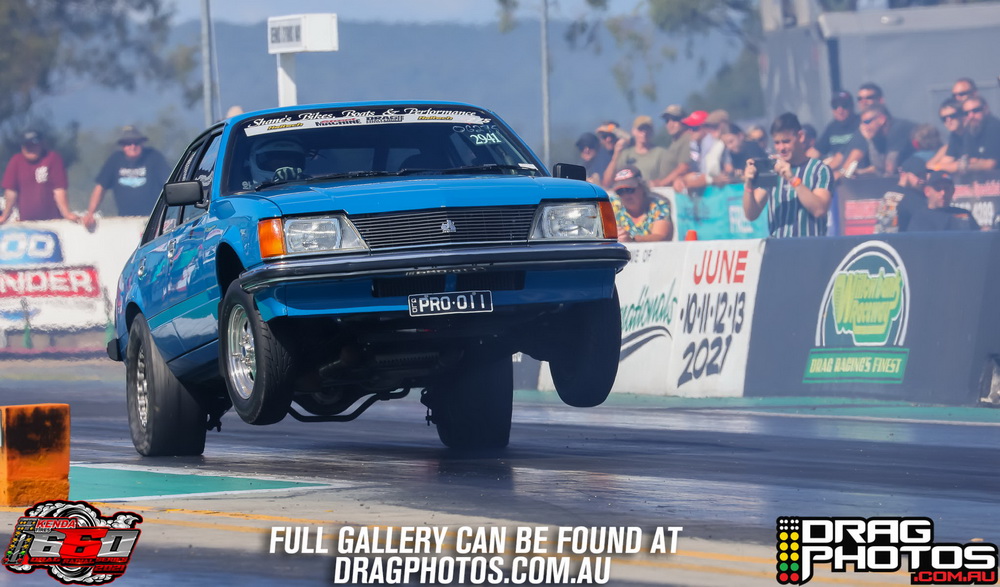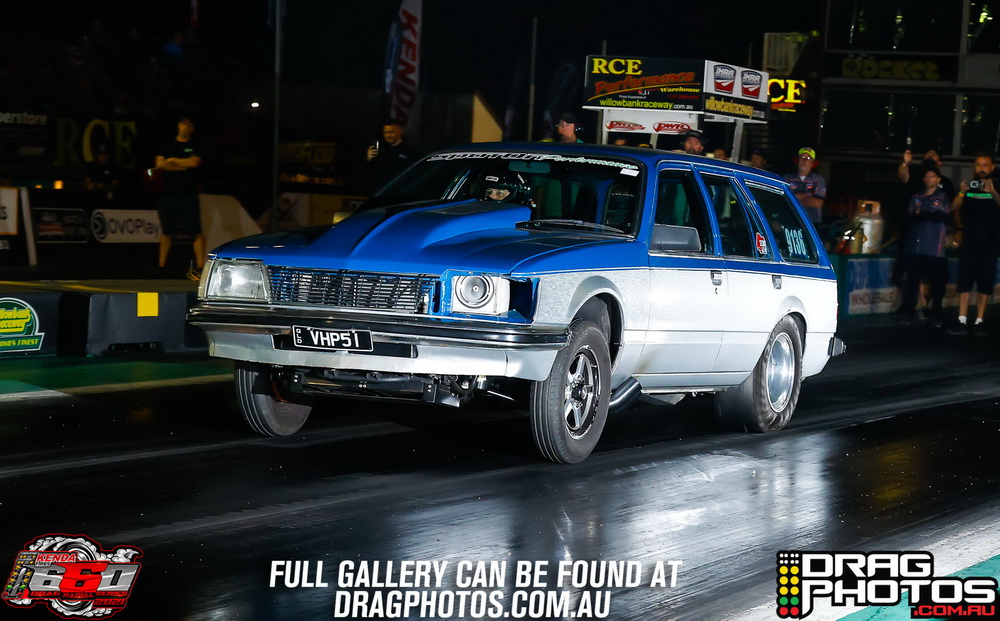 In OG275, also a class for 275 tyres but restricted to streetable cars Shane Baker kept the wheelstands from his Commodore under control to make the final against Ben Vlekken's Commodore wagon of the same vintage. Vlekken gave up the start line advantage but still powered around Baker at the stripe 5.02 to a 5.29.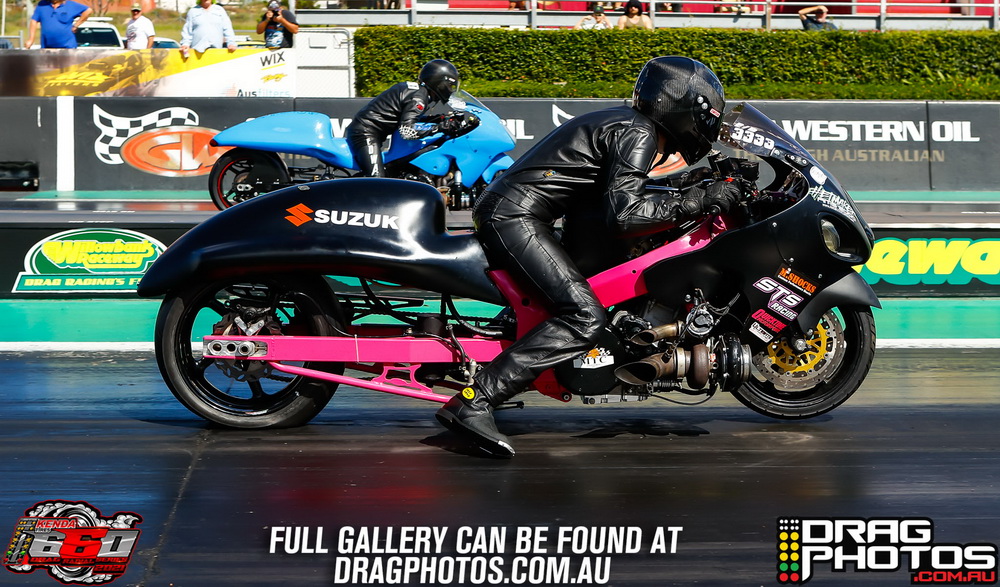 The bikes get a gig in the series in Radial bike where Brandon Gosbell proved too strong for the field with three round wins then belted out a 4.75 in the final over Jack Roberts' 5.450.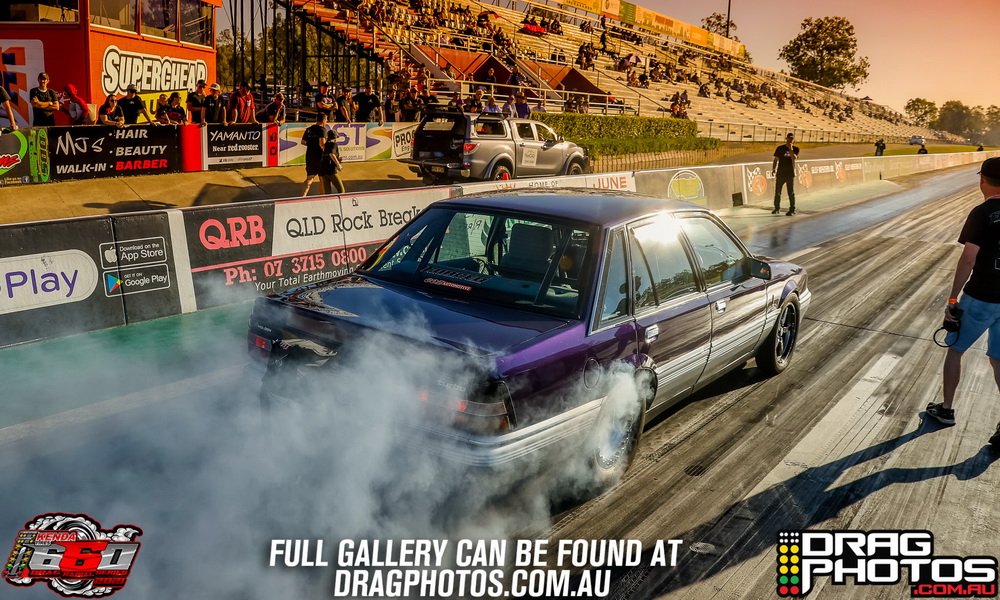 The Radial Renegade and Radial Rumble classes are fixed index 5.50 and 6.40 respectively and split up into A and B fields to give everyone a chance if you are not able to run on the index.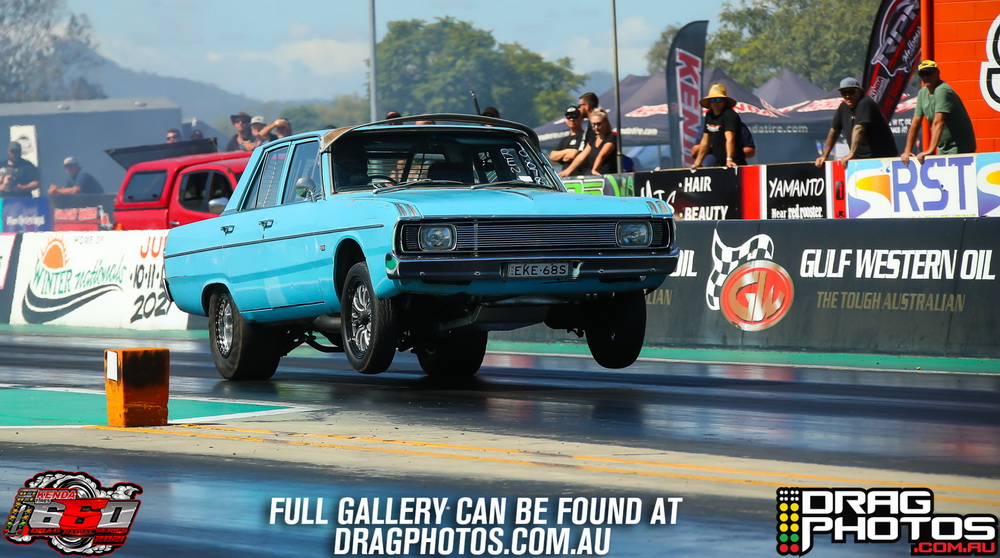 Renegade A final went to Daniel Ward's old school Valiant against Aris Kontoleon's by contrast brand new Camaro, 5.51 to a break out 5.49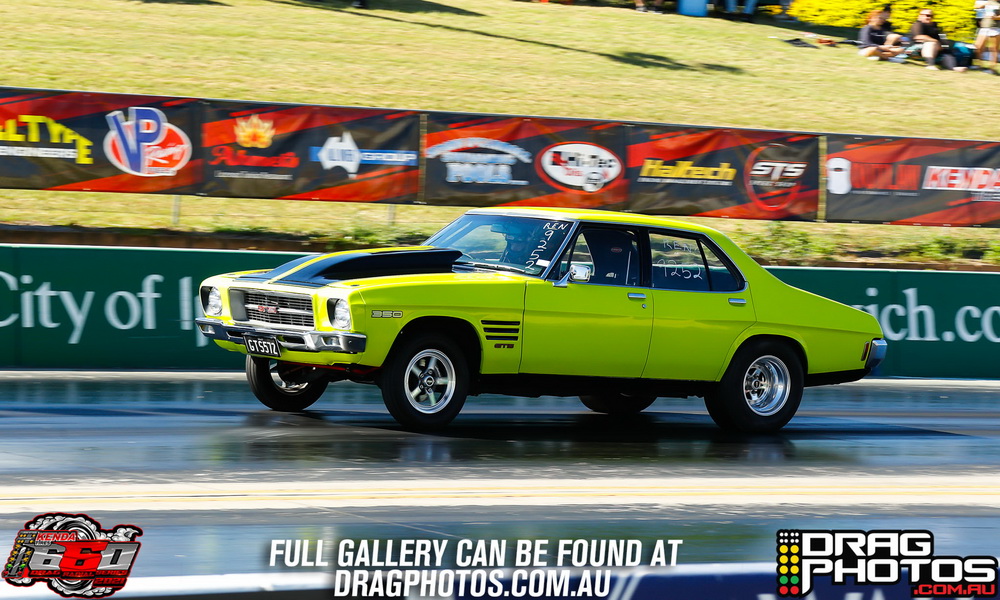 The HQ of Brad Lynch took Renegade B final over Sean Helson 5.66 to 6.77.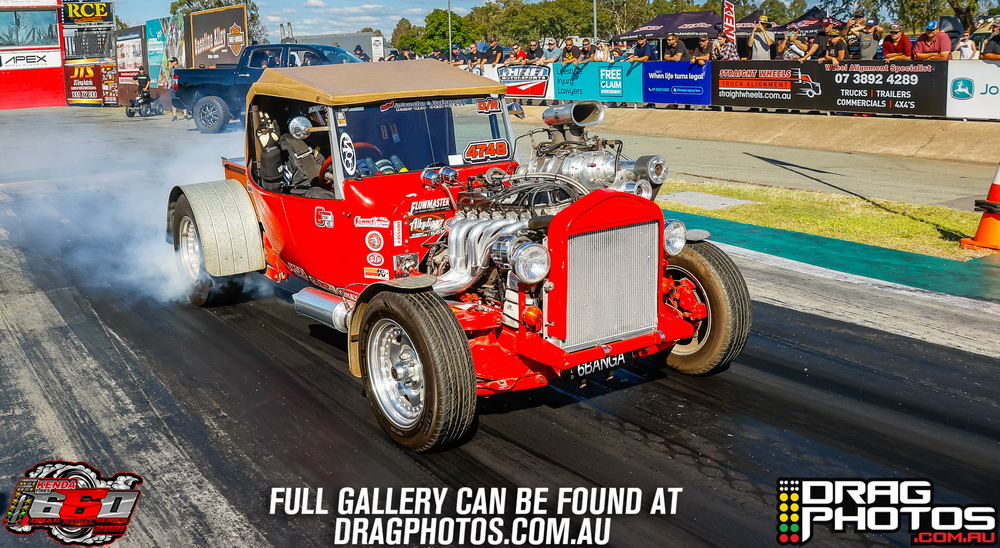 The little hot rod of Rodney Williams cranked out a 6.51 in the Rumble A as he gated Phil Andronicos' 6.45.
And finally Bill McKee's torque twisting Holden wagon rumbled out a 6.60 in the Rumble B final against Colin Bevis' 7.19.
The Kenda Tires 660 Drag Radial Series next travels to Sydney on July 29-31.
Photo gallery courtesy of Drag Photos