The nitro pumping Top Fuel Motorcycles of Chris Matheson and John Zahra headlined Palmyra Dragway's showcase Sugar City 1000 event in front plenty of North Queensland fans.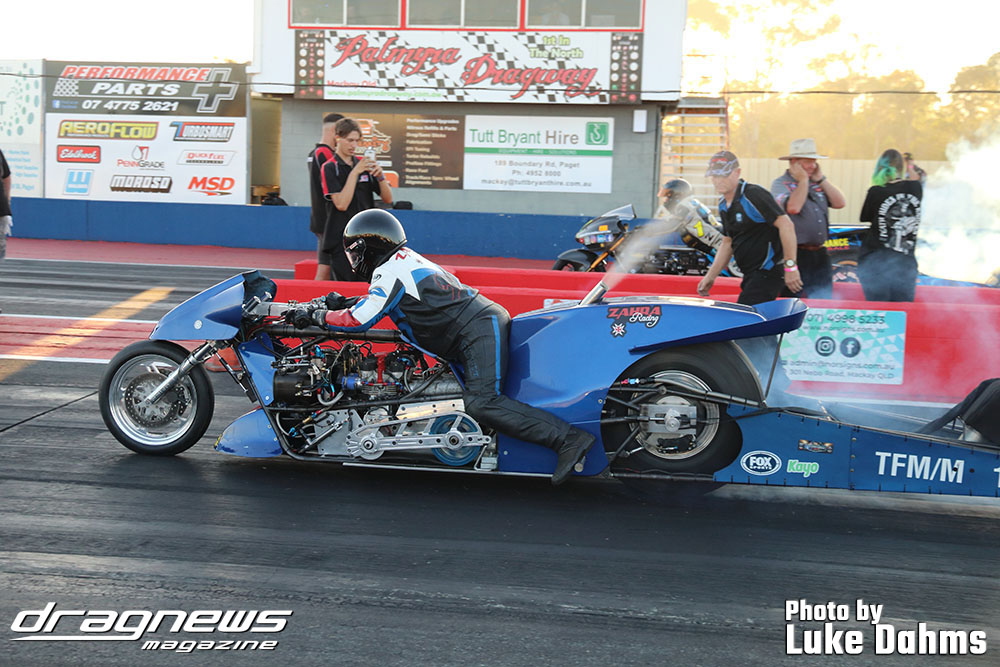 The event doubled as round five of the PDRC local track championship and also featured a Pro Rotary feature bracket.
There was meant to be a test and tune on the prior evening, but the fickle tropical North Queensland weather ended that, however race day went ahead in barmy sunshine conditions.
The nitro grudge race between Matheson and Zahra was a bit more dramatic than what as planned with Matheson having a misdemeanour with the wall in the second round, that saw both Nitro Voodoo and Matheson himself nursing some wounds, but both will be ready for their next outing.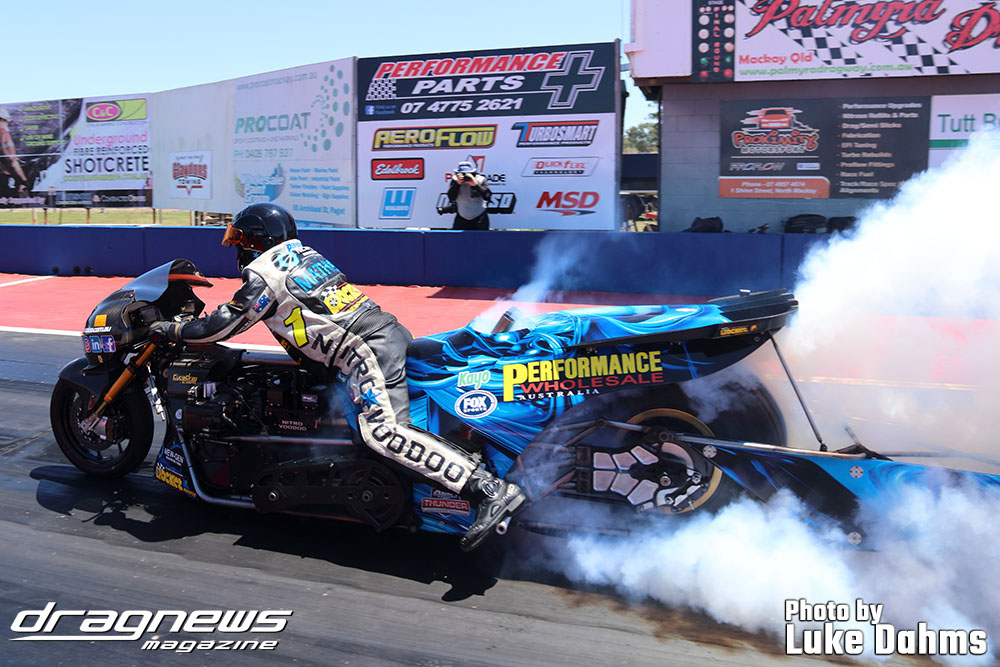 The hot humid conditions were testing for the nitro bikes, and with no test session now, had to really roll the dice with tune up.
"John knew the track and had run there on many occasions as it's his home track," said Matheson, commenting after his first run.
"After a quick check of the track, the temp was 147 degrees so we dialled in a tune, and went out for a shakedown pass. This was also a test for our new Fuel Tech 1500 FT spark ignition so we were keen to get on with it."
"The bike cracked open in the burnout and came to life despite the 90 plus percent humidity. We wiggled around on the hot track and towed back to prepare for the next run. John hazed the rear tyre towards the finish-line, but made a good pass."
With the accident in the second round, called an end to the match race.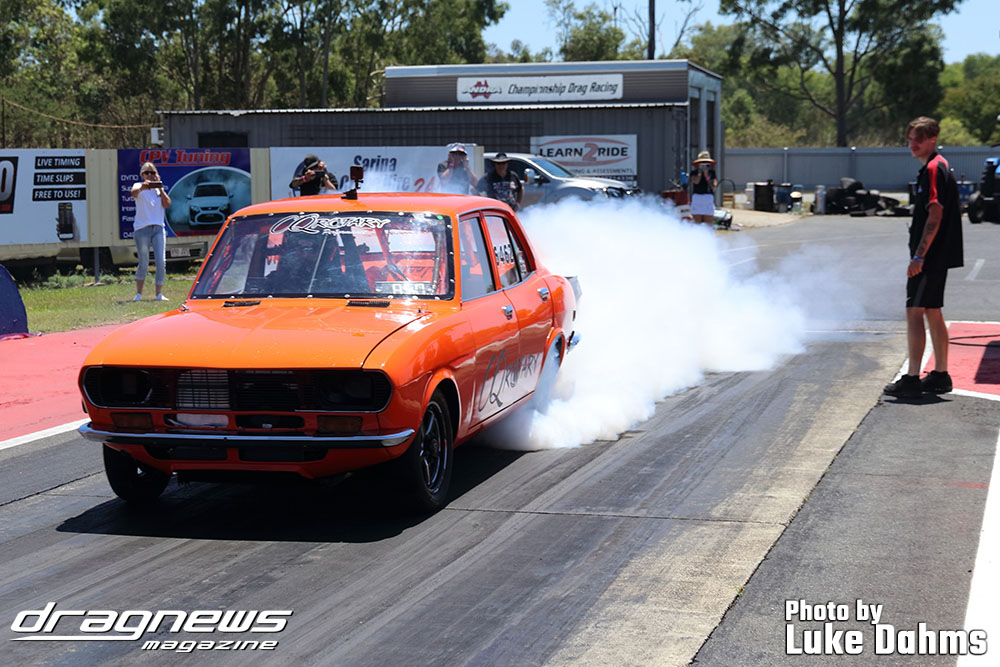 In other classes, Rob Cady won Pro Rotary over Mark Gilbert's tray back with Street Rotary going to Garry Henry over Peter Ford.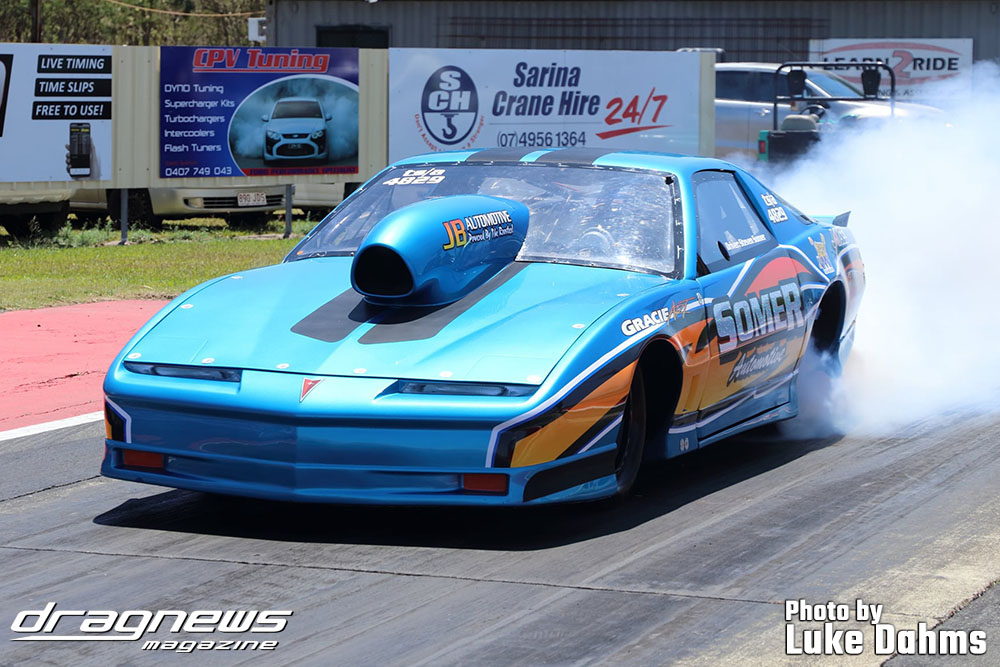 Super Comp saw Steve Somer take the win in his Pontiac over Dallas Everett, and Adrian Sach got the win over Daniel List in Comp.
The Modified Bike victory went to Cameron Horn against Peter Welsh in the final, Twin Bike saw Nik Falzon win over Gary Strachan, Race Bike had Blair Pennigton get the win light over Nathan Neilson and Junior Bike Chase Walsh defeated Blale Walsh.
Adam McNichol proved too good in Super Street taking the final over Terry O'Brien, Mathew Grudge snatched the Street win against Andrew McLellan, Real Street fell to Kelly Clements against Brad Price, and Junior Dragster was wrapped up by Darci Everett over Tyler Shackleton.
Final round of the PDRC track championship is on Nov 13.
Gallery courtesy of Luke Dahms.