It was a big night of racing in front of a cracking crowd that filled Palmyra Dragway for the return of the Aeroflow Outlaw Nitro Funny Car show at Nitro In The Cane.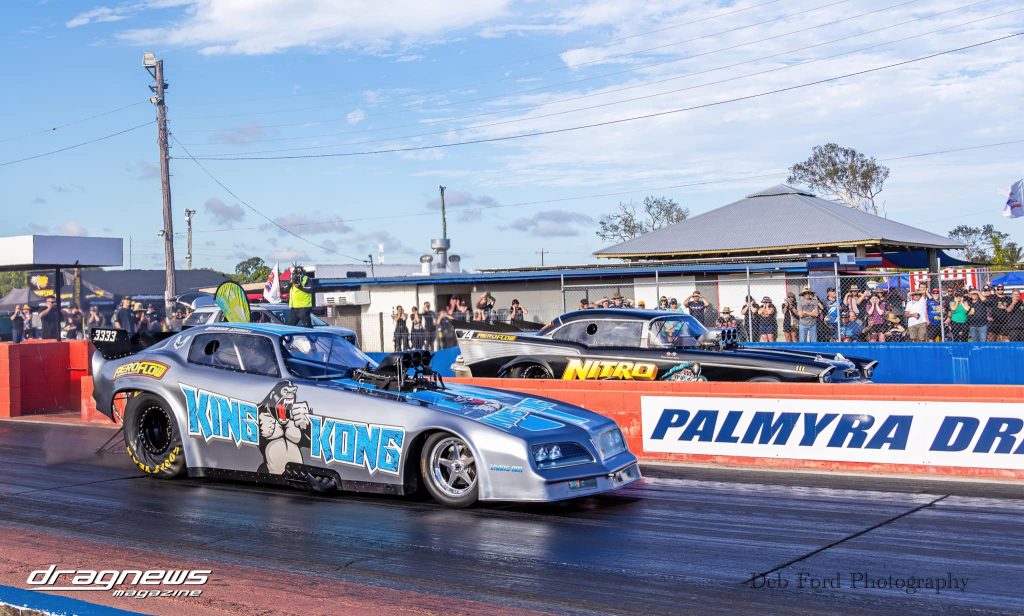 Five Aeroflow Outlaw Nitro Funny Cars headed to the North Queensland track that turned on quality conditions. Josh Leahy in the Bandit was defending event champion and started of this year's campaign with a 4.94 round one win over dad Greg in Stormtrooper, with a pedal. Racing for the nitro cars is over the 1000ft distance at the track. Both Morice McMillin in Nitro Express and Brandon Gosbell in King Kong had a couple quick pedals in their match up next. King Kong getting the win light with a 4.93 to a 5.12. Justin Walsh had a solo in Terminator fortunately as the Mustang shook and head for the centre line.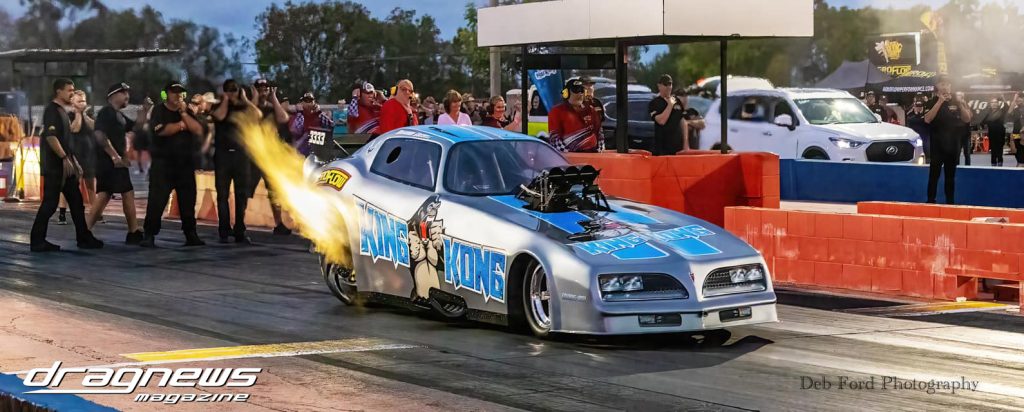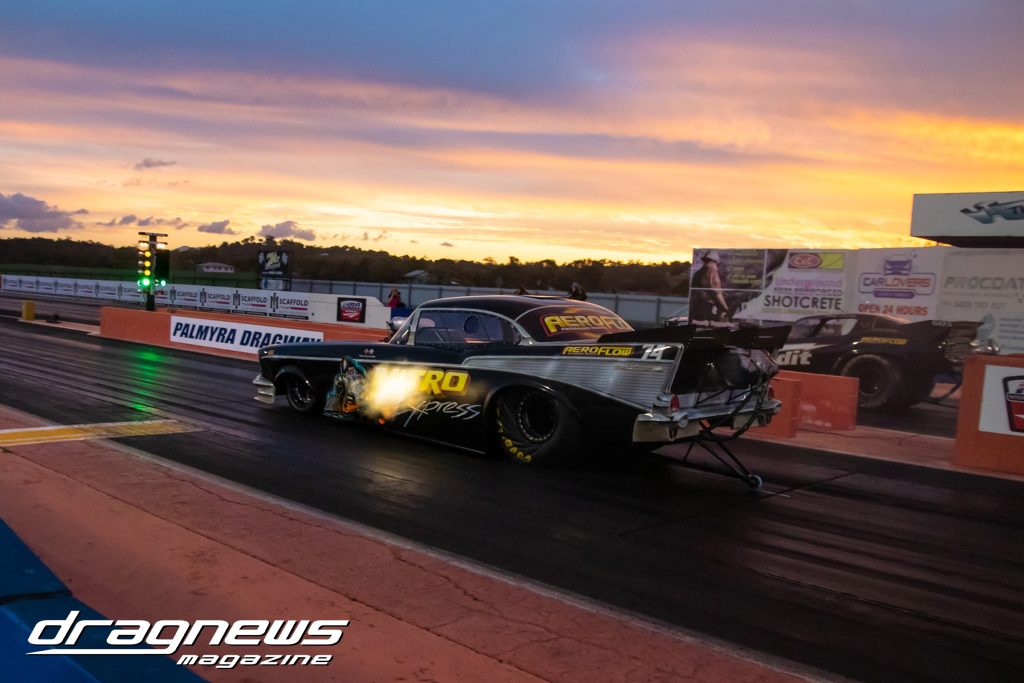 Bandit and Nitro Express went flames by flames to the stripe in round two, Bandit notching another win with a 4.84 to 5.00. King Kong dropped a huge holeshot on Terminator then blew the tyres off at half track, Gosbell just managing to keep the car in his lane for the win. Damage to Stormtrooper in round had unfortunately ended that team's night.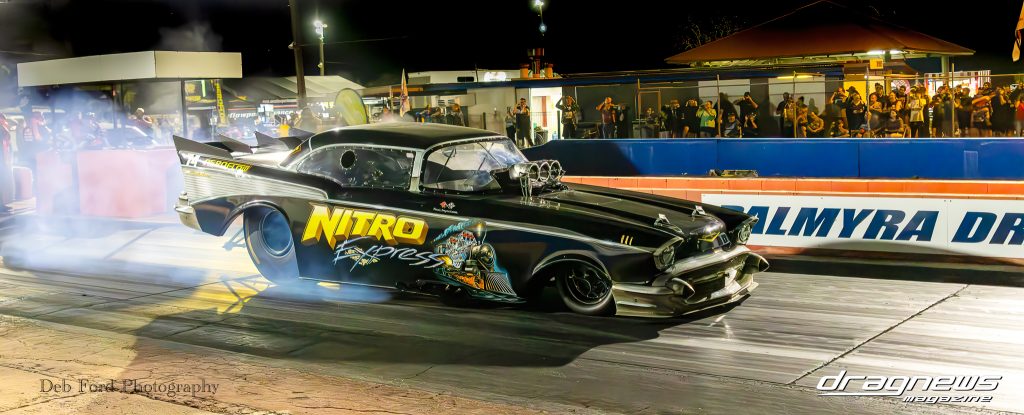 In the third and final round, Nitro Express and Terminator went at it for the third place podium step. Both cars had to pedal again, but it was McMillin in the 57 Chev to recover the best and win with a 5.00 to 5.61. The event final came down to Bandit and King Kong, it wasn't pretty, both teams throwing a lot at the track. Gosbell was out in front early at 60ft but couldn't keep the Trans Am's tyre stuck, Leahy had his hands and feet full in the other lane with Bandit, but still wrangled the Pontiac to the stripe first on a 5.51.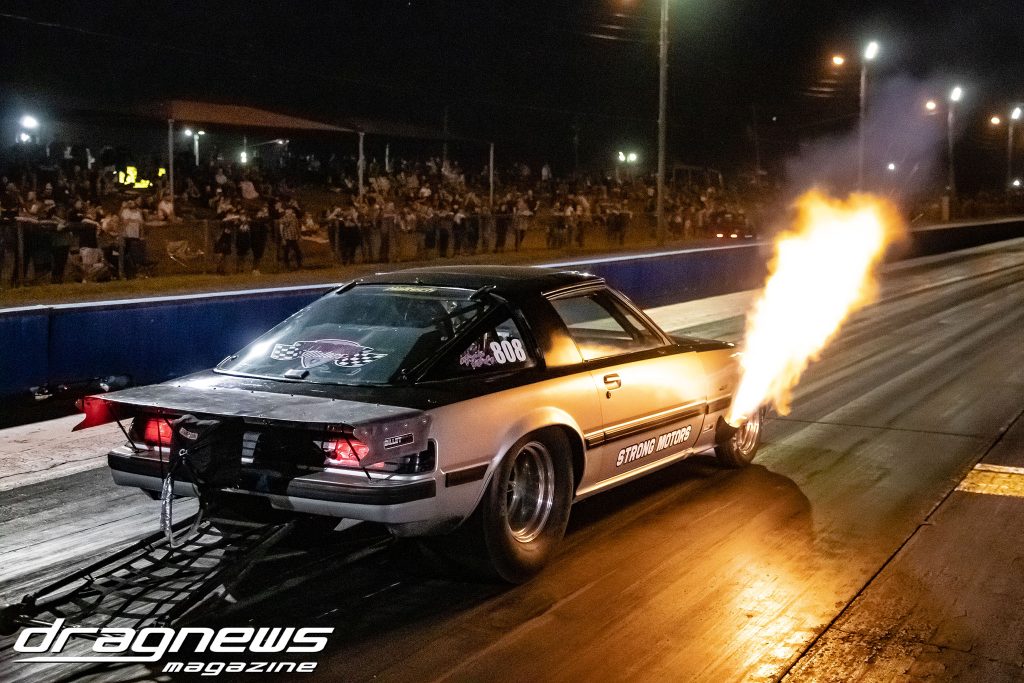 In other event final round results:
Comp: Jye Acton def. Joshua Mohr
Pro Turbo: Darren Gericke def. Joshua Moore
Tough Street: Andrew Sammut def. Antonio Chisari
Street: Charlie Roberts def. Daniel Smith
Street Rotary: Paul Frank def. Terry Smith
Junior Dragster: Tegan Crocker def. Ruby Somer.
NEWS & NOTES HIT LIST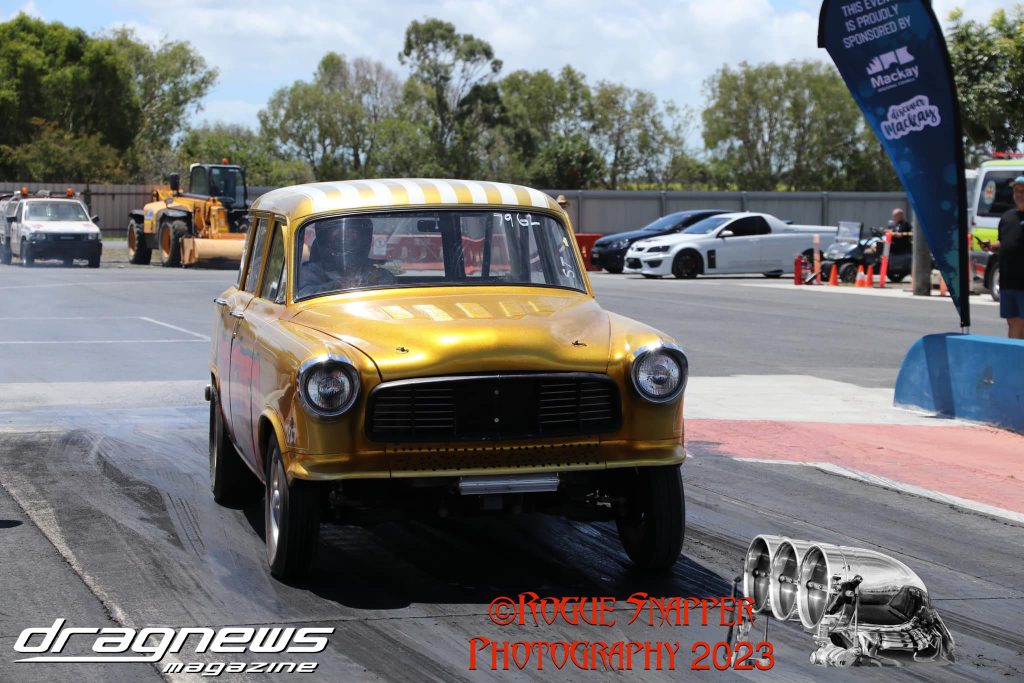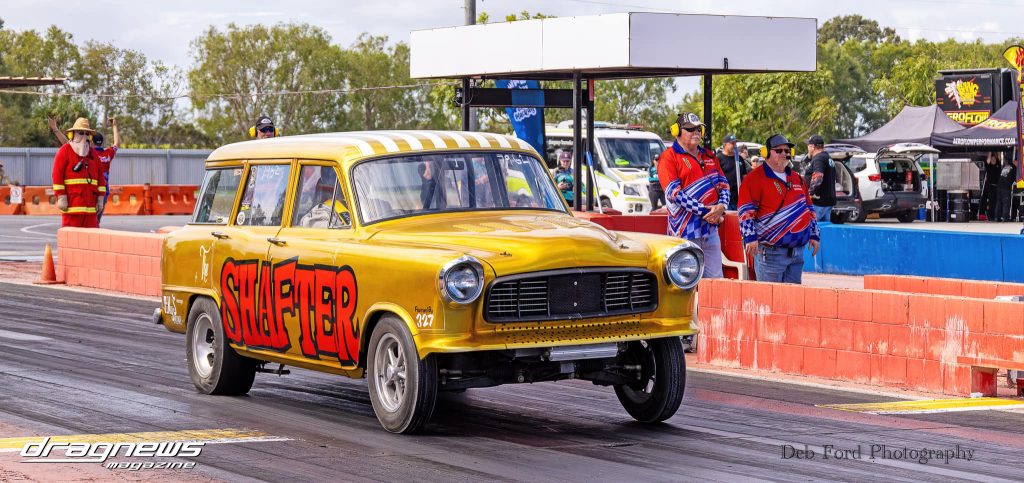 Old School Cool: How neat is this Vintage Gasser! It was Barbara Shield's first time at the track with her 'The Shafter' FC Holden wagon, and she top qualified in Street- welcome to drag racing.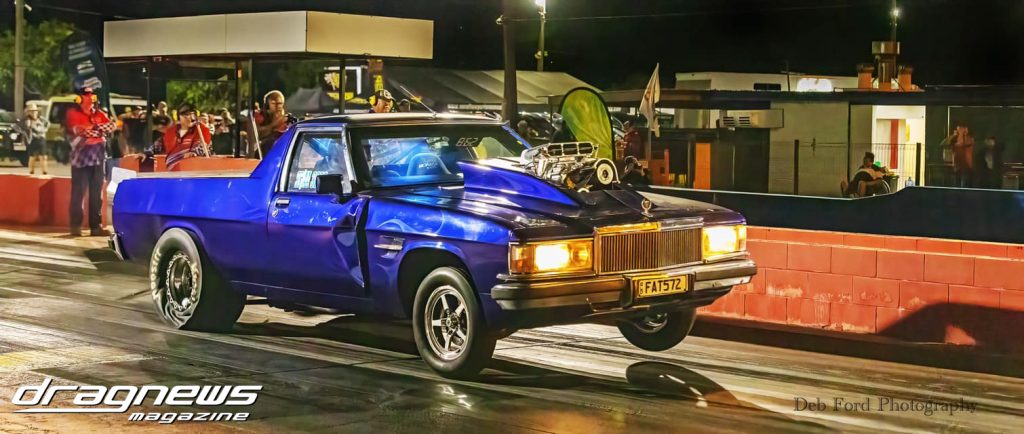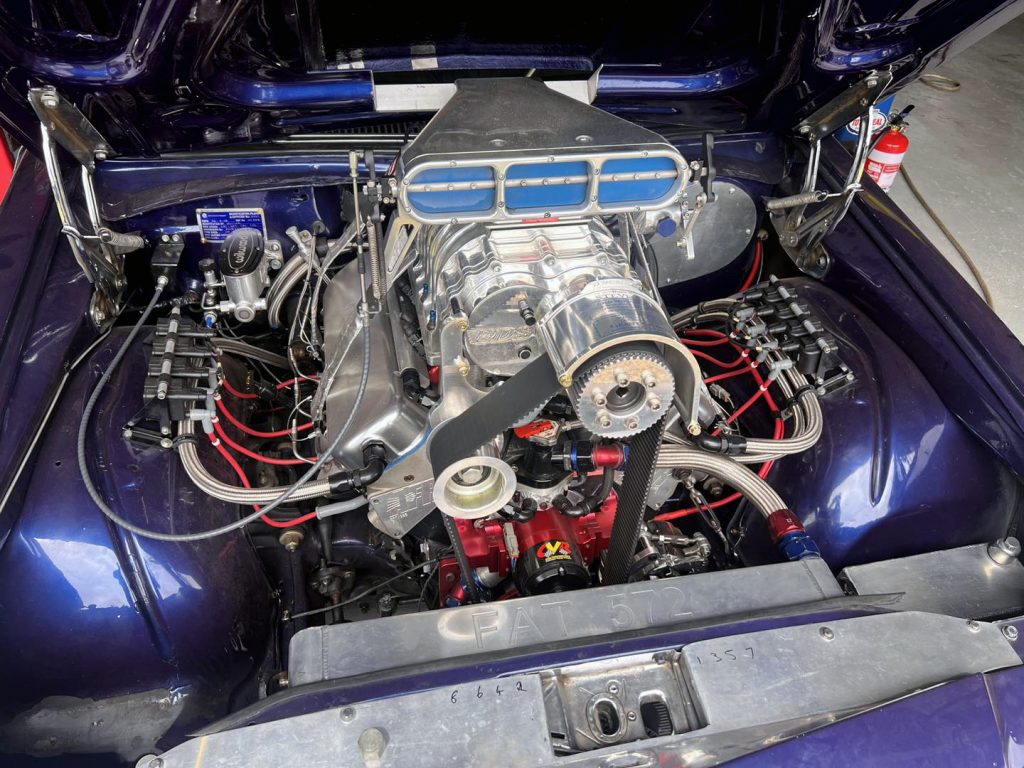 Fat and Blown: Mick Barrett stepped up with a new blown big block combination in his Holden WB ute, that has no shortage of tyre either. Dale Heiler – who help put together a lot of combo – was up from Sydney to help with tune and guided Barrett to run his first eight second pass with the promise of plenty more to come.
The door? Well the damage was caused by an errant parachute hooking the door going into the turnaround area.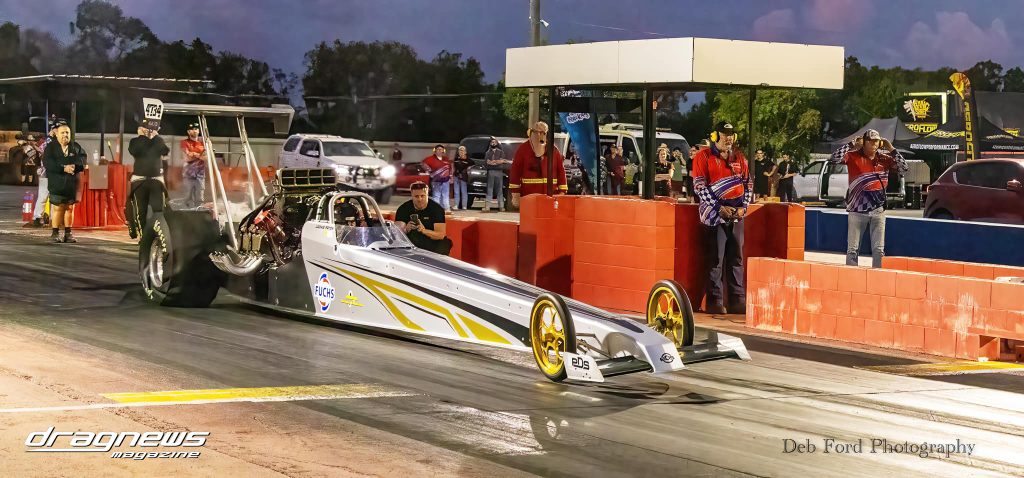 Small gains: Lochie Paton was out testing his AA/Dragster, the team had a rush to find a new crank after discovering the one they ran at the Winternationals was now scrap. Paton was fighting tyre shake on every run in the very tidy dragster, but were confident one more pass would have seen that sorted, still 5.0s to the 1000ft is not shabby.

Photo gallery courtesy of Rogue Snapper Photography and Deb Ford Photography