Competing in a field of superstar names within the doorslammer ranks, it can be forgiven that Geoff Gradden's achievements could go unheralded.
Coming up through the sportsman ranks with a LJ Torana in Super Sedan, before getting a taste of supercharged life with a blown Dodge Viper in Supercharged Outlaws, Gradden made the leap into Top Doorslammer with a Murray Anderson built Dodge Saratoga back in 2010. Since then, Gradden has relished the engineering challenge of developing the car himself through baby step processes that sees the car as one of the most consistent on race day – despite very limited track time.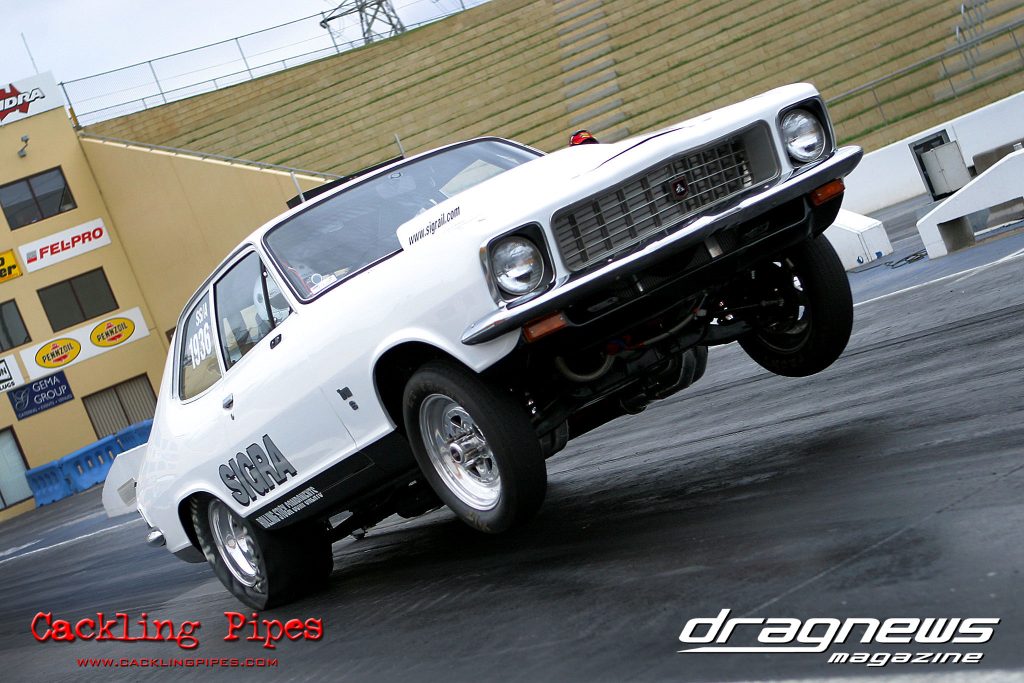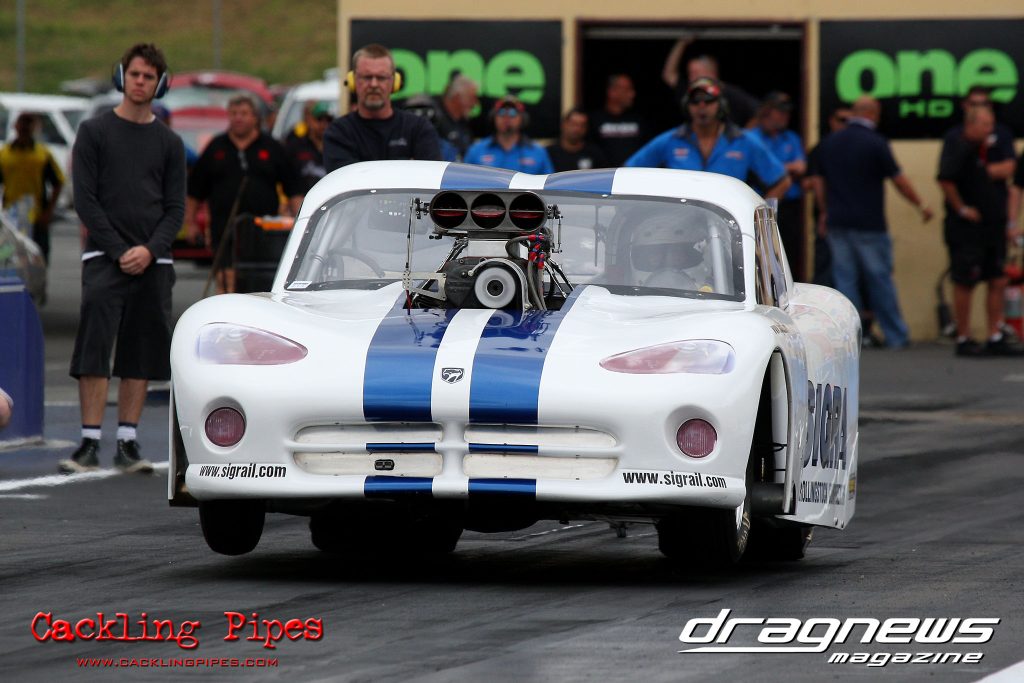 "It's a dinosaur compared to other cars in the class but that's what we built as a Top Doorslammer back in 2010 and it's still got a bit more in it," said Gradden. "When we built the car, we thought a 5.9 would be about the limit, and Murray Anderson tells me that this now is the quickest car he ever built.
"I had a lot of time in 2020 and 2021 looking at the car on the hoist and wondering when we would get a chance to run it again. I think we managed two meetings in 2021, and entered meetings in January and March 2022 that were cancelled due to sanctioning issues or weather.
"So, I was out of the driver and tuning seats for 12 months almost to the day when we lined up for qualifying at the Nitro Champs in May.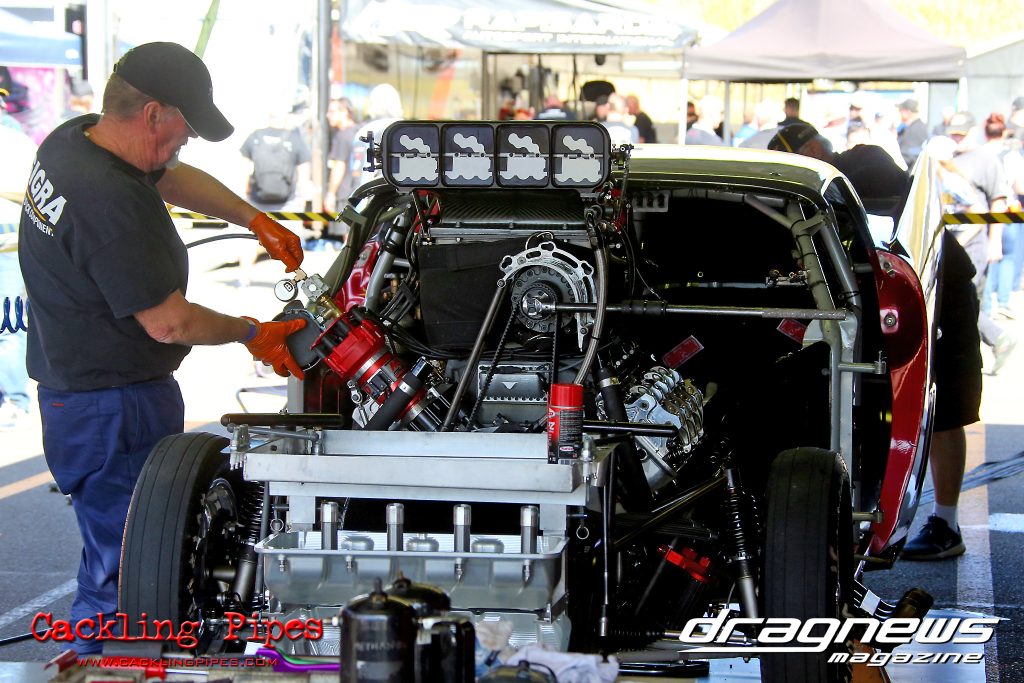 Competing in the Pro Slammer exhibition bracket at the Nitro Champs, the Sigra team were down a few members due to COVID and family commitments, unperturbed Gradden looked for more tweaks to edge up that performance level.
"We tried to leave the car pretty much as it was when it ran consistent 5.7s in 2021, except for a few minor changes, mainly to corner weights and shock damping to try to get a bit more power to the ground without unsettling the car too much. Just looking for tiny efficiencies to get our 5.7s down to 5.6s," he said.
"I was also aware that my start line technique and driving confidence was going to be a bit off after so long out of the car. I did have a few runs in Extreme Bike over the 12 months, but I'm never sure whether that helps or not in the car.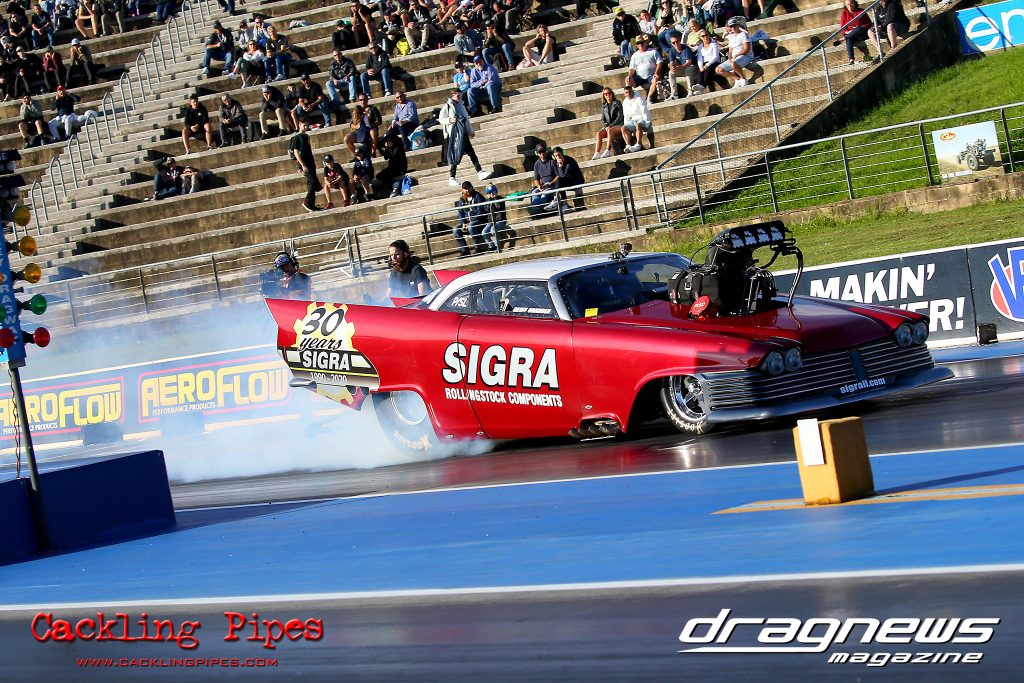 After such a long layoff, problems presented themselves in qualifying, and through the comradery in the doorslammer ranks, were able to be overcome.
"The car won't react well to a soft tune or tentative launch, so you've really got to make tuning decisions and send it," said Gradden. "Q1 launched well, but shook hard and headed for the centre line. When we got back to the pits, the rear tyre pressures were way off and we realised that the liners pressure was leaking into the outer tyres. By the time Q2 came around a few hours later, the leaks were getting worse, and we were struggling to control the trye pressures in the staging lanes, plus I was getting concerned about what might happen under the load of a launch, so we decided to tow back to our pit – an oil down saw Q2 postponed until Saturday morning, so we had time to try to sort out the problem.
"Maurice Fabietti heard about our problems, and offered us his spare rims fitted with a new set of tyres. These were the same back spacing and tyre combination we use, so we swapped them out. and concentrated on the data we had from the first run.
"They (the tyres) needed to be scrubbed in and were not going to perform well, so the tune was to try and get the car down the track, scrub in the tyres, and get some data for later in the day.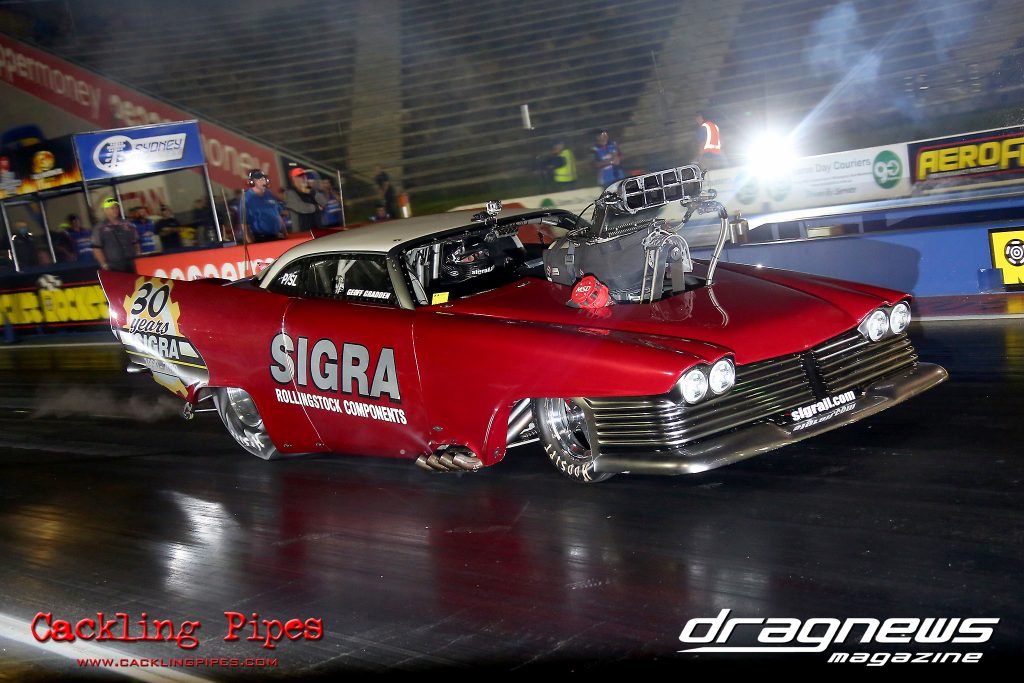 As predicted the tyres spun on the hit in Q2, Gradden pedalled the Saratoga for a 7.09 at 236mph – not bad, according to Gradden.
Heading into racing and the All-Run Format (ARF) was in effect, which meant guaranteed three rounds of racing. The Sydney Winter air conditions were pristine, but the track was on the cool side, and Gradden assumed the new tyres were not fully bedded and still susceptible on the traction levels.
"I was still suspecting we don't have good grip on the new tyres, and was spending a lot of time trying to decide on a tune, while the crew turned the car around," said Gradden. "I launched really nice and then shook, had a pedal, and ran 6.40 at 243MPH, now we're getting back into it – but what should have been a first round win was not to be as I red lit. Nothing wrong with the car, didn't roll the beams, just left early. Not good, and letting us all down sadly.
"In ARF2 I did it again – red lit – saw myself doing it. I guess too much time out of the car and focusing on tyre issues, plus all the other minor dramas and damage we normally deal with between rounds. However, all the right tuning choices were made and we ran 5.86 at 250MPH with shake and a pedal – looks like I know how to tune but can't drive yet.
Driver stuff ups aside, the Saratoga's performance was on an upward trajectory as the team shook out the bugs from the long layoff. Conditions were certainly perfect for Gradden to go after a number on his final run of the event.
"ARF3 could have been an A-Final appearance without the red lights, but we get to run anyway, and a last chance to really get after it and try for a PB," said Gradden. "Air was minus 100 feet – very low, and probably only the second time in 17 years of drag racing we've seen this. I had a good look at the track and the track temperature and felt that it was holding up well, despite delays having us going out at 9:30pm.
"Other doorslammers were struggling in the conditions, but I felt that we could still go hard, and was confident I could keep it off the wall if I was wrong.
"0.956 60-foot, a bit of shake, and a slight pedal at 300', 3.72 to 660', and 5.673 at 252.19MPH – all PBs for this car, and right up there amongst the quickest doorslammers in the country.
Objective achieved, no longer just a threat with his consistency, Gradden has entered the rarefied air of 5.6 second performances in a doorslammer.
"This is certainly a big moment for our team. We've been together a long time drag racing since 2005, but a few of us were racing dirt bikes together from the 1970s," said Gradden.
"This is our crew: Mick Ellis, Bill McDonald, Waldo Goddard, and David Gradden, plus the three that could not make it to the Nitro's – Tim Gradden, Jason Gow and Mitchell Turner – I can't thank them enough for their support and encouragement over the years. My wife Joanne had been until recent years, the mainstay of the team and my motorcycle/drag racing partner for over 40 years, but health issues have kept her away from racing for too long. She's finally on the mend and back soon.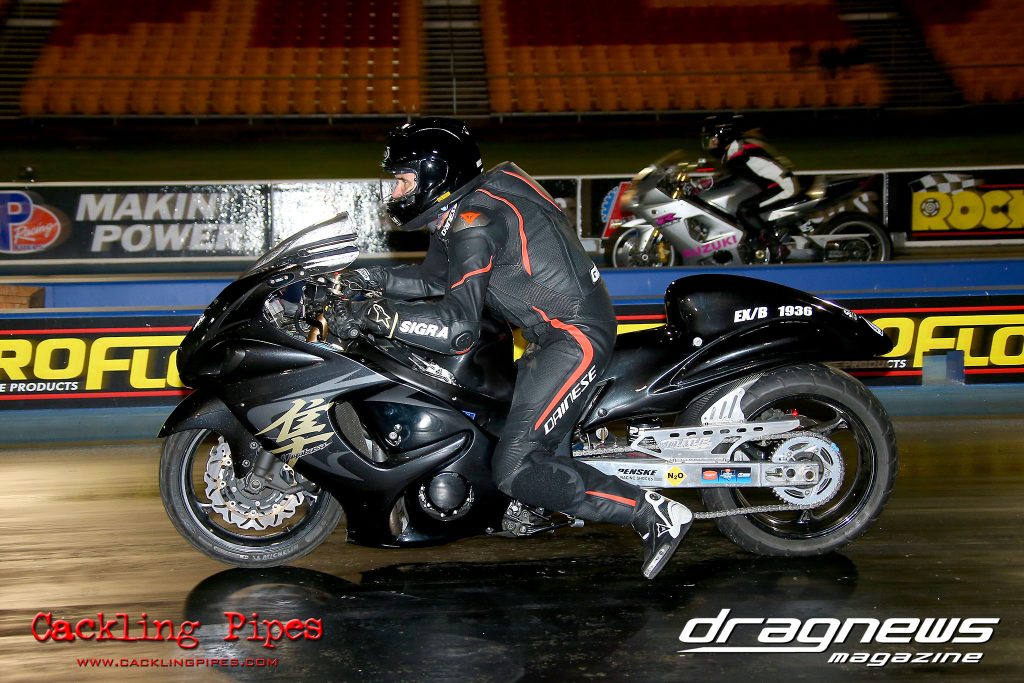 Looking into the future, and Gradden has dabbled in the Pro Mod ranks, but doorslammer is where it will be at for the team, except when he wants to play on two wheels from time to time.
"It's important to note that Top Doorslammers and Pro Slammers have boost and weight limited by the class rules. No Traction control is allowed. I'm very impressed by Pro Mod cars going a couple of tenths and 10MPH faster, and we do race with them occasionally, but we still like to line up against doorslammers that have similar power and weight," said Gradden.
"Plans are to now have a Winter break and get the car ready for Spring 2022 racing. I know this car has more in it, but I will try to repeat a few times before looking to improve. I've never really had a competitive car in the class until recently, so I'll have to start focusing more on driving and cutting a good light. We'll be staying with the Magneto ignition, 3 speed and a clutch, the Saratoga body will be staying on for a while yet as well. There are some good aero gains to be had with a modern shape, but we love the car the way it is.
"Also got to rewire and upgrade the Hayabusa to handle a bit more nitrous, and see if I can get it to run a 7 second pass in Extreme Bike. What could possibly go wrong there?