Scratch & Match Motorsport are the leaders of the Australian Drag Racing Championship's Top Doorslammer class following their season-opening win at the Top End Nationals.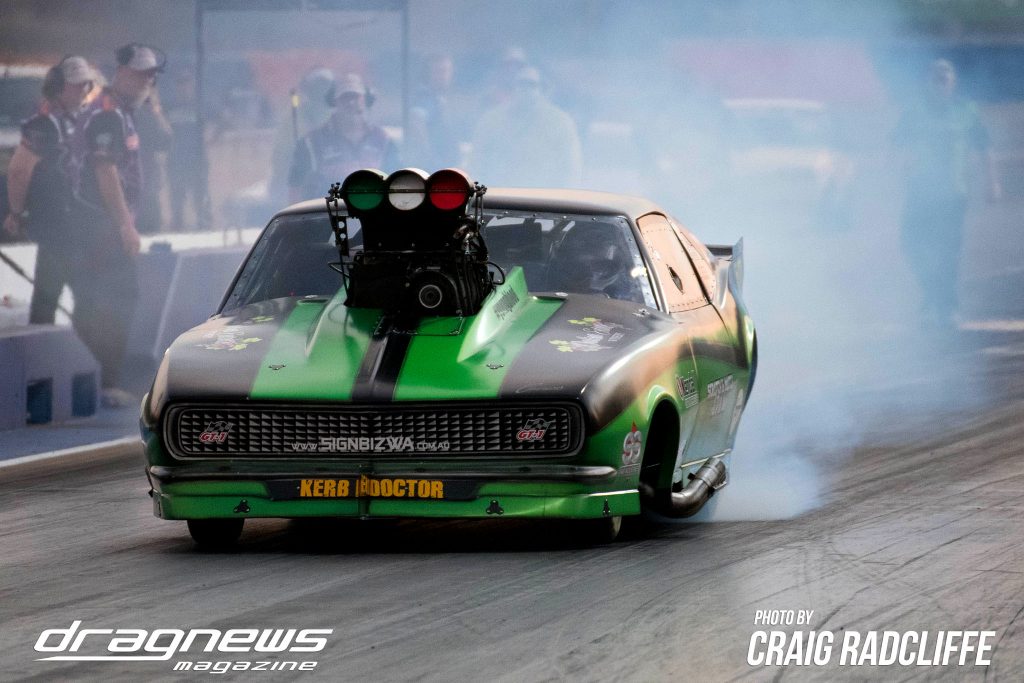 Driver Daniel Gregorini recovered from a less-than-average showing at Nitro Up North the previous month to emerge victorious at Darwin's Hidden Valley Drag Strip.
"Believe it or not, we started off with the same tune-up that we used at Nitro Up North," he said. "It's a base line tune-up we use anywhere and everywhere and in any conditions, which typically sees us run between a 5.75 and 5.85 pass on the quarter-mile.
"In Q1 the car drove slightly right with a 0.970 60 foot time, so I buttoned it off and we made a small four-link adjustment in the suspension for Q2. The car went dead straight and we went 5.83 to qualify second."
One more qualifying session remained on Saturday, where Gregorini made headlines following a 258.47mph blast to reset the eight year old ANDRA Top Doorslammer speed record. It was a remarkable accomplishment considering the heat and humidity in Darwin.
"We've never before held a national record in Top Doorslammer, so that was definitely something to check off the bucket list," he said. "It's an honour to hold any ANDRA record, let alone in a class as competitive as this one."
Eliminations saw Gregorini's Camaro destined to take on Andrew Sutton's Corvette. Unfortunately there were engine problems for Sutton when he attempted to fire up for the race, leaving Gregorini to take a solo.
"I had a chance to focus and see if we could book a place in the A Final, and a 5.808 was the result – our quickest pass of the weekend," Gregorini said. "We would have lane choice for the final over John Zappia's 5.84 and we were looking forward to a tremendous side-by-side race for the fans."
Unfortunately for Zappia the race was not to be, as the fellow Western Australian team had engine damage and would not be able to change engines in time for the final.
"We were disappointed not to race against John so our goal changed to trying to set low ET of the event, which would have given us even more points," Gregorini said. "We stepped it up for the final but the track took it all and wanted more, so it started to shake the tyres. I pedalled the car but the lock up was engaged in the convertor and it started to climb for the sky, so I had to lift. We were trying our hardest to put a big lap down for all the fans who stuck around for the final!
"We were the fastest and quickest car on race day, which is the day it matters. The Scratch & Match Motorsport Camaro never missed a beat or hurt any parts all weekend."
The confidence from the strong start has been invigorating for Gregorini and the team, who are now on their way to this weekend's Desert Nationals at Alice Springs Inland Dragway.
"It's amazing, the hard work myself and my crew puts in and the dedication we have makes it feel so great. We have made a few changes for this weekend to adapt to different conditions at Alice Springs so it will be interesting.
"We expect to make safe and fast passes obviously, within what the conditions allow us to do. We rely on fast cars making passes to apply more rubber, but the restrictions on travel for some states right now mean we won't have as many cars as usual there. We will just need to bring our A-game for tuning."
Fortunately Gregorini's tuning skills have been growing in recent years, as he takes lessons he learned a long time ago and turns them into modern strategies.
"When we purchased this Gforce Camaro from the Salemi family in New York 13 years ago, Jim and Jon taught me a lot. I really respect those guys. Over the years as the technology has changed we have adapted at each step and learned what our car likes. It's going to really be a tuner's weekend and may the best tuner take the gold! I think we could really be in for a chance at going two from two."
None of this would be possible without the support of the team's major sponsors Scratch & Match Autocolour, Kerb Doctor, Westcoast Siteworks, Kendall Oils, S & S Industries and Dalisa Estate Winery, along with supporting sponsors Signbiz WA, PT Promotions, Go Print, Dirty Detailing, Final Drive Engineering, Gforce Race Cars, Resolution Racing Services and DMPE