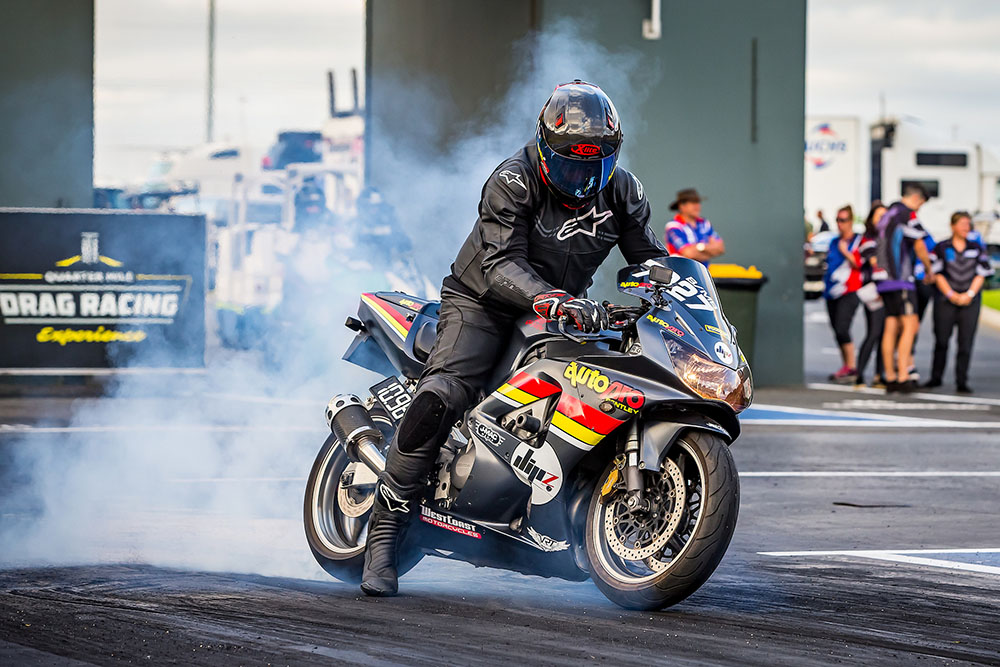 The former player-turned-commentator is a common transition in modern sports, but Western Australian motorcycle drag racer Jarrod Maclean decided to do the reverse.
After many years commentating at major drag racing events, Maclean – who will be in action this Sunday for the Super Sportsman Showdown at the Perth Motorplex (February 14 – decided he wanted to experience the thrill he was watching so many other people enjoy from the commentary box.
"It happened on a whim almost," he said. "I'd reached a point where I'd (commentated at) incredibly cool events, but I was starting to feel a little burned out doing so much commentary across so many different sports. In saying that, I still wanted to be around racing. I put a call out to motorcycle racer Daniel Natalotto to keep an eye out for a bike for me to get started on and it all snowballed from there."
Maclean chose the Modified Bike class for his on-track debut. The category is known for its low barrier to entry, but has intense competition.
"It seemed like the natural place to start," he explained. "I was never going to race a sedan. Bikes have always been a passion for me and it felt right. Modified Bike focuses on your racecraft first and foremost and lets you progress at your own pace.
"The field is tough, and saying it like that still feels like an understatement. The elimination format is absolutely brutal and we've only made it to the second round of eliminations on one occasion. We celebrated as if we'd won the whole event."
Maclean chose a Honda CBR929RR as his starting base to go racing. He said it was an older bike with a more predictable torque curve, which helped him as a new rider to high-capacity motorcycles.
"The AutoPro Bentley Honda has been a perfect learner bike for a budding drag racer. We've done the usual things like shortening the gearing, fitting adjustable rear sets and lowering the bike front and rear."
Modified Bike features a dial-your-own handicap format, which means each rider can nominate a time of their choosing they think their bike will run. The aim is to run as close to the predicted time as possible without going under.
"I knew it was going to take skill, but the sheer discipline required blew me away," Maclean said. "We've really put a lot of effort into making sure we come to the start line prepped and ready in exactly the same way each time to try and remove as many variables as possible. Outside of that, the experience has been incredible, with encouragement, help and advice coming from every corner of the pits."
Maclean has set himself up with a long term plan to get ever deeper into motorcycle drag racing, including a new bike once he has maxed out his Honda.
"We intend to finish our rookie year on the bike and put a pin in any bike modifications to allow us to race with a static setup for the 2021/22 season. Over the next six months we'll be purchasing a 2007 or newer 1000cc sports bike as a base for the 2022/23 season and build that up with a view to commence testing in the back half of 2022.
"While I've immensely enjoyed my tenure at the Perth Motorplex as a commentator, and it has opened so many doors for me, I'm not regretting my decision to go racing. I still enjoy calling a wide variety of other motorsports when able to, and play on my ability to chop and change between them all. Racing has been such an incredible experience that it's hard to think of something I'd rather do at the track."
Maclean earned his first round win at the Night of Fire on January 23, and when the Super Sportsman Showdown takes place on Sunday, February 14 he wants to add to the list.
"Of course we'd love to repeat and improve on that victory, but for now our desire is to win a clean green race on merit. To be able to achieve that would cement the belief that we're on the right track and would be a major confidence boost moving forward."
The Super Sportsman Showdown features Top Comp, Supercharged Outlaws and Outlaw Radial drag racing, with $25 all-access spectator pricing including pit entry. On-track action will run from 11.00am to 6.00pm (approx). For more information, visit www.motorplex.com.au