The Winternationals is one of Australia's most prestigious drag racing events, but for John Zappia it was a chance to dial-in a new auto transmission across almost two weeks of testing.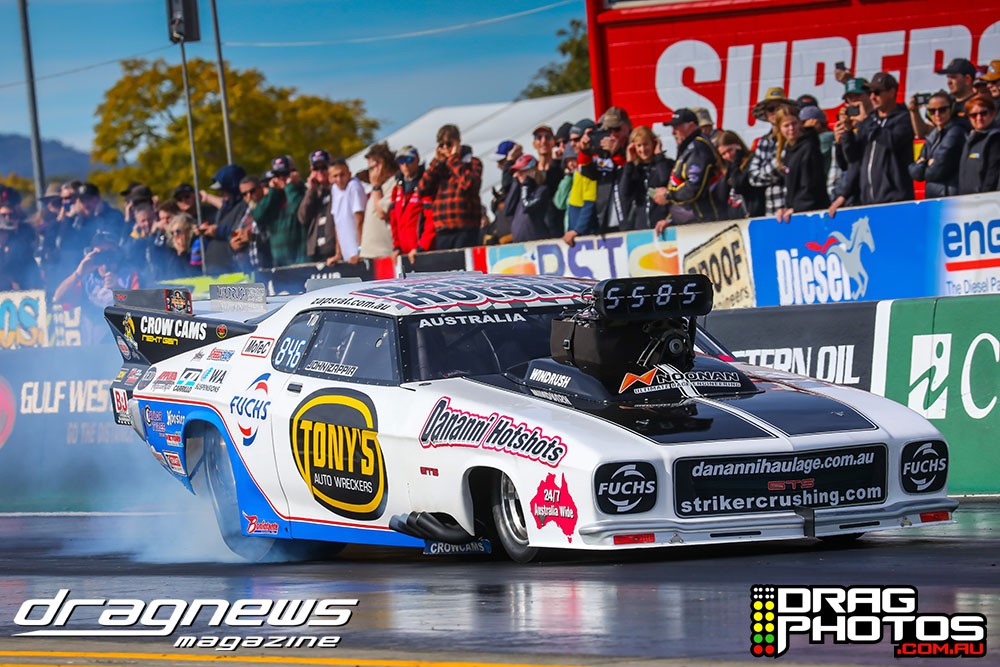 Weather and ambulance shortages in Perth saw Zappia unable to test at the Motorplex throughout May, so he made the decision to drive to Queensland early to get some much-needed runs on the board with the fresh combo.
"We have a Ty-Drive Converter Drive in the car now along with the B&J three-speed," he said. "We were running out of time in Perth and realised the chances of us being able to test were slim. With so many test days before the Winternationals, I decided to get over there and do the lot – all up we would get to do about seven days of testing racing across almost two weeks of being at Willowbank Raceway."
The first days of testing saw the team battle through some setbacks, with the skeleton crew performing well to keep the Dananni Hotshots/Tony's Auto Wreckers Monaro on the track.
"We blew the tyres off on the only run we made on day one, then came back out and banged the blower off the motor on day two. We got back to the pits and realised it had kicked a rod out of a brand new motor also. We also had ignition problems to fix from the blow up. The team worked until midnight to change the motor.
"We got back out there and launched well on day three and then sheared a keyway on the magneto. Again, we got everything all fixed up and then finally we were able to make a full hit with a 5.82/249mph."
Zappia and his full-time crew member Curtis Spadaro spent a few days between testing and the Winternationals going over small details on the car to make sure everything would be perfect for the start of the event on Friday.
A compulsory sighting run would be the first pass to make, where Zappia improved to a 5.78/251mph. "We felt like we were going in the right direction," he said. "This was a brand-new setup, but it seemed like we could make changes and see the effect of those changes straight away."
With two separate championship rounds on Saturday and Sunday, Zappia would have two chances to emerge with victory from the weekend. Saturday began positively with a 5.720/252mph, followed up by a 5.76. The seeding breakdown, based on times from the second round, saw Zappia miss a place in the final by just one hundredth of a second. He made a solo run in the third and final round of the day, with a wild wheels up run that had the crowd cheering.
"The Dananni Hotshots/Tony's Auto Wreckers Monaro carried the front wheels for about 550 feet (3.45seconds), and we still went through for a 5.73/250mph. It was a bit scary but a lot of fun as well!"
Sunday saw an unusual set of circumstances as Zappia faced off against Sam Fenech three times during racing. Both racers had their fair share of bugs during a mixed final day.
"On our first run the MSD Grid was unplugged, which meant we had all the power delivered to the rear wheels instantaneously. Needless to say, we blew the tyres off, and that blew our chances of making the final for the day.
"For our second run Sam had problems with oil pressure so we had a solo. Our car launched well for a 5.74 pass.
"We hoped the third run would be a good side-by-side race for the crowd. I'm still getting used to the new auto setup, which requires me to use a button and full throttle in stage instead of balancing the clutch with the revs. I got on to the two-step too early and then off it again, then back on again, and I ended up red lighting. But still we went through for a 5.71/255mph, our best run of the week."
While Zappia's name was not to be etched on another Winternationals trophy, he still saw the Queensland trip as an extremely positive one.
"We had no idea what we would be in for with this new transmission setup, so to come away with a 5.71 is impressive. I'd like to thank Todd Tutterow for all his help getting us going with the Ty Drive. My crew worked their butts off, they did a hell of a lot of work. We had a really good start with this automatic deal."
Zappia had little time to spare after racing was finished at Willowbank Raceway, packing up the transporter and beginning the drive to the Northern Territory for the opening round of the Australian Top Doorslammer Championship as part of the Darwin Triple Crown, which will also feature the Australian Top Fuel Championship, Supercars and Superbikes.
"This was a perfect test session for us in advance of a new era for Top Doorslammer racing. We've got a strong field of Australia's best Top Doorslammers heading to Darwin and we can't wait to return there for all of our NT fans. Let's hope we can kick off the new ADRC Top Doorslammer Championship with a good result and get the season started on a positive note!"