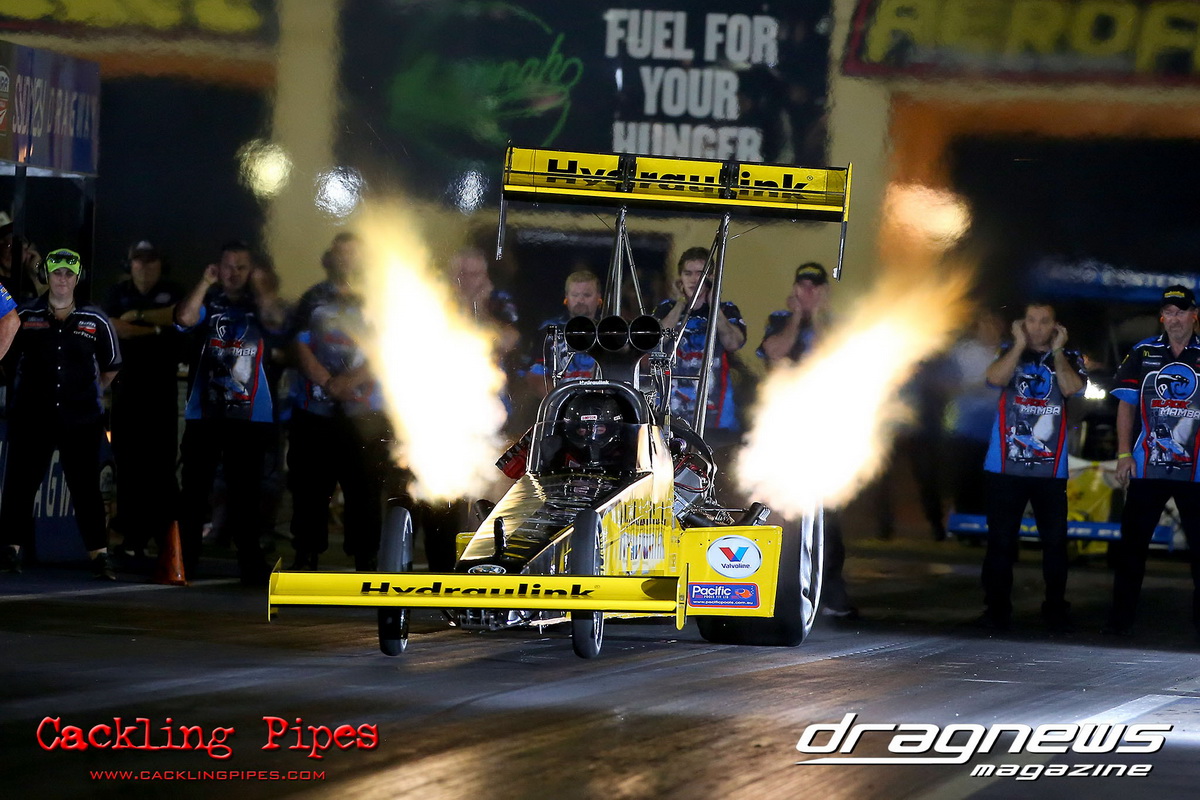 Jim Read Racing welcomed new partner Hydraulink to Top Fuel drag racing in spectacular fashion by setting a new Sydney Dragway track record at Santo's Summer Thunder last weekend, as part of round three of the 400 Thunder Top Fuel Series.
With brother Bruce Read making the tuning calls, Phil struck his first blow with a stunning 3.802 pass during Friday night testing, as the team finally found a persistent gremlin. The run was not only a new track record but also a personal best for Phil.
"When we last raced at Willowbank we did a test run and the car ran really well to half track, but after that it was dropping cylinders, shaking the tyres and frankly being a donkey," Bruce said.
"We had US tuner Jim Oberhofer out here and even he was perplexed as to why the car was not performing.
"After changing all the usual suspects like coils, spark plug leads and even examining the manifold in case it wasn't sealing properly, we came out for our first pass of Friday testing in Sydney and the problem was still there.
"It had to be either a clutch problem or a spark problem, so we changed the magnetos and it was like we had a different car when we warmed it up. We didn't change anything else in the tune up, went back on to the track and it ran 3.802, even with a dropped cylinder at 3.3 seconds and Phil getting off the throttle at 3.6 seconds."
---
SUBSCRIBE TO DRAG NEWS MAGAZINE FOR JUST $14.95 PER ISSUE
---
The confidence boosting pass from the Hydraulink/Jim Read Racing team had been just under the surface for some time and Bruce was happy to reveal the 10,000 horsepower potential he knew was inside the nitro-fuelled machine.
"I've been saying lately we have the fastest car that doesn't run fast; we knew it was just a matter of time until we found the sweet spot."
Testing was one thing, but race day was another as hot and humid conditions gave tuners a challenge. Phil faced Damien Harris in round one and got a big holeshot on the start line, but the Hydraulink dragster's power proved difficult to tame and the car spun the tyres down track. Phil was on and off the throttle as he attempted to keep the lead, but had to abandon the run as the car got sideways.
"That one got a little out of hand," Phil said. "I was pedalling and trying to get the tyres to stick again but when you are looking at the wall rather than the finish line it is time to call it."
The second round again seeded Phil against Harris and was a much closer affair, with the pair locked together until shortly before the finish line. This time a blower belt parted company with Phil's motor and Harris' 3.89 snuck home for the win against a 3.98.
That left just the final round, where the Read family knew it was time to deliver up against NHRA star Richie Crampton.
"One of the good things about all the Top Fuel teams is that no one is out there bragging or spruiking what they are going to run, everybody proves it on the track," Bruce said. "But I knew we had a better car than what we were showing and I told our crew that this Hydraulink dragster was going to run a 3.80 flat."
Bruce's prediction proved accurate as Phil unleashed a 3.803 against Crampton's 4.00, showing their Friday night run had been no fluke.
"We had the quickest car but we weren't the winners on the day, that is the beauty of the all-run format," Bruce said. "I think this format is one of the best things to happen for Top Fuel racing. The fans got to see us make three runs, and Hydraulink got to spend the whole day at the track watching us compete and turn around the car."
Jim Read Racing were pleased to host Hydraulink management, staff and franchisees at the track for the event, where they were able to get up close and personal with the nitro dragster in the pits as well as seeing thundering runs on the track.
"Hydraulink are a family-owned company and what they actually see in drag racing is the perfect demographic for potential franchisees," Bruce explained. "If you are a drag racer, or a drag racing fan, interested in running your own hydraulic hose and fittings business as part of Hydraulink, then we invite you to stop by our pit area and we can introduce you to the right people."
Jim Read Racing's next event with the Hydraulink dragster will be Santo's Super Thunder on Good Friday, April 10. The team would also like to wish all the best to the Top Fuel teams heading to Perth Motorplex for the Westernationals in a month's time.
"We would have loved to be at the Motorplex but unfortunately the date clashes with some business obligations," Bruce said. "We are looking forward to Willowbank Raceway and taking this Hydraulink dragster to even quicker times, and hopefully a win."
– Jim Read Racing Media Release