With the penultimate round of the Central Queensland Drag Racing Association Club Championship completed recently on October 30, the racers are counting down the days to the title's final stand on November 20.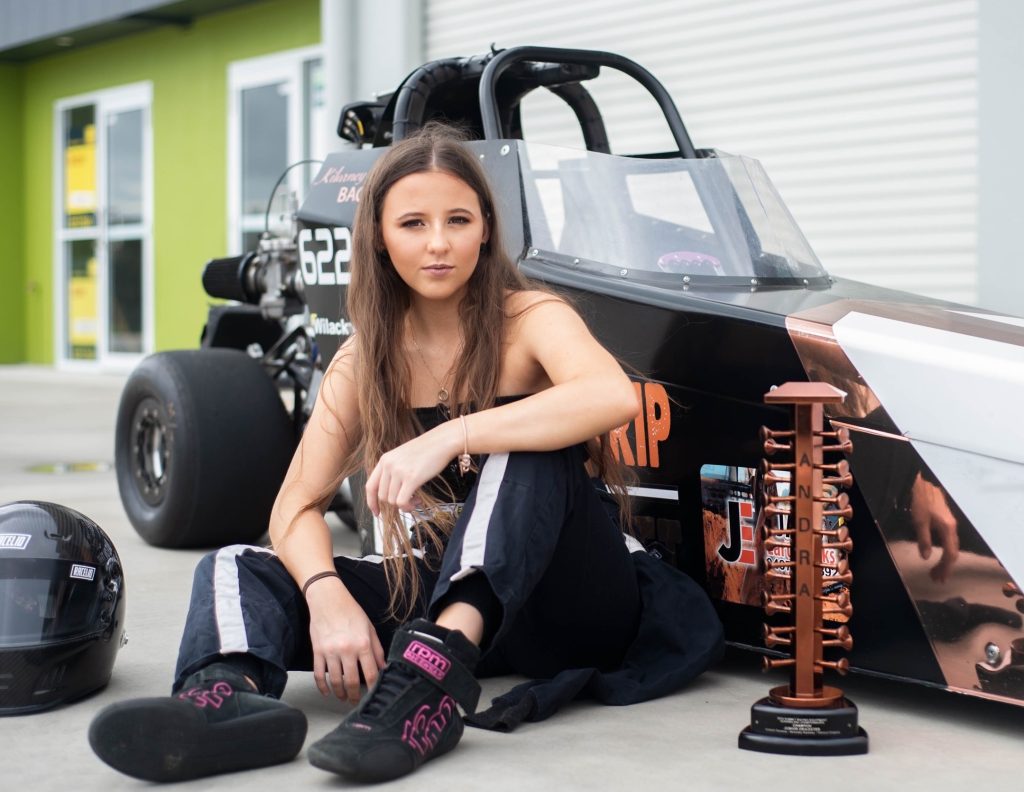 Taking out the wins and valuable championship points at the last round were Kilarney Back (Junior Dragster), Cody Baxter (Junior Drag Bikes), Jarrod Debono (Super Twins Bike), Rob Forte (Street Eliminator Cars), Tim Muirhead (StreetFighter Bikes), Dillan Lacey (Modified Bike) and Shane Stefaniuk (Supercomp Cars).
Runners-up were Tayla Kelly (Junior Dragster), Lillian Hagan (Junior Drag Bikes), Richard Culey (Super Twins Bike), Rhys Williams (Street Eliminator Cars), Geoffrey Marshall (StreetFighter Bikes), Jake Herriman (Modified Bike) and Dylan Bennett (Supercomp Cars).
One of the racers in the hot seat for the CQDRA title is Kilarney Back.
The 17 year old splits her time between drag racing, school, working part-time, and modelling, and has won every Benaraby event she has contested this year.
A Summit Racing Equipment Queensland Series Champion, Back did her title tilt plenty of favours at the penultimate round by top qualifying and winning the Junior Dragster bracket to widen the gap at the top of the Junior Dragster points tally.
"I was not expecting to be the Top Qualifier at the event, but I managed to pull out a 8.008 to get the trophy," she explained.
"I always go into a race meet with a positive mind and attitude so we can try and get the best outcome possible.
"I was happy with my racing at the last event – it started out well in qualifying with cutting some good lights on the tree and the car running consistently, but then when we went into racing my carbi came off mid-race in the first round, giving Tayla the win and making it hard to pick a dial-in for round two.
"Tayla raced really well, and she was very consistent, so I am pleased with myself that I was able to regroup and focus ready for the final so I could manage to get the win."
Back certainly keeps herself busy, balancing her title pursuit with school, part-time work and modelling.
"I have been so pleased with my racing this year leading the championship at Benaraby. I have not won a Track Championship before so that would be awesome if I could, seeing as this is my last year in Juniors," she said.
"My greatest accomplished so far has been winning the Summit Racing Equipment Queensland Championship and also getting my first Christmas Tree trophy.
"I have been very happy with how things have gone so far this year as I have won every race meet at Benaraby that I have attended, and I am very proud of that achievement which I think is a credit to my mum Nikki and my Uncle Nathan, who has filled in for my Dad (Craig) when he couldn't make it to some of the rounds.
"It sure has been a busy year. Modelling is certainly very different from being a drag racer, but it has given me so much confidence and helped me to be able to be comfortable in front of the camera and also with public speaking," Back said.
"It definitely keeps me very busy most weekends when not racing or working my part-time job after school!
"Although the future is unclear, I am very proud of my driving this year and very confident in my team.
"I would like to thank my sponsors, David from Direct Chemist Outlet Pacific Paradise, As New Maintenance Services Sunshine Coast and Jason from JADS Earthworks Bundaberg for all of their support."
The final round of the CQDRA Championship will be held at Benaraby Dragway on November 23. For more information, visit www.benarabydragway.com.au