Unpredictable, explosive, exciting: these three words perfectly sum up the National Drag Racing Championship (NDRC) show delivered at Sydney Dragway, headlined by crowd-pleasing Nitro Funny Cars, Pro Alcohol, Pro Stock and FuelTech Pro Mod racing.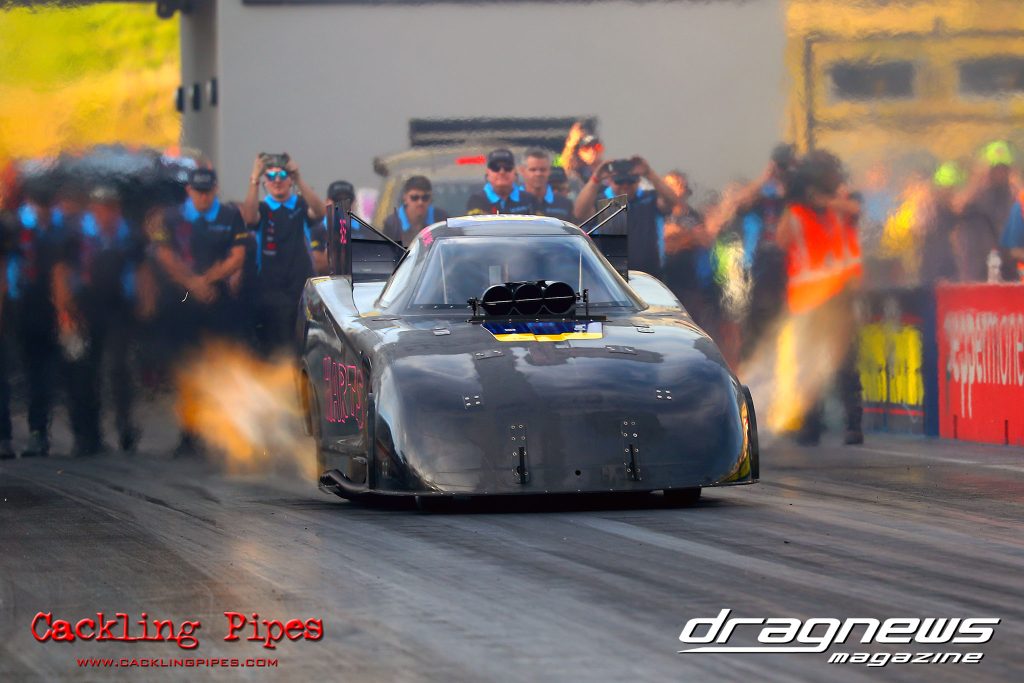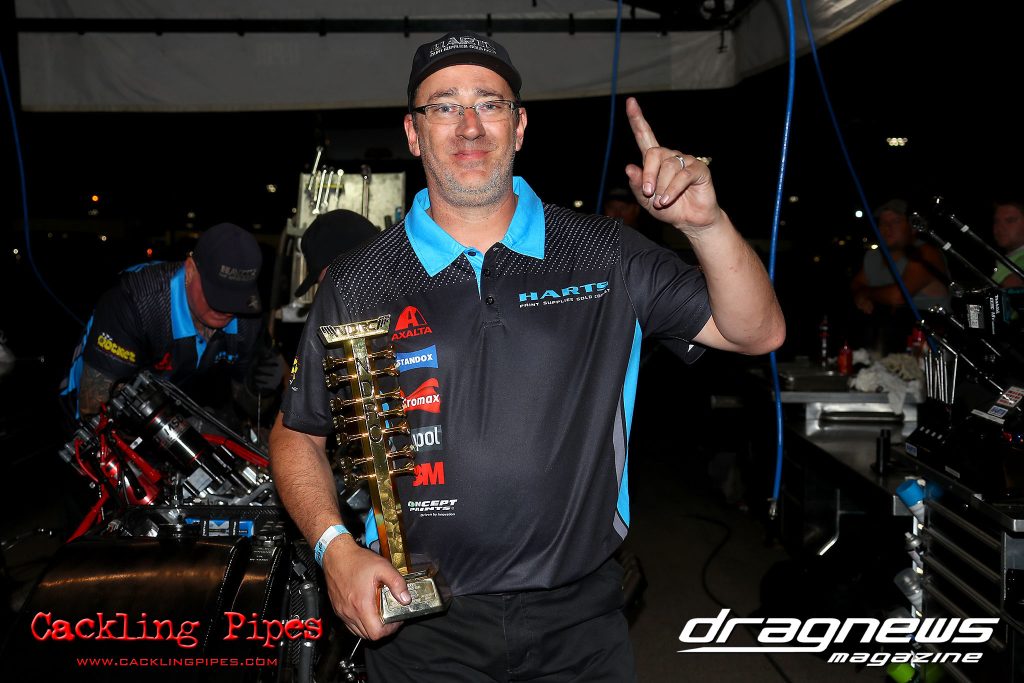 The drama was high throughout the event and reached fever pitch during the final run of the evening – the A Final for Nitro Funny Car with Justin Walshe vying for his first Gold Nitro Funny Car Tree and visiting US star Tommy Johnson Jnr hoping to become the first American to come to Australia and win in both Top Fuel and Nitro Funny Car, after having won in both of those brackets at home in the States.
Walshe and Jnr ran side by side down the track with full candles to the delight of spectators, with Walshe crossing the finish line first with a 5.223 second pass at 373.74 kilometres per hour over TJ's 5.592s pass at 296kph.
However, it was some moments before a winner could be announced, with the decision made by the meeting and technical officials following a detailed vision review and track inspection, when it was questioned as to whether Walshe's header had hit a centre line block, or if it was simply the fumes from his exhaust which had displaced it.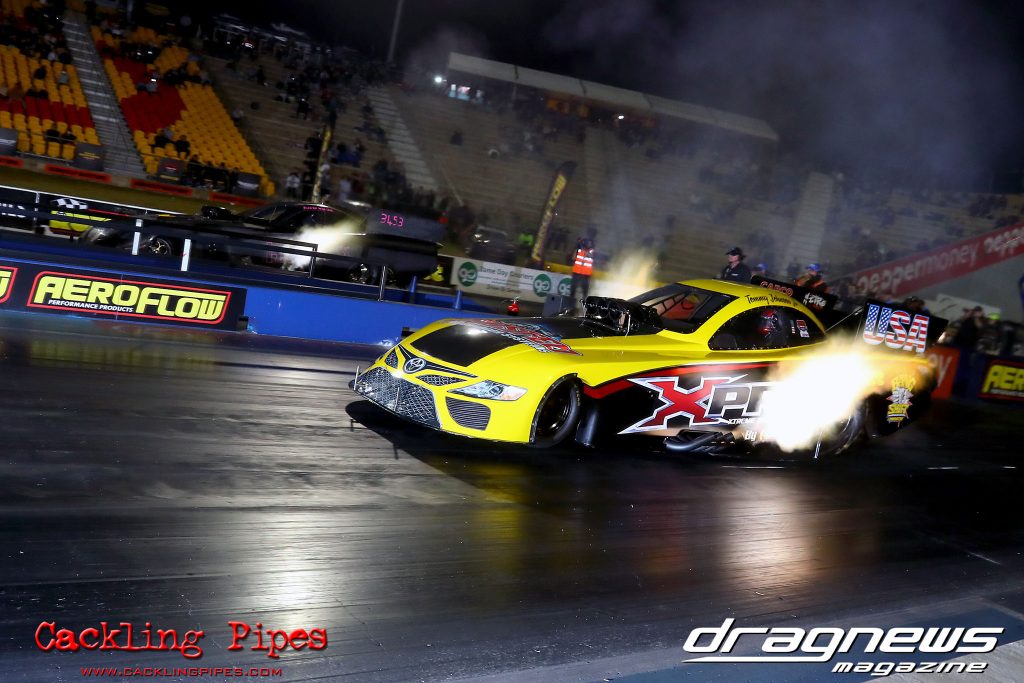 If it was ruled that it was part of the car which had hit the block, he would be disqualified and the win handed to the American, and everyone was on tenterhooks awaiting the verdict.
Ultimately, the decision was it was the fumes that displaced the block and Walshe was awarded a very well-deserved victory and presented with the trophy by 22-time national champion and Pro Alcohol racer, Gary Phillips.
"I am lost for words," a clearly emotional Walshe said upon hearing the verdict.
"Eleven months ago, I lost my dad. He had come racing with me since I was 20 years old. We used to race group 3 dial your own and he couldn't understand how I would go too fast and lose. We then stepped up to group 2 racing with the likes of Gary Phillips who is like a second dad to me, and also Graeme Cowin, who is like a third dad to me. And in Group 2 dad still didn't understand what was going on.
"He would say to me, when are you going to race something where first to the end wins! Unfortunately, he isn't here to see this. I am not religious or superstitious or anything, but he is watching over us today.
"There is no one I would rather accept this trophy from (Phillips) – this proves that the NDRC, this is what it is all about, guys like this, being able to award trophies to people like me, that is the big difference with this series."
While he didn't take the win, TJ was quick to congratulate Walshe and to forecast a return to challenge again.
"The XPro by Aeroflow Funny Car was on a really good run and then it started hunting around a bit, and I had so much clutch dust in the cabin I couldn't see anything, so I just shut it off," he explained.
"Justin and his guys did a great job, and I can't thank Graeme Cowin and XPro enough for bringing me down here. Second is okay, but I want to go for first! I hope to be back, I am already looking forward to it – come on Graeme, let's go!" he laughed.
The incredible Nitro Funny Car A-Final followed a huge weekend of racing for the bracket.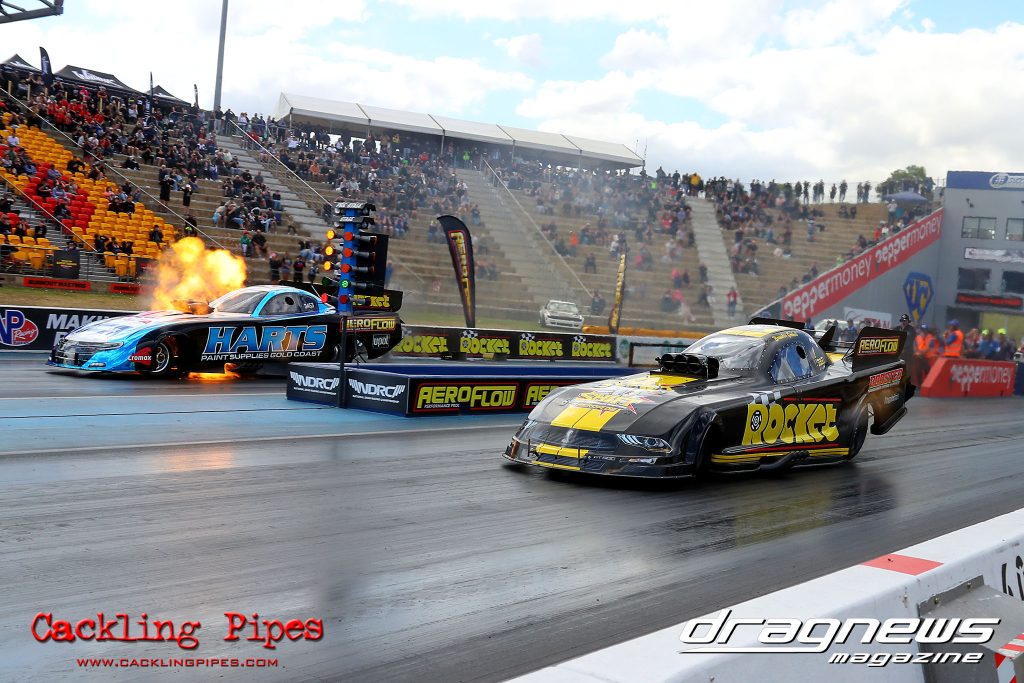 Last season's runner-up Brandon Gosbell opened the Nitro Funny Car books with a sub-five second pass at 4.97 and 381kph – buttoning it off early when he saw his opponent had red-lit and feeling an 'unhappiness' in his Rocket Industries Musang Funny Car, while his opponent Walshe banged a supercharger off the start with his chutes then deploying.
After a short wait for Walshe's car to be recovered, reigning champ Morice McMillin took on newcomer Adam Murrihy, delivering a 5.181 second pass at 211.53mph in the Aeroflow Funny Car to Murrihy's 5.481/342kph effort.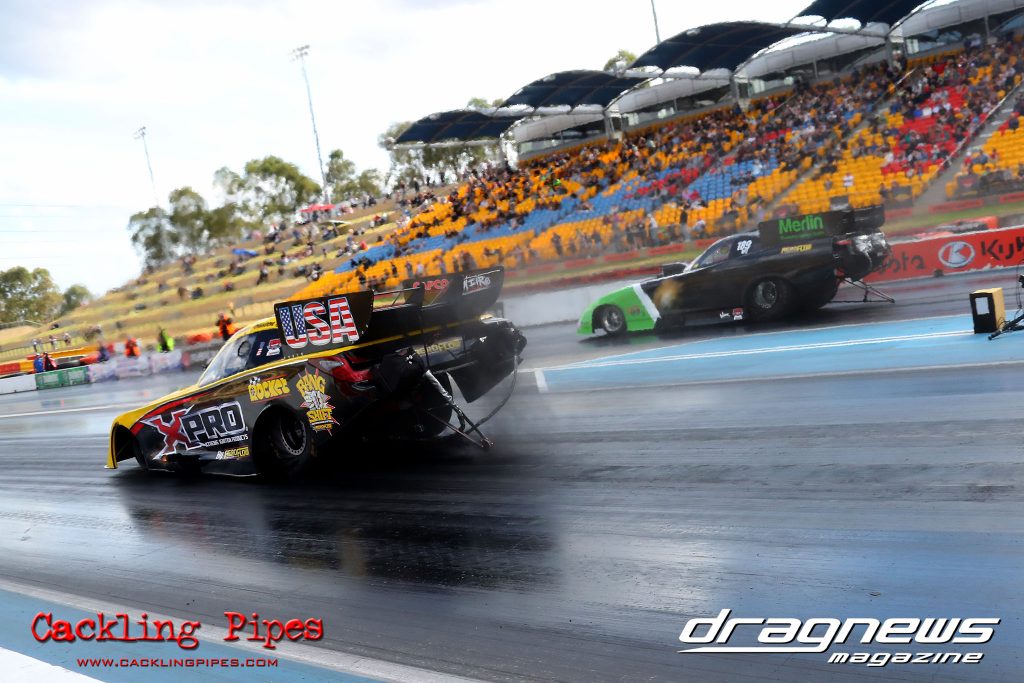 Johnson Jnr and fellow racing veteran Anthony Begley were next out of the box with a tense start with both experiencing issues on fire up, but frantic efforts by their teams allowed them to resume with Jnr going on to blow the rest of the field away with an incredible 4.74 second pass at 495kph with an early shut off just before the line – just four hundredths of a second off his championship-winning car's personal best. Begley meanwhile was off it early after running into trouble in Chemical Warfare soon after the launch, rolling through the finish at 7.666s/107.32mph.
Round two continued the drama, including a heart-stopping moment when Gosbell's car turned hard right across the centre line to come oh-so-close to his opponent, Begley, who thankfully had lifted slightly following tyre shake and was able to avoid the intruder into his lane.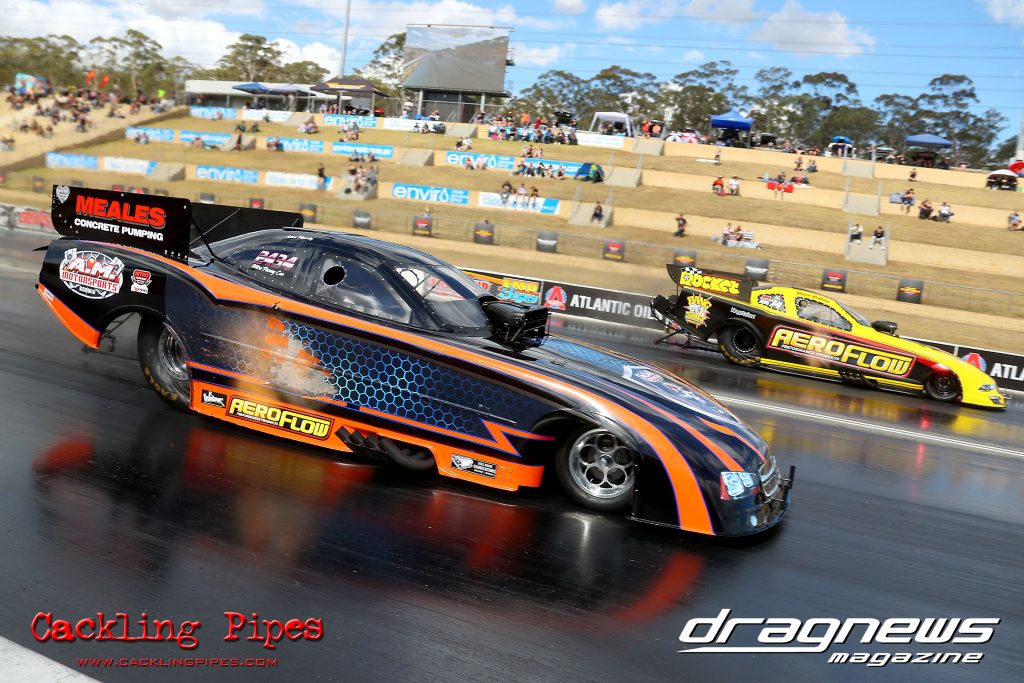 Next up was TJ and Walshe, with Walshe running a new body that had never been on the car before after a workshop dash post the round one damage. Both were out of it early, with TJ coming close to the wall and Walshe taking the win with a 6.22 ET.
The final pairing for round two saw McMillin and Murrihy face off, with trouble again striking both and McMillin taking multiple stabs at it but unable to stop Murrihy from taking the win with a 9.12.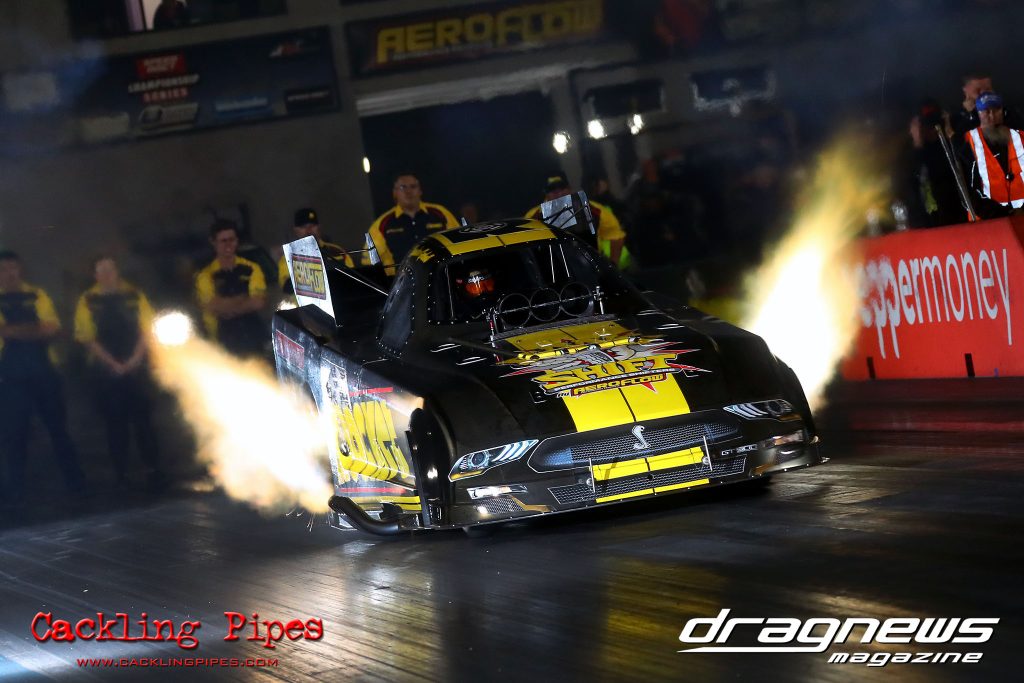 This set-up the final match-ups, with last year's title 1-2 McMillin and Gosbell running for the C final, with a red light for Gosbell handing the win to McMillin who ran a 5.227s/384.12kph run.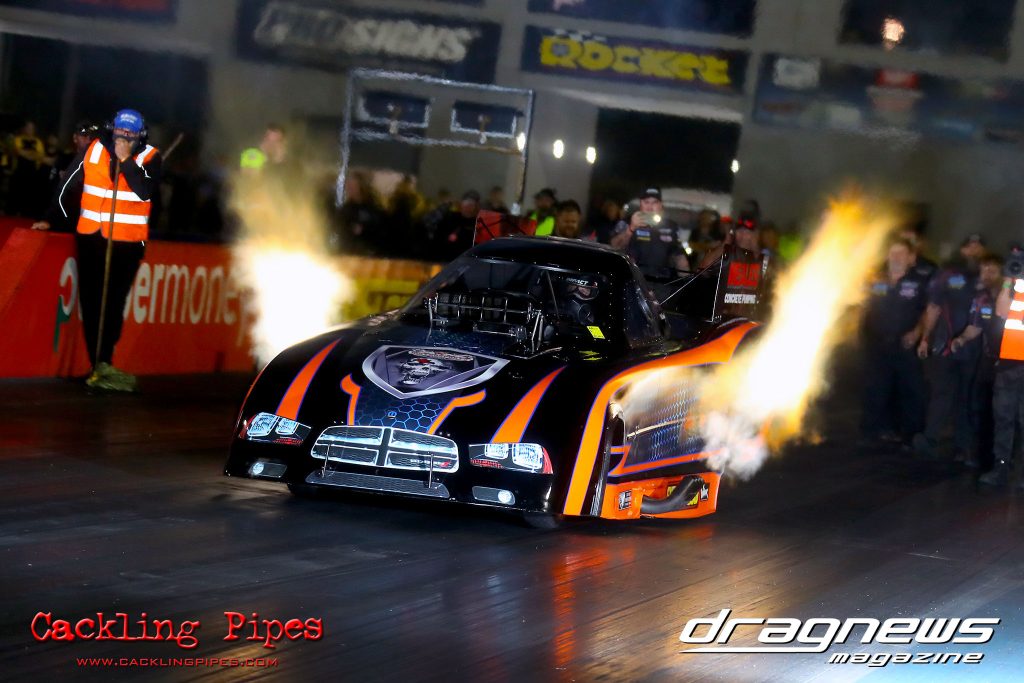 The B Final saw Murrihy face off against Begley, and while Murrihy's burnout sounded nice and crisp, Begley's sounded ugly and the crew elected to shut it down, leaving the series newcomer to complete a solo pass for the B Final win and third place for the round, despite an aggressive launch seeing the chutes shake out early.
Also taking to the track were the Pro Alcohol, Pro Stock, FuelTech Pro Mod group one brackets as well as racers from the Aeroflow National Sportsman Championship.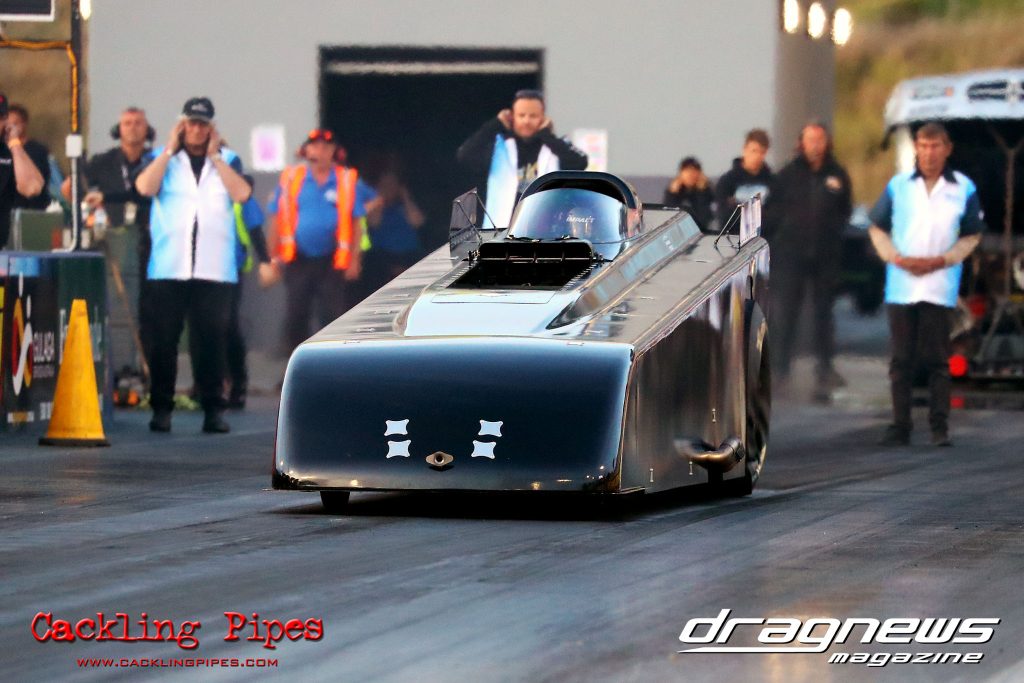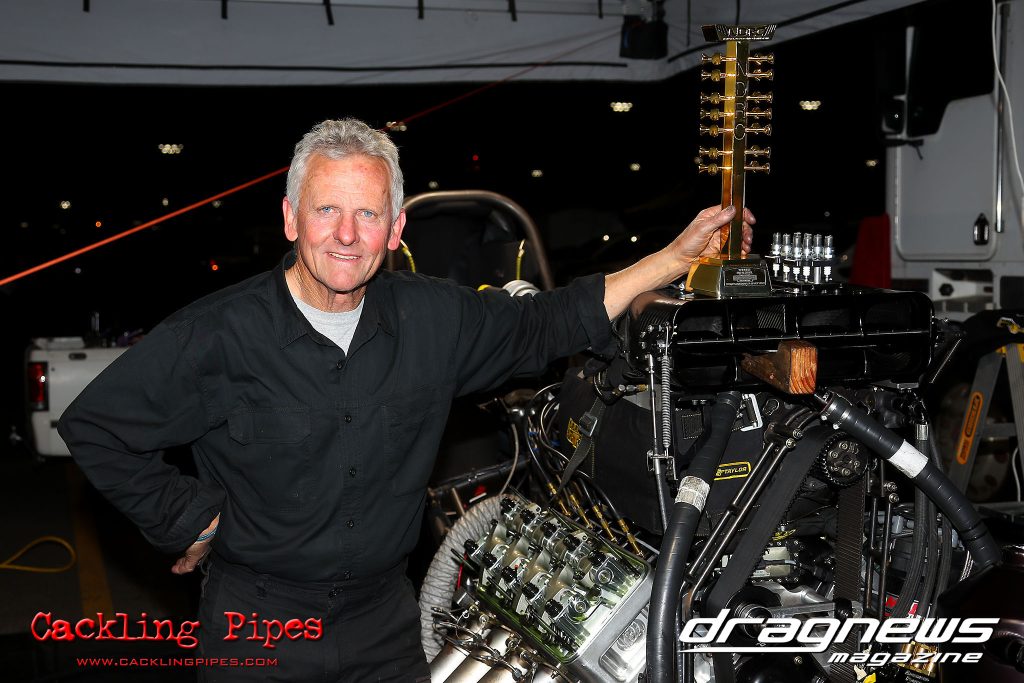 In Pro Alcohol, Russell Mills took the win in a weekend that also saw him set a new national speed record (431kph) from a red-lighting Daniel Reed, who was enjoying his Pro Alcohol debut this weekend in the storied Reed Transport Funny Car. It was a popular A Final match up, with the pair clearly the stand outs of the class over the entirety of the weekend. Chris Hargrave was third for the round, taking the B Final victory with a 5.629/416.88kph pass over Peter Lovering who backed off early after an aggressive reaction time.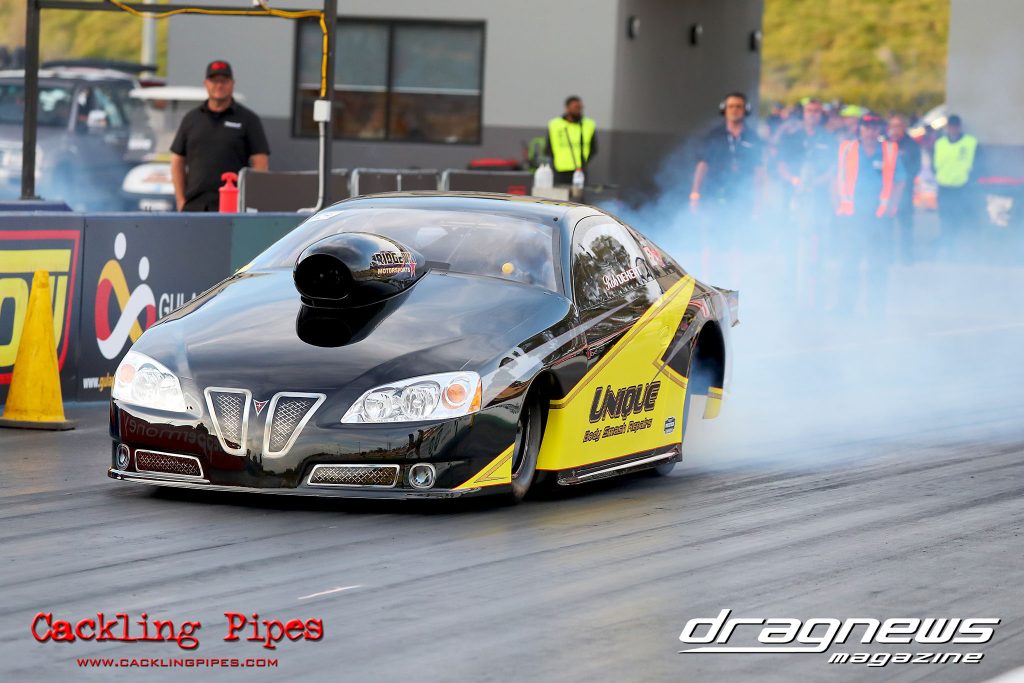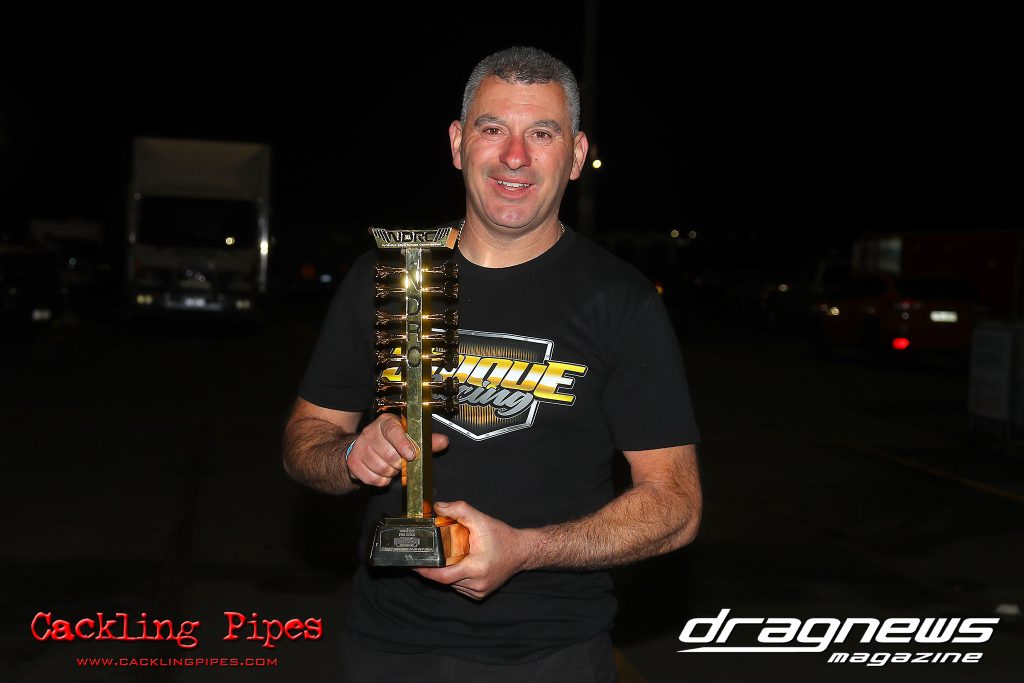 In Pro Stock, Rob Dekert made it a perfect weekend when the top qualifier took the A-Final victory over Rick Chilton who broke on the start line, following a round one solo win and a round two win over John Kaboura. Third placed for the round was Tony Polito, who had a solo for the B-Final and was off it soon after the hit.
"I am wrapped, absolutely over the moon," Dekert said.
"It has been a good weekend and thank you to my team for all giving me a hand. I am wrapped. This is some tough competition, and everyone is doing their bit. It sure is beautiful to hold a Gold Christmas Tree and I am committed to the championship one hundred percent."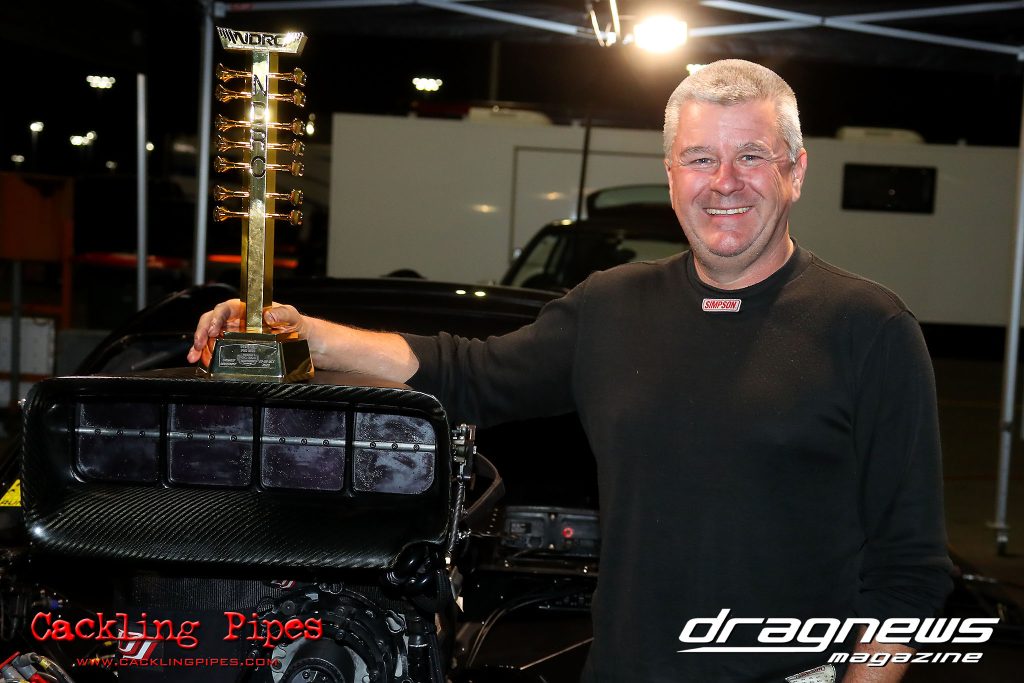 In FuelTech Pro Mod, Craig Burns was another to have a perfect weekend with the top qualifier also taking out the A Final victory over long-time friend and customer, Rob Campisi. Third for the round was Frank Tarabay with victory over Joe Gauci, who was debuting his ex-Carl Cox Mustang this weekend.
Also taking to the track today was the latest round of the Aeroflow National Sportsman Championship, with fantastic racing again on show from eight brackets as they battled it out for valuable championship points.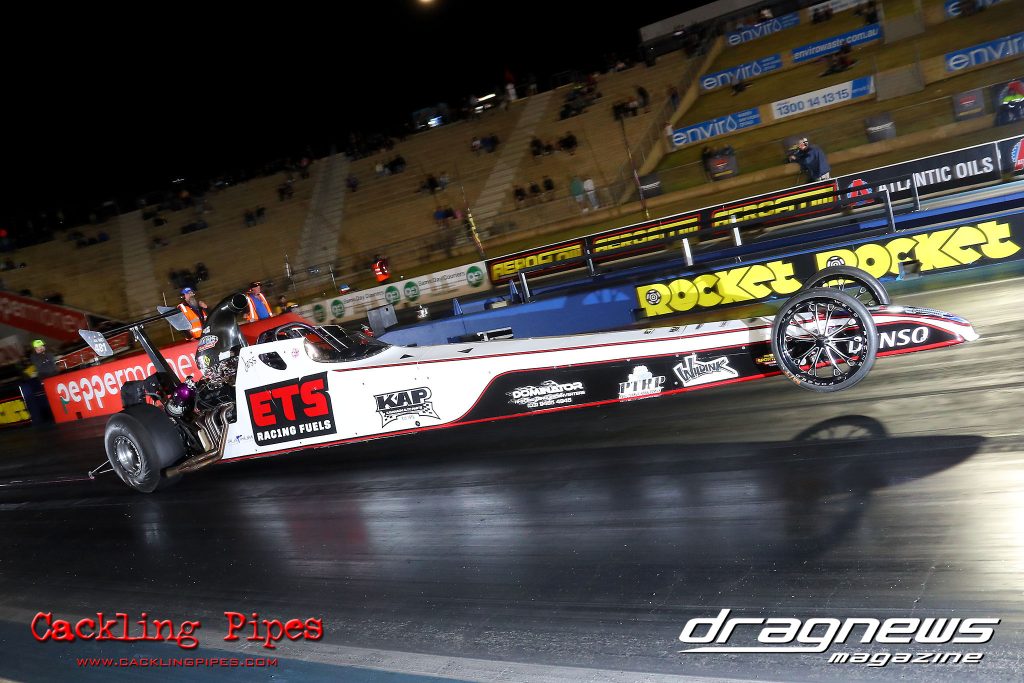 Taking the wins were George Terkalas (Junior Dragster), Nathan McKenna (Super Street), David Gruber (Super Sedan), Jess Turner (Modified), Steve Horvat (Top Sportsman), Mitchell Oxley (Super Comp), Joe Catanzariti (Super Gas) and Toby Austin (Supercharged Outlaws), with these racers emerging victorious from their final battles of the night against runners-up, Jake McNamara (Junior Dragster), Tex Griffiths (Super Street), Leo Georgis (Super Sedan), Peter Brown (Modified), Paul Partridge (Top Sportsman), Peter Pisalidis (Super Comp), Anthony Panetta (Super Gas) and Britney Olive (Supercharged Outlaws).
Carpinato, Pisalidis and Austin had their hands especially full at the presentations, also claiming the Top Qualifier honours for their respective brackets alongside Karl Schulz (Junior Dragster), Craig Warren (Super Street), Michael Milasiewicz (Super Sedan), Steve Fowler (Top Sportsman) and John Somoracz (Super Gas).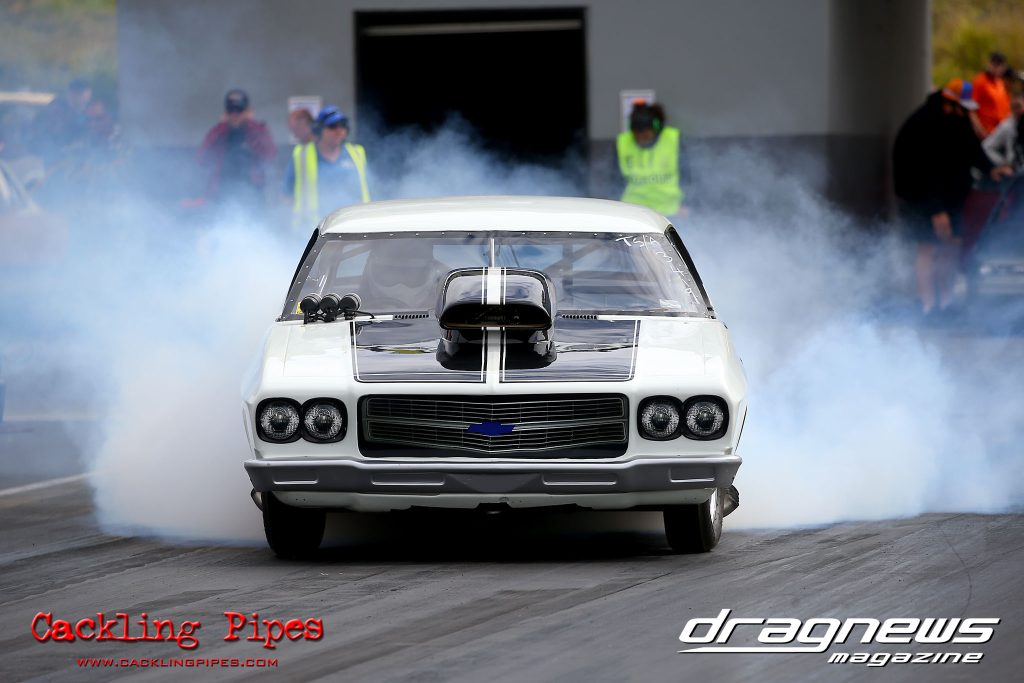 In Top Sportsman, Horvat was particularly emotional to take the win, being awarded not only a gold NDRC Christmas Tree – his first – but also the Frank Palumbo Memorial Trophy, presented by Frank's son and Top Doorslammer racer, Ronnie Palumbo.
Frank passed away on the 2nd of November in 2018 following a battle with brain cancer. That year, the East Coast Nationals were renamed in his honour. Now, the Frank Palumbo Memorial Trophy, presented by SterUclean Group, Morizzi Civil, and Solar Shine Australia, not only appropriately remembers a drag racing great, but also offers $5000 in additional prize money for the Aeroflow National Sportsman Championship Series bracket, as well as impressive custom-made trophies.
"It is great to claim this trophy. This is one of the best events you can go to, and I got it. I am very grateful," Horvat said.
"I am lost for words about it all a bit. I can definitely say this will stay with me in my heart forever.
"It was a good weekend overall, other than the weather Friday, the rest of it was great.
"In that final run, going in it didn't matter who would win – obviously you wanted to try and win it, but the best thing was being in it, and winning was a bonus."
The NDRC Group One Championship now heads to the Perth Motorplex for the Goldenstates across November 24 and 25, featuring Nitro Funny Car, Pro Alcohol and Top Doorslammer alongside the Aeroflow National Sportsman Championship, followed by Willowbank Raceway with Top Fuel, Pro Alcohol and Pro Mod alongside Australia's best sportsman racers across December 1-2. For more information, visit www.nationaldragracing.com.au