In a sensational evening of Top Fuel qualifying, the Atlantic Oils/Rapisarda Autosports International dragsters of Damien Harris and Wayne Newby stormed their way to the top the qualifying sheets in record time during round 4 of the Burson Auto Parts Australian Top Fuel Championship at Sydney Dragway's Gulf Western Oil Nitro Champs event.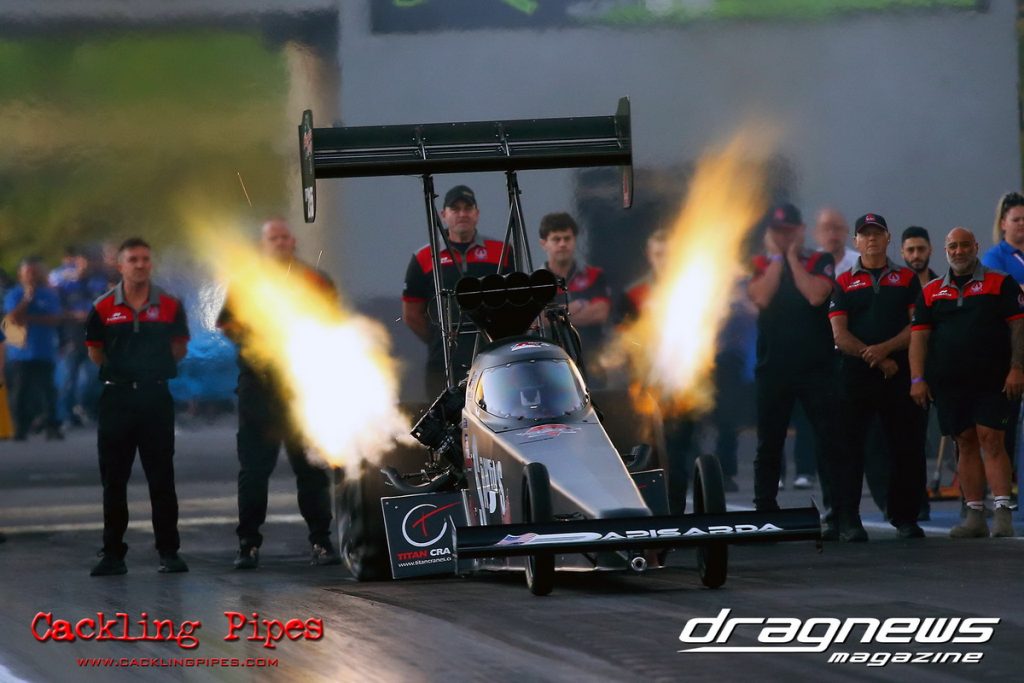 Last start winner Harris fired the first shot in Q1 with a 3.81/320mph blast alongside Peter Xiberras, with the PremiAir Racing machine clocking a equally impressive 3.83/318mph. Newby however looked determine to continue the streak of hometown event winners by trumping everyone in the last pairing of Q1 with a 3.80/323mph.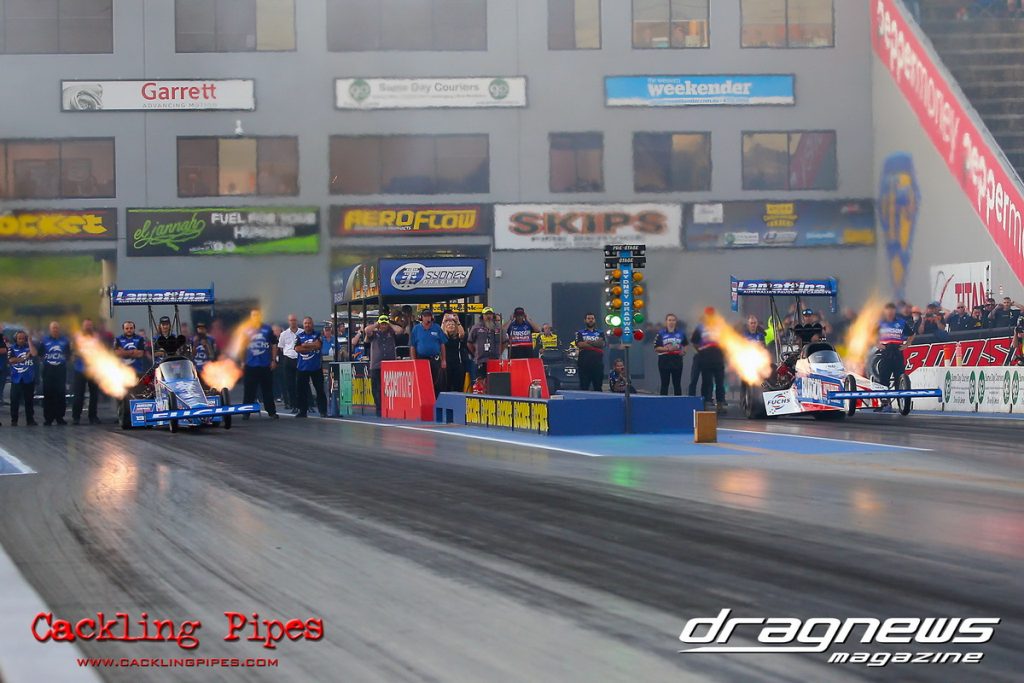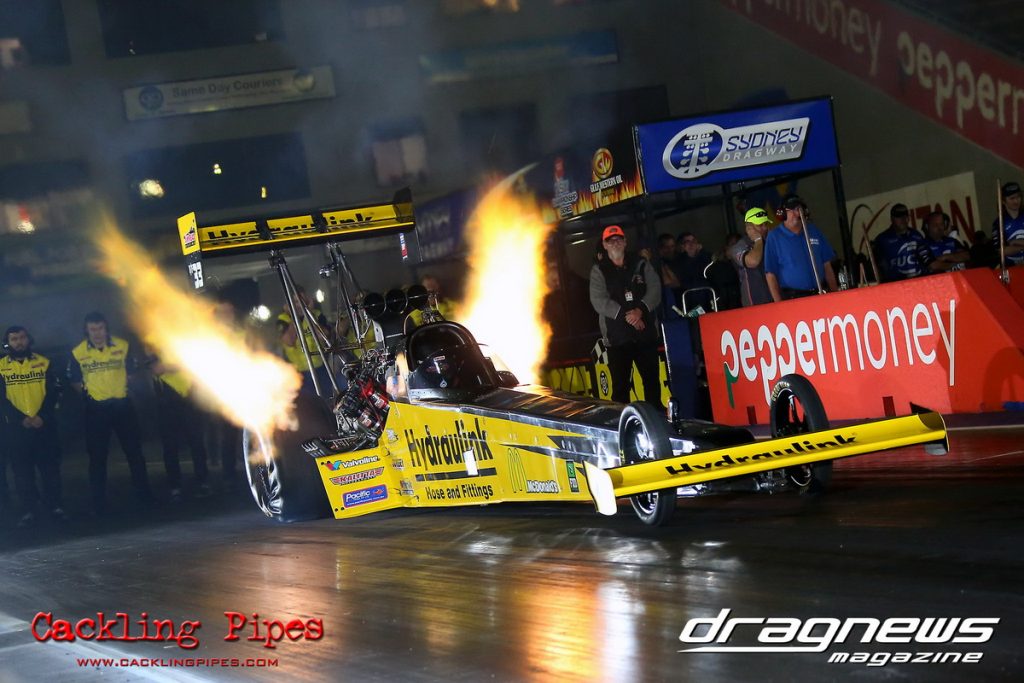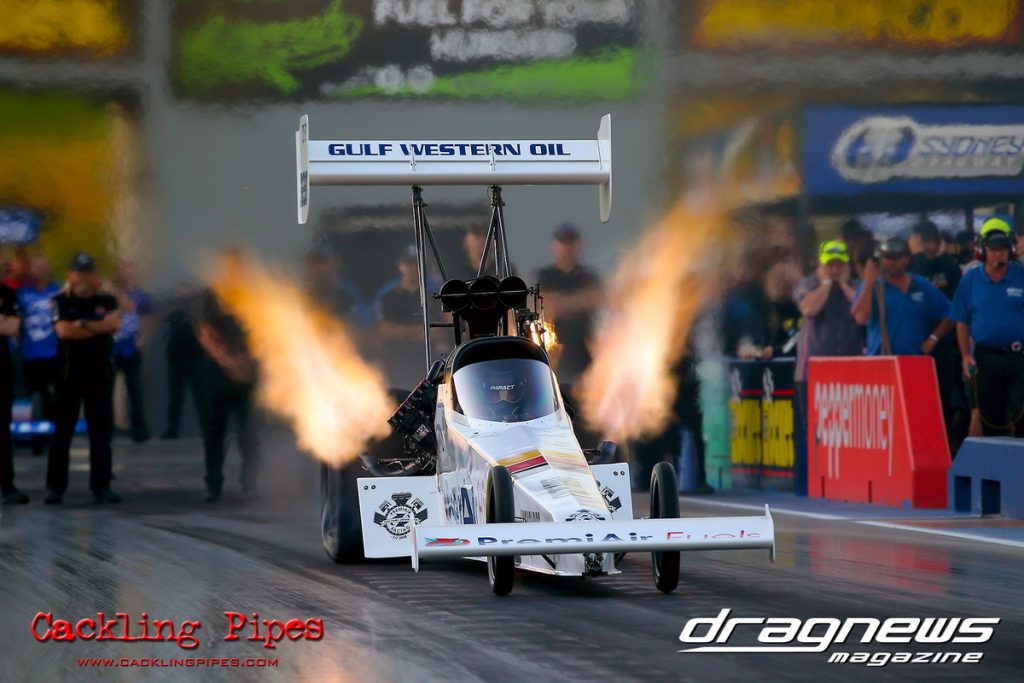 With the crisp air of Q1 turning to pure cold by Q2, records were there to be broken if the tuners were good enough. Phil Lamattina scorched and engine in Q1 on a 3.96, but the Fuchs Lubricants dragster improved to a 3.82 for third, though untidy, appearing to push out some head gaskets. In the other lane Phil Read could not improve on the Jim Read Racing/Hydraulink team's first session 3.84. Both Shane Olive and Xiberras shook badly in their attempts before the RAI cars featured in the final pairing.
Newby shook and shut off before 60ft, but it was the West Aussie Harris, who blitzed the 1000ft distance with a track record 3.77, at what we believe is a national record breaking speed of 327.27mph, to steal the number one qualifying position from his team mate, and lead one of the quickest Top Fuel fields ever.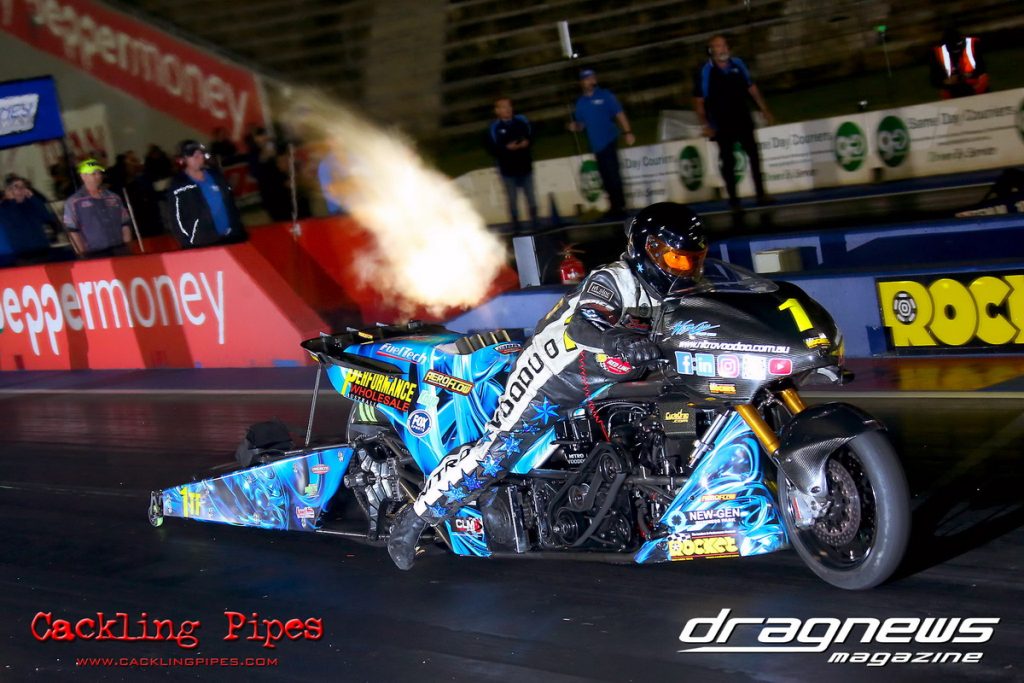 In the other classes and there is not much to write about in Top Bike, with no clean passes laid down.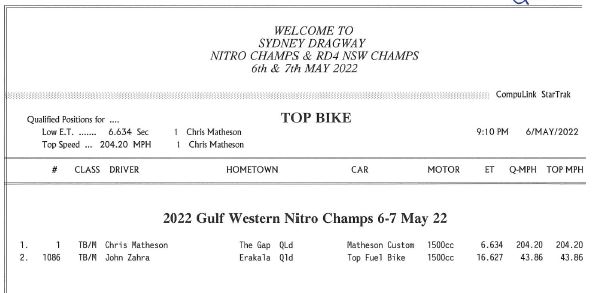 Pro Slammer had their Q2 session moved to Saturday morning when track condition just got too cold after some delays, but Steve Ham is leading the field by a bunch with a 5.65.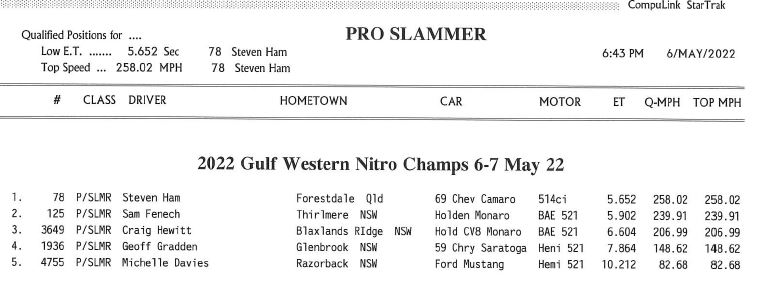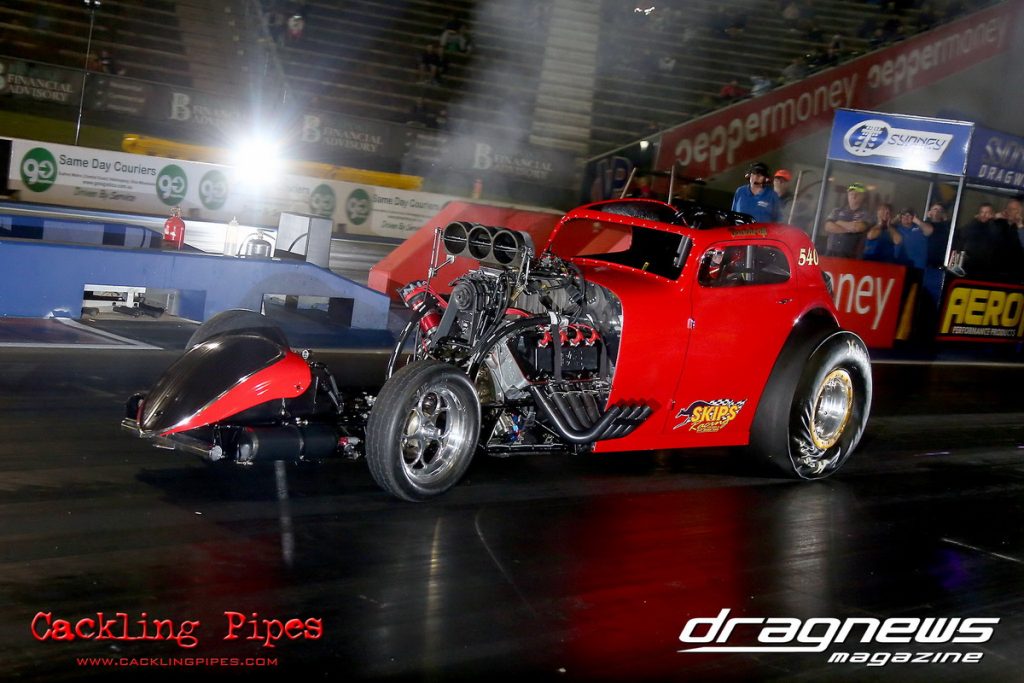 Likewise Pro Alcohol lost their Q2 session as well to the cold after Brett White wrangled his funny car down track for a 6.002. While Darryl Walford showed off his stunning new Topolino bodied 'Backdraft' altered.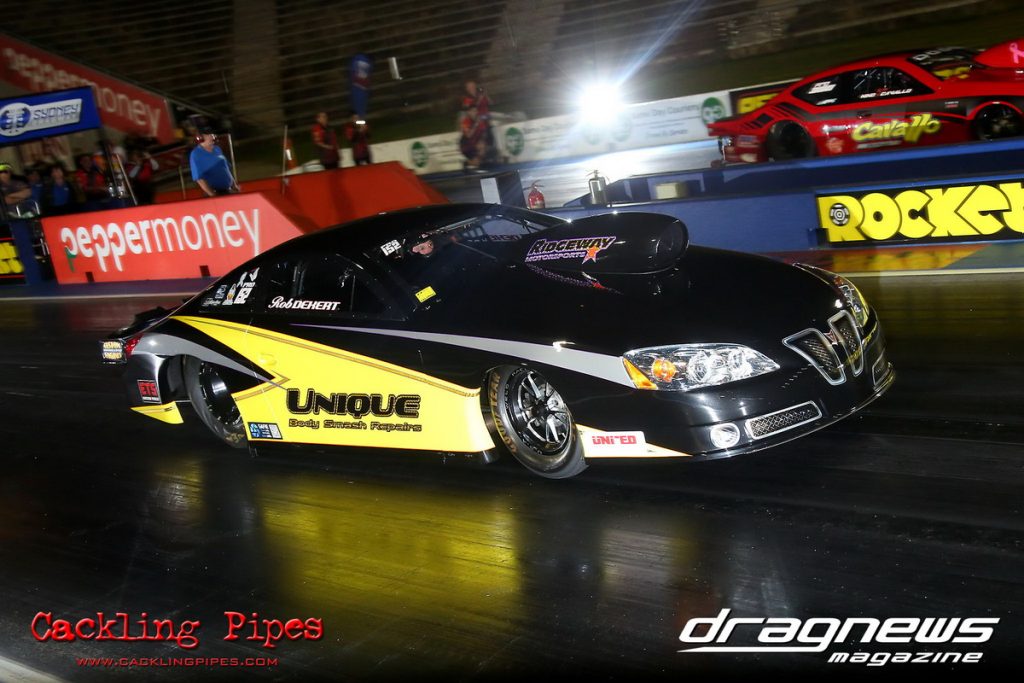 In Pro Stock, Rob Dekert's GXP was the only car to find the six second zone with a 6.99, in conditions that nay have been too good for the naturally aspirated brigade.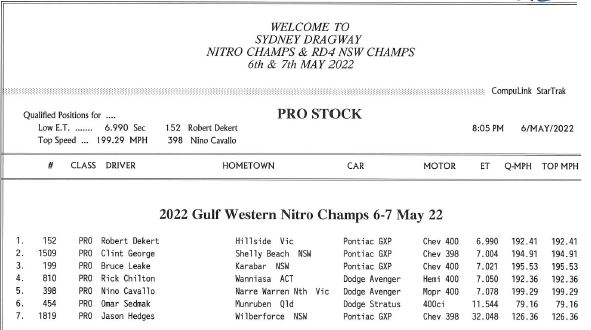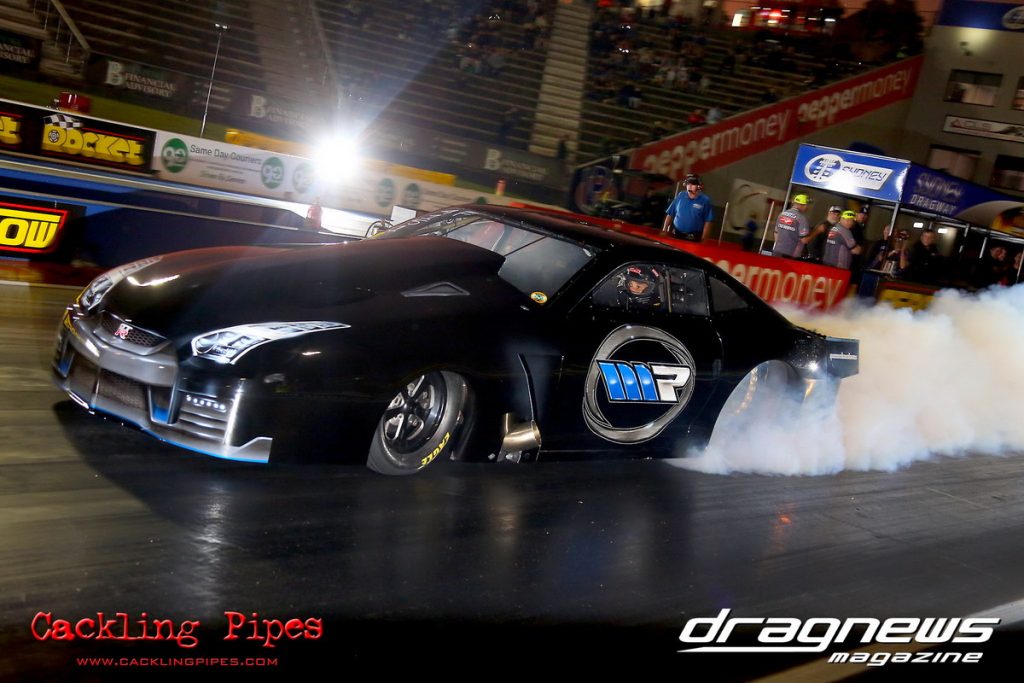 A RB six cylinder leads the Pro Mod field. Anthony Maatouk driving "The Don" GTR ran a 6.32 PB to top qualify in a car with only a couple of full passes in the books as they chase the first 5 second RB crown. Rob Campisi did punch out a 5.81 but that was too quick for the 5.85 index.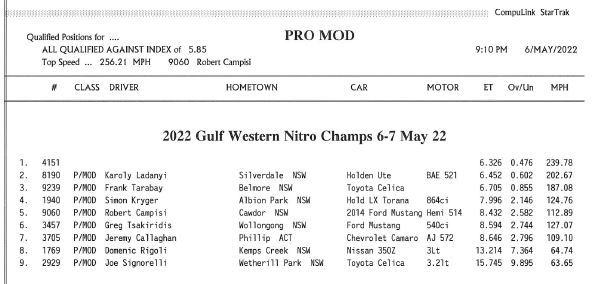 Racing resumes tomorrow from 9.30am with the continuation of the Speed Adict Clothing Co. NSW Championship Series program, Opening Ceremony will take place from 2pm.