Fitting a two day event into one day was always going to be a struggle, and with further delays due to fog, a late night finish was inevitable. While the wait was tough on Sportsman racers, with such a monster crowd in the house, the professional show had to take priority for the spectators.
Fortunately the dew stayed away, and the track held its own in the late night conditions when racing was completed after the midnight hour. Here is a wrap up of results from the sportsman classes.
Starting off in Pro Radial and conditions are always tough for these guys who are used to racing on a track specifically for radial tyres, so there is plenty of tuning adjustments needed to adapt to a more general style of track prep.
Running an 'All Run Format' over the eighth mile distance, were only six cars in the field – but it did featured some quality. Frank Marchese running his head-turning procharged Firebird for the first time could have run in a DYO class it was that consistent. A 4.04 in the first round against Tanya Thompson's VH Commodore's 6.33 was backed up by a 4.03 win also against Thompson in round two, guaranteeing a final.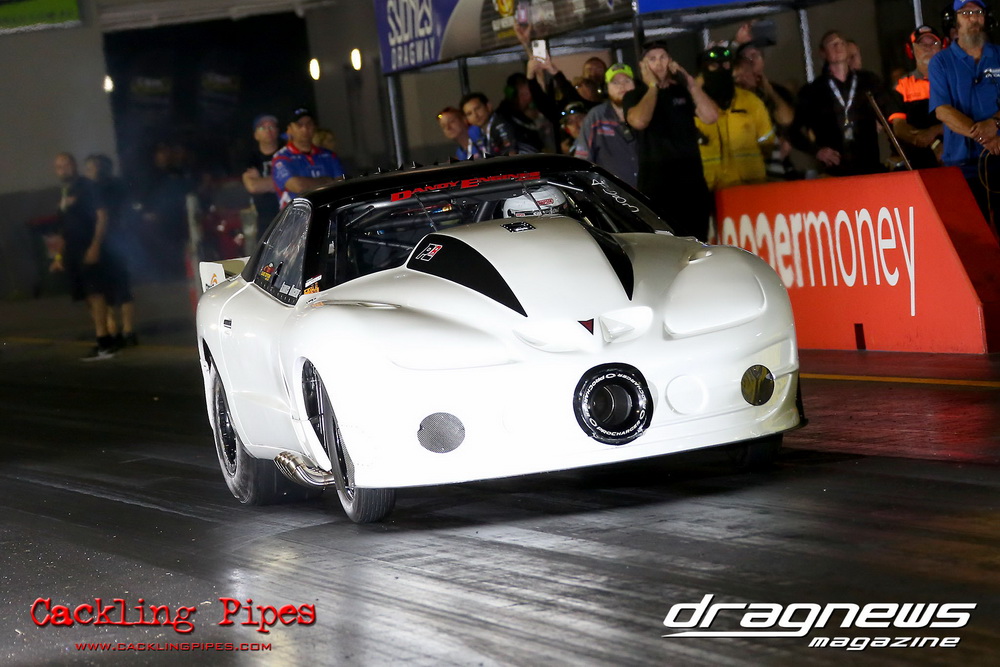 Marchese would only be matched by Joe Gauci, the stunning ProFab Mustang scored the win over Simon Kryger running a Capri in round one, but a 4.59 was not what the team was looking for. With Carl Cox who was fresh off a 3 hour DJ set the night before for the Sydney Dragway faithful that withstood the day's rain, also took a first round win on a monster holeshot over Craig Hewitt's blown Monaro, 4.51 to a 4.40. Importantly for Cox he out run teammate Gauci for ET points.
Gauci dropped the hammer in round two to the tune of a 4.00 against Hewitt's 4.24 leaving Cox having to produce something special. Against Kryger the win was decided pretty quickly when Kryger's nitrous Capri went skyward and Cox drove to a 4.96 win, not quick enough to oust Gauci from the final.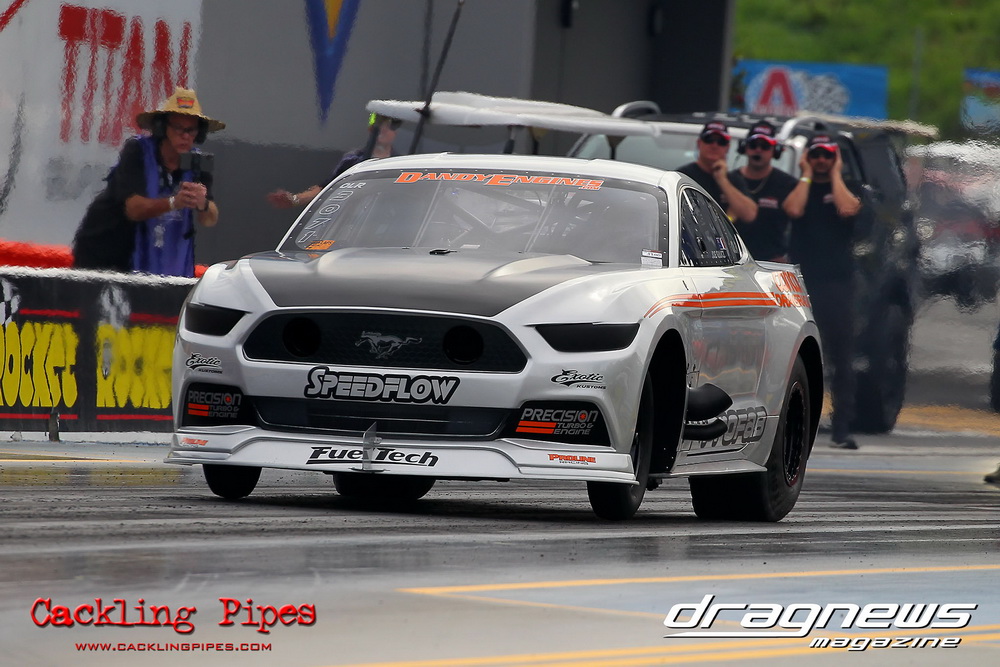 Two Australian icons in the radial scene delivered on the expected first class final, Gauci had the holeshot and kept the boost wound up to keep the nose of the twin turbo Muzzy ahead of Marchese at the stripe 4.03 to 4.10.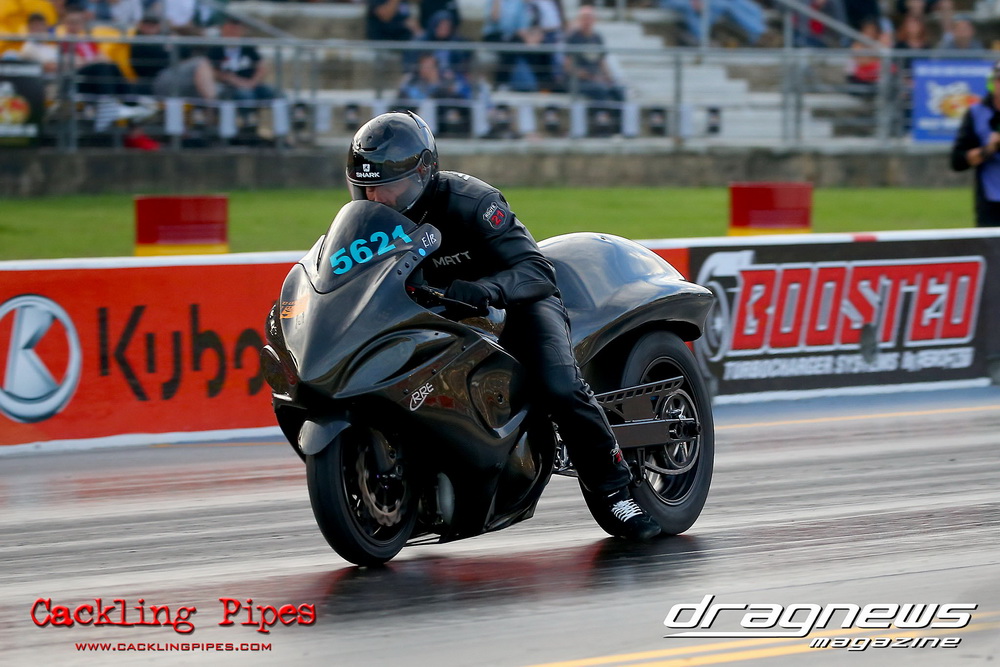 The no limits Extreme Bike class was also run on the All Run Format over three rounds, and the question was who would be able to stop the no-bar bike king Leonard Azzopardi. Answer was no one, at least for this event. Azzopardi blistered the field, a first round 6.85 over team mate Alex Borg at a stomping 216MPH set the scene. Azzopardi took down Darren Foley in round two 6.92 to 8.16 to set up the final.
Back to round one and Matt Walker snuck a holeshot win over local Brad Mannix 7.55 to 7.45. Edge Mallis who dropped into the class due not enough entries in Performance Bike went 7.55 on a solo aboard his killer Kawasaki combo – the only non-Hayabusa powered bike in the field. Brandon Gosbell can run with Azzopardi, and dumped a 6.97/207MPH run on Darren Foley in the remaining round one pairing.
Walker earned a win in the second round again on a holeshot, this time over Mallis 7.44 to a 7.38. Gosbell had problems and was upset by Mannix handing a other final slot to Walker.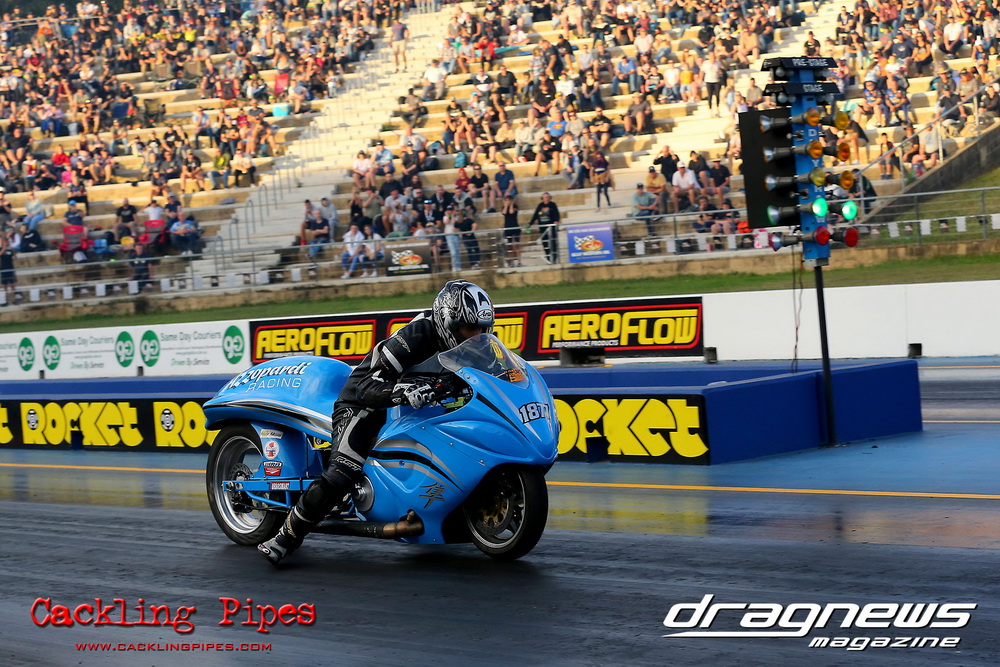 With no choice but to throw everything at Azzopardi in the final, Walker came up with a -.076 cherry and Azzopardi sent 'Out Run' on a low ET 6.82/214MPH pass for the win.
Super Comp along with the rest of the sportsman brackets received a one shot qualifier, and many didn't miss, with over half the field under their respective National Records. Leading the pack was Jason Simpson's G/GA Probe -.275 under with a 8.15, he was clear of the pack by over a tenth, with Daniel Nicastri's E/GA GTO nearest sitting on a -.154 under 8.70.
Simpson had an easy run to the semi finals with opponents Daniel Camilleri and Darrin Gay picking off cherries, before meeting Wade Moran's A/APA Monte Carlo. Fourth qualifier with a -.133 under 7.12, Moran knocked off John Kabboura's wheelstanding A/MPA Torana with a 7.02 and Omar Sedmak's A/APA Stratus in a heads up match up with an even quicker 7.00 before the semi. Moran all but buried Simpson on the in tree in the semi and finished him at the stripe with a 6.98 on a 7.26 index, driving around the Probe's 8.09 on a 8.43 index.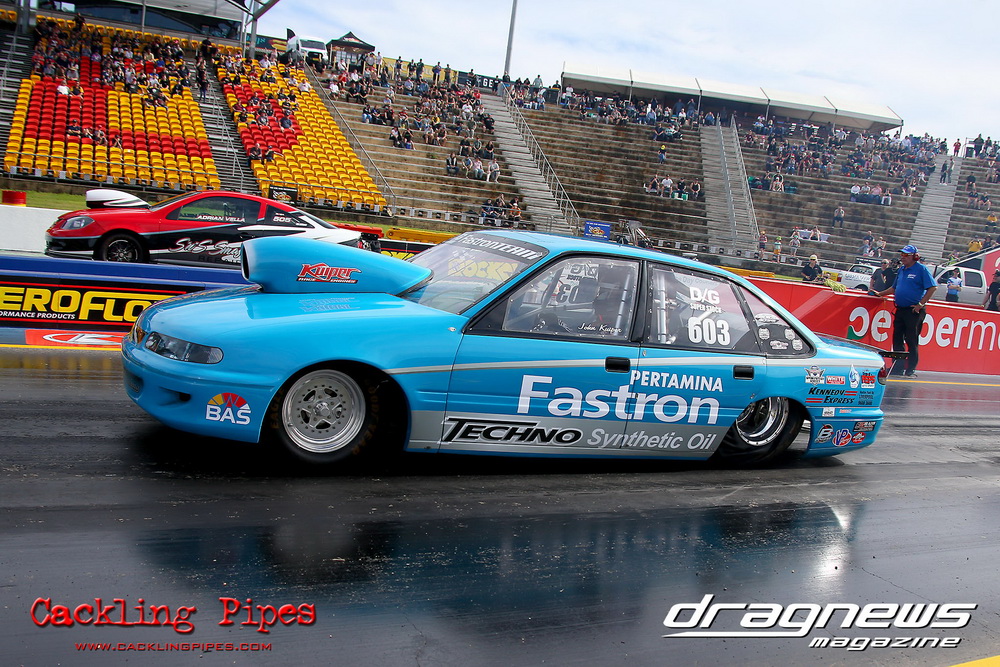 Moving through the other side of the ladder was John Kupier's D/G Commodore, the number three qualifier took consistent 8.31 wins on a 8.54 index over Kit Hunter and Paul Beauchamp respectively, before meeting Adrian Vella's little Cobalt in the semi. Vella up from Victoria qualified mid-pack with a -.074 under 8.27 on the D/GA 8.35 index, and stepped up his performance to an 8.22 to defeat Mike Bailey in round one and a -.003 red light from Hugo Di Gianvincenzo saw easy passage through round two. Unfortunately the Cobalt appeared wounded in the semi and didn't leave the line at the green seeing Kuiper into the final with a 8.30.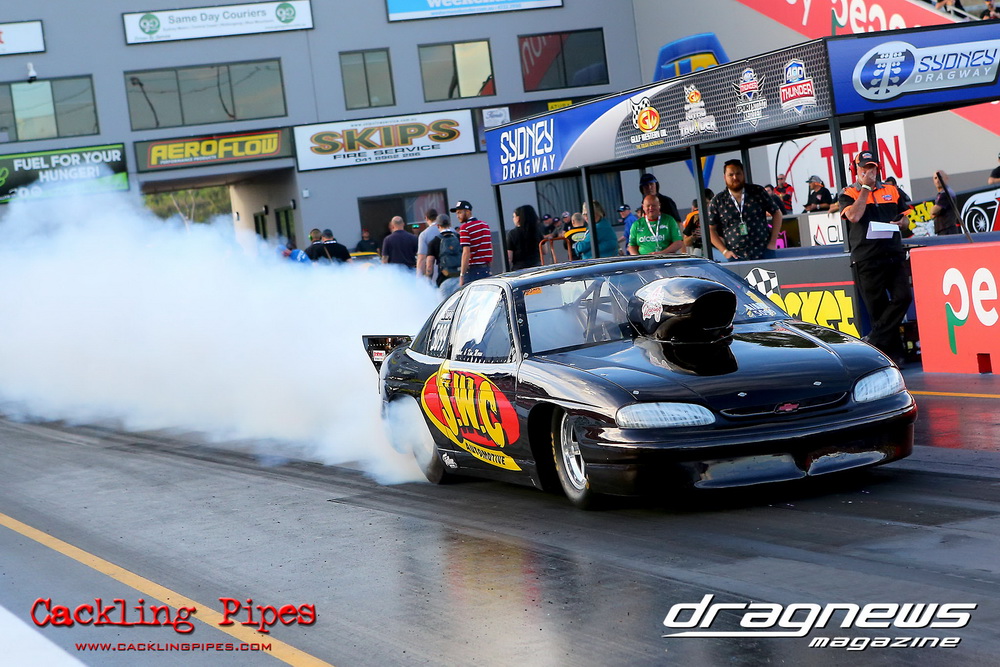 The final would be the last race of the night, and that was reflected on Kuiper's sleepy reaction time, by comparison Moran was sharp with a .016 and the Monte Carlo easily wrapped up the win driving past Kuiper's 8.42(8.54I) with a 7.09(7.26I).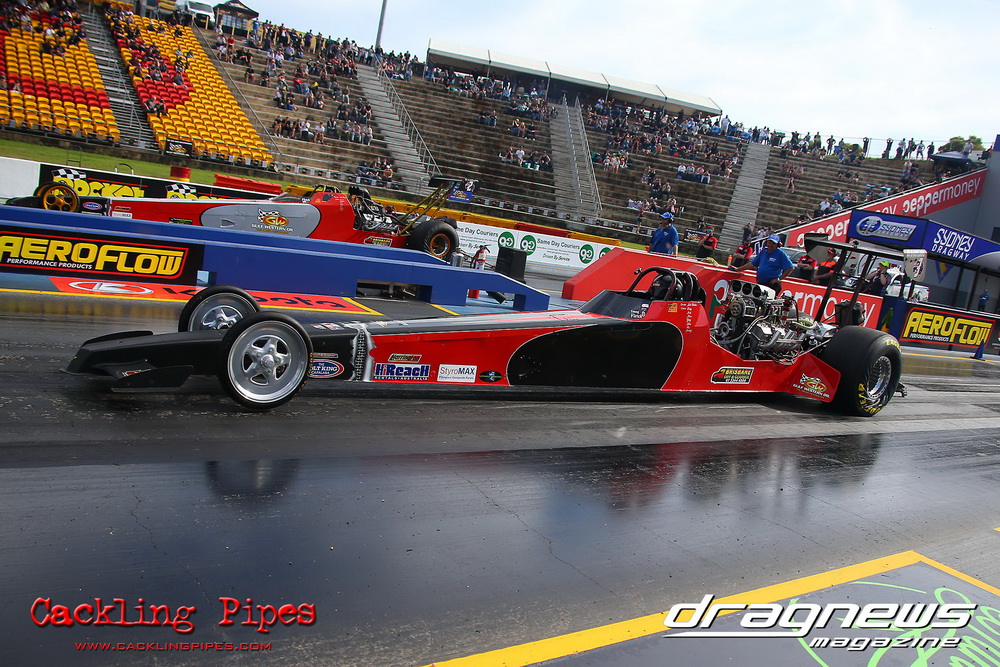 Supercharged Outlaws was dominated by the interstaters, in particularly the Fletcher family, the father and son dragster duo facing off in the final. The elder statesman Bill earned a solo in round one as top qualifier, before running a tough 6.76 on a 6.75 in round two to send Alf Sciacca Jr's Lamborghini to the trailer, and identical numbers in the semi final ended Mike Evan's run. Meanwhile son Josh also scored a round one solo with Paul Stephen hurting the driveline in his new altered and not being able to front, he then earned another solo when Greg Angus' Monaro couldn't take the tree and finally another solo through to the final due to the odd numbered field size.
Josh's first actual opponent for the event would be his father in the final. Youth would win out at the tree .062 to a .252. Josh still with plenty of racing experience wouldn't give up the advantage clocking a 7.395 on a 7.39 at the finish line forcing a breakout from Bill 6.73(6.79DI).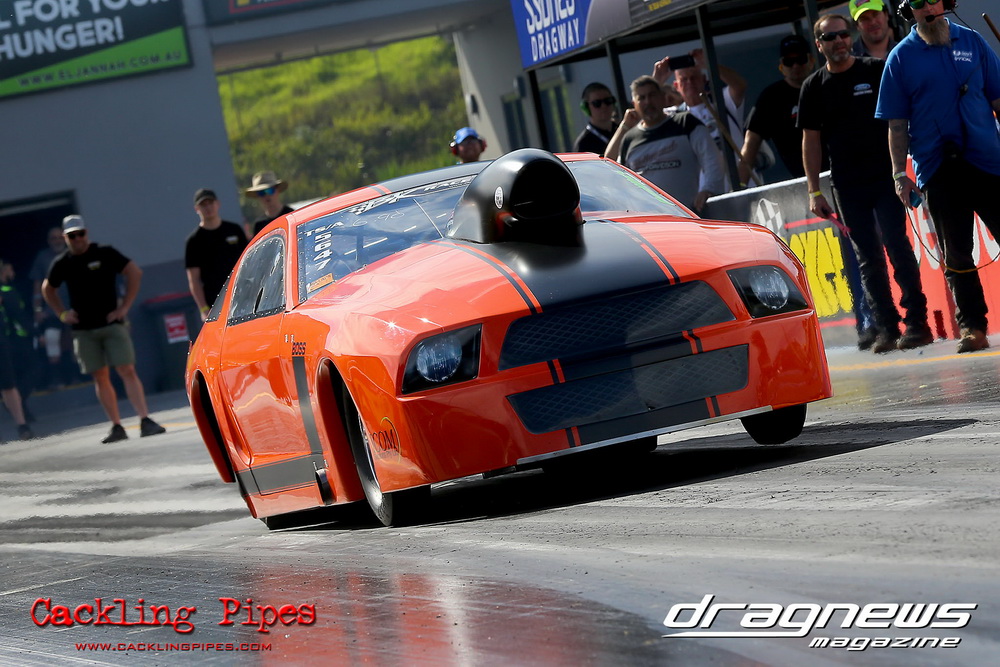 Peter Anastasopoulos top qualified in Top Sportsman with a 6.906 out of his 800 cube Hemi powered Mustang, though qualifying order isn't a critical component for racing. Anastasopoulos collected a first round win light courtesy of a Tony Whyatt red light, a solo thanks to that qualifying performance took him into round three against the experienced Dave Gauldie, a 7.19(6.86DI) was enough though to see him through that match up in the cold conditions. Anastasopoulos tightened up his game in the semi – and he needed to against Thomas Leake in the ex-Rick Chilton Pro Stock Grand-Am – with a 6.863(6.86DI) to 7.869(7.86DI) corker of a race into the final.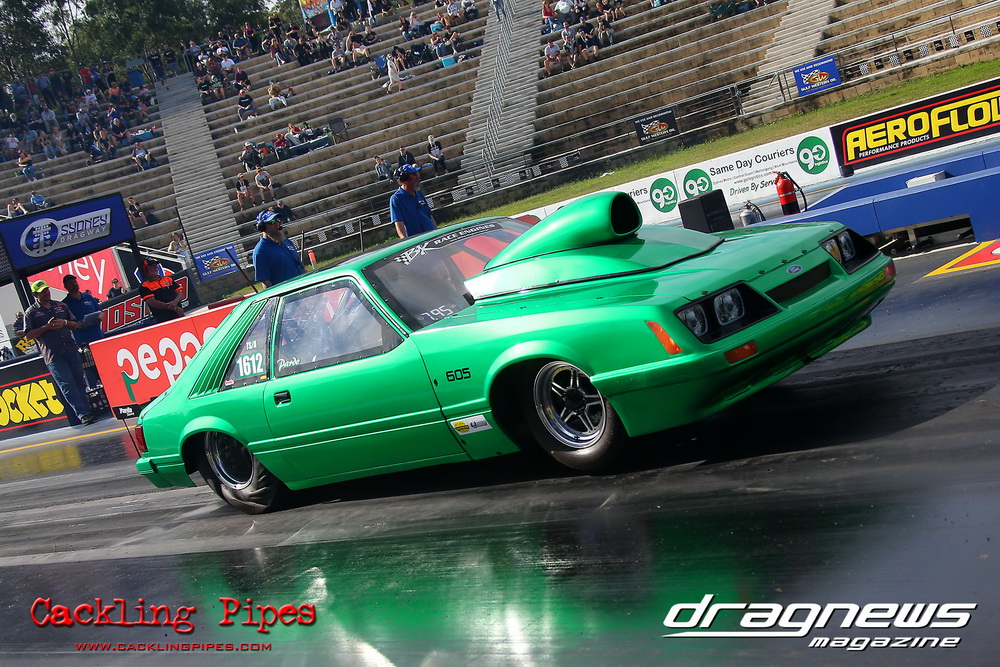 Facing him would be a former national champion in Paul Partridge, his Mustang is more often than not in the mix at the end of eliminations. Denis Ryan gave Partridge a red light gift in round one, Dave Whitmore doubled up on the red light gift giving in round two rolling the beams. The red lights in Partridge's favour continued with Daniel Morris going -.012 in round three and Paul Wood picking off his own cherry in the semi against Partridge.
While it is better to be lucky than good, Partridge has a national championship so we know he can be the latter. In the final Partridge ripped a .010 at the tree with a 7.932(7.92DI) at the stripe on the cold track surface proving too good for Anastasopoulos' .044 reacting 6.874(6.86).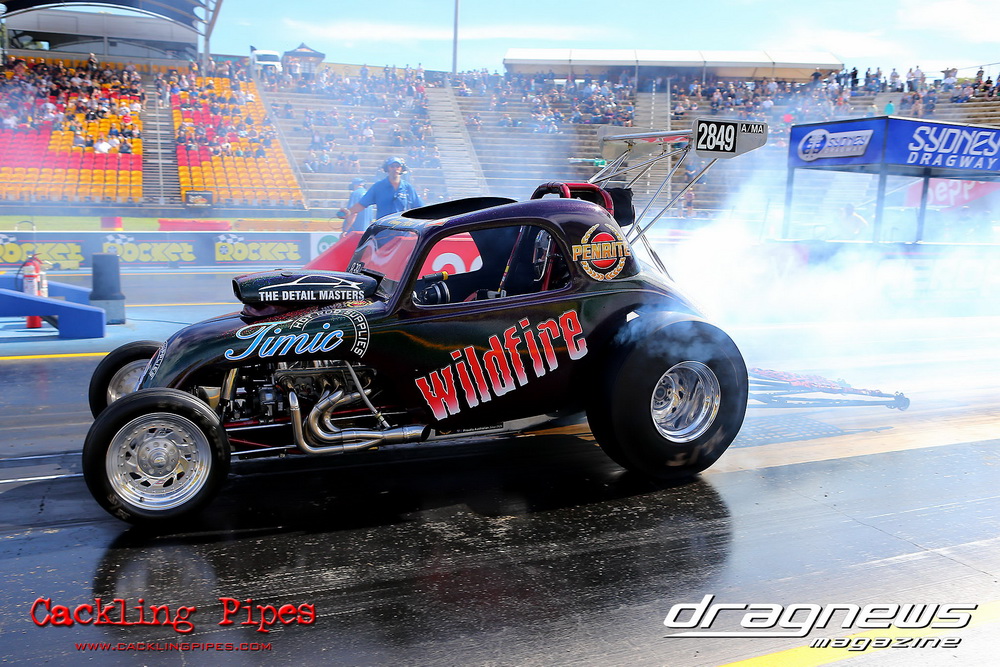 In Modified though the number one qualifier did double down with the event win, Chris Manks conquered the cold conditions to bring home the Gold Christmas Tree trophy.
Topping the qualifying time sheets with a 6.897, Manks' mowed down Garry Franks' roadster in round one 6.96(6.87DI) to 7.95(7.92DI) with the holeshot, a solo in round two led to a semi final win over Jakob Uys who let a start line advantage get away by breaking-out with a 7.48(7.52DI) run to Manks' double breakout 6.85(6.87DI).
On the other side of the ladder, Jenny Petrie in her Topolino body altered was doing the business, defeating reigning champ Stephan Gouws in round one after he went -.017 red in his dragster. Round two saw Allison Stewart have start line problems delaying her reaction and handing a comfortable 8.39(8.36DI) win to Petrie, before a tough 8.391(8.38DI) stopped Jess Turner's hard charging nitrous dragster that went 3 thou too quick in the semi.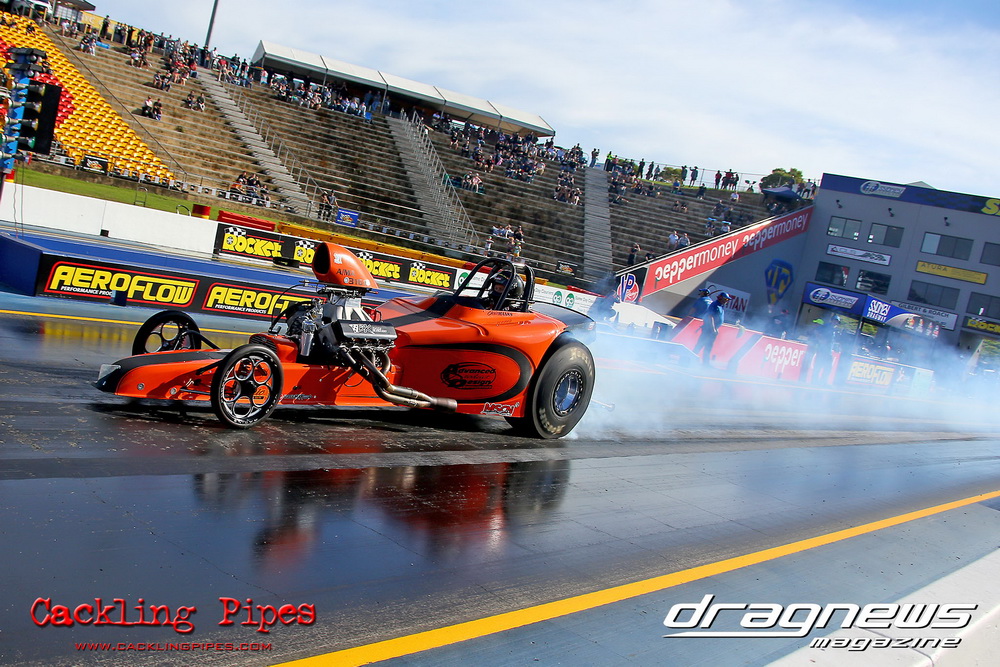 Manks pulled out a .017 reaction out of the gate to Petrie's .177 in the final, the Topolino breaking out at the top end with a 8.375(8.39DI) trying to stay with Manks' winning 6.918(6.86DI) charge.
The Super Sedan final could of been any local track championship event final as two of the local guns in Sean Maher and Jim Denaro drew against each other in the final. Maher with his HB Torana dropped into the final via a solo in the final, before that he put Kerrie Stewart on the trailer in round one with a 9.284(9.20DI) to cover the 'Oztin' Austin's 10.222(9.97DI). A .009 reacting 9.302(9.17DI) covered regular 400 Thunder finalist Patrick Barron's 9.813(9.78DI) with a holeshot in round two, and round three was a easy win after Jason Field red lit away his chances.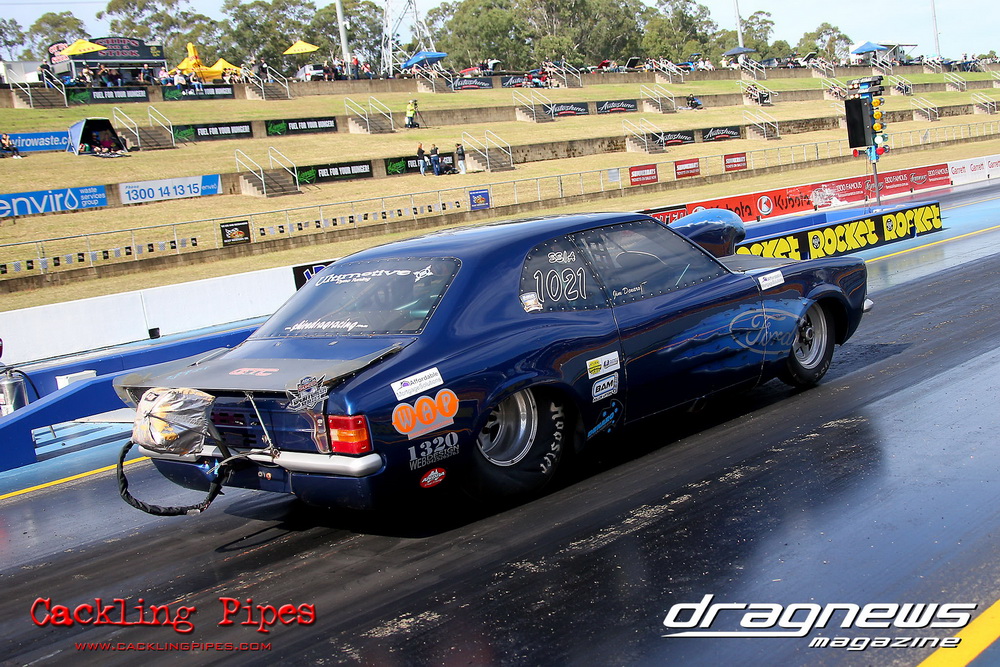 Denaro was on his game early with a .003 reaction in a round one win over a breaking out Michael Milasiewicz. Denaro was fortunate Enio Marrocco couldn't put together a clean pass from his little Gemini which had the holeshot in round two, ditto for round three with Leo Georgis off the pace against a tidy 9.476(9.46DI) from the Denaro Cortina. Denaro's biggest foe enroute to the final would be Marco Tolomeo, and the battle lived up to the hype with Tolomeo going 9.120(9.12DI) in his XY Falcon to a 9.467(9.46DI), only the Cortina's .013 to .029 reaction saving the day.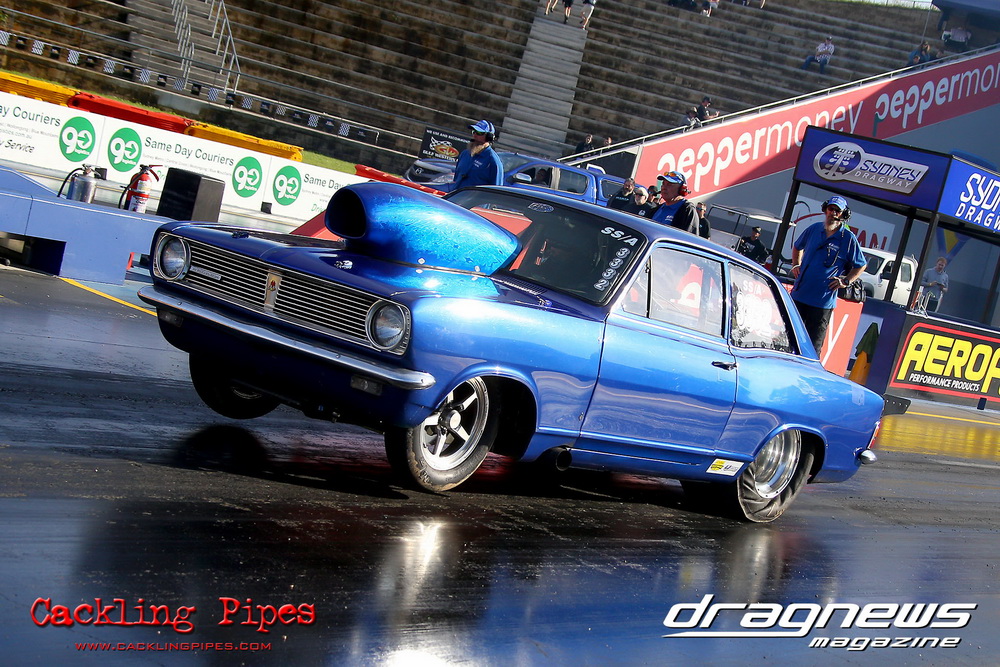 Maher took the lead at the tree with a .011 to .084 advantage in his chase down of Denaro in the final, with the Torana coming around the Cortina at the top end to secure the win with a 9.199(9.17DI) to a 9.486(9.46DI).
Former 400 Thunder Modified Bike Champion Sean Rickett's was back to the form that took him to the title a few years back. Rickett's aboard his Kawasaki. Rickett's needed every bit of his 9.107(9.08DI) first round pass to ride around Travis McCleverty's better reacting 10.098(10.02DI) to win. An un-Simmonator like .353 reaction from multi-time track champion Robert Simmonds gave Rickett's his round two win before beating Simmo's better half Bobbie Jo in the semi-final with a great race, 9.119(9.08DI) to a 9.65(9.69DI).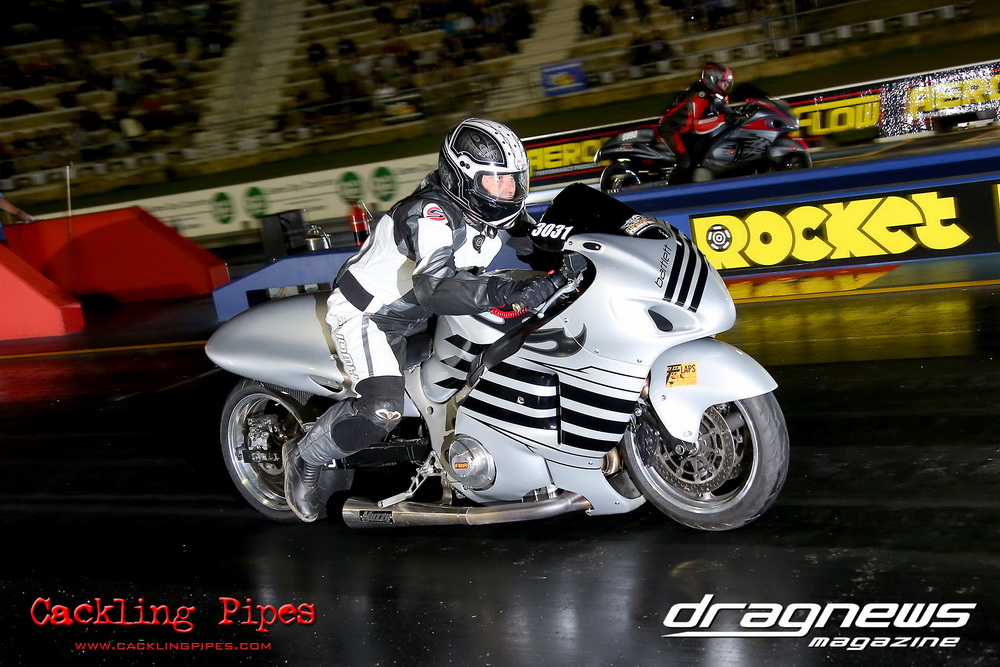 Opposing Rickett's in the final was Victorian Peter Bartlett who hadn't contested a national event for some years, his Suzuki Hayabusa made victims of Martin Armstrong in round one with a 9.637(9.43DI), Steven Day in round two in an unpretty race by overcoming a three tenths holeshot with a 10.043(9.40DI), before a bye in the semi set up the final.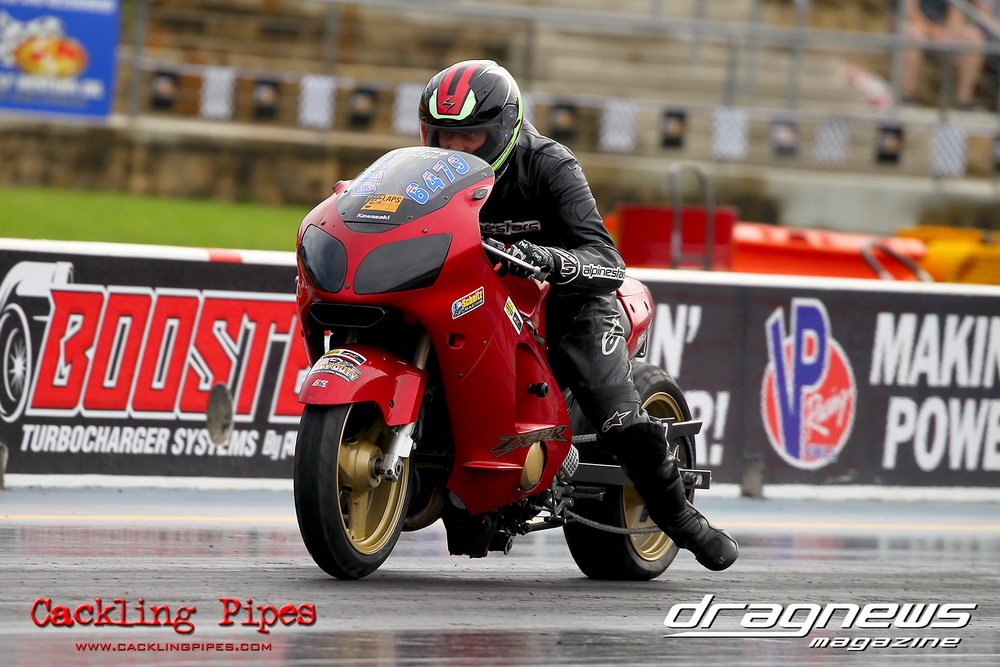 Both riders left with near identical reaction times, and with nothing in it at the stripe, Bartlett ended up going too quick by a few thou breaking out to Rickett's 9.107(9.08DI).
Ray Ross – who was third in the championship last year is looking to lower that number on the side window – made the trip down from Queensland well worth it with his big Valiant Charger picking up the win in Super Street. After defeating Shawn Taskis in round one, 10.119(10.05DI) to a 10.992(10.90DI), the rest of the opponents made the night easy for Ross. A red lighting Stewart Howle in round two, preceded a round three bye, Colin Boyd also picked the dreaded cherry with his Chevelle in the semi leaving Ross to face James Barnes' XR in the final.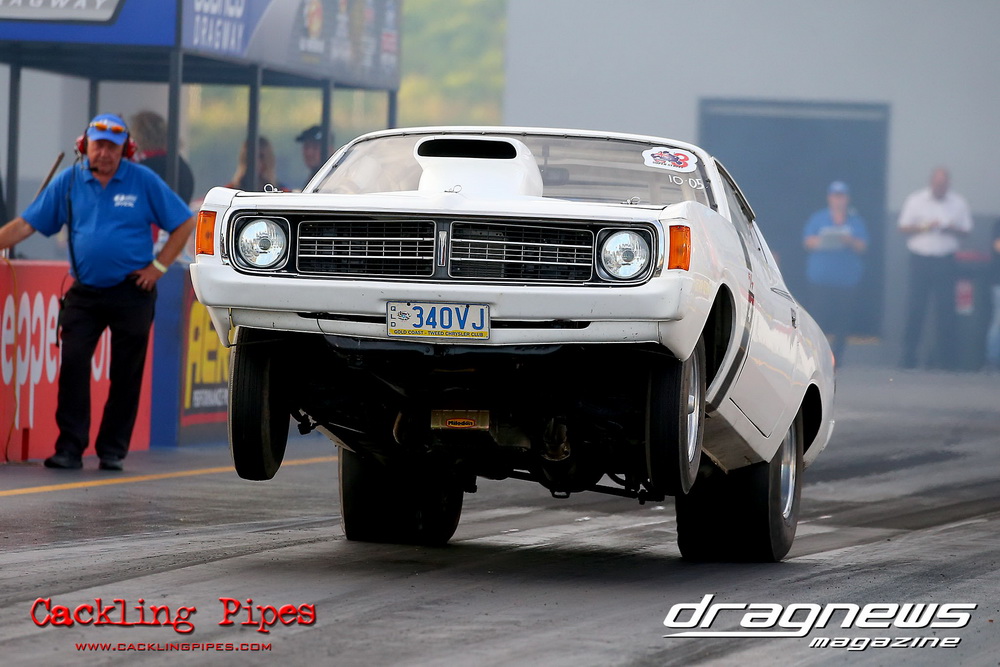 Barnes earnt his place in the trophy round by beating out Stephen Stergiou in the opening round 10.707(10.60DI) to 11.992(11.95DI), a red-lighting Pat Firriolo next, Shaun Smith in round three 10.607(10.55DI) to 10.453(10.28DI) and finally a solo in the semi. However Barnes capped off Ross' run of easy wins by going red himself by 17 thou and giving Ross a Gold Christmas Tree shaped present.
Super Gas had a small but quality field, Vince Panetta was on the charge early with a 9.901 defeat of Catanzariti's so-close 9.890 in round one, setting up how tough Super Gas is in Sydney. Vince Panetta fell to Anthony Panetta in the semi final 9.948 to 9.892, while Roy Romeo after a solo in round one duked out a double-breakout 9.892 to 9.855 win against Graeme Spencer in the other semi.
Near identical reactions in the final meant this race would be decided at stripe, both racers again pushed each other quicker than the 9.90 envelope, with Panetta breaking out the least for the win 9.888 to 9.869.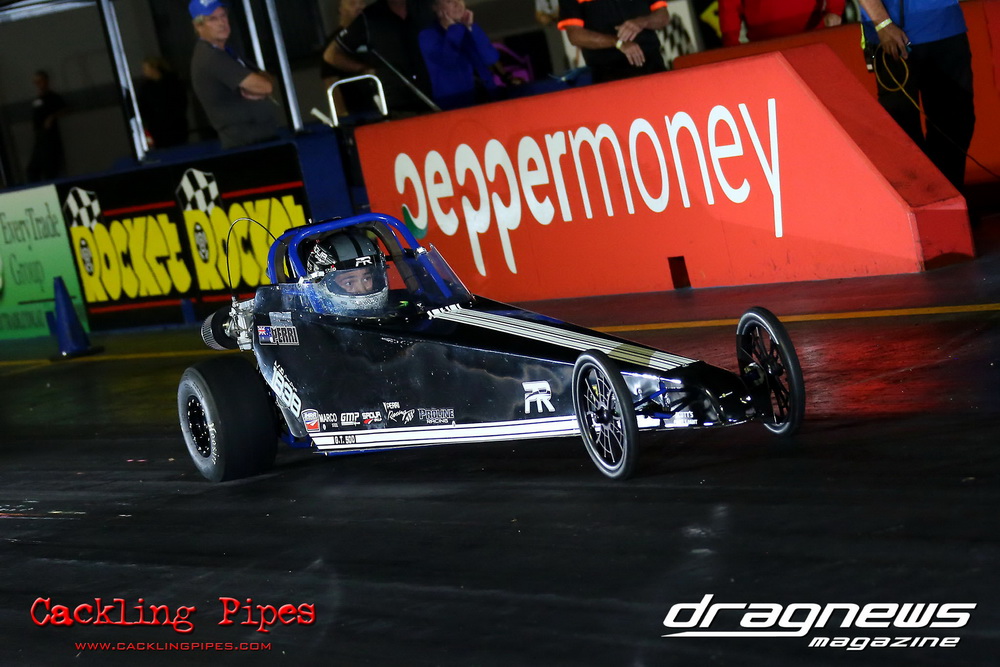 In a big field of Junior Dragsters, Harri Raikko and Samuel Perri stood against each other in the final. Raikko knocked off wins against Geoffrey McNiff, a red-lighting Sarah Osbourne, Claire Little and Josh Bertenshaw in the semi to secure a chance at the Gold Christmas Tree. On the other side of the ladder, Perri chalked up win against Killarney Back with a tight 8.043(8.04) lap, James Lowday, defending champion Ricki-Lee Dransfield after a red light, and went through to the final on the back of a red-lighting Allirah Kardum.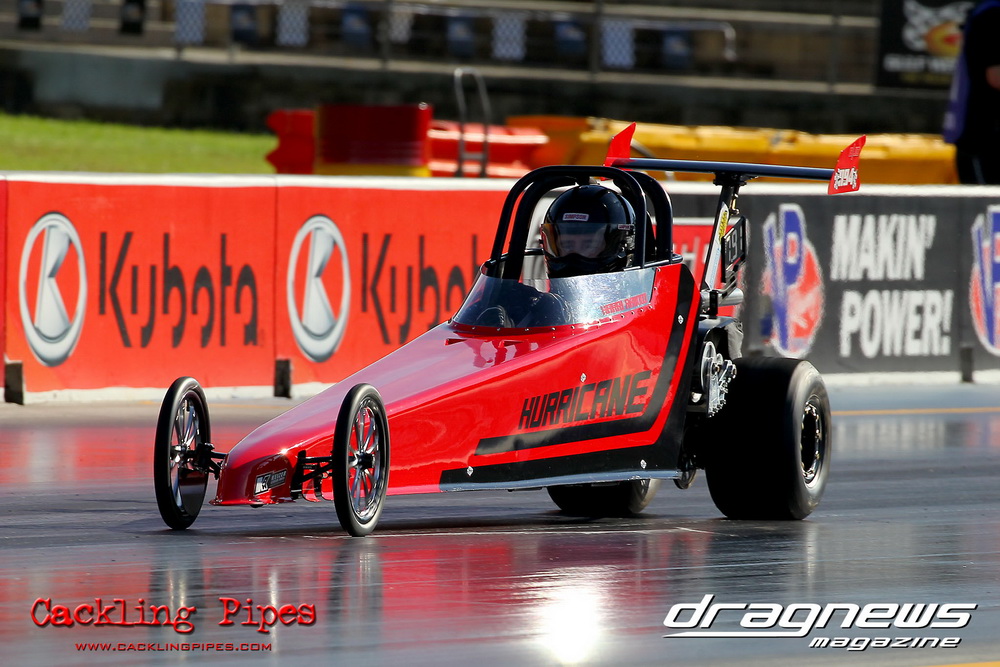 In the final Perri took the start line advantage in a near heads-up race .074 to .096, however hit the line too quick with a 8.094(8.12DI) to Raikko's winning 8.121(8.11DI) package.