Pete Kirkpatrick is hoping a recent victory at Nitro Up North combined with growing confidence in the new set-up he has on board his impressive Holden one tonner will propel him to success at this weekend's Top End Nationals.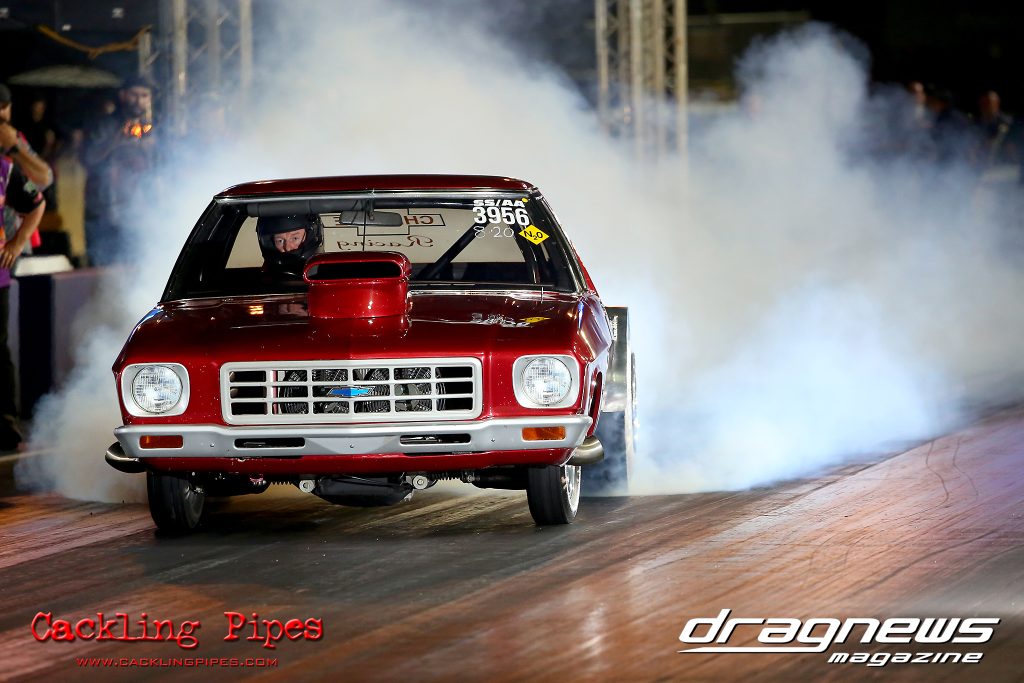 The July 15/16 event at the Hidden Valley Drag Strip will mark the opening round of the 2022/2023 Summit Racing Equipment Sportsman Series, with round two to be held the very next weekend at the Alice Springs Inland Dragway (July 23/24).
At last year's Top End Nationals, Kirkpatrick was the Decoglaze Glass Splashbacks Top Qualifier in the Super Sedan category. At this year's event, the Humpty Doo resident will contest the Top Sportsman bracket.
"Last year I was still working on setting-up a new nitrous small block chev combo, so performance was a little unknown. I went into eliminations without a proven dial-in, while the performance of the car was good, Peter Tzokas was just too consistent on the night," Kirkpatrick said.
"We currently have a PB of 8.057 seconds at 168 miles per hour, so this year I have nominated in the Top Sportsman bracket.
"I have a few more laps in the car with the new combo now and on the new fuel, and with the win at Nitro Up North, I am feeling pretty comfortable with our set-up and am hoping for a bit more consistency from the car – hopefully, we can run into the sevens.
"With the weather clearing up and cooling down in Darwin, I am looking forward to some great performance from all the teams. You always race to win, but have to make sure you have fun along the way. To get a win against some interstate racers would be awesome.
"The racing here is always fun, and we have great facilities, great weather, an awesome crowd and dedicated volunteers, it is safe and always run well – it is great to see competitors travelling and making the effort to come to Darwin."
Kirkpatrick has been racing since 1989, after growing up just 10km away from Ravenswood Raceway.
"My One Tonner was my second daily driver; I have owned it since 1988. It had a 400 small block chev and turbo 400, it used to go mid 13s back in the day. I first raced it at Ravenswood Raceway in 1989, then at the Kwinana Motorplex, Newman Drags and Darwin," he explained.
"Now we are running a 414 small block chev, 400hp of nitrous using QM25, a two-speed powerglide and it weights 1280kg with me in it.
"People always wonder how I can get traction in an aluminium tray back one tonner, and the answer to that is a lot of time, some physics, and a lot of laps – and of course a decent set up in the four-link rear end help!
"It has taken 33 years, more time than I care to remember, and quite a few dollars to drop five and a half seconds, but I have learnt a lot and had a load of fun along the way.
"I would like to thank my wife and boys for all of their support, my mate Brandt for helping me with the engine builds and my friend Al Mahnkoph who I always hit up for advice.
"Thank you also to the HVDRA volunteers who do a great job during the local rounds to ensure we get to race, I can't thank them and the HVDRA committee enough.
"I am looking forward to seeing everyone at the track this weekend, and I hope we can see some more of the old drag cars currently confined to sheds in Darwin get back out on the track to join us soon too!"
The 2022/2023 Summit Racing Equipment Sportsman Series season will run over 10 rounds, kicking off at Darwin's Hidden Valley Drag Strip this weekend (July 15/16) before heading to Alice Springs Inland Dragway (July 23/24).
For Top End Nationals event information, visit www.hiddenvalleydrags.com.au. Entries for round two at ASID are still open at www.cadra.com.au
For more from ANDRA, visit www.andra.com.au