Peter Xiberras and the PremiAir Racing Top Fuel Dragster, accompanied by new sponsors Nulon and GEARWRENCH, have raced to 3rd position in the opening round of the NDRC Top Fuel Championship with a B-Final victory over Phil Lamattina at Dragway at the Bend.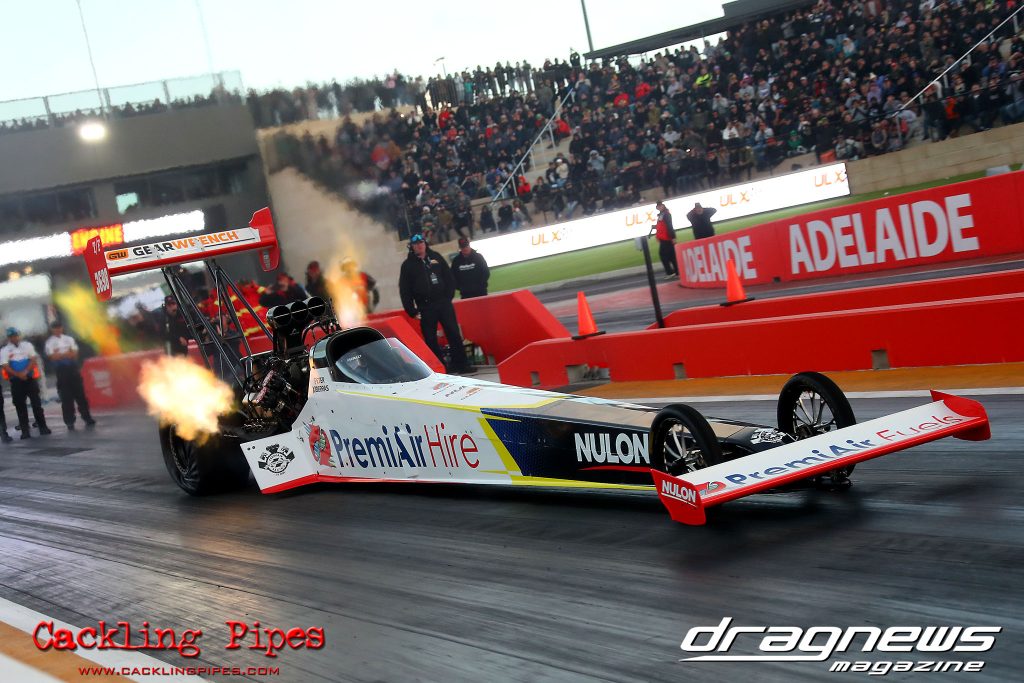 The weekend's Spring Nationals was the grand opening event for the brand-new drag strip at Tailem Bend in South Australia, with more than 35,000 fans coming out in droves to celebrate the return of the sport to the State across Saturday and Sunday.
After Saturday's running was shortened due to weather, Xiberras was the third quickest qualifier and was part of the first-ever Top Fuel race for the venue on Sunday afternoon, facing off against reigning champion Damien Harris for an incredible side-by-side 3.8-second pass.
While Harris pipped Xiberras to the post with his 3.804-second run to PremiAir Racing's 3.831-second effort, you couldn't wipe the smile off the team's faces to be part of history with such a close race.
"We might have lost that first race, but we were still smiling – we are incredibly proud to have been apart of this amazing milestone of the first ever Top Fuel race and the first ever Group One race at this brand-new venue, and in front of a packed house to boot," Xiberras said.
"There were 48 thousandths of a second between us at the line, and it was just truly sensational."
A round two win over Phil Lamattina with a 3.829-second pass at 319.51mph saw Xiberras secure the B-Final berth, which again would be against Lamattina in what was slated as a battle of the oils: Nulon v FUCHS Lubricants.
In the B-Final it was an other exceptionally close race, with Xiberras taking the win with a 3.83 second pass at 499.94kph to Lamattina's 3.923s/449.84kph effort.
"It is always a good day when you beat Phil Lamattina, and we were able to do that twice today – first to win round two and then again to win the B-Final to claim third for the event,"Xiberras said.
"We were calling it the battle of the oils, and we were very proud to bring new supporting partner Nulon out on top!
"There were challenging conditions out here across the weekend and especially on Saturday with heavy winds and subsequent dust plus even some rain getting in our way.
"But everyone dug in and did the best they could to put on a show for the packed house on Saturday, and on Sunday, everyone absolutely nailed it with so many impressive passes, side-by-side threes and so close finishes.
"All in all, it has been a great weekend, and this new facility is world-class. I can't thank the Shahin family enough for their investment and commitment to bringing drag racing back to South Australia.
"With more than 35,000 people through the gates this weekend, I think it is more than evident how much drag racing means to SA and we can't wait to come back and race here again."
The PremiAir Hire Top Fuel Dragster will next be on track at Willowbank Raceway across December 1-2, as the NDRC Top Fuel Championship chase continues. For more on the NDRC, visit www.ndrc.tv
For more information on PremiAir Racing, please visit www.premiairracing.com or follow the team on it ssocial media platforms at www.facebook.com/PremiAirRacing/,www.instagram.com/premiair_racing/, www.linkedin.com/company/premiairracing/and www.twitter.com/premiairracing