A record long 400 Thunder season that began back in 2019 will finally come to a close this weekend with the running of the 53rd edition of the Winternationals. Here is where the championship stands in all brackets.
COVID still continues to mess with the event, border closures have prevented some racers from travelling, and we are still not completely certain of the final line up in some brackets.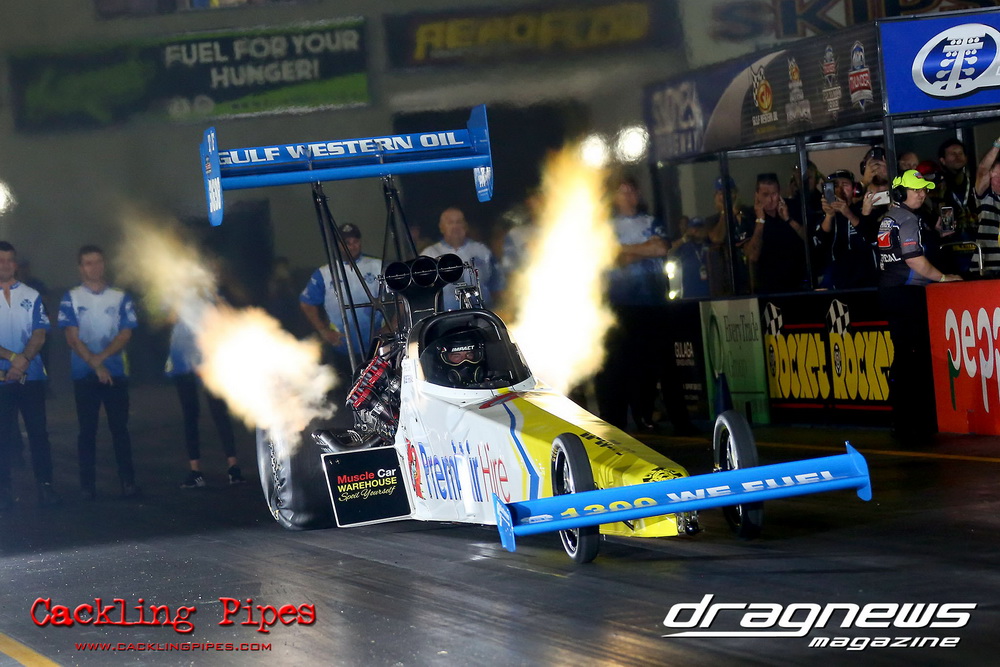 Even though there is only 3 entrants in Top Fuel, all three are neck and neck for the championship with just a 16 point spread. Wayne Newby still leads the championship, but with no Rapisarda Autosport International entries will be run down by the chasing pack headed by Peter Xiberras. The PremiAir team are hot right now, even though they just fell short of the gold at the recent Nitro Thunder event, still collected the Sydney Dragway track record with a 4.79, and ET points will be vital in the deciding the championship. Phil Lamattina is just 10 points adrift and confident they found the electrical fault that plagued the LTFR dragster in Sydney, causing the safety system to engage, popping the blower on every run. Phil Read is just six points further back after coming up trumps in Sydney, though it was anything but a dominating performance with crew chief Bruce Read describing it as a Steven Bradbury effort, but you can be assured the Hydralink Top Fuel dragster will be on its game come racing.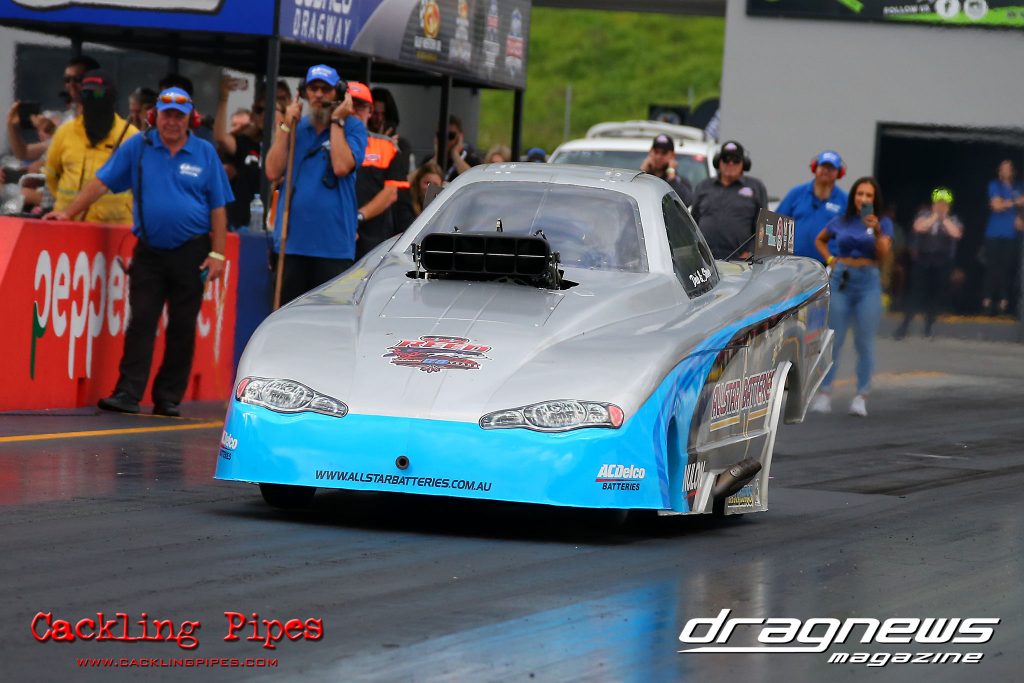 Pro Alcohol looks like it will end up with a solid 10 entries, Victorian Cameron Ambesi was stuck in lockdown, Rob Taylor had transport troubles and Brenton Gault did not complete his licensing we believe in his funny car, are the ones to drop off the list. Steven Reed has a 19 point lead over long time rival Gary Phillips despite Phillips having two event wins, his withdrawal from Nitro Thunder after the first round has given the Allstar Batteries funny car a leg up in the championship. Phillips though has tested strongly with a 5.43 at the Warm Ups. Jake Donnelly is still in a position to spring a championship upset, and with a 5.49 has the performance to match the leaders. The tough field can easily produce an upset for any of the contenders, with Nitro Thunder finalist Justin Walshe looking for more world record alcohol altered performances after Sydney – you can read all about the journey to that record in issue #56 of Drag News Magazine on sale soon – along with Brett White, Darren Fry and Wayne Price all capable of dropping big numbers at any time.
Steven Ham has a stranglehold on Pro Slammer, the defending Winternationals champion by our math with a 94 point lead over the AC Delco Pro Slammer of Mark Hinchelwood – who can bank a 118 maximum available – just needs to qualify to win the championship, and that is assured with only eight cars on the property. Nevertheless, we are sure the AC Delco team will come out swinging, new team driver Sam Fenech proved to be Ham's nemesis in Sydney defeating him twice on his way to the event win in Sydney. Ben Bray will make a welcome return to the track for the first time post-COVID as he spearheads the challengers looking to add Winternationals glory to their resume. They include Emilio Spinozzi and Michelle Davies, both teams coming off personal best ETs in Sydney, local Russ Pavey and wild card Marty Dack making the trek across the country.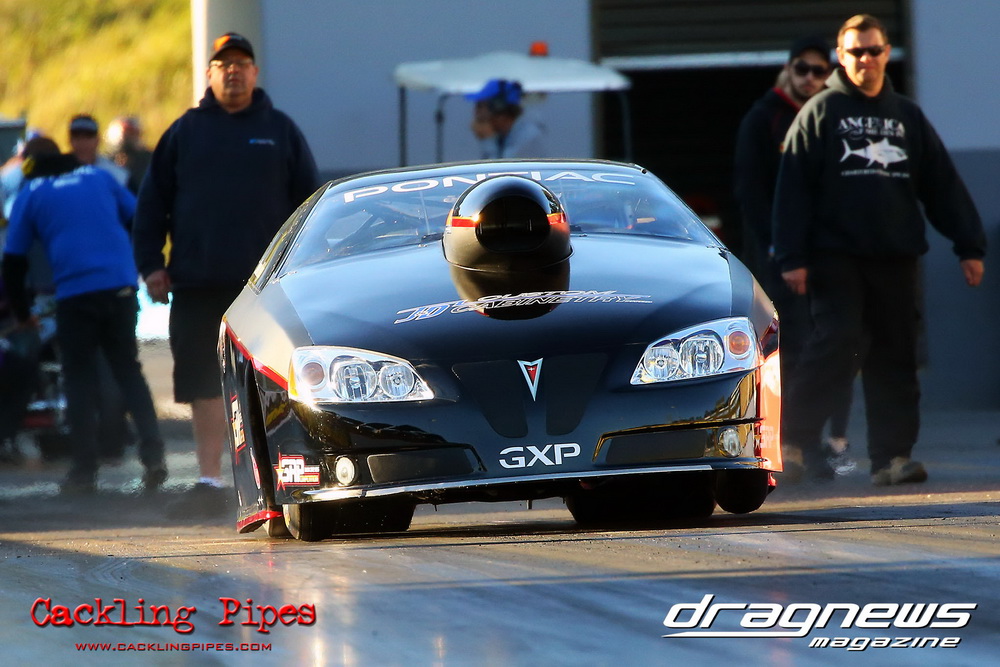 The biggest professional field goes to Pro Stock, though the border closures we think have restricted Nino Cavallo, Rob Dekert and Bill Kotsias from attending, there will be still 10 cars competing for the eight car field. 50 points separate the too five contenders and qualifying is not assured for any of them. Jason Hedges is on point on the back of two finals appearances over the season, and if winning a championship wasn't hard enough in the most hotly contested professional bracket, we are hearing crew chief Danny Selva has been caught up in the border closure and will be making the tuning calls remotely. 14 points behind is the first of the Tremayne brothers in Tyronne, both racers jumped Wayne Daley in the standings who is a mere 2 points further back after a troubled Sydney outing when the team's new Dart dropped an engine and had further troubles during racing. With the bullet repaired the team banged out mid 6.90s in testing and will be back on it this weekend. With Dekert out, Aaron Tremayne is the only other contender, 50 points off the Pro Stock GOAT will need a much better performance after an event to forget in Sydney, we doubt we will see a repeat of that however with his Pro Stock pedigree.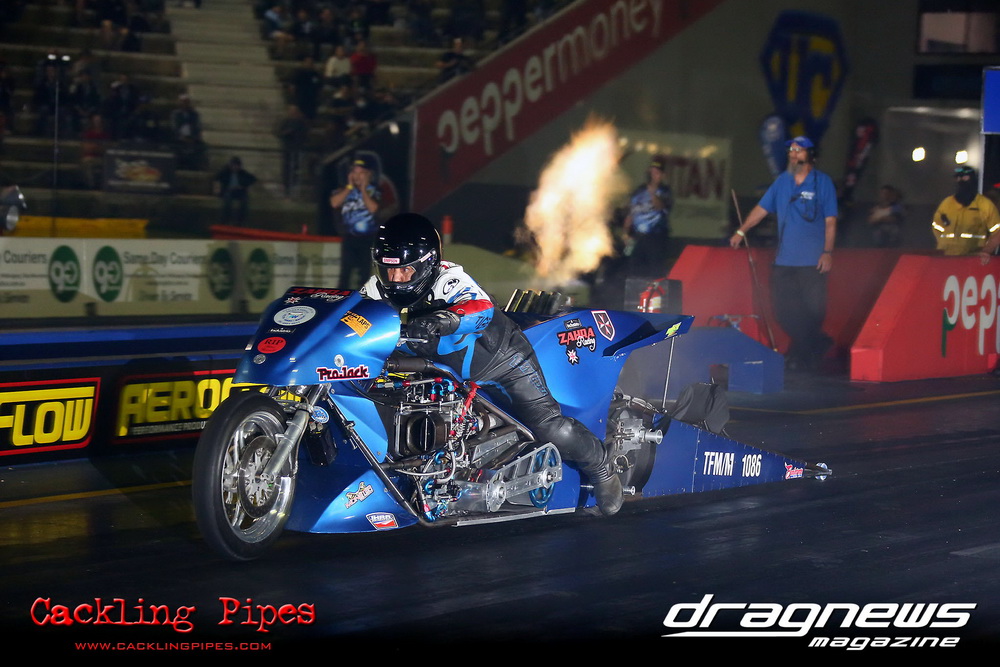 Top Bike is a duel between John Zahra and Chris Matheson, the event winner likely to take home the championship. More interest will be the race to the first five second ET, with proverbial mineshaft conditions the east coast is currently experiencing, it will be a matter of who will master the conditions first. Matheson has been odds on favourite for years, but with Zahra punching out half track numbers in the 3.9s at Sydney, a full track pass will almost certainly create history.
Pro Bike was ravaged by border restrictions, championship leader Glenn Wooster and Lachlan Ireland have been stuck in Victoria, Luke Crowley has thrown together a motor in the last week to join Andrew Badcock with his unique Hayabusa bike, Daniel Rabnott and Scott White to make the numbers to run field. Wooster has been the dominate rider all season, the Trevor Birrell built machine has featured in every final with two wins and has an unassailable lead in the championship by our calculations. Assuming the bracket will run eliminations format, there is 118 points on the table, and Wooster is sitting on an 124 point margin.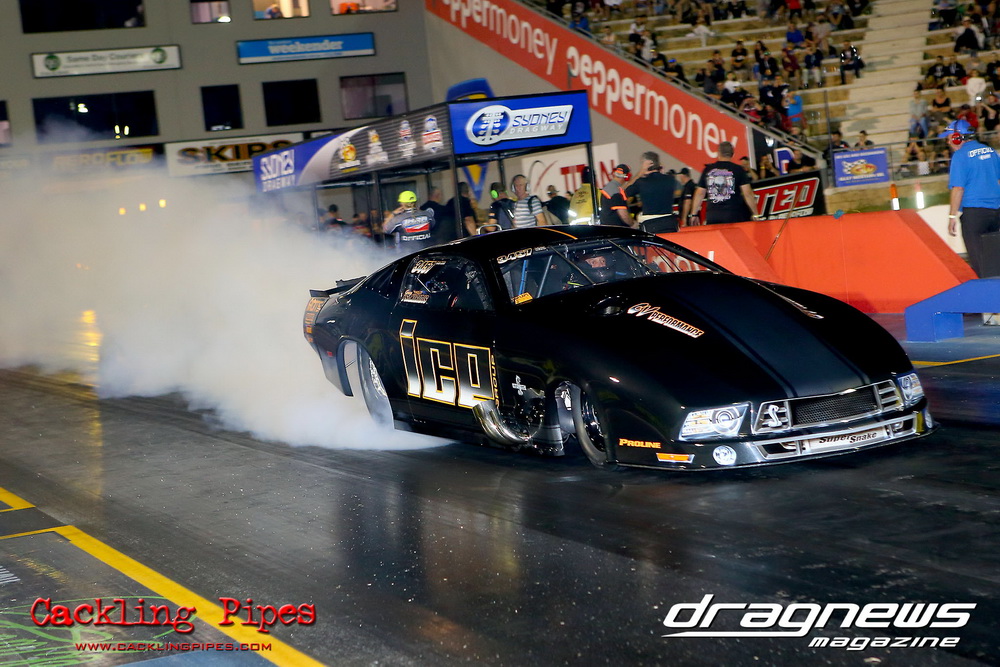 IHRA Pro Mod is now an official professional championship bracket with two outings, both at Sydney so far. A very good field has assembled at Willowbank Raceway that sees a mix of blown and turbo doorslammers. With last event winner Jeremy Callaghan not entering stunning turbo Camaro, the inaugural championship looks to be down to two; Greg Tsakiridis' ICE Group turbo Mustang, which is currently the quickest sedan in the country, but can be dialled back and perform like a bracket car for the 5.85 index and Zoran Gajic in the GAS Racing turbo Mustang – both racers are tied on championship points. Stew Walsh in the Bro Mod turbo Camaro and Joseph Murina's blown Corvette are outside hopes should early breakages occur to the points leaders. The event will also see the racing debut of Rob Harrington's 'Bad Influence II' blown Monaro and the return of Peter Gratz in a professional class capacity.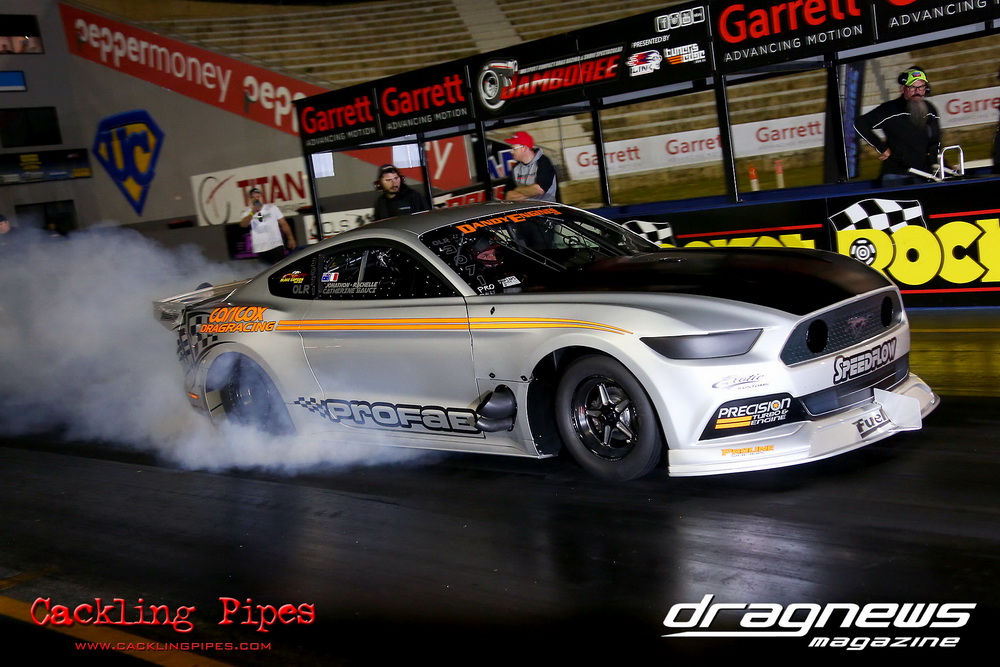 The Pro Radial guys should love the crisp conditions that produce tight race tracks. With the sportsman racers capped to a 250 point maximum, we see Tanya Thompson's VH Commodore and Joe Gauci's wicked ProFAB Mustang that has won every round it has contested sit on the maximum. Craig Hewitt has also towed up from Sydney with his blown Monaro and sits just 27 points behind to be a serious contender in the nine car field made up of other local racers.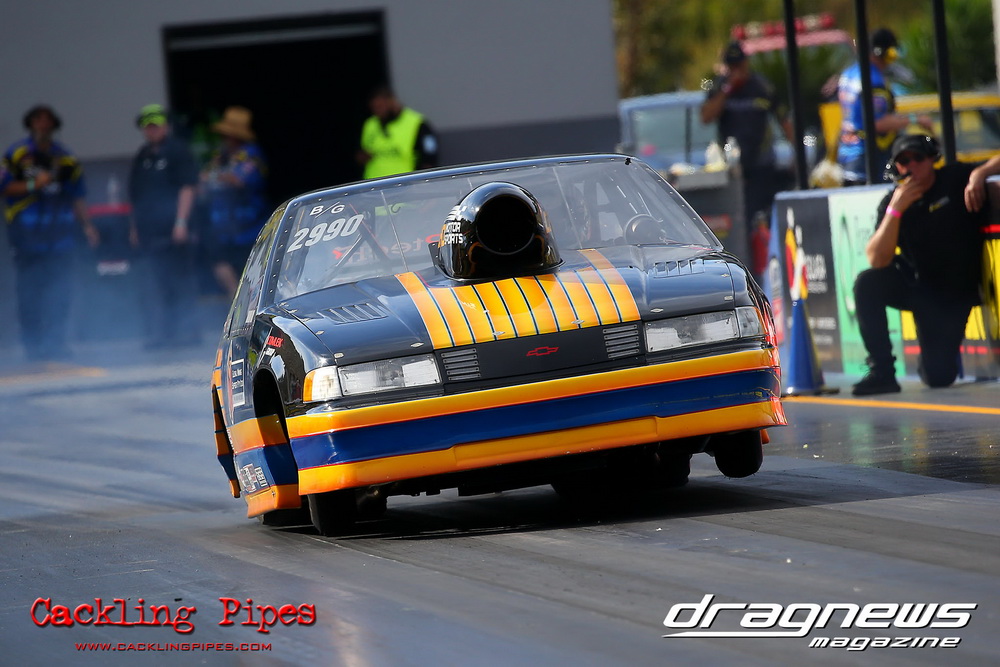 Records will be bombed as 23 racers try to qualify in Super Comp after half the field in Sydney went under their respective national marks. Literally 12 racers have the potential to claim the title going into the Winternationals. Looking at the racers at the pointy end of the battle, Darrin Gay leads with his B/G Oldsmobile on 180 points, just 4 points ahead of Jason Simpson's deadly G/GA Probe and Adrian Vella's little E/MPA Cobalt that fortunately was out of Victoria before lockdown commenced another 9 points back . Omar Sedmak is the last of the likely challengers, his A/APA Avenger looms just 21 points off the lead.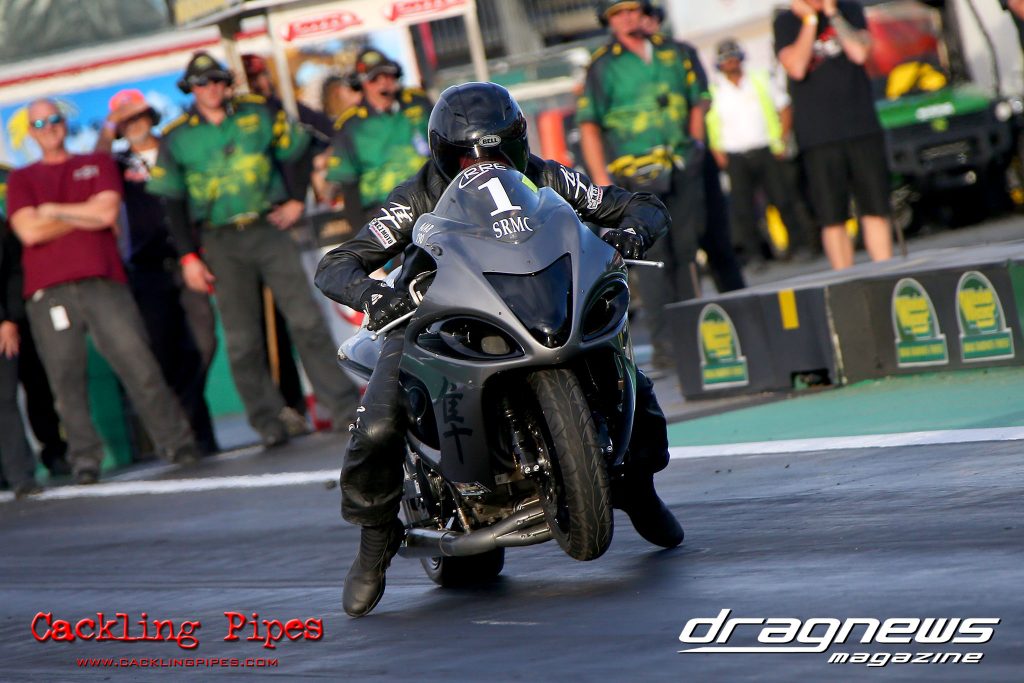 Performance Bike couldn't rack up a field at Nitro Thunder, but have bounced back here with 14 entrants with Queensland traditionally strong in the two-wheel ranks. Father and son duo Ken and Chris Collin are defending their #1 and #2 plates respectively from the previous season, and it looks like the A/AB pair will do so again with only which one will ride with the #1 to be decided. Ken is carrying a 15 point advantage into the event. Look out for Luke Crowley aboard Edge Mallis world record decimating DD/CBI H2 Kawasaki – full feature coming up in Issue #56 of Drag News Magazine – the bike has gone well over a second under the national record.
With the lowered cap of 250 points, moving into the more populated sportsman classes it has become a wide open race to many of the championships brackets, we will concentrate on those who can realistically win the championship – with a first round loss worth 40 points, realistically only 60 points can be made on the leaders – assuming everyone makes first round, unless there is some act of the racing gods.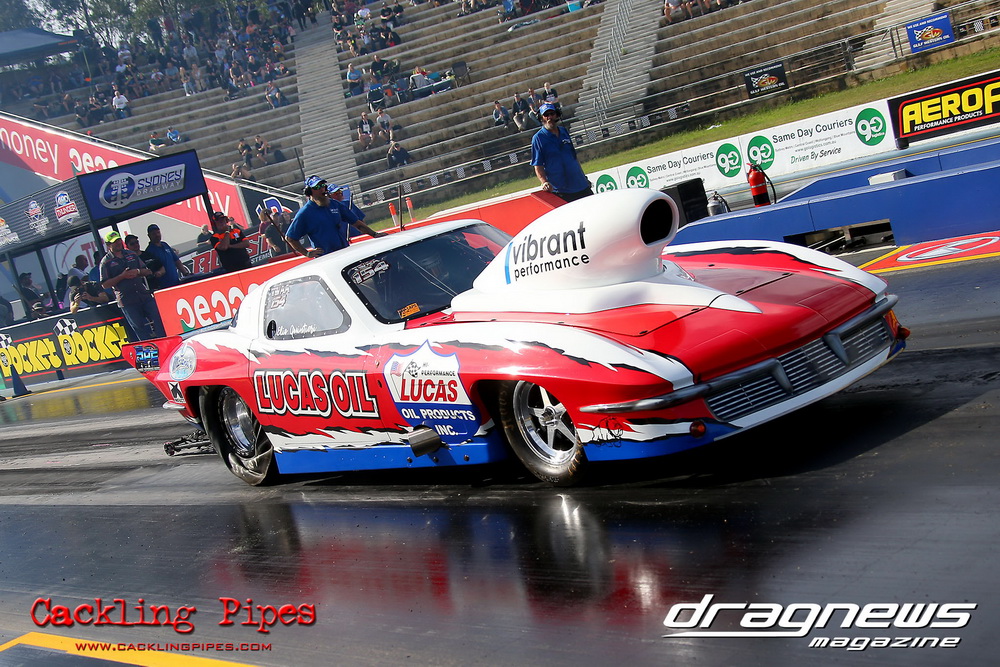 Driving for the Quintieri Family, Jason Stares is steering his former Lucas Oil Corvette now with a supercharger in Top Sportsman under the Quinto Motorsport team banner, Stares, along with defending champion Paul Doeblien and Daniel Morris sit on the 250 maximum, Frank Oliveri is 10 points back with his tyre-smoking Torana, another 10 points back is Dave Whitmore's stunning wheelstanding blown Nova and veteran Dave Gauldie's Olds Cutlass.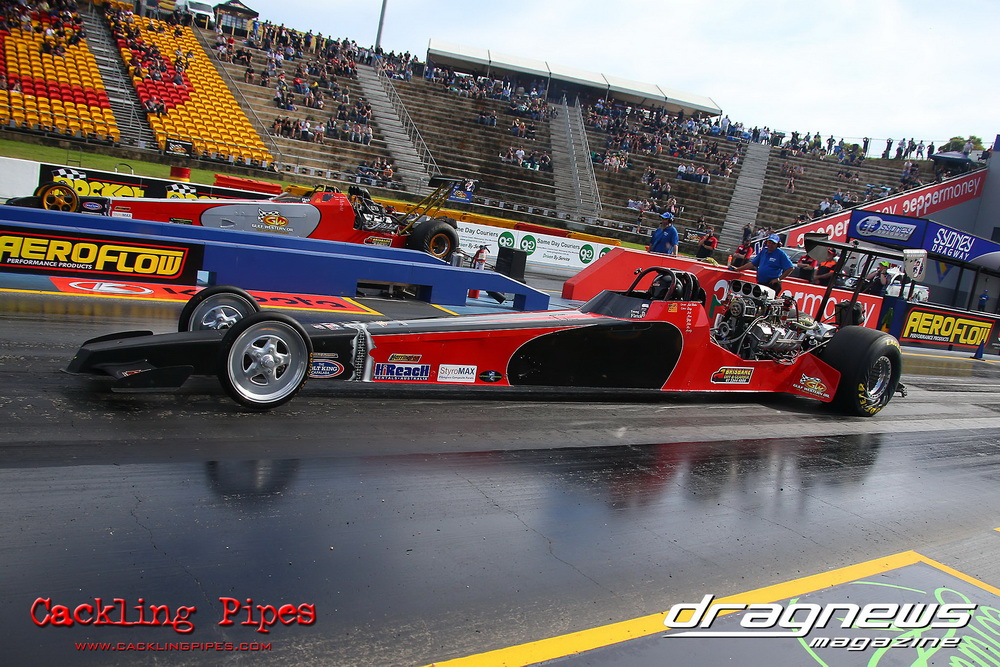 The blown brigade has come out in force for Supercharged Outlaws as they do every year at the Winternationals with 28 cars. After their dominating performance in Sydney, the Fletcher father and son dragster duo of Bill and Josh will battle out the championship with Sydneysider Peter Byrne. Josh will hold a nice 30 point lead over Bill with Byrne's altered sneaking about just 10 point further back. In such a huge field anything could happen.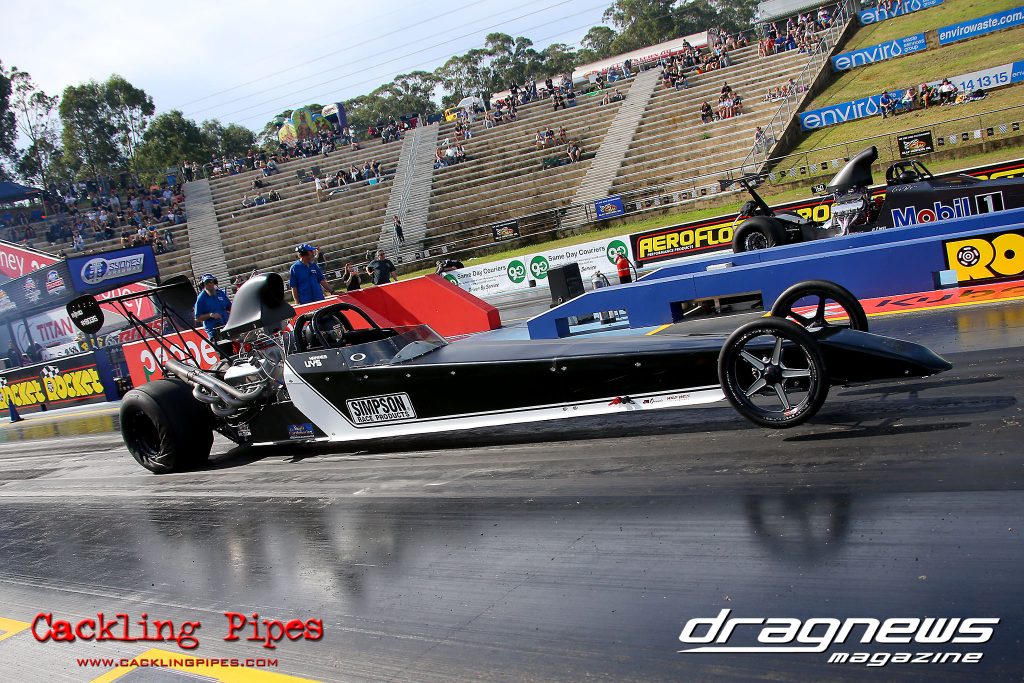 Jakobus Uys has accumulated a massive 410 points in the Modified but he can only take 250 of those into the Winternationals. Joining him on maximum also is Kellie Kidd, Phil Bellert, Paul Linnett and Andy Driver to ensure a no quarter given shootout for the championship. Looming in the long grass waiting to pounce is Dallas Everett and Stephan Gouws should upsets go their way early and they can capitalise by being within 40 points of the pack.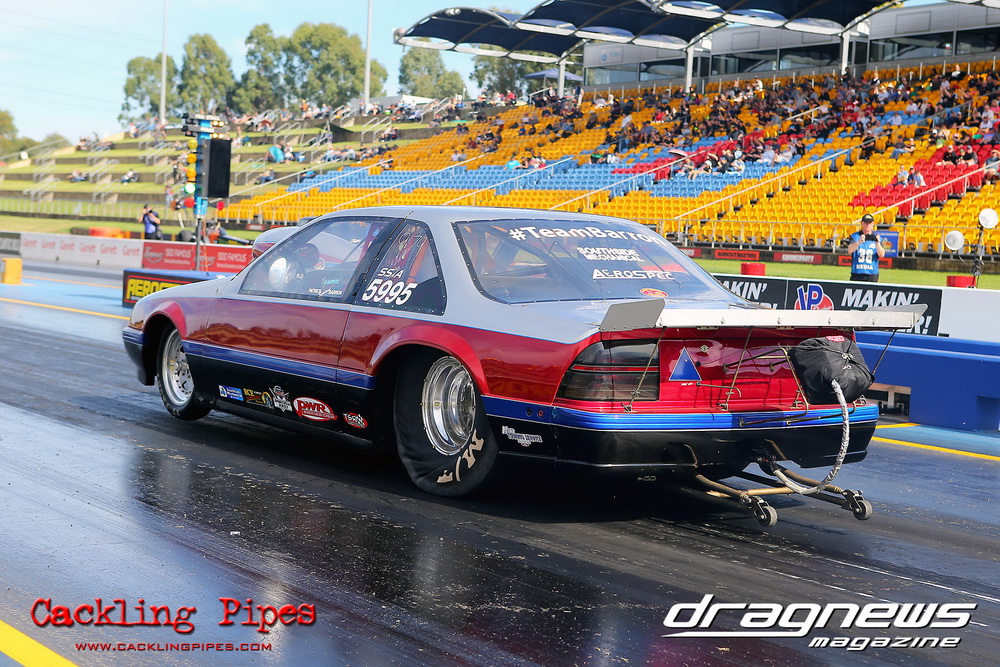 Super Sedan considering the number of racers is not quite so close, Patrick Barron is the only racer on the maximum with a dominate season resulting in two finals, and with his nearest rivals, Victorians Michael Milasiewicz and Robert Kardum likely caught up in border closures, it leaves only John Piotto in the Ol' 65 Falcon ute 55 points behind to put pressure on the championship and stop it from going to Barron and his Chev Beretta.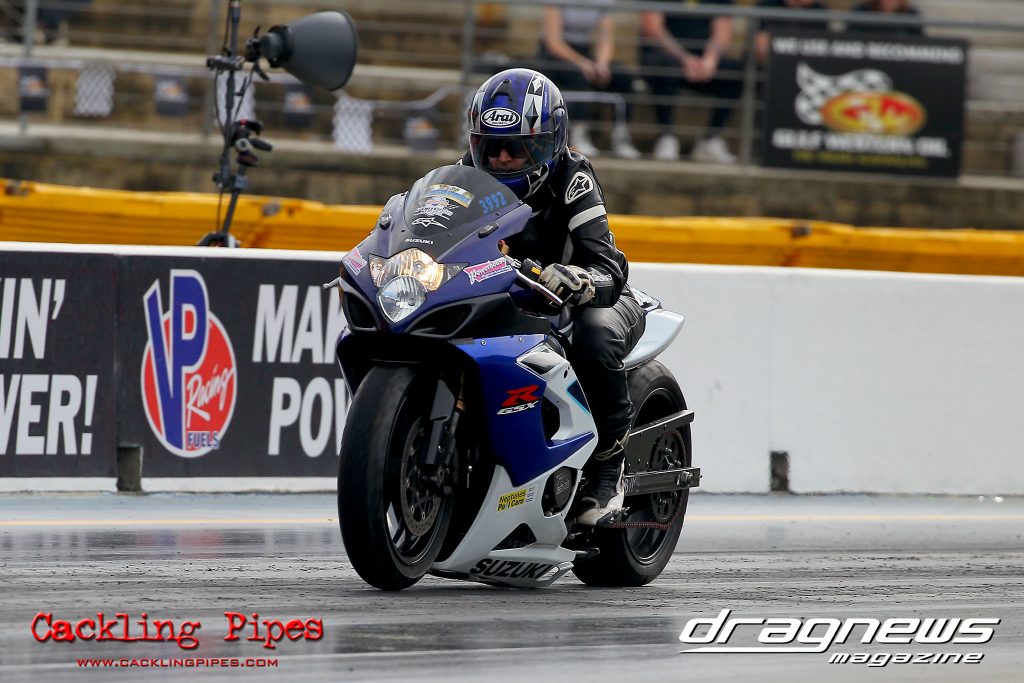 In the 21 rider Modified Bike field it seems half of them could win the championship. Seven riders sit on the maximum points, with six in the paddock, starting with Tammy Goldthorpe who is an out right gun in the class aboard her Suzuki, and already has two event wins over the season, the husband and wife duo Rob and Bobbie Jo Simmonds terrorise the Modified Bike ranks in Sydney, fellow Sydney racers, Don Baird and Joe Khoury, with local Gary Kittle rounding out the bunch. Just trailing them in the points are Brian Alvisio, Malcolm Brooks and Mark Gordon.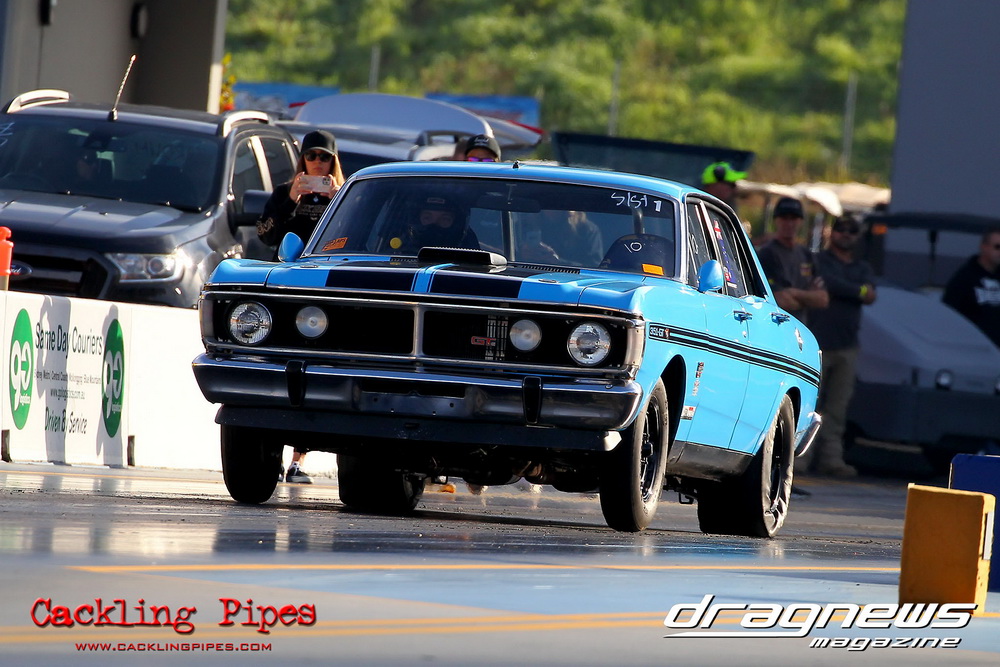 Super Street is an all local racer battle, Shaun Doeblien is looking to for back to back championships as he goes into the event tied with Ray Ross coming off a big win in Sydney with his wheelstanding Valiant, Craig Chapman and Shawn Taskis. There is daylight to next nearest competitor in the points, so it should be an interesting tussle between the four protagonists.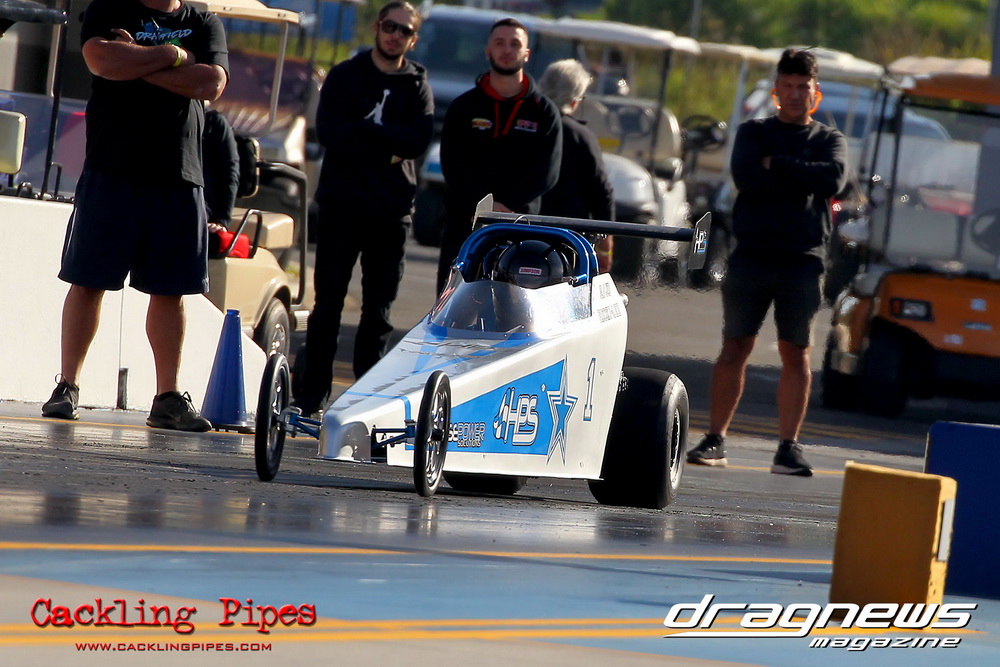 A monster 46 Junior Dragsters will line up for their chance to win the Winternationals.
Early qualifying rounds of the 53rd Gulf Western Oil Winternationals start today.